FROM SEED TO FEED (OUR FRUIT, VEGETABLE AND FLOWER GARDEN DIARY) 2023
We are now entering our 3rd year of growing flowers, fruit and veg at our little Casa Valhal garden. We have already had a discussion about what seeds we want to sow this year as the magic begins in February. Similar to last year we are only going to grow crops that we regularly eat on our weekly meal plans. The price of fresh fruit and veg has soured in the local shops so my plan is to just grow what we eat and not to include any wild cards this year. I can't speak for hubby as he is the seed man and he might surprise me.
2023 Seed Selection – My Seedy Garden Photo Shoot
Let's get Seedy! It's that time of year when we plan our fruit and vegetable garden and purchase our seeds. I am a frugal girl so I save a lot of seed from previous harvests and I make my own organic compost. We don't have a huge garden so I limit my seeds to a few firm favourites and plant a few treats for our crazy chickens and fur ball Maniac Milo. With the ever rising cost of food one simple pleasure I adore is growing my own food from seed, it's very satisfying. Nurturing a tiny seedling and caring for it until Helena's Happy Harvest. Organic, homegrown veg tastes so much better than shop bought. My top tip: For a seed to grow you must sing to them every day (ha ha). My actual sensible tip would be: Garden as though you will live forever. Don't be afraid of trying something new. There are no gardening mistakes, only experiments. Also don't presume you require a huge garden to grow fruit and veg. We grow all our Chillies and Tomatoes in raised beds and containers/pots. Even if you have no garden and just a balcony, you can grow multiple fruit and vegetables as there are many plants that don't require huge amounts of ground space, some grow vertically, just do your research.
As I mentioned, hubby is in control of ordering/purchasing our seeds. He has a favourite website for his chilli seeds that he regularly uses. Similar to last year we have decided to only grow what we eat and try not to get carried away with weird and wonderful new varieties of fruit and veg that might be tricky to grow. Previous years I tried my hand at Sweetcorn, Sweet Potatoes and Luffah. I don't usually buy seeds from supermarkets but I stumbled across some very cheap seeds in Lidl on our monthly food staple shopping trip. I decided to give it a go and bought the following: 2 varieties of Cherry Tomatoes, 2 varieties of Courgettes including some that are round shaped, Broccoli and Sunflowers. I love planting Sunflowers as they act as great companion plants and pest deterrents. They make great table decorations and are also very pretty. Our chickens love the seeds too. Hubby ordered his Chilli seeds and he loves to opt for different varieties each year. This year he has purchased 3 different varieties: Demre, Puerto Rico Yellow and Sugar Rush Stripey. I can't wait to see the results! We will sow our seeds during the final weeks of February and start them off in our sunroom so they are ready to plant outside during the month of April.
We are experiencing such a contrast with the weather in January. One minute I'm hurtling down the Serra do Açor hills on my morning jog in 1 degree cold, trying not to slip on the frosty ground then just a few hours later I'm in a summer dress and sunglasses pottering around my gorgeous garden in 16 degree heat and debating if to dig my bikini out of the closet (ha ha). You can clearly see I'm elated with my seed selection this year. So happy I'm accidentally flashing my bra in some of the photos, sincere apologies. Your lucky I'm actually wearing one as I'm usually "Charlie Dimmock's" twin when it comes to gardening. Let it all hang out and breathe is my motto (ha ha). When in doubt, add flowers to your hair and don't forget to smile.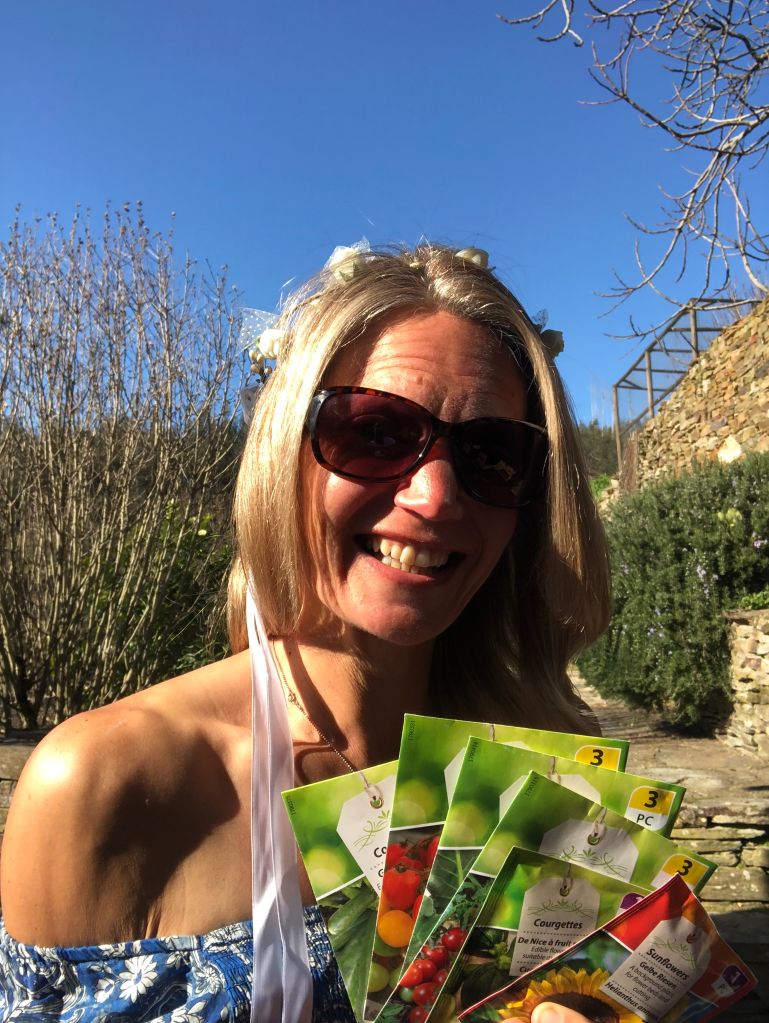 Oranges & Lemons (03/01/2023)
I know size isn't everything but look at this whopper! This current orange season has blessed us with gigantic oranges and I think it's due to all the recent rainfall. I LOVE returning from a run and picking a couple of juicy oranges to enjoy, such a great source of Vitamin C. It's a simple pleasure which brings much joy. I am also super impressed with our lemon tree as this was our first ever tree that we purchased here in Portugal. We bought it from Arganil market and it was very small and cost around €7. We chose it because it was the only lemon tree that already had 2 lemons growing. Initially we planted it in our top garden close to our fig tree but then had to move it to our lower garden once we decided to get chickens and renovate the tiny garden ruin into a chicken coop. In all honesty I never thought it would survive being uprooted but it did and surprised us both. There was a point in time where I thought the bloke selling it might have superglued the 2 lemons onto it as it didn't seem to want to grow any more fruit and the 2 initial lemons fell off onto the floor (ha ha). All that was needed was a little patience and some TLC. Fast forward and we are now blessed with so many huge lemons. I'm amazed at how much it has grown in a short couple of years as some fruit trees take several years to bear fruit. I have included a photo from the market of the day we bought the lemon tree home so you can see it's rapid growth. I LOVE the smile on hubby's little face, he is very excited about buying his first fruit tree in Portugal (ha ha).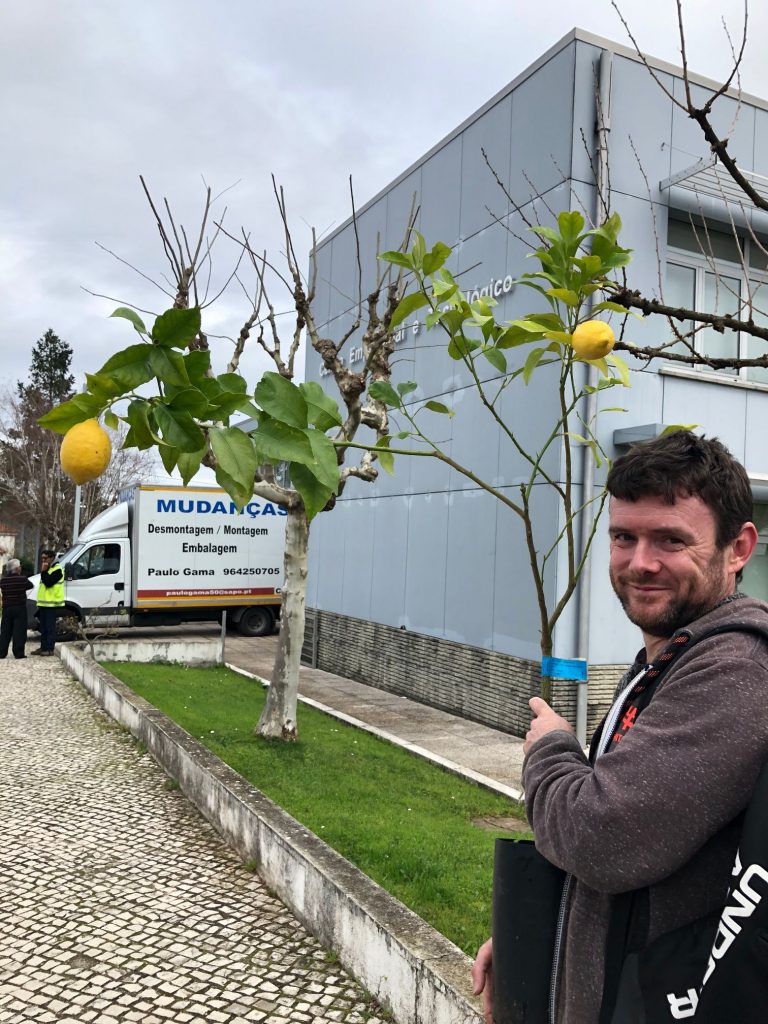 Another day, another basket full of Oranges. Please excuse the DIY mission in progress below the balcony. We are sanding down all the railings to re-paint and weatherproof. We have multiple railings so it's going to be a long, exhausting job.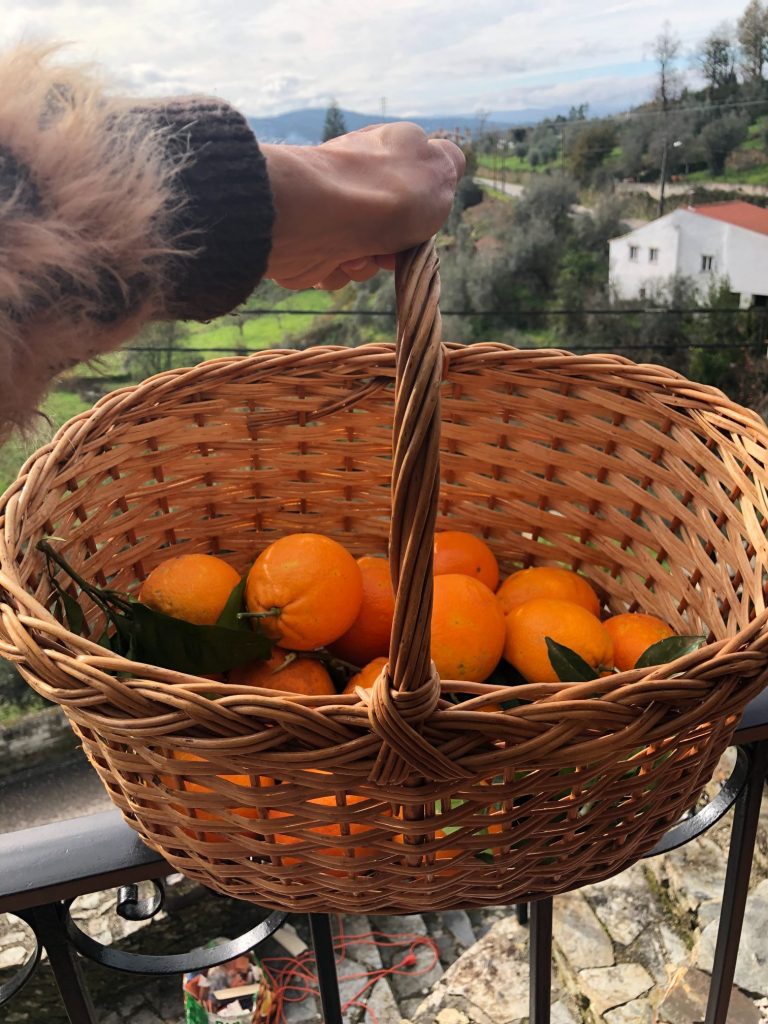 Beautiful Japanese Camellia (11/01/23)
What a beautiful afternoon for gardening with chickens. Such a simple joy but after living in a 1 bedroom first floor rear flat with no garden in the UK for 8 long years, I relish having my own little slice of tranquility. I call it Helena's Haven. I LOVE Japanese Camellia.
The Perfect Palette Soulmate Sofa for 2 (18/01/2023)
This is not really seed to feed but garden related and I just had to share my joy. Last year I managed to obtain several wooden palettes in a local Facebook swap group. My aim was to make another compost bin but they just sat in my sunroom for an eternity. For the past year we have been using 2 old garden chair cushions on a daily basis to sit on the ground whilst we hang out and free range our chickens. The plastic chairs are long gone as we inherited them with the house and they were so old and perished in the sun to the point where one collapsed as I sat my lardy ass on it. I kept the cushions because I thought I could re-use the foam inside. Anyway, we have been using these old cushions directly on the garden ground so they have got very muddy. The chickens love to come and walk over them too and although I have washed them they are always covered in mud and muck. At some point I would like to source some awesome chicken fabric and recover the foam.
Love is when your significant other transforms old palettes into a garden sofa so you can free range your chickens in comfort. Ever since my failed spinal surgery to remove my coccyx, I am unable to sit directly on the hard ground without experiencing extreme pain so I need a cushion or two. Our chickens seem quite amused by the new addition and often jump on my lap (ha ha). Hubby now has a bright idea of making a little picnic table and bench for our chickens out of the remaining leftover palettes, watch this space! (ha ha).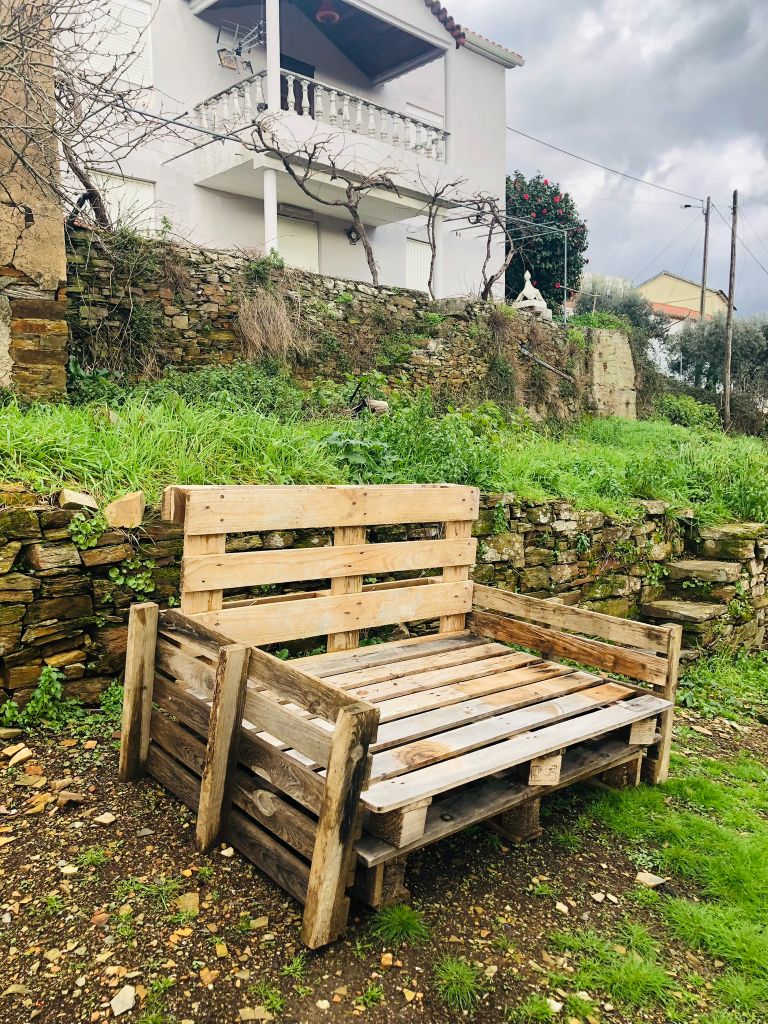 The Paint Job
Unfortunately I ran out of paint so it's work in progress. I chose blue to match the existing recycled cushions. DIY tasks always require multiple marshmallows for energy and a perfect sugar rush. I always get covered in paint so hubby has found a genius way of keeping me fed. Marshmallows on a BBQ skewer (ha ha).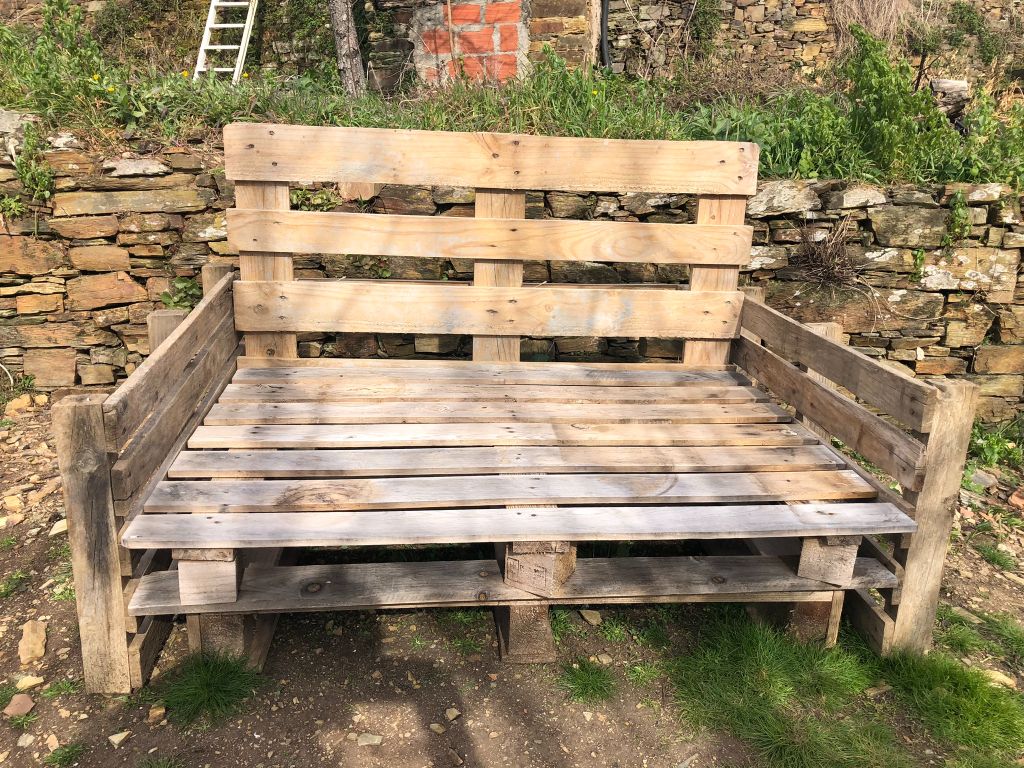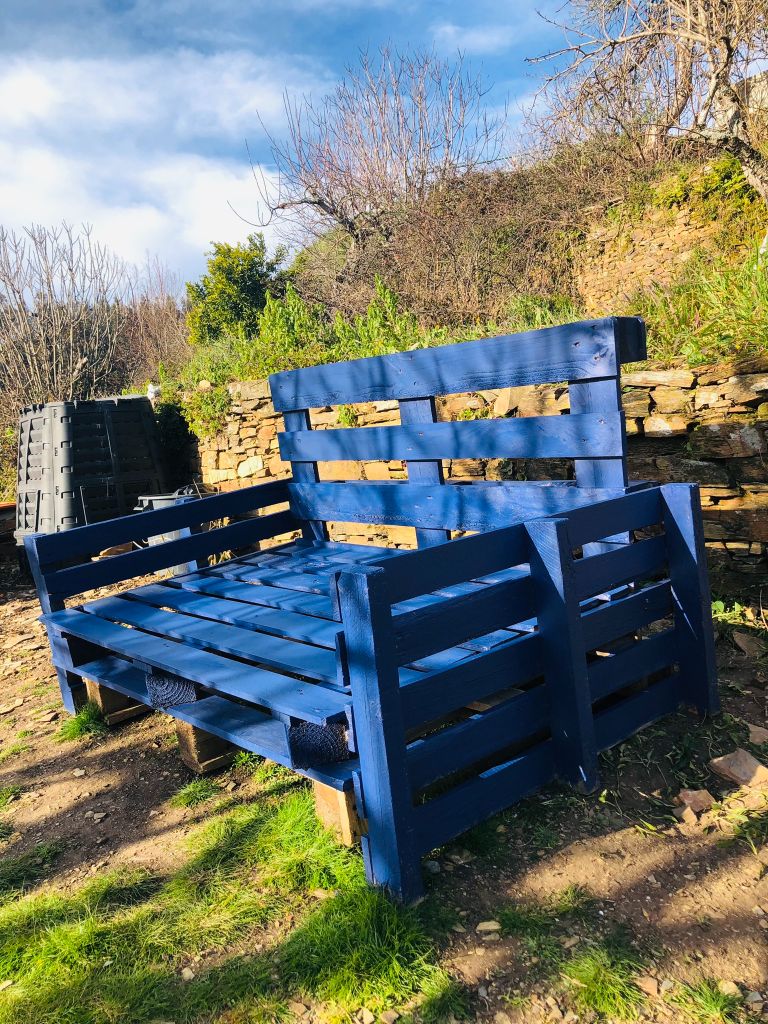 My Chickens Approve
My chickens adore my sofa as much as I do (ha ha).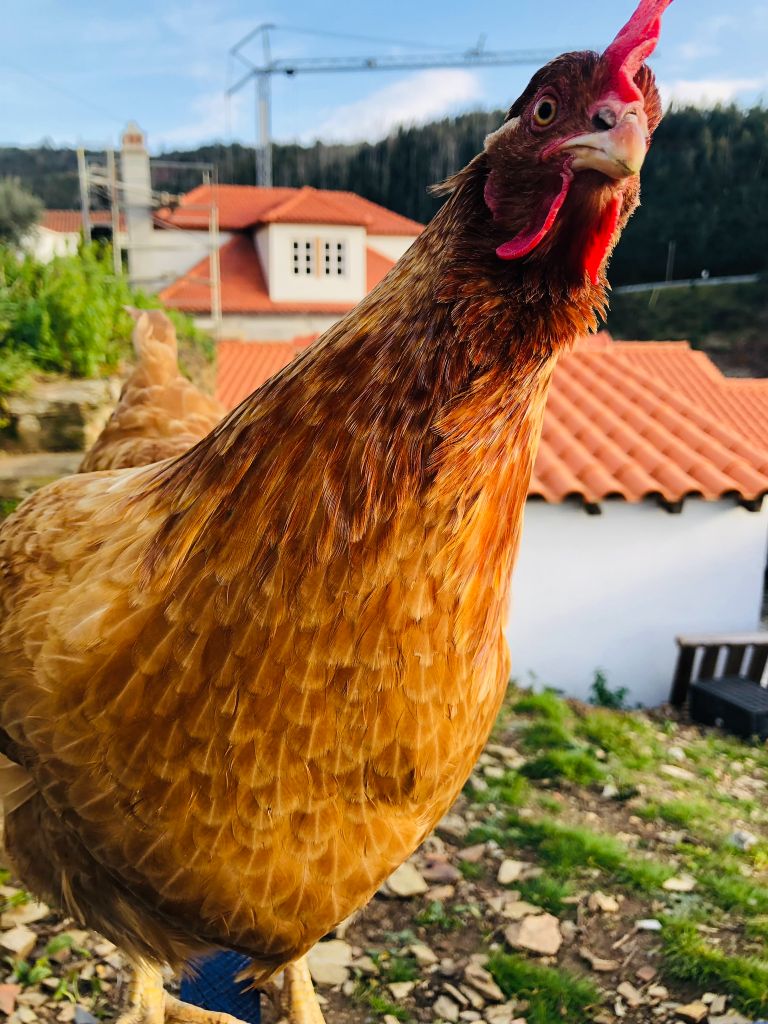 Cushion Comfort
We recycled the old cushion covers for now. I'm not a huge fan but they will only get covered in poop – chicken poop, not my poop (ha ha). I can't make up my mind if they fit better up the right way or upside down and Judith AKA Poodith doesn't care (ha ha).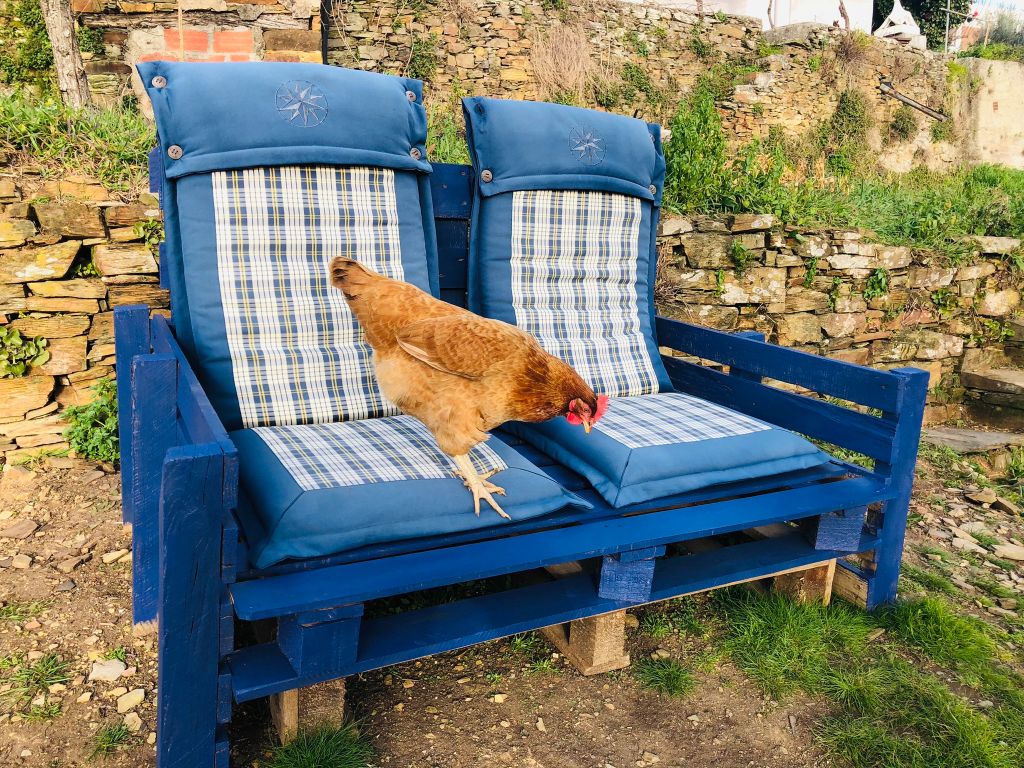 Garden Art Tittie Project – Take 2 (21/01/2023)
Technically this is also not Seed to Feed but too much FUN not to share and garden related. Today = "Garden art tittie project" Take 2. Last May I surprised hubby with some awesome garden art whilst he returned to the UK. I transformed 2 round stones on a pillar into a pair of breasts because why not! You could say my project went "Tits Up" because the birds have taken quite a shine to my gorgeous lady nipples, I honestly can't blame them. Today was the day, after an afternoon of DIY I made a new pair of Nipples and painted them radiant red as I think the pink and red combo compliments the pretty Japanese camellias. Probably not the best choice in colours as birds love red as they think it's berries and food. I'm sure my new nipples will be pecked to pieces in no time. Oh well, all breasts deteriorate over time. Your never too old to have FUN.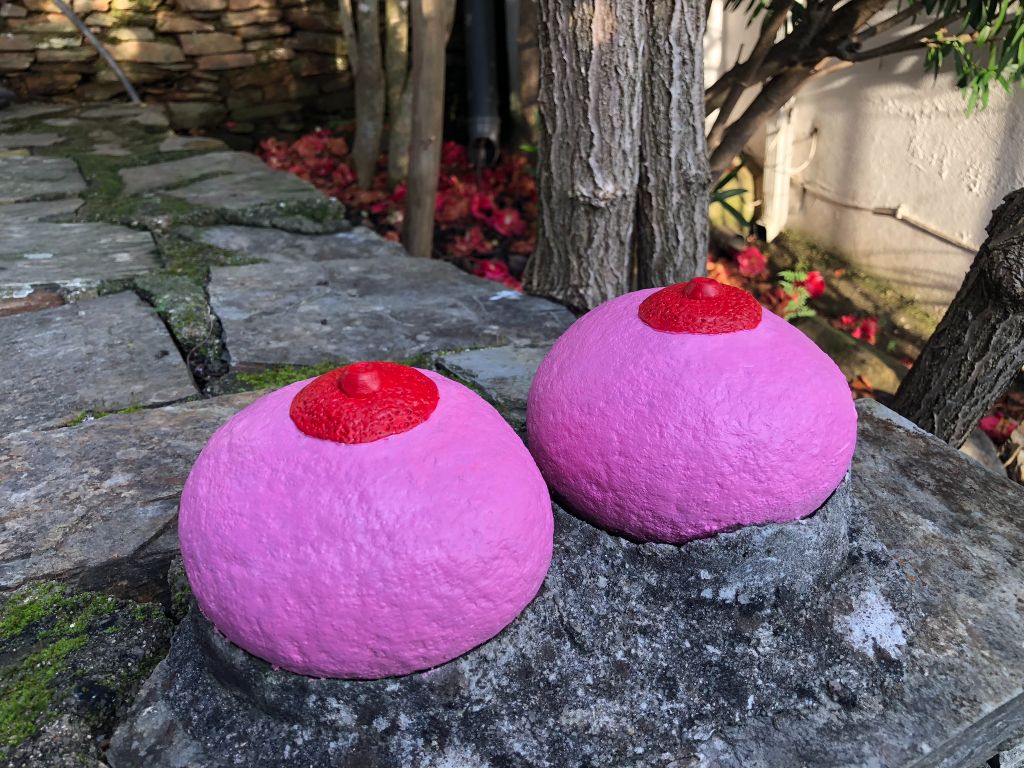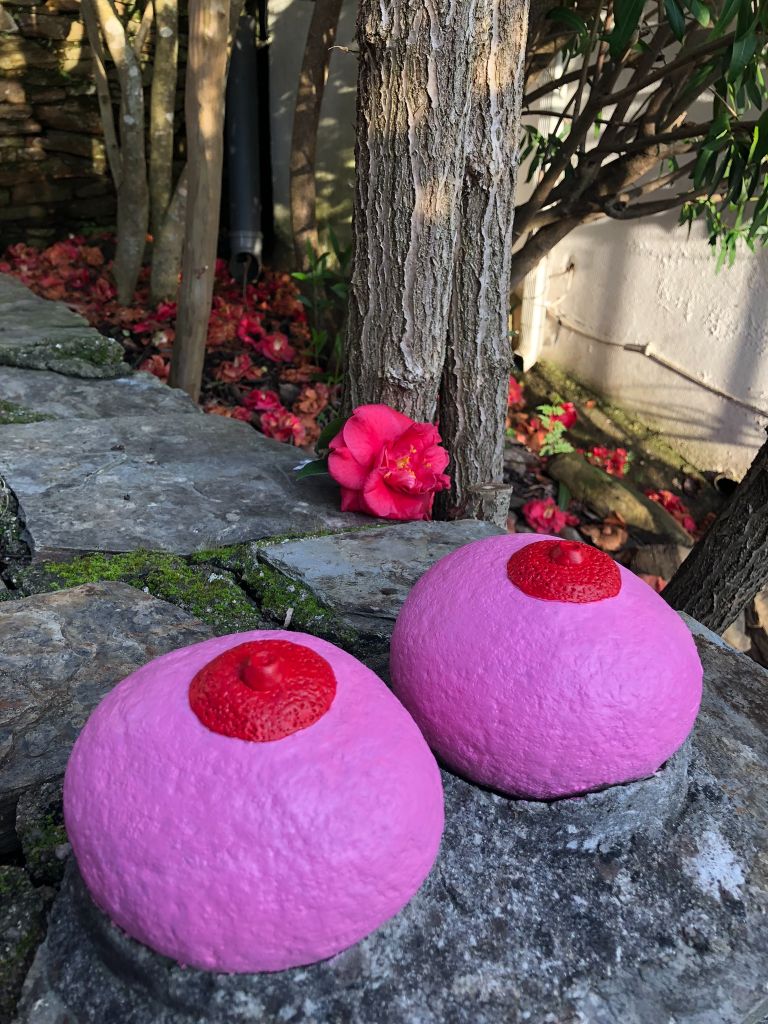 Colour Coordinated Garden Tittie Art Selfies
What a glorious and perfect afternoon for some hilarious updated colour coordinated garden tittie art selfies. I really love my new red nipples. I just wish mine were as round and perky. A girl can dream. The sunlight was blinding and I couldn't see what the hell I was taking photos of. The builders next door and bloke in house behind me both think I'm crazy as I'm posing in the garden in a bikini top teamed with sweat pants, ski socks and slippers. At least I'm giving them free entertainment and a right laugh to lift the Monday blues. I probably should have put some make up on for such up close and personal selfies, I couldn't be assed but at least my hair is clean and my grey roots are refreshed. Unfortunately I'm a member of the Itty Bitty Titty Committee but at least it means I can jog without getting 2 black eyes. You are never too old to have fun guys. As you can see, I don't take myself too seriously. Embrace life and find joy in the small simple stuff. I'm off to play with my chickens.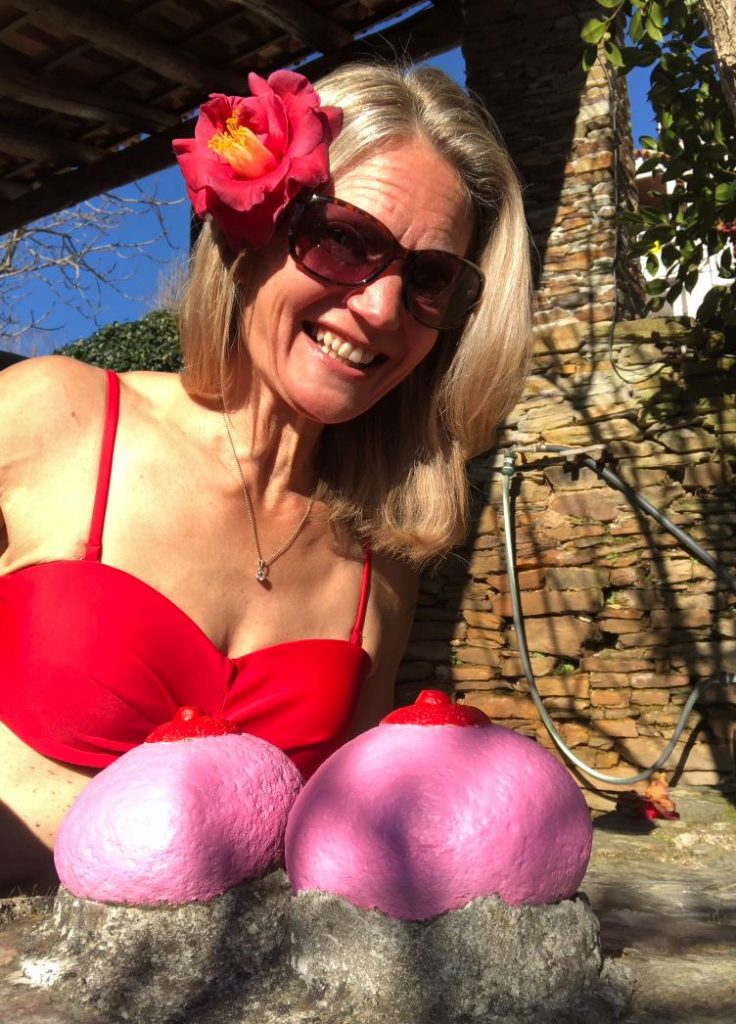 When Your Outfit Matches Your Tits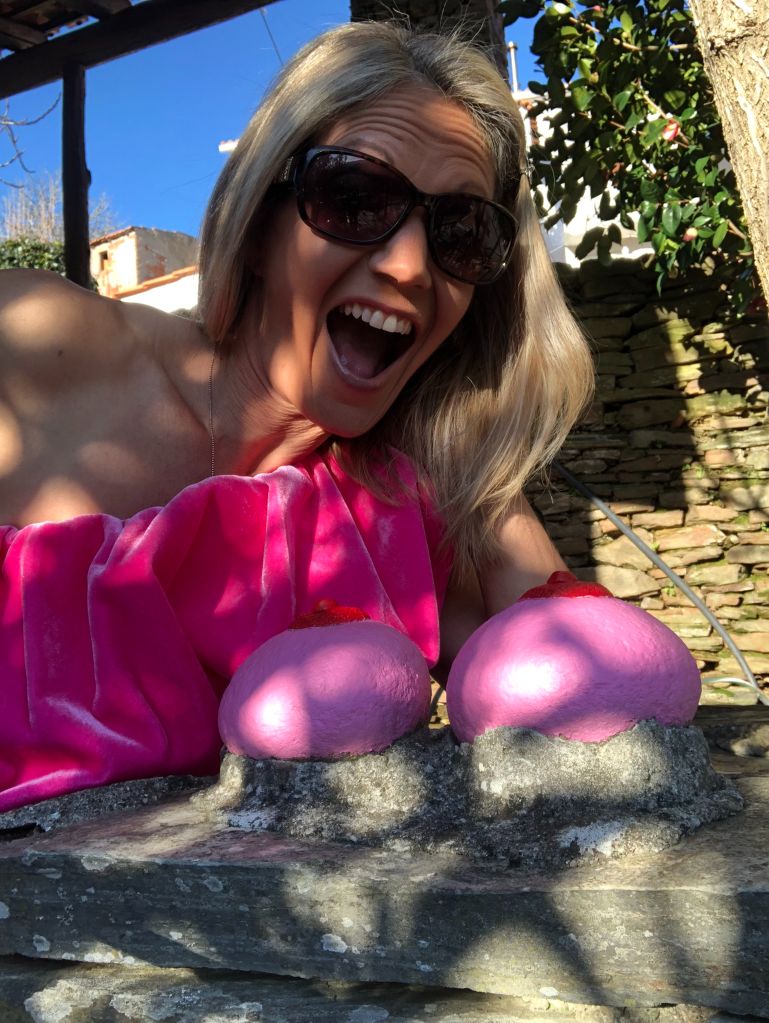 Mince Pie Trade Off (21/01/2023)
Again not Seed to Feed but a kind gesture which was highly appreciated. I absolutely LOVE a friendly food trade. Fresh eggs happily exchanged for British Mince Pies. You might remember my recent mardy ass menopausal lady rant about not wanting to pay a whopping €7.20 at the local village store for 6 British mince pies. I did not give into temptation and hubby was under strict instruction not to step foot down the British aisle or pay the consequences (ha ha). I adore the simple pleasure of swapping food and harvests. If you have surplus then share the JOY. Do they taste different because it's not Christmas? Hell No, they were absolutely delicious with banana and homemade vanilla custard made with fresh eggs from our gorgeous hens. Sharing is Caring. Mince pie after a day of DIY (with a picture perfect view). The rest are in the freezer because if I leave them in the kitchen cupboard I will eat the whole lot as I'm a greedy piglet and have little self control (ha ha).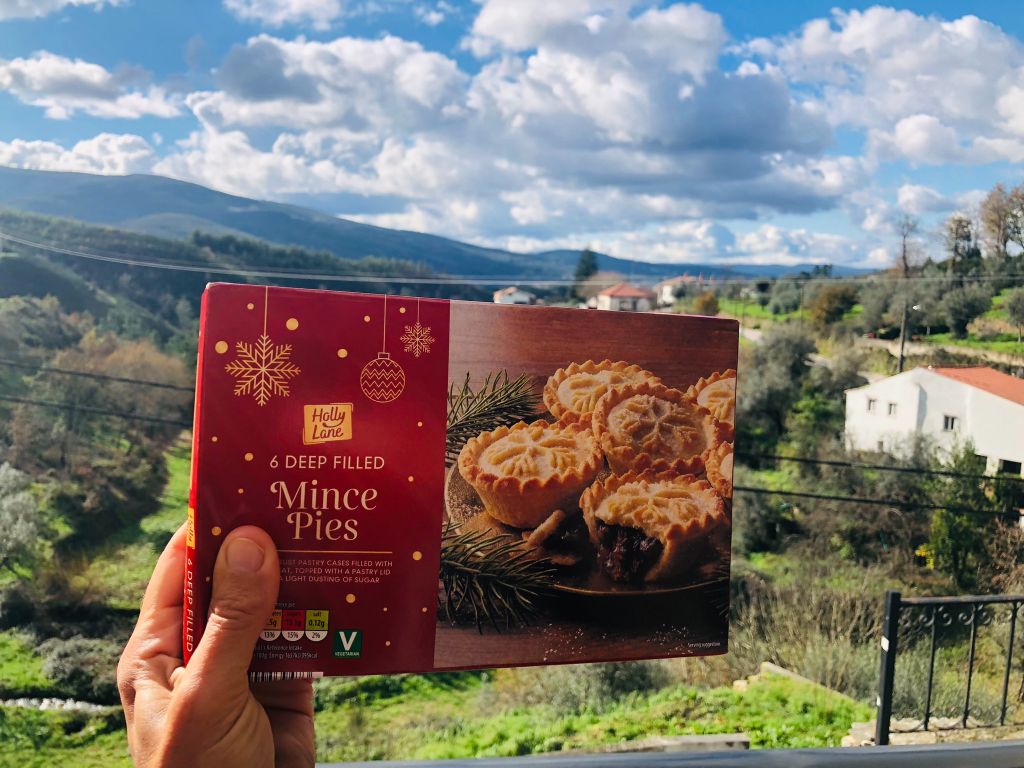 Bee Happy – Garden Fairy Lights (23/01/2023)
Hubby bought me the cutest new solar fairy string lights for the garden. How adorable are the bumble bee design, I love them. I just need the summer to arrive so I can party into the night and enjoy the sight. I've always loved bees, we get so many in our garden. What can I say apart from "Bee Happy".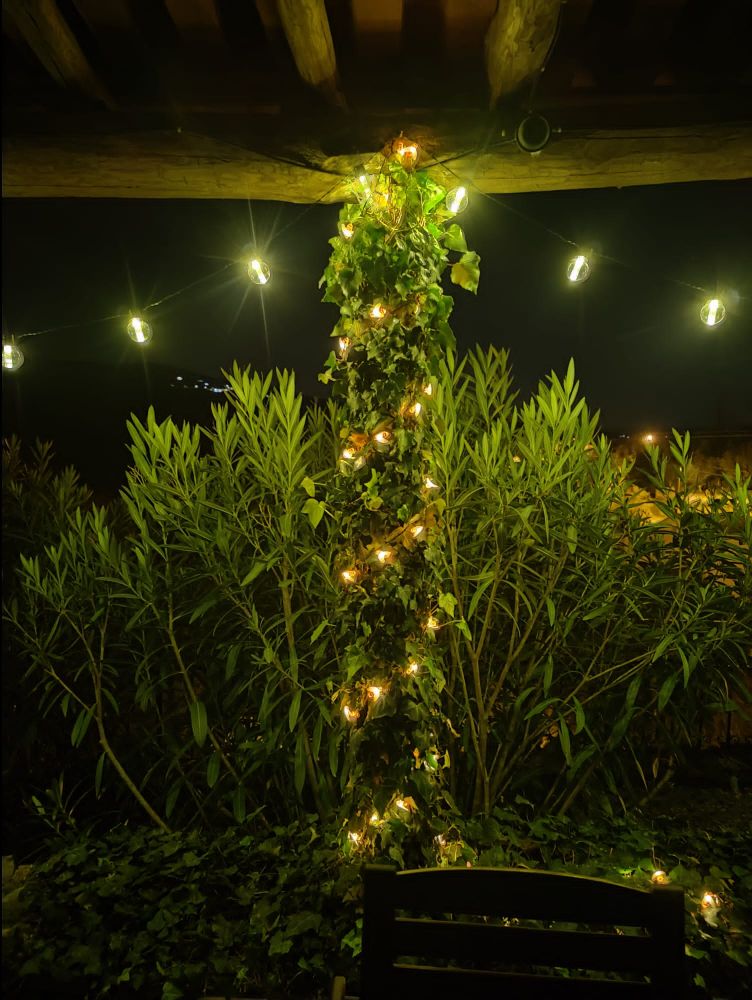 When Life Gives You Lemons (24/01/2023)
When life gives you lemons grab the tequila and salt or learn to juggle (ha ha). Our neighbours in the house behind us gifted us the Clementine's.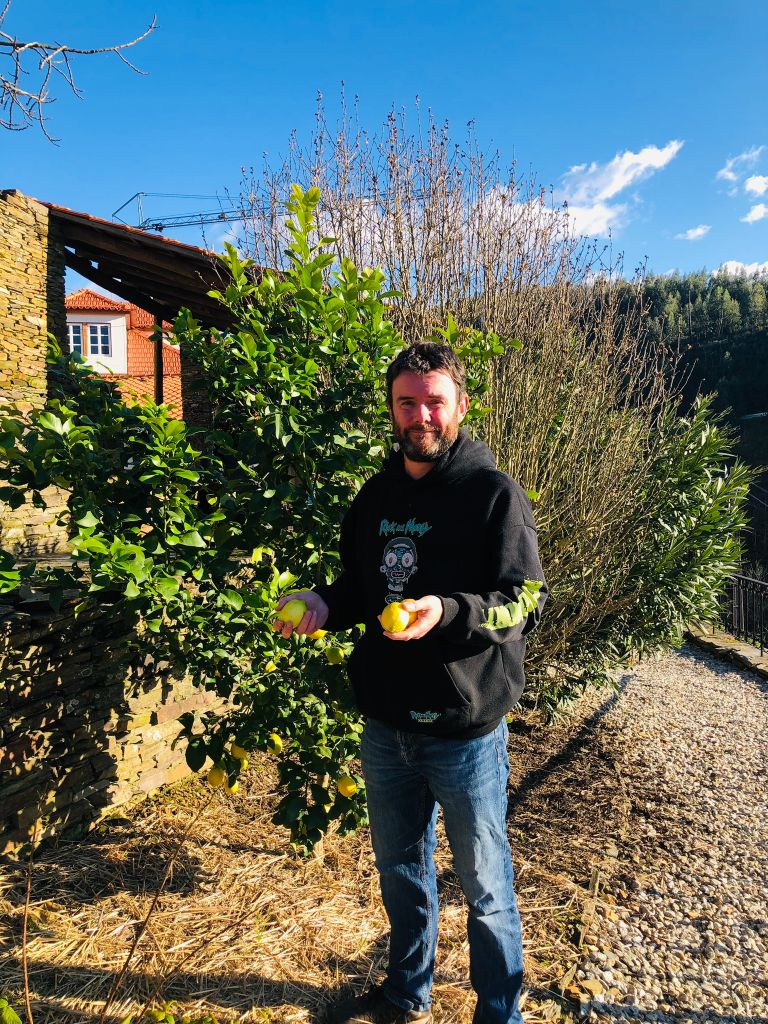 Miss Marple on a Mission
I have found a couple of random hollowed out oranges this week so put on my detective Miss Marple hat and investigated. I was expecting a giant rat but it was unexpectedly a beautiful serene bird. I was amazed that it managed to break open the orange in half and scoop out so much orange flesh with total precision, how wonderful.
I don't mind sharing my fruit with the local wildlife as we have a huge tree and there's only so many oranges a girl can consume before she either turns the colour of an Oompa Loompa or is shitting through the eye of a needle (ha ha). I have a freezer full of citrus to keep me supplied in jam and marmalade until I'm 98. If I die before this age I might have to gift it to someone in my will (ha ha).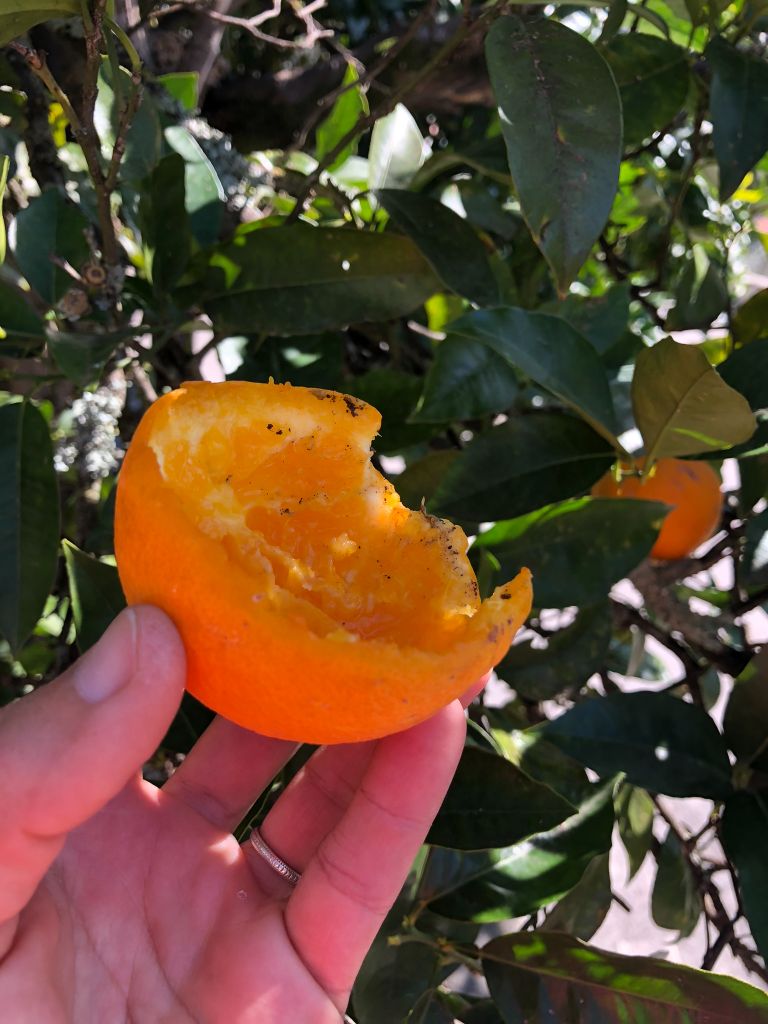 Sturdy Seed Trays
A lot of seed trays are so flimsy and fall apart after one use, they are also really expensive here in Portugal. I recycle individual old seed pots as I don't like to use plastic much. When we purchased our house we found several plastic plant pots of all shapes and sizes in our old shed. These are great for our seedlings next phase but I like to sow seeds in smaller seed trays as it's just easier and saves space. I decided to splurge on some decent reusable seed trays from Leroy Merlin. They are thick, strong and sturdy – a bit like me (ha ha). These look awesome and hopefully will last a few years. They have 12 holes, come in packs of 10 and cost around €5. I also had the choice of purchasing 24 holes in a pack of 5 but I prefer the smaller trays because I can sow one variety of seed in each tray so no confusion. We have decided to clean out the sun room and sow our seeds in mid March when I return from my trip from the UK. Last year we started mid Feb as it was nice weather then we got a frost and some seeds took forever to germinate so I would rather wait, patience is a virtue, it's just a shame I have zero of it (ha ha).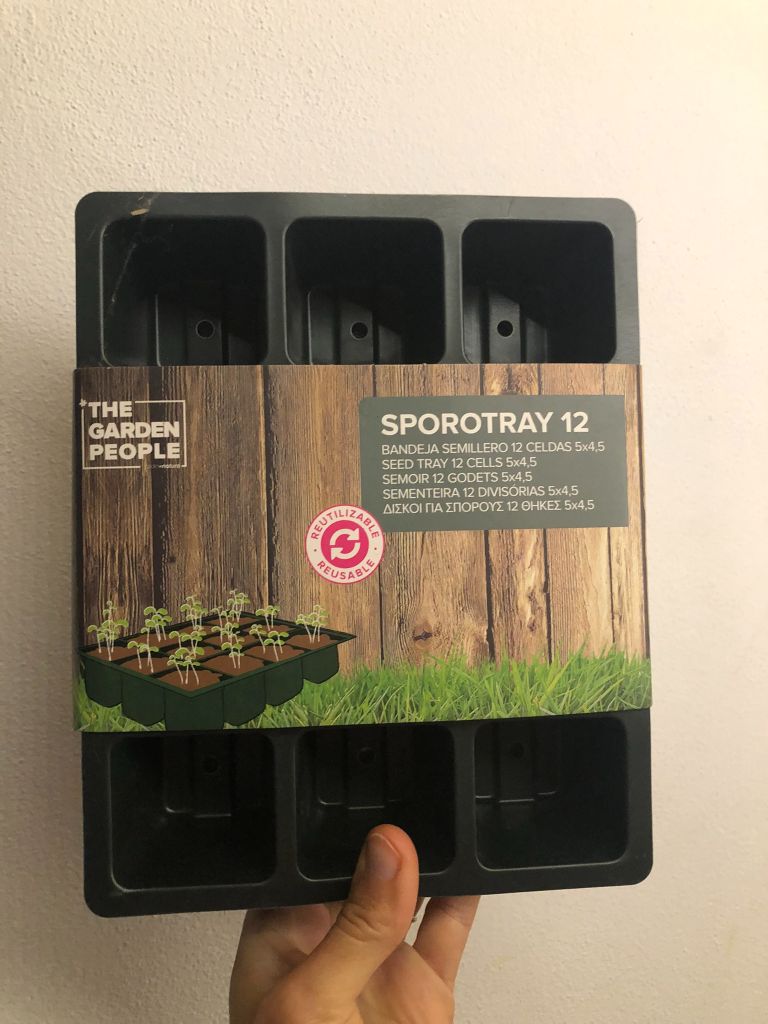 The Hollowed Out Heart
A bird has hollowed out an orange via a heart shaped hole. I love Nature Art. Simple joys in life make me smile. I hope your heart is full of happiness and is never hollowed out! I wasn't prepared for the multiple ants that crawled out of the hole and ran up my sleeve (ha ha).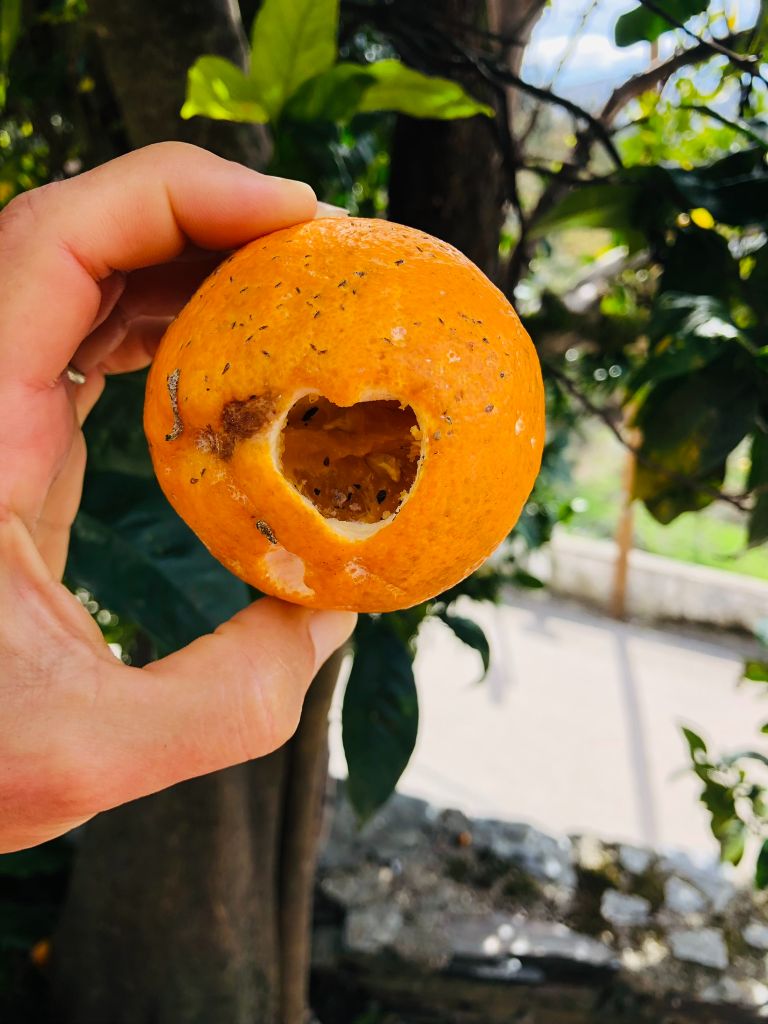 Sowing Seeds (18/03/2023)
Keep on sowing your seed, for you never know which will grow – perhaps it all will. Albert Einstein. Today we sowed our seeds. RIP poor baby Gecko, we found him squished in the shed door. This year I'm trying to grow a blanket of barley grass for our Guinea piggies. Wish me luck.
You know when you've consumed too many summer 2022 ice creams when you have over 100 lolly sticks to recycle as plant labels (ha ha). In winter I eat Portuguese cake and coffee but in summer I enjoy ice cream and wine. We still have an injured poorly bird Judith. Her leg is still bad and she can't venture down the steps to join the others and explore the garden but she is being a brave soldier. Here's to a Happy Helena Harvest.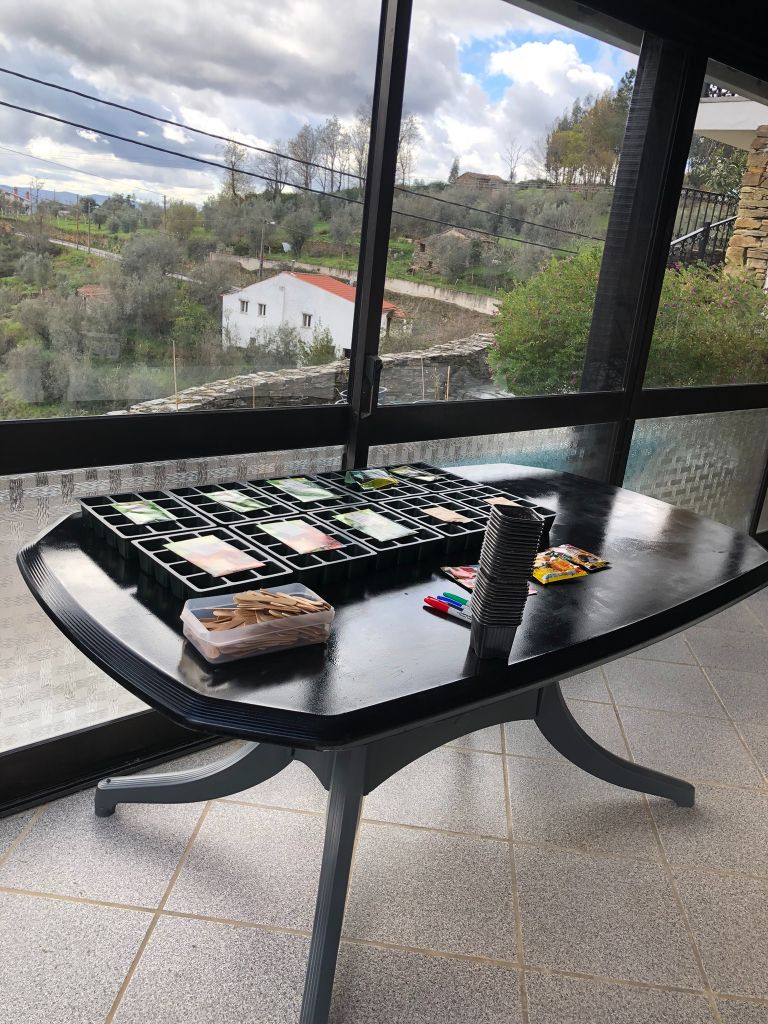 Spring is Here – The Mighty Spade Workout (20/03/2023)
Wow, what another glorious day, my regular 7K jog followed by an afternoon of gardening. Who needs the gym when you have the mighty spade workout, digging is brutal on the biceps, I'm hoping to strike gold and not find a dead body (ha ha). Now it's chicken therapy O Clock and quite possibly another Curly Wurly, I've certainly earned it. Gardening with chickens is so much fun. I discovered the first sign of tiny figs today, the first day of Spring is definitely here.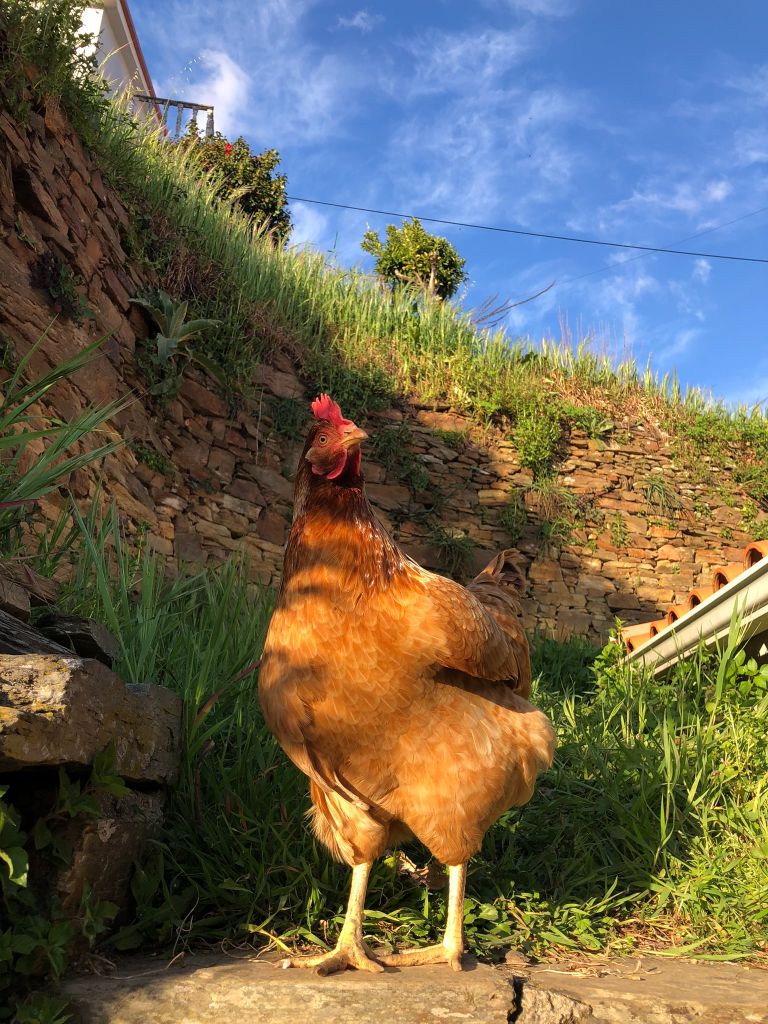 Onion Weeds
I keep finding these plants growing out of our schist walls. The wonder of nature. They are very pretty, look like snowdrops and smell like onions/chives. Apparently they are onion weeds and completely edible. Free food makes frugal Helena very happy (ha ha). I do hope I've identified them correctly. If they turn out to be poisonous and I die, you know why and don't place any of these flowers on my grave as I will come back to haunt you for an eternity (ha ha). Maybe I will test them out on hubby first, if he survives, I know they are O.K (ha ha).
Another scorcher of a day so had to wear my sun visor which makes me look like a crazy bitch (ha ha). It's impossible to look glam whilst gardening with dirty messy hair but I'm still rocking my white Wimbledon look, any one for tennis? Just make sure you bring the Pimms and strawberries.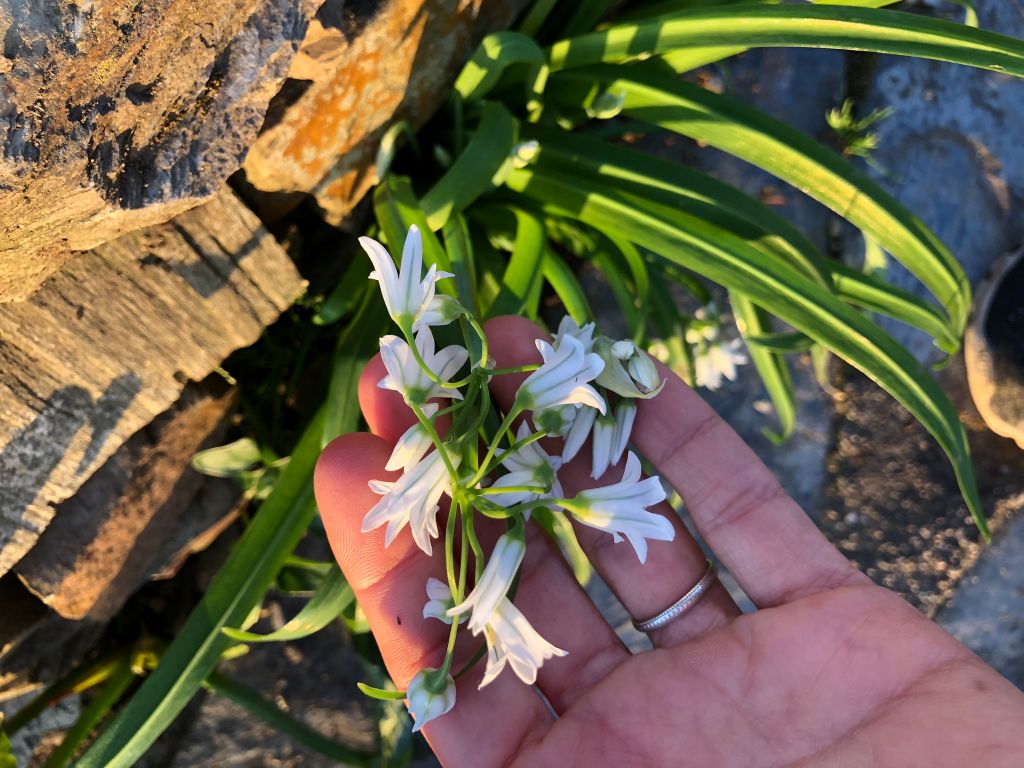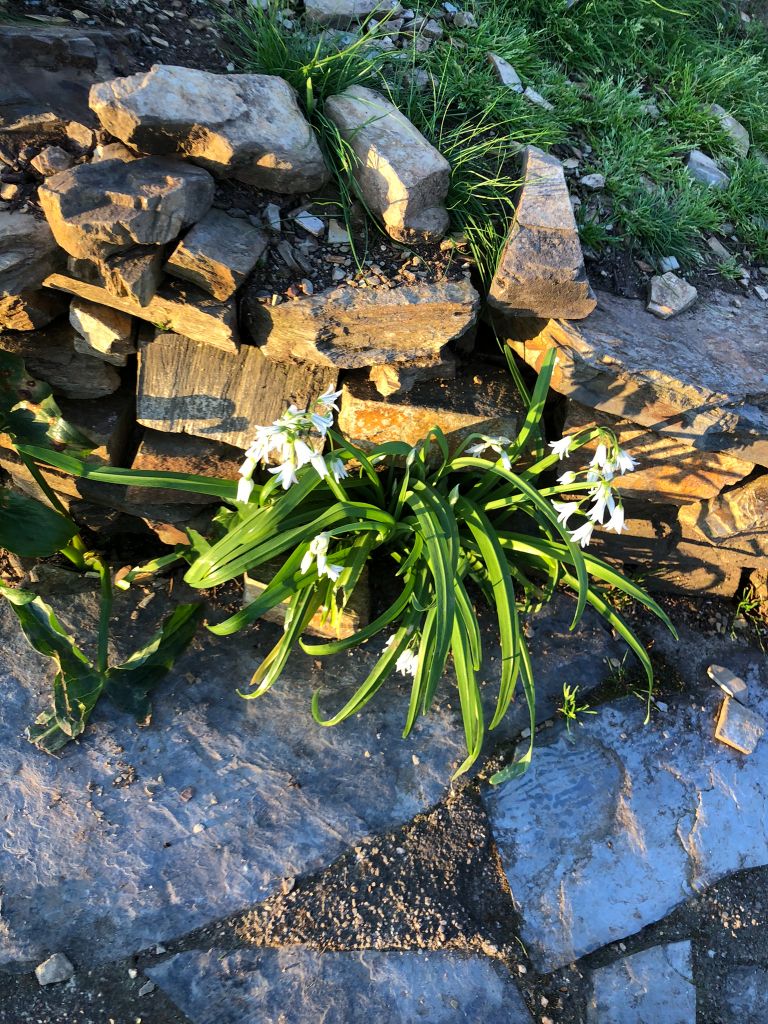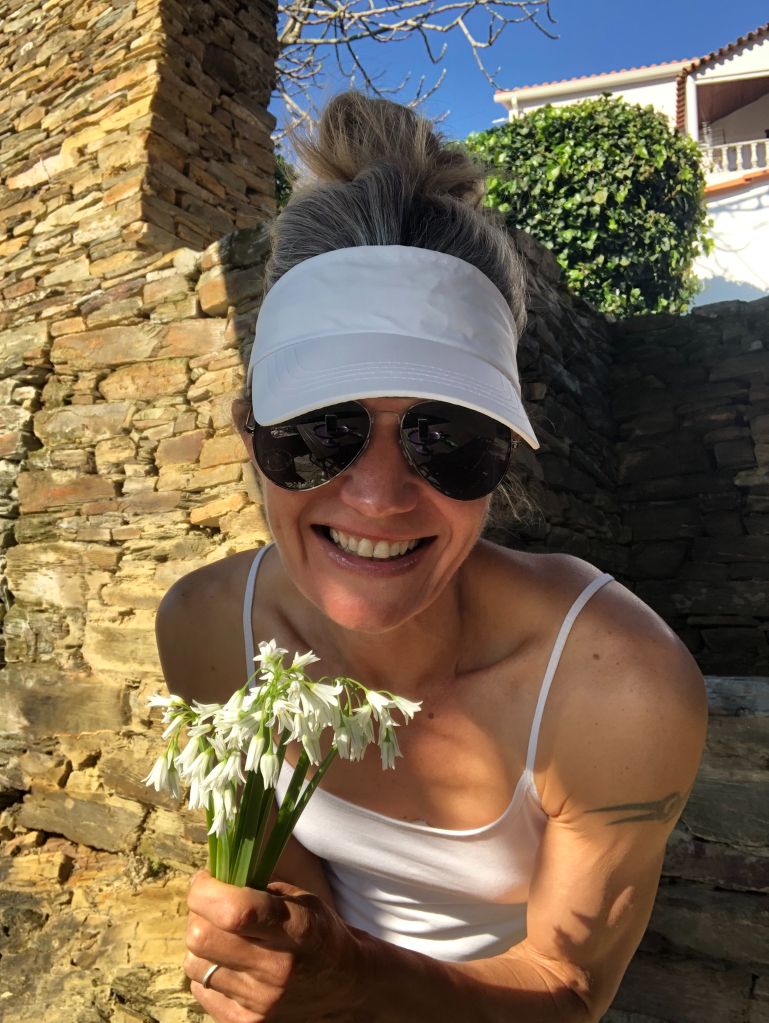 Adrian Shearer
Hubby is delighted with his new garden shears. Never mind Alan Shearer I've got my very own Adrian Shearer (ha ha). This is quite possibly only one rare occasion you will see him in a shirt. He has to work from the office and there's a strict dress code which being a T.Shirt and Jeans kind of man he is obviously delighted with (ha ha). Yes I'm dirty, sweaty and have messy hair but I don't care, I'm not about to start using filters to disguise my wrinkles at nearly 50. I'm also not spending our cash on botox when I can spend it on cake and coffee (ha ha).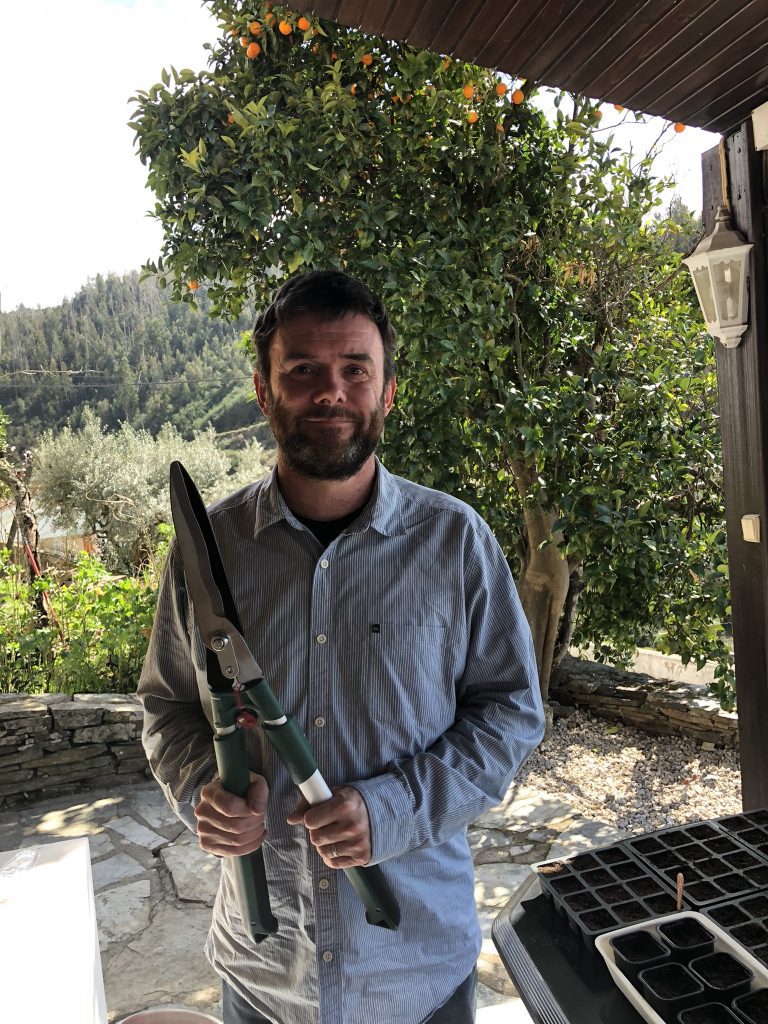 Get inspired to get your hands dirty in the soil and make beautiful things grow, you won't regret it.
I will update this gardening diary post regularly!