CÔJA MEDIEVAL FAIR
We have had so much fun attending all the local festivals and fairs. Most of the wonderful fiestas run during the summer months of June, July and August but I keep seeing posters on lamp posts and banners around my local area promoting events in September so the fun in the sun continues. It's so awesome to be able to attend these events and mingle with the locals as Covid put a stop to all these events and celebrating for so long. I have always wanted to attend one of the Medieval Fairs which are usually held in the historical Portuguese villages and towns. I know Sortelha, Monsanto, Óbidos and Belmonte hold a Medieval Fair annually which usually runs over the weekend Friday – Sunday and includes reenactments such as battles at the castle and noblemen on horseback. I am intrigued to learn about Portuguese culture, heritage and history so when I saw that a Medieval Fair was scheduled for our local village, I was beyond excited and I just had to attend. This event was only on one day (Saturday).
Schedule of Events
The schedule looked very similar during the day and evening so we decided to arrive around 18:00 for the Falconry Display, grab a bite to eat there and stay until it closed. I am still in a lot of pain from my dentist drama but I topped up my Tramadol and had a lot of fun celebrating with friends. There was dancing, music (including drums and bagpipes!), falconry display, children's tales and tradition wooden games, jugglers, brawls and duels in the taverns of the village, snake charmers, owls, ducks, goats, historical reenactments and a spectacular fire show. The cobbled streets were lined with cute stalls, delicious street food and goblets of mede for the noblemen and fair maidens. Many folk were in traditional dress and there were some really funny characters who interacted with the audience and got everyone involved. Hubby and I got dragged up to dance and the man was very persistent much to hubby's horror. It's a good job we don't know many people here so we can embarrass ourselves with no comeback (ha ha). The lady dressed up with a huge fake bosom and fake rotten teeth took quite a shine to hubby which was hilarious and our friend liked the Knight all dressed in armour. The bars and cafes were open too so our little party could enjoy a wine, sangria and a beer or two. Unfortunately I was on the coke zero as I'm still drugged up to the eyeballs on pain killers and I didn't want to end the night in a coma because hubby can't piggy back me far (ha ha).
The fire show was very entertaining. I am considering recreating the sexy couple dance with hubby but putting my own twist on it. I will need at least a dozen rum and cokes beforehand. I can't attempt the other dances as I don't have a rainbow sparkly glittery fan accessory or a snake and I don't think bunny Milo draped around my neck and shoulders would give the same ambience (ha ha). I have mixed feelings about the snake dancing as I'm not sure snakes should be kept in baskets or lifted above ones head and span around multiple times at speed. I like to see snakes in my garden amongst nature, wild and free. The funniest part of the night was not being dragged up to dance but the old lady who lives in the next village to us very nearly got taken out by the bird display. Timing is everything and she decided to cross at the wrong time. It was very nearly game over for her and death by falcon.
We had a blast at this action packed event. I loved the battles, brawls and duels, especially when the lady kicked the mans butt, girl power. I also spent way too much time with the amazing owls as it's not everyday one gets to view owls close up so I took my opportunity. Owls are such spiritual creatures and I could watch them forever. The night ended literally with a bang! A spectacular fire show with sparkles and fireworks. It was an awesome fun event celebrating 900 years of history. The only thing missing was a dozen or so half naked noblemen on cavalry horseback. I'm mentally picturing the character from Poldark, a girl can dream (ha ha).
I am not sure my photos will do this event justice but I couldn't resist sharing the joy. I do have some awesome videos on Instagram and Facebook if you fancy viewing them as I don't think photos give the same atmosphere as some are a bit blurry as they are mostly action shots and my phone camera is old (like me) and is not great at taking photos in the dark.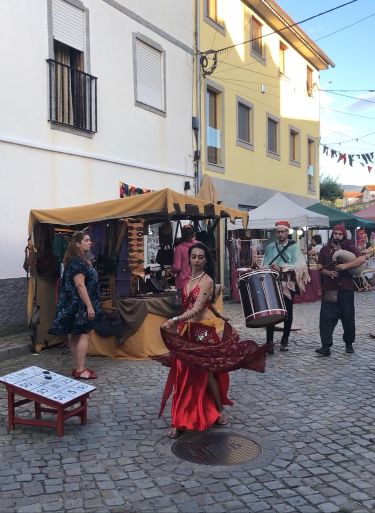 Hilarious Hubby