A DAY TRIP TO PASSADIÇOS DO PAIVA
The Passadiços do Paiva Trailhead is located on the left bank of the Paiva River, in the municipality of Arouca, district of Aveiro. I was so excited to venture out on a day trip and it was one to tick off of my Portugal bucket list. The route is a linear 8.7K/5.5 miles which takes you alongside the river Paiva. The landscapes of unparalleled beauty are stunning. The route stretches between the river beaches of Areinho and Espiunca, with Vau river beach between the two. If you are passionate about the beauty of natural nature and love tranquillity then this is the place for you. It's perfect for anyone who has an interest in biology, geology and archaeology. The wooden walkway structure enables visitors to see parts of the countryside which was previously only accessible by boat. You will get to see some amazing wildlife too (endangered species in Europe) and the white water foaming rapids are a spectacular view. The Arouca territory is recognised by UNESCO as a Geological Heritage of Humanity. There are information boards along the route giving you geological and wildlife features and facts.
I was so excited to visit The Paiva Walkway. It is a 2 hour and 20 minute journey by car each way from our home but well worth the drive. We took the scenic non toll route which took us through some lovely little villages and was only 2 minutes longer than the toll roads and less miles. The 516 Bridge is located near to the Areinho end of the trail and it is the second longest pedestrian suspension bridge in the world (516 metres long), after the Baglung Parbat suspension bridge in Nepal. We decided not to book a ticket on the 516 Bridge as our daughter is excited to walk over the bridge and hopefully will visit us soon so we all want to experience this memory together for the first time. The route of 8.7K/5.5 miles is classed as high difficulty and is supposed to take an approx time of 2 hours and 30 minutes to complete one way. As well as the wooden pathways there are some areas of unpaved track (rock and gravel terrain areas underfoot) as well as several flights of steps. This route is not suitable for the disabled, people with mobility difficulties or for children's pushchairs. Animals and pushchairs are not permitted.
Coordinates:
Espiunca
40 ° 59'34.67 "N 8 ° 12'41.19" W
Areinho
40 ° 57'9.68 "N 8 ° 10'33.05" W
Tickets
You can buy tickets here online:
https://reservas.passadicosdopaiva.pt/en/bilhetes
Tickets cost €2 each for an individual adult/young person/senior ticket and under 10's are free. If you buy the 516 Bridge ticket you gain free entry to the Paiva Walkway. MAKE SURE YOU BOOK ONLINE IN ADVANCE!
Opening hours
Period
Opening time
Last Entry
Closing time
April and october (working days)
09:00h
15:00h
18:00h
April and october (weekends and holidays)
09:00h
16:00h
19:00h
May to September
08:00h
17:00h
20:00h
November to March
09:00h
14:00h
17:00h
Facilities
There is a cafe/bar and toilets located near the car park and river beach at each end of the route. There is a cafe/bar and toilets near the Vau river beach at the halfway point but it was closed when we visited on 31st May and I think they are only open at weekends in May. This could change in high peak summer months. There is also another little cafe serving snacks and drinks close to the Areinho end but again this was closed. At the Espiunca end right next to the ticket booth there is another cafe/bar which was open. If you want a proper meal rather than a snack then there is a posh restaurant close to the Espiunca car park. Don't forget to take lots of water to drink and a hat if it's hot and remember your sunscreen and bathing costume unless you want to swim naked! There are several SOS phones along the route.
Starting points
There are 2 starting points: Espiunca or Areinho. For those people who only want to walk one way and prefer a less challenging walk it is advised to start your journey at Areinho as this leads you downstream and is an easier route then you can get a taxi or jeep back to the other end for around €15. If you intend to walk both directions (round trip) then it is advised that you start at Espiunca to get the harder up hill part out of the way first. This route is best for taking photos as they are more dramatic going uphill against the flow of the river (upstream). I was adamant that I wanted to walk both ways. There are 301 upward steps then a further 234 = 535 from the Areinho end before you reach the ticket booth. Yes, I counted them! What can I say, I have an OCD diagnosis and sometimes it's helpful, most of the time it's a hindrance. There are quite a few more zigzagging paths and winding stairs when you approach the area where you can see the 516 bridge in the distance. I started counting them but lost count (hubby's fault) so I'm not sure if its 300+ or 400+ and if you are starting at Areinho then these steps are downward steps. The higher elevation viewpoint platform gives a superb view of the idyllic Aguieira waterfall, 516 bridge and impressive cliffs of the Paiva river gorge. If you are only going to walk part of the way it's best to start at Areinho end and walk to the Vau river beach and back. This means you won't miss out viewing the 516 bridge, 2 waterfalls and smaller suspension bridge. Some people have started at Espiunca and walked alongside the river and are met with the incline then turn back before they even reach the Vau river beach or they walk from Espiunca end to the Vau river beach then return and miss out on so much. Don't make this mistake!
I was actually pleasantly surprised as I thought the wooden pathways would have a lot more steps. There are actually not that many steps throughout the whole walkway. Most of the wooden pathway is just like a boardwalk with slight inclines and declines so it doesn't hurt your leg muscles so much. When we arrived at the Espiunca car park it was around 10.30am and there was only a couple of cars in the car park. This starting point is less popular and we hardly saw another soul until we reached the half way point. The Areinho starting point is more popular due to it being near the 516 bridge and the easier route if you only want to walk one way. This car park was busier but it didn't seem like a lot of folk walked the whole pathway. As you get free entrance to the pathway with the 516 bridge ticket purchase it appeared that some visitors just walked a short distance to the viewpoints and didn't embark on the whole trek. You could kind of tell which people these were as they were inappropriately dressed for a hike. You don't need walking boots for this trek, sturdy footwear like trainers will do.
Journey times
The average time each way is 2 hours and 30 minutes. It took us 3 hours and 30 minutes as we stopped off at various places of interest along the way and took time to marvel at the glory and we also stopped at the Vau river beach which is lovely and shady with all the trees. There are many little tracks down to the river where you can divert off and go and explore and we took every opportunity that arose. Doing so we stumbled across some naked bathers which was mildly awkward especially when the guy dropped his towel, bent over to retrieve it and I got an eye full of his crown jewels from the backward view (ha ha). We actually only walked for 2 hours and 15 minutes to reach the end as hubby kept track of our steps and distance on his watch because he is a nerdy geek (ha ha). On the way back we just walked at a reasonably fast pace with no stops and made it back in 1 hour and 45 minutes. In total hubby's watch confirmed we completed 33,333 steps which is freaky weird and a lot of walking steps. I am hoping it will help burn off some of my picnic, ice cream, chocolate and pizza.
Vau river beach – the calm before the storm
At the half way point you will find the gorgeous Vau river beach. We were absolutely shocked to find that there was no one there so we had the whole river beach to ourselves for a good 30 minutes until a few other people turned up. It was like we hired our own little paradise beach just for the two of us, very magical and romantic. I did have one mishap, I took my first swim of the year which quickly nearly turned into my last! It was so hot that I decided to take a dip. I wasn't expecting to swim so I didn't take my bikini. I always wear my cycling shorts and sports bra under my hiking clothing as I often stumble across wild swimming when I hike and I usually just have a quick paddle up to my ankles as the water is usually pretty chilly despite the heat. I braved the cold water which actually was not as cold as some river beaches I have visited like Piódão and Loriga. I was having a blast watching the fishes (I am a Pisces and love fish and water). I had so much fun swimming then all of a sudden I got swept down river by a strong current. I've never panicked so much in my life, I was clinging to a rock but it was too slippery, I was traumatised to say the least and hubby who thought I was joking at first and had no intention of getting in the water had to jump in fully clothed and save me. Slightly terrifying and embarrassing but no one was there to see thank god. I'm surprised hubby didn't turn a blind eye and just let me go as there were no other people around so no witnesses (ha ha).
Swimming with the fishes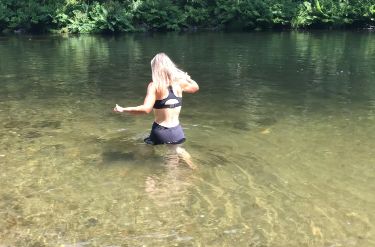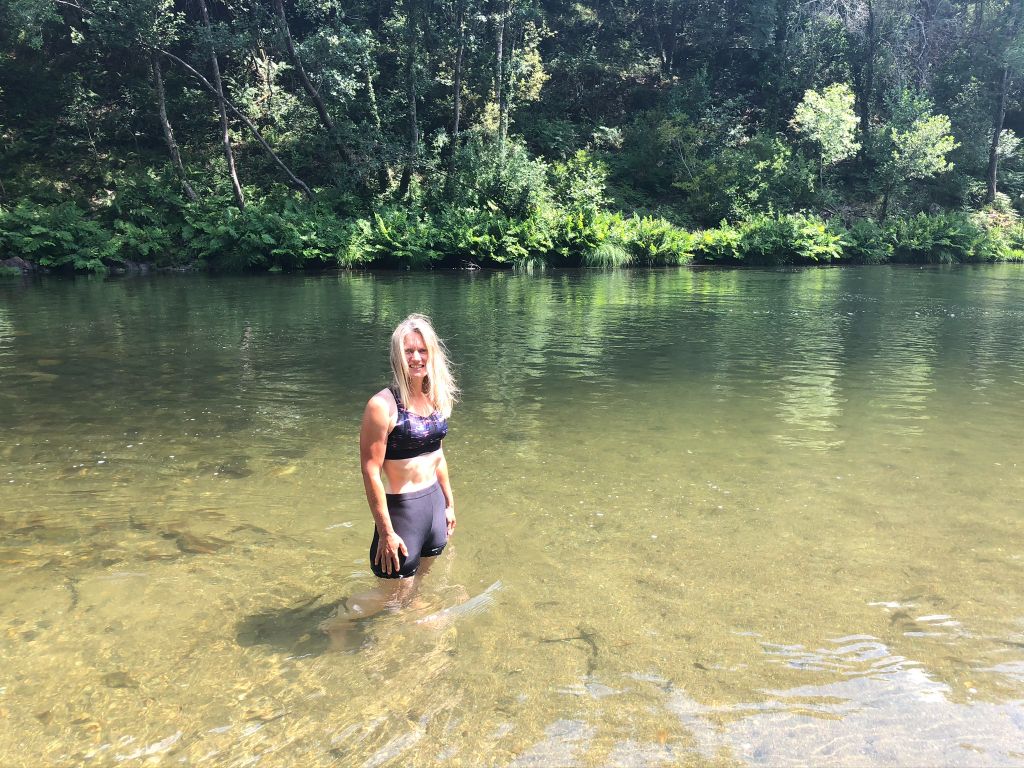 The small suspension bridge
I was very excited to cross the small narrow wooden suspension bridge which spans across the river among cliffs and abundant vegetation. I felt like a character from one of the Indiana Jones movies (ha ha). I'm not sure that my photos capture the pure beauty but I tried. It was a little wobbly in certain areas but I don't seem to have any fear of heights anymore. Maybe it's all that time I have spend fixing our roofs (ha ha).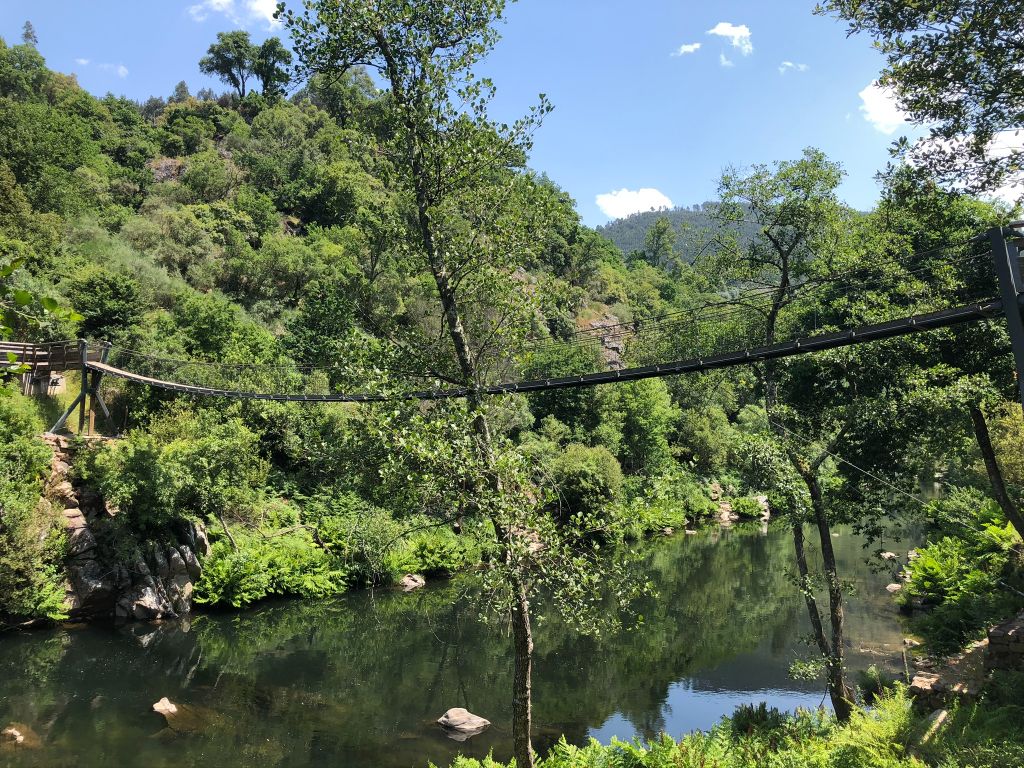 The 516 bridge and lost in translation (again)
I am returning soon with my daughter and hubby to walk the 516 Bridge, what an experience! The setting is divine, there is a huge waterfall cascading down the rocks beneath the bridge. There is a great viewpoint, wooden platform where you get the best ever panoramic views. It really is so very spectacular and I can't wait to cross it. We got stopped by a friendly elderly lady en route and we were obviously lost in translation. We quickly realised that she was not Portuguese but actually Spanish. I really could have benefited from my daughter Teanna being with us as she speaks Spanish as studied it at GCSE, A Level and at University alongside her Psychology degree. We tried our best to tell the lady how far and how long it would take from where she was to the bridge (about 15 minutes). She had sent her hubby ahead up all those steps to explore her options. She was having a cigarette break when she stopped us and seemed a little out of breath but nothing compared to her poor hubby who was struggling up 535 steps, bless him.
Waterfalls
I love waterfalls so much, I'm not sure my photos do these waterfalls justice. Just after the half way point there is a smaller waterfall – see 3rd photo. The main attraction is the Aguieira waterfall by the 516 bridge on the opposite side of the gorge – see 2nd photo.
The route
This hike was absolutely amazing it really is impressive! There are breathtaking fairytale views along the whole journey with the river Paiva as a stunning backdrop. What is great is that there is a river beach at each end and another one in the middle so plenty of places to cool off on a hot day and enjoy a picnic. Part of the pathway (Espinhal to Vau river beach) is shaded by trees so it's not too hot even if the temperatures are high. The landscape is so very beautiful and there are many different species of flora and fauna to view along the way. We saw tons of lizards, geckos, butterflies, dragonflies and birds. I was hoping to see an Iberian wolf or red squirrel but no luck this time. The waterfalls, sounds of the birds chirping and aromas of the fresh tree scents were invigorating. I was keeping an eager eye out for quartz crystals and any Europe endangered species. I was concerned that it was going to be super busy but actually it was a tranquil experience like a secluded sanctuary and it didn't feel crowded at all. I think they are monitoring numbers due to Covid which is fantastic. You need to wear a face mask when you enter the cafe/bar areas and when you pass through the ticketing booths but once inside you can remove it. The official website recommends you don't hold onto the railings and that you put a mask on when you pass others but this wasn't really an issue for us as we rarely saw many others and were not in close proximity to others very often. We enjoyed a Portuguese picnic once we reached the Areinho river beach and also visited the cafe/bar for an iced cold coke and a pit stop at the toilets. Apologies no picnic photos, it was epic but I was more concerned about the fellow bird who wanted to steal my food so I ate it at lightening speed (ha ha).
If you love hiking or like me enjoys to walk, feel, observe and appreciate being amongst picturesque nature then this is the day trip for you. If you find yourself exhausted at the half way point there are taxis available to take you back to your car, I must admit I was tempted (ha ha). If you want a shorter walk you could always park at the Vau river beach or walk from either starting point to the middle Vau beach area then turn back. That was not an option for me. I'm an all or nothing kind of girl, in for a penny, in for a pound. I was completing the whole trip even if I had to crawl on my knees at the end (ha ha). I expected it to be more challenging as it's listed as a hard difficulty but I didn't find it demanding. My legs only ached mildly the next day and I was still able to venture out on my usual 5K run around my village. I must be getting fitter as my thighs usually feel like jelly after a long hike.
Just Come!
The different levels of altitude makes the Paiva river one of the best rivers for white water activities such as rafting, kayaking, hydrospeeding and canoeing. It is considered by the experts one of the best courses of white waters in the country. As we were hiking back to the car we saw a group of people enjoying water sports. They were sat in huge doughnuts with a guide in a kayak and looked like they were having the time of their lives. I really want to try this if my back will cope with the activity. I think it would be an epic adrenaline rush and so much fun or I will just be panicked and wet myself (ha ha). The company who runs the water sports is called "Just Come" which is a bit of an unfortunate name for a tour operator offering countryside and adventure tours. It sounds a bit rude! It might just be my filthy mind working in overdrive (ha ha).
Espiunca car park, river beach and cafe/bar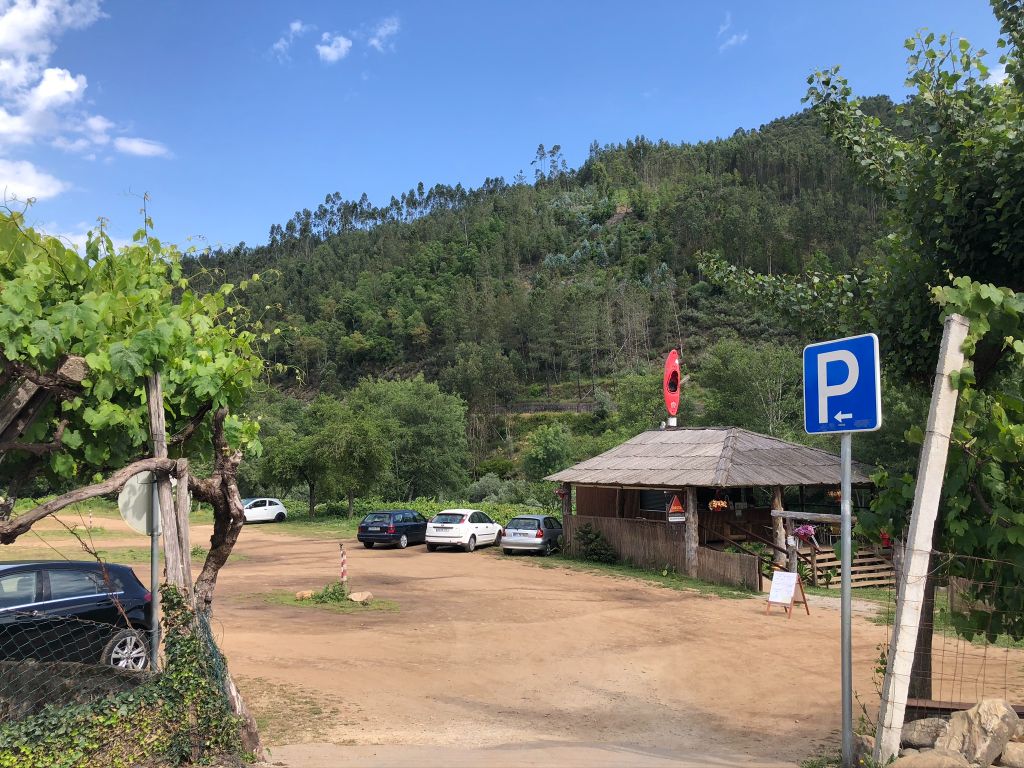 Cafe/bar near Espiunca entrance booth
Areinho car park, river beach and cafe/bar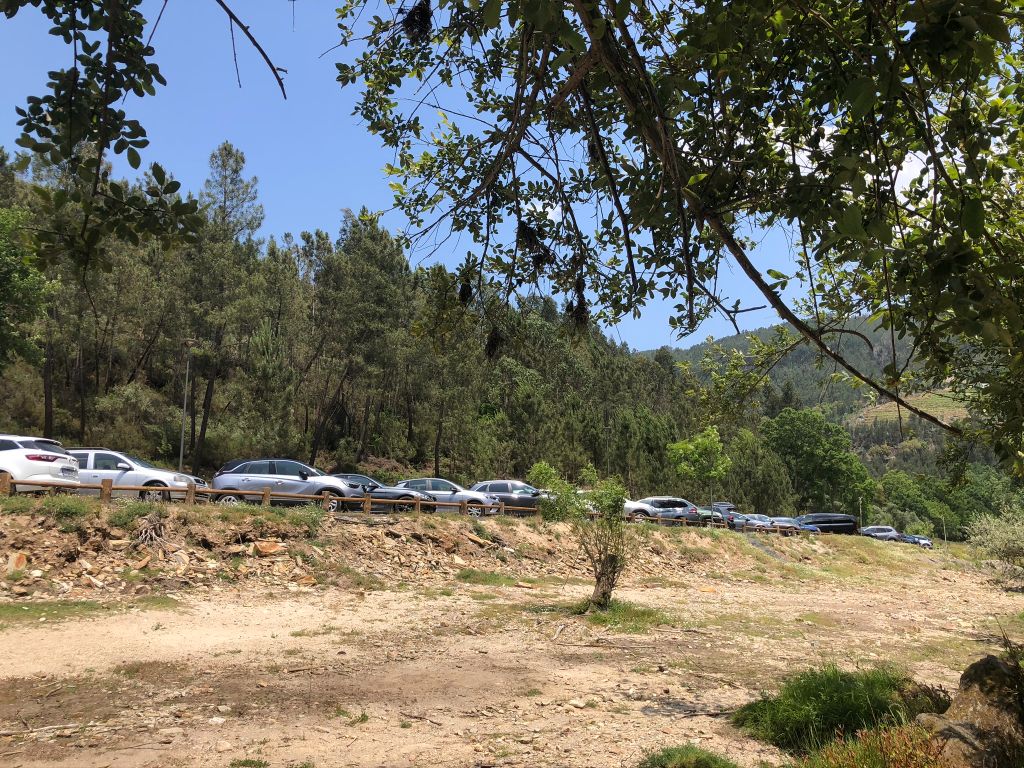 Espiunca – Vau river beach
Pizza in the park
Afterwards we took a short drive into Arouca town and ate pizza in the park. My favourite food is pizza and steak so I will definitely have to return to Arouca to sample the famous "arouquesa" steak (from the cows with the same name). Parks are so beautiful and clean in Portugal and I am so impressed with all the city parks. In Arouca we found this little strange sweet shop. I think this is one for my "Weird and wonderful things in Portugal" post page. Apparently Arouca is famous for it's conventual sweets. The story is that the Monastery of "Santa Maria de Arouca", was home to countless of nuns over hundreds of years. After daily religious practices, the nuns would make sweets, the majority of which was made from eggs and sugar, using the rich fruits of the region such as chestnuts and almonds. The nuns used egg whites as a natural fabric softener leaving excess amounts of egg yolk spare. They reused the egg yolks adding sugar and the conventual sweets arose.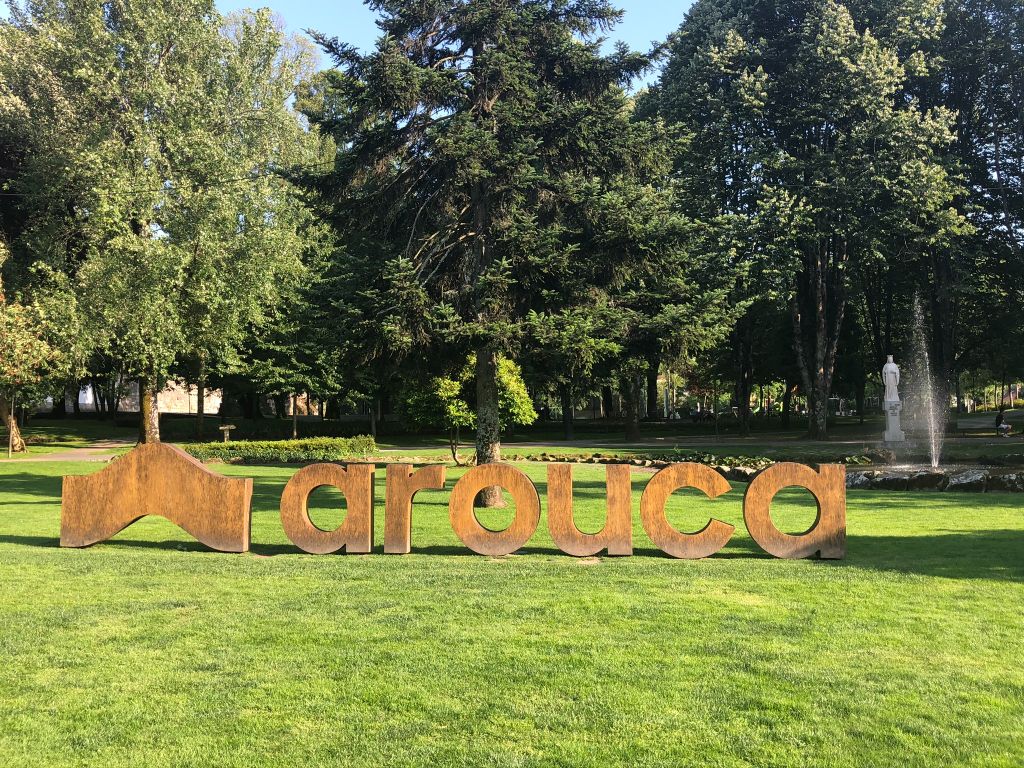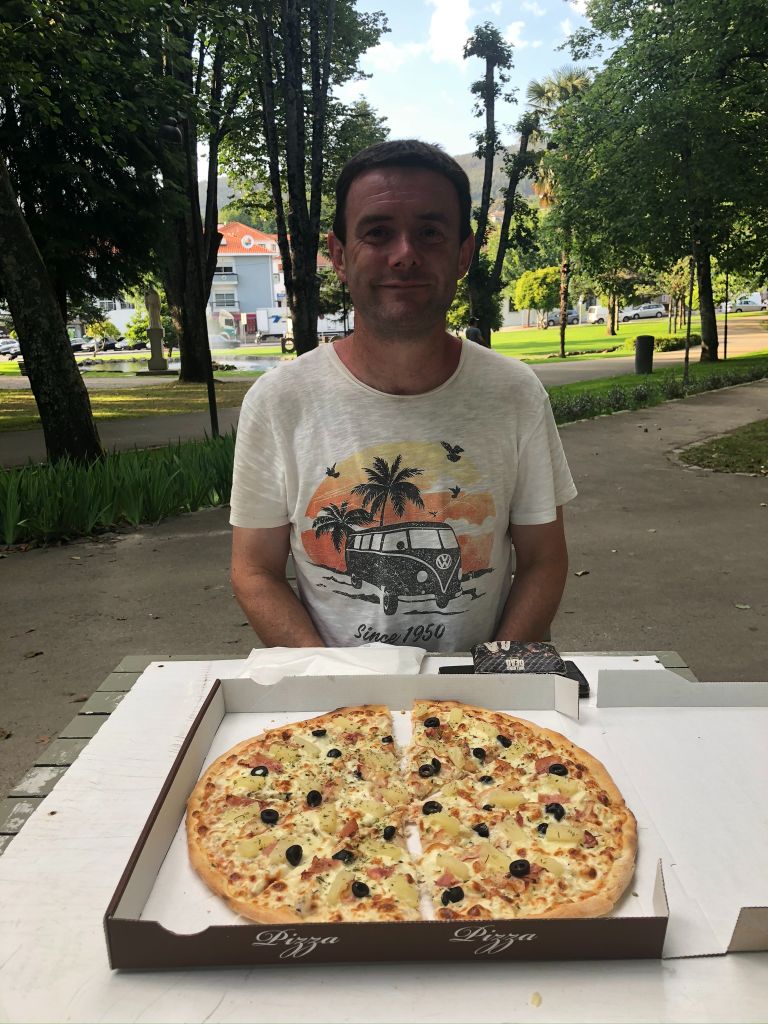 Arouca Geopark
Then we drove through the nearby schist village of Canelas to see the schist houses with the slate roofs then up the Serra da Freita mountain to view more of the Geopark and to explore the wind turbines, landscape and rock formations. It was such a wonderful experience to see the views at sunset high up in the misty mountains and drive through the clouds, I have a thing about clouds and cloud spotting. We were so high (up the mountain not on drugs) that my ears popped from the altitude. I really want to return to visit more of the Geosites especially the granite birthing stones.
Sculptures in the mountains
I stumbled across these 2 sculptures high up in the mountains. I made hubby stop the car so I could go and explore them. I also saw a wild hare and because I'm obsessed with bunnies I had to go and see if I could get a closer look. The bunny out run me but I got a closer look at the sculptures. One is a fish which is a strange coincidence as I just swam with the fishes and my star sign is Pisces. Strange to be in the middle of nowhere but made me smile. It started to get late so we thought we had better descend down the mountain before it got too dark. I didn't want to risk driving off the mountain top! After all, I had already survived one near death experience that day. Better not to push my luck (ha ha).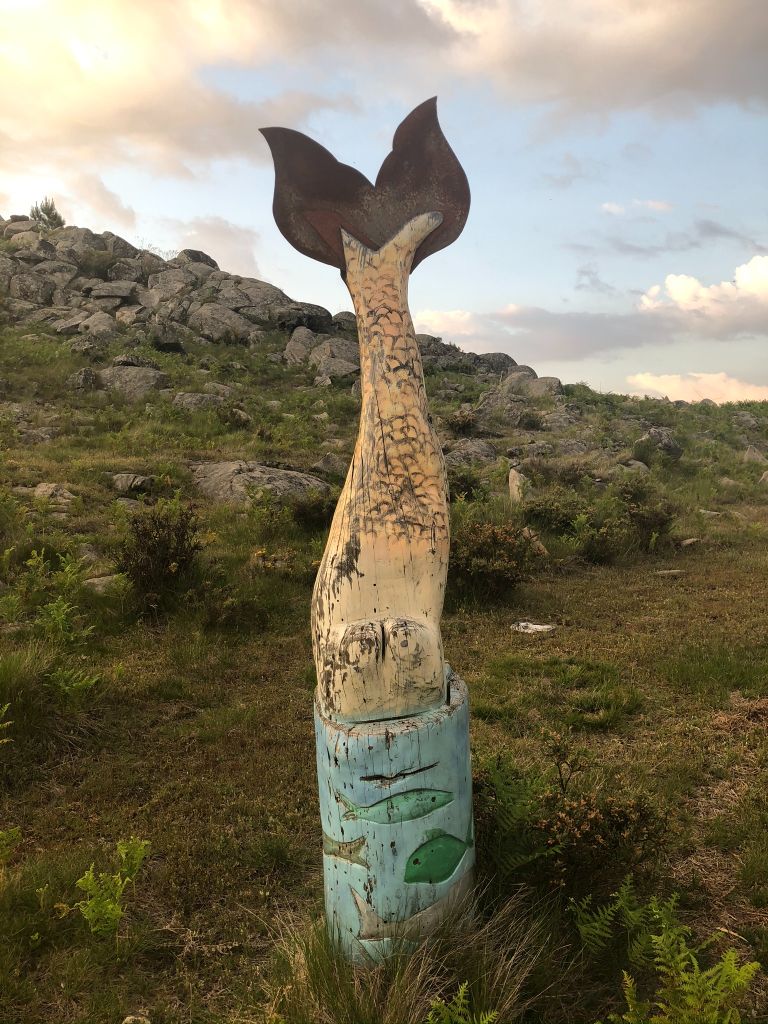 Overview
At the end of the day I felt exhausted but with a total renewed sense of energy too, very bizarre and astonishing. It was so wonderful to stop, stand still and breathe in the fresh air, calmness and reconnect with nature, such joy. If I were to return and walk the whole route again I don't think I would bother to take a picnic. The weight of our backpacks on a hot day with the ice packs was a bit uncomfortable and sweaty so I would buy my lunch at one of the cafes. I would also avoid visiting in July and August due to the heat and crowds (tourists). What I love about Portugal is the fact that businesses do not rip tourists off. Entrance fees to epic places are a fraction of what it would cost in the U.K. I can't believe the walkway entrance fee only costs €2 and the cafes/bars also are affordable. In the U.K I have to pay £3 for a tiny 500 ml bottle of water at an event or tourist attraction but here at the cafe next to the Espiunca ticket booth we only paid €2 for a huge ice cold 1.5 litre bottle of water and enjoyed a refreshing ice cream to help cool off. My local school where I take Portuguese language lessons charges 21 cents for a 500ml bottle of water straight from the Serra da Estrela mountains!
I think what made our day trip so tranquil was the fact that there were not only limited people visiting but I literally only saw one child and a couple of babies being carried in backpacks. Don't get me wrong, I love kids just not other peoples (ha ha). I'm joking, I love the Portuguese culture and how they include children also hubby and I have 10 children between us so we don't hate children. It was just nice to have peace and no screaming little terrors. I think this was due to the fact of the distance. It's a long way for small children and also because pushchairs/buggies are not permitted. I'm not sure why animals are not allowed like dogs but maybe because they might poop on the pathway and some owners won't pick up, who knows. I did see a lot of what looked like sheep poop on the wooden pathway so some animals are enjoying the experience just not dogs. This day trip really was a serene, unique and totally unforgettable experience with my hubby soulmate and worth every single step, all 33,333 of them.