OUR FIRST PROPER BBQ
For the love of smoke
I absolutely love BBQ's and food grilled on a BBQ. I'm not sure why but I have always really enjoyed a good BBQ. Back in the U.K we didn't have a garden so we used to buy those cheap disposable BBQ's from the pound shop and head to Durdham Downs on a sunny day. Disposable BBQ's are not really a thing here although I have seen some for sale in stores. Forest fires are such a huge risk in Central Portugal especially at this time of year and we have had many fires recently pretty close to where we live. Many fire fighters have lost their lives too. I would not risk a disposable BBQ in Portuguese nature and I'm sure a lot of places forbid it and it's most likely illegal. Some river beaches have proper BBQ facilities for you to use if you wish but I would rather take a cold picnic and enjoy a BBQ on an evening in the comfort of of our home where it's safe.
We built a BBQ using old stones from the garden but we had to dismantle when we had some work done and it was relocated to a better spot. Last night we had our first proper BBQ. Hubby said he's going to start up the BBQ and if it's crap he's going to take it back (ha ha). My response was "Where are you going to take it back to?" We ate delicious peri peri chicken breasts, garlic bread, salad, tomatoes, peppers, chillies, onions and corn on the cob (most of the veg is home grown) or traded with neighbours, followed by a melon medley: Galia and watermelon with a drizzle of natural yoghurt. I can't wait for my melons to grow! We purchased 2 melons from the shop for the BBQ. I currently have one tiny baby water melon growing and a few Santa Claus variety. My water melon is thumb nail size so far but I'm keeping my fingers crossed it will grow into a spectacular baby sized water melon. We are not big drinkers but splashed out on a bottle of Vinho Verde (green wine). This is another first for us and we have been wanting to sample Vinho Verde for ages.
I have booked a vineyard tour and private picnic in the Douro Valley and I am super excited to find out more about wine as I can't tell the difference between a €1.99 bottle or a €20 bottle. They all taste great to me (ha ha). I even liked the litre carton of white wine from Lidl at 88 cents (ha ha). What can I say, I'm a cheap date. The Vinho Verde we bought was only €2.99 a bottle but it was really good. I am hoping to stock up on a few bottles of wine on our vineyard tour as I'm sure they will have more delights than our local supermarket. I always call Vinho Verde, Via Verde (ha ha) which is a small gadget you put in your car windshield which automatically takes the money from your bank account when you pass through a toll road.
Hubby is a great barbecuer and I let him take control of the tongs. He's not in control of much in our relationship so I have given him the task BBQ king. I now call him 'Lord of the tongs' (ha ha). We had a fabulous evening making the use out of our new garden furniture. I even got the chance to use my lovely Poole pottery (crockery) and wine glasses which we inherited with the house. We even had some great music and hubby whipped out his guitar! He actually has a guitar (musical instrument) that is not a metaphor or code word for anything naughty! I am sure there will be many more Casa Valhal BBQ's to come. We stayed outside watching the sun set and stayed out until 11.30pm enjoying our wonderful new life.
The butler
When I explained I could do with a butler in the buff one of my followers 'B' a lovely funny Scottish man who makes me laugh with his comments suggested hubby used a tea towel draped over one arm whilst pouring me wine so I made hubby do just that at our BBQ. So this photo is for you B. It worked a treat, he just forgot to put on his tux (ha ha).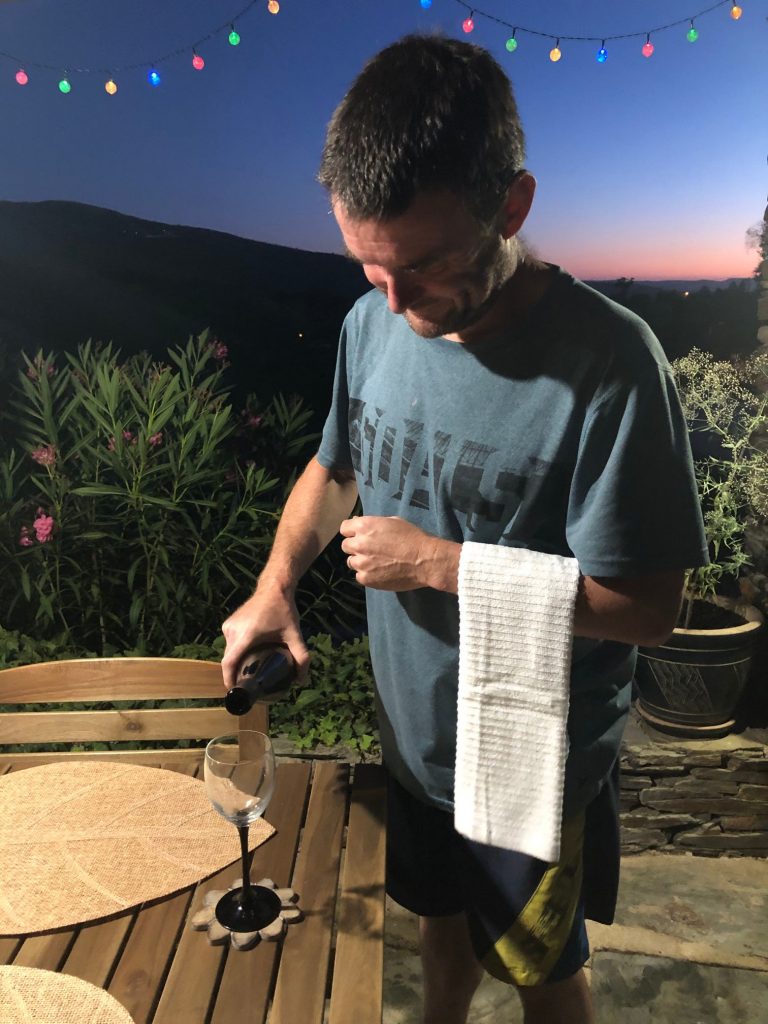 Photos: