CHRISTMAS EVE, CHRISTMAS DAY AND BOXING DAY IN PORTUGAL 2020
My family Christmas was cancelled just hours before my children were to board the plane from Bristol to Porto. I was so gutted but we adapted our plans and it turned out epic. Obviously I missed my kids but we had a glorious few days together. We took advantage of the lenient government restrictions and ventured out to tranquil empty places.
Christmas Eve
Hubby worked today so our celebrations started in the evening. I had a lovely morning enjoying my coffee in the sunshine outdoors with this spectacular view and what a sunny day!
At lunchtime we took a quick trip into Côja to purchase some traditional Portuguese desserts from the bakery for our picnic tomorrow. They had a huge bonfire in the square which was lovely to view. We are not a fan of Bacalhau (Salted cod fish) which is the main dish served on Christmas Eve in Portugal. We celebrated with a Pizza extravaganza night. It was delicious and included a homemade Churro Nutella Christmas tree dessert which was a joint effort in the kitchen. We also made Vinho quinte (Mulled wine) which was so delicious and we ate way too many mince pies – I lost count in the end (ha ha). We sampled Portuguese liquors which were so tasty. I also dressed to impress (myself) ha ha. I rarely dress up here so it was nice to put a dash of make-up on for once and a sparkly top. Makes a change from my gardening leggings covered in rabbit hairs and my dirty t.shirt.
We also chatted with my daughter via Zoom and we decided to open our gifts live on air. It was a bit weird unwrapping presents that I had just wrapped but many of my daughter's stocking fillers were sweet treats and will not last until her next visit in June. Well that's my excuse anyway to eat all of her chocolate and Portuguese delights. Teanna bought me a book that I wanted and a leopard print tabard so I can fit in with the ladies of my village. She wanted to bling it up and buy tittie tassels to attach to the tabard but she was embarrassed about having them delivered to her halls of residence at university as the reception lady who receives all the parcels is a bit of a sargent major. I find this funny as she didn't mind buying me a book with a cloud shaped liked a gigantic penis on the front cover (ha ha). Teanna also bought me some Options hot choc drink and Turkish delights which I'm obviously not going to get now but it's the thought that counts. Hubby's present was a gigantic bag of jelly snakes, I think she knows we get our fair share of snakes in our garden.
Christmas Day (Fraga da Pena)
After a lovely lie in and breakfast we ventured out on a Christmas day jog around our little village shouting an out of breath "Feliz Natal" to any random locals we met along the way.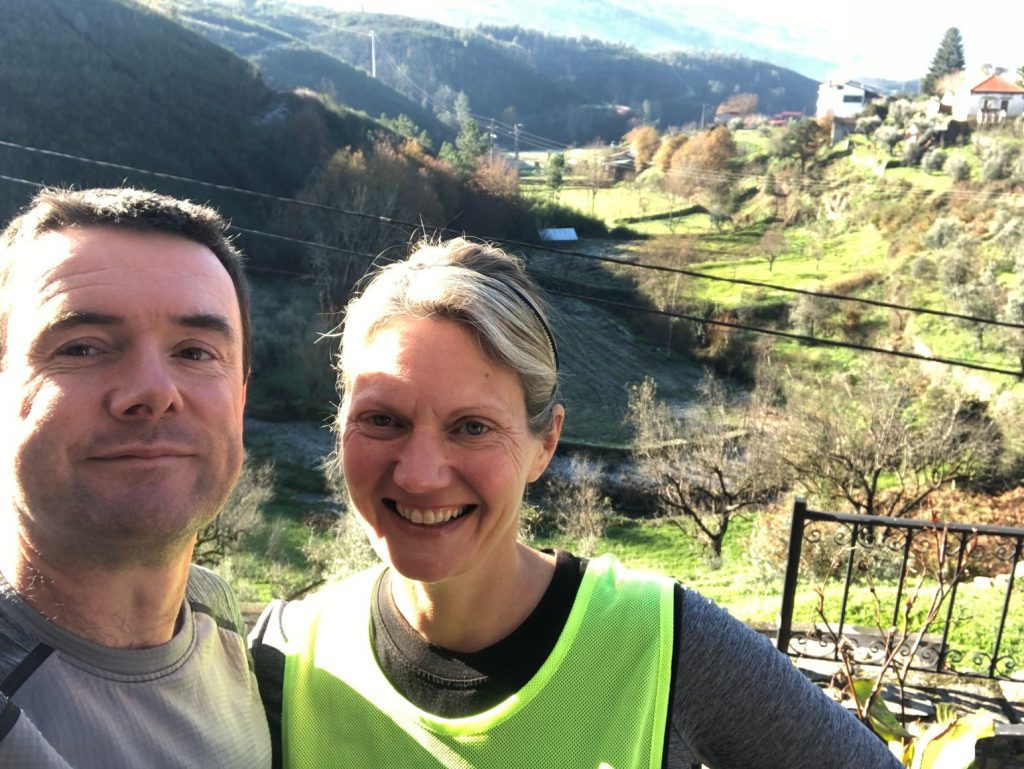 Afterwards we exchanged gifts and called our loved ones back in the U.K. Milo loved his new house and edibles (that sounds like we fed him marijuana cake (ha ha), by edibles I mean fruity treat sticks, Milo is a drug free sober bunny boy. Hubby is delighted with his Oodie and I love my bunny Oodie sooooo much. I also received a dehydrator so I can dehydrate chillies and fruit. I am so excited to receive a dehydrator. Long gone are the days where I ask for hair straighteners, MAC make-up and designer handbags (ha ha). I also got the game Jenga and some Turkish delight.
As my children's flight was cancelled and it is just the two of us we abolished the planned roasted leg of lamb with all the trimmings and opted for a unique alternative experience of a Wild Christmas within nature meeting the local wildlife. We experienced an epic Portuguese picnic at Fraga da Pena, a local waterfall and spend a few tranquil quality hours reconnecting with nature. Just look at the backdrop to our Christmas day lunch! We enjoyed so much food and I especially liked sampling the Portuguese famous national drink of Licor Beirão which ingredients include eucalyptus, cinnamon, rosemary, lavender, aniseed and mint. One huge herbal infusion! It's smooth, sweet and 22% so hubby was only allowed a little sample as he is driving us back home and we don't want to end up at the bottom of a cliff!
We had such a different special day breathing in deep breaths of pine scents and walking in the forest which was so rejuvenating and good for my body and soul. The weather was spectacular but not hot enough for a dip so I didn't take my bikini! Afterwards we took a relaxing drive up the mountains to Piodão. We were debating if to travel to a coastal beach but our nearest is 1hr 15 min drive and Fraga da Pena is only 16 min journey from our casa. We thought it would be quieter at the waterfall and we were right. We were the only ones there which made it very romantic. This might have to become a new family tradition, Christmas day at a waterfall. We could re-visit every year and each year make it bigger and better. It was such an alternative Christmas day and lunch but I absolutely loved it.
Late afternoon we returned home to play Portuguese Monopoly game and we zoom called my daughter so she could join in. This was really fun but we didn't consider that Teanna would get a card that told her to take every €100 note from the bank and throw them up in the air, all players were to participate and how ever many notes each person could catch they get to keep. This doesn't work when one player is in the U.K (ha ha). Christmas Day evening we ate leftover Pizza (because we can) and visited the lounge bar. To make it feel like we were going out to the pub we put our coats on and filmed ourselves heading out to the pub via back door and through our garden only to re-enter through the patio balcony doors, take our coats off and head to our lounge bar and sit down at the bar stool. My daughter officially thinks we are bonkers (ha ha). We watched films and ate our Christmas candy cake. We stuffed our little fat cheeks with as much Portuguese desserts and sweet treats from the kids stockings. Hubby had to roll me to the bathroom to brush my teeth so they don't fall out from all the sugar (ha ha).
Boxing Day (Serra da Estrela)
We decided to re-visit Serra da Estrela (highest mountain range in mainland Portugal) and where you can ski as it often has real snow! We took another picnic and had such a wonderful day. The weather today was again just beautiful and not a drop of rain in sight. I can't believe the weather over these 3 special days, clear blue skies, we were very lucky indeed. It was a scenic drive to the top of the mountain (Torre) and we stopped off at many different little viewpoints along the way including quaint little villages. We also enjoyed a lovely pit stop at a cafe mainly because I needed a pee pee and at one point I got so desperate I thought I would have to pee pee in nature or in the tupperware container in our car (ha ha). Luckily for me and everyone else we found a cafe. On the way home we passed a cute Presépio (nativity) scene made from logs. During the evening we retreated to bed and snuggled up wearing our Oodie's, watching old films and ate more of our Christmas candy cake.
Christmas candy cake