RUINAS DE CONIMBRIGA & BURACAS DO CASMILO
I spent a lot of time planning my daughter's 8 weeks visit and I wanted to find a variety of different day trips so we wouldn't get bored. When I read about the Roman ruins in Conimbriga I thought it would be a great place to explore and delve into some Portuguese history. It is Portugal's largest and most impressive Roman site located just 8 miles from Coimbra and was classified as a National Monument in 1910. Ancient Conimbriga was an important city in the Roman province of Lusitania and its ruins are extensive and I was amazed at how wonderfully well preserved they are. We especially enjoyed the pretty bright coloured detailed floor mosaics. Much of the ruins are at least 1800-2000 years old yet some of the mosaics are remarkable for their age (a bit like me – ha ha).
There is a museum (Museu Monográfico de Conímbriga) included in the entrance price of €4.50 per person. Now you may know that I'm not a huge fan of museums particularly but I was fascinated with some of the items I viewed here which were unearthed by archaeologists during their excavations. There are so many fantastic artefact treasures and exhibits including coins, mosaics, fragments of pottery, sculptures, busts, agricultural tools and elaborate jewellery. There is also a scale model so you can see what the ruins would have looked like in its full glory. The Conimbriga Ruins were Celtic in origin, (briga is a Celtic term for a defended area) but later became occupied by the Romans who built up the ruins and created a very successful settlement in the area. The settlement was destroyed during the barbarian invasions around 468 AD and many citizens fled to nearby Coimbra.
There are signs around the ruins in both Portuguese and English which was great. The different areas are very interesting to view and include The defence wall, Casa dos Esqueletos (House of Skeletons) and Casa da Cruz Suástica (House of the Swastika), to the Romans the swastika was a symbol of good luck! Casa de Cantaber (Cantabrian House) was the city's largest private villa, Casa dos Repuxos (House of fountains) hosts beautiful gardens with ponds and fountains and has amazing mosaics with hunting and four season themes. The remnants of the Grandes Termas do Sul (Great Southern Thermal Spa) one of the city's several bath complexes is very impressive and forms part of the aqueduct. The forum has fantastic pillars remaining, which was originally surrounded by covered porticoes. Near the main city gate there is an amphitheatre with a huge wooden stage and rows of benches and we had fun climbing up in between the benches.
As we walked around we had a lovely family chat about how it must have felt to live in such grand private houses back in the day. It did give us a sense of sadness to see the demolished houses. As I slowly walked around this glorious site, my mind kept wandering and I can't help but think that there are many wonderful secrets here to unearth and explore. I have such a vivid imagination and could almost hear children running around playing childhood games and it was all a little surreal. I left with a sound of children's laughter ringing in my ears which was rather bizarre. There were only a handful of visitors so we got a really tranquil private experience. We really enjoyed viewing the ruins and its layers of stone and history. It was an unmissable place to discover Roman culture with my family. There is a lovely restaurant/cafe and the grounds are beautiful and there is signage to many walking trails including a hike to a nearby waterfall. We were really tempted to set off to see the waterfall but I really wanted to visit the caves so we stuck to our plan and original itinerary. Gosh I am so very glad that we did as the caves were so glorious and a perfect isolated paradise.
Museu Monográfico de Conímbriga
Ruinas de Conimbriga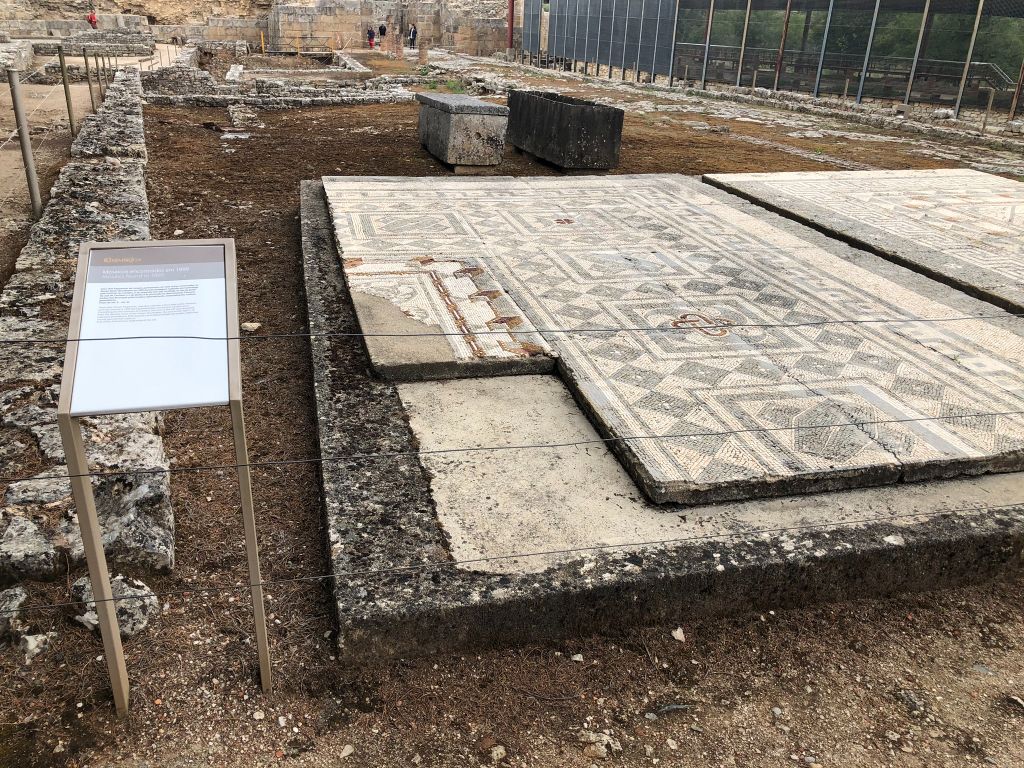 Buracas do Casmilo
After our cultural and history morning I thought it would be a good idea to enjoy some pure raw nature so I researched nearby local attractions and found the delightful Buracas do Casmilo, locally known as "the mouths of the mountains". It is located in Condeixa-a-Nova and is home to Casmilo is a little rural village that connects the hill of Senhora do Circulo to Serra de Janeanes and is within the Serra de Sicó mountain range. There is a pathway which leads you to the caves and as you walk along it you get to view the wonderful karst landscape of the Buracas do Casmilo valley, Dolina do Casmilo (Casmilo sinkhole) and the field of lapiás (Limestone pavements also known as stone cemeteries). The fields are characterised by extensive areas of sharp limestone rock formations mixed with shrubby vegetation formed due to infiltration and the corrosive chemical action of water on limestone.
To be honest I wasn't expecting much and thought we probably wouldn't find the caves or that they would be disappointing and tiny but WOW how wrong was I. The day trip to these caves was one of my most favourite days I experienced throughout my daughter's 8 week visit. It is such an unknown place and not widely advertised but an absolute gem. Teanna was well up for visiting Casmilo because it has the word Milo in it and this is her pet bunnies name (ha ha). Well Milo must have passed on his magical powers because this place is absolutely stunning and a much hidden secret. I almost don't want to share it with you all. I love caves but I'm not great with crowds. Most caves have an entrance fee and then you have to go in a group with a tour guide and face mask. These caves give me freedom and are stunning, huge and free! We climbed right up inside two of them and I didn't fall over this time. A very popular place if your passion is rock climbing. So many butterflies and lots of evidence of goats too (lots of poop). I also need to mention that some people refer to these rock formations as holes rather than caves as they don't actually lead anywhere. I am going to call them caves throughout my post as I define a cave as a natural opening in the earth large enough to hold a person. Most caves are created when slowly-moving water dissolves, or eats away at limestone rock, creating spaces, caverns, and tunnel-like passages.
The caves are located in an area known as Vale das Buracas do Casmilo and the scenery is absolutely breathtaking. Some of the caves are huge, measuring around 10 metres in diameter and up to 7 metres in depth and you will soon see them in all their glory nestled high up in the cliffs. A little paradise carved in the rocks, just heavenly. There are pathways up to the caves but some of the paths are not well defined so I would advise wearing leisure clothing, something you can easily climb in and don't mind getting dirty as well as appropriate footwear with a good grip. We had so much fun and a family adventure climbing up to the caves and sitting inside them, we climbed up to as many as we could. The strangest thing was that we were the only people there in the whole area. This really is becoming a total trend. To have the whole place to ourselves, just the three of us was magical and so fantastic. Of course Teanna encouraged us to do our family thing of jumping in the air (ha ha), this time inside a cave, why not! I think we are improving in height off of the ground just not much finesse (ha ha). My main concern was losing my footing and breaking a leg or two as we were stood very close to the mouth of the caves but we survived our family tradition and spent some time exploring the insides of the caves and just sitting inside the caves admiring the views and soaking up the ambience of pure raw nature. This place has such great positive energy and a lot of cobwebs (ha ha). Apparently these caves were once the shelter and makeshift homes for the Chalcolithic and Paleolithic people, as shown by the paintings and materials found in some caves. There is even an old legend that Moorish gold is hidden in the caves. I didn't find any which was a huge shame as with the current temperatures in Portugal I could do with a pool being built in our old casa (ha ha). We had fun looking at the graffiti and the rock climbing hooks left behind in the ceilings. We also had a lot of fun screaming and listening to our echoes. I saw a wild hare on the walk to the caves, so cute just bouncing along hopping through the hills, it was very cute and Teanna was gutted she missed it. Teanna found some graffiti which I thought said ALLEN which is our surname but on closer inspection it read FALLEN (ha ha).
We had a lovely picnic near the caves by the village, there are a few pretty stone picnic tables and benches. I met a stray dog who appeared really starving so I shared half my picnic with him. He looked so sad so after a quick family debate we decided to take him home with us and even named him. He was super friendly and I had his front paws in the back seat of our car when a man magically appeared from nowhere and was shouting in Portuguese. I do not know what he was saying but from the gestures of his hands and his angry expression on his face I got the feeling that this was his dog and it looked like I was stealing him. I was mortified but in my defence the dog was hungry and he obviously loved me and wanted to start a new life with us. I gave the man back his dog and apologised profusely. The dog looked very sad when he shuffled back to his owner. I feel we were supposed to be together (sad). Apart from this little mishap we had such an amazing day making more epic family memories to treasure a lifetime. I love the fact that this place doesn't receive tons of loud tourists with selfie sticks and not many people know it exists. It's such a tranquil place to relax, meditate, photograph the fauna and flora, a really unique experience, environment and sanctuary. Peace, silence and an absolute idyllic setting right in the heart of nature. An unforgettable geological and natural wonder. Did I mention these caves ROCK! No pun intended.