GUIMARÃES AND BRAGA
We planned a trip to Peneda-Gerês National Park which is a 3 hr drive from our casa. To break up the journey we decided to visit Guimarães and Braga then stop overnight at a hotel so we had the next full day at
Gerês. Both of these cities are located in the Northern region of Portugal. This day was my daughter's 18th birthday so I wanted it to be special. Teanna is a city girl although she loves nature and cultural stuff she is a city girl at heart. She would not like to live permanently in our tiny rural village in Central Portugal so I knew she would love Guimarães and Braga. We downloaded the GPSmyCity app walking tour and it was epic.
I loved our walking tours of Porto and Coimbra but Guimarães and Braga were spectacular cities with so much going on. They are equally as beautiful and I could not choose one city above the other. Braga is known for being one of the oldest Christian cities in the world and Guimarães Castle is number 1, top of the list of 7 Wonders of Portugal! One place I must mention is Bom Jesus do Monte Sanctuary in Tenões, Braga. OMG this place totally blew me away with it's natural beauty. Wow, I was not expecting that at all! Bom Jesus do Monte translates to Good Jesus of the Mount. This is the most enchanting place I have ever visited in Portugal so far and probably in my entire life time. The architecture involved in building such a masterpiece will blow your mind. I don't know where to start, the oldest funicular in the world (vertical cable car), endless staircases: Portico staircase, stairway of the five senses, stairway of virtues with something different to view on each level, Church of Bom Jesus, Basilica, Baroque statues, Way of the cross, Pelican square, Terreiro dos Evangelistas and the last 3 chapels, Statue of São Longuinho, beautiful gardens, pretty boating lake and so much history. In July 2019, the Bom Jesus Sanctuary was classified as a World Cultural Heritage Site by UNESCO. I feel so blessed to have visited this holy place. I will always remember this day and never forget sharing such an emotional yet fabulous 18th birthday here with my daughter, climbing the staircase together, certainly a memory to last a lifetime.
As it was a Sunday we managed to park for free on a meter close to our first attraction of the Guimarães walking tour. We completed the Guimarães tour which was so beautiful, especially the Castle, then drove to Bom Jesus then onto Braga where again we managed to park on a side road for free close to our first attraction then take a short walk to a restaurant for a late lunch with sangria. After lunch we completed the Braga walking tour a little worse for wear (ha ha). To be honest it would be better if you could allocate a whole day or more at each city but we crammed both into one day and it did not seem to be that much of a rush although we were not able to enter inside of all the attractions due to some large queues. I think that most tourist attractions offer Portuguese residents free entry on Sundays so Sundays are a bad day to explore as during Covid there are capacity restrictions which can result in queues. We had to check into our hotel by 7PM which was an hours drive from Braga otherwise we would have explored late into the evening. As it was Teanna's birthday I made a semi effort and put a frock on as well as straightening my hair but I did not put any make up on as it's pointless in the extreme heat and I find it just ends up on my face mask which is unpleasant.
Guimarães
GPS Coordinates: Igreja de Nossa Senhora da Consolação e Santos Passos 41°26'27.1″N 8°17'22.7″W
Walking tour:
We also viewed a few more treasures along the way as we stumbled across more delights of this beautiful city.
Igreja de Nossa Senhora da Consolação e Santos Passos
Largo Republica do Brasil
Guimarães Castle
Palace of the Dukes of Braganza
Praça De São Tiago
The Old Quarter
Igreja de Nossa Senhora da Oliveira
Largo da Oliveira
Resturante Café Oriental
Bom Jesus do Monte Sanctuary
GPS Coordinates (Mãe d'Água free car park): 41°33'05.1″N 8°22'32.2″W
This place deserves huge photos!!!!!! I could literally spend a whole day here easily. There is a lovely park with a boating lake where you can hire rowing boats. We parked for free in the Mãe d'Água car park and took a leisurely stroll.
Braga
GPS Coordinates (Igreja de São Marcos): 41°32'56.5″N 8°25'24.2″W
Walking tour:
Again, we stumbled across a few more attractions along the way so stopped to explore.
Igreja de São Marcos
Igreja dos Congregados
Jardim da Ivenida Central
Jardim de Santa Bárbara
Palácio Episcopal
Arco da Porta Nova
Sé Catedral de Braga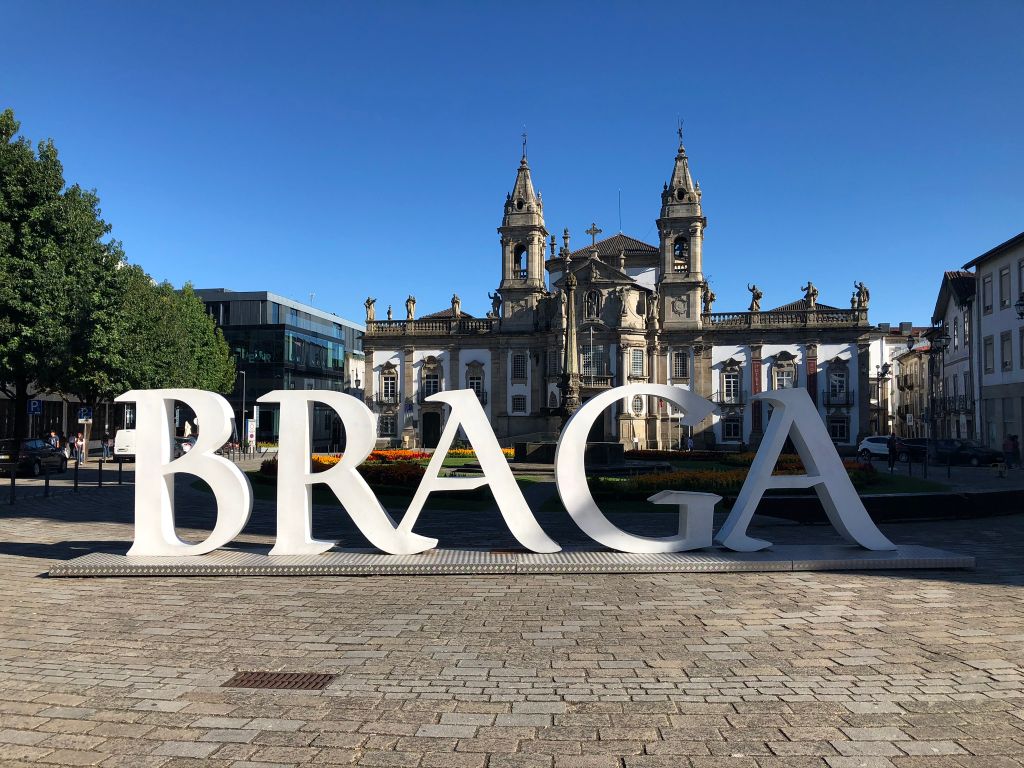 18th Birthday lunch
Birthday dinner and cake