AN AFTERNOON TRIP TO CASCATA DO RIO DE MOURA
Hubby had a rare weekday off of work so we decided to chase more waterfalls. Cascata do Rio de Moura is a beautiful waterfall just over an hour's drive from our home. It is only a short trail down (approx 1 km) so we added on part of the PR1 and 2 to burn off a few more calories and hiked a total of 6 km. The starting point for the trail is behind the Roman ruins in Conimbriga but the waterfall is actually located in Condeixa-a-Velha. We have already visited the ruins previously and the nearby caves.
Parts of PR1 and PR2 Trail
The trail had some spectacular landscapes and panoramic views so there will be plenty of rear shots of hubby again as he strides off ahead and I lag behind taking too many photos (ha ha).
Bird Watching or Tree House?
I was tempted to climb up and have a look but I resisted because we are both extremely accident prone and I don't want to end up in hospital again.
Magical Forest Fun – Renewal and Inspiration
The forest area near the waterfall is magical, full of lush vegetation and lined with oak trees that are all twisted and contorted into unnatural shapes, I call it forest art. The tree trunks and branches are covered in epiphytic mosses and lichens and are a gorgeous emerald green colour which looks very mystical against the bright blood red berries. A beautiful dense woodland with an abundance of fern. I often heard the rustle of animals rooting in the underbrush and saw many geckos scrabbling across the crunchy leaves and tree bark. It was strange to walk alongside a dry riverbed but it was very picturesque and photogenic with all the bare uncovered rocks. There were some mildly tricky and dangerous descends on the hike and lots of safety ropes are provided in these areas to assist you. As always I clung on for dear life and prayed significantly. I enjoyed plenty of quality time in the forest breathing in all the aromas and listening to the soothing sounds of the birds chirping away. I really do find forests so therapeutic and magical. They are a haven of peace and tranquillity, renewal and inspiration. Just a few minutes in a forest awakens my body and makes me feel truly alive and I instantly feel any stresses melt away like a snowman in the sun. Some of the paths were a little overgrown but nothing too bad and passable. I did get spiked by prickly vegetation and a lot of holly.
Tree Hugging Helen – Spoiled for choice today!
Too many trees to hug.
Tree Hugging Hubby
New year, new man – not literally (ha ha). I managed to get hubby to hug a tree so I am elated. I told you I would succeed in my mission, it just took time but best things come to those who wait and it only took me 2 long years! (ha ha).
Rude Dude
Hubby found this fallen tree and thought it looked like a person bent over so he is being very rude indeed (ha ha).
Misleading Markings
We have found that very often trail markers can be a bit hit and miss. The signposts and markers were pretty good on this trail except for one area on the PR2 where we had a 50/50 chance of success, do we go right or left? The paint markings on the tree trunk were very misleading and confused us. I was praying that it was left as right was a crazy steep incline and my calves were killing me. I felt like some old school P.E teacher had whipped me with a skipping rope (ha ha). I did the sensible thing and sent hubby in both directions until he stumbled across another marker whilst I sat beneath a tree in the shade and ate my birthday cake protein bar. It's not my birthday but these bars are tasty and give me a bit of protein energy to power up the hills. I must admit he was gone a fair few minutes and I did think at one point he had done a runner and had enough of me because I may drain his spirit and soul (ha ha). He returned from the right confused and said he couldn't find a marker then he tried left and also returned looking a bit disheveled and again said he couldn't find a marker but he found a safety rope but decided not to use it and slipped down cutting his hands. Top tip folks – If there is a safety rope, use it as it's there for a reason. Luckily I had plasters in my bag for emergencies like this. We opted for the left route which was correct. We often choose the wrong direction so I'm not entering Squid games anytime soon as I would be the first one to die (ha ha). Also if we were to form a band never mind "One Direction" we would certainly be called "Wrong Direction" (ha ha).
Bridge Fun and the #Bored Graffiti
I am always intrigued by the graffiti on all the bridges. How can one possibly be bored in such an awesome place. If no one is around we always have an adventurous climb, a good laugh and behave silly because we can and why not, you only live once!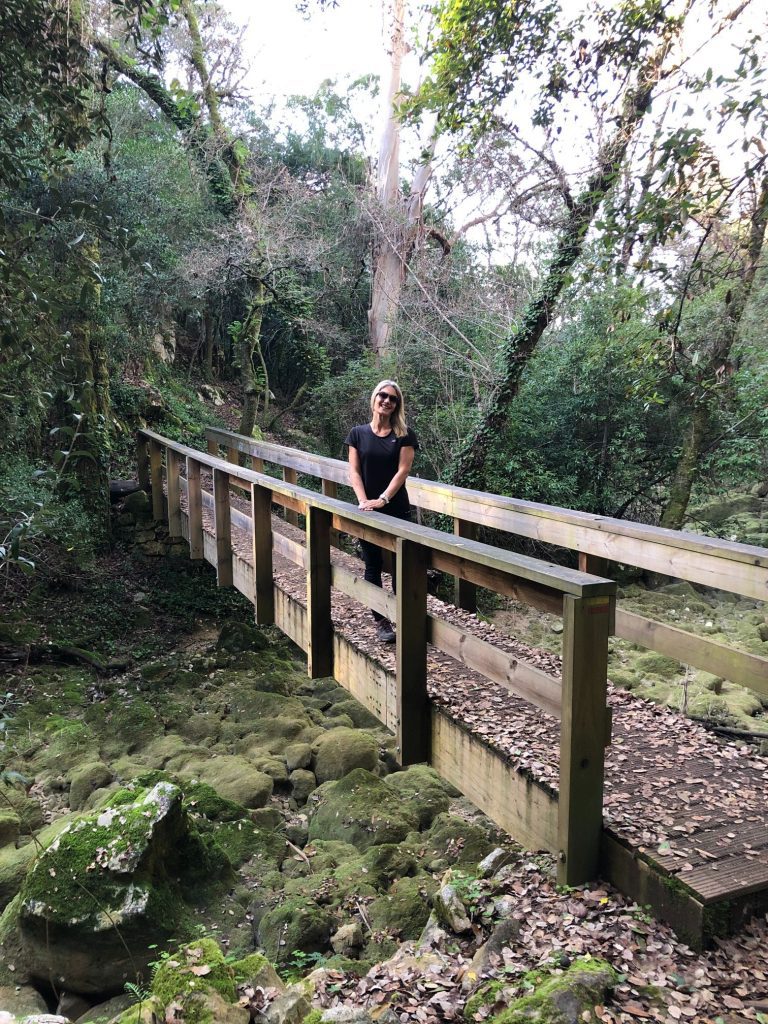 Dry January #NoFilters
This waterfall takes on a whole new meaning of "Dry January" (ha ha). To our surprise, the waterfall was dry with just a hint of aqua therapy in some crevices but in a way this misfortune was a crazy advantage as we have seen so many waterfalls already and we got to enjoy the unique experience and real treat of climbing right down to the bottom where the rock pool/lagoon would be situated and explore the glory of the eroded rock formations, deep depressions and eat our picnic in solitude. I have no clue as to why some waterfalls of Central Portugal are flowing fiercely and others are dry as a bone. The month doesn't seem to matter as I have visited waterfalls in July and August which have been flowing rapidly so it's not that they necessarily dry up in the summer months which is what most people would think would occur. I assumed with all the recent rain and it being January that the water would be flowing fast. I suppose it has something to do with which water source the waterfall is fed from e.g. river, underground, rain and I also assume climate, altitude and rainfall has a huge impact. I am mildly confused about this waterfall being so dry as a Facebook friend recommended this trip and he visited 4 days prior to us and I have watched his video and viewed his photos of this incredible flowing waterfall. Where did the water go? We were the only ones there again and on the whole hike so it was very tranquil and romantic. I had so much fun exploring the bottom of the empty waterfall. It was a bit of a challenge climbing down as it was very slippery and I got a bit of a mucky mare but once I reached the bottom I was like a little child exploring every nook and cranny. We are true adventurers at heart for sure.
No filters or editing on these photos and just look at the glorious epic shades of green. I too am makeup free with no filters but unfortunately I don't look half as good as the scenery (ha ha). If I start using filters on my face and photoshopping my body shape then you won't recognise me if you ever meet me in real life. You will be confused and be thinking "Why does Helen look 10 years older than her photos" (ha ha). I'm keeping it real and trying to grow old gracefully. I'm embracing my frown lines and wrinkles, I call them my hiking laughter lines and who wants lips the size of sausages anyway and I quite like it that my forehead can move freely as it's absent of botox. My motto is "Embrace don't Chase" (Your youth).
Scenic Selfies
Crazy yet Creepy
This photo is amazing as I can see so many faces embeded into the rock. The face at the very bottom centre of the photo scares me senseless. It's like something out of a horror film (ha ha). I also see a heart which is cute. What do you see?
Helen's Hairbrush
I somehow lost my hairbrush at the bottom of the waterfall so if you find a Primarni (AKA Primark) €1.50 small brush, it's mine (ha ha). I have actually already replaced it but I am sure my brush will have an adventure of its own when the water appears. It will flow down the river like it's white water rafting.
Cloud Spotting
The clouds were picture perfect like fluffy cotton wool balls and it was a really hot sunny day for January. It felt like a summer's day and we both got a bit sweaty Betty especially with carrying backpacks.
Caffeine Pit Stop
Afterwards we made a pit stop at the lovely Cafe at the Museum and Ruins. We sat on the terrace in the sunshine enjoying a caffeine fix. Then we travelled to Coimbra Forum and Decathlon for a little retail therapy as we both need new hiking clothes because I always get covered in mud, what can I say, I love to get down and dirty with my man (ha ha). We used a lot of hand sanitiser entering the stores and it got into hubby's cuts on his hands which was painful for him but mildly amusing for me (ha ha). Guess what? We bought a selfie stick/tripod from FNAC so now we can try out some shots of us from further afield and abolish all the close up selfies as let's face it no one looks great in a selfie unless they are a supermodel. Hubby has short arms a bit like me and I do wish he had Inspector Gadget arms but somehow we both have short limbs which doesn't help when taking selfies (ha ha). To be honest one of us will likely drop my phone off the edge of a waterfall messing around with our new gadget but it might be good for SUP boarding shots in Spring/Summer and we can get some better photos when we celebrate special occasions at home when we can be bothered to dress up. Watch this space!
Overview
At first I wasn't going to share this waterfall experience or write a blog post about it but upon returning home and reflecting upon our day and reviewing my photos I changed my mind. Although the waterfall was dry it was actually an awesome day and I have never seen the bottom of a dry waterfall before that looks so crazy and surreal with all the rock formations and craters formed from erosion over time and the multiple shades of green were lucious, all mossy and mystical like a fairytale. It was epic to sit at the bottom and enjoy our picnic together and share this quirky moment in time, definetely an unforgettable experience. I will have to return one day when the water is passionate and cascading down the granite rocks as I bet that will be a breathtaking moment to cherish forever.
My Favourite Photo of the Day
I will leave you with my favourite photo of the day. I LOVE it so much that I have made it my Facebook profile picture. It's a strange concept as you wouldn't think a waterfall with no water flowing would make a great shot but to the contrary I think it looks absolutely mindblowing and like some magical mystical world and I can imagine the ground beneath me opening up and transporting me to another dimension in time.