CAMINHO DO XISTO DA BARRAGEM DE SANTA LUZIA HIKING TRAIL (PAMPILHOSA DA SERRA PR3 PPS)
Now that I am over the worst of my tooth drama I decided to make the most out of the glorious sunny October weather and plan an awesome hike with my soulmate. Nature, sunshine, aqua therapy, fresh air and exercise with a scenic picnic is the best medicine and hangover cure. Remind me never to enjoy a night out at a beer fest hours before a 10 km hike (ha ha). We rarely hike in summertime as it's way too hot so we usually just SUP in the sun. I'm still not 100% back to my perky self and I have zero energy so I just wanted to try and find a tranquil local hike so we didn't have to drive too far. I decided upon the fabulous PR3 PPS Caminho do Xisto da Barragem de Santa Luzia which is located in the Municipal of Pampilhosa da Serra and the district of Coimbra. We SUP at this local river beach often but have never embarked on the hike before. It is a beautiful 9.7 km circular trail which includes the picturesque Santa Luzia river beach and fascinating dam, Poço do Caldeirão, various oil and water mills, quaint bridges and the schist village of Vidual de Cima. There is a variant route PR3 3.1 which shortens the route if you fancy it.
Feel the Presence of LOVE Wrapped up in a Hug
Before we ventured off on our hike we enjoyed some morning fluffy snuggles and cuddles with bunny boy Beni. We are pet sitting again for this cute ball of fluff. Apologies, I look rough with a hangover and no make-up. You know when you're rocking the no make-up look and you assume you're looking all natural and cute but then you look at your photo and you resemble a Victorian white pasty sick child with scarlet fever who won't make it through the end of the week (ha ha). My tan lines are fading fast but the memories will last forever!
GPS Coordinates: 40.08983, -7.85195
Points of Interest:
Paredão da Barragem de Santa Luzia
Penedos da Mina
Vidual de Cima
Poço do Caldeirão
PR3 PPS Caminho do Xisto da Barragem de Santa Luzia
We parked our car close to the river beach in Casal da Lapa and headed down to the start of the trail. We set off around 12:00, the trail is of moderate difficulty but we found it really easy and is mostly flat terrain with no difficult climbs. The leaflet suggests it takes an average time of 3 hrs 20 mins but we arrived back at our car at 17:00 so it took 5 hours because we chilled out by the poço for our lunch break, explored the cute village of Vidual de Cima, stole (I mean picked) figs and we also stopped for photo opportunities and to forage for chestnuts and read all the tree scientific names because knowledge is wisdom and it's fun learning new facts at the ripe old age of nearly 50!
Praia Fluvial de Santa Luzia
We were both totally shocked to see the pretty river beach completely empty at 12:00. We were hoping that the cafe and toilets would be open so we could enjoy a tasty ice cream and coffee at the end of our hike but it was all closed up as it's seasonal opening only. Unfortunately the cafe at the top of the hill was also closed due to refurbishments which was a shame as we didn't have much food at home for a picnic and we had no protein bars because I couldn't eat them for 10 weeks due to my wisdom tooth extraction. I had a feeling this was going to be a hungry hike (ha ha). With the closure of the toilets it meant Helen had to old lady wild pee pee and get up close and personal with nature in the forest. I now regret wearing a cropped T.Shirt as when the leggings come down, way more than I am comfortable with is on show for all to see. Luckily I brought a sweatshirt with me, god knows why as it was really hot and I didn't need it but it acted as a wrap around modesty shield and hubby is always my eagle eyed look out scanning both directions for fellow hikers. If you have not visited this stunning river beach in Pampilhosa da Serra, I highly recommend it. We adore the floating blue pontoon pool which has a lifeguard during the river beach season. We love this place so much, it's simply stunning with the most picturesque landscape.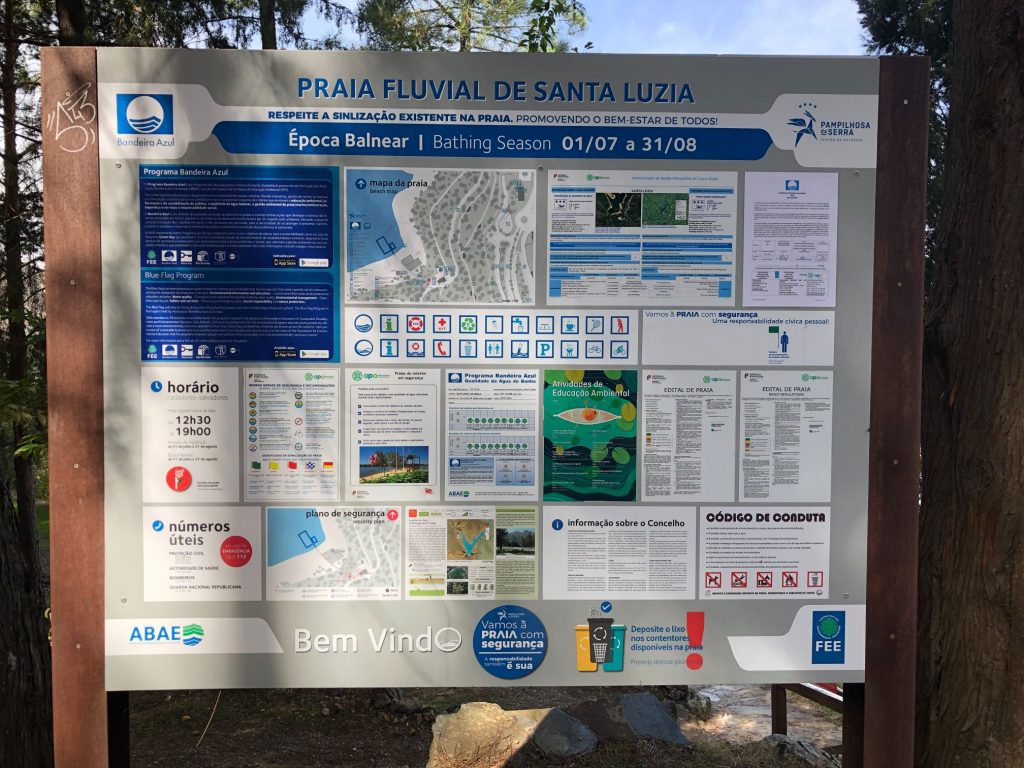 Barragem de Santa Luzia
I am fascinated with all the Dams in Portugal. We often SUP board right up to many dams to explore them up close. The Santa Luzia Dam is a concrete arch dam on the Unhais, a northern tributary of the Zêzere river. It was constructed between 1930 and 1942 and designed by André Coyne. It is embedded in a gigantic quartzitic rock of great beauty and surrounded by lush green hills and impressive towering granite rock formations. It forms a huge lake with sparkling crystal clear waters that are ideal for many aquatic sports. This barragem is crazy! It really is worth a visit to view it up close and although I've visited often I've never ventured across it before. It's certainly a unique experience to see the quartzite outcrops that surround the dam and the view from the centre is a total marvel and simply breathtaking, look at this view!
Dynamic Dam
I so wanted to pick the lock or jump the gate and climb down the hundreds of steps to explore the bottom but hubby wouldn't let me. There is a set of steps carved into the granite rock which don't appear to lead anywhere, it's a puzzle and intrigued me beyond belief and I could rant on forever about the scary cracks in the floor! I had visions of the dam crumbling under our feet, it's a good job we can both swim (ha ha). The cracks in the foundations were mildly alarming. Luckily we have no cracks in the foundations of our relationship and we are going strong and still living the dream nearly 3 years on. I haven't checked with hubby if he feels the same way but obviously I am a pure joy to live with so he is going nowhere (ha ha). Feeling happy and blessed as always.
Falling Through the Cracks
Forest Therapy – The Best Medicine
It was a delightful sunny day for a hike and just what I needed to recover from my recent tooth pain. Forest therapy is the perfect healing power for an exhausted body and the pine forests gave the most awesome fresh scented aroma. What I liked about this trail was that someone in authority made the effort to officially name a variety of rare species of trees and attach little plaques (signage). The route crosses the dam wall and continues along the banks of the reservoir towards Vidual de Cima. The route divides and you can choose which direction you would like to hike. There are some scenic old ruins of oil and water mills which lead onto the village of Vidual de Cima. En route we saw many huge birds of prey. The rocky crags and low scrubland areas provide the perfect shelter for birds to nest and feed. I was hoping to spot an owl.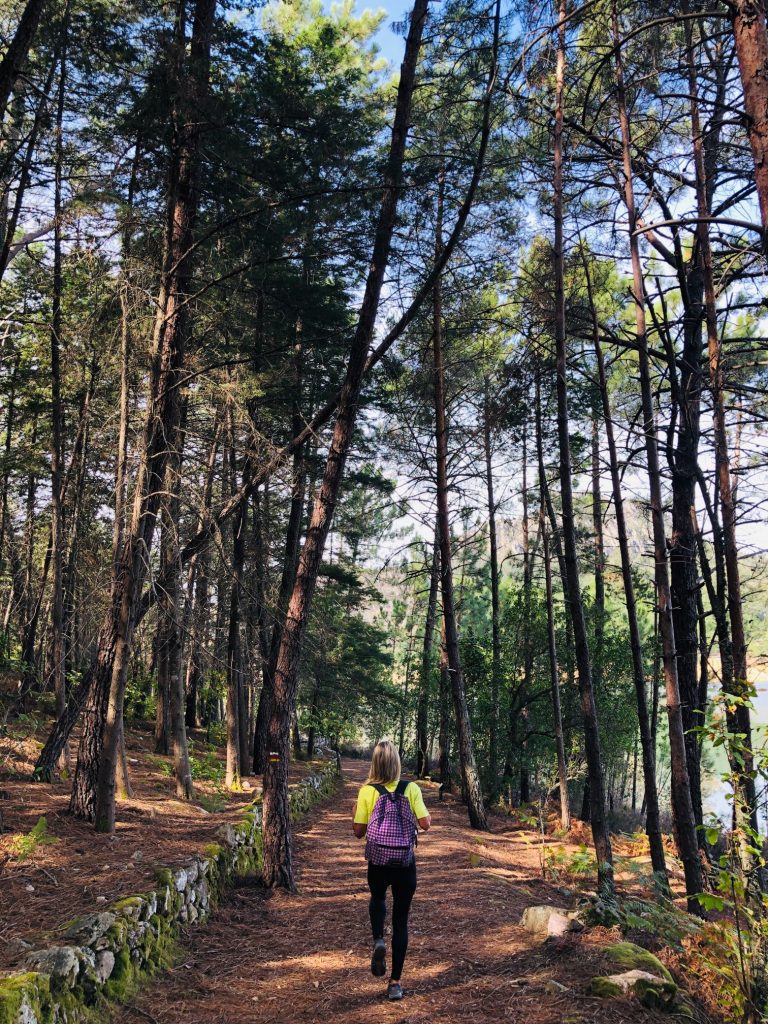 Let's Build Bridges, Not Walls
This is my favourite photo of Hubby. Just a man on a bridge next to the water mill, don't panic he is not about to throw himself off, I'm not that irratating, honestly! (ha ha).
Jeepers Creepers
I spotted this Scarecrow from a distance and I literally thought it was a Firefighter! Then I got closer and it freaked the shit out of me (ha ha). I think it was the gas mask that sent me over the edge! There were 3 Scarecrows on this land but I couldn't get a photo of the other 2 as I had to walk quite a distance onto someone's private land to get photos. I risked it for a biscuit for the first one but the other 2 were further down the hill closer to the house and I didn't want to get shouted at by an angry Portuguese farmer or worse chased and bit by a fierce dog. Anyone who is sick enough to design a Scarecrow like this is for sure a mass murderer. To be honest the other 2 Scarecrows creeped me out more as they were dressed as ladies with bright pink hats suitable for a day at the Ascot races. Maybe I should return and still a hat for Teanna's University Graduation next year (ha ha).
Nature is Weird & Wonderful
Another strange sighting in the forest was an olive tree which looked like it was growing grapes. Now I'm no Alan Titchmarsh but even little old me knows that grapes grow on vines not trees. On closer inspection I realised that the grape vines growing in close proximity had wrapped themselves around the tree branches and used them as an anchor to weave their magic and grow up into the tree creating a magical illusion. Nature is Weird and Wonderful for sure.
Sensational Schist Villages
There are 27 Schist Villages located in Central Portugal that are part of the Aldeias do Xisto Network and spread across 21 municipalities. They consist of tiny ancient villages, hidden treasures in the mountains. Some of the houses are in disrepair and long ago abandoned whereas others have had a new lease of life and renovation work transforming them to their former glory. I LOVE the quaint and quirky Portuguese villages we stumble across on our hikes hidden in the mountains as they are always bursting full of tradition and charm. They are one of Portugal's best hidden secrets. Schist is a type of rock and these 27 slate villages were built using schist metamorphic rocks that were found throughout the region. I live in a small village called Vinhó, Vila Cova de Alva which is located right in the heart of the Serra do Açor. Our old casa is partially made from schist stone but I still never get bored of exploring schist villages. They are truly magical and as I wander around them I often feel lost in time. Each village has its own unique identity and rustic charm. There are many schist village trails which take you through breathtaking mountain regions where you can discover unique cultural heritage.
The schist villages are located in the following 4 regions:
Serra do Açor
Aldeia das Dez
Benfeita
Fajão
Sobral de São Miguel
Vila Cova de Alva
Although Piodão is not classed as the Aldeias do Xisto network it is a must see historical village. All the houses are made from schist and the doors and windows are painted blue.
Serra da Lousã
Aigra Nova
Aigra Velha
Candal
Casal de São Simão
Casal Novo
Cerdeira
Chiqueiro
Comareira
Ferraria de São João
Gondramaz
Pena
Talasnal
Zêzere
Álvaro
Barroca
Janeiro de Baixo
Janeiro de Cima
Mosteiro
Pedrógão Pequeno
Tejo-Ochreza
Água Formosa
Figueira
Martim Branco
Sarzedas
Fig Thief & Turd in my Tread (Vidual de Cima)
The villages are often known where "Secrets of Portugal are kept" because stepping foot into one is like stepping back in time. I love all the weird and Wonderful sights that delight me in these villages. They ooze heaps of rustic charm and this village was no different. Although it is not on the official network list of schist villages and there are a lot of traditional white house with terracota orange roof tiles, it still has many houses made from schist stone and more importantly it had plenty of forbidden fruit: figs to steal (ha ha). Yes, I am the official fig thief, apologies I was a hungover hungry Helen. We had limited food in our house for our picnic so I was elated to see so many fruit trees in this village including fig, strawberry, olive and many grape vines. I always thought that the strawberry tree fruit was just ornamental and might be poisonous or toxic for consumption but apparently the red berry fruit yielded by these evergreens is edible and remarkably similar to large cherries, except for the rough textured exterior skin. You learn something new every day! I was so pleased to find some fruit trees as I only had a banana and a Snickers bar with my frittata. I usually bring a protein bar but we had none left in our house. Is it just me or have Snickers bars got smaller. Maybe I'm just a greedy piglet!
I found a few fig trees so I pilfered some of these delicious sweet fruits as I was starving. I do not know the protocol for stealing fruit in Portugal. In my eyes, if I see overhanging fruit branches on public streets and the fruit is surplus and just falling on the ground and rotting anyway then in my opinion it's a "free-for-all". I always only take a few, am not greedy and keep a watchful eye out for angry villagers and even angrier dogs (ha ha). Actually the Portuguese locals are so friendly and share what little they have. They have an awesome attitude to life and love sharing their food and drink. As I always say, sharing is caring. I do worry about crops being sprayed with pesticides so I rarely eat grapes as I feel they are more likely to have toxic stuff on them and I always rinse unpeeled fruits in the village's water fountain before I consume them as I don't want to die from eating fruit. "Death by Fig" on my death certificate would be more than a little embarrassing (ha ha). It was really fun to see all the little houses with various ornaments on display in their pretty front courtyards. There is a lovely church, fountain and houses with strange architecture to view. Just as we were leaving the village I stood in dog poop! I am not sure if this is god punishing me for stealing the figs but it got right into the tread of my hiking shoes and I had to walk another 2 km with turd in my tread before I found a stream to wash it off. I love how these little villages magically spring into your eyeline on the horizon, perfectly nestled within the mountains.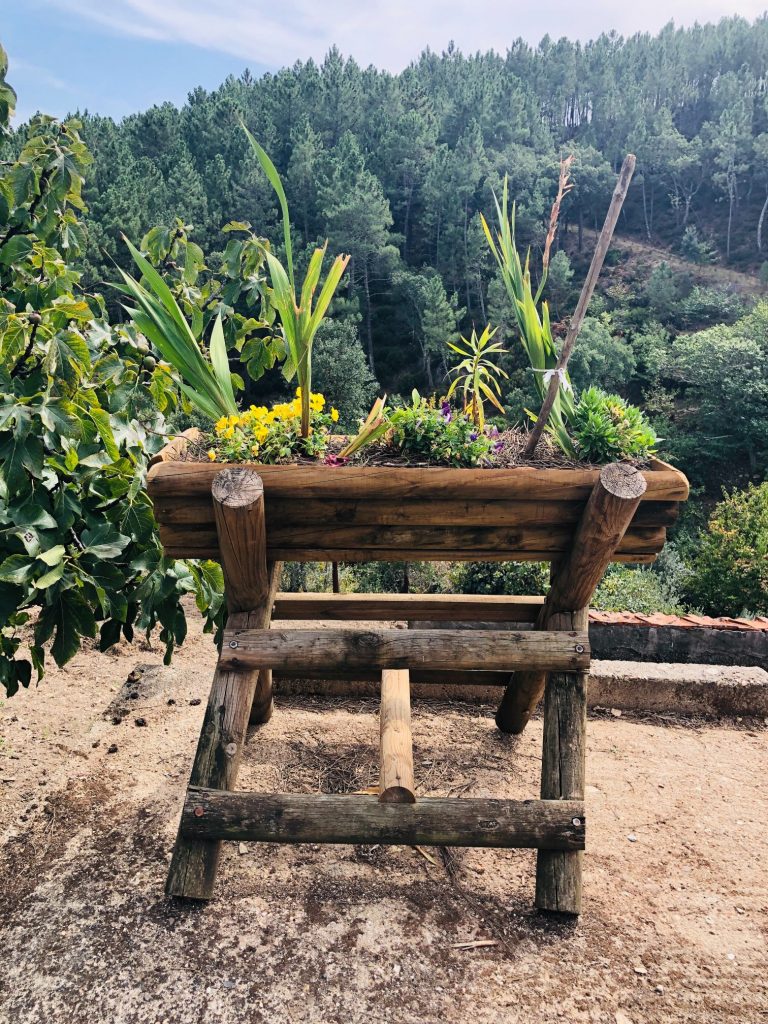 We have a Winner – The House with the Strangest Courtyard goes to: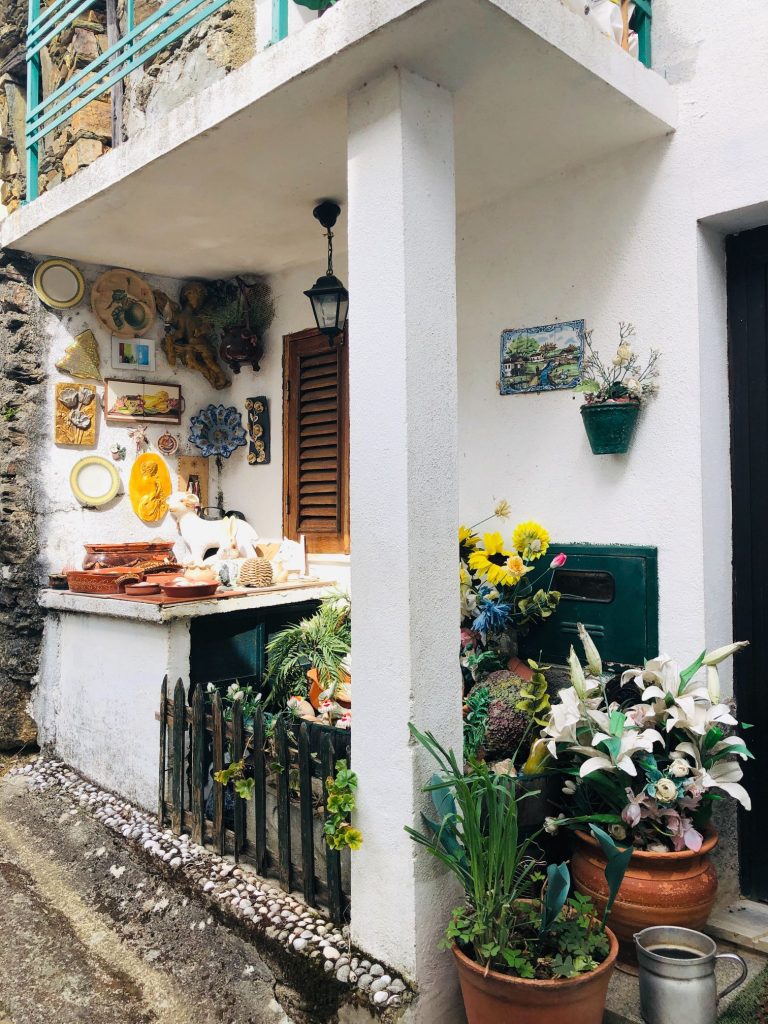 Perfect Poço – Poço do Caldeirão
I wasn't expecting much from this poço and with the recent summer drought I wasn't even sure that there would be any flowing water. This little oasis of tranquillity totally exceeded my expectations and made the day just perfect. We enjoyed our picnic lunch next to the fall. It is surrounded with beautiful fresh greenery, an old schist ruin and the clear water was pretty deep, I was tempted to go for a swim but I didn't bring my bikini or towel. I wasn't expecting to swim as the weather predicted sun and 25 degrees but it was hot and suitable for a dip so I think I missed an opportunity. I could have jumped in wearing my knickers and sports bra but I didn't have a towel to dry off so decided against it.
Was this a huge popular and well known waterfall? No, it is a poço which is a well. It was stunning and gorgeous to relax next to in solitude with my soulmate but it's clearly not the most impressive waterfall we have visited. I am just mentioning this before some idiot decides to say "It's nice but there is better around". Someone actually wrote that on my personal Facebook page once (ha ha). I clearly am aware it's not a gigantic waterfall but days out recovering from illness is not always about seeing the biggest and best thing in Portugal. Small things are understated and priceless. Big huge waterfalls rarely are empty and you have to share with others which I hate. Then there is usually a young couple getting all frisky and over touchy feely with each other and kissing right in front of us which is awkward as hell, get a room. A kiss is one thing but making out in front of others while they watch is just weird, there is a word for it my friend, it's called Dogging (ha ha). I'm no prude but In my eyes some romantic acts are best kept for the bedroom. Some folk clearly don't have any personal boundaries and love to exhibit their gestures of romantic affections to all and sundry. We had a blast at this poço. I was amazed to find the green metal steps to access the poço. Usually you have to climb down like a mountain goat on all fours. There is something just so healing about watching and listening to water flow. I didn't want to leave this little paradise.
My Favourite 3 Aqua Photos
Poço do Caldeirão Photo Gallery
Aqua Therapy Selfies
Trying to get a Selfie with 2 people and a waterfall is more difficult than it looks (ha ha). I don't think we have over average sized heads but it's a tricky task especially if one doesn't want to slip or trip into the deep waters (ha ha). Hubby is mastering his one pose hubby look as usual and I make him wear sunglasses because he always blinks in photos whereas I just squint in the sun and look 110 with my wrinkles. I'm trying to grow old gracefully but I'm failing miserably!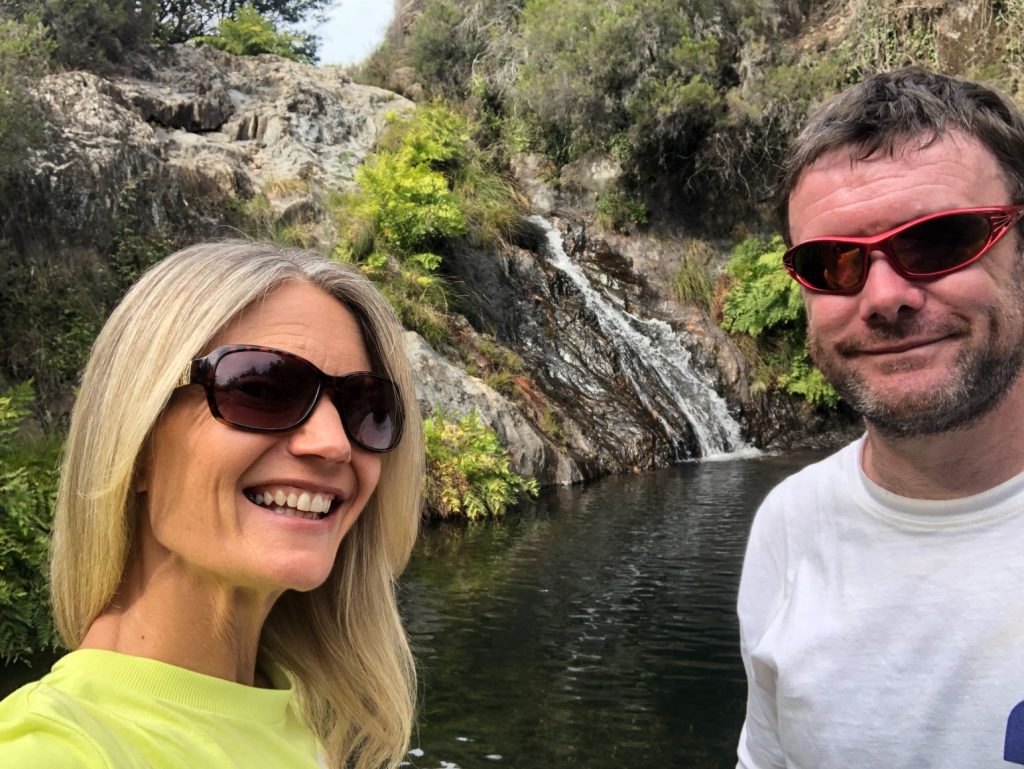 Frugal, Free & Foraging – Chestnut Season
We stumbled across so many Castanheiro (Sweet Chestnut) trees so we foraged for chestnuts on the return journey. Chestnut season is upon us and roasted chestnuts are so yummy and I can't wait to attend my first ever chestnut festival in a local village. Magusto is an Autumn Portuguese tradition and celebration that takes place annually in November. The Portuguese have a unique way to roast chestnuts. In many villages especially the Beira regions a special ritual occurs. The local people gather together in the main square and a huge pile of chestnuts are roasted on a huge fogueira (bonfire). Pine needles are added which emanates the most beautiful aroma. Then they are accompanied by Jeropiga, an alcoholic drink which contains aguardente and "mosto" (must) – freshly squeezed grape juice which is fermented. Água-Pé is an alternative drink which is also consumed and has a lower alcohol content. It is believed that the word "Magusto" comes from the Latin "Magnus ustus" which means "Big fire". The Magusto takes place on the following dates: St. Simon's Day, All Saints' Day or St. Martin's Day. Bring on the Chestnut Festival FUN!
Overview
In all honesty we hiked over 13 km due to the fact that we took a couple of detours (we got lost!). Well, we didn't actually get lost, we just were so relaxed and immersed in nature that we missed the little painted signs/markers for directions so went a bit off plan. We didn't see another soul on the whole hike which shocked me. What made this hike stand out from others was the enchanting landscapes and majestic quartzite outcrops of Santa Luzia that surround the Santa Luzia Dam, they really are the greatest geological spectacle, unmissable and just heavenly. I love this time of year to hike, it's glorious and the trees portray an autumn rainbow of colours. The forests were alive with crunchy leaves underfoot and many animals scurrying around, a true oasis of life, peace and moments of contemplation.
As we walked back up to the car we saw a little hut and I got all excited thinking they must sell coffee and ice cream or Portuguese cakes but I was wrong. It was a little shop selling artisan crafts e.g. Ceramics, artificial flowers and textiles such as tablecloths and aprons. I was very gutted and the disappointment was clearly visible on my sad little face (ha ha). What annoyed me was the fact I saw the "Sical" coffee sign (logo) on the red plastic chair which was outside so anyone of normal brain function would clearly assume they sell coffee but the lady clearly stole her plastic chair from a cafe, very misleading indeed. Hubby drove around trying to find me a cafe but failed in his hubby mission. We did see a few blokes hanging out by an open window shutter and as we approached I quickly realised that it wasn't a cafe but just someone's house and they had opened their window shutters and were serving the guys drinks. I very nearly asked if they could sell me a coffee and a nata but the humiliation and lack of my Portuguese language held me back and I chickened out big time (ha ha). Hiking soothes and clears my mind and is a wonderful de-stressing activity. The only thing it was missing was a double shot of caffeine. Today was just what the doctor ordered, not the barista (ha ha). I am regaining back my health and happiness, literally one step at a time.
The Forest is Filled with Magic and Secrets
I will leave you with my favourite Magical Forest Therapy Photo: