BANK HOLIDAY EASTER DAY TRIP TO MONSANTO (PART 2)
After a fantastic morning enjoying the idyllic Jardim do Paço Episcopal we headed on to the Portuguese historical village of Monsanto. As I shared in my Part 1 post, I was very excited to visit Monsanto and it's been a firm favourite on my bucket list forever. When you view the photos you will quickly realise why, one word. WOW!
The Boulder Village of Monsanto
Monsanto is without doubt the most beautiful Portuguese historic village that I have ever laid my eyes on. To say it has a unique charm is a total understatement and I am not surprised that the village has won two awards – The Most Portuguese Village in Portugal (1938) and Most Historical Village (1995). Monsanto is actually classed as a mountain town and is located very close to the Spanish border, in the municipality of Idanha-a-Nova, district of Castelo Branco, Province of Beira Baixa, Centre region and Sub-region of Beira Interior Sul. At 758 metres in altitude it is a sight for sore eyes and is likened to a living museum. The tiny town only has 829 inhabitants in total. Perched on Cabeço de Monsanto (Mons Sanctus), rooted between gigantic rocks, it is simply beautiful and is the most famous village out of all the 12 Historical Network Villages of Portugal. Its name means "Sacred Mount" and the village is famous for being built around giant boulders. Its unusual granite houses are carved from the rocky cliffs and squeezed between gigantic boulders effortlessly merged so wonderfully into the architecture and once described as "An Island in the Sky". I was amazed to see some of the huge boulders sitting effortlessly on top of the houses and amongst part of the houses' structural walls and ceilings, such a totally bizarre sight. The village is stunning from a distance with its amphitheatre design and terracotta orange roof tiles glistening in the Portuguese sun. There is so much to see including the Castle and Walls, Clock Tower, 16th Century Noble Manor Houses, Several Chapels and Ruins, Graves and Tombs excavated in rock, Famous Boulders with a legend to tell, Hobbit sized houses, Stunning Viewpoints, Pillory and Famous Squares, a fascinating Cave and so much more. The restaurant Petiscos e Granitos is located inside the rocks which is a must see tourist attraction.
History in a Nutshell
Monsanto holds much history where human inhabitants have been recorded since the Palaeolithic era. Archaeological evidence of a Lusitanian fortress and of Roman occupation was found in St. Laurence's field, at the foot of the hill. Traces of Visigothic, Arab, Lusitans and Roman presence have also been found. King Afonso Henriques conquered Monsanto from the Moors and in 1165 he granted it to the Knights Templar (Monks) who rebuilt the castle under the orders of Gualdim Pais (Portuguese crusader, Master of the Templar Order and Knight of King Afonso Henriques). He was the founder of the cities of Pombal and Tomar. The first charter was granted by King Afonso Henriques (1174) and King Sancho I (1190) and King Afonso II (1217). King Sancho I rebuilt and repopulated the fortress, destroyed in the fights against Leão and it was repaired again a century later, by the Templars. In 1308 King Dinis granted it charter and a fair was held next to the chapel of S. Pedro de Vir-a-Corça. King Manuel I granted it a new charter (1510) and gave it the status of town. In the middle of the 17th Century, Luís de Haro, Minister of Filipe IV, tried to siege Monsanto, without success. Later, at the beginning of the 18th Century, the Duke of Berwick also besieged Monsanto but the Portuguese army commanded by the Marquis of Minas, defeated the invader on the slopes of the hill. In 1758, Monsanto was a municipality, a privilege it maintained until 1853. In the 19th Century, the imposing medieval Monsanto Castle was partially destroyed by the accidental explosion in the ammunition depot of the castle.
Famous Films
"House of the Dragon", the prequel to the "Game of Thrones" series, was filmed in Monsanto in 2021.
Fun Festivals
The religious celebration Festa da Divina Santa Cruz takes place on the 3rd May or the first weekend in May which commemorates the memory of the survival of the Monsantines under enemy siege from the Romans and Arabs. It is a popular festival with music, colour, traditional dress, medieval reenactments and a medieval fair.
Legend of Monsanto – The Siege
The Monsanto village was under siege for over a year by Roman troops. Food was running out and people were starving; they were worried that they would have to surrender to the Romans. The alcaide of Monsanto had a very pretty daughter, who took care of the family's calves. Seeing the village's survival at risk, he ordered his daughter to leave the village but the daughter did not want to leave her father to the will of the Romans and decided to stay with him. Worried about his men, who valiant as they were, continued to fight against the Romans, the alcaide asked the daughter to give the calves over to the men to have something to eat. After all, there was no food and they were starving and soon they planned to surrender. The daughter had an idea: She kept the fattest calf and showed the Roman soldiers, so that they could see how much food they had, to which the father added that the calf had been left over from dinner the day before. The soldiers were surprised; they thought they were winning the battle. The situation demoralised and the soldiers retreated and ended up leaving Monsanto – and the people were finally saved!
The people of Monsanto were so happy that they celebrated with music, food and tons of excitement. In fact, Monsanto's origins date back to the Palaeolithic period. Archeological traces register a Lusitanian hill fort and Roman occupation in the field named S. Lourenço at the foot of the mountain, demonstrating the potential veracity of this legend. The event is celebrated each May, during the Festa da Divina Santa Cruz de Monsanto: locals wear traditional dress and climb to the top of the citadel carrying symbolic pots of flowers. At the top they break them and the flowers spill down. Flowers are also placed on the castle walls and the women take the traditional Marafona rag dolls to the top of the towers. Another legend tells a similar story. The inhabitants of Monsanto were only left with a thin cow and some wheat to eat. They were starving but came up with a brilliant idea to feed the wheat to the cow so that she would gain weight and they threw her down from the castle walls to portray to the enemy that they had plenty of food and could spare a cow. The enemies, cut the cow's stomach open and seeing how well fed the cow was, decided that the people of Monsanto must still have plenty of food left so they retreated from the siege and left. I am glad that during the festival it's only vases which are smashed and flowers cascading down from the castle walls. I think being pelted around the head by a dainty flower will hurt substantially less than a fat cow full of wheat (ha ha).
GPS Coordinates (Car Park): 40°02'24.2″N 7°06'50.8″W
Helen's Itinerary:
Baluarte/Bastion (Bulwark) & Praça dos Canhões (Cannon Square)
Igreja Matriz (Main Church)
Chafariz da Fonte Nova (New Fountain)
Capela e Portas do Espírito Santo (Chapel and Gates of the Holy Spirit)
Chafariz do Meio (Middle Fountain)
Casa de Fernando Namora (House of Fernando Namora)
Casa de Zeca Afonso (House of Zeca Afonso)
Cruzeiro de São Salvador (Stone cross of Saint Savior)
Solar dos Pinheiros e Chafariz Mono (Pinheiros Manor House and Mono Fountain)
Solar do Marquês da Graciosa (Marquês da Graciosa Manor House) Now a Tourist Office
Antiga Aldeia (Old Wine Cellar)
Pousada de Monsanto (Inn)
Antigo Consultorio de Fernando Namora (Former Medical Practice of Fernando Namora)
Pedra da Paciência (Patience Stone)
Pelourinho (Pillory)
Antiga Capela da Senhora do Socorro (Old Chapel of our Lady of Succour)
Capela da Misericórdia (Chapel of Mercy)
Torre do Lucano ou do Relógio (Tower of Lucan/Clock Tower)
Portas de Santo António (Saint Antony's Gates)
Capela de Santo António (Saint Antony's Chapel)
Casa do Século XVII (17th Century House)
Forno Comunitário (Communal Oven)
Casa do Carrasco (Executioner's House)
Gruta (Cave)
Miradouro do Forno (Oven Viewpoint)
Furdas (Pigpens)
Penedo do Pé Calvo (Barefoot Boulder)
Castelo (Castle)
Casa do Guarda (Sentry House)
Capela de Santa Maria do Castelo (Chapel of Saint Mary of the Castle)
Cisterna (Cistern)
Citadela (Citadel)
Porta da Traição (Betrayal Door)
Capela de São Miguel (Saint Michael's Chapel)
Necrópole de São Miguel (St Michael's Necropolis) Graves excavated in rock
Laje das Treze Tigelas ou as Tigelinhas da Fidalga (Slab of the 13 Bowls or The Noble's Bowls)
Ruínas do Povoado da Freguesia de São Miguel (Ruins of a settlement in Saint Michael's Parish)
Torre do Peão (Spinning Tower – Commonly written "Pião")
Capela de São João (Saint John's Chapel)
Penedos Juntos (Joined Boulders)
Capela de São Pedro de Vir-a Corça ou de Vira-Corça (Chapel of Saint Peter Vir-a-Corça) Fawn/Doe
GR22 Grand Route & Hiking
Monsanto is part of the GR22 and there is also a lovely looking PR5 Rota do Barrocais which is a short 4.5 km.
Baluarte/Bastion (Bulwark)

& Praça dos Canhões (Cannon Square)

The current carpark and scenic viewpoint at the entrance to the village is locally known as Bastion Square or its popular name Baluarto (Bulwark) and is a 20th Century old military firing platform with sensational views. There is only parking for about 10 cars and it was full when we arrived. There are a couple more car parks further down the hill and plenty of allocated spaces adjacent to the Bulwark which is where we parked. There were parking meters but since the start of Covid they have all been covered and no parking fee is payable. I expected Monsanto to be really busy at 1pm when we arrived but it was blissfully empty. I was really worried it would be packed full of tourists as it was the school holidays and I have read that being so close to Spain it attracts multiple Spanish tourists. What can I say, we got lucky again and as you can see from my photos the whole place was very quiet and serene. There is going to come a time when we don't get this luxury and we will have to experience being shoulder to shoulder with tourists and fellow adventurers but I'm glad to report that this day was not it which was super pleasing for me as I don't cope well with crowds due to my anxiety. The views from the Bulwark are astonishing and there is a cafe opposite named after the viewpoint. I've always fancied being shot out of a cannon which probably makes me sound like a weirdo. I would most likely miss the crash landing pad and do myself an injury (ha ha).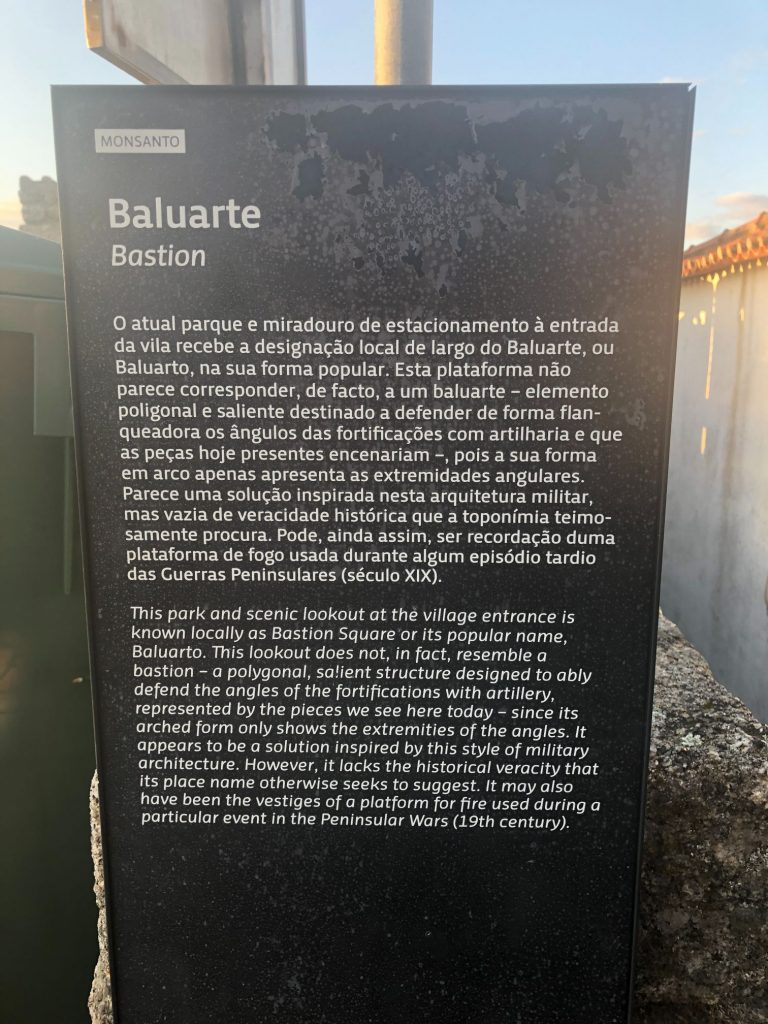 Cross about the Cross –
Igreja Matriz (Main Church)
I loved the rose window detail of this church on the main facade, which dates from the 1950's. As you are well aware by now, hubby is not the best photographer and I felt very agitated that he cut the cross off of the top of my photo. I know he is not religious like me and I don't think it was intentional as he chopped the top off my lamppost photo too (ha ha). He is just shit at taking photos and the full glare of the sun doesn't help. It did make me a little sad but luckily I took some photos too and I got the cross and birds in my photos.
None of the churches were open to view the interiors which was a shame. I was too hot and bothered to scale walls, break in and risk getting arrested (ha ha).
Chafariz da Fonte Nova (
New Fountain)
My pet peeve is when it clearly states that cars are banned from entering a village yet people blatantly disregard the rules! No cars are permitted past a certain point yet I witnessed a few people drive right into Monsanto and park up and get out to explore. They were clearly not residents but tourists with no visible disability or mobility issues. Cars were parked around this beautiful fountain so this is the best photo I could get. Karma prevailed when we saw a shiny new BMW right in the heart of Monsanto which had broken down and wouldn't re start. The male driver was looking rather agitated. I said to hubby that's karma my friend, what comes around goes around, you shouldn't be so damn ass lazy (ha ha). The problem is that cars rarely get parking tickets or towed in Portugal like they would in the U.K so people literally park wherever they want to and take the piss. They park right next to the chapels and fountains blocking views and access making it dangerous and impossible to get a nice photo. The narrow streets are wide enough for donkeys not cars which is quite apt because this man was a total ass (ha ha).
Capela e Portas do Espírito Santo
(Chapel and Gates of the Holy Spirit)
Chafariz do Meio (
Middle Fountain)
Casa de Fernando Namora (House of Fernando Namora)
This gentleman sounds like a great man with an interesting character and I can see why the village were keen to commemorate that he lived in the village.
Casa de Zeca Afonso (House of Zeca Afonso)
Cruzeiro
de São Salvador (Stone Cross of Saint Savior)
Solar dos Pinheiros e Chafariz Mono (Pinheiros Manor House and Mono Fountain)
Solar do Marquês da Graciosa (Marquês da Graciosa Manor House) Now a Tourist Office
Before any visit I always do my research and read up as much as I can about the culture and history of each place including all the places of interest to see and the relevant myths and legends. I try to download a map too and print it off (old school) just in case our phones malfunction or the Internet is poor so we have a physical guide in our hands to follow. Most places have a tourist information centre but as usual lately, this one was closed. After reading the sign I see it's closed on Mondays. Monsanto was extremely well signposted with information boards written in both Portuguese and English on nearly all of the attractions. I tried my best to take a photo of all the signs to share with you all. Don't forget you can always ask the village locals for help if you can't find somewhere or you get lost. The locals are so friendly and in our case we didn't even have to ask they just heard us debating directions and came out to offer help, bless them.
Antigo Consultorio de Fernando Namora (Former Medical Practice of Fernando Namora)
Water Sustains All
There is a safe drinking water fountain right opposite the old doctor's surgery to replenish your water supply. I must of drank at least 3 litres due to the searing heat. I totally misjudged the weather, It was around 25 degrees and full sun but felt like 30+ and we were blessed with glorious sunshine all day long. I got a little sunburnt as I left my factor 30 sunscreen in the car. I should have took Henrietta the hat (ha ha). I used to think I was a dog in a former life as I'm easily pleased with hugs, walks and snacks but now I think I'm more of a houseplant as I just need sun and water to thrive (ha ha).
Pedra da Paciência (Patience Stone)
It is a shame the green bins were so close to the stone benches, I was tempted to move them out of the photo shot (ha ha). As I sat here I debated what crime I would have committed to be incarcerated. I think I would be doing a long hard 12-15 for murder and hubby would be doing a short 6-8 for Internet Hacking (ha ha).
Pelourinho (Pillory)
The Pillory was under construction work when we visited. It looks like someone or something knocked it off it's granite block. I can honestly hand on heart say it wasn't me this time. I'm strong but I'm not Super Woman (ha ha).
Antiga Capela da Senhora do Socorro (Old Chapel of our Lady of Succour)
Capela da Misericórdia
(Chapel of Mercy)
Torre de Lucano ou do Relógio
(Tower of

Lucan

/Clock Tower)

The Lucano Tower (better known as the Clock Tower) is a popular monument and this 18th Century Bell Tower has become an important symbol for the village after it was elected "The Most Portuguese Village of Portugal", in 1928. You will find a Galo de Prata (Silver Rooster) perched on the roof, a replica of the trophy it won. We climbed up the wall and admired the spectacular views over the terracotta roof tops. I find it quite strange that Monsanto won "Most Portuguese Village" as this gives the impression that it is a typical Portuguese village but actually it's very unique and in my opinion one of a kind.
I Spy with My Little Eye – A Silver Rooster!
I LOVE the fact that in various parts of the village you can spot the Bell Tower and the iconic silver rooster on top of the tower from a distance.
Portas de Santo António (Saint Antony's Gates) & The Randy Goat
Just outside of these gates we found a house with a couple of friendly goats. Just after I took their photo one goat got a bit randy Andy and kept mounting the other one but the other one kept running away. "Not tonight Josephine" (ha ha).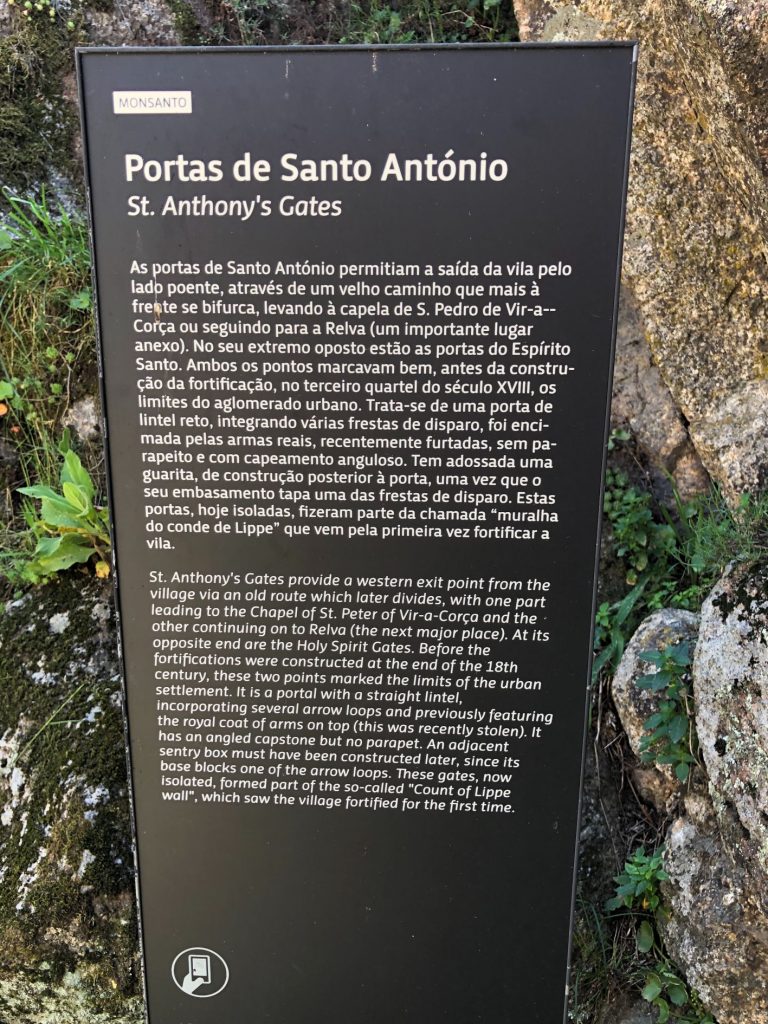 Capela de Santo António (Saint Antony's Chapel)
Casa do Carrasco (Executioner's House)
Granite Greatness – Gruta (Cave)
I love caves and this hidden gem was a rare and unexpected find. It is an artificial cave created from the space left at the bottom of two huge granite boulders. I was very excited and curious to explore the interior of this cave. It was covered in cobwebs which got in to my hair, I should have worn my Henrietta hat after all (ha ha).
The Most Famous Boulder House – Miradouro do Forno (Oven Viewpoint)
I have never seen such a beautiful and unique viewpoint with an exceptional architectural wonder. Miradouro do Forno is a viewpoint with a beautiful balcony/terrace overlooking the most famous house with the boulder on the roof. It is actually a restaurant not a house and named Petiscos e Granitos (Snacks and Granites). It offers affordable cuisine with panoramic views far and wide over the rooftops and a sensational view of an incredible alarmingly balanced boulder known locally as the Penedo do Pé Calvo (Barefoot Boulder). There wasn't another soul in sight and we took this opportunity to enjoy our tasty picnic and sweet treat on the stone picnic tables overlooking the glory before our hike up to the castle.
"Yaba Dabba Doo", It really does look like something from The Flintstones. The villagers call this house "Casa de uma só telha" which translates to "The house with one tile". When you have a roof like this you have a roof for eternity! This place is one of the most adorable yet extraordinary places I've ever visited, judge for yourself.
Cherry on The Top – Pastel de Cereja
Papas Doces de Milho (Corn Semolina Pudding) is a popular sweet dessert here. Semolina pudding transports me right back to the 80's and the dreaded free school dinners. I hated semolina pudding back then. My old school teacher would stand over us and make us eat every last mouthful stating that there were starving children in Africa. One day I made the mistake of muttering a bit too loudly under my breath "Well why don't you pack it up and post it to them in Africa then". I then stood up and puked the pudding up all over my teachers cardigan which wasn't the end of the world as all she ever wore was a sea of beige anyway, so the stain matched her dreary outfit. I got sent to the headteachers office as she accused me of vomiting on her on purpose and she even phoned my mum due to my apparent insolent and brazen behaviour! I was about 9 years old and a sarcastic little madam (nothing changes) but it was a pure accident, I can't puke on demand (ha ha). I still hate semolina to this day so I will stick to cherries.
You may know by now but whenever I visit a new place and I discover that they have a regional sweet treat I always try my best to sample one, well it would be rude not to. This day was no exception as I found out that Monsanto is home to the famous Pastel de Cereja. A local pastry similar to the famous Pastel de Nata but with a yummy cherry filling on top of the custard. Monsanto is close to Fundão which is the largest producer of cherries in Portugal. We both adore everything and anything cherry so I was in my element. This is the first flavoured Pastel de Nata we have sampled since relocating to Portugal over 2 years ago. I have to admit that I did think €2 for each pastry was a little bit steep in price baring in mind we bought them from a shop to take away. It cost €2 for a nata at the famous Majestic cafe in Porto and that was delivered on posh china by a gorgeous easy on the eye waiter with a nice tight butt, table service and added ambiance of the architecture too. The coffees in Majestic were €3 each and in Monsanto only 70 Cents thankfully as I can't get through a day trip without my caffeine fix. The usual average price for a nata is anything from 60 Cents-€1. This delightful cherry pastry was so delicious that I would have ate 2 if they were cheaper (ha ha).
Along with having the whole castle area to ourselves, consuming this tasty pastry was the main highlight of my day (ha ha). It really was just so delicious and I'm not a huge fan of custard tarts so this proves how awesome it was. The best bit was the lady in the shop placed one on top of the other then put them in a bag so when hubby tried to separate them one took a lot of the other ones cherries so I got the one with cherries on the top and bottom, a double delight. I got so excited eating mine, I didn't realise I have cherries on my front teeth (ha ha). I was so shocked that we had this whole viewpoint to ourselves with the mind-blowing views of Penedo do Pé Calvo (Barefoot Boulder) and the famous boulder house. It certainly was "The cherry on the top of the cake" or should I say the "Cherry in the cake". Don't google the urban dictionary of "Cherry on top" as it's a bit rude and doesn't mean what I was trying to portray (The final thing that makes something perfect).
Boulder Selfies
We still haven't got to grips with our selfie stick. It's so difficult to hold it still and with the Portuguese sun and glare we couldn't see anything. Our aim was to try and get a selfie with the famous boulder house in the shot with us. We didn't do too bad considering (ha ha). I suppose the downfall of no one else in sight is we can't ask anybody to take a photo of us together. At least we tried and I feel sorry for single folk who have to only have selfies. At my age the further away the camera is the better. No one looks that great in a selfie unless their a super model or have spent their Pastel de Cereja budget on Botox and fillers (ha ha).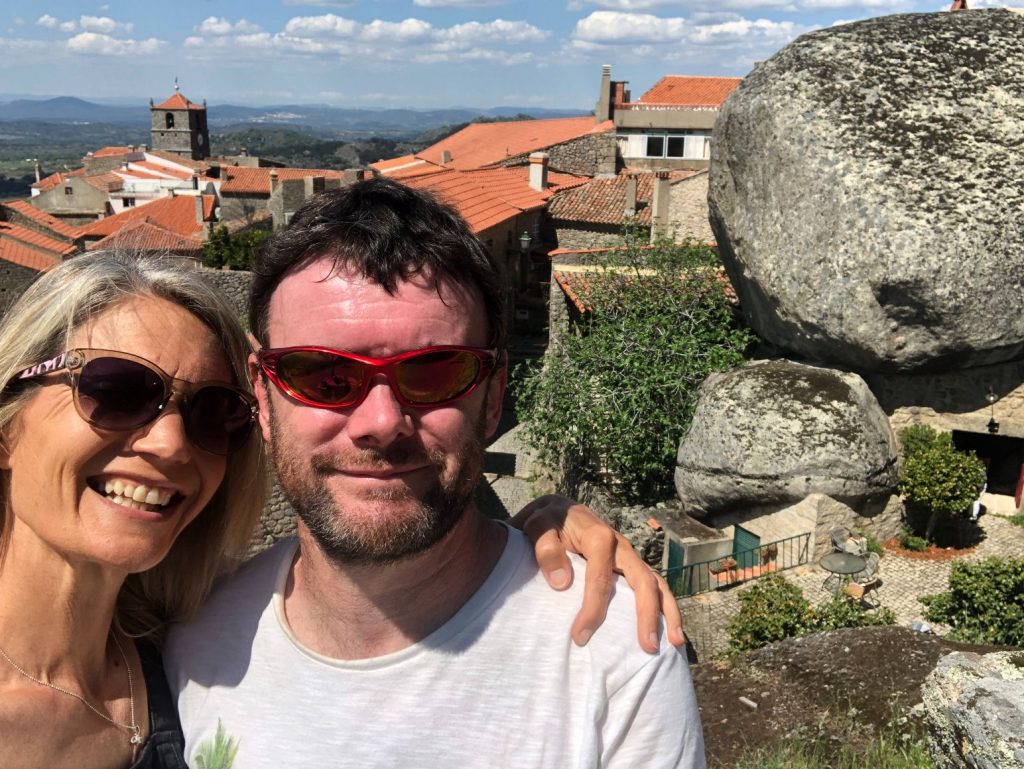 Sausage Fest – Furdas (Pigpens)
Villagers have always lived off the land in Monsanto and the village is famous for it's sausages. It is the first time that I have seen the glorious Pigpens which are shelters carved into granite rocks for pigs, chickens and other livestock. It was great that I experienced my nature fix and got to meet many animals including some chickens and randy goats. It is not unusual to see shepherds herding their flock of sheep and goats right through the heart of the village. The views from this area are captivating and it's a lovely spot to take time out and appreciate nature. I always remember my mum saying to me as a teenager "Tidy your room it's like a pig sty" (ha ha). Apparently pigs are very clean animals and super intelligent. I used to collect pig memorabilia when I was younger, I just love Pigs so much, I married one (ha ha). Fun fact: If you say JESUS backwards it sounds like SAUSAGE (ha ha).
Penedo do Pé Calvo (Barefoot Boulder) & Miradouro (Viewpoint)
Penedo do Pé Calvo is a giant fissured boulder located on one of the paths up to the castle. It is the perfect spot to admire the panoramic picture postcard views.
Where the Heart Loves, The Legs Walk
The Castle is located at the highest and most beautiful hill in the village and it is only accessible by foot via rugged terrain. It took us around 10 minutes to walk the shepherds' paths to the abandoned castle from the village but we walk fast for a couple with short stumpy legs. The ground underfoot is stoney so don't wear heels ladies or gents (ha ha). As you get closer you will see the castle engraved into the slope which is a miracle sight. The village is great for nature lovers, walkers and hikers who are seeking peace and quiet as the village offers a range of hiking trails such as the boulder trail where you can view unique rock formations.
There are No Rules of Architecture for a Castle in the Clouds
Including: Castelo (Castle), Capela de Santa Maria do Castelo (Chapel of Saint Mary of the Castle), Citadela (Citadel), Cisterna (Cistern), Porta da Traição (Betrayal Door) & Capela de Santa Maria do Castelo (Chapel of Saint Mary of the Castle).
The castle is one of the most impressive military structures of the interior Beira and I was swept away with emotion. The minute I stepped through the first archway I was mesmerised and had to blink twice to make sure it was real. It is so very picturesque and it was truly remarkable that we got the entire castle and area to ourselves which surprised me as I expected to see tons of tourists traipsing around the castle. It was as if my fairy godmother waved her wand, cast a spell and magically made everyone disappear. We climbed the wonderful windy citadel walls and walked around staring in awe at the panoramic views stretching as far as Spain and trying our best not to fall off the edge as there are no safety barriers. The castle is such an architectural wonder and there is the best view of the chapel from the citadel walls. I was totally blown away by the castle ruins, nature, fresh air and tranquillity. Check out my 2 videos on Casa Valhal Facebook and Instagram to see how we got the whole place to ourselves, it was heavenly and pure ecstasy.
I enjoy finding hidden gems liked the carved arrow holes. Whenever I view a Portuguese castle and ruins I think about the wars, torture and death yet despite all this castles always manage to appear romantic and make my insides feel with joy. It was such an incredible experience to have the whole place to ourselves and just for a while this was my entire castle and my very own fairytale. A bit of a fantasy can be good for ones heart and soul! Did I mention we had the whole place to ourselves! (ha ha).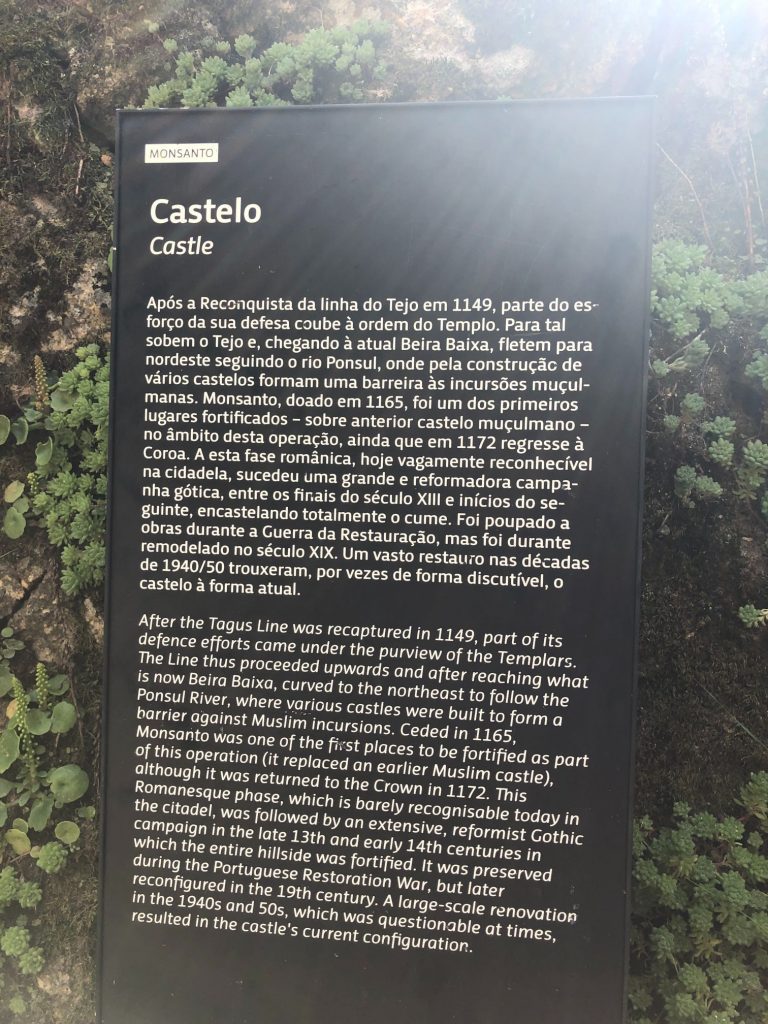 Castle Capers
One of my favourite things to do on top of a windy castle or mountain is to throw my hands up in the air with the enthusiasm of an excited 5 year old, feel the wind beneath my (bingo) wings and scream to see how far my echo travels. Hubby has not adopted my crazy free spirit and embarrasses far easier than me. Obviously this is a difficult pastime to do when there are lots of tourists around so I have to be selective. Today, not a soul in sight so I took my opportunity (ha ha).
Steps & Staircases
The best way to make an abandoned staircase happy is to climb the steps. Once you climb the stairs, you will see how beautiful life is! These steps are really steep and in all honesty I struggled with my short legs and I had to have a little sit down and rest half way up (ha ha). I love all the medieval stone steps and staircases that lead to the castle walls, I think they are so picturesque against the blue sky and fluffy clouds. I just can't believe we got to roam around in solitude and climb to our hearts content.
Windy Castle Selfies
Bigfoot & Boulders – Capela de São Miguel
(Saint Michael's Chapel)
Including: Necrópole de São Miguel (St Michael's Necropolis) Graves excavated in rock & Ruínas do Povoado da Freguesia de São Miguel (Ruins of a settlement in Saint Michael's Parish).
The ruins of São Miguel Chapel are astonishingly isolated and are surrounded by ancient anthropomorphic graves carved into the rock. The chapel is located in the northeast area of the castle and Monsanto's Medieval settlement grew up around it. I absolutely loved this place and there are more spectacular perfect prime views. It was a unique experience to wander around and locate the tower, all the various tombs and the 13 Bowls. The 12th Century stone graves that are well preserved and carved from the rocks have no lids. It was surprisingly blissfully quiet and we took a walk to discover all the gigantic boulders that define this village. There are so many rocks that are strategically balanced effortlessly and define gravity like a huge game of rock jenga. They look like they are going to topple at any given second. A beautiful sight and Sea of Granite. We joked that the scenery with gigantic boulders would make a great backdrop to a Bigfoot film sequel.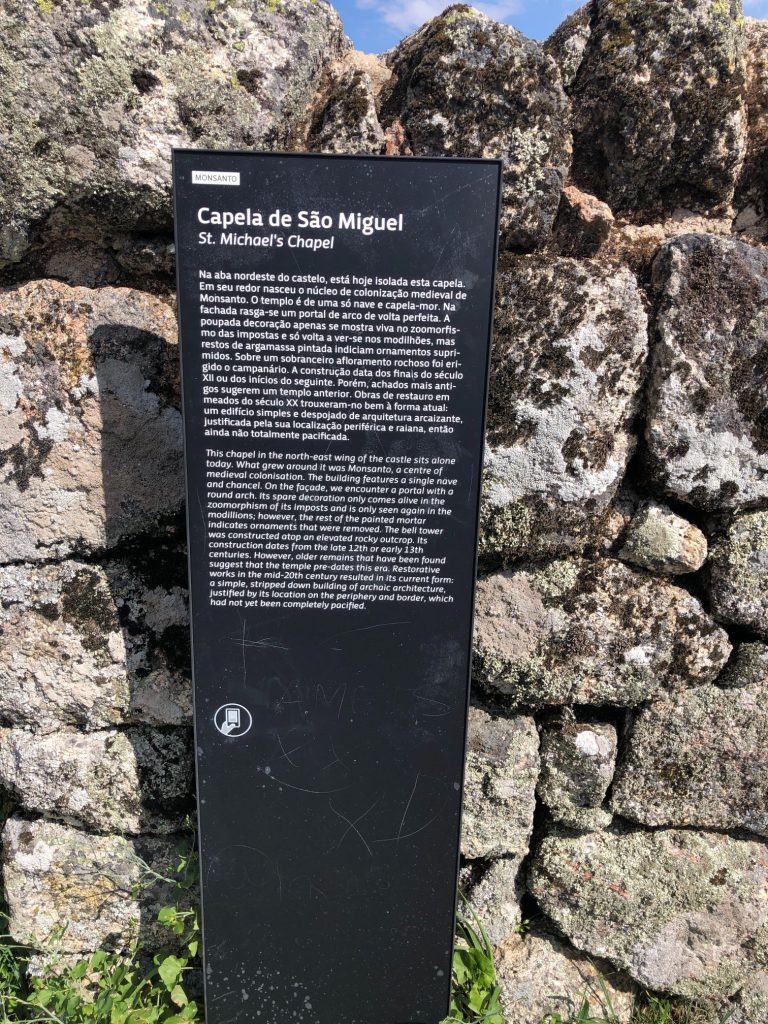 Pão de Chocolate
We took a lovely break here in the shade and consumed some tasty chocolate bread left over from our picnic lunch. I wasn't sure what places would be open for food or if I would be able to sample a cherry pastry treat so took our own to be prepared as I can't do a long adventure without sugar and caffeine.
Raise the Roof
I was compelled that the walls of this chapel seem relatively intact yet the whole roof had collapsed. I'm not sure they need a padlock on the door (ha ha).
Laje das Treze Tigelas ou as Tigelinhas da Fidalga (Slab of the 13 Bowls or The Noble's Bowls)
There are fascinating circular bowl shaped rock formation cavities called Laje das Treze Tigelas which are connected to ancient myths and legends. Some say that the slab was associated with an ancestral cult, others say, the "bowls" were attributed to the good deed of a noble lady who served soup to the poor here, hence also the name Tigelinhas da Fidalga. I'm hoping that the legend is the soup and homeless one as I feel very strongly about homelessness and I do love a good bowl of soup especially Caldo Verde.
Torre do Peão (
Tower

)

The Tower of the Pawn, commonly spelled as Pião, was an isolated watchtower, very far from the medieval castle. This extramural position, on an elevation bordering the castle, overlooking the chapel of São Miguel, allowed a blind spot to be covered and better surveillance of the north slope. It has a square plan, with only part of the ground floor remaining. Its state of degradation makes it possible to observe the original construction technique of its walls – two walls aggregated with gravel, a rare situation, as the diverse and profound works hide the opportunity to see the different original construction techniques of the fortress. The tower has been in intentional ruin since the late Middle Ages, presumably because it was a threat to the castle in the event of a siege.
Misty Mystery – Capela de São João
(Saint John's Chapel)
What a fascinating place of indescribable beauty! Only one arch remains of this chapel and it serves as a magnificent viewpoint. I saw an Instagram photo of a man sitting on top of the stone arch and I challenged hubby to recreate the model pose. He was up for it at first but then we changed our mind as we were both exhausted yet exhilarated and it could very well have ended up with one of us being airlifted to hospital as it is much higher than it looks. I was also worried that my bulk might make the arch fall down to the ground which would be a tradegy as it's the only part left standing and I can't have that responsibility on my shoulders (ha ha). It is really strange how the lighting changes randomly. This area was very misty and I could have edited my photos but I quite like the colours as I think it gives it a hint of misty mystery.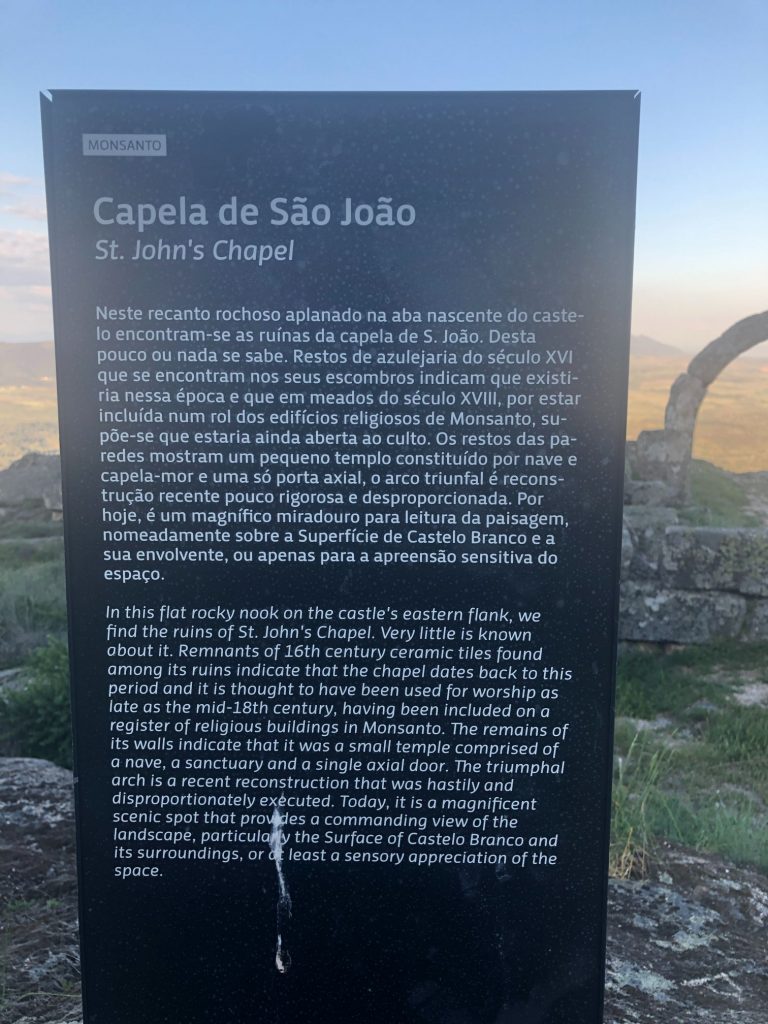 Lady & the Lamppost
I had way too much fun with all the pretty lampposts in the village (ha ha). Hubby thinks I've lost the plot! He chopped the top of the lamppost off the first couple of photos but he did manage to get the floor grate/drain in full view in the second photo. It could have been worse, he could have chopped my head off (ha ha).
Other Delights of Monsanto
There are so many beautiful houses and many have transformed into Alojamento Local (AL), accommodation for tourists which is the equivalent of a Bed & Breakfast (B & B) guesthouse in the U.K. I love the first photo of brightly coloured quirky Casa de David accomodation. Due to Monsanto's unique protection from development, there are only a couple of small hotels such as Monsanto GeoHotel Escola and Casa Pires Mateus but most accomodation is in the form of small guest houses to rent per night such as Casa da Tia Piedade. These houses are very charming but often get booked up in advance due to their popularity especially during the summer months. All the village houses are decorated with pretty potted plants and brightly coloured, scented flowers. There are a handful of cafes/restaurants with lovely terraces and surprising views such as Taverna Lusitana which also is a guesthouse and Adega Tipica O Cruzeiro. I have shared the menu from Petiscos e Granitos (Snacks and Granites) to give you an example of local traditional Portuguese dishes and prices. I love that the government put a ban on development, large hotels and tacky gift shops selling souvenirs resulting in Monsanto retaining it's unique charm.