A DAY TRIP TO CASTELO MÁGICO (MONTEMOR-O-VELHO)
We had so much fun at the amazing Perlim Christmas theme park that I booked tickets for a similar experience called "Castelo Mágico" which is located in the grounds of Montemor-O-Velho Castle, Coimbra just an hour's drive from our home. Apparently it is the largest Christmas theme park in the Central region of Portugal and this year it's celebrating its 5th year. We love this castle and have visited it a couple of times but never at nightfall or at Christmas time when it is transformed into an enchanted kingdom and the home of Christmas dreams. There is so much to see and do and I have listed all the activities and entertainment further down in my post. Most activities were included in the ticket entry price but there were a handful of wonderful activities with a small extra cost of just €1 each.
My vision is still restricted in my right eye, I'm experiencing headaches from hell and I'm still not feeling overly Christmassy so I decided that instead of feeling all sorry for myself I should venture out on a day trip before the rain returns. If I stay at home I will only sit in bed watching cheesy Hallmark Netflix Christmas movies and eat my bodyweight in marshmallows. After a quick pit stop at Coimbra (SEF WA Biometric Card appointments) we headed off to the castle for the start of our adventure and FESTIVE FUN.
GPS Coordinates: 40°11'09.0″N 8°41'04.1″W /40.185826, -8.684470
Information/Prices
Opens: 1st December 2022-8th January 2023
Only open Friday, Saturday, Sunday and holidays 10:00-21:00
Special hours: Christmas Eve 10:00-16:00, New Year's Eve 16:00-21:00 & Closed on Christmas Day
Prices
Ages 0-2 Free
Ages 3-12 €5
Ages 13-64 €6
>65 €5
There are different prices for groups so please refer to the official website: www.castelomagico.pt You can also find a map and daily programme of all the shows on the website. We purchased our tickets online for €6 each and we bought 4 activity tickets to share. There are ticket booths at the entrance and there were no queues when we visited.
Parking
You must park in Largo da Feira, in the centre of Montemor-O-Velho and walk up to the castle, take the escalator or ride on the Magic Train. There was a policeman on patrol restricting access to the castle with a barrier prohibiting access unless you are disabled or have mobility issues. 
There is a small extra cost of €1 for each of the following: Equestrian ride, 360 video booth, virtual reality and travelling hemisphere. You can buy these tickets online in advance which prevents queuing up on the day. The experience tickets are not listed separately so you can buy tickets to use on any of them. I had a dilemma: I wanted to pre book the equestrian ride, 360 video booth and virtual reality but I was concerned that the horses might be Shetland Ponies or small ponies and just for children, not crazy chunky monkey adults like me (ha ha). There was no maximum weight capacity mentioned on the website so in the end we purchased 4 tickets to share with the view that we could purchase more if needed. It was great to see that the additional rides only cost an extra €1 each and the Magic Train ride as well as many other attractions were free as a bird. 
Mascots of the Magical Castle
The mascot characters at this castle appear to be: Nico, Fernão, Abbot João, Infante Dona Teresa and Otter Morinha. The characters participated in the shows, roamed the castle grounds and interacted with the visitors much to the delight of the children and one 48 ¾ year old (ha ha). I am slightly puzzled and can't really work out their relevance. Nico is a dude in overalls that Super Mario would be jealous of and he wears huge spectacles. Infante Dona Teresa is clearly the daughter of King Alfonso VI and 1st Queen of Portugal. I'm assuming Fernão is her lover, the Galician Nobleman Fernão Peresde Trava. Abbot João, well he is clearly a Monk but I have no idea why he has a sword on his waist belt. Maybe he is expecting a fierce fight or all the crazy Brits to invade the castle (ha ha). I lost the plot when I saw the Otter as I thought he was Bertie the Beaver (ha ha). I have no clue why there is an Otter, I don't have any answers and I didn't ask any questions, I just went along with the craziness because why not (ha ha). They certainly make a strange bunch but the kids loved them and so did we. I think Abbot João had a lot of fun dancing and prancing around with me underneath the falling snowflakes. He is my new buddy for life (ha ha). I did actually find a legend linked to Abbot João. 
The Legend of Abbot John
Ramiro, King of Leon, bequeathed Montemor-O-Velho to his nephew, D. João, Abbot of Lorvão, under the condition that the monk-knights of his order became responsible for the defense of the castle. In an attempt to conquer Montemor, moors surrounded the village with a large army. Afraid that the army would mistreat their women and children, the men killed their own families on the order of Abbot João. Filled with profound despair, they fought and, despite their smaller numbers, they defeated Abderraman II, King of Cordoba. They were amazed when they arrived home to find their families had been miraculously resuscitated by the Holy Virgin and they celebrated their victory.
Picture Perfect Setting
It was a picture perfect setting in the castle grounds, especially at dusk when the sun went down and all the lights on the castle sparkled like jewels on a crown, totally mesmerising and a beautiful sight to see. What a gorgeous sunny day to visit, I love this castle so very much. We are very blessed to live so close to all this glory.
Awesome Activities & Entertainment
€1 Extra
Travelling Hemisphere – Sensory cinema experience
Equestrian rides
Virtual reality
Video booth 360
Free
Magic train ride
Ice-Skating rink
Ice tubing
Tree climbing experience
Inflatables – Bouncy castles
Zip wire (Slide)
Exhibition – There is Science in bugs
Face painting
Santa's Grotto
Parisian Carousel
Tunnel of Light
Magic Swing
Christmas clowns
Theatre shows
Christmas tree
Fake snow
Christmas market
Food court
Lounge bar
Nickelodeon characters
Our Experience
Fun Activities & Entertainment
It was a magical experience as soon as we stepped foot inside of the castle. As we entered down the amazing tunnel of light with majestic music playing in the background, we encountered a very funny experience with a couple of mischievous over-enthusiastic elves. I was busy filming on my phone whilst walking down the surreal light tunnel and 2 elves magically appeared through a puff of smoke and headed in our direction. Talk about being at the right place at the right time! They had a gigantic pair of scissors and a comb, hugged us then proceeded to pretend to cut my hair. It was hilarious. I could do with a decent trim and my grey roots coloured (ha ha). I thoroughly enjoyed the fun physical activities, there was such a wide variety of things to see and do, something for everyone to enjoy, old and young. I loved the traditional and religious elements combined. The Church of Santa Maria da Alcáçova is a serene and beautiful sight. We both enjoyed the charming Magic Train ride which was surprisingly free! I personally loved the huge Christmas tree, magic swing, horses, ice-skating rink, zip wire and interactive activities. There were so many cute decorations such as gigantic baubles, snowmen, penguins, gingerbread men and candy canes and everything was draped in natural greenery of holly, mistletoe and ivy. We enjoyed all the added extras of random entertainment: Archery, jesters on stilts, clowns on unicycles and comedy acts including some impressive music from a brass band and a talented ribbon twirling princess – I'm not talking about me (ha ha). My cover photo is awesome! Again I managed to be in the right place at the right time as a professional photographer was taking a photo of all the entertainers next to the "I love Montemor-O-Velho" letter sign. How bloody fantastic! 
I am thankful that I read about all the adrenaline fueled activities before I visited as it's not a place to wear a skirt or dress unless you want to flash your panties to Santa and the crowds below (ha ha). I was fully prepared to experience everything on offer so I wore pants with an expandable waist so I could enjoy all the festive food and fun without flashing my granny knickers (ha ha). Hubby really enjoyed all the nerdy technical activities like the Travelling Hemisphere, Virtual Reality experience (he did the Jurassic park dinosaur theme) and 360 Video Booth. I have included a few photos from the 360 video booth but obviously this is a video and not really meant as still shots (photos) but I wanted to spread the Christmas joy and show you how this activity works, just in case you want to visit. I have shared the video on my CasaValhal Facebook and Instagram. I think hubby was hoping that his virtual reality glasses would gift him a magical superpower this Christmas. I reckon he would wish for "Invisibility" so he could hide from me forever (ha ha).
I have a little confession about the Travelling Hemisphere. We visited the Space themed "Lift Off" show and when we entered the dome there was an option of tiny hard plastic seats or a comfy air inflatable sofa so we chose the sofa. It was mega comfy, Sofa so good (ha ha). Before we entered I gave hubby the pep talk and warned him not to fart inside the tent and he was a good soul, followed my strict rule and obliged (ha ha). I had only got about 2 hours sleep for the past couple of nights due to severe headaches and insomnia and I'm not sure how but I kind of drifted off and fell asleep. This is a rare occurrence for me because I can't sleep in my own bed let alone on a train or plane. Hubby can fall asleep in 2.6 seconds and he can also sleep standing up (ha ha). I was rudely awoken by excessive loud clapping and realised that I also was clapping and it was the end of the show (ha ha). So I can't tell you if the show was good or bad but hubby enjoyed it and I got value for money as a well deserved power nap in a tranquil seat all for a bargain price of €1. When everyone got up at once it produced a domino effect and the sofa deflated then catapulted me off at high speed into the air (ha ha). 
Horsing Around
I haven't rode a horse since I was 8 years old. I love horses but I had a nightmare experience back in the 80's. I was a little scared of the huge animals so my mum requested that I get to ride a slow, calm horse. Bear in mind that in the 80's health and safety went out the window so none of us kids were wearing riding hats. Maybe my mum thought I had zero-little brain to protect (ha ha). Long story short my horse was lagging behind the others so the lady who was walking alongside me decided to whip it on its behind and make it jump over a medium sized log fence. Needless to say horsey wasn't happy, he went one way over the obstacle and Helena flew off in the opposite direction. I was slightly traumatised hence why I've never ridden a horse since. I don't think Horace the horse was destined to win any rosettes for show jumping! Hubby used to show jump horses as a child. I know, I laughed my head off when he told me, I can't see him on a horse but apparently he was very talented back in the day. His horse was called Dandy and he rode Lordy for his show jumping events and he is very proud in the fact that he came 5th place (ha ha). 
Over the years I was too embarrassed to enquire about riding as I used to be obese and weigh 16 ½ stone so I just assumed I was too fat and would breach the weight capacity. I know there are some huge horses out there but I wouldn't want to hurt an animal with my bulk of a body. I've always wanted to try my luck again but I don't think I could ride a long distance due to my back disability, chronic pain and having no coccyx so this day was deemed perfect as I thought I would get to enjoy a short pony ride until I saw the size of the little ponies. They looked rather small and I might have squished the living daylights out of them with my fat arse (ha ha). There was one larger horse which might have taken my weight but the average age of riders was 5, not nearly 49! I was more than a little embarrassed to ask if I could have a ride as it was all children enjoying the fun. I was hoping that some little fat kid weighing about 9 stone would have a go. I tried to psych myself up to be a brave soul and ask the member of staff if I could have a ride but I chickened out in the end (ha ha). The horses wore fake antlers transforming them into reindeer, how cute!
Zip-a-Dee-Doo-Dah
After the lack of horsey ride and a quick caffeine fix I felt the sudden urge to fly through the sky with my bad eye so I considered venturing on the zip wire until I watched a lady fly down the wire and end with a massive jolt. It's a shame as it looked hilarious and so much fun. In hindsight it was probably a good decision not to have a go as I have a bad eye, am clumsy as hell (I'd likely break a leg or two) and most definitely would have peed myself mid flight and surprised everyone below with a golden shower. For future reference, I should add a Tena lady to my essential items in my backpack (ha ha). Hubby was gutted I didn't have a ride as he was eagerly waiting for me to try my hand at hurtling down the zip wire. I think he was hoping that I would disappear into the rice fields, never to be found again (ha ha). 3 coffees later I very nearly gave into temptation then hubby bought me back to reality (ha ha).
There's Science in Bugs
In my opinion what made this castle stand out from our recent "Perlim Christmas Theme Park" experience was the fact that it is organised and financed by the local municipality so it had a completely different vibe from the onset. The importance given to science and scientific culture made the Magic Castle a unique Christmas celebration. I loved the educational and environmental science contributions such as the animal exhibition – "There's science in bugs" which integrates interactive learning and fun. I discovered various aspects about arthropods such as their life cycle, dimensions, beauty, strength, camouflage ability and the importance that they take in various terrestrial ecosystems. It was really cool as I love insects, especially butterflies as they are beautiful and spiritual wonders. Hubby spotted a butterfly on one of the gigantic candy canes. It was quite poignant learning about butterflies as these creatures represent change and transformation, comfort, hope and positivity. A powerful beacon of growth and new beginnings. They signify the power of transformation and the incredible feats we can achieve when we learn to trust ourselves. We all have the strength and capability to listen to our bodies' innate wisdom and guide ourselves through difficult and challenging times and emerge better and stronger than before. There is light at the end of the tunnel and I seek comfort in this and am determined to make a good recovery with my vision loss journey. I am strong and I am a survivor. I am also a pussy as I was too scared to ask for a pony ride (ha ha).
Who Lives in a Pineapple under the Sea? – Nickelodeon Characters
As well as the Castle themed mascots there were various Nickelodeon characters including SpongeBob and Patrick Star. My son Josh used to love SpongeBob and was a huge fan so I have fond memories of SpongeBob. It's hilarious that the characters can't see much in their costumes so have to be led around by a member of staff. They tripped a few times and appeared as clumsy and accident prone as me (ha ha). There were also some other doggie characters, possibly Paw Patrol but I'm not sure as my kids are 20 & 29 so I'm not that clued up on kids shows.                                                     
Theatre – Talented Performers
The theatrical component stood out for me and I really enjoyed the shows. On the day we visited there were several performances including shows called "Bumbling elves" and "Little red riding hood". There was also an evening FlashDance which was so cool to watch as well as the grand finale show. We both surprisingly enjoyed the talented family friendly performances, I know shock, horror (ha ha). We both detest Musicals and have quite high standards when it comes to shows so Bravo to these guys and girls, they went all out for sure. The performers were awesome and perfectly silly enough to make all the children laugh out loud but they also offered wit and festive nostalgia to satisfy us adults who decided to rock up to an essentially Christmas children's themed event without a child in tow. They reminded me of my childhood, growing up in the 80's and visiting the annual Christmas Pantomime at the Bristol Hippodrome. We would have a whole row of our family in those little red velvet seats. My gorgeous Gran would forage in her Mary Poppins handbag and magically produce treats for us all, then proceed to pass them down the line one by one including the obligatory satsuma, I'm not sure what we were supposed to do with the peel. We often dropped little bits over the balcony to see who could hit a random man's bald patch first (ha ha). It was expensive in the theatre for snacks and gran was the master of frugal, I learnt to penny pinch from the best (ha ha).
The Ginja Ninja – Festive Food
Wow, I loved all the cute wooden chalets selling an abundance of Christmas food and drink. The aromas were simply mouth watering and we sampled way too many treats and traditional Portuguese festive cuisine. There were plenty of sweet delights for the children such as candy floss, popcorn and toffee apples as well as more traditional Portuguese delicacies. Hubby liked the impressive lounge bar which was warm and cosy, if you want to chill out away from the crowds. I always consume the Ginja liquor in a chocolate cup because it's delicious and Ginja turns Helana into a Ninja (ha ha). There was a huge marquee where the shows were held and it had lots of seating and picnic tables. You can take your own food inside and you are not obliged to buy food and drink from the vendors inside. Somehow a random pigeon flew in and was causing havoc (ha ha). The toilets were clean and had toilet paper and hand towels throughout the day. I did get locked inside one loo for 5 minutes but this is a regular occurrence for me. Hubby thought I was taking an IBS poop, he didn't hear my desperate screams (ha ha). 
Christmas Cake & Coffee
There was plenty of food on offer but after lunch we decided to pop out down the road to one of our favourite Pastelarias to enjoy a cake and coffee then return for the evening when the castle is all lit up like a Christmas tree. This bakery has the most delicious, huge cakes and we usually get cakes to take away in the summer and eat them in the parks bandstand. It was a bit nippy today so we dined inside. I ordered a large espresso with Bolo Rei, my first King cake (Portuguese Christmas cake) of 2022. It was delicious and my coffee was humungous to the point hubby looked worried as all that caffeine was sure to turn Helena into a crazed mad dancing lady causing mayhem at every opportunity. The Monk had better run and hide because I was heading back for round 2 of dancing. Never mind Dancing with the stars, Helena is Dancing under the snowflakes (ha ha). The funny clowns were laughing at me when they saw me amongst a sea of children under the fake snow. They made a funny joke/comment about us not having any children with us and how mentioned that I was "A child at heart" (ha ha).
Santa's Grotto – The Joy of Giving
In addition to the learning aspect, the event also has a social side, as in 2021 children who brought a used toy to offer to Santa Claus (who will then distribute it to disadvantaged children) did not pay admission to the planetarium installed in the enclosure. The most economically disadvantaged children or those with a disability also do not pay admission to the Magic Castle theme park. I'm not sure if this initiative is running this year (2022) as there isn't a Planetarium but I'm sure this wonderful place will be offering something similar and a freebie of some sorts. We managed to take the opportunity of taking a few photos in Santa's grotto before the big man arrived. I sat in his chair and pretended to be Mrs Claus (ha ha). I wanted to join the short queue and sit on Santa's lap because although my wish list is small there are a couple of things I want for Christmas (A donkey and my eyesight to return). I've been a really good girl this year and always show kindness to others so I fully expect him to make all my wishes come true and grant my heart's desire (ha ha).
Photo Gallery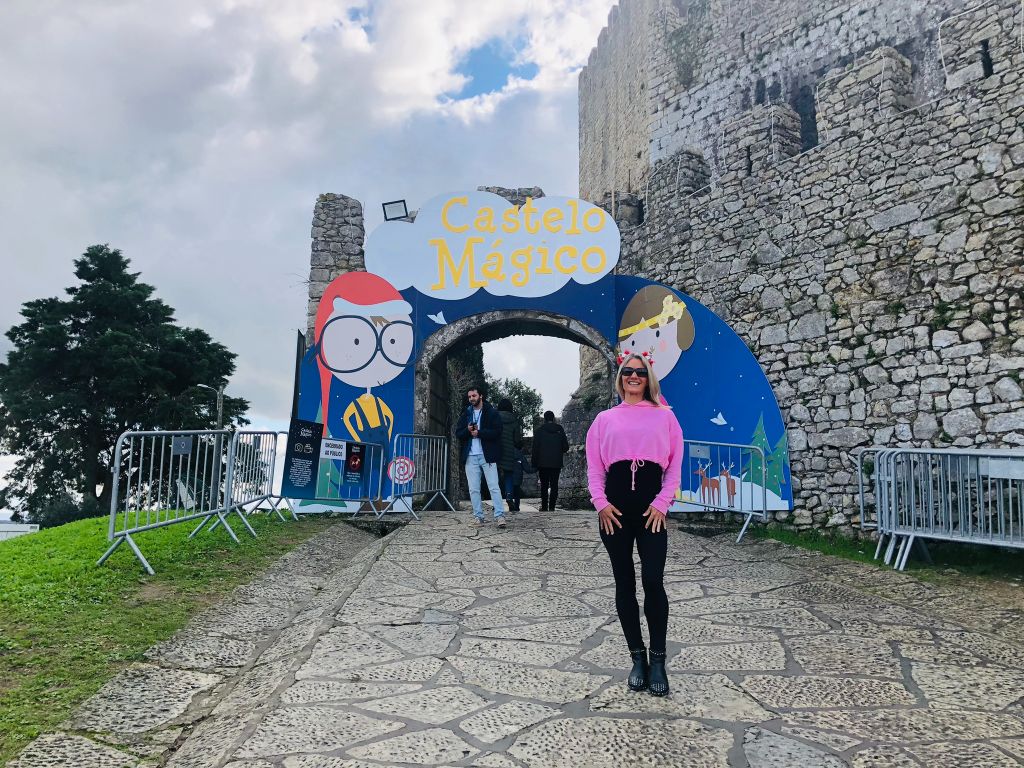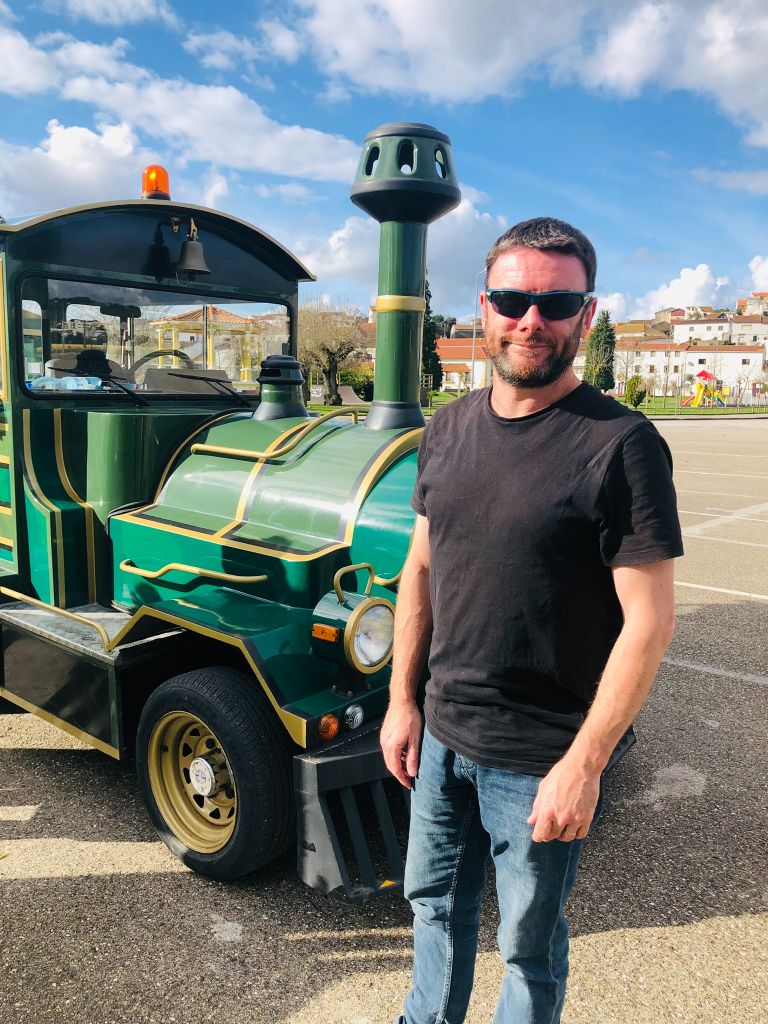 My Sexy Santa
I LOVE this photo of hubby, my very own personal Sexy Santa (ha ha). The vivid bright colours against the bright blue sky dotted with white fluffy clouds is spectacular. It's just a shame the carpet is so dirty (ha ha).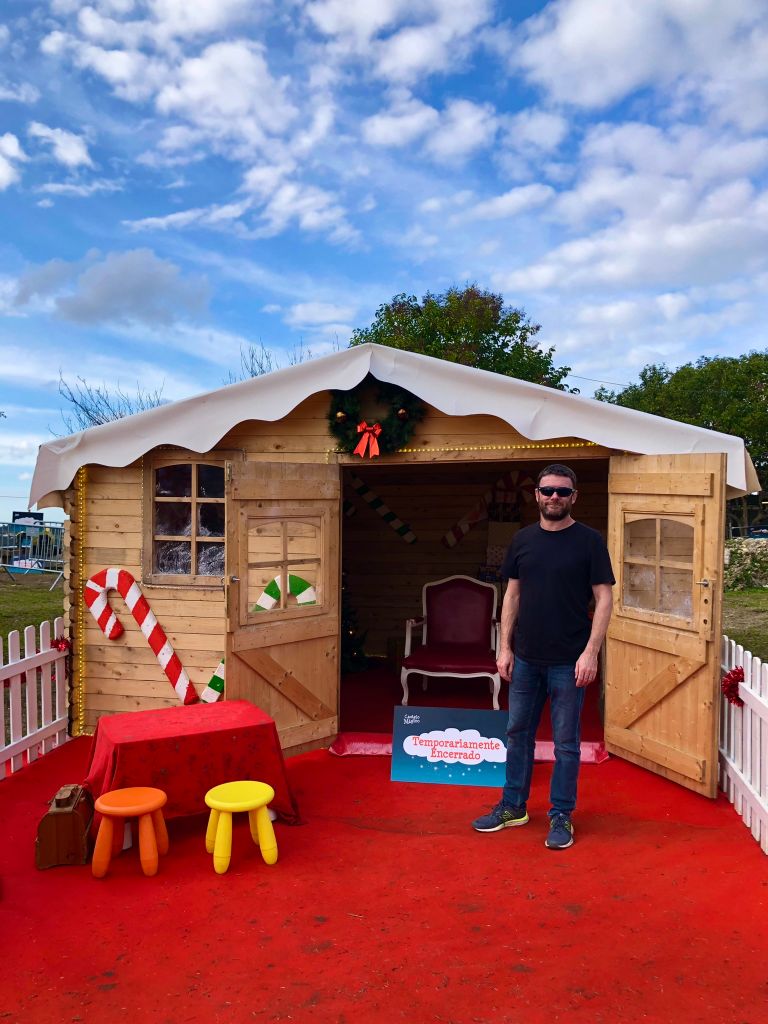 Overview
We had a blast, it was an incredible adventure and completely different from our other Christmas castle Perlim theme park experience. There were street entertainers including juggling jesters and the characters actually mingled with the crowds and had their photos taken with the children which they adored. I loved that they also interacted with adults too, we had a right laugh with many of them. It was fantastic to see so many smiling faces and a sea of happiness which was totally infectious. I much preferred this theme park as it wasn't just aimed at toddlers but family fun for all. I was shocked at how calm and tranquil the place was, there were never any excessive crowds for any activity or ride and we could wander around with space around us to feel safe and happy. I fully expected it to be busier on a Saturday afternoon in December.
We certainly had a whole heap of fun at the Magical Castle. The setting is idyllic and I fell in love with all the gorgeous lights glistening in the trees and illuminated displays at nightfall, such a marvel. Overall, I just feel it was a more authentic experience than Perlim and way less tacky. It still had the magic of snowflakes and an amazing ice rink but the emphasis was more geared towards learning and sharing Portuguese history and culture. The whole atmosphere was calmer and less Disney, in your face, so to speak. What a breathtaking, spectacular and precious winter wonderland! I'm feeling a lot more merry and bright but that might be thanks to all the Ginja liquor. It's starting to look a lot like Christmas!