A DAY TRIP TO JARDIM BOTÃNICO AND PENEDO DA SAUDADE (COIMBRA)
Mission and History of the Botanical Garden
The Botanical Garden of the University of Coimbra, founded in 1772 by the then prime minister Sebastião José de Carvalho e Melo (Marquis of Pombal), it was integrated with the Natural History Museum. It is a Cultural Extension and Training Support Unit of this higher education institution and its mission is research, biodiversity conservation, education and science with a special focus on raising awareness of the knowledge and importance of plant diversity, climate change and the sustainable use of resources. It is located in the heart of the city of Coimbra and it extends over more than 13 ha of land that was mostly donated by the Benedict monks. The 18th century featured a revolution of minds and significant scientific progress, particularly in the field of Medicine. Coimbra Botanical Garden, therefore, developed a view of complementing Natural History and Medicinal Studies.
Domingos Vandelli was the first person in charge, from 1791 onwards, the role played by the naturalist and botanist Avelar Brotero stands out with several scientific publications, including the first Flora Lusitana (1804). This Portuguese researcher started the first practical school of Botany. In 1873 director Júlio Henriques was appointed. Botanist Luís Wittnich Carrisso, from the year he became a full professor, from 1918 until the date of his death in 1937, when he took over the direction of this garden, enriched it a lot with new plants, namely with exotic African plants, most of them originating in Angola. The Botanical Gardens of the University of Coimbra is a member of the Ibero-Macaronesian Association of Botanical Gardens and the Botanical Gardens Conservation International (BGCI). The tropical and cold greenhouses, the medical and systematic schools and its arboretum, host more than 1500 species of plants. There is an impressive collection of over 50 species of Euclypyus. Guided tours are available and dogs are permitted on leads.
Stories of the trees and the gardens:
https://www.uc.pt/jardimbotanico/ficheiros/artigo_1_compete
Coordinates: 40°12'19.9″N 8°25'14.7″W
Opening hours
The Botanical Garden is open to the public every day, except on the following dates: December 25, January 1, days of the Cortejo da Latada and Queima das Fitas.
Summer Hours: 01 April to 30 September Open from 9am-8pm
Winter Hours: 01 October to 31 March Open from 9am-5:30pm
Cost: Free entrance (no fee)
Glorious Gardens
We had planned to visit the Botanical Garden of the University of Coimbra on our last Coimbra University tour back in August but unfortunately it rained all day so we postponed our visit until we had a sunny day. The gardens are spectacular! Absolutely beautiful and we enjoyed a couple of hours just walking through the garden and admiring all the stunning greenery, plants and rare species. There are so many areas and hidden treasures to explore: Alameda das Tílias (Lime Grove), Large Greenhouse, Victória Greenhouse where you can find the largest Water Lily in the world, Tropical Corner with different species of palm trees, Central Square and Ornamental Fountain, Systemic Nurseries/Medicinal Plants Nursery, Bamboo Forest, Chapel of São Bento, initially a 17th century shade house transformed into a place of prayer by the Benedict monks, Main Gate (wrought iron and bronze completed in 1884), Woods and various monuments and statues including the Statue of Júlio Henriques and Bas-relief of Luís Carrisso.
I was astonished to see a few bus stops right inside the gardens and I love the fact that one minute you are walking amongst terraces and immaculate landscaped gardens then the lower part (arboretum) known as the Mata of the Botanical Garden is dense forest and more of a natural wild environment. There are several historic gates and entrances and we entered by the huge stone arches (Sao Sebastiao Aqueduct Garden Arches). We visited on a Friday and there were only a handful of visitors there so it felt so quiet and tranquil. We saw some workers blowing leaves and a security guard doing his rounds. There are so many tall trees stretching to the clouds and the areas are extremely well maintained. There are pretty chirping birds and a couple of brown squirrel who were way too fast for me to snap a photo. I found some strange looking fruit growing on a bush and used my 'PictureThis' app to confirm they were actually a type of fig. Very different to our figs on our huge fig tree at Casa Valhal. I was tempted to pick one but the security guard was keeping a sneaky eye on me as I obviously look like a Botanical Garden fig thief (ha ha).
Bamboo Forest
We loved the Bamboo forest and walking hand in hand beneath the tall bamboo canes that reach together in the blue sky like a canopy over head. The graffiti on the bamboo was crazy! Who knew panda's could write (ha ha).
The Enchanted Tree
Close to the entrance of Bamboo Forest you will find the most fascinating tree ever. Not only is it huge but it's roots have grown in such a crazy pattern and it's all twisted with bits hanging down and very mysterious and eerily looking. It reminded me of a scene from a Harry Potter film. I saw a lady with a notepad sketching this tree and I don't blame her it was very extraordinary. My photos do not do it justice but I have a video on Instagram.
Fantastic Fountain
Central Square is so tranquil and is home to this wonderful Fountain with magnolias, cherry trees and azaleas making it a very romantic place to sit on one of the stone love seats and reflect on life and how lucky we are to live in this beautiful Country.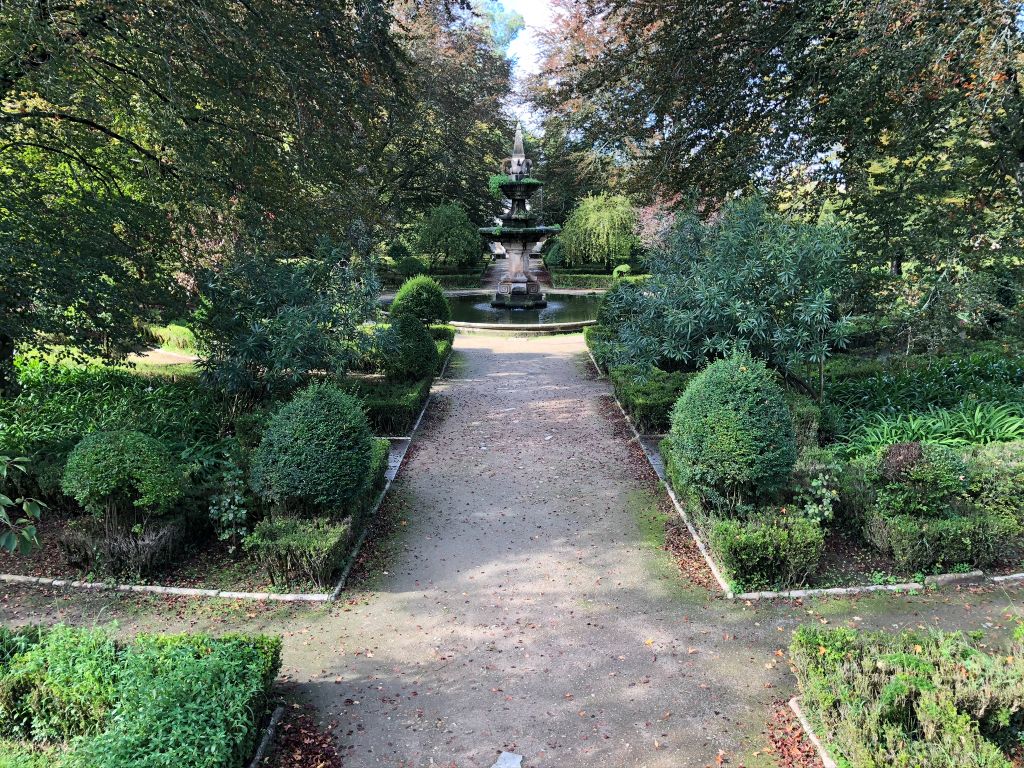 Botanical Garden photos:
Casa Museu Bissaya – Barreto
En route to Penedo da Saudade we stumbled across a beautiful Museum and Art Gallery.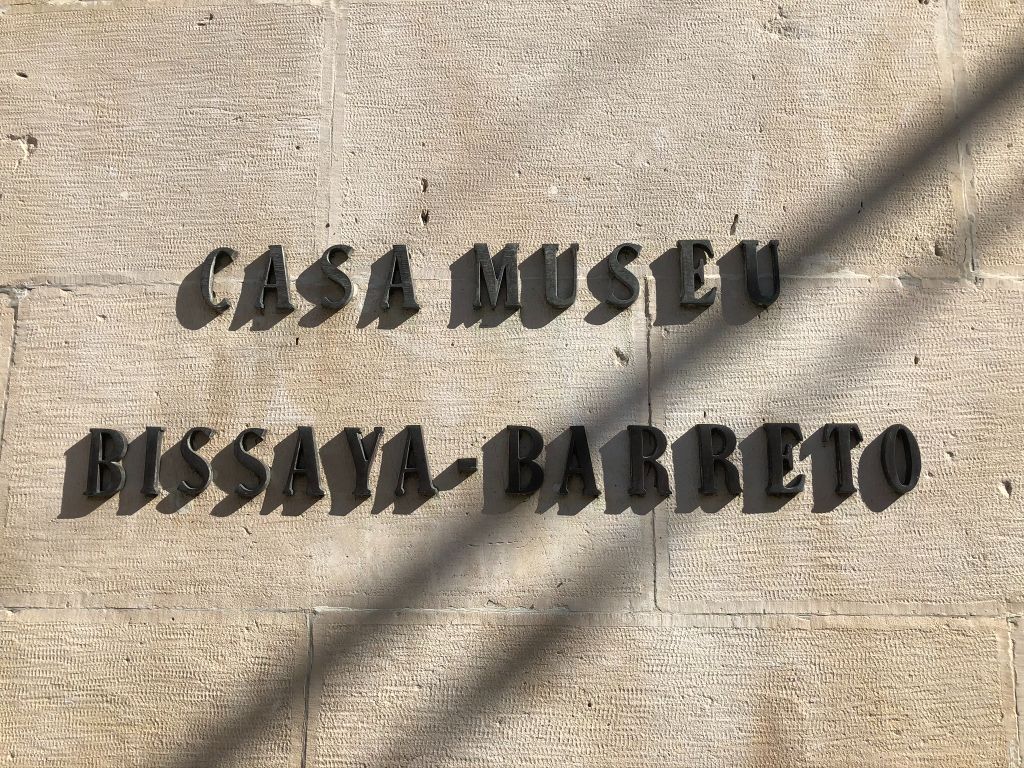 Penedo da Saudade
A few minutes walk from the Botanical Garden and you will find the hidden mythical treasure of Penedo da Saudade. Previously known as Pedra dos Ventos (Boulder of the Winds) is a historic hillside garden and viewpoint built in 1849 with inscribed stone tablet commemorative plaques. This is where the heatbroken King Pedro would come to weep following the murder of his beloved Inês. The Sala dos Cursos and Sala dos Poetas are two large spaces where the plaques are situated. The oldest is dated 1855 and relate to events of academic life and poetry by Coimbra university students. Some about love, others about homesickness. Saudade is a word in Portuguese that has no exact translation in any other language. It means to miss something, but still feel it inside. Like a memory you want to live again. That's how ex-students feel about Coimbra. When I first moved to portugal I missed my children so much and hubby bought me a Pandora Portuguese charm for my bracelet with this word 'Saudade' on it. Besides the tributes and tradition, Penedo da Saudade is a great place to visit for the panoramic views and to watch the sunset. Just bring a bottle of wine or two!
I had a brief brush in with nature here. I felt and saw out of the corner of my eye a huge bumble bee enter my hair and not exit. I calmly asked hubby to get it out and he looked panicked then hit my head and then explained that not only did I have a huge bumble bee in my hair but I also had a hornet wasp attacking the bumble bee in my hair. Thankfully I did not get injured and neither did the insects but I now have a new nickname: 'Helana Horneto', due to this funny experience and my fondness of cornetto ice creams (ha ha).
We were super intrigued with one plaque in particular. Someone has took it upon themselves to use a black marker pen and write over the wording and amend the original. I am now on a mission to translate it all and work out the story behind it.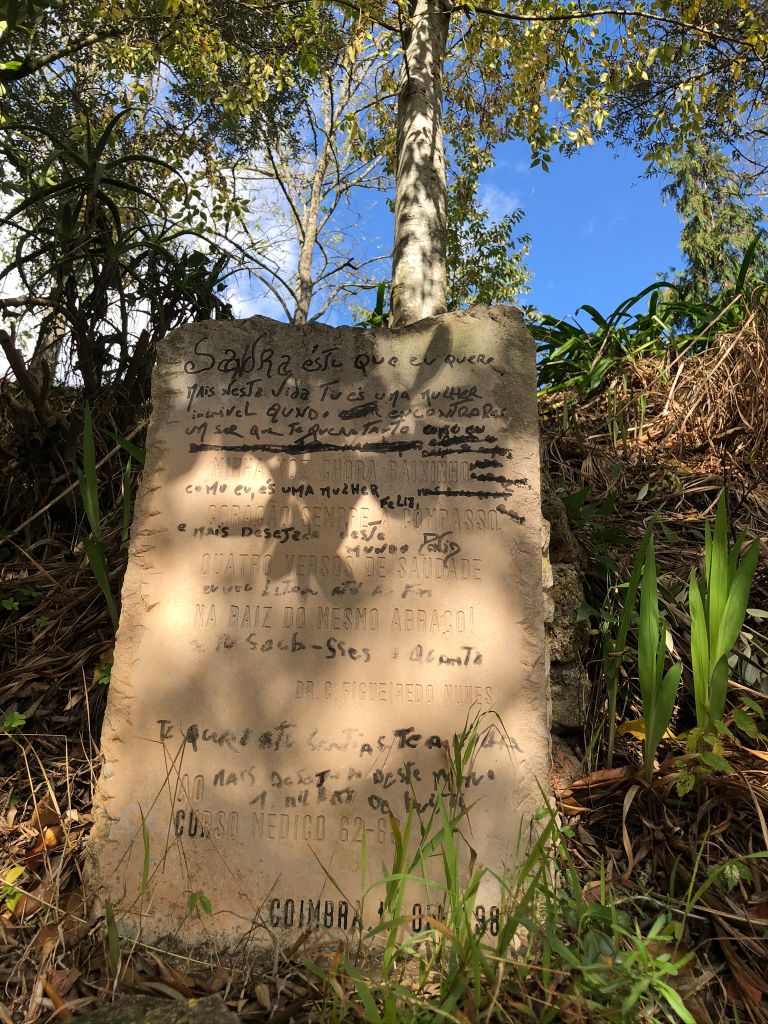 Penedo da Saudade is such a fascinating find with stunning views of Coimbra, the Mondego river and Serra da Lousã, a great place to sit and reflect life. We had great fun exploring the magical hillside corners and trying to translate all the poetry. There is a cute little water feature to view too. It has such a spiritual atmosphere, quite emotional, a wonderful tribute and a place full of symbolism for students of Coimbra.
Penedo da Saudade photos
Update:
I was so excited to take my daughter (Teanna) to these 2 beautiful places when she visited us for her 2021 8 week summer trip. She absolutely loved both. Here are a few photos:
Penedo da Saudade
Botanical Garden