AN AFTERNOON TRIP TO PRAIA FLUVIAL DO RECONQUINHO (PENACOVA)
I decided to research a couple of river beaches within an hours drive from our home to visit and found this amazing river beach 1.5km from the village of Penacova, Coimbra. It's a 45 minute drive from our casa and the drive is very scenic. It is located on the banks of the Mondego river and has a campsite next to it. It was very empty when we visited on a Saturday back in June. We had a great time floating around on the river. I love the beautiful lush green natural landscape and the cute wooden footbridge which takes you to the other side of the river bank which you can also dive off.
What was different about this river beach was the fact that it has a boat named TARECO, (Serranas do Mondego), an old fashioned mountain range barge offering amazing boat rides along the river. It is run by two brothers Vitor and Luis Seco. One of them has a very loud voice and sort of does this singing chanting noise command "O da Roda!" which translates to "wheel" when the boat is about to depart so the lifeguard can lift the bridge up so the boat can pass through. Apparently it's an old tradition from years gone by. He reminded us of the bloke from a greengrocer in East Street, Bedminster, U.K. There was a member of staff that used to stand outside the greengrocers and sing at the top of his lungs "Come and get your strawberries, 3 punnets for £1" and I think in some bizarre parallel universe these two men must be related somehow (ha ha).
There is a lovely cafe, a picnic area and we even saw a paddle boarding dog! The lifeguards were easy on the eye which was a bonus just in case I tried to accidentally drown myself again (ha ha). Many of the river beaches and coastal beaches in Portugal are awarded a blue flag and this river beach is no exception.
GPS coordinates: 40°16'00.5″N 8°16'43.8″W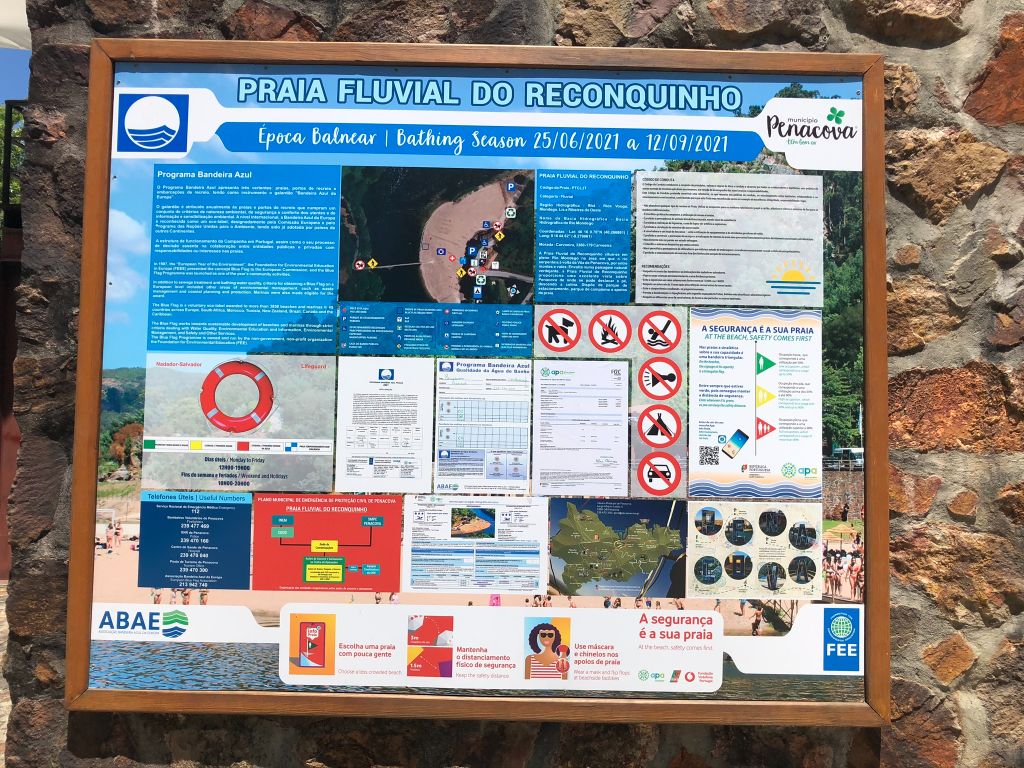 Update: July 2022 Visit
We returned in 2022 for a fabulous SUP adventure. Just a few minutes down the road you will find Livraria Do Mondego, an Interesting rocky formation composed of quartzite's that resembles a library, located on the banks of the Mondego river. Another gorgeous soulmate Saturday. Relocating to Portugal was hands down the best life decision I've ever made.
Livraria Do Mondego