A VISIT TO THE WORLD FAMOUS MAJESTIC CAFÉ IN PORTO
Teanna's last day in Portugal was a sad occasion but we went out BIG on our last day. It started off with a disaster, hubby lost his wallet so we gave up searching and headed to Porto to visit the Majestic Café and Livraria Lello (both are in the top 10 for worlds most beautiful café and bookstore) and are on my Portugal bucket list. Livraria Lello apparently inspired JK Rowling to write the Harry Potter books and she is alleged to have written a few chapters of Harry Potter and the Philosopher's Stone whilst sat in the Majestic Café! My gorgeous Teanna returned home to Bristol, U.K on the 10th August. We had a crazy 8 weeks of FAMILY FUN. It was a long day as I hung around in Porto until she was physically on the plane and in the sky. I'm sure I'm not the only parent who does this. I wave at the clouds in the sky at the plane as if Teanna can see me (ha ha).
Brave Bird
Teanna visited Synlab for her fit to fly Covid test and we waited outside. Whilst waiting we noticed a poor bird who had somehow got locked and trapped in the building opposite. I felt sorry for the bird as it was looking at me with sad eyes that screamed HELP ME but I was powerless.
Livraria Lello RANT
We decided to head to the famous bookstore before visiting the Majestic Café. Unfortunately the Livraria Lello had a huge queue and I was gobsmacked at its length. We already purchased tickets online in advance and they wouldn't let us upgrade to bypassing the queue fast track tickets and pay the difference which is pretty shit. We waited in line for 25 mins and it only moved 2 metres and there was very little social distancing which stressed me out big time so we gave up as staff confirmed it would take 2 hrs+ to reach the front and we didn't have time as Teanna had her flight to catch. The staff member said we could get a refund but needed to email their customer service department. Don't bother visiting this place during August! They sell hundreds of tickets for each day knowing damn well that not everyone will get in as they are limiting numbers due to Covid. We emailed their customer service department who ignored us. We then emailed several times and they eventually replied and agreed to give us a full refund. I don't even mind a voucher towards the cost of our next tickets as we intend to re-visit at some point. To date we have never received the refund and although it is only €15 for the 3 tickets it is the principal which counts. I want to re-book and buy the queue skipping tickets which come with a choice of book and these tickets are much more expensive and range between €15.90-€17.90 per ticket and I am reluctant to book online and pay for this before I have received my refund which they promised. I am so glad we didn't wait longer in the queue as people have said it was over a 4 hour wait! They won't reply to any more of our emails which is really poor service but they don't seem to care about their customers at all so we have now escalated the situation and made a report in the Portugal complaints book "Livro de Reclamações" our first ever complaint so now it's just a waiting game! RANT OVER.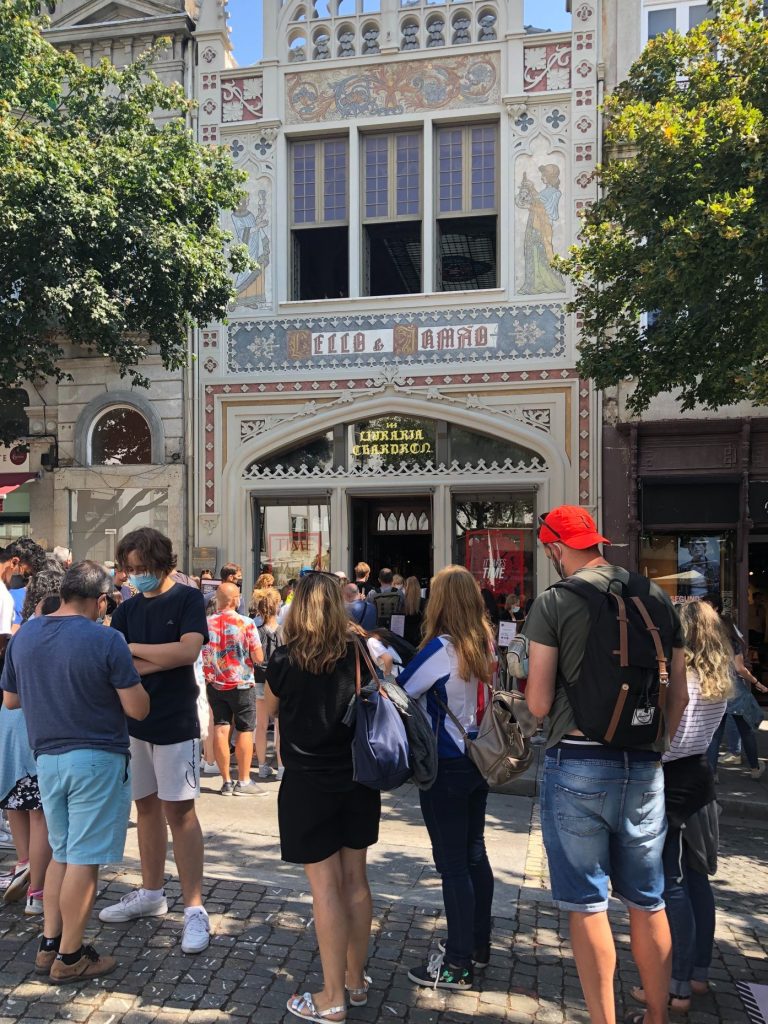 Majestic Café
We headed off to the Majestic Café to console ourselves with tasty coffee and natas. I have always wanted to visit the Majestic Café and when I tried 18 months ago there was such a huge queue to get in so we gave up. Then it closed its doors on 30th November 2020 due to lack of clientele due to Covid-19 pandemic as it mainly relies on tourists. I thought that this was the end and I would never ever get to visit so I was elated when I read that they had reopened. The Majestic Café is a historic café located on Rua de Santa Catarina in the city of Porto and is on the Top 10 list of most beautiful cafés in the world. I think it was voted 6th! It opened on 17th December 1921 and was called "Elite". A year later the name was changed to "Majestic" suggesting the glamour of Parisian chic "La belle époque" and fitting more in line with the elite clientele it attended to attract. Many important people, intellectuals, politicians, actors, artists, writers and poets frequented for a coffee and get together. It was designed by architect João Queiroz and is considered one of the most beautiful and representative examples of Art Nouveau in the city of Porto. The majestic café fell into disrepair but re-opened in 1994 after 2 years of renovation work.
The exterior of the building has a very grand marble façade and elegant columns. The inside is very luxurious and posh (I'm surprised they let us in – ha ha). You will find large antique mirrors decorated in crystal, marble sculptures, leather benches, wonderfully decorated ceilings, there is a bar inside and a cute courtyard out the back. The queue was short with only about 5 people in front of us so we were seated within minutes. As I walked through the main door I was in awe of the glorious romantic interior of The Majestic café. It is like stepping back in time to an era gone by. It is very luxurious and elegant. I fell in love with the antique mirrors decorated in crystal, beautiful chandeliers, marble floors, sculptures, leather benches, dark wood, wonderfully decorated ceilings with marble cherubs and many sculptures. There is a spectacular grand piano, bar area and a cute courtyard out the back which I had a wander around on my way back from the toilets. The café is a popular place for poetry recitals, art exhibitions, piano concerts and book launches. I was tempted to challenge hubby to go and play a tune on the piano but I didn't want to get kicked out (ha ha).
It is very beautiful but expensive. The waiters and waitresses are immaculately dressed and the table service was very prompt. The crockery is very posh and I managed to not break anything which is a bonus because I'm like a bull in a china shop and very clumsy. They may have made us pay for breakages and I know hubby would just offer my washing up services as full payment and collect me later. I also resisted the temptation to slip a cup and saucer into my handbag as a souvenir (ha ha). We decided to just visit for drinks and pastries and not stay for lunch as I didn't want to have to remortgage our house to pay the bill. Jokes aside, it is extremely expensive especially as we are used to paying around €1 for a coffee and cake where we live in Central Portugal. It cost €3 for a tiny coffee (espresso), €4 for a tea (hubby did notice his tea bag was cotton and hand sewn) I replied I want it hand stitched with gold thread by the queen for that price (ha ha). €4 for a pineapple juice and €2 per nata! I didn't actually mind spending €17 euros in total as the experience and ambience was epic although I was expecting more from the toilets which were a bit cheap looking and basic, like me (ha ha). I told hubby that he needed to drink his tea from the splendid china as if he were royalty so he tried his best to drink it like the queen would with her little pinky finger stuck out (ha ha). The natas were O.K but nothing special and nowhere near as tasty as the Pastéis de Belém in Lisbon. They were also not as nice as the ones we buy in our local pastelaria in a tiny village near us called Côja and these ones only cost around 60 cents! My overall opinion is that you just have to visit this café at least once in your lifetime. It's more than just a café, rich in history and bursting with ambiance, just take a full wallet!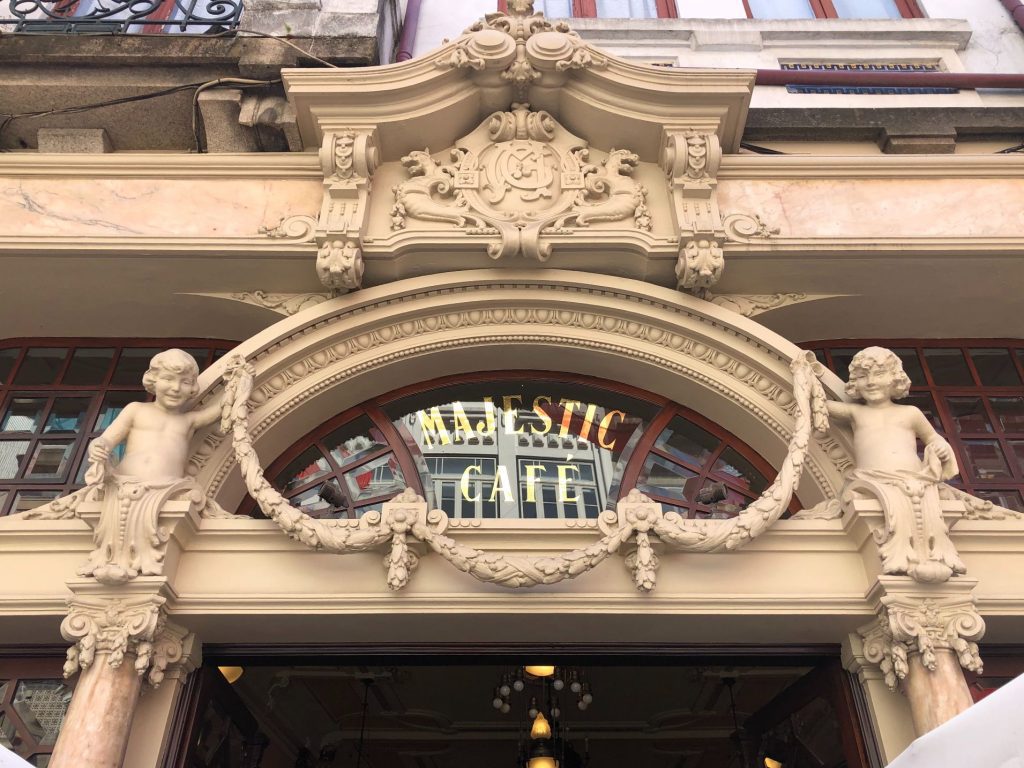 Honour book
I was intrigued to find out about the Honour Book which is signed by famous people. I don't understand why they never asked me to sign it as I am the famous Bristolian Brit from Vinho (ha ha). Here are some of the people who have signed the book:
Presidents of the Portuguese Republic, Dr. Mário Soares, Dr. Jorge Sampaio, Prof. Aníbal Cavaco Silva ,Prof. Marcelo Rebelo de Sousa, as well as the President of the French Republic Jacques Chirac and Cape Verde Jorge Carlos Fonseca and the Ambassador of China . One of Macau's farewell ceremonies, at the end of the period of Portuguese administration in that territory, took place in this café. The visit of the President of the Republic of Brazil Dr. Jucelino Kubitschek de Oliveira to Portugal and Europe in 1955, they had a happy memory of the city of Porto and Portugal delighting themselves with the wonderful service of sweets from Majestic.
Bordalo II Half Rabbit
We have explored Porto a lot and previously visited many of the cities tourist attractions so I wanted to head off to some of the more unusual gems so we took a stroll around the streets of Vila Nova de Gaia and viewed the Bordalo II "Half Rabbit" artwork as we are a family crazy about bunnies. It's made from recycled materials and trash collected from the city and serves as a subtle critique of society's wastefulness and its consequences for the natural environment. WOW WOW WOW!
Vila Nova de Gaia & Porto
One of my favourite things to do when visiting Porto is take a leisurely stroll over the bridge to Vila Nova de Gaia, wander down the many stalls selling local produce, arts and crafts then sit by the river and soak up the atmosphere.
Retail Therapy & Art
Art exhibition at Norte Shopping.
Bye Bye Beach
A final farewell to the beach. You can see from my hair that the wind was strong (ha ha).
Farewell hugs at the airport
Sad times!
Fine dining at Ikea
The one thing that is guaranteed in life is there will always be an Ikea pit stop on a Porto airport pick-up and drop-off. It's so close to the airport and an excellent place to hang around until the plane lands/departs. I know it's not very traditional Portuguese cuisine but I can't resist an Ikea hot dog with a few extra sweet treats.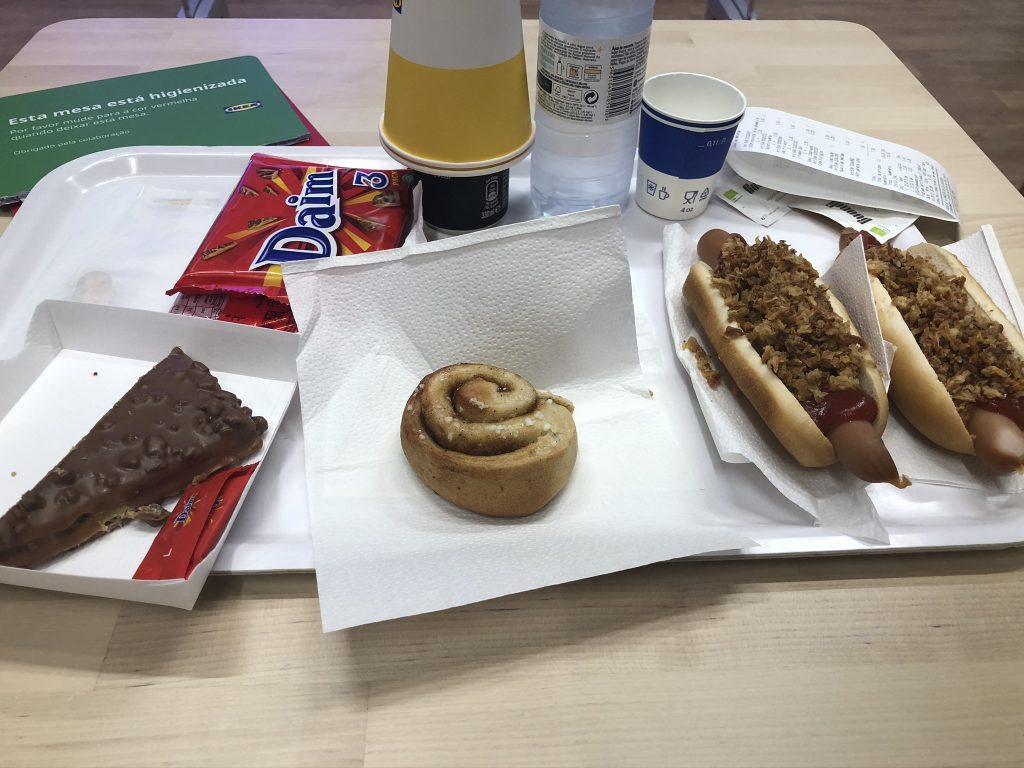 Farewell Message
Teanna wrote this message on our notice board and it is still there today. I am going to leave these beautiful words untouched all year until her next visit and if anyone rubs it off they die of a slow painful death (ha ha).
Overview
We loved the Majestic café but didn't love the prices (ha ha). I don't think I would visit again, it's a kind of one off experience for me and another tick off my Portugal bucket list. My daughters 8 week summer visit was a blast and I'm already missing her so much, I can't bear to remove her toothbrush from the bathroom. It's been an exhausting yet wonderful summer visiting some of Portugal's treasures making family memories to last a lifetime. I hope you have enjoyed reading my posts from my Daughters 8 week summer 2021 visit. I am all caught up now so it's back to work for hubby, DIY and braless gardening in my dirty leggings and T.Shirt for me. I have already booked Teanna's flight out for summer 2022, this time for a month, we hope to visit Madeira and the Azores. Roll on next summer.