ROTA DAS ALDEIAS DO XISTO DA LOUSÃ HIKING TRAIL (LOUSÃ PR2 LSA)
Finally the Portuguese Summer heatwave temperatures reduced to around 30 degrees instead of 40's so we decided to embark on a Super Soulmate Saturday hike in the beautiful mountains of Serra da Lousã. I love this region so much with its unique lost in time schist villages, idyllic waterfalls, delightful river beaches, scenic swings and mesmerising viewpoints with breathtaking panoramic views that stretch for miles. A couple of years ago we embarked on the PR2 LSA Route of the Schist Villages with my daughter Teanna. The trail is a 6 km circular route that starts and ends at Lousã Castle. Back then it incorporated the schist villages of Talasnal and Casal Novo. We got as far as Talasnal and unfortunately we could not continue due to a gigantic fallen tree totally blocking our pathway. We tried our best but there was no safe route or passage through so we had to return because it was very dangerous and I had already taken a tumble and hurt myself pretty badly. I recently found a leaflet online for the PR5 LSA Serranos Route which looked very similar to the PR2 but incorporated an extra village of Chiqueiro and the famous Miradouro Isto é Lousã (Viewpoint with "This is Lousã" Letters) so I decided to take this trail as it looked like an incredible adventure.
Lousã is approx. a 1 hour drive from our casa and 60 km. I decided to add on Coração do Candal (Heart of Candal) which is a picturesque viewpoint in the nearby schist village of Candal. We have already completed the hiking trail to view the spectacular Candal Waterfall so we didn't re-visit it on this occasion. Somehow we missed the Heart on our previous visit, or maybe it wasn't built then, who knows. We also did not view the famous Baloiço do Trevim (Scenic Swing) because we have already visited it before. I spotted another fabulous Viewpoint – Miradouro de Nossa Senhora da Piedade so we added this onto our agenda. I am not going to rant on about this trail too much as I have already shared a blog post on this trail and you can find it here: https://casavalhal.com/schist-villages-hiking-trail-lousa-pr2-lsa/
Caffeine Pit Stop (Candal)
When we arrived at the village of Candal I needed the toilet so we first made a pit stop at the local cafe to use the facilities and refuel with a caffeine fix. Then we took a short walk up to the Heart. The staff at Portuguese cafes always make me laugh because when they serve us a coffee and a coke as they always assume the coffee is for the man and the soft drink is for the lady. When we correct them they swap the drinks and chuckle. I do hope there is a lot of caffeine in coke as hubby is going to need all the patience of a Saint as once I am caffeine fueled I am ready to rumble and cause trouble (ha ha). I did have a funny experience in the toilets here. The loo is situated up the stairs and it's basically like a bathroom in someone's house. There is only one for both genders to share. I waited outside as it was locked and busy. I had a peer into the room next door which seems to be a restaurant with more tables and chairs in addition to the downstairs cafe area and outside seating. My eye caught a basket of books on the floor for children to read to occupy themselves. One book was titled "Cocaína" and looked like a reference book on the drug Cocaine, such a weird choice of basket books for kids. What happened to Hanzel and Gretel or other traditional fairytales? Maybe the message was a 1980's Grange Hill style "Just say No" kind of message (ha ha). I was literally just about to take a photo and a man joined me and stood right next to me so I couldn't embarrass myself by taking a photo of a drug book because I would clearly look like a nutter (ha ha).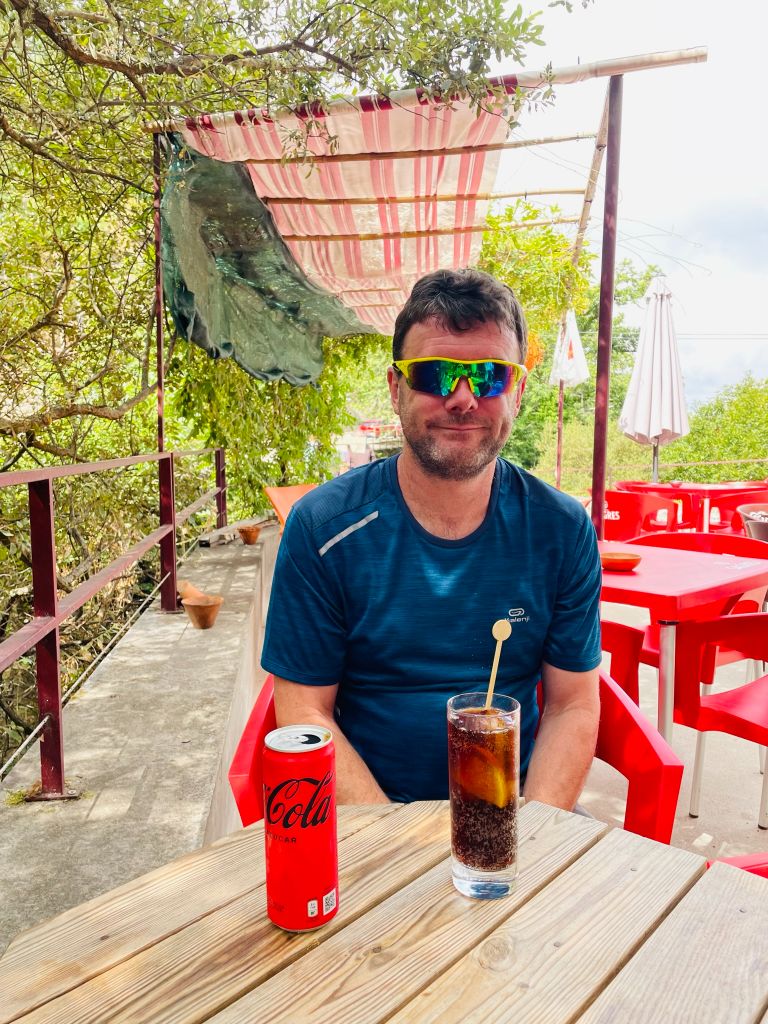 Coração do Candal (Heart of Candal)
One word: WOW! There was an event being held in the nearby chapel and the music was bouncing off the mountainside hills which was magical. I'm not sure if I consumed too much coffee but we had an incredible fun time here dancing, jumping for joy and staring at the magnificent far stretching views. I am not sure where my burst of energy came from but I suspect the multiple coffees (caffeine) and ice cream (sugar fix) helped. We had the whole place to ourselves which was very special and romantic. I LOVE all the weird and wonderful quirky structures installed in Central Portugal. The crazy Brit did try and encourage sensible hubby to join in my "Jumping for Joy" tradition but he politely declined. The man did however mix up his moves and positions with a few different poses. He usually is just a "One Man Pose" Progress is progress, right! (ha ha). I consumed so much coffee that I excelled myself and embarked on 3 rounds of "Jumping for Joy" and I ended on a spectacular high (ha ha). If you want to stay and explore Candal there is a short hike to the stunning waterfall and other points of interest such as fountains, water mills and olive oil mill. There is also a hiking trail that leads you to Baloiço do Trevim (Scenic Swing).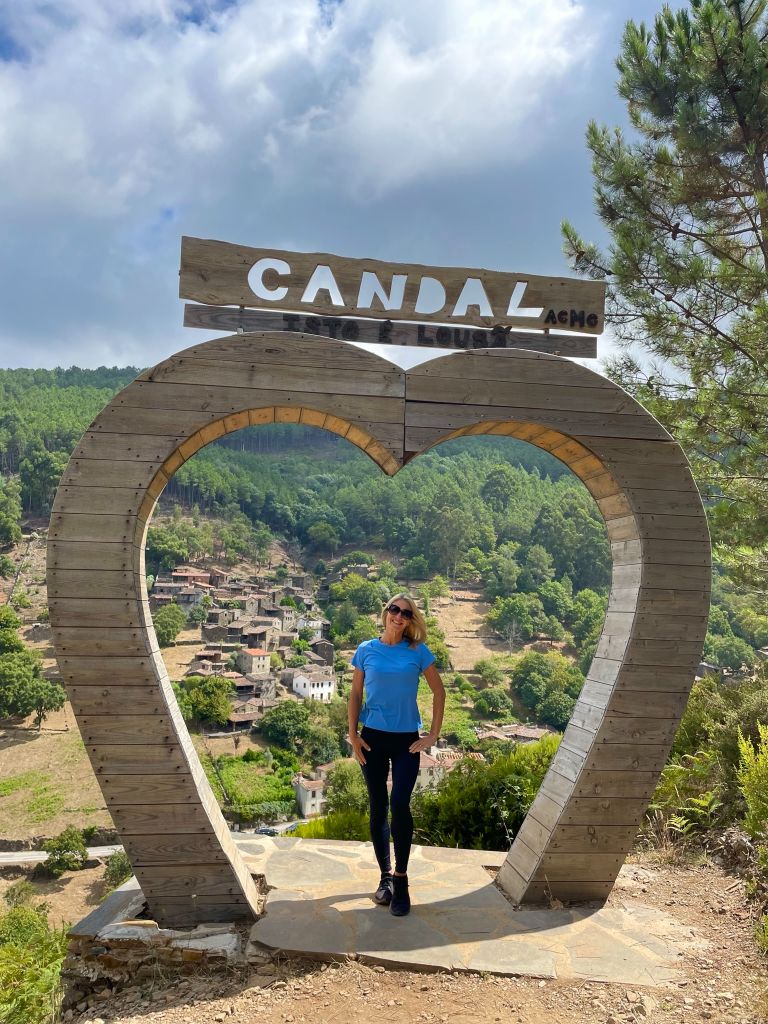 Miradouro de Nossa Senhora da Piedade (Viewpoint)
I spotted this viewpoint with my eagle eye and I made hubby stop the car so we could enjoy another incredible view. It is located on the EN236, between Lousã and the schist village of Candal. You can see the majestic Lousã Castle and the sacred Nossa Senhora da Piedade Sanctuary in the distance, what a stunning landscape! I think hubby was hoping that I would fall or roll off the high wall into the abyss, never to be found again. He was just waiting for the right gust of wind to send me on my merry way (ha ha).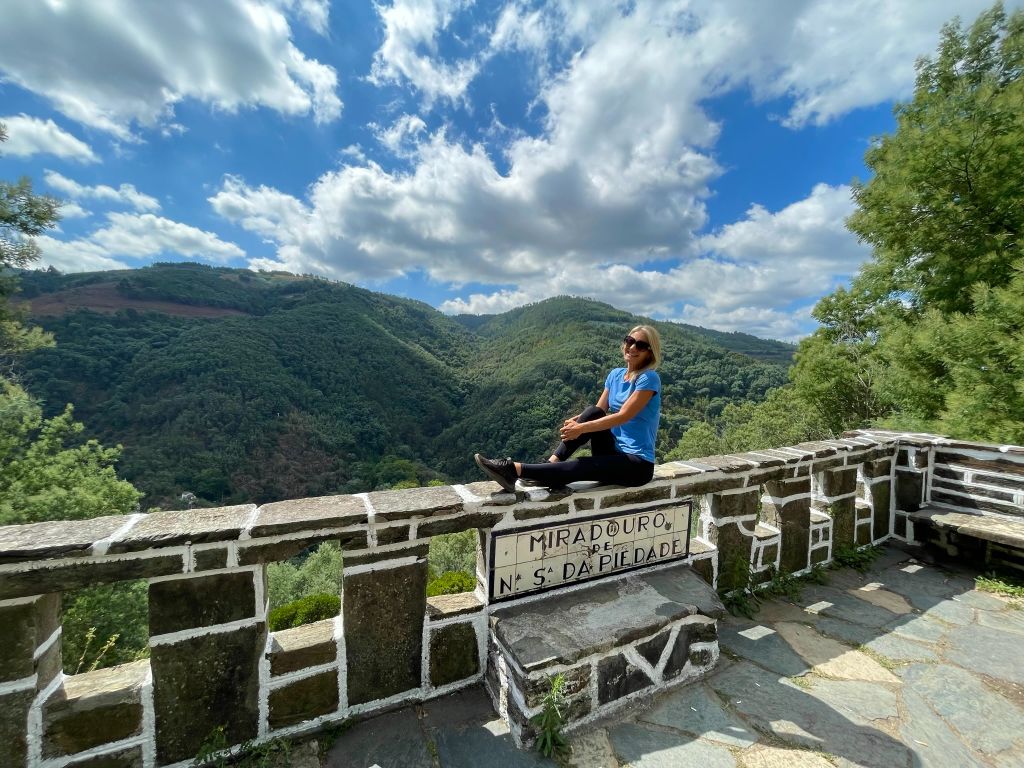 PR2 LSA Hiking Trail
GPS (Lousã Castle):
40°06'01.9″N 8°14'07.8″W / 40.100520, -8.235510
Points of interest
Lousã Castle (Free entry)
Ermida Hydroelectric Power Station (A piece of industrial archeology, built in 1927, to provide light for the village and energy for the Paper Factory)
Santuário de Nossa Senhora da Piedade (Religious Sanctuary)
Schist Village of Talasnal
Schist Village of Chiqueiro
Miradouro Isto é Lousã (Viewpoint and Lousã Letters)
Schist village of Casal Novo
Various Caves
Cross Monument
More Caves
Parque São Joao VI (Park)
Praia fluvial da Senhora da Piedade (River Beach)
Our Experience
When we arrived at the trail starting point (Lousã Castle), we both were more than a little confused because the signage and information boards all display the PR2 route and different shorter variations. The full PR2 looks exactly like the PR5 leaflet I printed off and now seems to include the village of Chiqueiro so we took the full PR2 trail instead of the PR5. The castle was closed when we arrived as it shuts for lunch 13:00-14:00 so we decided to view it at the end of our trail. I wasn't too bothered as we had already visited the castle during our previous hike here. We started off on our trail and it was a lot dryer underfoot than our last attempt back in August 2021 when the streams had overflowed making some areas a bit slippery and soggy. This time it was bone dry. I am glad because I wore my hiking shoes out to the point where they had huge holes so I had to bin them and wear my running trainers which have little to zero grip.
The trail is a steady incline and not too difficult and before long we reached the charming village of Talasnal. Just before you reach the village you have the option of taking a short detour to view a waterfall, we didn't bother as it was Ice Cream O Clock (ha ha). The trail was deserted and we didn't see another human being until we reached Talasnal. It is a popular destination and one of the most famous schist villages and lovingly restored and developed with lots of tourist accommodation. Most folk just drive right here to the car park and visit the restaurant for lunch. We stopped for an ice cream to cool off as it got quite hot. After we departed this charming village the trail got quite challenging with a huge steep incline. Although the trail is fairly short in length it does have some more difficult climbs with loose rocks and stones underfoot. My photos do not portray just how steep the inclines are. Hubby even found a huge stick to use as a Nordic walking pole which then morphed into a javelin stick and a competition to see who could throw it the furthest, hubby won. My thighs and calves were aching and I jog most days and consider myself reasonably fit at nearly 50. If you want to save your legs you can cut the trail short by taking one of the variations but we like to take adventures and see everything on offer.
After Talasnal we walked through the village of Chiqueiro. This village was like a ghost town and apparently only has 2 residents! I found a water fountain to top up my supply. Funnily enough when we arrived here a family of 3, 2 parents and a small boy arrived in their car. I recognised them as I had seen them at the previous village of Talasnal. The lady was wearing a floaty floral dress. It made me laugh as we beat them here by foot as the winding mountain roads are very time consuming. A lot of folk drive from village to village but I love to hike because you miss out on so much nature when you drive. Yes, you get covered in dust and dirt and windswept to high heaven but isn't that all part of the fun? We followed the signage and took a little extension to view the gorgeous Miradouro Isto é Lousã (Viewpoint and Lousã Letters). Wow, I loved this place and we were shocked that no one was there as you can drive and park right next to the letters. There is an information board and wooden platform explaining the "Dark Sky" which was a fascinating read. It is an initiative of the Starlight Tourism Destination certification process. The certification is granted by the Starlight Foundation, is supported by UNESCO and the World Tourism Organisation. It recognises places with a very low light pollution, where visitors can enjoy unique and unparalleled opportunities to see the night sky combining culture, science and the environment. Funnily enough the signage board states the trail is the PR5 and not PR2!
There is a pretty picnic park and toilets too which saved me from wild old lady peeing. The lock on the inside was temperamental – a bit like me (ha ha). There was a lock on the outside too which was a bit weird and hubby decided to lock me in because he saw his opportunity for peace and quiet so he went for it (ha ha). The letters were in a little disrepair and I had a crazy plan of running along the top of the letters until I saw just how high they were off of the ground. That, combined with unpredictable strong winds and my poor balance equaled an accident waiting to happen. I didn't want my leg to go through the rotten wood and to experience a compound fracture to my leg or foot as hubby would not be able to carry me back down the mountain. The man is strong but he is not Superman (ha ha). I made a compromise and ran between the letters weaving in and out of them whilst hubby filmed me and I performed my usual "Jumping for Joy" act (ha ha). I also stood right on top of the central letter "U" but even that was more than a little scary as it was extremely windy and higher than the photo portrays. It was so much fun in the sun and the views are epic. We stopped here in the picnic park for lunch. What a wonderful setting and backdrop! We couldn't find the famous frame which is supposed to be located here. I have a sneaky suspicion it's been destroyed or removed due to disrepair.
After the Lousã Letters we continued onto the village of Casal Novo which led us through a delightful forest area with pine, eucalyptus and oak trees. This village was also deserted and we found a couple of interesting threshing floors which were used in ancient times to thresh and harvest grain like corn. The route started to decline back down and I was a little relieved as my legs were tired. We stumbled across some captivating caves and we explored every single one. The insides were dark, mystical and enchanting, I personally find that no 2 caves are alike. I really love caves, I'm not sure why but I find them fascinating and I am intrigued at all the ancient carvings and art, crystal formations and the dramatic stalagmites and stalactites. I've often thought about trying out the extreme sport of Caving but although I love caves, I am not a huge fan of small confined spaces so I don't think caving is for me, I will stick to SUP boarding on the open waters. We enjoyed a well deserved rest at the Cross monument and we also had a lovely walk around Parque São Joao VI (Park). There are various ancient stone monuments, arches, water fountains and gorgeous flowers and foliage to view.
The Praia fluvial da Senhora da Piedade (River Beach) is the essence of natural beauty. It has a bar with a terrace offering a fantastic view over the mountains and the Nossa Senhora da Piedade hermitages. The "Burgo" restaurant is located at the top with a panoramic view of the beach. By the time we reached the River Beach, I was ready for a refreshing dip but I didn't bring my bikini. We took some time here to relax as it is such an amazing place with a historical stone bridge. Shale is a constant presence and everything around the beach is made from traditional schist stone, including the diving board. The sun was glistening on the river and the water reflections were magical. We made it back to the castle 20 minutes before it closed so we decided to have a stroll around the castle and admire the scenery from the top. It was deserted with not another soul in sight. Gosh, it has awesome panoramic views but it was ever so windy. You can tell the level of wind from the state of my hair (ha ha).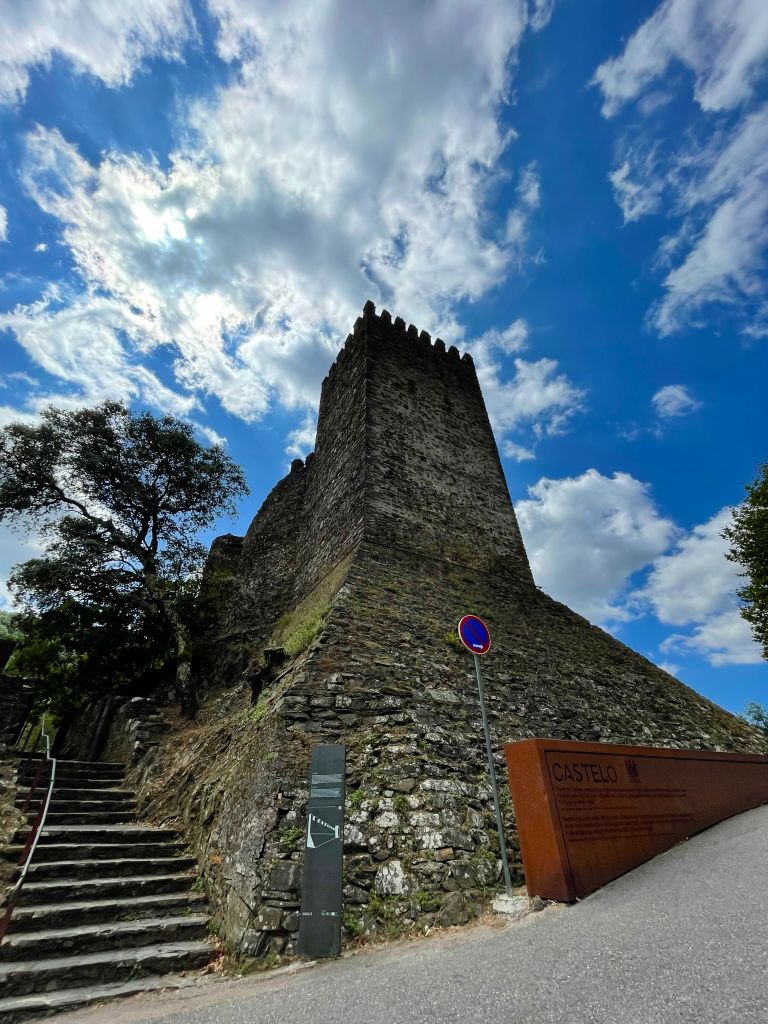 Wild & Windy Castle Selfies
The last photo is absolutely hilarious! (ha ha).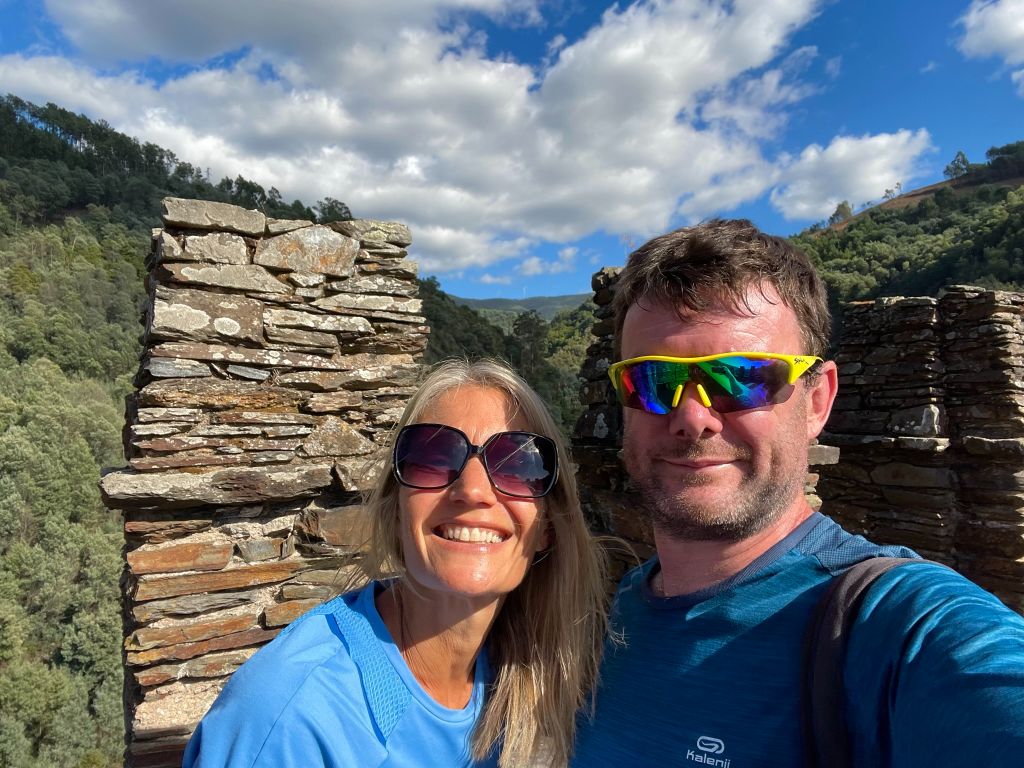 Overview
We had an absolute blast on this trail, it was so much fun. I loved the stunning landscape of Lousã Mountains. There are 27 official schist villages and 12 of them are located in Lousã: Aigra Nova, Aigra Velha, Candal, Casal de São Simão, Casal Novo, Cerdeira, Chiqueiro, Comareira, Ferraria de São João, Gondramaz, Pena and Talasnal. I was hoping to see some wild boars and deer on the trail but unfortunately we didn't see any which was a shame. The only wild animal insight was me and my wild crazy windswept hair (ha ha). Although we live in a house partially made from schist stone, I will never ever get bored of viewing the historical schist villages. Each one has a unique setting and ambiance with something different to offer. I am so glad that we returned and managed to completed the PR2 LSA hiking trail. I don't like to be defeated and discouraged because I always give 100% in everything I try but safety always comes first. Today "Mr & Mrs Twinning Blue Shirts" were VICTORIOUS! (ha ha).
Find me where the Mountains meet the Sky.