HUBBY'S BELATED 49TH BIRTHDAY TRIP TO MOSTEIRO DE ALCOBAÇA
Hubby's birthday was last month but his birthday week was a wild, wet and windy week, a total wash out in more ways than one. Firstly, it rained cats and dogs for a solid fortnight and secondly our old banger of a car broke down 2 days before his birthday and 24 hours before our all-important meeting at Coimbra SEF for our WA Biometric cards. Luckily, we managed to reschedule our SEF appointments but they only had December dates left so we're re-booked the week before Christmas and will team it up with an awesome city shopping trip to see the pretty Christmas lights. We ended up spending hubby's actual birthday in bed watching back-to-back films and eating homemade birthday cake (Pão do Lo). The rain stopped briefly so we were able to spend an hour in the garden with our crazy chickens. I can't complain about the weather as after a dry year the garden and plants desperately need the water and we do have the luxury of over 300 days per year of glorious sunshine. Saying that, I don't think it's stopped raining for over a month now, apart from the odd day or that is what it seems like.
Jose Miguel (Name of our car) now has a brand-new expensive clutch and is running like a dream, so I planned an epic day trip to Alcobaça. What attracted me to this city is the beautiful monastery which dominates the city but it has so many other amazing tourist attractions and the weekend when we visited the monastery was hosting its 24th Annual International Sweet and Liqueur Convention "Mostra Internacional de Doces e Licores Conventuais". A four-day event of yummy Portuguese sweet pastries and liqueurs that originated in convents with ancient century old recipes. Liquor and liqueur are both alcoholic drinks, but liqueur is a specific type of beverage. It refers to a flavoured, sweet liquor, generally enjoyed after a meal. I love the cherry Ginja from Óbidos served in a chocolate cup. What made this weekend even more special was a fantastic free multimedia light production "Land of Passion" by Ocubo which was projected onto the 200 metre facade of the monastery at set times during the evenings.
Alcobaça is known as "The Land of Love". It's a Portuguese city in the district of Leiria, located in the historic province of Estremadura and part of the Intermunicipal Community of the West in the Center region. It is situated between the mountains and the ocean and I was very excited to visit. It was a long 2 hr drive from our casa and a whopping 175 km each way but so worth it. The journey went by really quickly and I think the smooth main roads are a much nicer ride than all the windy narrow mountain twists and turns that make me feel nauseous. I pre warned hubby that he had better come up with some new topics of conversation for the long ride as I'm so over "Name that tune". He also needed to fill our glove compartment full of Haribo sweets as this is a necessity for long journeys (ha ha). Alcobaça is not that far from the tourist areas of Fatima, Nazaré, Óbidos and Parque Natural das Serras de Aire e Candeeiros. We have already visited all of these amazing places, so I planned an itinerary of first-time sights for us to enjoy. It's hard not to want to see everything as it's a long journey but at some point, one needs to be realistic as I didn't want to rush around like a blue arsed fly and not saviour every delightful view and moment. Alcobaça is named after the two rivers which converge in its centre, the Alcoa and the Baça.
Helen's Itinerary
Mosteiro de Alcobaça (Alcobaça Monastery)
Mostra Internacional de Doces e Licores Conventuais (International Convent Sweet and Liqueurs Fair)
Pedro & Inês em Cerâmica de Alcobaça – Percurso Camoniano (Pedro & Inês in Alcobaça's Ceramics – Camões Path)
Jardim do Amor (Garden of Love)
Oriol Pena Chalet (Now the Town Hall of Alcobaça)
Castelo de Alcobaça (Alcobaça Castle)
Museu do Vinho (Wine Museum)
Terra da Paixão (Land of Passion) Multimedia light show at Alcobaça Monastery
Decisions & Dilemmas
I debated whether to take a further hour's drive to view Ruínas da Capela de Santana and Baia de São Martinho do Porto but it starts getting a bit chilly by 17:00 and dark at 18:00. I also really wanted to visit the Wine Museum and see the Land of Passion light show and the earliest time for the show was 18:00 on Saturday so I decided to leave the coastal delights and fascinating ruins until next summer so we can enjoy the beach and take a dip in the water. Praia do Salgado also looks like a wonderful beach but due to time restrictions I didn't add it to my itinerary. There is another monastery "The Monastery of Saint Mary of Cós" which is located in the village of Cós, a short drive away. I also found an incredible looking park when I did my research on the area. Parque dos Monges (Monks Park) but unfortunately their website confirmed that they are only taking guests who have booked for glamping and no individual day guests which is a shame. I'm not sure my bad back is quite up for glamping because we all know it's basically just camping and actually not glam at all (ha ha).
Mosteiro de Alcobaça (Alcobaça Monastery)
GPS Coordinates: 39° 32′ 54″ N, 8° 58′ 48″ W
Opening Hours:
October to March
9:00 – 17:00 (last entry at 16:30)
April to September
9:00 – 19:00 (last entry at 18:30)
Closes on 1st January, Easter Sunday, 1st May and 25th December
Tour guides (in Portuguese, English and French)
Leaflets (in Portuguese, English, French, German, Spanish, Italian and Japanese)
Signposting (in Portuguese and English)
Access for people with reduced mobility: There is access for people with reduced mobility on the ground floor, with a visit to the Monks' Hall, D. Dinis Cloister, Chapter House, Refectory, Kitchen and Church. This service is available on request (at the reception), or by advance reservation.
Ticket Cost:
Individual adult ticket: €6
Ticket to Sacristy: €2
See Official Website for all discount and group prices: http://www.mosteiroalcobaca.gov.pt
You can buy a combined ticket to the heritage route which will also allow you to visit two other UNESCO sites (Batalha Monastery and the Convent of Christ in Tomar) for €15. We have already visited both so didn't bother. We tried to purchase tickets online the night before our visit but the official website would not accept our payment, so we just turned up and paid at the ticket office. We had a pleasant surprise because instead of the €6 entry fee we were only charged the €1 fee for the cake and liqueur event. I was utterly shocked as I assumed we would be charged the €6 each and the €1 on top. I did have a mini rant to hubby as I rarely pay admission costs for attractions here in Portugal and we didn't pay to enter our last convent cake fair at Lorvão Monastery, so I was having a little moan to him on the drive there about how outrageous it was to charge us to enter a cake sale. It might only be €1 but it's the principal (ha ha). Little did I know the €1 entry ticket price gave access to the monastery too. They should really advertise this on their website as it's a huge selling advantage. There are a couple of areas including the New Sacristy and Chapel of the Blessed Sacrament which were not accessible on the day and the cake stalls occupied 3 rooms, so the following had restricted access: Refectory, Monks' Hall and Chapter House. The liqueur stalls were in one of the rooms of the Montebelo Mosteiro de Alcobaça (Historic Hotel). Despite this inconvenience we still got the pleasure of viewing over 80% of the monastery for a bargain price of €1 each and we also had access to the rooms holding the cake fair with just limited views so overall frugal Helena was elated.
Parking
The car park right next to the monastery which looked like a Pay and Display was sectioned off with barriers and there were security staff monitoring the area, so we parked in a huge free car park just a couple of minutes' walk from the monastery.
Monastery – Brief History
The Monastery of Alcobaça (Also known as the Monastery of Saint Maria) is one of the most impressive and beautiful testimonies of Cistercian Gothic art in Portugal and throughout Europe. It was founded in 1153 as a gift from the first Portuguese king, Afonso I or Afonso Henriques (1112–1185) to Bernard of Clairvaux and developed a close association with the Portuguese monarchy throughout its seven-century long history. It is one of the 7 Wonders of Portugal, was classified as a National Monument on 1st January 1907 and was included in UNESCO'S World Heritage Site list in 1989. Although it was built almost 900 years ago, the monastery still preserves the set of its medieval buildings. The church is the largest primitive Gothic church built in Portugal in the Middle Ages. The City of Alcobaça became notable after the first king of Portugal, Afonso Henriques, decided to build a church to commemorate the Conquest of Santarém from the Moors in 1147. The church later evolved into the Monastery of Alcobaça. I am not going to bore you with an extensive detailed history but if you plan to visit, please do read the history on the official website because it's truly riveting. I was shocked to discover that at one point 999 monks resided at the monastery. That's a mammoth number of monks (ha ha).
Our Monastery Experience
I was initially drawn to visit this monastery because it is where the famous royal tombs of King Dom Sancho, Pedro and his forbidden sweetheart Inês are located. The greatest tragic medieval love story of Portugal has inspired numerous works of literature and music. I can assure you that I wasn't lured solely by the 4 day convent cake convention, although I am totally addicted to Portuguese cakes (ha ha). I was in shock at the huge facade, WOW! We started off by admiring the grand exterior then viewed the church first. There were a couple of security men outside of the entrance to the church but they didn't check my mini rucksack or hubby's. It was very empty when we arrived around 10:30am so it was a very special and serene experience. You could literally hear a pin drop and it was eerily silent. It was a shame that the Manueline style New Sacristy was closed as I really wanted to visit the Chapel of the Blessed Sacrament (Reliquary Chapel) which is located inside and has the unbelievable "Mirror of Heaven" which is supposed to be a once in a lifetime spiritual experience. I was mostly excited to view the tombs, so it was fine. Ever since my visit to the gardens of Quinta das Lagrimas I have been intrigued with the legend of Pedro and Inês and their story of forbidden love.
Church
The façade of the church is a mix of styles: the portal and the rose window above were part of the original church, while the statues and the two flanking towers were added in the beginning of the 18th century. The side walls of the church have crenellations and the apse has eight flying buttresses to support the weight of the vault of the apse, a typical feature of Gothic architecture. I also must mention the 2 artistic stone sculptures of St Bernard and St Benedict on the facade of the church. I tried my best to get close up photos to share their beauty. Above them are the statues representing the four Catholic virtues: prudence, justice, fortitude, and temperance, apologies my shit old iPhone camera just would not comply with photos of these sculptures. I still need to try and accidentally drop my phone in a river or toilet so hubby can treat me to a new one. It's on its last legs, just freezes on the spot and won't do anything I command it to do. I'm talking about my phone camera, not hubby, he is pretty much compliant with my ever-increasing crazy ass demands (ha ha). Update: Hubby booked an appointment at the Apple store, yippee! My joy is short lived he is just going to replace my battery not my phone (ha ha).
We spent way too much time in the church and I was totally shocked at its beauty, peacefulness and stillness. Consecrated in 1252, the monastery church was the first Portuguese Gothic religious building. Its large scale and remarkable elegance of proportions make it a consummate example of the contrasting effect of stone and light. It is known that construction work on the church began in 1178, but we do not know the exact completion date but it is estimated at being around 1269. There is a huge difference between the elaborate exterior and Baroque majestic yet simple interior. The layout is based on the Latin cross (symbol of Christianity); it features a main nave and the transept, which houses the tombs of King Pedro and Inês de Castro. The nave is divided into three aisles: the central aisle and the side aisles, which serve merely as passageways. I was initially struck by the interior's sheer size and austere architecture. The nave is a simple design yet elegant with high columns supporting a vaulted ceiling. It is plain and uncomplicated style in neutral colours with the predominance of white tones achieved thanks to limestone. I liked the simplicity and ambiance of the church. I often find that some elaborate churches are over the top with gaudy decorations, sometimes less is more and in my opinion, this design worked perfectly. It would make a gorgeous setting for a wedding. Imagine strutting your stuff down that aisle (ha ha).
The large rose window is a key feature where the light spills in. The north transept was originally directly accessed from the monks' dormitory. At the opposite end of the transept, underneath the large rose window and two side windows, one can still see the doorway to the monks' cemetery, commonly known as the "Porta dos Mortos" (Door of the Dead). We timed it perfectly as just as we were leaving a huge procession commenced accompanied by accordion playing and various religious orders walked down the aisle all in traditional dress and carrying flags, it was incredible to view up close. I felt a little awkward taking photos and videos of them but I don't think they minded, and I tried to be subtle. They were actually taking photos of themselves and selfies as they walked down the aisle, so I think they were awestruck and soaking up the atmosphere as much as I was. The whole church is spacious, very light, airy and a joy to view. I have a little secret to confess. I loved the church so much that after we visited the main monastery, I went back for a second visit. I certainly got my money's worth (ha ha).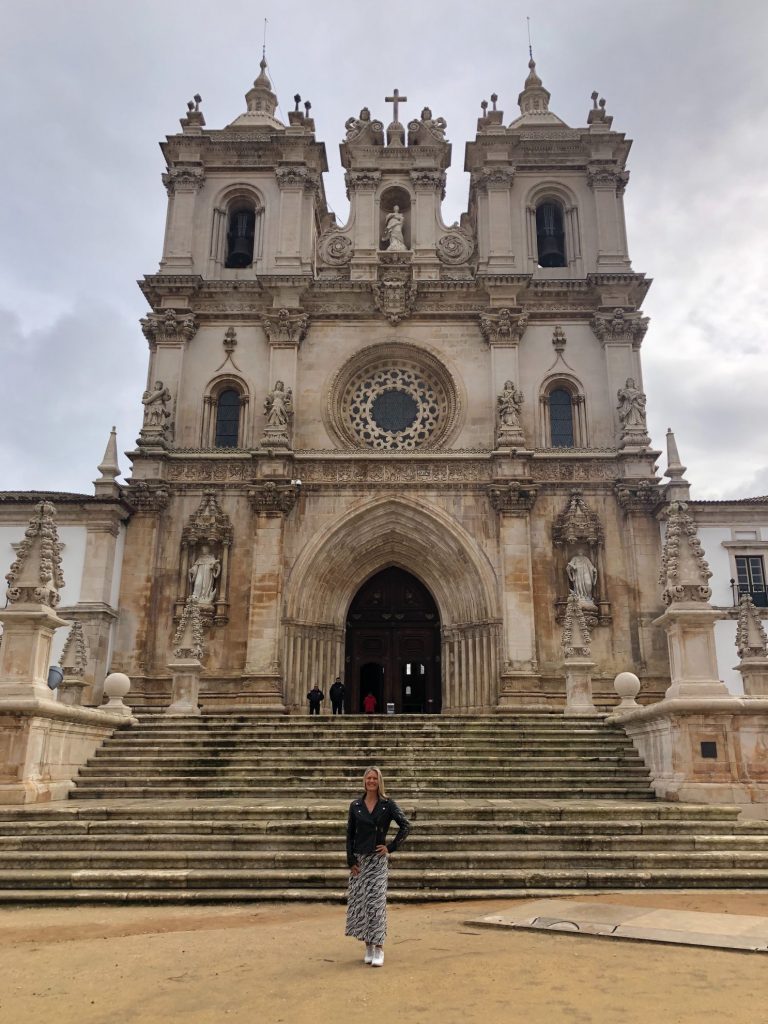 Altarpiece (The Death of St Bernard)
I was inspired by the 17th century terracotta sculpture representing St Bernards Death. It is magnificent but sadly suffered some water (weather) damage. The Cistercian Monastery of Alcobaça was founded as a gift to St Bernard of Clairvaux shortly before his death on an estate granted by King Afonso Henriques (the first King of Portugal) in 1153. The spectacular masterpiece is made from terracotta and was built by the monks. The altarpiece can be divided into two areas: at the lower level is a group of free-standing sculptures with figures inserted at the back of the altar. St Bernard is shown at the centre of the scene with Cistercian monks at his feet, mourning his death. Close to St Bernard's head, the kneeling General Abbot and a group of angels glorify his death. At the top, surrounded by angels and cherubs, the Virgin Mary welcomes the soul of St Bernard with opened arms. When I said to hubby "Wow, come look at this sculpture of St Bernard" he was a little confused as he thought I was talking about a dog (ha ha).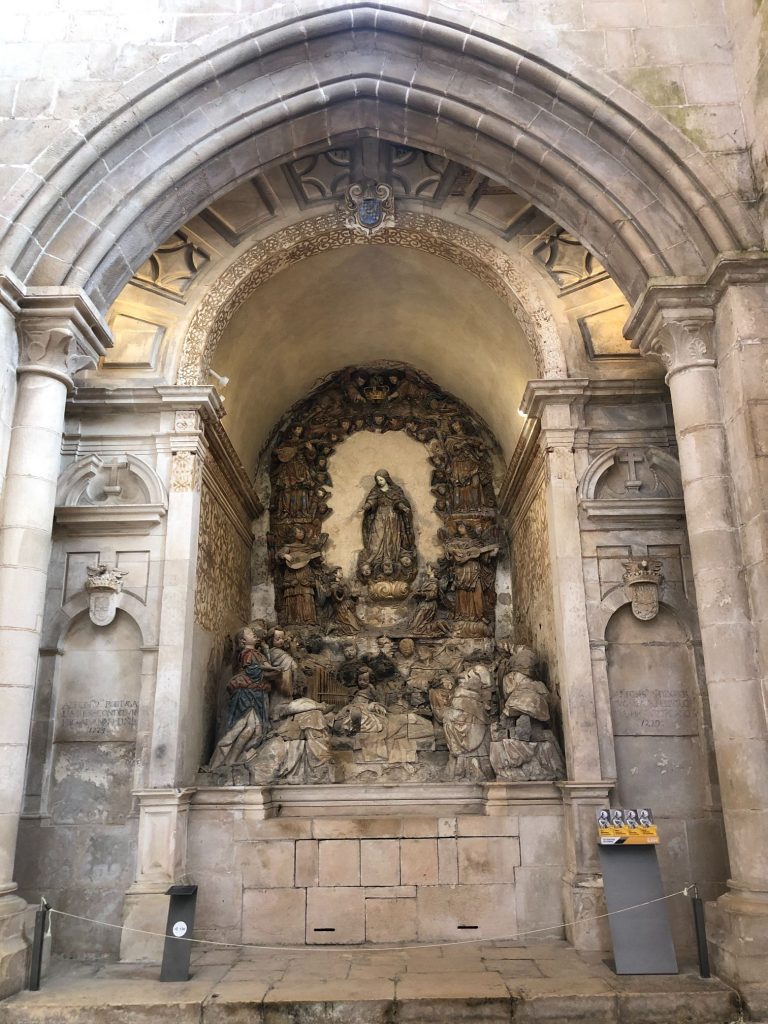 Altarpiece (St Maria Statue)
There is a splendid statue representing St Maria which was part of an altarpiece in the 16th-18th centuries but removed in 1930. I lit a candle as usual and said a prayer. I found a little prayer sheet of St Bernard which made a change from my usual prayers and seemed very appropriate for this special day.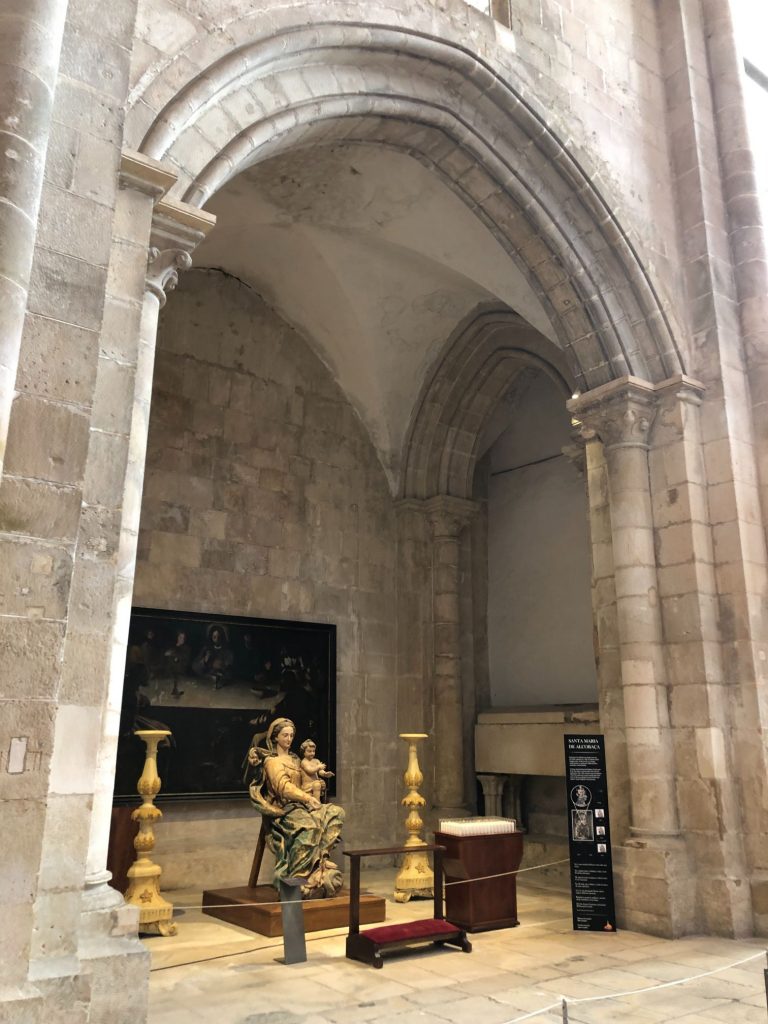 The Royal Tombs
Now for the main attraction, you are going to be astonished! The Tombs are located in the transcript of the church which is free to enter. I was saddened to find out that no one knows who carved the extraordinarily lovely and detailed tombs but I did discover that the limestone was sourced from Coimbra which is where the love story began and is the region of Portugal that I live. Viewing the spectacular shrines was my favourite part of our monastery visit. Wow, I was shocked to the core at their raw beauty. The detail is absolutely mind-blowing and the whole shrine tells the tragic story. I cannot begin to imagine how long it took to sculpt these masterpieces of art. Pedro's tomb consists mainly of Gothic sculpture work depicting scenes from the life of Saint Bartholomew and rests on 6 lions. At the head end is the most striking and charismatic element: A rose window made up of eighteen scenes representing the Wheel of Life (outer circle) and the Wheel of Fortune (inner circle). Reading from left to right, the scenes depict joyous moments; while tragedy is depicted on the other side, most notably King Pedro in his shroud in his tomb, with an image of the King in all his majesty being the opposite image. The foot end of the tomb features representations of the last blessing: the Viaticum and the Extreme Unction. The recumbent figure of Pedro is crowned and holds a sword in his left hand. He is flanked by four angels holding his head and shoulders and another two angels with incense. At his feet lies a faithful dog representing Pedro's loyalty and fidelity to Inês.
Inês tomb rests on 6 intricately carved half human/half beast figures which represent her assassins. I was captivated by these sculptures, so I took a separate photo of all 6. Her tomb tells a story of being reunited in paradise with her soulmate. It is decorated with scenes from the life and death of Christ. The sides are adorned with scenes from the New Testament culminating in the head side with a scene from the Crucifixion. The foot end represents the Final Judgement in 3 registers along a sinuous line that starts at the mouth of Leviathan. Christ presides over the divine court and the Virgin Mary can be seen on her knees surrounded by angels and apostles representing the Miracle of the Resurrection. The recumbent figure of Inês de Castro wears a crown and her head and mantle are supported by four angels accompanied by two incense swinging angels. The top of the tomb is also decorated with the Portuguese Crest and Castro family Coat of Arms.
Until the End of the World
The "his and hers" marble tombs are both carved with the phrase "Até ao Fim do Mundo", which translates to "Until the End of the World". They are positioned opposite each other (feet facing). Legend says the reason being that when the resurrected eternal lovers wake up in the afterlife, the first thing they will see is each other, how heavenly. In reality, the tombs' initial position was side by side, having been changed in 1780 to the face-to-face position and in 1956 to the current position with Pedro in the south transept and Inês in the north transept. I really liked that both figures on top of both tombs are crowned with peaceful expressions surrounded by 6 angels who adjust their clothes and lift their heads (as if elevating them to heaven). The shrines tell a complete story and if you study Pedro's shrine in depth (like me) the story will unfold in front of your eyes: The couple in a loving relationship with their 3 children, playing chess together, Inês taken by surprise by her assassins, unmasking of one of her murderers, Inês bleeding, her beheading/death as well as the punishment of her murderers.
His & Hers
Maybe hubby and I should get "his and hers" marble coffins. It probably wouldn't be worth the expense as we are both being cremated after death so a waste of money. I think "his and hers" (Jack and Jill) marble bathroom sinks would be more beneficial as hubby keeps leaving splodges of toothpaste in the bathroom sink then he blames me which is mildly annoying (ha ha). Jokes aside, this church is absolutely glorious. I spent so much time studying every little detail on the tombs as it's just so hypnotising, I couldn't take my eyes off the shrines. I was overcome with emotion to the point that I had to have a little break and walk around outside in the fresh air for a few minutes to deep breathe and ground myself. It was a bizarre but beautiful and unforgettable experience for sure.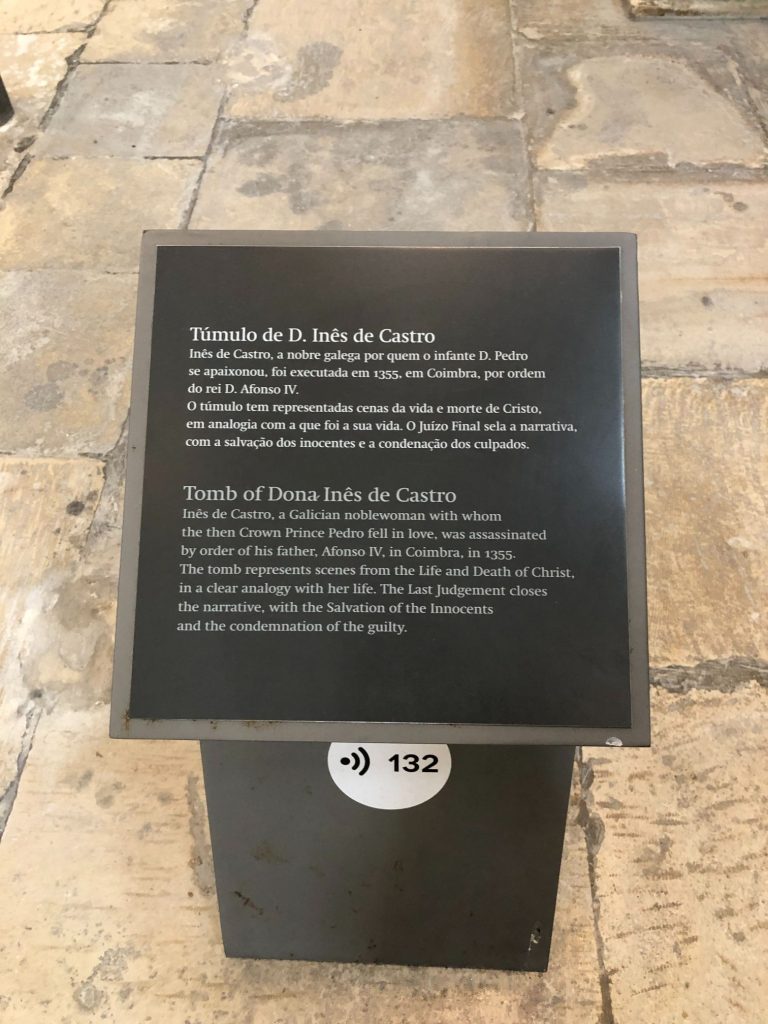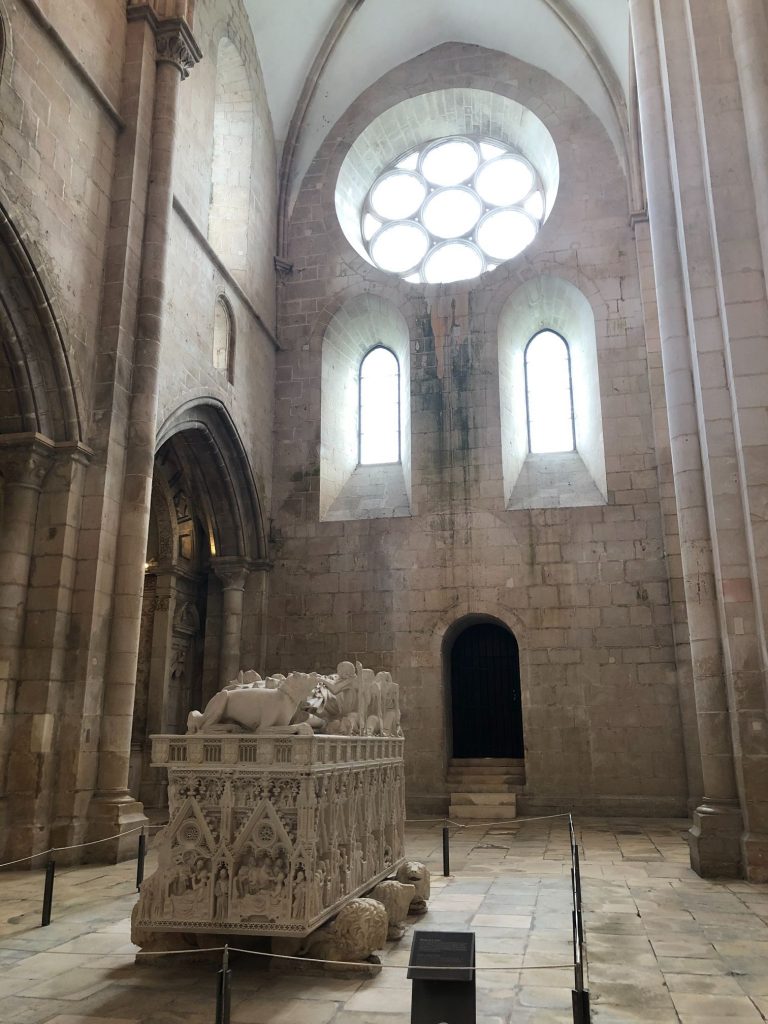 The Royal Pantheon
The Royal Pantheon contains the tombs of Kings Afonso II, Afonso III and their Queens Urraca of Castile and Beatrice of Castile. There are smaller tombs of unidentified princes. The most remarkable tomb is that of Queen Urraca (died in 1220), buried in a richly decorated late Romanesque tomb. A relief showing the queen is seen over the tomb and the sides are decorated with the Apostles. Other reliefs show the king, surrounded by their children, mourning the late queen, as well as Christ surrounded by a mandorla and the symbols of the four Evangelists. Other tombs are richly decorated with arabesques of Mudéjar-Romanesque style, as well as the Apostles. The shrines are striking and the details on these tombs are really superb. Their stories finely carved on their exteriors are memorable. It was very emotional and sad to see such tiny tombs! Top Tip: When asking a security guard for directions don't say "Please can you direct me to the Royal Panties Throne" One word: Mortified! (ha ha).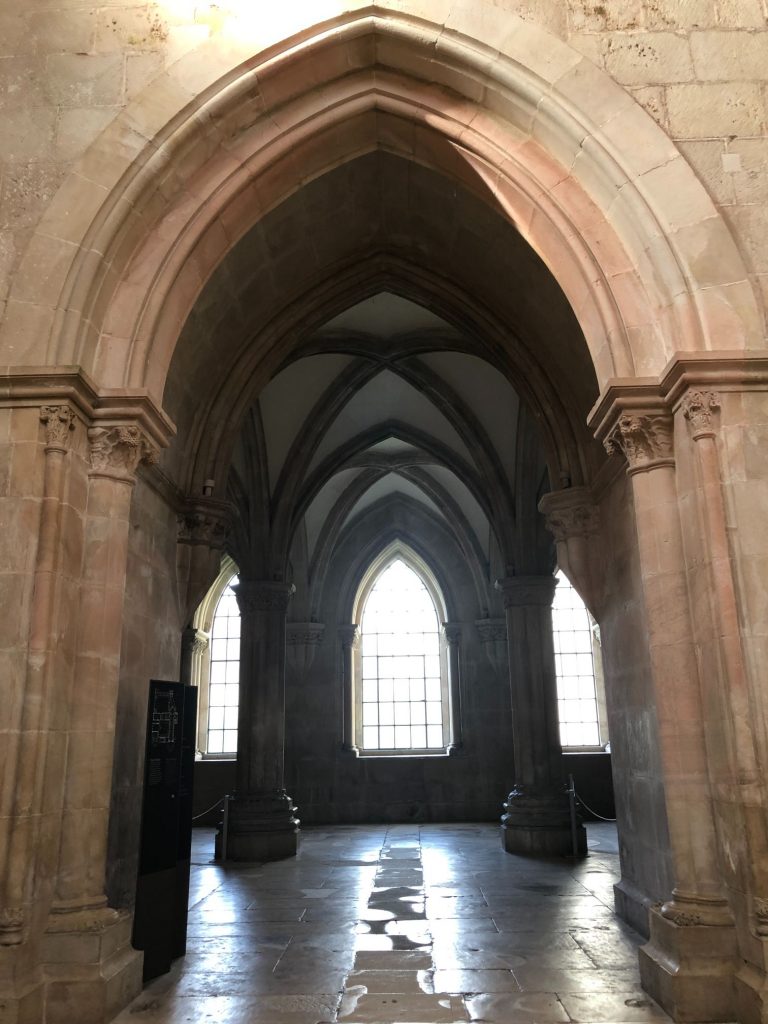 Main Monastery
I loved everything about this monastery and found it an intriguing and alluring place and I've seen quite a few monasteries now. Firstly, one has to appreciate the magnificent imposing Baroque facade dating back to 1702. The design consists of two plain-style wings with the church in the middle.
There is no official tour included in the entrance price, so we wandered around at our own pace. We were given a leaflet for the Sweet and Liqueur Convention but not one for the monastery. I sent hubby back to get a leaflet and map but he came back with another leaflet for the cake fair (ha ha). We ended up looking at the maps on the wall plaques to make sure we didn't miss anything.
The whole place is very dramatic, like me (ha ha). There is so much to see including the majestic stonework, incredibly high columns and vaulted ceilings which give me a neck ache from looking upwards for way too long. There are so many surprises at every turn and the ambiance was surreal. The whole monastery was calm and quiet as all the visitors were at the cake convention. I was so surprised as I thought it was going to be packed full of tourists due to the special weekend event. I liked the fact that there were fewer tourists as we got to enjoy the tranquility together and make more treasured memories.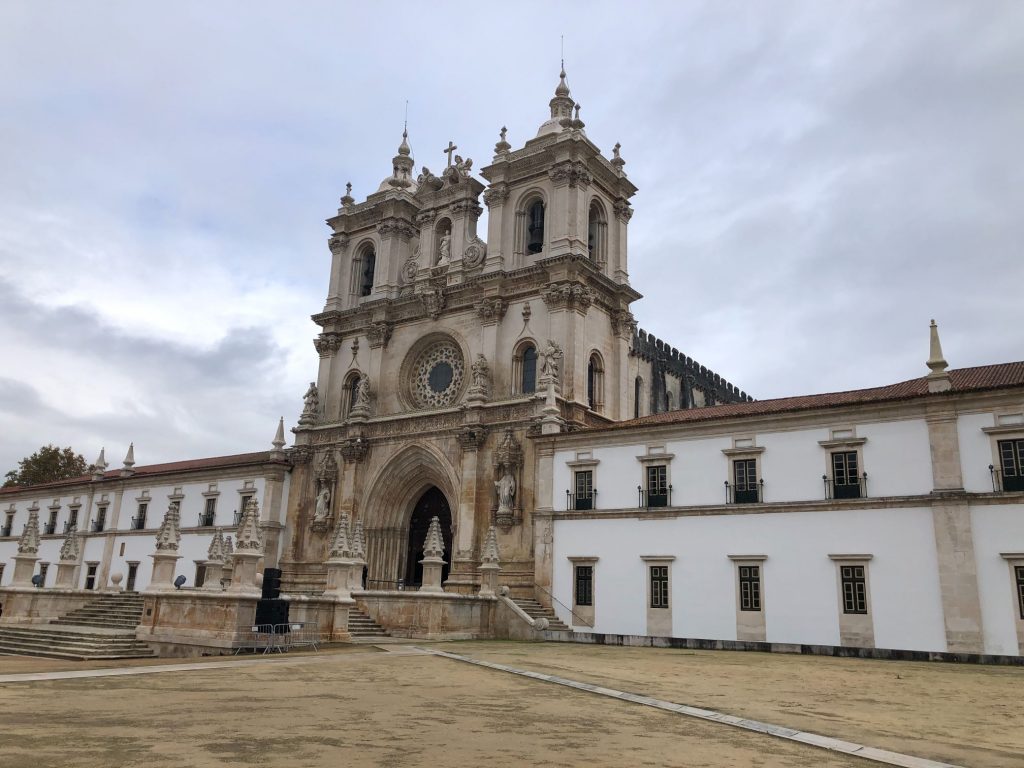 Rooms to View
Church
Royal Pantheon
New Sacristy
Chapel of the Blessed Sacrament
Kings' Hall
Cloister of King Dinis or Cloister of Silence
Medieval Sacristy
Chapter House
Parlatory
Monks' Hall
Kitchen
Refectory
Hostelry Cloister
Main Entrance
Main Entrance Cloister
Chamber of Acts and Conclusions
Novices' or Cardinal's Cloister
Monks' Dormitory
Cloisters
The Cloister of King Dinis (Silence cloister) is a spectacular area with many sculptures, inscriptions and an exquisite Gothic fountain. It just wasn't silent when I arrived (ha ha). It is open at the top to link heaven and earth. It was built during the reign of, and sponsored by, King Dinis I and is one of the largest medieval Cistercian cloisters in Europe. Its columns are decorated with animal and vegetal motifs. The builder was the Portuguese architect, Domingo Domingues. The second floor of the cloister, in Manueline style as revealed by its typical twisted columns, was built in the early 16th century. The arches and columns decorated with plants are very eye-catching and a splendor to view. I love all the arched entryways to the cloister garden and the ornate stonework is breathtaking but my all-time favourites are the gargoyles. When it rains their mouths act as little fountain spouts, so it looks like the water is flowing from them. The gardens look like a special place for reading and meditation.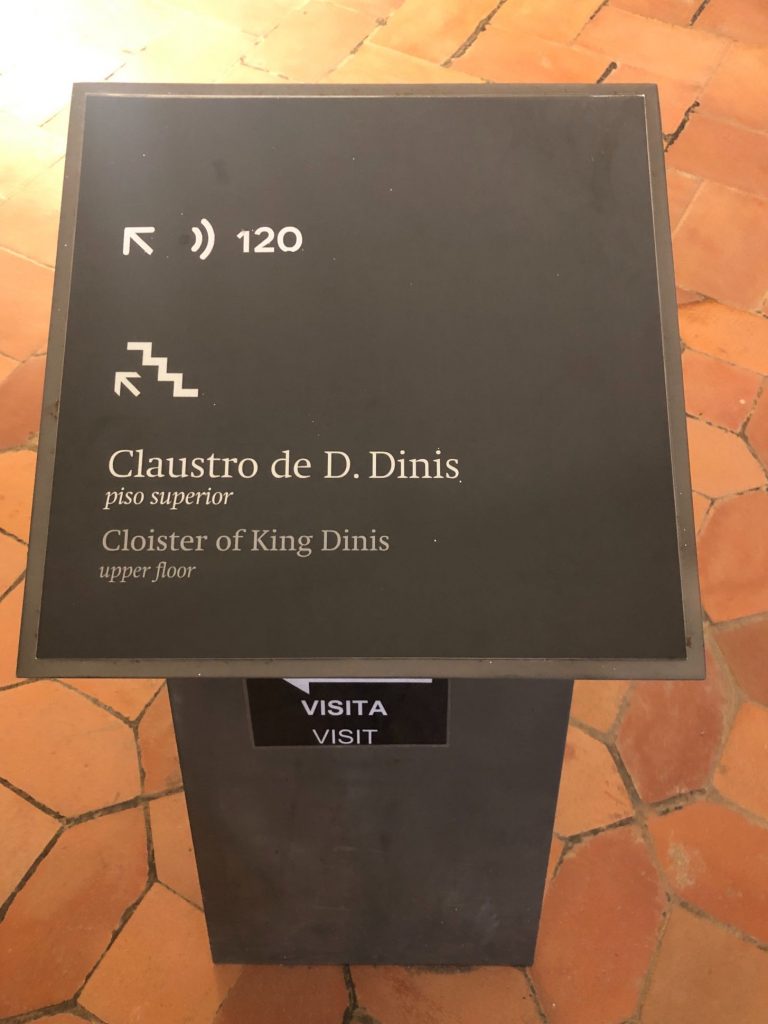 Cloister Couple Selfies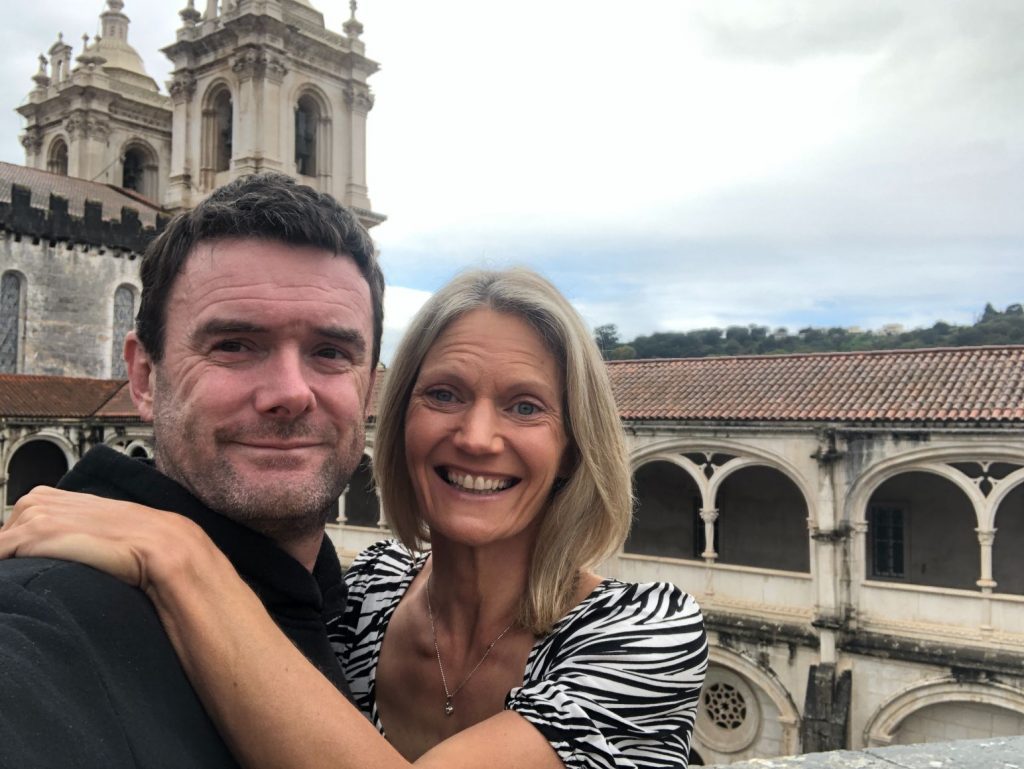 Fabulous Fountain
The Gothic Fountain Hall has an elegant early renaissance fountain inside. This is where the monks would perform the ritual of washing their hands before they ate their meals. It's richly carved in stone and decorated with motifs including the Coat-of-Arms of the monastery. I loved this fountain, it is so very pretty.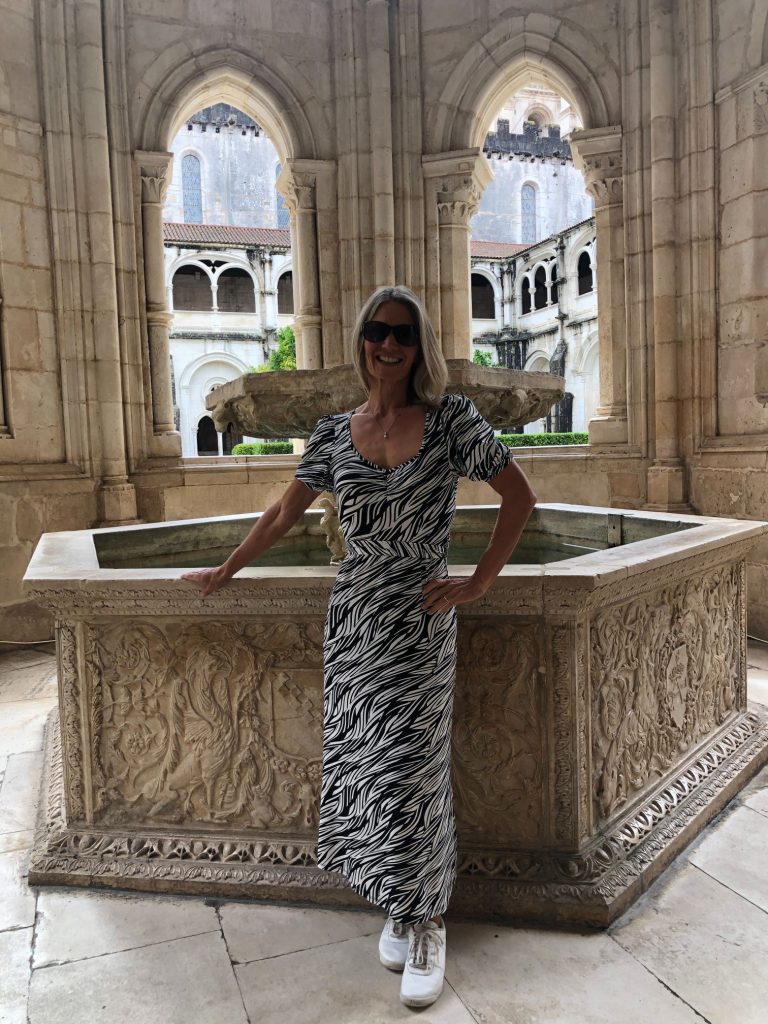 Fountain of Youth Selfies
Who am I kidding, more like "Fountain of Old Age Fogies" (ha ha).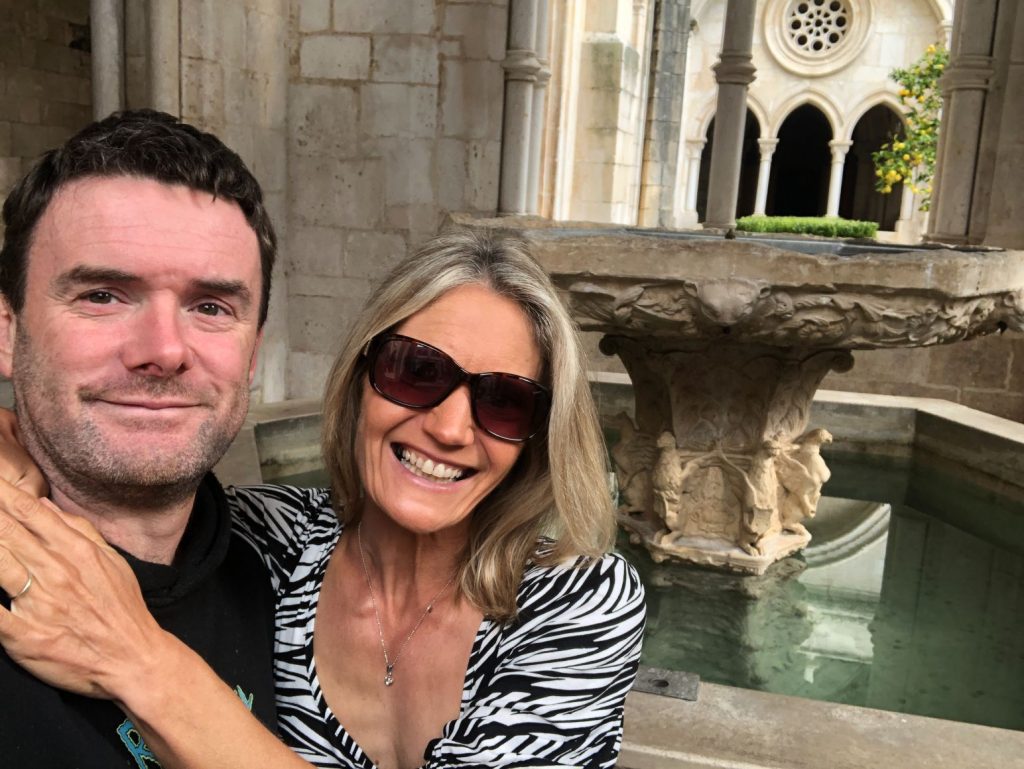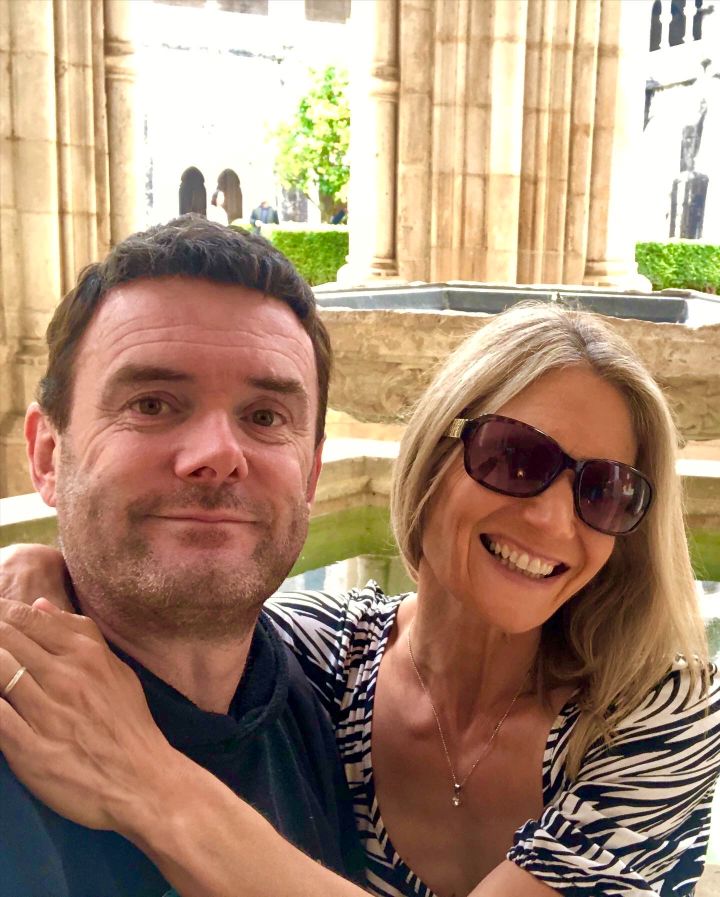 Kitchen
The kitchen of the monastery was built in the mid 18th century and is covered in tiles. It has an enormous central chimney decorated in glazed tiles supported by gigantic wrought iron columns and a water basin which holds water brought by 3 canal systems. It's not until you see an actual person stood underneath it that you can gage its gigantic scale. I am not sure how Santa is going to climb down that monster of a chimney (ha ha).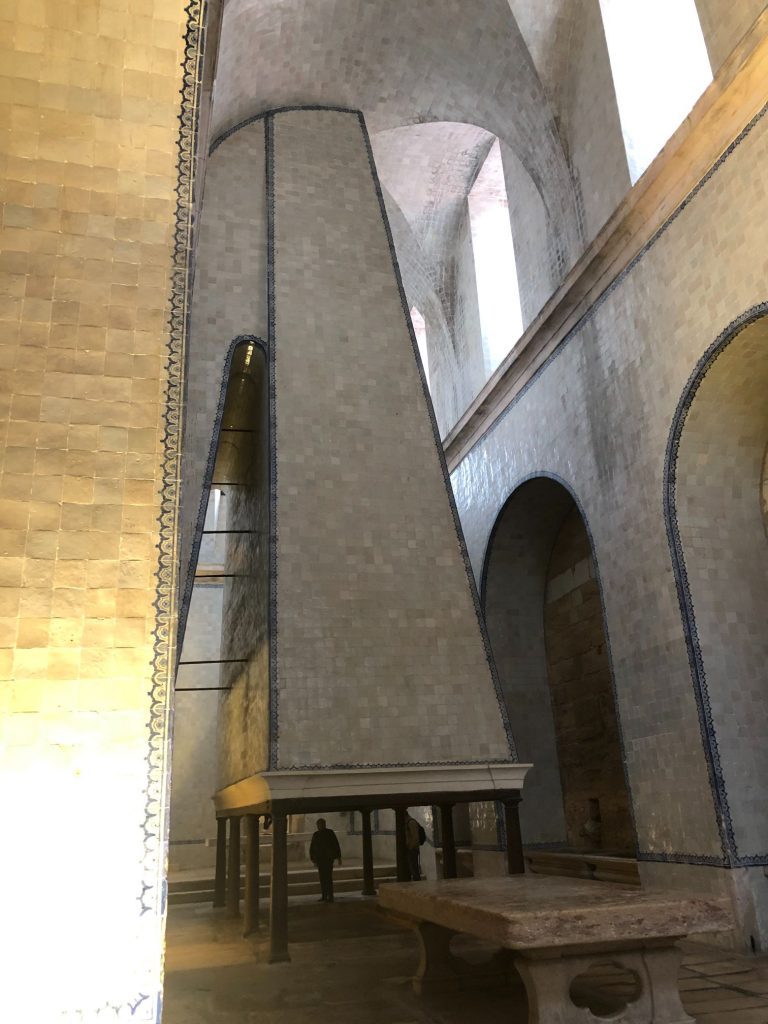 Fat Shaming Door – Consider that you eat the sins of the people!
The refectory has a really tall and incredibly narrow door which apparently measures a tiny 12.5 inches in width. Legend has it that the monks were put through a test. They had to fit through this "narrow anti-gluttony door" which the Portuguese call "Porta do Homem Gordo" (Fat Man's Door) to gain access to the dining room for their meal. If they were too fat to squeeze through then they were consigned to fasting, WTF! It was the medieval equivalent of fat shaming. Apparently "The way to a man's heart is through his stomach" not with my cooking it aint (ha ha). Over the years Monks have been known to plump up by consuming a diet heavily reliant on saturated fats often consuming a whopping 6,000 calories a day! Some folk say this story about the "Diet Door" is a myth and that it was actually a door similar to a serving hatch and used for passing plates from the kitchen through to the refectory. The inscription carved above the entrance to the refectory door translates to: "Consider that you eat the sins of the people".
Look how close this door was located to this yummy cake stand, how ironic! (ha ha). I think the second photo with wellie wearing lady shows just how thin this door really is. I love her silver wellies, I didn't like the fact she walked right in front of my camera, she just saw the cakes and went for it, I don't actually blame her (ha ha). I couldn't take my photo opportunity here as it was awkward being in the Refectory Room with several cake stands and multiple people. A Portuguese man saw us looking at the door and came over and tried to converse with us in Portuguese. He was laughing and making gestures towards hubby's belly and said "Muito Gordo" (ha ha).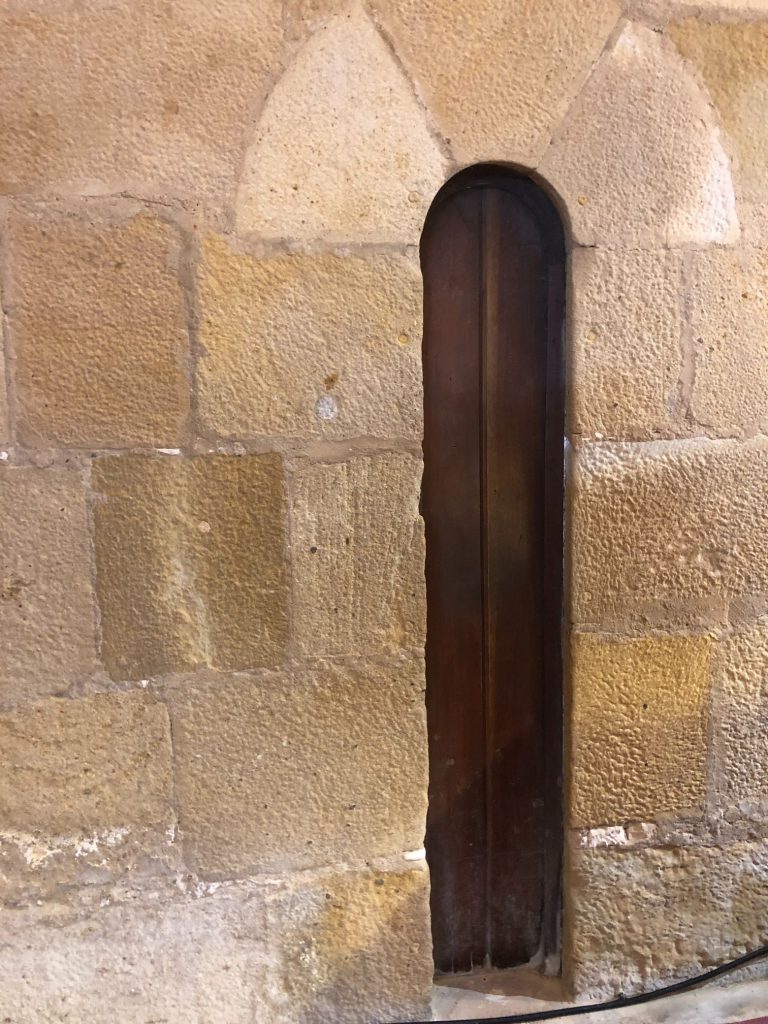 The Other Side
We ended up walking around to the other entrance to take my photo opportunity and see if I could fit through the door and eat cake or not. I think my waist would fit through but my childbearing hips and fat ass would be left for dust on the other side (ha ha). I don't think my old fatty 16 stone 8 lb bulk of a body would have ever fitted an arm through so it's a good job that I lost half my body weight or I'd be punished by the monks and fasting for an eternity (ha ha).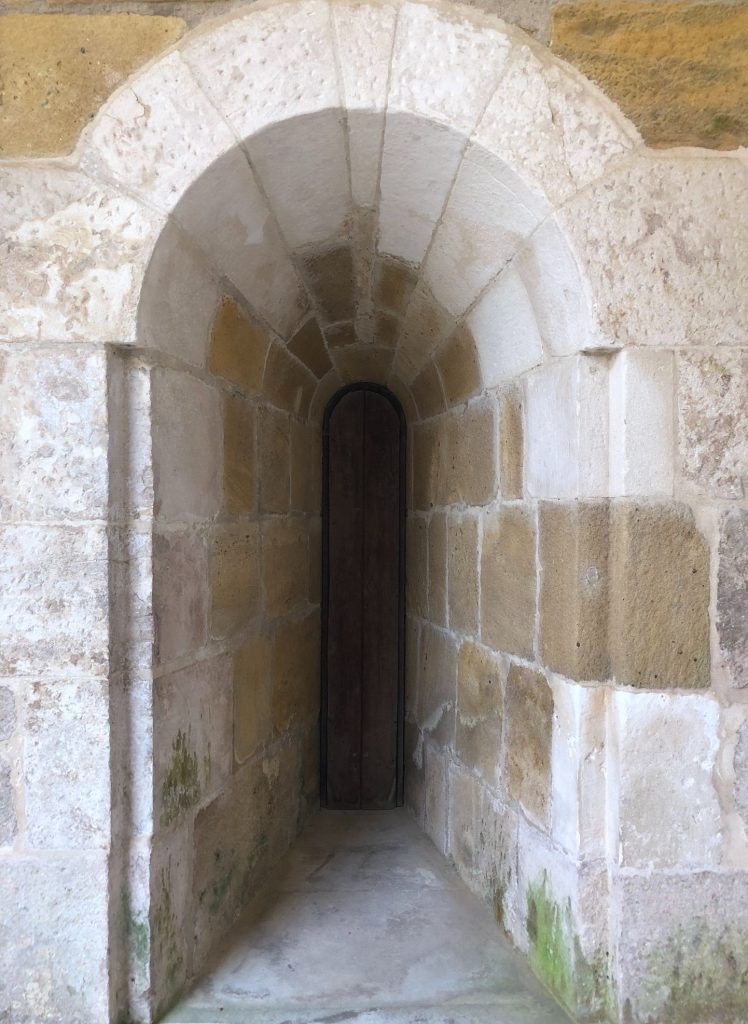 Heart Attack Grill
Maybe McDonalds should have an entranceway similar to prevent obesity (ha ha). There is a burger joint in Las Vegas called "Heart Attack Grill". The menu consists of Single, Double, Triple, Quadruple, all the way up to Octuple Bypass hamburgers, ranging from 8 to 64 ounces (230 to 1,810 g) of beef, up to about 16,000 kilocalories (67,000 kJ), all-you-can-eat Flatliner Fries (cooked in pure lard), beer and tequila, Butterfat Milkshakes and soft drinks made with cane sugar. Customers can also order unfiltered cigarettes/candy cigarettes for children. Patrons over 350 lb (160 kg) in weight eat for free, if they weigh themselves on a gigantic scale outside before eating. That's not humiliating is it! Beverages and to-go orders are excluded and sharing food is also not allowed for the free food deal. One of the restaurant's promotions is a reward for customers who finish a Triple or Quadruple Bypass Burger, after which they are placed in a wheelchair and wheeled out to their vehicle by their "personal nurse". The staff are dressed in nurses' outfits and patrons wear a hospital gown; some drinks are delivered in IV drips. If you don't eat all your food, you get a good and proper spanking. The whole concept of this place made me cringe as I have a fear of hospitals. You may be surprised but we didn't visit during our multiple trips to Las Vegas, we stuck to Denny's and the "All you can eat" buffets (ha ha). Here's a photo from 2013, the one and only time we took my daughter Teanna to Vegas, look how cute she is!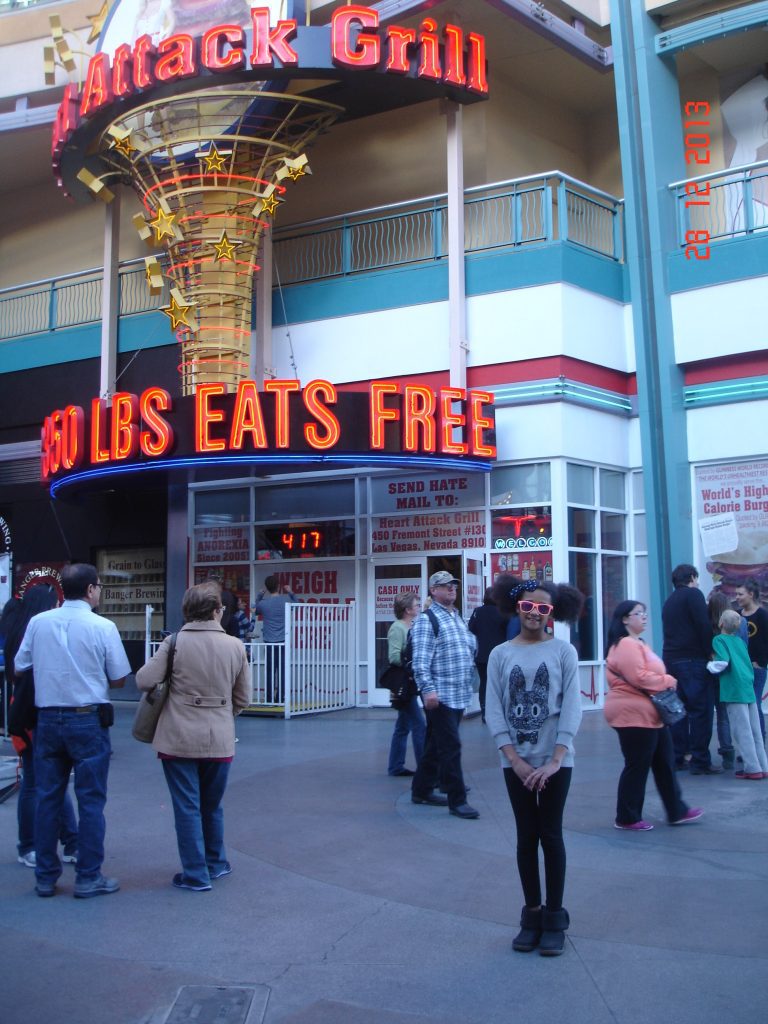 Off With His Head – The Kings' Hall
I fell in love with the 18th century hand painted blue and white azulejos (tiles) on the lower half of the walls that tell the history of Alcobaça Monastery. The 17th-18th century grand terracotta statues of Portuguese monarchs are astounding. You can even see how royal fashion has changed over the years! I walked into a stone column taking a 360 video of all the Kings! Make sure you check out the video on my Facebook or Instagram page because I am now sporting a bruised shin which has turned a shocking blue colour similar to the Portuguese tiles (ha ha). King Sebastian and his mate lost their heads, like me when I walked into a stone pillar whilst filming all the glory of the kings for you all! I would not have wanted to be beneath those statues when they crumbled to the floor. Imagine one's death certificate stating the reason for death: Killed by a Portuguese King (ha ha). We had way too much fun with the huge bowl in this room. If you hide behind the bowl, it looks like you are actually inside. I could do with stealing this bowl for my homemade soup (ha ha). The statues of the kings were created by the monks in the monastery workshops, wow all I made at school was a dodgy bird box in a woodwork lesson. It was shit beyond belief but my lovely mum erected it in a prime position in our back garden because she wanted to boost my morale and the birds didn't mind my wonky addition, one little bit (ha ha). Things haven't progressed much as my daughter, who is now 20, made a bug box in her woodwork lesson when she was 12. It wasn't much better than my bird box, the apple (talent) doesn't fall from the tree. You would think her skills would be better than mine as her dad is a structural engineer (ha ha). Also, we lived in a 1st floor flat so I'm not sure where we were supposed to put this eye sore of a bug box!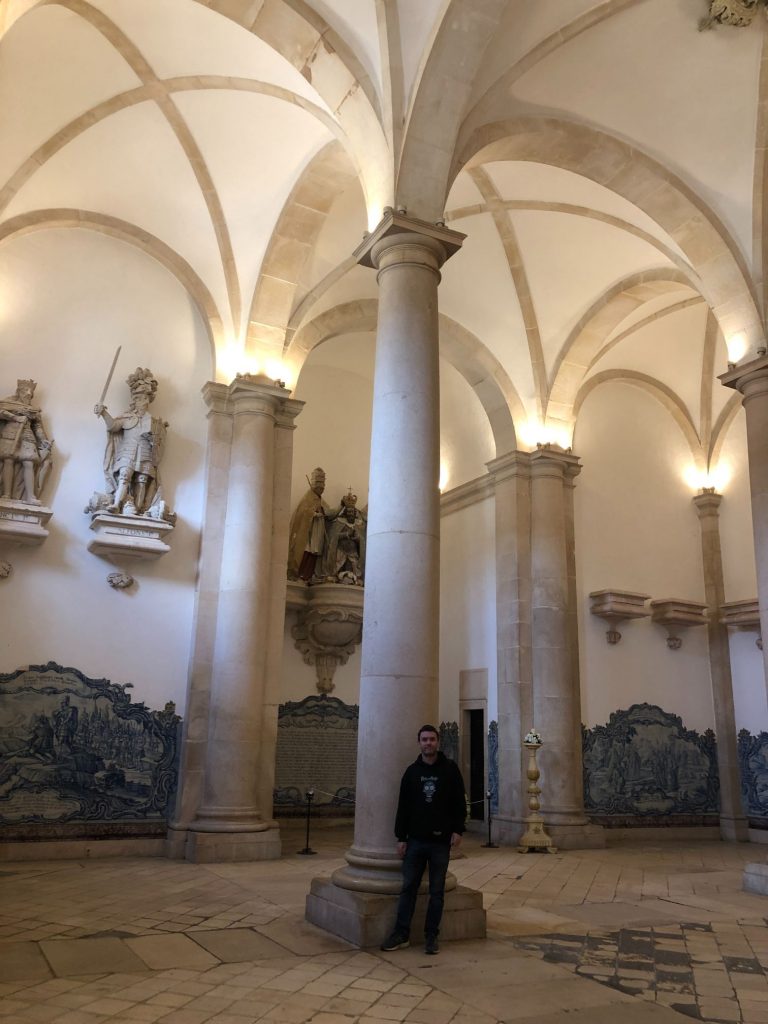 Monks' Dormitory
The dormitory is a large Gothic room where the monks slept together. I'm assuming they had their own bunks just in case you thought I meant they all slept together in a gigantic sized bed in some kind of forbidden orgy (ha ha). The Abbot was allowed to have his own room. In the 16th century the space was divided into individual cells. In the 1930's the cell walls were demolished. The dormitory has the most amazing ceilings and beautiful views over the cloister and gardens. I was shocked to see people in the gardens with umbrellas, I think the skies must have opened when we were enjoying the monastery. We were oblivious to the weather as too much fun was unfolding on our tour. There is a window pane where you can view the church and tombs. I could see quite a crowd surrounding the famous shrines, so I think we got lucky arriving when we did and having the place almost to ourselves.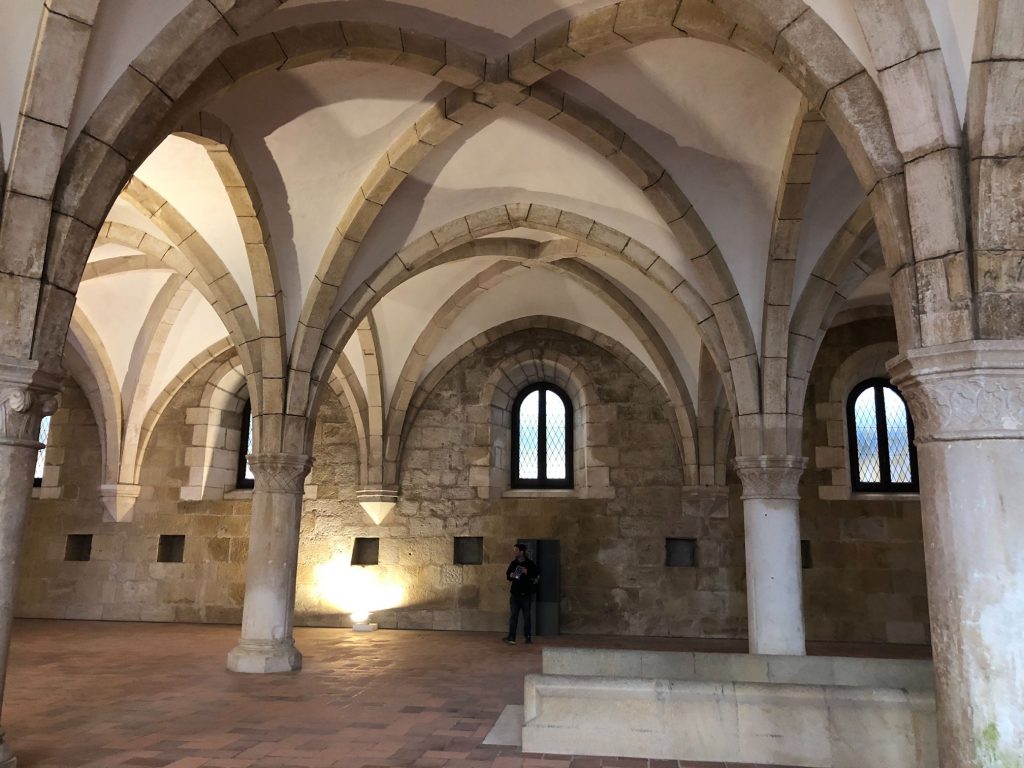 Secret Staircase
We found a little hidden narrow spiral staircase and because we are adventurists and nosey sods, we climbed down in the dark with our phone torches lighting our way. Another Portuguese couple decided to follow us and were in close pursuit, too close for my liking. When we reached the bottom, we were faced with a locked door. It was a little bit more than awkward trying to explain in broken Portuguese to 2 random strangers that the stairs lead to nowhere so please retreat (ha ha).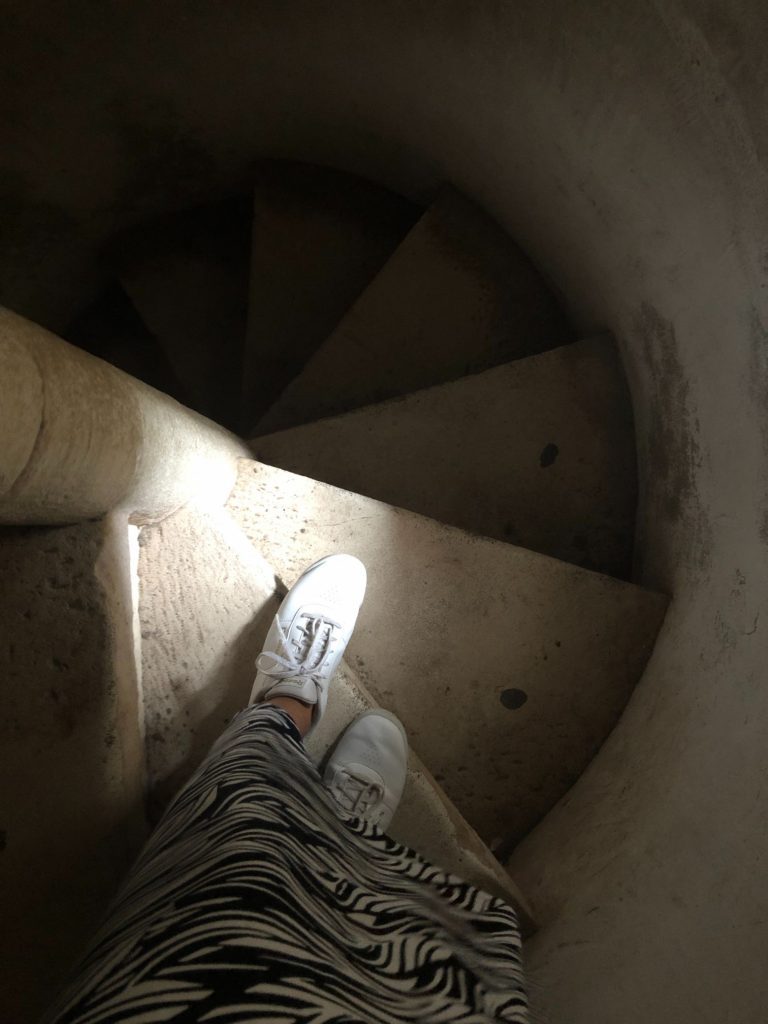 Library
The Library at Alcobaça was one of the largest Portuguese medieval libraries but was pillaged by the invading French in 1810 and many items were stolen in an anti-clerical riot in 1834, when the religious orders in Portugal were dissolved. The remnants of the monastery library, including hundreds of medieval manuscripts, are kept today in the Biblioteca Nacional de Portugal, Portugal's national library in Lisbon.
Ancient Inscriptions
There are so many inscriptions carved into the stonework of the corridors connecting the rooms. The ceilings and archways are stunning and a work of art.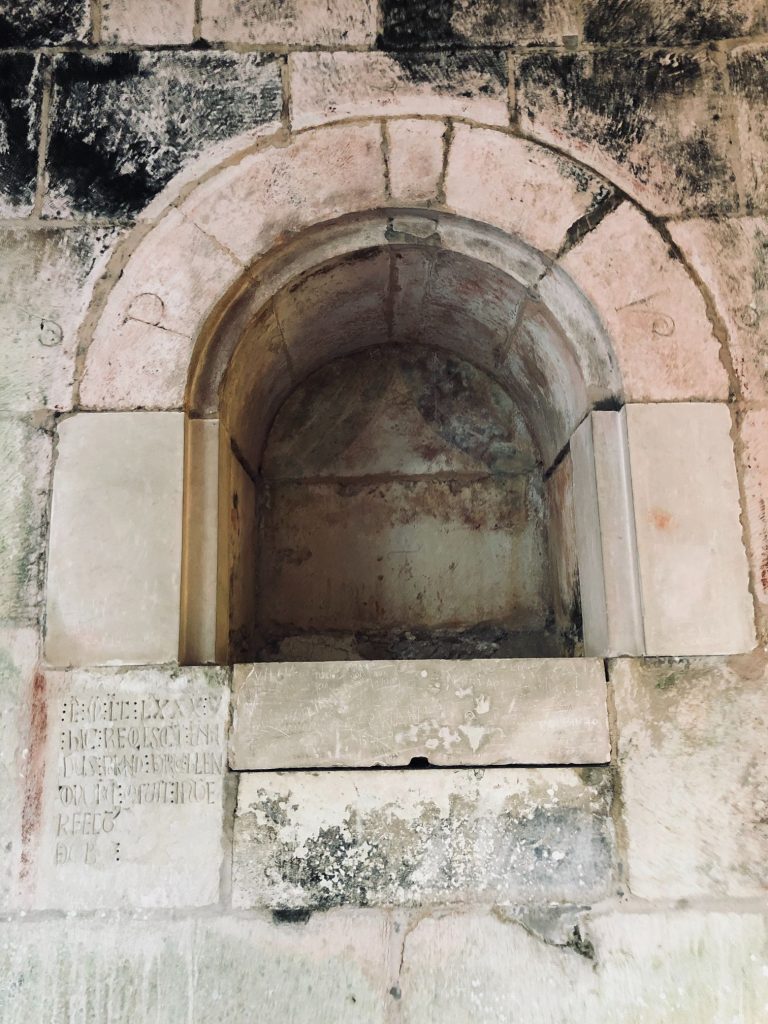 The 1755 Lisbon Earthquake
The great Lisbon earthquake of 1755 did not cause significant damage to the monastery, although part of the sacristy and some smaller buildings were destroyed. Far greater damage was caused by invading French troops in the first years of the 19th century during the Peninsular War, itself a part of the Napoleonic Wars. In addition to looting the library, they robbed the tombs and stole and burnt part of the inner decoration of the church. In 1834, with the dissolution of the monasteries in Portugal, the last monks left the monastery.
Regional Cakes
You may have realised by now that I LOVE Portuguese cakes and I always try to sample the regional cake when I visit a new area of Portugal. Pão de Ló de Alfeizerão is an incredibly popular sponge cake made in the village of Alfeizerão, near Alcobaça. Unlike other sponge cakes that you may have already tasted, the Pão de Ló de Alfeizerão has a moist and creamy centre and distinctive cinnamony aroma. Although traditional sponge cake in Portugal is known as "Pão de Ló", only "Pão de Ló de Alfeizerão" has a creamy centre!
The Cake Fail Legend
According to one version of the story, the Portuguese King D. Carlos was visiting a dear friend who lived in Alfeizerão. Wanting to impress the King, he decided to serve a traditional recipe of Pão de Ló for dessert. However, his cook was nervous about the King's visit and ended up removing the cake from the oven too soon, serving it slightly undercooked in the middle. D. Carlos enjoyed the result so much, from then on they purposely started baking it as we know it today! You can find Pão de Ló de Alfeizerão for sale in many regions of Portugal, but the original recipe, made with a few adaptations in different pastry shops, is only available in Alfeizerão. This sponge cake is so famous that many Portuguese families detour road trips on the A8 highway to purposely visit pastry shops in Alfeizerão to buy local Pão de Ló! I adore Pão do Lo and I often bake one at home when we have surplus eggs from our chickens as each recipe takes a whopping 7 eggs! There were so many different Pão do Lo options for sale at the cake fair but I was drawn to Pão do Lo Ovar from Flôr de Liz bakery.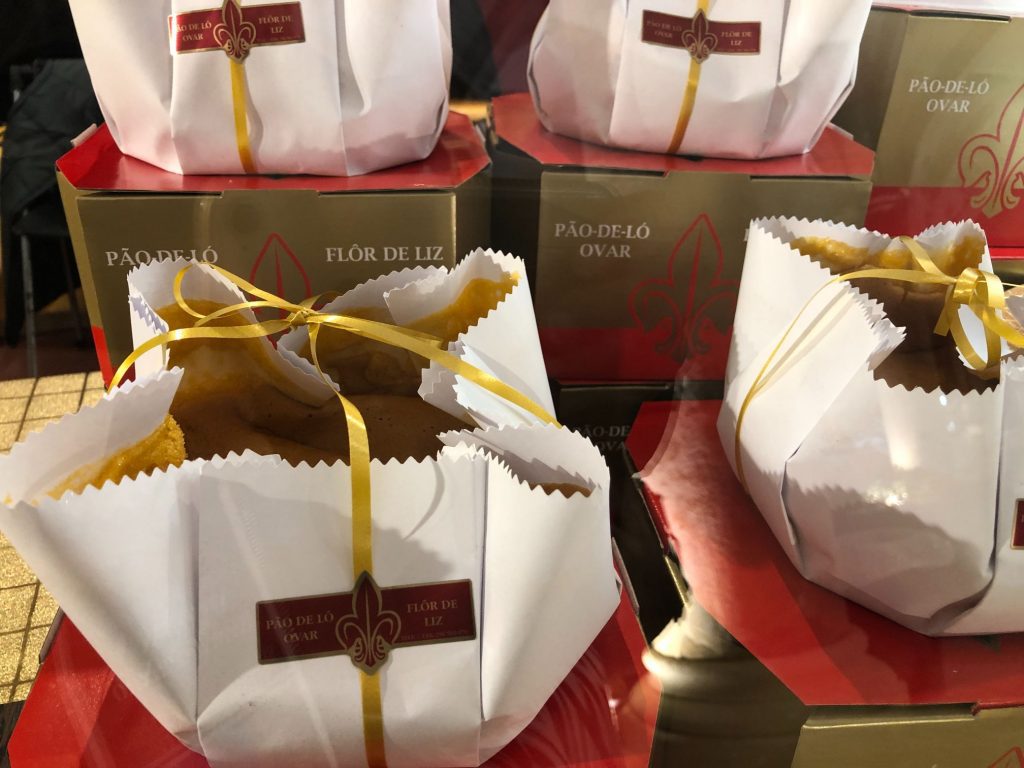 Mostra Internacional de Doces e Licores Conventuais XXIV (24th International Convent Sweet and Liqueurs Fair)
The city of Alcobaça hosted the first "International Exhibition of Conventual Sweets and Liqueurs" in November 1999. Alcobaça became a pioneer in the preservation and dissemination of the rich cultural heritage that is the sweets, betting on the gastronomic tradition left by the presence of the Cistercian Monks and Nuns of the Monasteries of Alcobaça and Coz. During the first years, the event took place in a tent especially designed for the event. The notoriety that the event has acquired over the years and the need to preserve and promote national and international gastronomic traditions demanded a more suitable space for the exhibition to be held, so in 2006 the exhibition moved to the interior of the monastery. The beauty of the monastery, a World Heritage Site, is in itself a reason to visit and makes it the ideal place to host this great "Festival" of confectionery and convent liqueurs, which always takes place in the month of November. Every year, dozens of pastry shops from all over the country participate with their best specialties. The exhibition also receives international representatives from Spain, France, Belgium, Poland and Brazil and important presences of Portuguese monasteries or convents such as: Singeverga, Louriçal, Montalvo and Rio Caldo. Vendors came from far and wide and there were live chef cooking demonstrations throughout the day and music in the hotels Rachadouro Cloister from the philharmonic bands, orchestras and cultural associations. There were competitions for best cake and jam but in my eyes, they were all divine and worthy winners.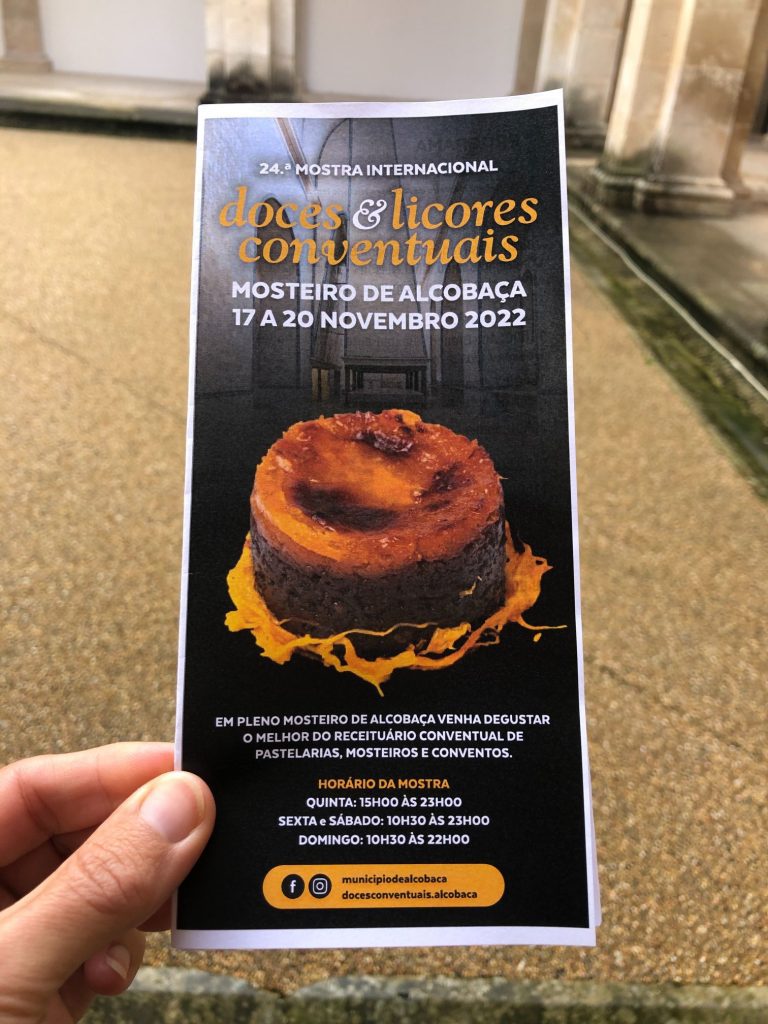 Refectory, Chapter House & Monks Hall
The treats spanned over 3 rooms with a separate room for liqueur. Room 1: National and International exhibitors. Room 2: National exhibitors and Room 3: Monasteries of Portugal, France, Spain and Brazil. There was a cafeteria selling coffee and other beverages. We had a hard time circling the rooms and trying to narrow down our selection as everything looked so divine. We decided to view the monastery and head back to select our purchase at the end of our visit, so we didn't have to carry cake around. There was a separate room for the nuns and monks I'm not sure why, maybe they didn't want to associate with the riff raff (ha ha). As well as sweet treats they also had artisan crafts for sale and plenty of candy, jams and preserves. The nuns were not too chirpy and I almost challenged hubby to try and make them laugh or crack a semi smile but I didn't want to tempt fate and mess with God's messengers. Hubby said they were "Nun (None) too pleased" he thinks he's a comedian (ha ha). I actually think that they were a little grumpy as it's a long event and ends at 23:00, that's almost a 12 hour day and some had travelled from Spain or further afield. I could think of worse jobs than manning a cake stall. Maybe Sister Teresa is upset that Sister Maria called at the last minute and can't do her shift on the cake stall and relieve Sister Teresa from her duties so she can get a caffeine fix (ha ha).
I know you will be totally transfixed on all the tantalising sweet treats but just pause and take a moment to appreciate the splendid rooms and astonishing architecture too as it's simply breathtaking.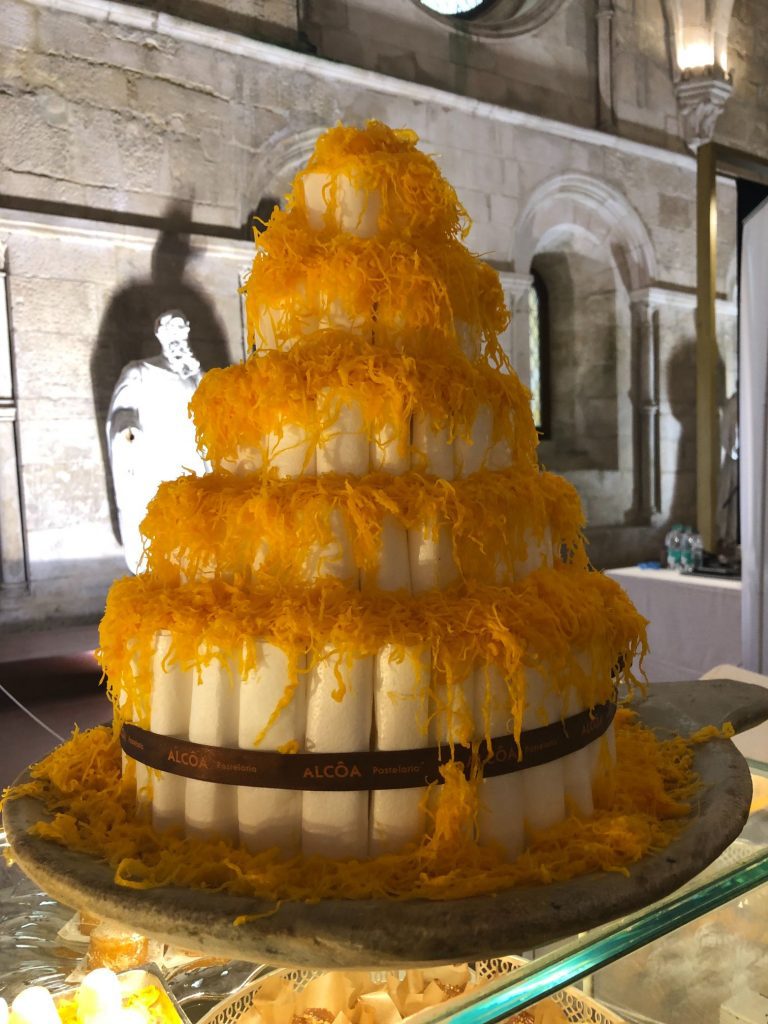 The Merry Monk
The nuns might have not been smiling but this monk was Merry as a Skunk, maybe he has sampled his wares, that's the spirit! (ha ha).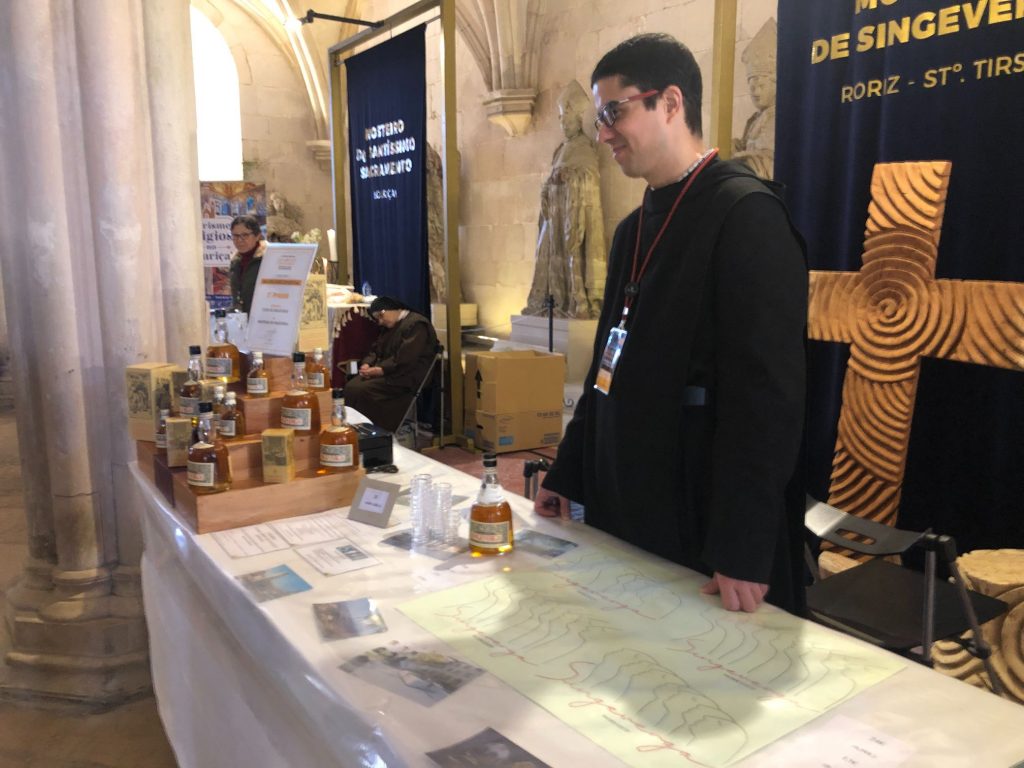 Heavenly Cakes – Our Final Selection
I had my mind set on sampling the "Amor Meu" (My Love) and hubby was going to try the "Segredo de São Bernardo" (St Bernard's Secret) from Atelier do Doce (Candy Workshop). I rapidly changed my mind as there was no way that my choice of cake could easily be carried around in a small box for an excessive amount of time or cut in half to share and it would likely end up with my half on the floor and I'd be one sad puppy. It did look so pretty with the pastry heart on top but in the end, we purchased our cakes from Brisadoce (Sweet Breeze) and we ate them in the Garden of Love. Hubby chose "Fatia de Resende" and I'm not sure of the official name of the cake I opted for as the label just said "Fatia" (Slice). I know our initial choice of cakes were way more aesthetically pleasing but I like to opt for the underdog and have often found that the Portuguese cakes that look plain and simple on the exterior have the most moist and yummy taste on the inside. A bit like me, not much to look at but I have the inner core of fun and a solid heart of gold (ha ha).
Hubby was delighted with his purchase and carried those little boxes of sweet heaven around the whole ceramic tour until we reached the park, bless him. Mine was absolutely delicious, so moist and cherry based and infused with alcohol. I somehow managed to resist buying a penis pastry this time. I'm intrigued to know what St Bernard's secret is (ha ha). This event was awesome, you just have to visit to sample the best convent sweets in a monumental setting. The aroma drifted throughout the whole monastery and made my mouth water. I really enjoyed the cake convention and I was in my element seeing and smelling all the sweet treats from different regions. I do feel the prices were a little steep compared to my local pastelaria and padaria which sell yummy cakes which start at around 70 cents but it was worth it and a one-off unique experience. Most individual cakes ranged from €1-€3.50 each. The cakes we chose were €2 and €2.50 each and pretty big in size so we could half them and share the love. Alcobaça is famous for its apples and there were multiple cakes with apple-based ingredients which looked like the equivalent of the British apple turnover. All I needed was that gigantic bowl from the Kings' Hall filled to the brim with custard (ha ha).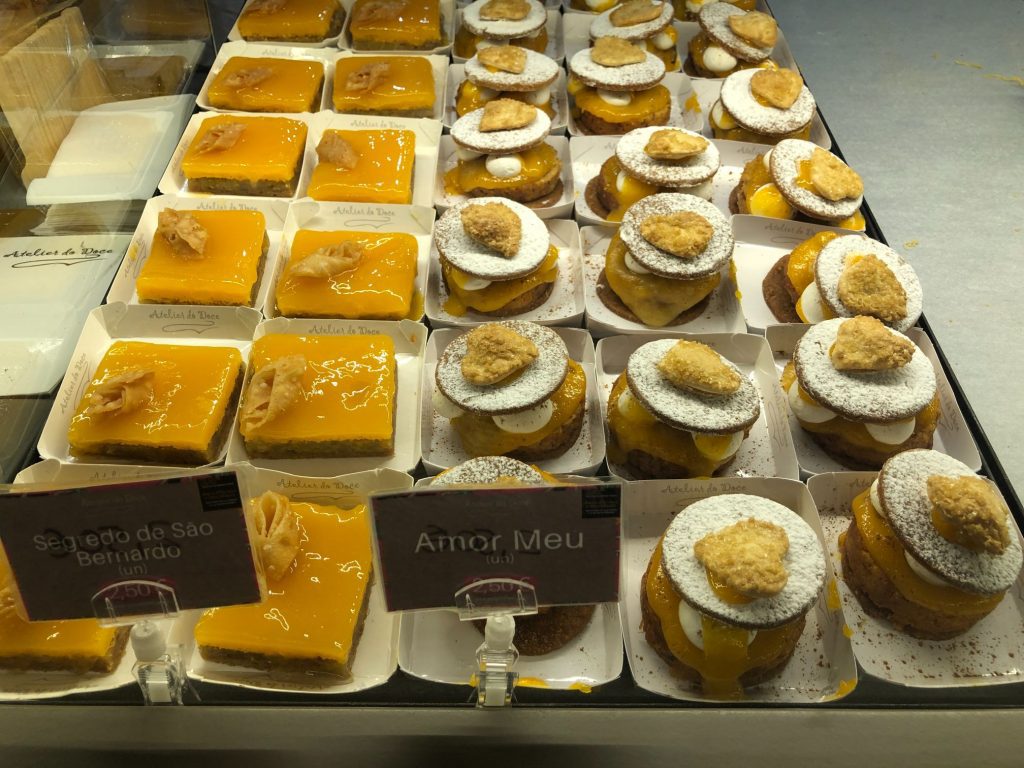 Kilos of King Cake
One thing I will never get used to is the fact that most large cakes here are sold by their weight, per kilo. This is very confusing for us Brits as a Christmas cake in the U.K could set one back £15+ but at least they have a price on them and a suggestion on how many it will serve. Obviously U.K serving sizes are ridiculous and I've purchased many birthday cakes over the years that say they will feed 12 when in fact they would struggle to feed 6 unless you just fancy a slither of cake, like the tiny bit you get offered at a wedding that wouldn't satisfy the appetite of a hamster, maybe I'm just a greedy piglet (ha ha). I have no way of knowing what a cake weighs here. I am known for carrying around a Mary Popkins size bag with various essential items but unfortunately my vast list does not include a set of weighing scales as I'm not a drug dealer (ha ha). I find it difficult to guess a person's weight let alone a cake (ha ha).
I wish they would just put a price per cake as it would make life a whole lot easier than having to randomly estimate like I'm entering some form of weight guessing competition at a 1986 school fete (ha ha). Hubby and I are also confused as is it per kilo of the wet ingredients or the final baked cake, who bloody knows! What I do know is that I adore Bolo de Rei which is traditionally eaten here at Christmas and New Year. It's delicious, moist and totally different from the usual British Christmas cake. I will be consuming my body weight in Kings' cake at Christmas and I will face the consequences come New Year (ha ha). The younger gent on the stall looked very serious, I think he was going for the "Sexy & Sombre look" He totally pulled it off (ha ha).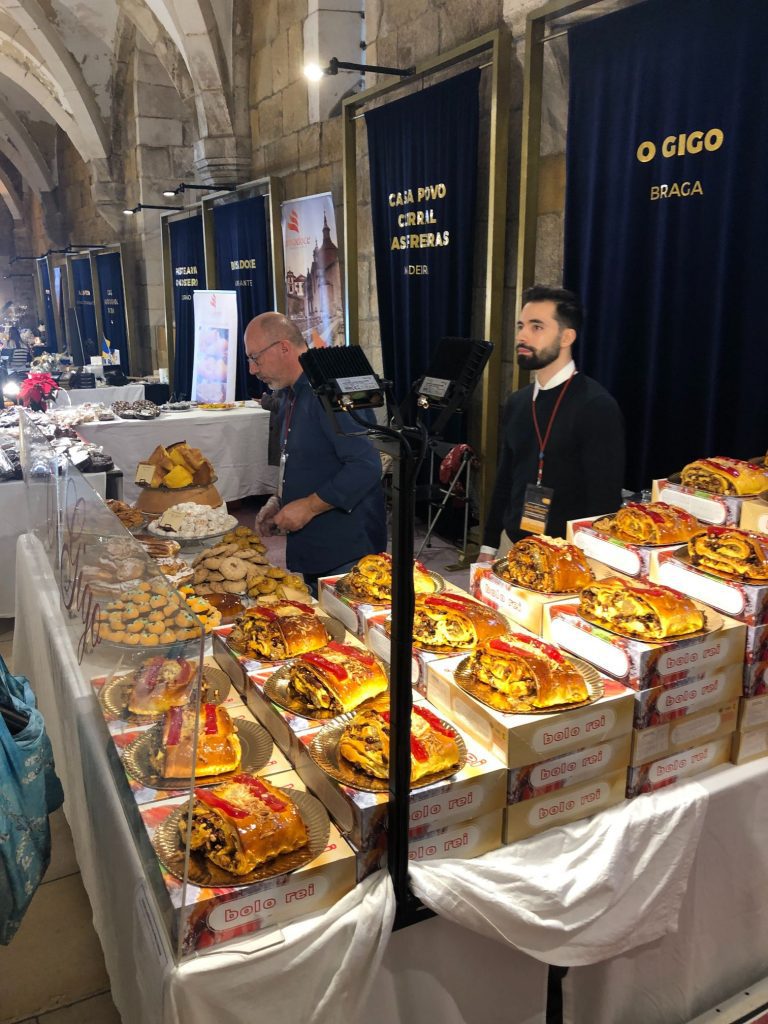 Zé da Massa
These dough boy treats made me laugh as they all look like they are humping each other from behind (ha ha). They also look like a twist on the British Gingerbread Man. This is what I am going to resemble once I eat all these yummy treats and I certainly won't be fitting through any diet door anytime soon. Let's hope I fit through my front door at home or hubby will have to take a window out and air lift me in on a hoist (ha ha).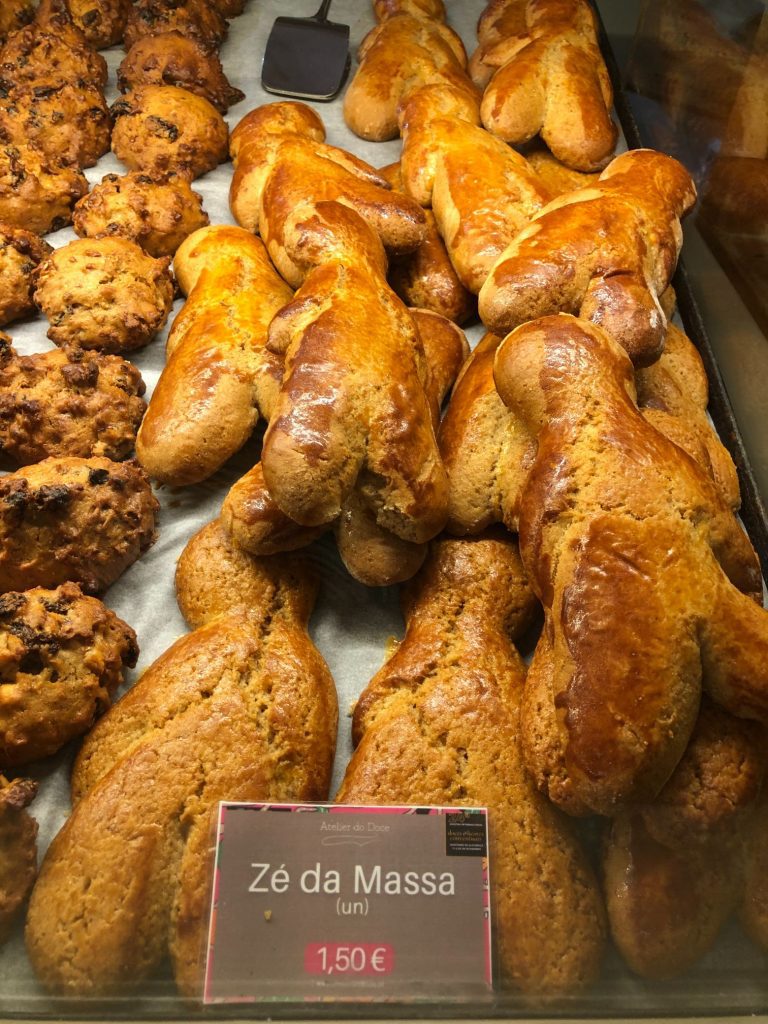 Worthy Winners & The Honourable Mention
Competition time, remember folk, it's not the winning that matters, it's the taking part that counts. The 3rd dessert from the left did make me laugh. It looks like a disaster and something I would have concocted if hubby ever let me loose in the kitchen. I felt like I needed to say a little prayer for this cake. May God bless this cake and who ever attempts to eat it (ha ha). It won an award for "Honourable Mention" which in my eyes translates to "Nice Try" (ha ha). It may look like the LeaningTower of Pisa but I like supporting the underdog, so I award it a 10/10 for effort. You know what they say, "The proof is in the pudding" and I bet it tastes epic.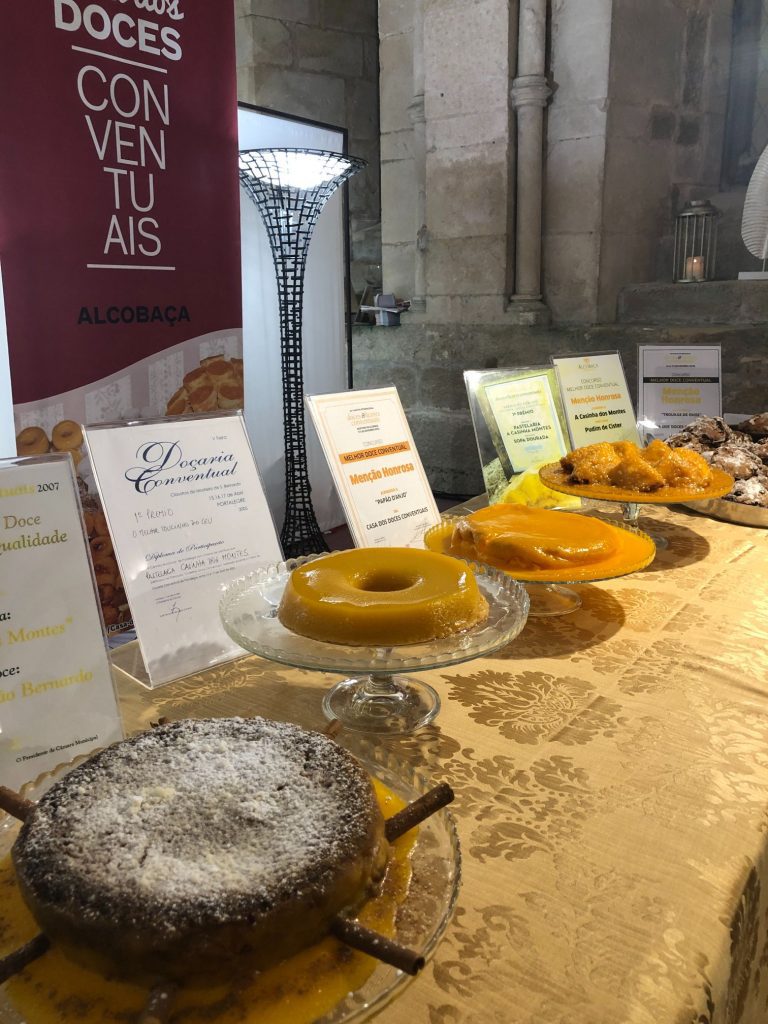 Manjar Divino
Just in case you get a penis pastry stuck in your throat or require something wet to wash down all those pastries. Look at the size of this glass! I was tempted to whip a straw out of my bag and take a few sips of this golden sparkling wonder while the lady was distracted (ha ha).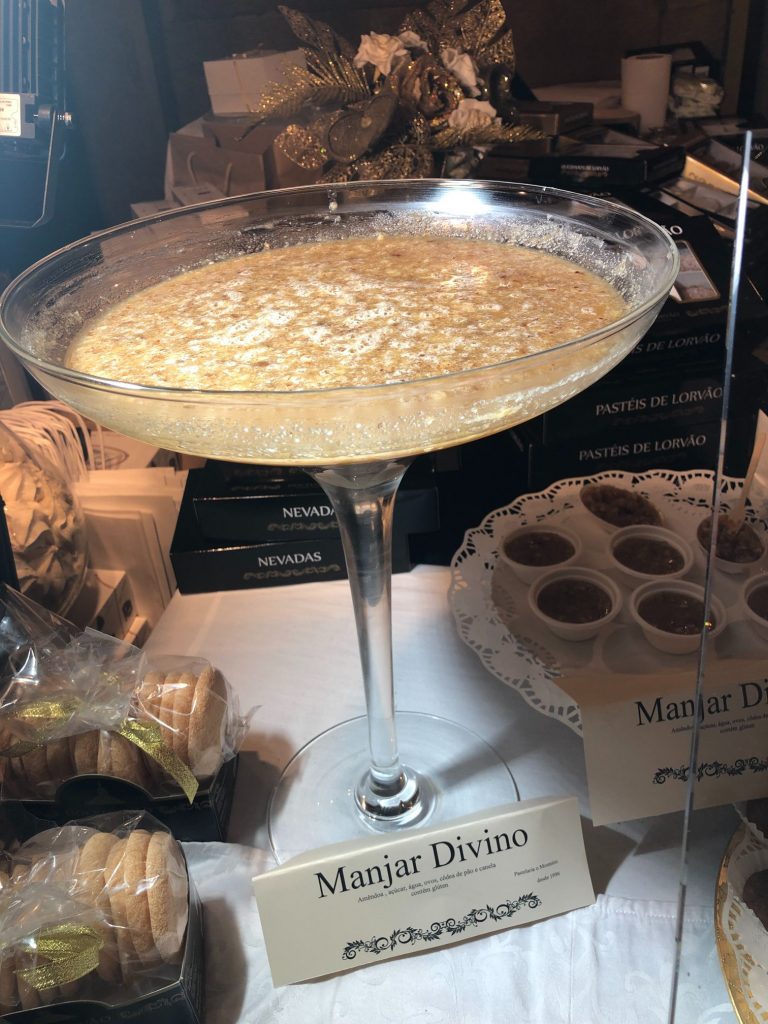 Liqueur & Lost
The liqueur was plentiful and from several regions of the country including Belgium beer from the Monastery of Herkenrode. At one point I lost hubby and eventually found him in the Liqueur Room (ha ha). I think he was sampling all the Belgian chocolates and beer. When I eventually found him, he was entering a competition to win a night for 2 at a hotel. Let's hope he decides to bring me if he wins. I love the stand named "Drinks & Family" that should become my new motto as we all need a drink or two to endure some family members (ha ha).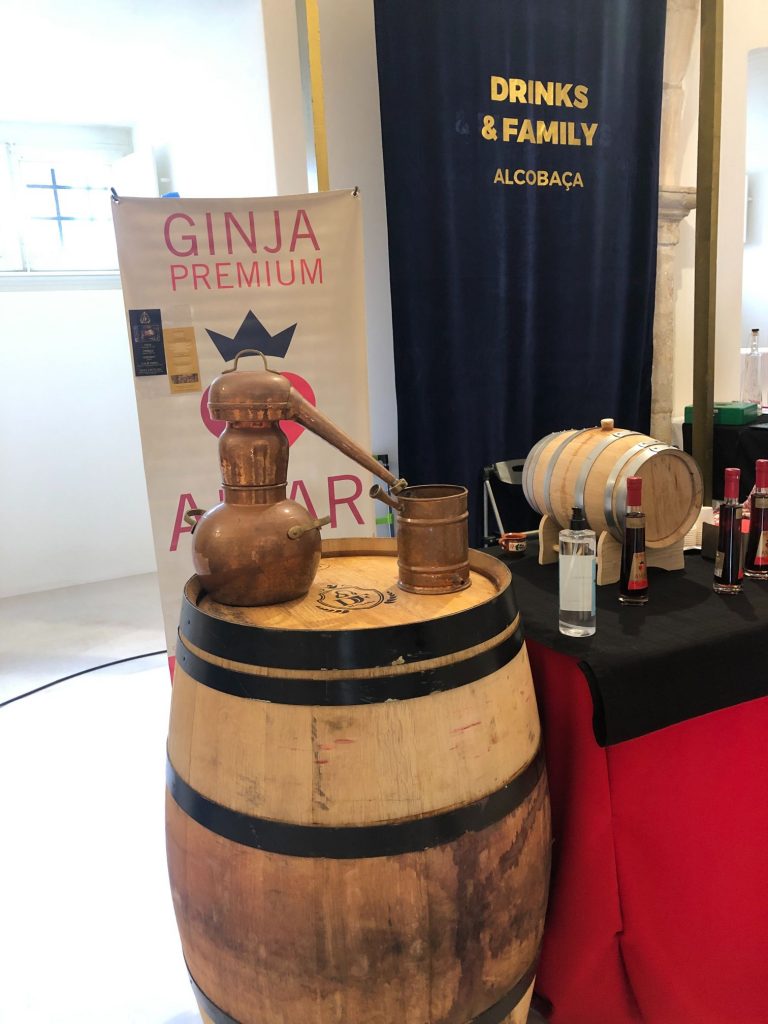 Self-Guided Walking Tour
After a whopping 3 hours of exploring the marvelous monastery we embarked on a self-guided walking tour to view the remainder of attractions on my itinerary with the exception of the Wine Museum which we drove to. The route is a short 2.5 km. I actually thought that the Museum was further out of the city but in fact it's just 1.6 km and a 15-minute walk from the monastery so we could have walked to the Museum too but decided to drive which took us under 5 minutes.
Pedro & Inês in Alcobaça's Ceramics – Camões Path
This pedestrian trail is a ceramic urban art exhibition and short route alongside the Alcoa River. It is a unique, artistic display of 10 ceramic pieces housed in glass units, inaugurated on 20th August 2017. Each piece of art tells the famous love story between Pedro and Inês. It was created from an interpretation of the episode of Inês de Castro from "Os Lusíadas" by Luis Vaz de Camões in the 16th century. It also includes a sonnet by the same author and another one by 20th century author Miguel Torga. I made a conscious effort to take a photo of each information sign as well as the artwork as it's quite an interesting read and the verses are very poetic and in English as well as Portuguese. We found some gorgeous street art on the quaint little bridge.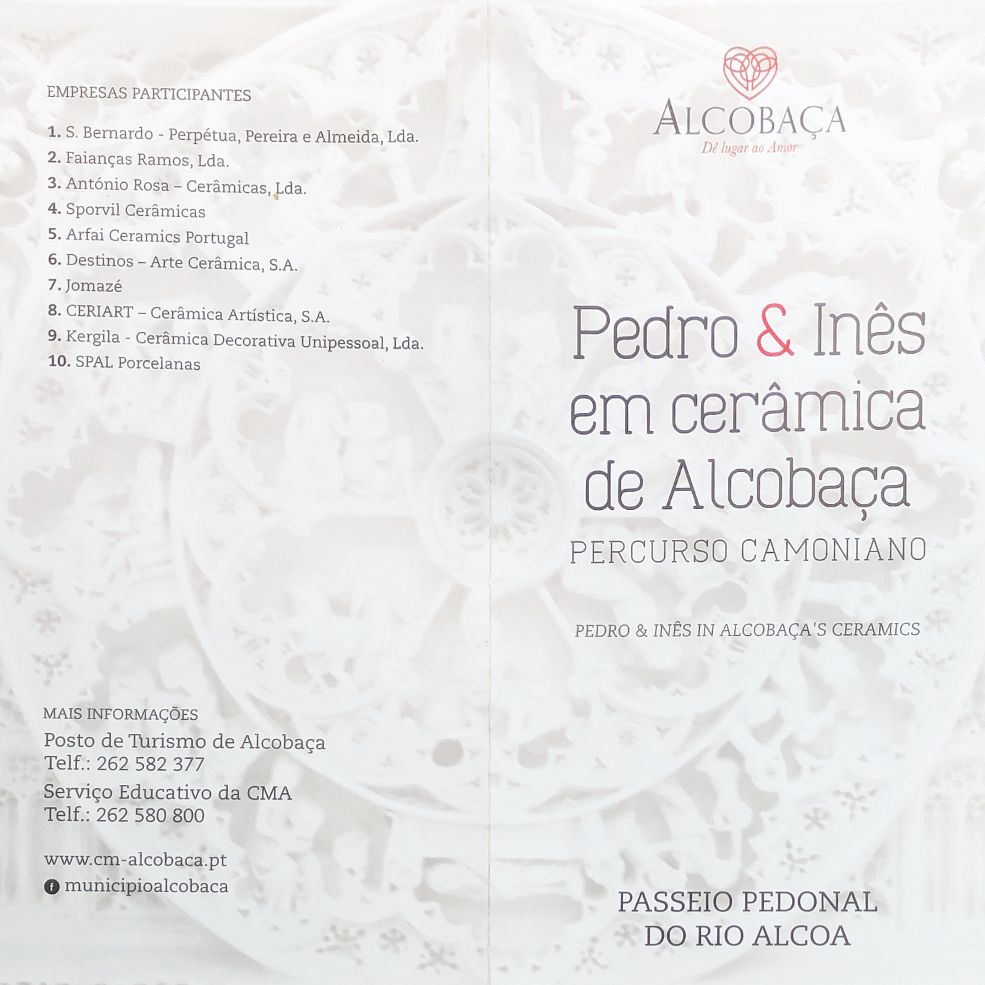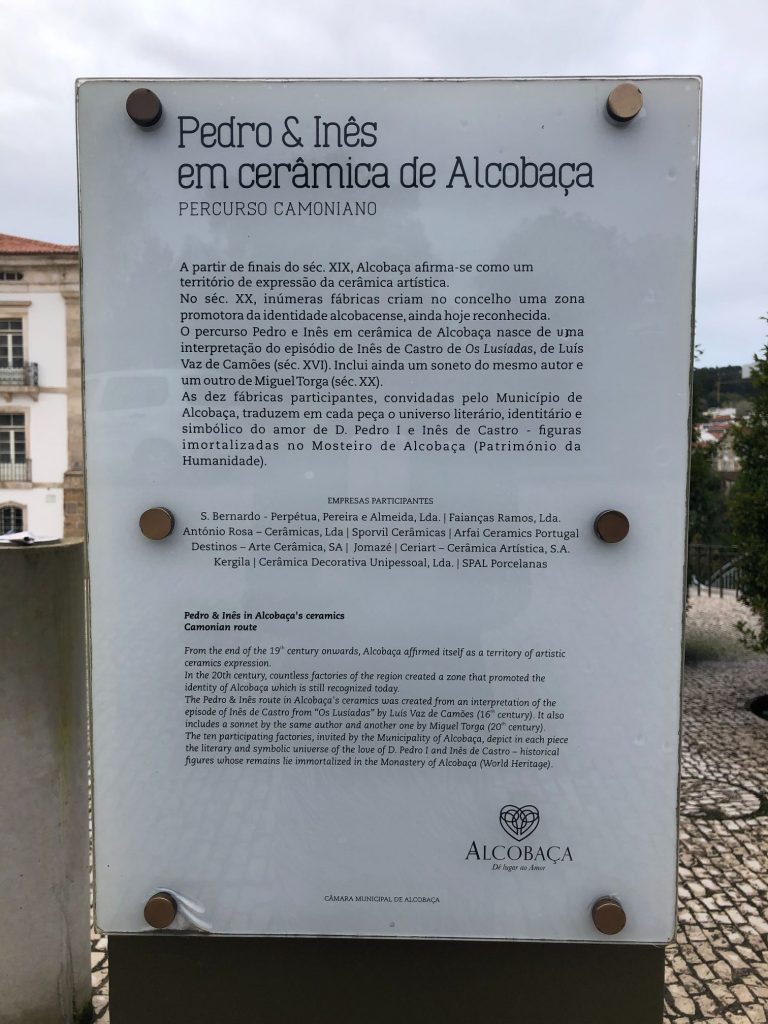 Spot the Odd One Out
This made me laugh as between Number 6 and 7 I spotted a cat on a unit. It kind of looked like it should be part of the artwork and why not! I'm a dog lover and in all honesty, I dislike cats. They totally freak me out and I think this cat knows how I feel as it is giving me the stink eye (ha ha).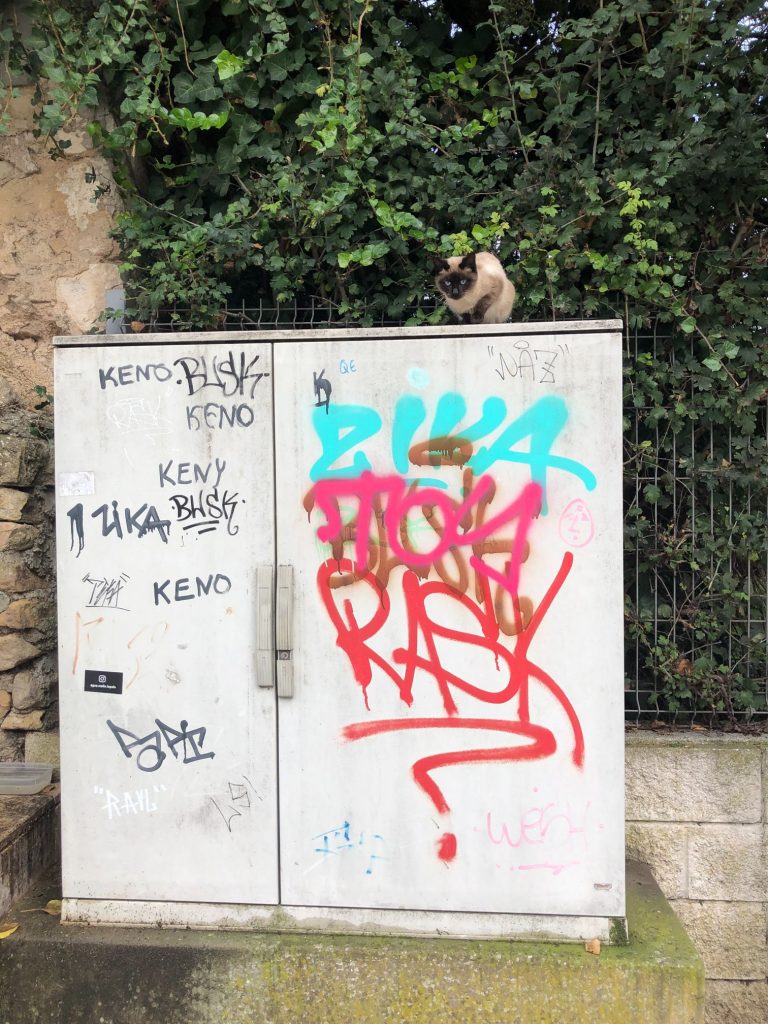 Garden of Love
The short walk to the Jardim do Amor (Garden of Love) was extremely pleasant and we walked past the library and a striking yellow building with a precarious positioned ladder. I wonder if it's a fire escape or a ladder of love for one's lover to make a midnight booty call (ha ha). This beautiful little garden is dedicated to Pedro and Inês and evokes their immortal love. I love the intricately carved limestone thrones, heart shaped love seat and vaults of love.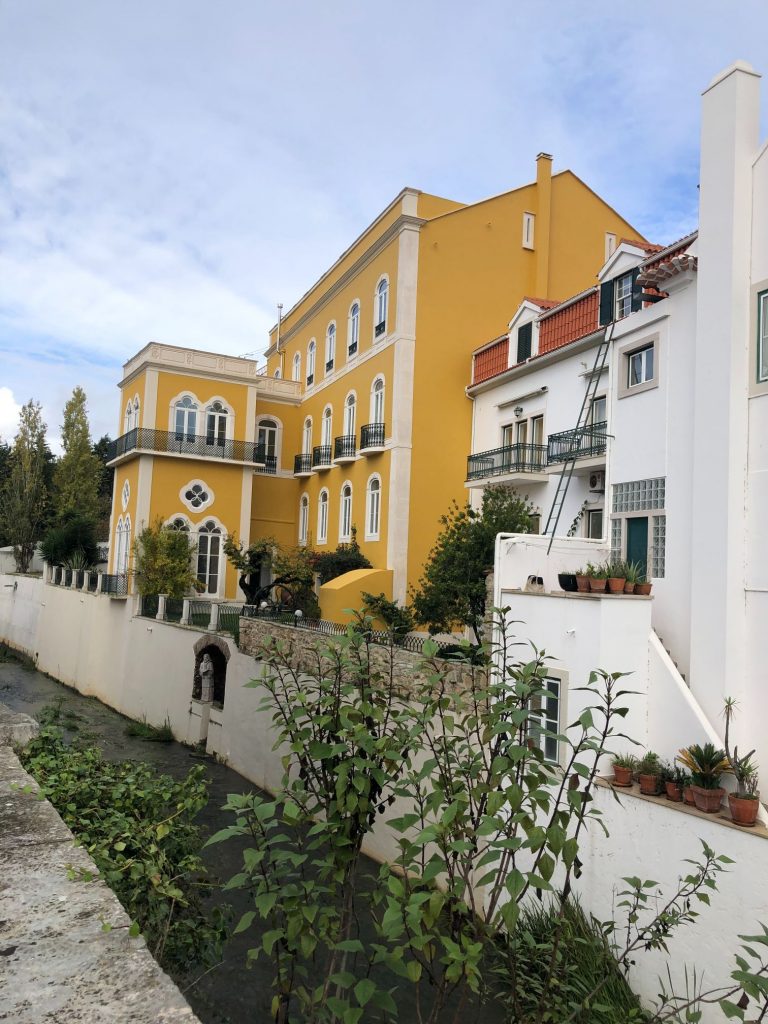 Vaults of Love
There is a captivating wall with "Vaults of Love" where visitors can store messages of love. There are 700 adorable tiny safes inlaid into the River Baca's wall. In the local shops you can purchase a kit that includes a little paper note and 2 keys. You write your message on the note then lock it away for an eternity. Actually, it is only for 3 years then you have to go back and renew your safe. I'm not sure who decided upon 3 years maybe that's how long an average relationship lasts (ha ha). It's a long drive each way from our home so we didn't bother. We declared our love for each other by cutting our cakes in half and sharing our love for Portuguese cakes. If this was in the U.K some arse hole would likely take a poop and lock their stinky dump away to fester for 3 years symbolising that sometimes love is shit! (ha ha).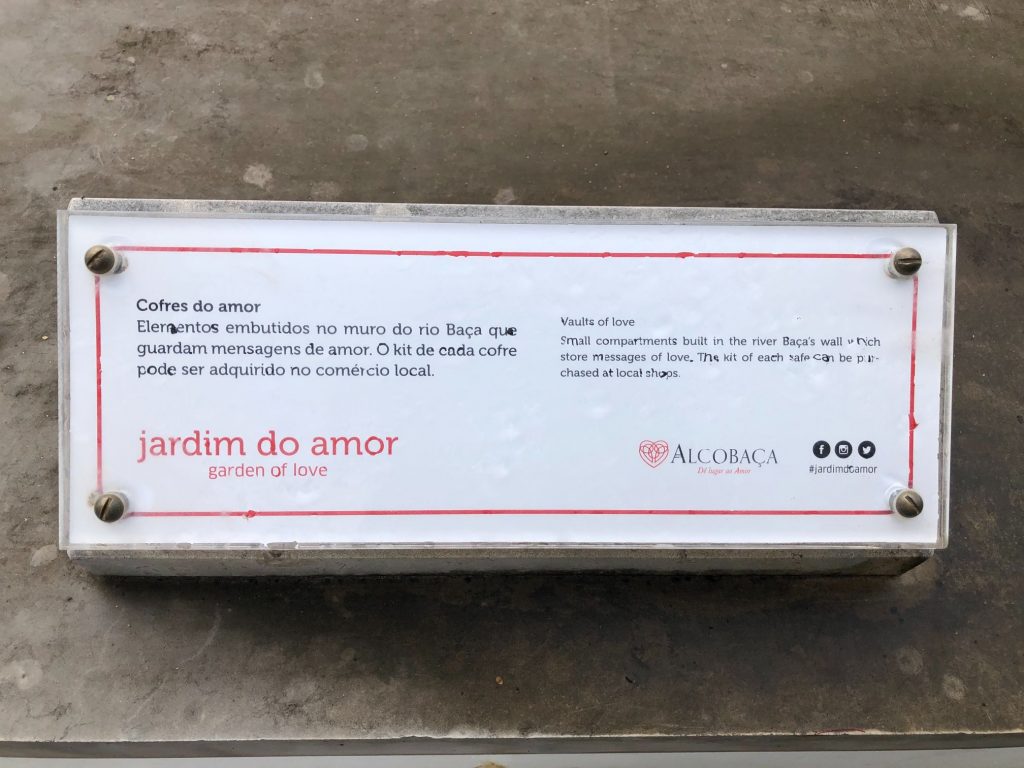 Make a Wish Birthday Boy – When FUN meets YUM
We sat in the park for a while and scoffed our faces with the yummy Portuguese pastries we purchased. It was love at first bite and they were unspeakably delicious and the champion of sweetness and goodness. I even sang Happy Birthday to hubby and lit a candle on his cake, the locals were smiling at my crazy antics. I must admit it was really hard and took all my willpower not to buy a selection of cakes to indulge in. I have zero self-restraint when it comes to convent cakes. I'm a certified cakeaholic and I think my stomach has a separate compartment for cake. I'm glad I didn't give into temptation as I don't think I could have jumped for joy at the top of the castle ruins if I had a belly full of cakes. Remember folk gluttony is one of the seven deadly sins (ha ha).
If you remember my previous posts, I explained how I like to share our cakes to taste every Portuguese flavour. Hubby usually has to whip out his old bank card to cut our cakes in half but this time I remembered my Swiss army knife. One should always carry around a pocket pen knife because one never knows when one will be faced with a situation that requires a weapon, like a wild angry animal attack, a fish that needs gutting or in my case, a cake that needs cutting (ha ha). I was amazed to find a really long wall covered in hundreds of ceramic pots of all shapes and sizes, how wonderful! If this was in the U.K they be stolen by now for sure. I love the respect that the Portuguese culture have and hold close to their hearts. Remember folk, cake is for life, not just for birthdays (ha ha).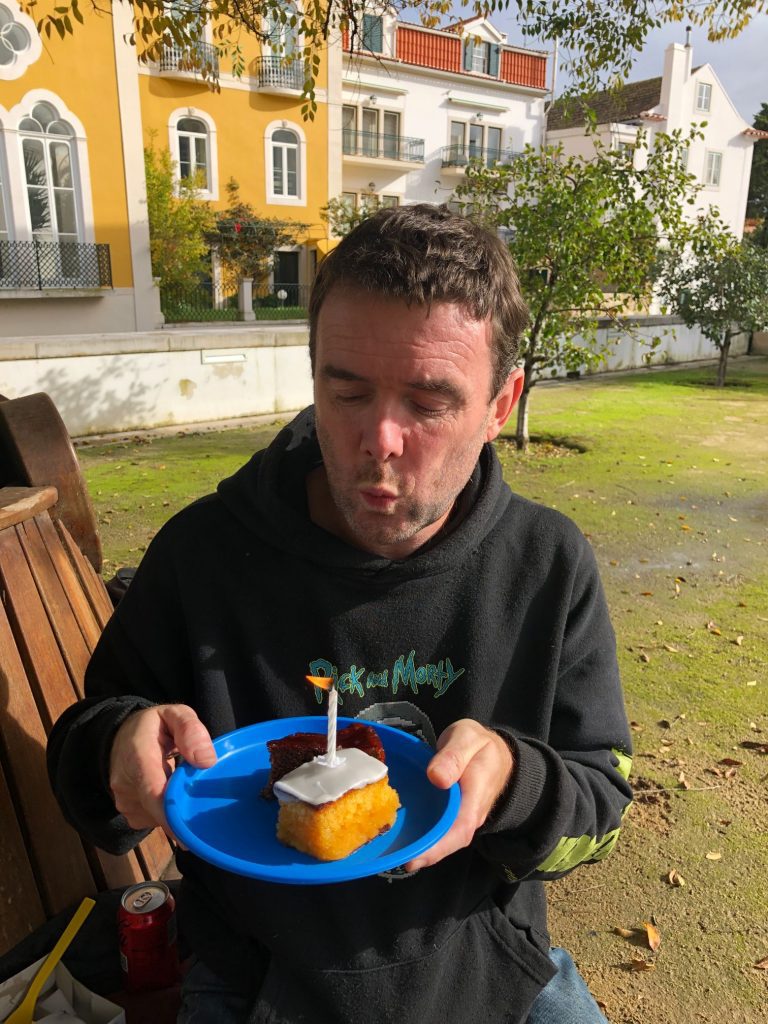 My King on his Throne
Just a few photos of my King on a limestone throne. I will let him be King for the day because Helena wears the pants in the Casa Valhal household (ha ha).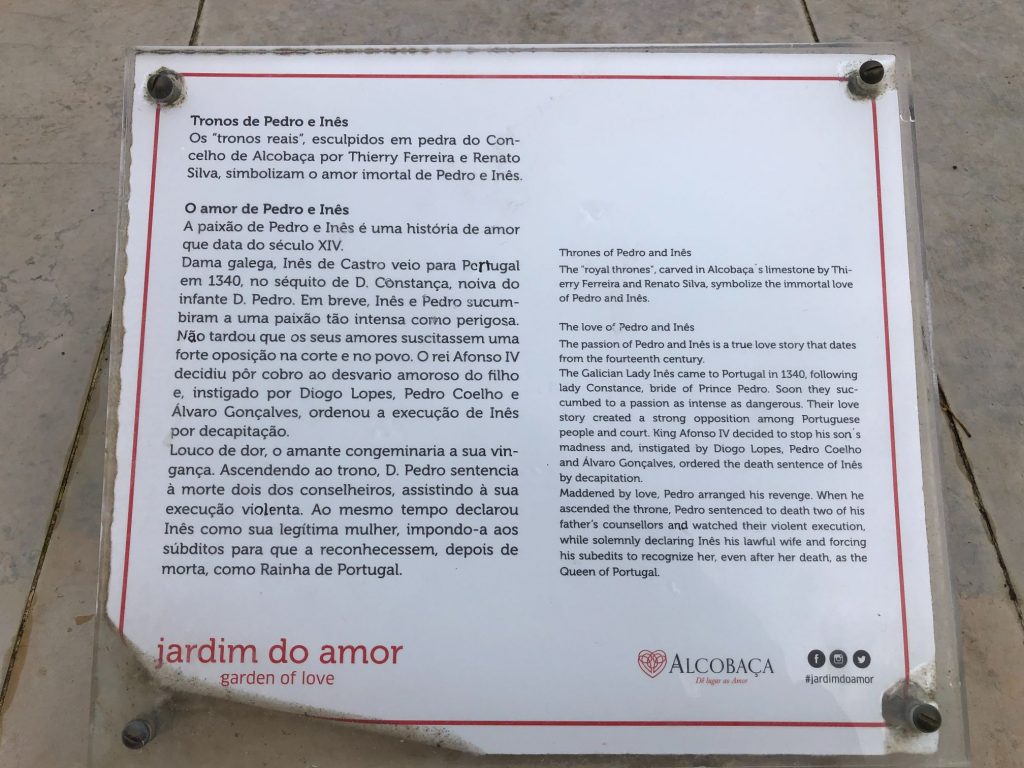 Oriol Pena Chalet – Municipal de Alcobaça (Now the Town Hall)
What a gorgeous building! I love the colour, a romantic pink and white tone, a perfect fit for Princess Helena (ha ha). It was originally built in the late 19th century as a family home. Can you imagine this being your house? Francisco Oriol Pena (A nobleman) was the owner and close friends with King Carlos. He sadly passed away with no living heirs, so the property passed to the local municipality and was transformed into the City Hall. There is some eye-catching design on the pavement in front of the building and a lovely white heart which is covered in little fairy lights to sparkle its magic upon nightfall. I tried to get some nice photos of this place but there was a man on the bench making strange noises. His significant other was trying to help him back up on to his feet. I think he might have visited the Cake and Liqueur Convention and consumed too many Ginja shots. Hubby thought he was just a tad tired. I managed to not get him in any photos by hiding him behind the huge bush but you can still catch a glimpse of his stressed out Mrs trying to haul his bulk of a body up off the bench (ha ha).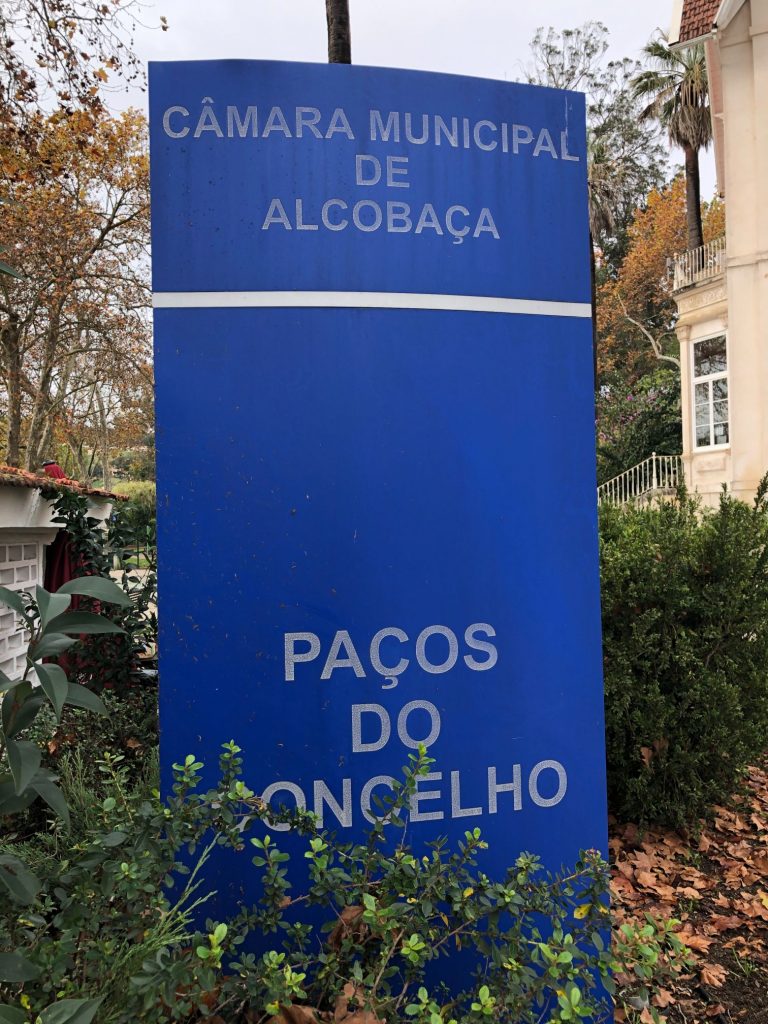 Historical Old Town
We took a short walk up to the castle to view the ruins. The historical old town is very picturesque and has many signs of historical and cultural value which were interesting to read. I think someone should proofread these signs before they go to print (ha ha). I stumbled across some graffiti as usual. This time it wasn't as profound as my usual finds. I expected some words of wisdom or eternal love but not today my friend. The wording was quite sinister and mentions drugs and the police (ha ha).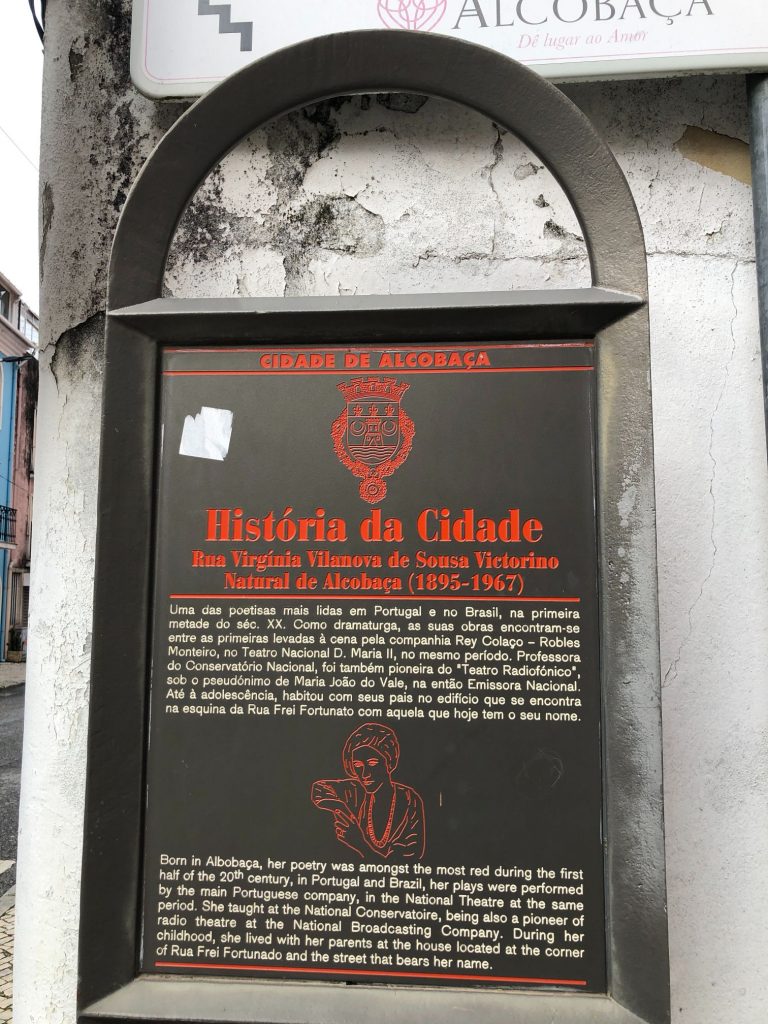 Sing for your Supper – The Opera Cafe
What a delightful cafe for a caffeine fix! There was a very talented opera singer outside. Here are some day and night photos. I have a video of this guy on Facebook and Instagram if you want to hear his angelic voice. I loved this place as it had such an amazing atmosphere. The singer offered C.D's for sale at €10 which made us laugh as who listens to C.D's anymore? I think there is an old C.D stuck in our old banger of a cars stereo from 2002 (ha ha).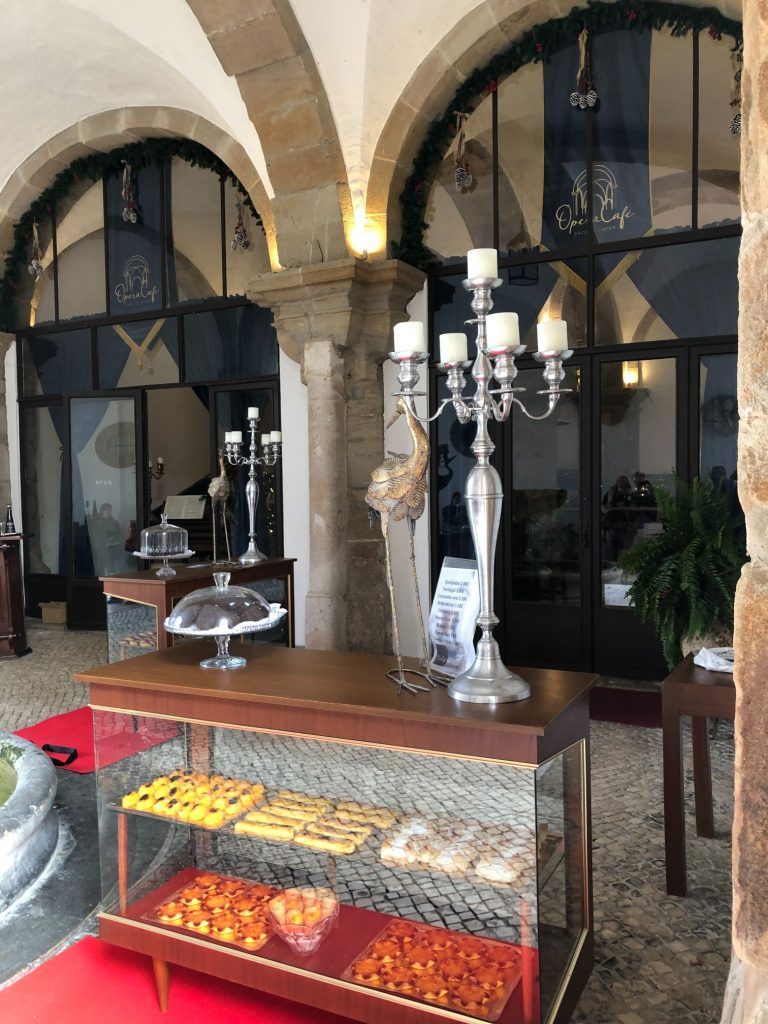 Jumping for Joy – Alcobaça Castle
Not much remains of this castle which is a shame. It was originally built by the Goths and once upon a time served as an important defense of Alcobaça. It then became a prison and residence of the Abbot but today it is sadly in ruins. We climbed to the top to view the mesmerising picturesque views. It was beautiful even on a grey day and I could see the monastery in the distance.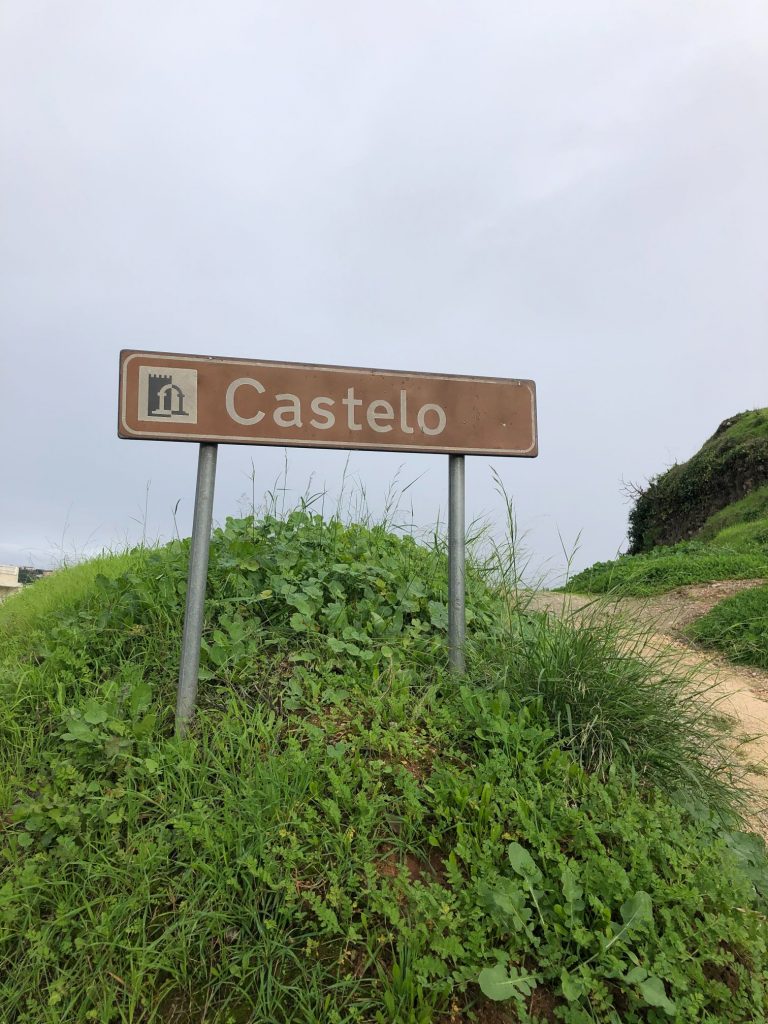 The Dirty Dozen
Caffeine fuelled and ready for action I carried on our family tradition of Jumping for Joy. I tried to get hubby to join in the fun but he declined. He didn't have my phone camera on live option, so I'm surprised I got any jumping for joy photos in the air. Here are a dozen photos but not many are actually in mid-flight mode as hubby failed in his master mission. It was a little marshy in the grass areas, so my white trainers are not so white anymore and resemble my grubby and not so white chicken Carol.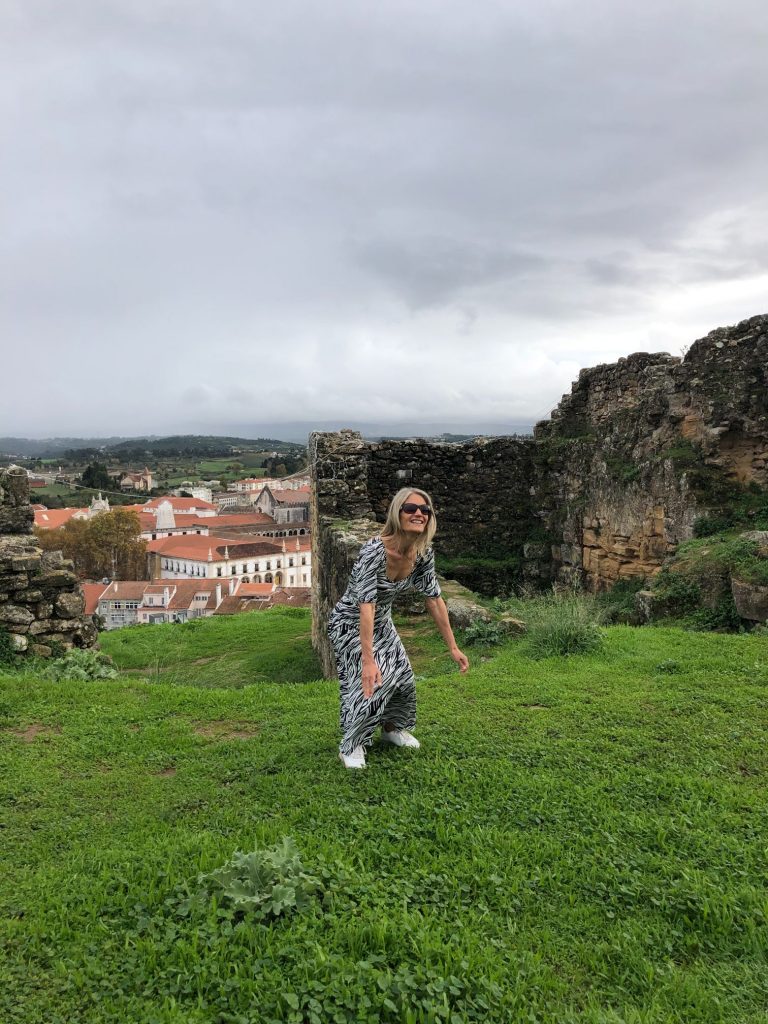 Alcobaça Wine Museum
The National Wine Museum of Alcobaça is a little distance away from the centre so we returned to our car and drove the short journey. Although I have visited a couple of wineries and enjoyed tours accompanied by wine tasting experiences in the Dão Valley region I have not yet visited a wine museum so I was excited to see this one. Guided tours are offered Tuesday – Saturday at 10:00, 11:00, 12:00, 14:00, 15:00, 16:00 and 17:00 and the entry cost for an adult is €4.
This museum is the largest and complete museum of Portuguese wine. It is located at the old Olival Fechado wine cellar that, in 1874, José Eduardo Raposo de Magalhães (JEM) had built there to implement and develop its production of wines. It is definitely the most comprehensive and richest space dedicated to Portuguese wines and considered one of the jewels of the national wine heritage. The museum's legacy reveals a well-preserved memory of the modernisation that took place in the 1940s, when the National Wine Board J.N.V. acquired the Quinta do Olival Fechado complex from the heirs of José Eduardo Raposo de Magalhães.
We arrived around 15:30 and there was only one other car in the car park. We found the reception area and the lady sold us tickets for the 16:00 tour and told us to come back at 16:00 and pointed to where we needed to go. The tour was only available in Portuguese on this day. We returned at 16:00 and waited for our tour guide to arrive. The same lady who sold us our tickets arrived and she was our official tour guide which made us laugh. It turned out that we were the only ones on the tour, so we had our very own personal tour guide and sampled 7 wines all for a mere €4! I think the tour guide's English was a little better than our Portuguese and I'm not gonna lie, we were lost in translation (ha ha). We had an amazing tour of several areas including:
Red wine cellars – 5 large tanks built in masonry each with a window where the red grapes were unloaded to a moving crusher-stemmer installed on 2 wooden beams. There is an impressive pair of stills, the oldest of which dating from the 18th century, a collection of ceramic jars, a few hundred bottles with over 60 years of bottling and a set of metal measuring instruments ordered in 1818 by King D.João VI at the time of the unification of weights and measurements. There is also a table with various corking machines.
White wine cellars – This room holds "lagar" which is a large shallow stone vat in which white grapes were placed and then trodden by a crusher. There is 1 set of 5 earthen vessels from the Alentejo, the oldest of which dates from 1620, 2 manual presses, 1 ancient screw press, 1 elevator for casks and a rare model of a crusher-stemmer.
Tanks' cellar – 18 tanks in reinforced concrete with capacities of 19,000 to 50,000 litres. Agricultural instruments from the region of Ribatejo. In the 2 adjoining rooms there are more apparatus and in the corridor, there are 11 earthen vessels the oldest of which dating from 1828 and 1858 originating from agricultural estates of the Alentejo. There are 2 posters that read "Whoever drinks wine contributes to feed over one million Portuguese" and "Eat grapes, drink wine". There is a piece of tartar from a vat which held 25 crops without being deteriorated and a Harley Davidson motorbike, dating from 1939 used by the surveillance services of the former Junta Nacional do Vinho.
Vats' cellar – 14 vats dating from 1947 and 1948 with capacities ranging from 9,300 to 15,300 litres which for 3 decades were used as fermentation tanks of the red grapes coming from the cooperative wine growers association of Alcobaça. There are 2 mobile presses mounted on an iron platform with 4 wheels, a horizontal drainer, 2 warehouse scales, an apparatus for weighing casks and 1 plate and frame filter.
Casks' cellar – 17 large casks most of which are oak with capacities ranging from 2500 to 23,577 litres, used to preserve and age special wines.
In each room we were given a sheet of paper with an explanation in English which was great. I've included one in the photos as an example. The cellars were spellbinding and I was intrigued as to why there were no doors, just archways. The damp musty smell made the whole experience authentic. I've never seen so much historic artefacts or memorabilia associated with the wine industry. Some of the exhibits and tools were astonishing and looked like torture weapons (ha ha). There are rare items on display, such as the Alentejo carvings from the 17th and 18th centuries, as well as the vast collections of industrial and ethnological archeology of the 19th and 20th centuries. The wine production equipment was extensive. It was a great learning experience for us as we are wine enthusiasts.
At the end of the tour there is wine tasting in the tavern and the opportunity to purchase some great wines to take home. I fell in love with the adorable quirky rustic tavern where we sampled the wine. Initially there were 3 bottles on the tray but we ended up sampling 7 in total. Hubby bought me a bottle of my favourite white wine and the lady gifted me a tiny ceramic shot cup because I mentioned it was so cute and would make a great addition to our retro lounge bar. Wow, what an absolutely amazing place to explore! We have been on a couple of wine tasting tours in the Douro Valley where you get a tour of the vineyard, wine cellars then sample 3-4 wines. These tours usually cost around €15 per person so to experience this extensive museum and sample 7 different wines all for a bargain price of €4 was in my blurry eyes, simply AMAZING and a true wine culture experience. Top tip: If you have already consumed a significant number of free samples at the monastery liqueur room, remember to pace yourself, especially if your old (ha ha).