RENOVATING THE RUIN (PART 2)
I know, it's been ages since Renovating the ruin Part 1 but I've been a busy lady. The plan was to complete this project in 2020 but my schedule got slightly delayed with other projects, curfews and lock downs. This project was very time consuming and weather dependent hence why it took over a year on and off to complete.
Where it all started – Project Cluckingham Palace
Just in case you can't be bothered to read Part 1. Here is what we were originally faced with: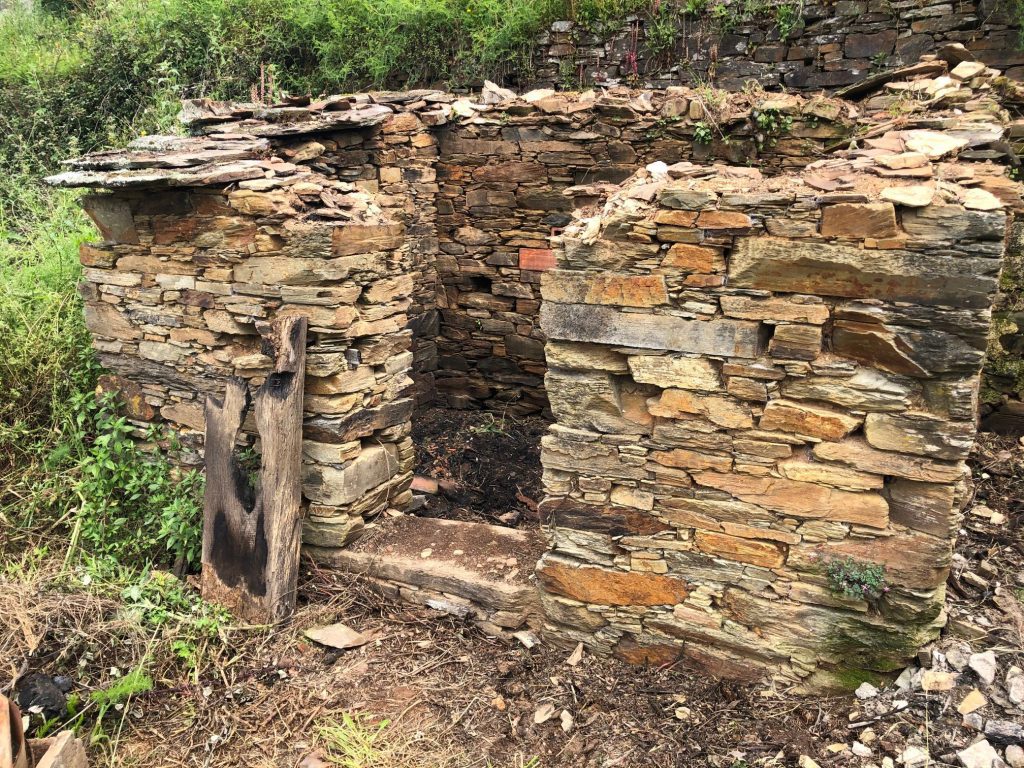 The floor
The tiny old ruin's transformation into a chicken coop is coming along slowly but steadily. It now has a concrete floor. This resulted in another huge pile of stones and no where to put them. I am so over lugging around stones that weigh heavier than a small child. Currently we have placed them in the workshop but it's not practical as the workshop is now basically floor to ceiling full of stones. I am slowly getting rid of the broken up pieces of concrete and tiles but I don't want to throw away the stones as they may come in handy for a future project. I love to upcycle and use reclaimed materials and who knows they may be useful for a future project. We built a whole BBQ out of the old schist stones.
Unfortunately we left this project for some months and with no roof to protect from the elements the lovely floor evolved into a right mess with tons of weeds and debris.
The roof and the unexpected coffee table
We purchased wood for the beams but we couldn't buy the pre treated wood as the DIY shop didn't have the correct size so we had to buy raw wood and paint with a preservative which took me over 2 hours and hurt my bad back! It was NOT fun driving home an hour with planks of wood above my head! We debated a lot over the roof, if to use plastic sheeting or roof tiles and decided upon roof tiles. We first had to remove a few huge pieces of slate. There was one piece in particular which was a nightmare to remove and we barely managed between the two of us. I kept thinking it was gonna fall on my foot and I would break my foot for the third time! Luckily we managed to remove it without any injuries and with a quick clean up it is now standing proud in our lounge as a coffee table and I have a great story to tell when anyone asks me where I got my unique coffee table from. I still need to source some epic new black strong cast or wrought iron legs as I'm using the old coffee table legs which at first I chalk painted grey but now I have sprayed with black paint. I did tell you I like to upcycle old free stuff into master pieces. I also need to source some new legs for myself as after all that crouching down in the squatting position like I'm about to take a dump in the forest my legs are done in. Mine don't have to be strong, cast iron or black. A pair that resemble 2 pork sausages would suffice (ha ha).
Tiles
We managed to source over 100 free roof tiles from a facebook group. Huge thanks to Helen W (great name by the way!) We had to drive 1 hour each way, we obviously got lost and the drive back in the dark with so many tiles moving around the car with every twist and turn of the Portuguese country roads was entertaining to say the least. We then had the challenge of carrying them all up the steps to our house. I am getting pretty strong from lugging around tiles and logs, I actually have arm muscles now as well as fat (ha ha). After a quick clean they were a perfect fit. Who am I kidding, it wasn't a quick clean, it took me days to scrub away the dirt, moss and algae. It's not just a case of a quick power wash, an actual toothbrush is involved in Helen's process. Not hubby's toothbrush, I wouldn't do that to him, he is my world.
I am an official scrubber! You think I would be used to scrubbing tiles by now but it is more difficult to scrub and clean tiles on the grass. It's easier when they are on the roof. It's a lot of crouching down and squatting. I have thighs of steel and an aching back. I also got very muddy and ruined another pair of cheap leggings. My gardening sketchers are also trashed and falling to pieces. I am really pleased that we were able to recycle and source the tiles for free. I also found a great use for the half a palm tree trunk as a support beam. I knew that palm tree trunk would come in handy one day. We had quite a few sunny days in January and I didn't need a watch as the church chimes ringing and the sun setting is a sign for me to hang up my gardening gloves for another day.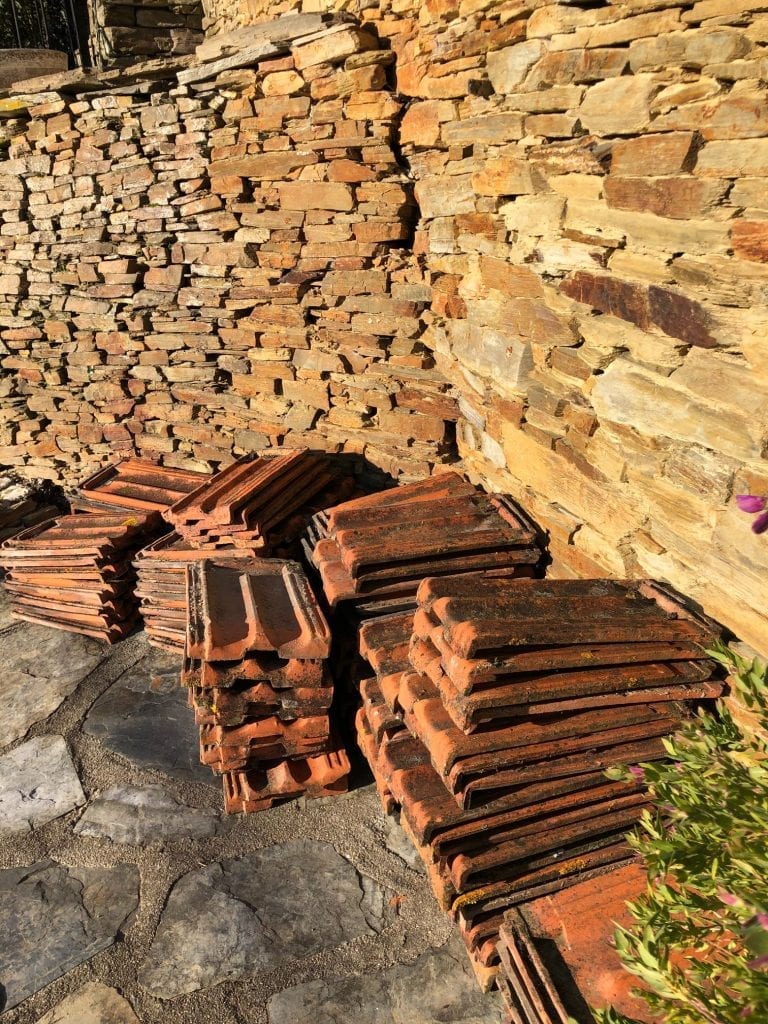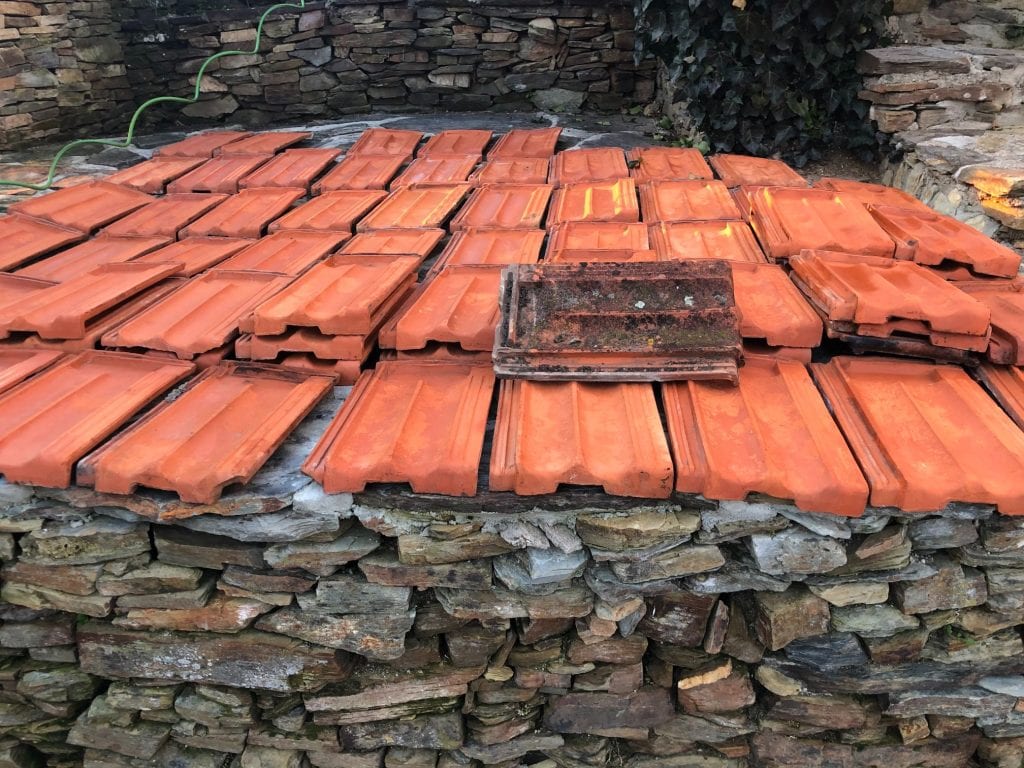 Scrubber Helen and her trusty toothbrush
I'm an official scrubber! We gave the tiles a second quick scrub over, yes I'm using a toothbrush (ha ha). I find it gets into all the grooves perfectly. It has to be a Colgate as the cheap ones are rubbish. It's great we have a covered area as although it was drizzling with rain we can still complete tasks in the dry if it's not too cold.
Time for a break
I always work hard but I also allow time for regular breaks which are essential especially if you have chronic pain and a back disability like me. This was a glorious late afternoon on Monday 18th January and I had worked really hard scrubbing the tiles whilst hubby worked in the office so I thought to myself we need a treat. It was really sunny and 18c outside so I prepared this for 5pm when hubby finished work. The weather in January has been really random. One morning when I had to wake up early to attend school for my language course the temperature was -3.5c outside! Yet this day reached 18c by the afternoon. Hubby was pleasantly surprised with his treat and told me that the day was Blue Monday (said to be the most depressing day of the year) and I didn't even know. Well it certainly wasn't a depressing day for me, it was really beautiful and I felt as I often do, blessed to be in this amazing country. The wine was purchased at Quinta do Pôpa winery, Douro Valley a few months ago. We ventured on a wine tasting and private picnic experience which was so epic.
Cluckingham Palace has a roof!
My birthday weekend in March was glorious and sunny so we had a full weekend to sort the roof. It's a hard task having to fill all the gaps with stone and point all the areas with cement. We have to mix the cement by hand as we don't have an electric cement mixer. My cementing skills are improving. It's basically like icing a cake but you can't lick the bowl afterwards (ha ha). Well you can but I wouldn't recommend it. Mixing sand and cement by hand is tiring and dirty work. I was filthy by the end of the day (and not in a sexy way just covered in cement and muck). The day time of my birthday we were building a roof but come night time we were raising the roof with a great home cooked al fresco dinner and a bucket load of vinho. The second day (Sunday) was NOT fun, fixing a roof with a huge hangover (ha ha).
Keeping an eye on the time
This is how it's done in Portugal. You can also listen out for the little village church chiming every hour and every half hour.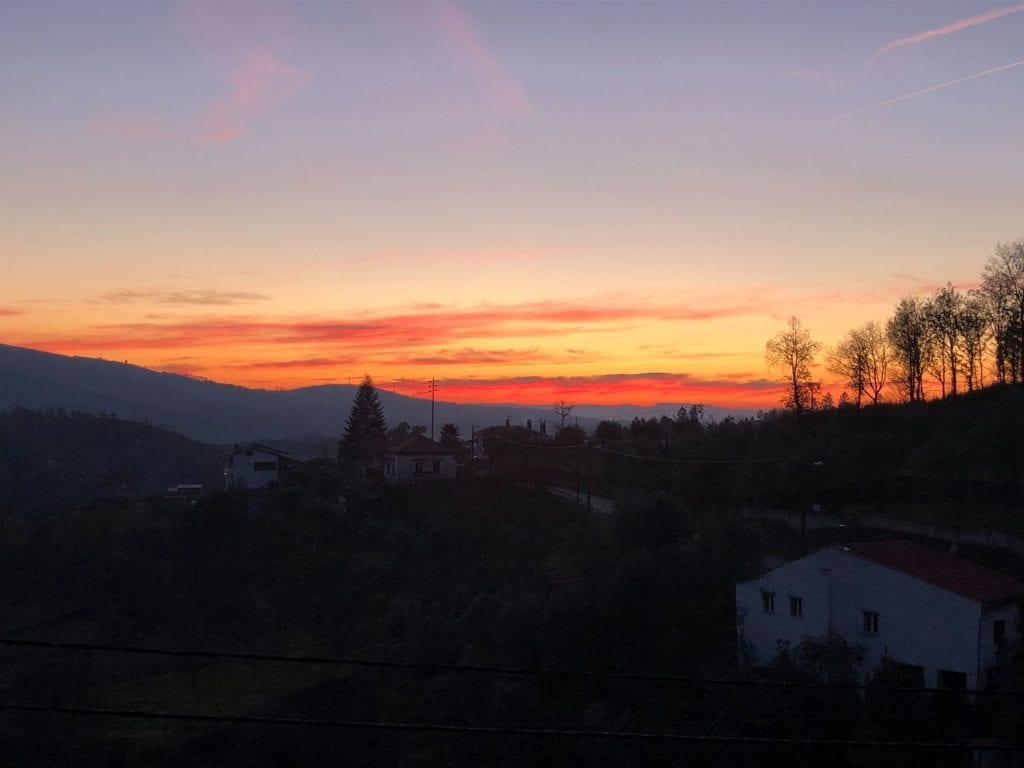 The window
We were unable to purchase plastic sheeting from Leroy Merlin as they wouldn't sell it to us as it was not classed as an essential item. I thought about trying to bribe the staff member but thought better of it. I had a bright idea of searching in the loft and I found a few old photo frames with plastic panes instead of glass which worked perfectly after a clean up and a quick dry in the sunshine on our balcony. We had to use a masonry drill bit to drill into the brick/stone work. We also purchased some foam door draft excluder to stick on the perimeters of the windows so there were no gaps.
The run
We wanted to crack on with this project but were unsure if travelling 1 hour each way to Leroy Merlin in Coimbra would be classed as essential travel during lock down. I emailed the GNR who kindly replied to confirm it was O.K to visit a DIY shop outside of our municipal during a weekday when we don't have the weekend curfew in place. We headed off one evening after work and purchased most of the materials for the run and coop including wooden posts and wood for the frame. Luckily enough we were able to buy most of the wood pre-treated which saves a huge job of painting it with preservative. We also bought a wooden pole for the perch, paint, sand and cement. We stopped off on the way back to collect a few more tiles as we realised that our tiles were 4 different sizes and did not fit together. Driving home in the dark with all that wood and tiles rattling around in the back was a nightmare! We sourced the chicken wire from a local store. The run was designed with an easy access door so we can both walk inside. It didn't have to be too tall as we are both short asses! The run was hard work as we had to dig down in rocky soil to cement the posts into the ground as it can get quite windy here and I'm not talking about hubby's daily flatulence (ha ha). The chicken wire was dug into the ground and cemented in to prevent animals burrowing into the run and eating our hens.
Progress, posts and pain
We decided to cement the posts into the ground for stability. I rather enjoyed mixing the cement by hand and filling my holes (ha ha). I said a little prayer as I poured in the cement and hoped it would set as hard as my marmelada de laranja. Working hard but still have time to mess around and have a laugh (I'm pretending to enter the world record for javelin) ha ha. Reminds me of my school sports days in the late 1980's. I'm thinking of making it a village annual event alongside shot put (with a couve). Lock down madness in the sun.
Door frames and door
We had to source a large beam to go above the door as the previous one was burnt in the fire. I am still amazed that somebody thought it was a great idea to start a fire or cook in a tiny old ruin. We managed to forage a piece of wood from our land which fitted perfectly. We ran out of wood so had to take a trip to another DIY store. This time we ventured to a nearby DIY store in Oliveira do Hospital which is much closer than Leroy Merlin in Coimbra. We purchased more wood for the door frames and planks of wood and metal hinges to make a door for the coop. We also had to make a door and frame for the run so we can enter easily. I think we did an O.K job seeing as hubby is a Softwear Engineer and I am a Holistic Therapist and have worked for years in education (SEND). We have zero building skills between us and the ground was so uneven which made it a tricky task. We also have limited tools and only a handsaw, I think I need to buy a jigsaw as it's really hard sawing by hand. It's not perfect but it's not too shabby and it's functional (a bit like me – ha ha).
The highlight of the door making was when hubby decided to climb up the wall to retrieve his tools and ripped the crutch of his jeans. I nearly wet my pants and literally had tears of laughter rolling down my (face) cheeks. I had some leftover wood so the frugal me who doesn't like to waste anything made my hen's a little table and a swing, all they need now is a seesaw and maybe some steps up to the swing (ha ha). When we were fixing the door a little old lady walked past and shouted up to us. Obviously we are still learning Portuguese but got the basics of what she was saying and understood the following words: rapoza and galinha não cão. She was basically warning us that foxes like to eat chickens, it's not the dogs we need to worry about. I am now slightly concerned but we will fox proof the coop and run to a high standard. We bought and fixed a couple of locks for the run door and just need to buy one more for the coop so they don't blow open.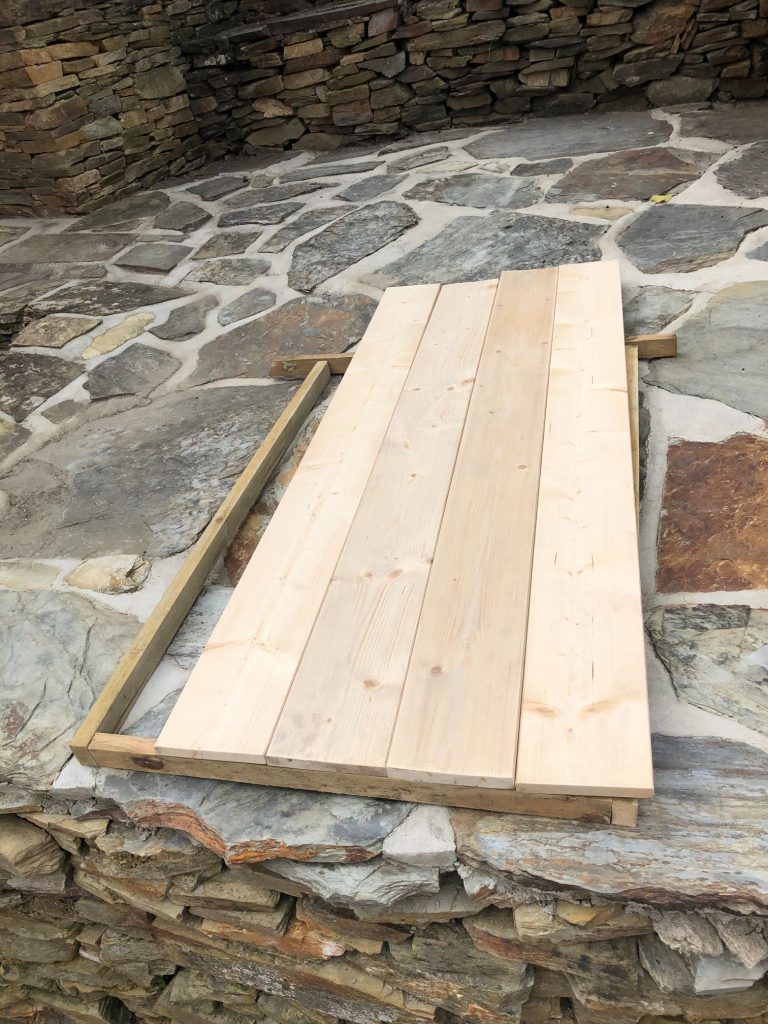 Easter Sunday
Easter Sunday was a scorcher of a day! Temperatures reached over 30c and the temp below I recorded at 6.30pm in the shade! We completed the frame and I decided to paint the whole frame of the run and door frame with a wood preservative. I ran out half way through so that was a good excuse for me to put my feet up. I got a little bit sunburnt today and high! I also lost hubby, at first I thought he might have gone for another poo but it was more likely that he was hiding from me before I gave him more chores to do, god bless that man and his strength to run and hide from me (ha ha). I later I found him chilling on the sofa.
Photos with number 1 is the wood before being treated and number 2 is afterwards.
You can run but you can't hide!
I finished painting the whole frame of the run with wood preservative and it took me a while and I only hit my head 3 times which is injury progress and it was slightly cooler at 29c so I only sweated mildly. Next step was the chicken wire. Hubby finished work and came to inspect my days work and told me I had missed a bit. I actually had because I am not tall enough to see what I was painting on the top and I didn't want to stand on a chair or on top of the bucket full of stones and fall over the wall and end up in hospital. I think he was super brave for stating the truth. He had better run fast and hide in a good spot (ha ha).
The chicken wire
We purchased the chicken wire from a local store. The worst bit about this task was we had to dig down and fix the wire right into the ground, extending it outwards and cement it into the ground so no predators can easily dig into the run. We are lucky that there are 2 stone walls on 2 sides of the run so nothing can dig through the walls. Still it's better to be safe than sorry. The man at the store where we bought the galvanised chicken wire is hilarious. He rolled out the wire on the floor and didn't bother with a tape measure or walking it out and measuring by his own feet, he just said it's 17 metres left on the roll. He is basically a human tape measure. This stressed me out a little and I wanted to go and get my tape measure from the car but I resisted. They also weigh the special nails on old fashioned scales rather than sell by an amount. Due to our poor Portuguese we nearly ended up with 60 metres instead of 16 (ha ha).
To be honest I wasn't much help with hammering the chicken wire due to my arthritic hands. It was a boiling hot afternoon too. I supervised, gave moral support and was hubby's not so very glamorous assistant. I suppose I was his Debbie McGee (without the make-up and sparkles) and he was the magical Paul Daniels, god rest his soul. He's quite good at making things disappear especially cakes (hubby, not Paul!). He ate 6 yesterday and never puts a lb on yet I only have to sniff a pastel de nata and I gain 4 lbs (ha ha). I think my main achievement was that I didn't fall off of the high wall and need any hospital assistance!
I'm not too happy with the chicken wire. As it was the last few metres on the roll it's very bent and misshaped so not straight especially on the roof. We decided to fix a couple more beams to the roof for support to hold the wire and at some point in the future we may replace the roof with plastic roof sheeting. We found a local wood store in Côja which was really cheap. Wish I'd found this local store earlier.
Snake
We found another snake skin. This one seems to have the imprint of its face on the skin, weird but epic. Snakes love our schist casa they like to rub their skin off against the schist garden walls which I find fascinating.
The nesting boxes
I found an old bookcase which was left in our property when we bought it so we transformed it into 4 nesting boxes. Originally we were only going to get 3 hens but the bookcase accommodates 4 and we have plenty of room for 4. This task was fairly easy, we just put the broken bookcase back together and nailed on 2 planks of wood across the front and added wooden feet to raise it from the floor a bit and attached a perching pole then painted with a non toxic water based paint. I didn't paint the inside as my hens will just scratch it, it's safer for them and darker too which they like. I love upcycling old junk I find around the house and in the loft. If you have old sets of drawers these also work great as nesting boxes. I also managed all this without hammering my thumb once which is progress (ha ha). Getting it into the coop was a difficult task. We had to lower it in from above before we put the roof on as it wouldn't fit through the door gap. Not gonna lie, there was some moderate swearing from me that day (ha ha).
Nesting box curtains
I really wanted to make curtains but I don't have a sewing machine or steady hands due to arthritis so my lovely daughter handmade me these amazing shabby chic curtains for my birthday. Now you might think I'm mad but curtains not only look pretty but they have practical benefits too. They provide a dark and private secluded place for the hens to nest and lay their eggs which they prefer. In the old days farmers would hang feed bags up so the concept is not new. It can prevent egg eating by the hens, out of sight, out of mind mentality. Curtains help to retain heat protecting the eggs in colder weather and can also prevent vent pecking. They can also encourage a broody (a safe place to sit and hatch chicks) and also discourage multiple broodies (instinct to go broody is often triggered by seeing another hen sitting on a nest so you are blocking the view). Oh and did I mention they just look so damn cute (ha ha). My hens will most likely poop all other them but I don't care, I love them. Thank you my gorgeous Teanna XXX
Hanging the curtains was easy but I still managed to hit my head on the beam and I nearly knocked myself out (ha ha). Time for a break in the sunshine with a healthy snack.
Signage
There was a couple of pieces of leftover wood from the planks that covered the front of the nesting boxes so I cut them in half and decided to make some signage with the girls names on it. Hubby helped as I am not great at crafting. I love my enthusiasm as I named my hens before I even purchased them, that's devotion or one hell of a crazy chicken lady (ha ha). Yes we are huge TWD fans and if we were buying a Cockerel it would definitely be named either Rick or Negan!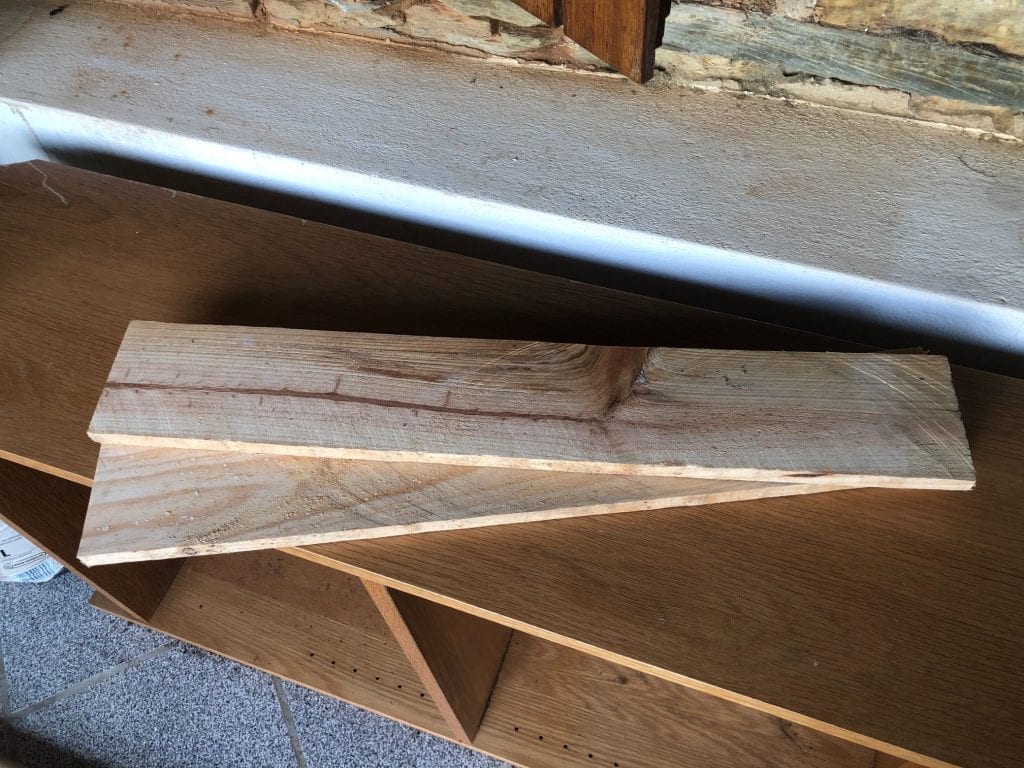 My favourite characters from TWD are Carol and Michonne, here are a couple of their quotes:
The end result
So here are the after photos and end result of a lot of hard work which took over a whole year! Such a dramatic transformation from the before photos! The most difficult task of all was trying to find the right sized stones to fill all the gaps and cement them in securely. Trying to cement gaps which are vertical from the inside enclosed tiny space was a difficult task as the cement just falls out and plops on the floor. You have to mix the cement so it's not too thick and gritty but also not too runny. I took charge of cementing all the inside of the ruin as it's so small inside that if 2 people try to work inside together one ends up blocking the others light so I decided to take this task on by myself.
Once the coop and run was completed we had a bit of a tidy up. I managed to drop a huge rock on my left foot and thought I had broke it but it's fine. I picked a bouquet of wild flowers/weeds from my garden to celebrate the end of the project. I was going to do an unveiling ceremony and get a local celebrity to cut a ribbon and unveil the ladies name plaques but I couldn't be assed as it was over 35c, I don't own a giant pair of scissors and I don't know a local celebrity, unless you count the bread/cake van man, he is a local celebrity hero in my eyes as he always brings me tasty Portuguese cakes (ha ha). We are delighted how it turned out and it just goes to show that with a lot of dedication and teamwork you can create great projects. I am super glad that we transformed the old tiny ruin into something epic. It would have been such a waste to let the ruin crumble to the ground. It's now a super feature point of our upper garden. I am very pleased that we managed to source most of the materials for free and recycled where possible. I hate waste so it was great to be able to re-use items and materials from the house and garden.
I have decided to leave the weeds in the upper garden area and embrace them. The bees and butterflies love them and my hens can venture outside of the run when I'm there to supervise so will love the weeds too. I am so excited to get my hens and I am pretty sure that I will soon be known as the crazy chicken lady of Vinhó which is fine by me as I have been called a lot worse in my lifetime. I already have names for my girls and hubby wants to make them a seesaw because it's not good enough that they already have curtains, a table and a swing (ha ha). I am hoping to do egg trading/swaps with local people as I love trading stuff especially fruit and veg. We celebrated the end of Cluckingham Palace project with an ice cream and an ice cold can of coke zero, Cheers!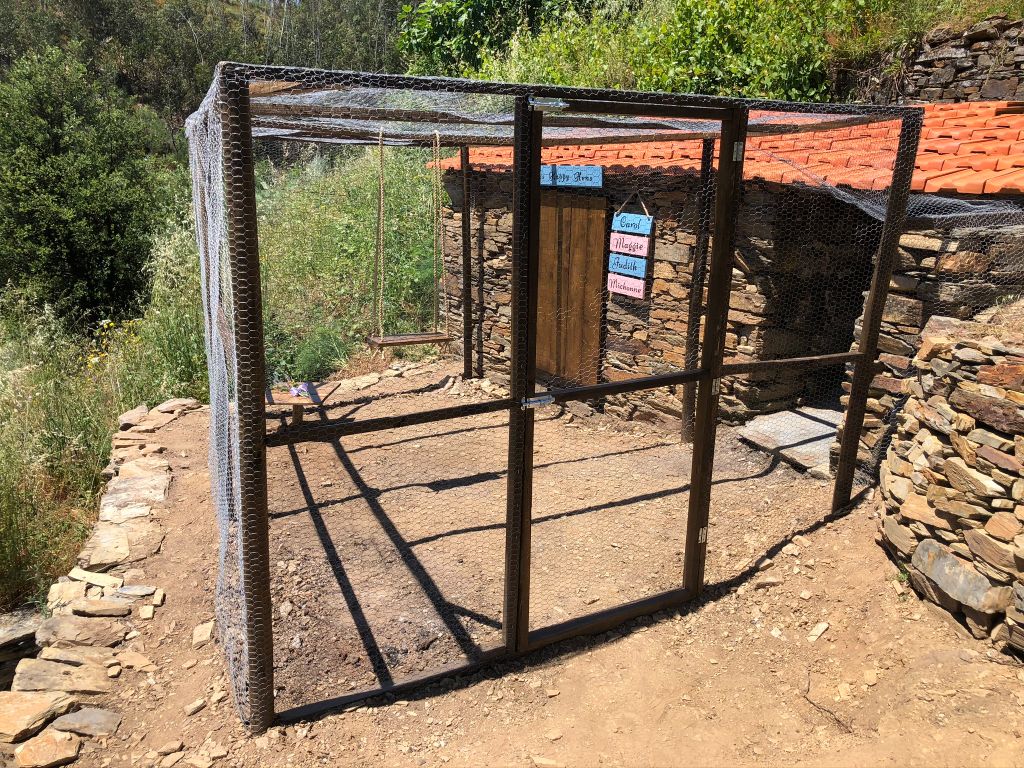 Borboleta
I love butterflies and this little beauty came into the run then couldn't find it's way back out so I helped him/her on their merry way to freedom.
The Milo trial
The project is finished and we thought it would be fun to let Milo sample the run before we get our hens. Milo is my daughter's bunny who we are looking after whilst she is at university. He is a house bunny so has never lived outdoors. He has free run of hubby's office during the daytime and is in a cage in the office overnight for his safety as he is quite naughty and always gets himself into mischief. His favourite pastime is to sneak out of the office into the bathroom and mess around with the toilet brush. He's not that bright, bless him. He has only been outside a couple of times in his cage whilst I Spring clean the whole office. Lately he has been trying to escape outside when hubby leaves the office door open for fresh air. He is very curious and I think he wants to explore the big wide world outside. I made sure the whole run area was free of weeds just in case Milo ate one and got ill or poisoned. He was super confused at first but I think he enjoyed himself. Then he retreated to the shady area under the table. If Milo could speak, I think he would award us 10/10 carrots, I mean stars for our efforts. It was a bit hot today so I only let him stay for a few minutes. There is a covered cool shaded area to the right of the coop which our hens can access from the run if they get too hot. We don't want any chargrilled piri piri chickens (ha ha). Our neighbours behind have guests staying at their home and there is a couple on the balcony watching us erect name signs for our chickens then they witnessed us bring Milo out and take photos. I wonder if they think that we built a whole chicken coop and run for a bunny! They must think I'm crazy, they ain't half wrong (ha ha).
The views
I really hope my ladies enjoy the views as much as we do. They have some spectacular panoramic views of Central Portugal. I am going to spoil them rotten but why not! A lot of Portuguese people here keep their hens in concrete coops. I don't like this as I feel that hens should have access to the earth as they love to scratch, dig and find insects to eat. Our hens won't be totally free range but we will allow them free roam of the upper garden when we are outside to supervise them and they have a large open space in the run. At night time they will be secured in the stone ruin coop for safety. At some point I would like to research an automatic electric door.
Animals are my best friends and to be honest with you I prefer to spend time with animals rather than humans as I am yet to come across a "fake" animal. I prefer the company of animals because their love is unconditional, they are such a comfort when I am sad and their fur does a great job of mopping up my tears. They are not too faced and don't lie to you or do any of the bullshit stuff that most humans are capable of. Furry and feathered friends rock my world!
The ruin is ready for it's first tenants. Look out for my post coming soon titled 'Helen's happy hens'.