FATHER'S DAY TRIP TO CASTELO DE MONTEMOR-O-VELHO & FIGUEIRA DA FOZ
I planned an awesome fun and chilled day trip to the coast to celebrate U.K Fathers Day, Our 1st beach trip of 2022. We celebrate both the U.K and the Portuguese Father's Day and Mother's Day because we can. Our children will always celebrate the U.K date as they all live there but we like to do things in style and celebrate both. As Sunday predicted rain I decided to go on the Saturday instead as it was a beautiful sunny day. If you know me, you will be fully aware that I'm not really a beach babe. I prefer the natural wild settings of river beaches and I'm not a mega huge fan of coastal beaches with salt sea. I do find the coastal beaches here in Portugal very beautiful and I love breathing in the salty fresh air, it's just that I prefer the atmosphere and experience of serene mountains, the wilderness, solitude and tranquil river beaches. I am not good with crowds and there is never a completely empty beach unless it's winter time or raining. Also the sea is usually ice cold and quite ferocious – a bit like me (ha ha). We haven't visited the coast yet in 2022 so I thought it would be wonderful to treat hubby with a relaxing Father's Day trip to the beach as opposed to a long hike or full on packed agenda of one of my usual day trips as it would be less of a drive and a much more tranquil experience for him. Figueira da Foz is our nearest beach area and it is very popular and beautiful. The journey is 1 hr 15 min from our casa and just over 100 km in distance each way.
Itinerary
Castelo de Montemor-O-Velho (Castle of Montemor-O-Velho)
Montemor-O-Velho (Town)
Baloiço de Soure Alfarelos (Scenic Swing)
Figueira da Foz (Coastal Beaches)
Castelo de Montemor-O-Velho (Castle of Montemor-O-Velho)
GPS Coordinates: 40°10'33.3″N 8°40'58.3″W
Each time we have visited Figueira da Foz we always drive past an impressive castle and I always say we must visit this castle one day so today was the day! The Castle of Montemor-O-Velho dates back to prehistory and was occupied by the Romans, Visigoths and Muslims. It has a very complex history and I'm not going to bore you to death with my very long description. If you are interested in the history of the castle then you can read all about it on the Municipal Website or here: https://pt.wikipedia.org/wiki/Castelo_de_Montemor-o-Velho
The castle is located in the small town of the same name in the Coimbra district. Like many other castles in the area, this castle was part of the defensive line around Coimbra in the 12th Century. The castle stands proud position perched on a hill and was once one of the most important fortresses in Portugal dating back to as early as 716 when it was occupied by the Moors. The castle is extremely well preserved respecting the history of Portugal and it is free to enter with no admission charge. It was classified as a National Monument in 1910. We arrived shortly after 10:30am and I was shocked to find hardly anybody else around, it was deserted and we struck GOLD again! I only saw about 4 other visitors and a few staff members. It offers fabulous breathtaking panoramic views over the river and rice fields of the Mondego and we had endless fun wandering around the battlements, grounds and gardens, climbing the steep steps to reach the castle walls and walking the perimeter. One can't help imagine what it was like to guard this castle and look out for miles to try and spot the enemy as they approach.
I loved the Romanesque and Gothic style architecture, the open space with a sense of freedom and the lush green gardens are remarkable. This visit totally exceeded my expectations, I really was not anticipating such glory. The castle is fully accessible with escalators that take you up to the top but we drove our car right to the entrance where there is free parking. What a fantastic and intriguing fortress and historic gem. I never know how to pose for photos and I have appalling posture due to my back condition and chronic pain. There was a middle aged man in jeans and a T.Shirt (not hubby) and he was with his significant other and posing all glamorous by the doorways and archways so I tried to copy his poses. I didn't succeed and I had to delete multiple photos as I am showing my knickers in most of them, at least I'm wearing some (ha ha). I wore my comfy trusted trainers as usual as the walls are very high with no safety barriers and I'm very clumsy. They are like slippers so I can walk many km and not get sore feet which is a bonus.
Medieval Magic – Castle & Glorious Gate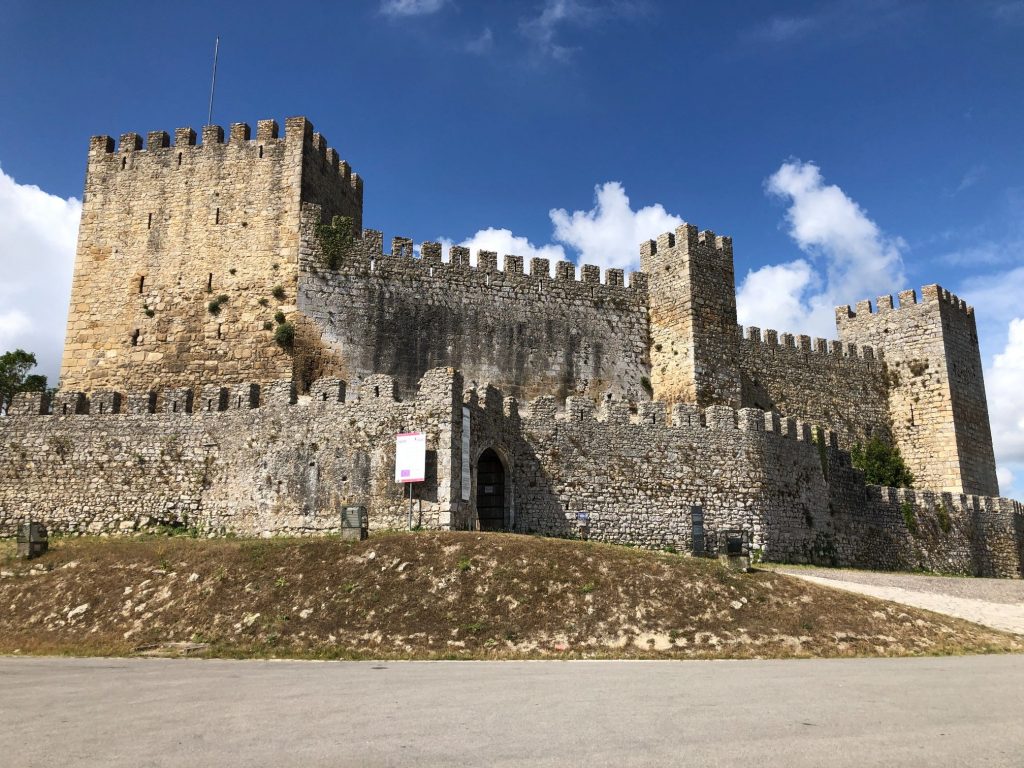 Breathtaking Views – Exploring the Castle & Gardens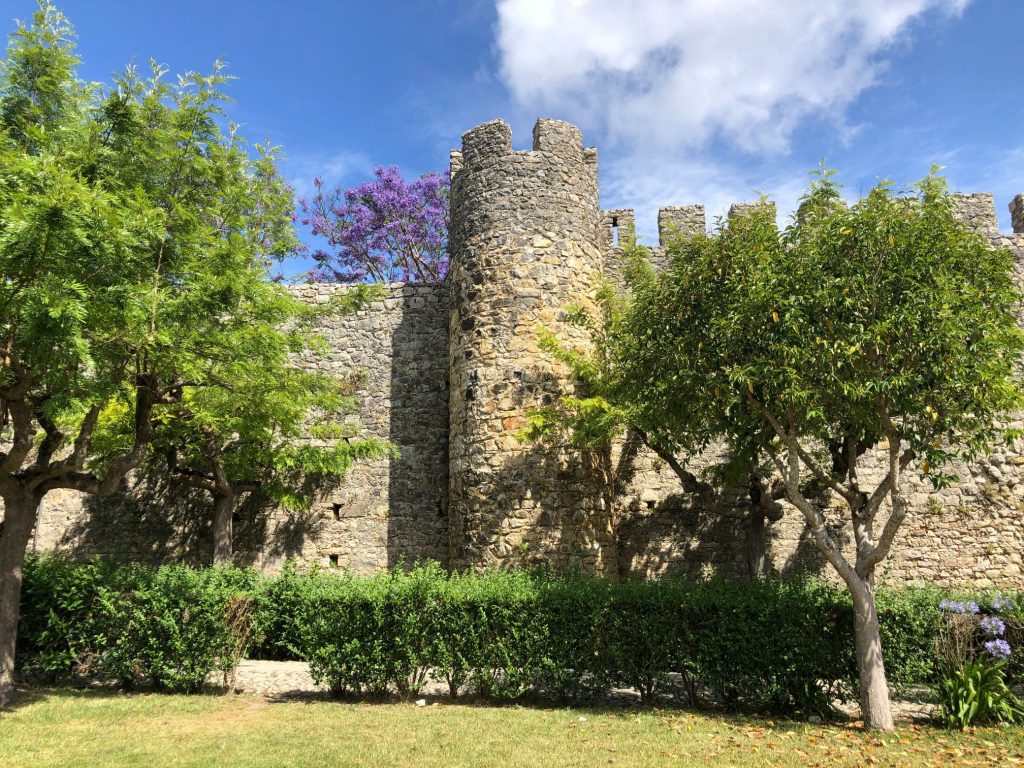 Garden & Castle Selfies
Hubby has that one pose down to a fine art again. I'm looking deranged which is my new NORMAL (ha ha).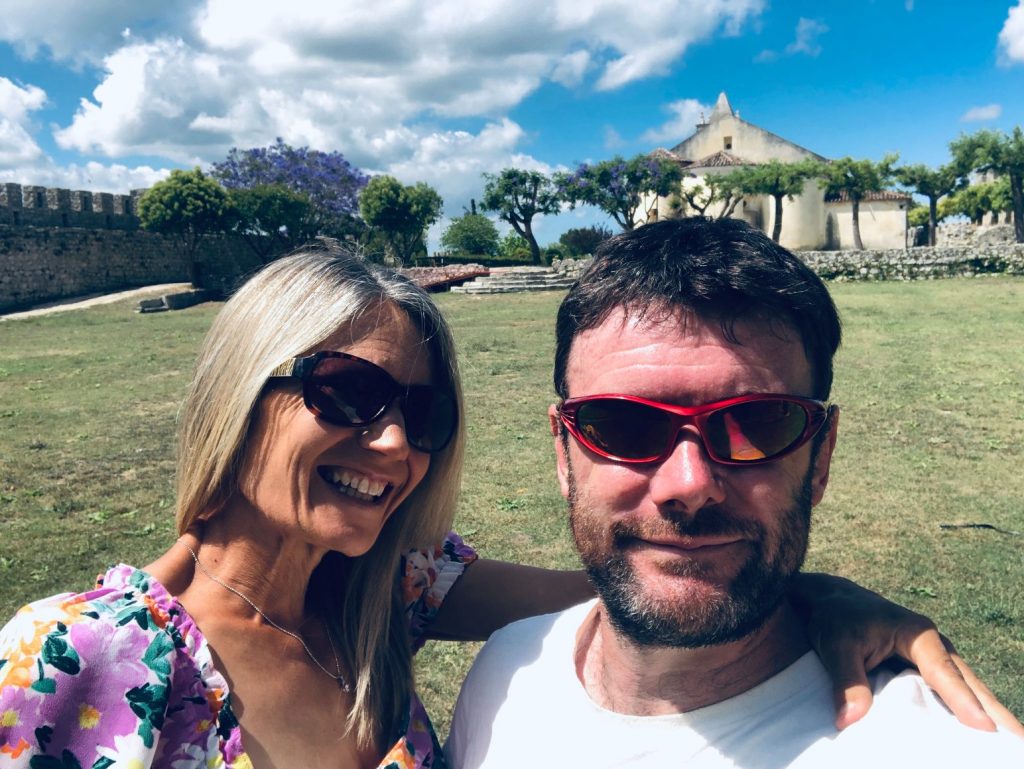 Roll Out the Red Carpet
How wonderful is this little red ramp! It reminds me of a famous red carpet fit for celebrities. This is the only ever time you will see me on a red carpet unless I'm in a church (ha ha).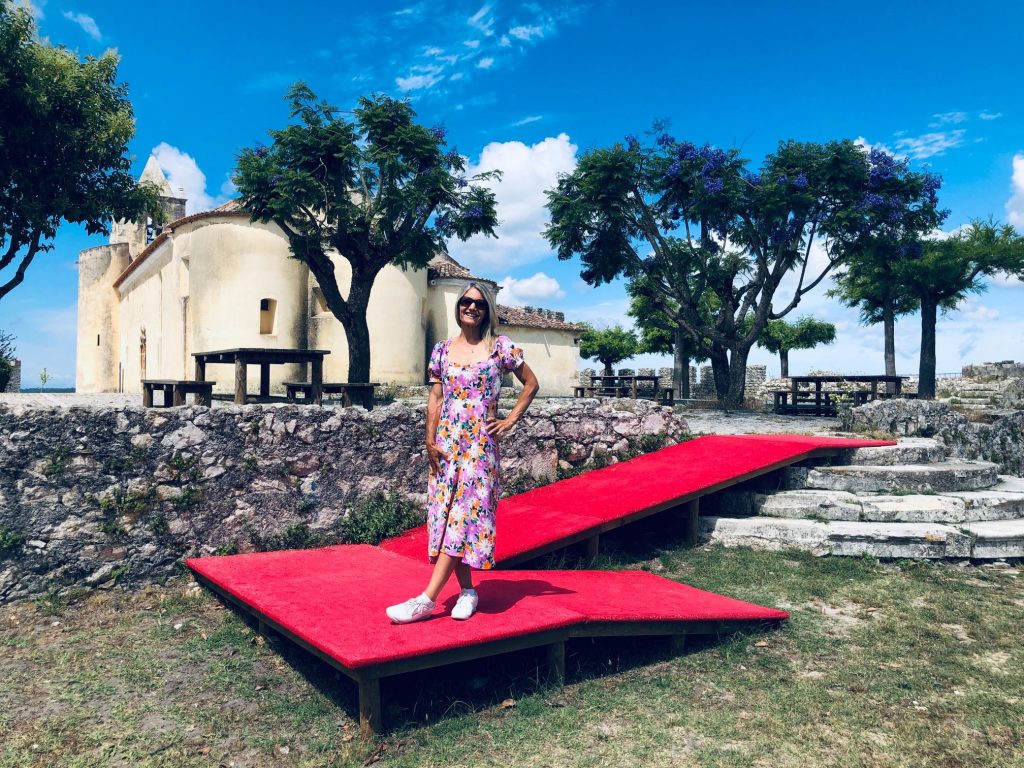 Paço das Infantas
The ruins of Paço das Infantes is truly remarkable. I made hubby climb the tiny dangerous steps to the top as he has better balance than me.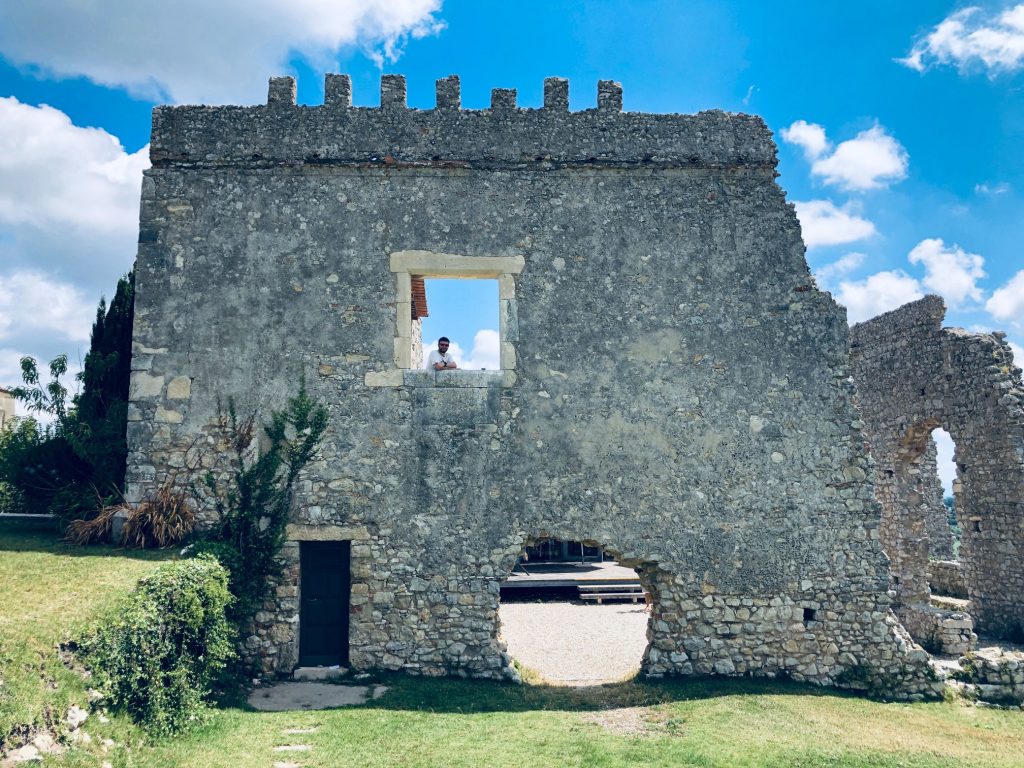 Visitor Information Centre
There used to be a Tea Room on site but it is now a Tourist Information Centre which I think is a crying shame as it meant I had to wait for my sugar and caffeine fix. The Information Centre is mildly disappointing and only has a couple of vending machines for refreshments. Outside there are a few stalls selling artisan handicrafts and regional products. Most of the stalls were just setting up.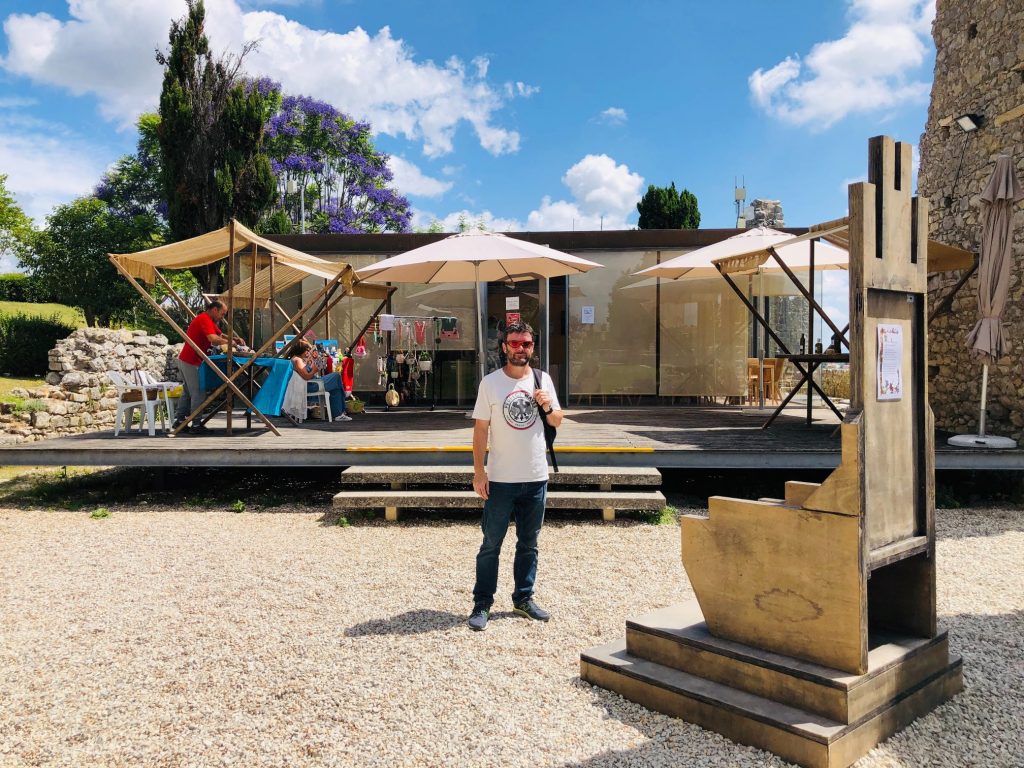 Game of Thrones
Hubby found a throne so we took the opportunity to sit here for a while acting all regal, My King on his throne (ha ha). It was mildly awkward as it's right next to the artisan stalls so the couple of stall holders were watching us acting like idiots (ha ha). You can borrow a crown and sword or tiara from the Information Centre but hubby was too embarrassed as I think it's meant for children not middle aged adults who are children at heart. There was a notice attached to the back of the throne. My limited Portuguese understanding can just about gather that the throne was used as a prop in the Shakespeare street theatrical show of Macbeth in 2012. It was built by the carpentry services of the Municipality of Montemor-O-Velho for the great production. I hope the throne is not cursed as we all know how the tragedy of Macbeth ended, with suicide and a beheading! (ha ha).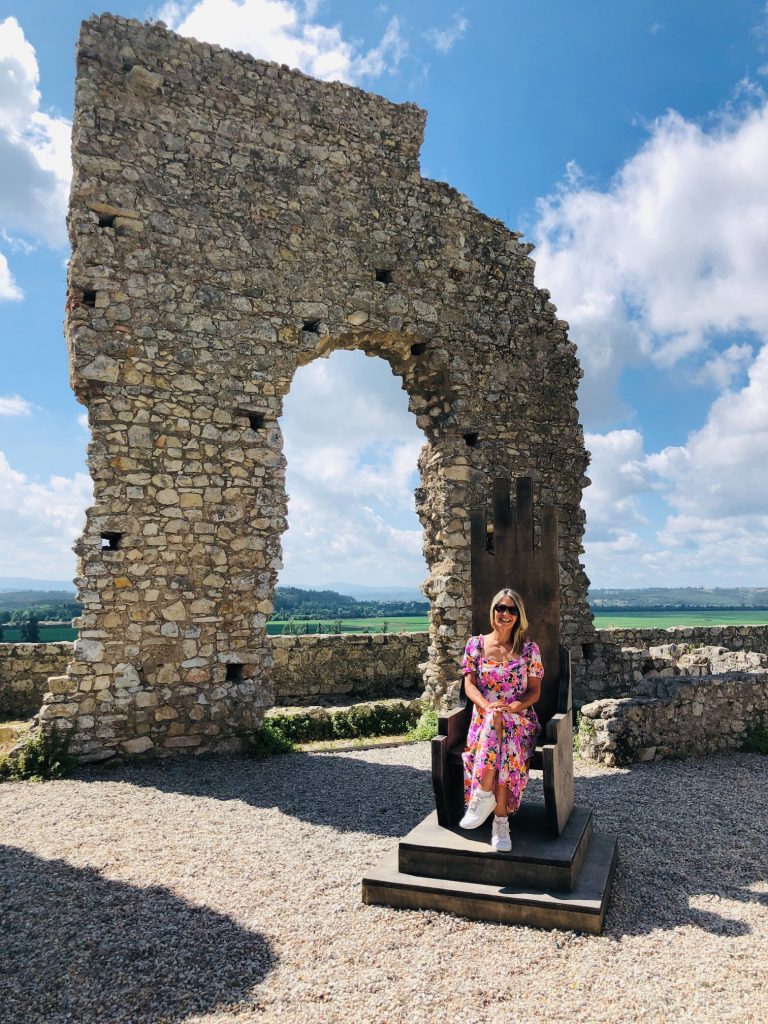 Igreja de Santa Maria da Alcáçova
There is a gorgeous Manueline style 11th Century Church dedicated to Our Lady of the Assumption: Igreja Santa Maria de Alcáçova which has one of the most stunning interiors ever. Alcáçova is a name that derives from Arabic and means citadel, in the military case, a fortification. It was ordered to be built in 1090, by the Presbítero Vermudo, by order of Count D. Sesnando and rebuilt in the 16th Century, work attributed to architect Francisco Pires under the order of the Bishop of Coimbra – Count D.Jorge de Almeida. There is a portal, in a pointed arch which is surmounted by the coat of arms of the Bishop-Count D. Jorge de Almeida. The facade is topped by a triangular gable, with the bell tower on the right. The interior is divided into three naves (paced by a series of broken arches supported by columns with spiral shafts), ending in chapels. This church is decorated with sculptures from different periods, such as the 14th Century Virgin Nossa Senhora do Ó and the Angel of the Annunciation by the sculptor Mestre Pero. I fell in LOVE with this quaint church and all the unique granite stone intricately carved spiral columns, wooden ceiling, azulejos tiles in the Moorish style, glorious font and the Renaissance altars. There is some fascinating writing etched into the stone slabs on the floor. The church was empty so we had time to look at everything. I am so amazed that it was open and left for people to wander around as it was all set up for an elegant Portuguese wedding ceremony. What an absolutely adorable setting for a romantic wedding!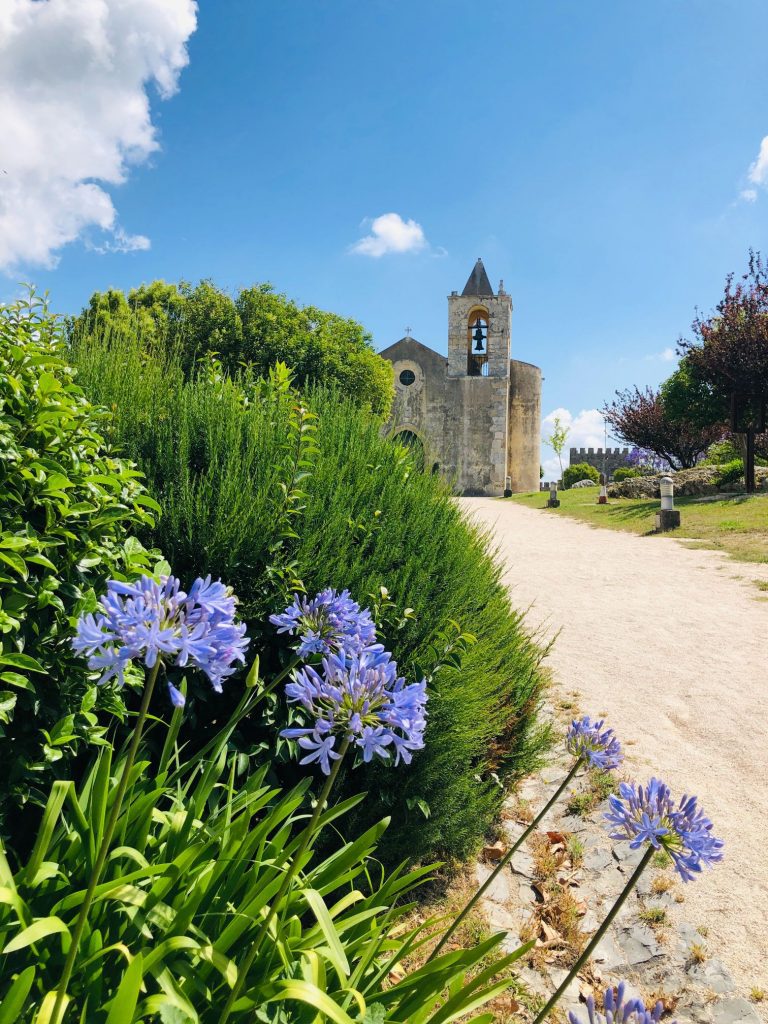 Whimsical Wedding
The church was all prepared for the wedding of Cristiana and João, complete with pretty floral arrangements and a basket with the sweetest aromatic flower petal confetti. Cristiana is such a pretty Portuguese name and reminds me of Teanna (My daughters name). I had a quick peek inside the order of service because I was so intrigued (and a nosey cow). I wish this couple a long and happy marriage. If they are half as happy as hubby and I then they will accomplish great things in life, united together and standing strong side by side for ever, AMEN. I would LOVE to get married at this magnificent venue, it's such a fairytale setting. It made me want to renew my own wedding vows, maybe one day.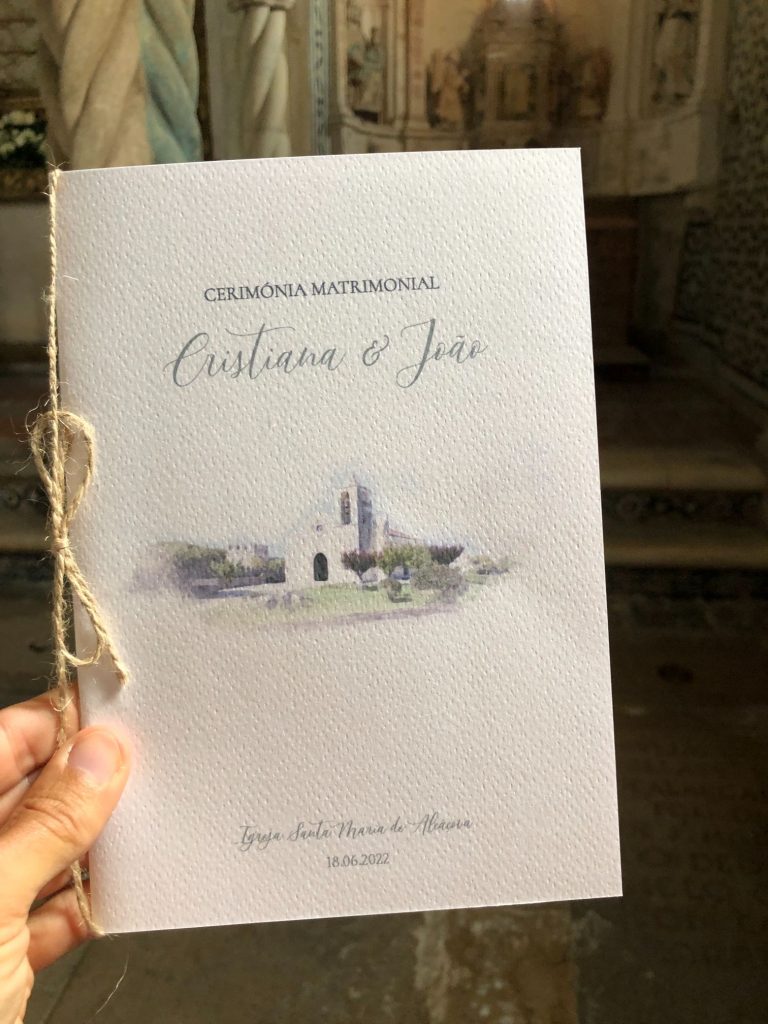 Manueline Door
The side entrance of the church has the most remarkable Manueline style door framed by a polylobed arch, I fell in LOVE with this door. is it just me who has a door fetish? (ha ha).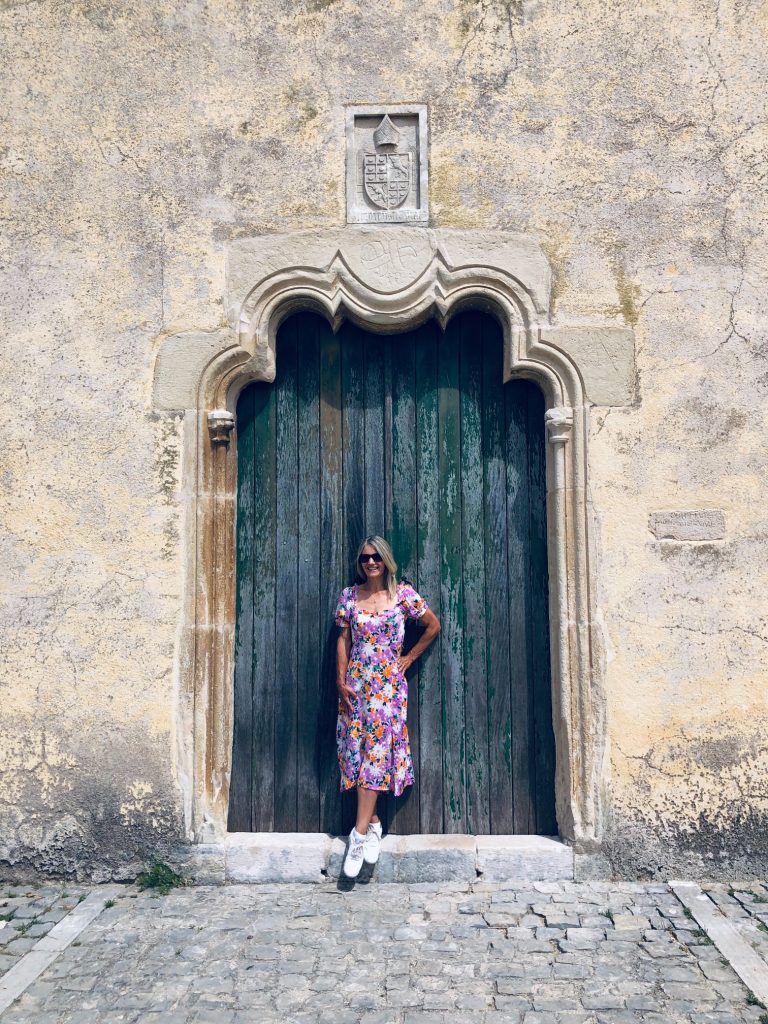 Legends
There are many fascinating legends linked to this castle. Here are just a couple:
The Legend of the Secret Chests
One of the legends regarding the castle of Montemor-O-Velho tells a story that there were once 2 big chests buried by the first inhabitants (unknown if they were Roman, Muslims or Christians). One of the chests contained riches of hidden treasure (gold) but the other chest contained pure evil inside and would cause plague and misery upon whoever opened it, including illness and hunger capable of killing every soul living in the country, sparing no one and without mercy. The chests remain hidden, unopened and untouched until the present day. Would you have the nerve to open one? I think I will pass as although I'm not a betting kind of girl, I don't fancy the odds of 50/50 (ha ha).
Another legend is linked to one of the most famous love tragedy stories of all time: Pedro and Inês de Castro. It is said that in 1355, it was inside the walls of the castle that King D. Afonso IV gathered with his council to debate the danger of his son's relationship with Inês de Castro and to plot her demise. I have written more about this legend in this post blog: https://casavalhal.com/a-day-trip-to-jardins-da-quinta-das-lagrimas-coimbra/
The Legend of Abbot John
Local tradition says that in the 9th Century at the time of Abbot João, the castle was besieged by the forces of the Caliph of Cordoba, commanded by a renegade Christian, Garcia Ianhez-Zuleima. Outnumbered, the combatants of the castle, with great difficulty in sustaining the defence, decided to kill the others by beheading, even their relatives, in order to spare them captivity and possible affronts from the Moors. Having this done, they charged at the superior enemy, ready to die in combat. They did so, however, with such impetus that they took him for granted. In the 18th Century, under the reign of King João V (1706-1750), tradition was enriched with a pious outcome: the defenders' relatives, resurrected by miracle, they left the castle to meet the victors. The image of Nossa Senhora da Vitória with a red scar on her neck, in the local Church, evokes the miracle.
Bandstands & Bakeries – A Gastronomy of Regional Flavours
We took our trusty picnic and today I had swapped my usual fresh tuna and eggs for salmon and eggs. Some regional savoury dishes in local restaurants are: Arroz de lampreia, Papas laberças, Pato assado, Arroz de cabidela, Sarrabulho and Ensopado de enguias. I don't think my IBS stomach could tackle the eel stew (ha ha). Montemor-O-Velho is famous for its sweet rice made with Carolino rice from Baixo Mondego and milk from Gândara. I discovered a few other regional cakes: Pinhas de Montemor, Espiga Doce, Papas de Moado, Queijadas de Pereira, Queijadas de Tentúgal and Pastel de Tentúgal which consists of a crunchy dough in the shape of a pine cone with a creamy filling and sweet caramel. We were spoilt for choice, is your mouth watering yet?
We opted for Pinhas de Montemor and Pastel de Tentúgal from a local pastalaria and took our treats to the local children's park and found the most delightful shady spot in the bandstand to enjoy our sweet treats and have a little dance. Our view from the bandstand had a fantastic backdrop of the castle perched on the hilltop. We shared half of each cake because I wanted to sample both. I loved the fresh sweet creamy filling of the Pastel de Tentúgal but I'm not a huge fan of puff pastry so I preferred the Pinhas de Montemor which was so yummy and shaped like a pine cone. Hubby didn't have a knife because he is not a boy scout or in a gang so he doesn't carry a pen knife or swiss army knife so he had to use his bank card to cut the cakes in half. A little unhygienic but who cares. It did make me laugh as usually it's cocaine which is cut with a credit card not cake but I have read that sugar is more addictive than cocaine so maybe it was an apt tool after all (ha ha). Guess who made a shitty mess again? It's O.K as the birds will eat the crumbs. After our treats we took a stroll around Montemor-O-Velho to view a few epic landmarks then hit the beach.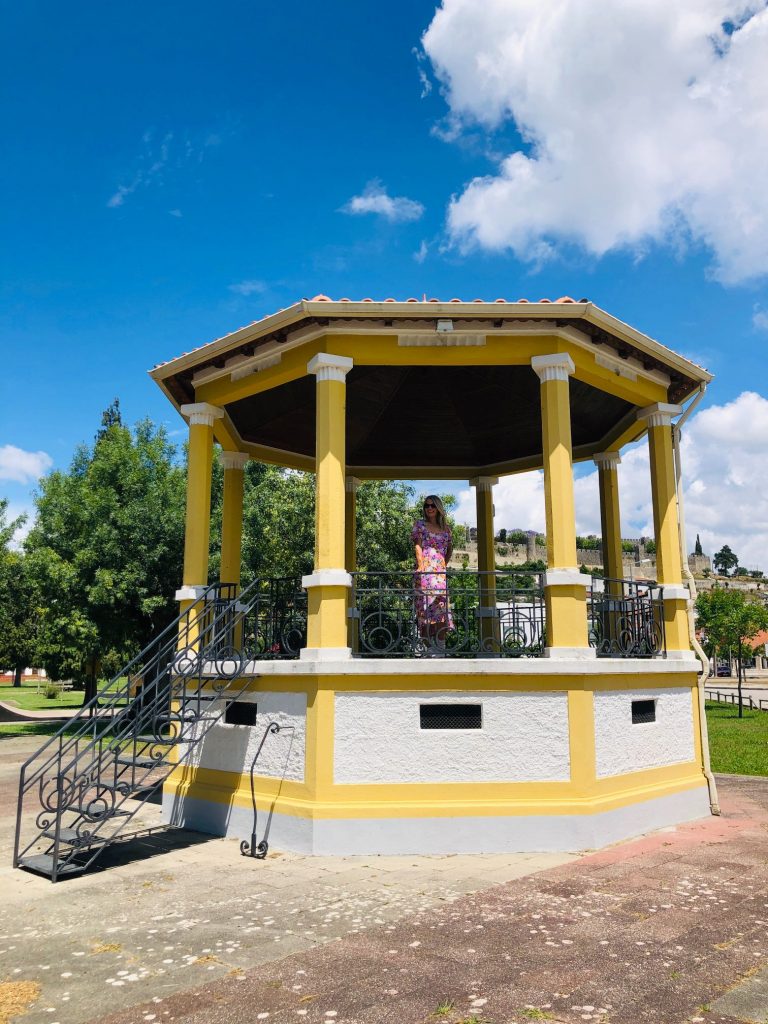 Join the Swingers Club – Baloiço de Soure Alfarelos (Scenic Swing)
I found a scenic swing nearby so we made a pit stop for a glide through the air, because why not! Just a couple of middle aged swingers, come and join in the FUN (ha ha). This swing is very cute and I haven't visited a circular scenic swing before so it was a first. We parked close by and walked up the steep short incline to reach the swing with panoramic views. We had the whole place to ourselves so took the opportunity to have a mini photo shoot and fool around as usual. You can't actually glide high into the air on a circular swing as it keeps on rotating. I had lots of fun watching hubby twirling around like a proper princess (ha ha). I tried my best to look all serene and majestic but it's hard to perch on a hard circular swing when you have no coccyx! How do people look so gorgeous on a swing? After we had exhausted ourselves and I nearly wet myself laughing, we headed onto the coast for some aqua therapy.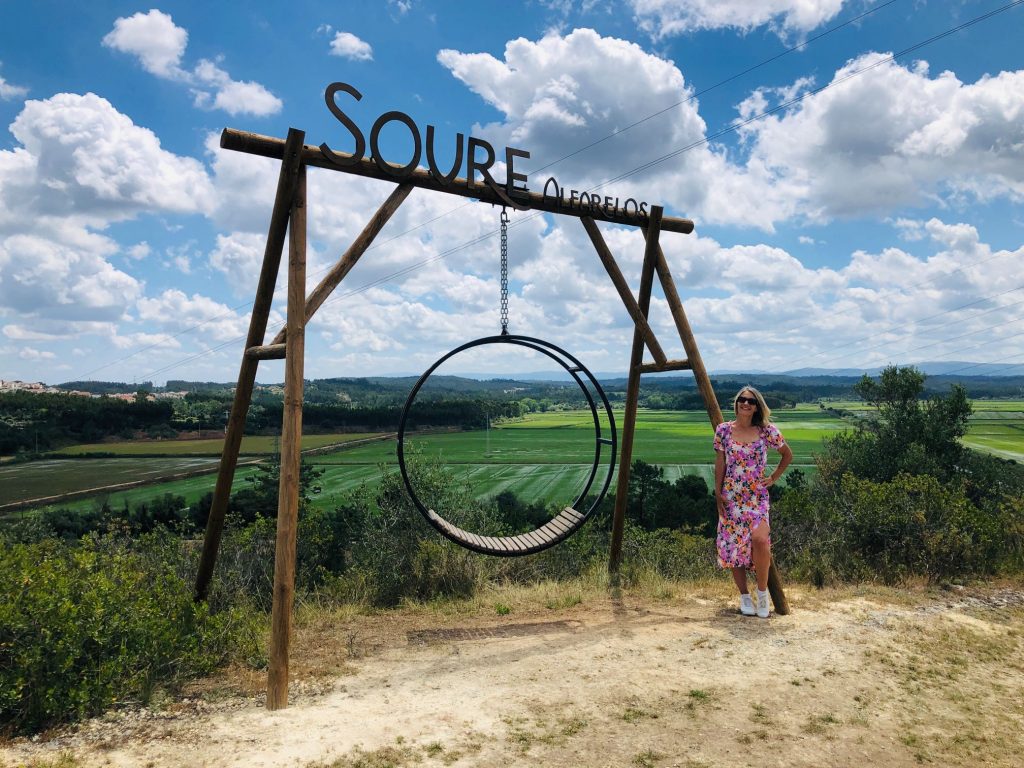 Gone with the Wind – Figueira da Foz (Praia de Buarcos)
Figueira da Foz is situated just 40 km West of Coimbra, where the Mondego River meets the Atlantic and perfectly sheltered by the mountains of the Serra da Boa Viagem. Once upon a time a deep sea fishing port long before it became a popular tourist destination. The name translates to "Fig Tree at the Mouth of the River". Figueira da Foz is our nearest coastal area and is home to Portugal's largest 3 km blue flag beach "Rainha das Praias" The Queen of beaches.
The white sand is gorgeous and is lined with cafes, bars and restaurants. We LOVE Figueira's beach: Buarcos, named after a traditional fishing village at the northern end of the bay. We also LOVE Praia da Tocha which is about 20 km North of Figueira. We had a lovely afternoon on the beach and walked one end right down to the Fortress of Buarcos. The only thing I hate about the beach is that sands gets everywhere and I mean everywhere! I always bring home at least a kilo of sand which I find in my bag and some other body areas that are hard to reach (ha ha). Then before I have time to clean it up my nerdy creative hubby has made a mini model of a beach in the corner of our lounge (ha ha).
The beach was surprisingly empty for a Saturday in Mid June. I could not believe our luck as I really hate crowds. It was perfectly peaceful and so very rejuvenating. I am puzzled as to where all the people were as it was a glorious sunny afternoon. I love that the beach has boardwalks (wooden platforms) laid out so I can stroll along the beach at ease without having to take my shoes off or burn the soles of my feet. The sun was shining but it was very windy indeed so apologies for my messy coastal beach hair, it is out of my control and just nature, I have learnt to go with the flow – the wind flow (ha ha). We enjoyed a perfect picnic and watched the few people on the beach play beach volleyball and swim in the sea. There is a lifeguard and you must swim between the flags unless you want to be swept out to sea, become a mermaid and never return.
Every time I visit a beach I take time out to sit alone for a bit and think about things and life in general. Mainly I am grateful for my amazing new journey and how happy I am to live a simple joyful homesteading life with my best friend in the world. I am so glad I took the opportunity to relocate from the U.K to Portugal as hands down it is the best decision I have ever made in my entire life so far. I sat on our little picnic blanket with my toes dug into the white warm sand, listening to the waves crash against the shore and today on this day I said a little thank you for my blessed life. I also prayed that the passport office will issue my daughter's passport and that she will get to visit in July (ha ha). We took a lovely stroll along the beach and I am always mesmerised at how the ocean refuses to stop kissing the shoreline. I could watch the white frothy water bounce back and forth all day long. As I get older I appreciate the simple things in life and am so glad to have found my soulmate to share my future hopes and dreams.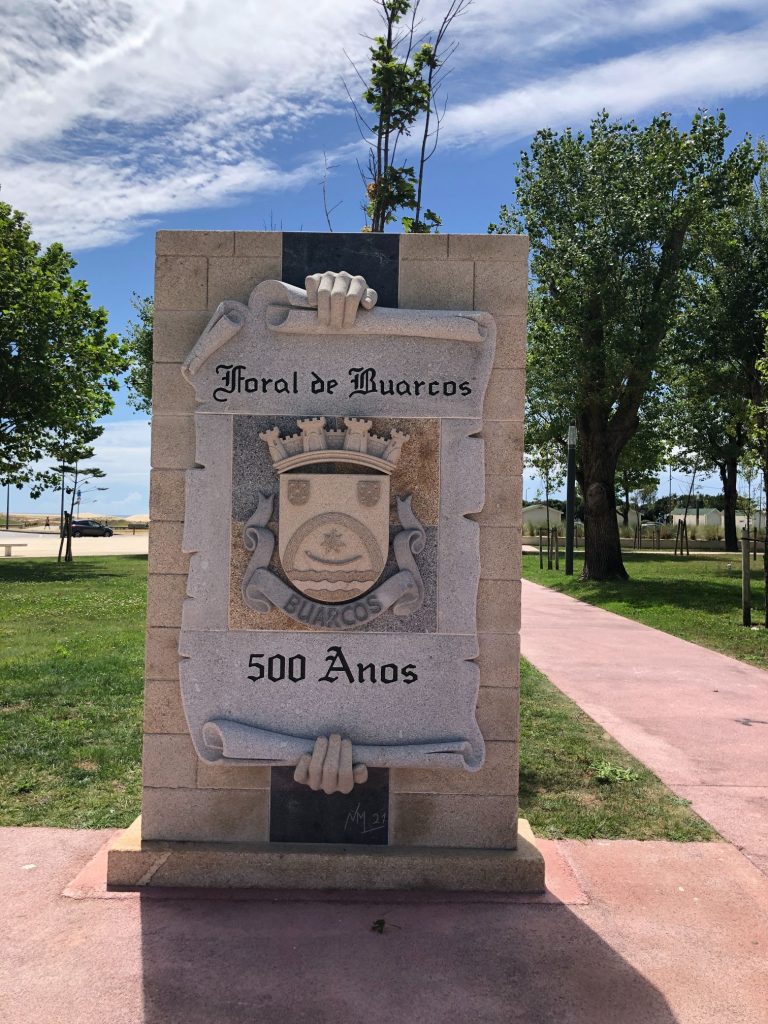 Every Shell has a Story
We had a lot of fun walking along the shoreline and finding epic treasure. There were so many purple vivid coloured shells washed up on the beach. I have never seen so many shells on one beach and purple is my favourite colour! Hubby found a little shell with holes for eyes, a nose and a mouth and it resembled a face so he made some bunny art for me, 2 rabbits and named then Michelle and Shelly (ha ha).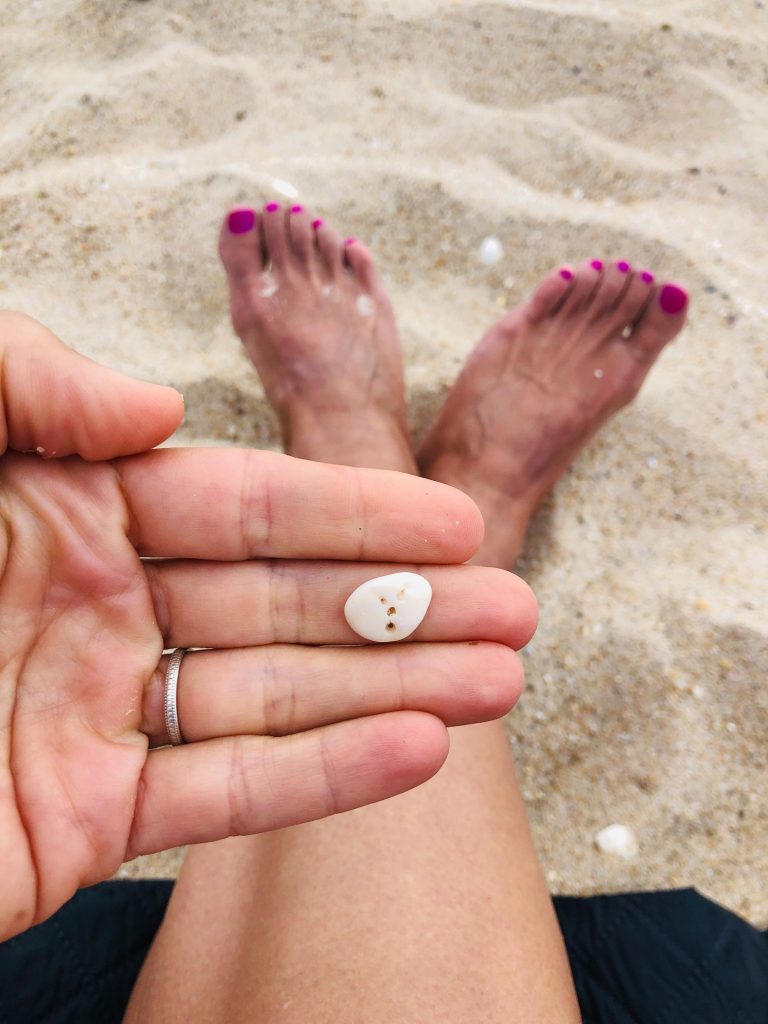 Sand Dune Dude & Sandy the Snail
Hubby found a snail in the sand dune. It had left a long trail heading towards the sea then it just gave up all hope. I don't blame her as it's hard work trying to wade through soft sand. I never know how people run on beaches, I would just stumble and break my neck. I already fell down a hole that someone had dug. I think it was a trap laid out for the crazy British folk (ha ha). Hubby saved Sandy the snail, picked her up and carried her to the safety of the shower area so she could drink some water. My hubby is a kind soul, bless him. May you always have a shell in your pocket and sand in your shoes. Oh and don't forget to save all the snails because they have as much right to be here as you do just not on my organic homegrown veggies in my Casa Valhal garden (ha ha).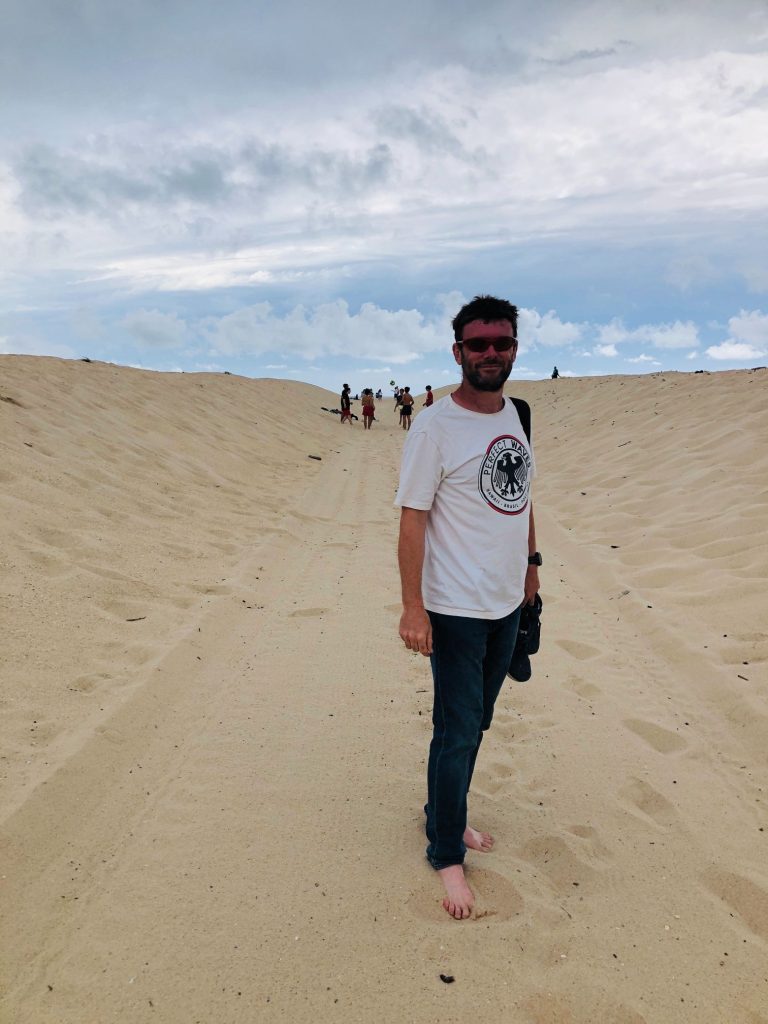 Cringe Worthy Couple Posing
We tried to recreate this popular couple pose but failed. It was super windy and I think it just highlights how tanned my arms are from all my power walking and how white and hairy hubby's are from working in our home office Monday – Friday. He can't help being a hairy fuzzy bear. I actually like his fluff and am not a fan of the man waxed look. I once offered to wax hubby's back for a laugh but he declined. I then said if you pay me for a back wax I will do a trio offer: "Back, Sack and Crack" and he ran for the hills (ha ha).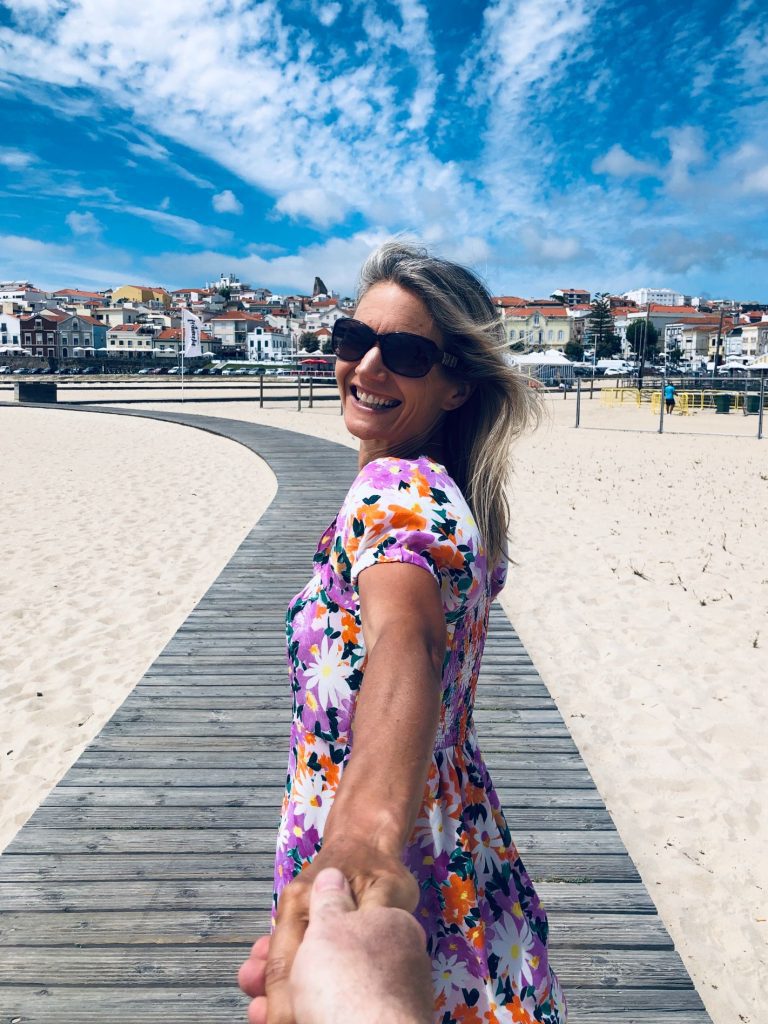 Skinny Dipping or Chunky Dunking?
Any one for a skinny dip? After all the Portuguese pastries I've consumed it's more of a "Chunky Dunk" than a "Skinny Dip" (ha ha). The last one in buys the ice cream! Here I am heading for a swim, I disrobe at the very last minute because I forgot my bikini (ha ha). Off to the ocean I go to lose my mind and find my soul. I think the only thing I lost was my knickers in the vigorous waves (ha ha).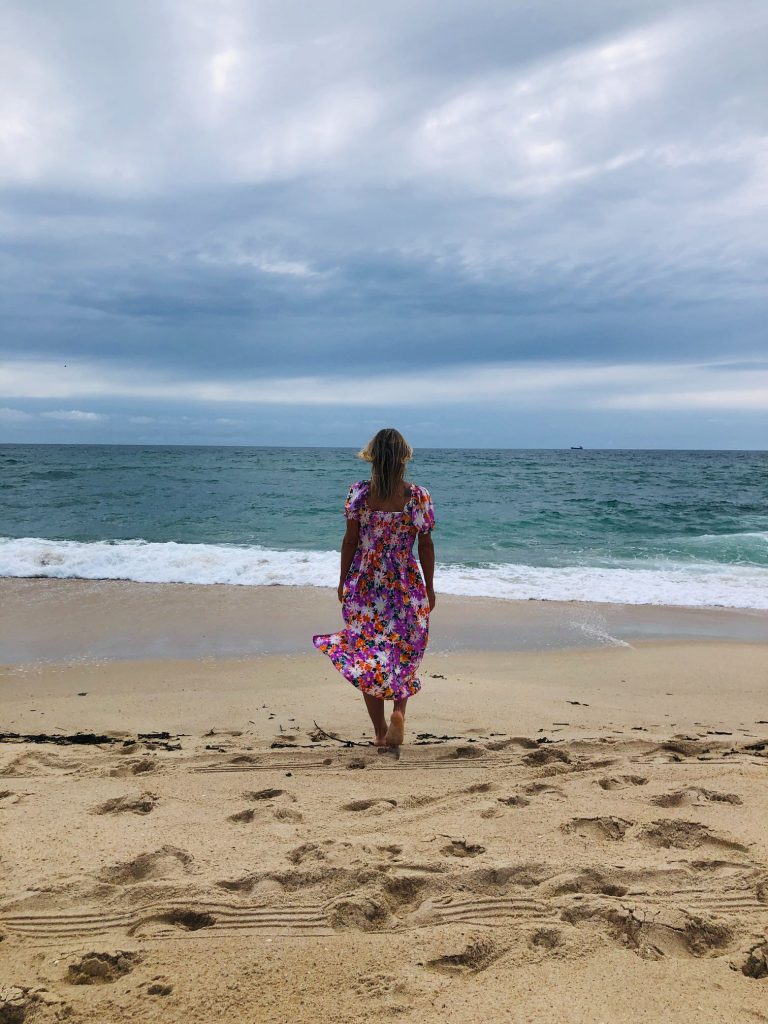 Let the Wind Kiss your Face
This is how it ended. My hair looks like Donald Trump and soon I will have the "laranja" tan to match (ha ha). I LOVE windy days, it makes me feel like I'm flying! Remember folk, when you can feel the wind blowing through your hair, it's time to shave your legs (ha ha).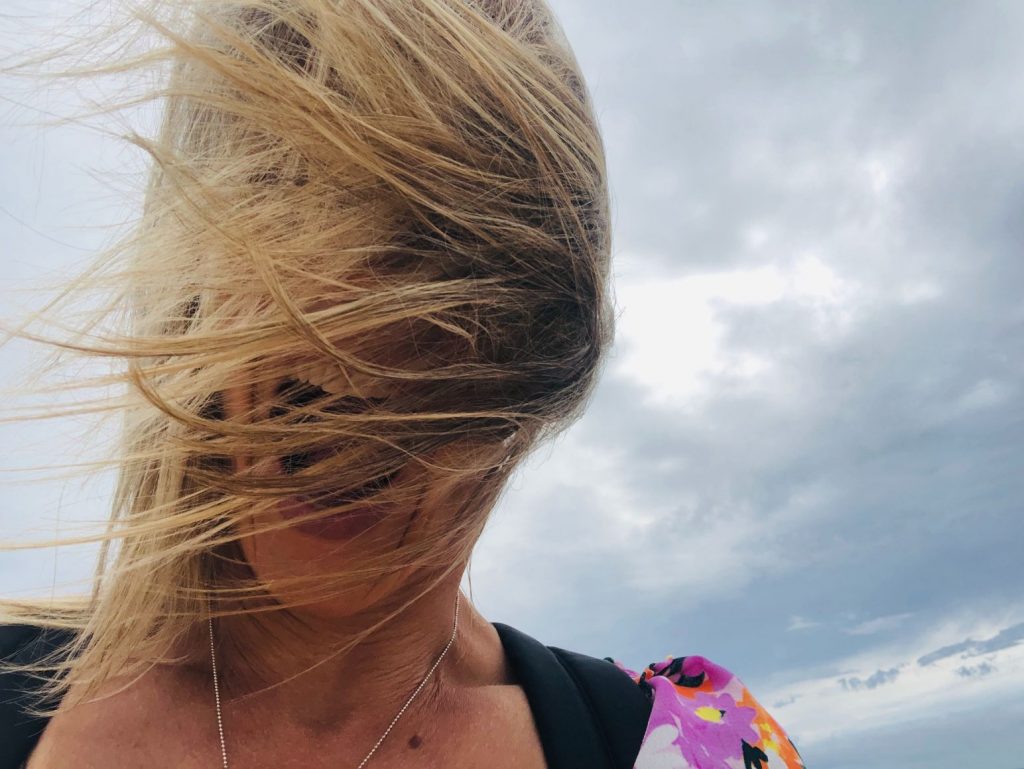 Cute Card & Eyealogical Dad
You wouldn't know by looking at hubby that he is a father of 10 children. 7 biological and 3 step children. Luckily we are living our dream life here in Portugal with none of them so it's blissfully peaceful and completely drama free. Just kidding (or am I)?
We have a long standing family joke: Hubby is Teanna's "Eyealogical" dad and Carlos is her "Biological" dad. This joke stems from when Teanna was about 14 and the 3 of us were Christmas shopping in Clifton Village, Bristol. We ventured into a cute little craft shop and Teanna used her own pocket money to buy little gifts for her school friends. When we got to the cash register the man behind the counter was so friendly and asked "Who is paying for this, you or dad?" which was a strange assumption. Afterwards he said "You have your dad's eyes" which was even weirder as she looks nothing like hubby and she doesn't resemble me either, in fact most folk think we have adopted her when they see 2 white people with a mixed race child. We once were on holiday at Butlins and a lady approached us and asked us if we had adopted her from Africa! (No joke). Do I look like Madonna? Anyway it made us laugh a lot and hubby has been "Eyealogical" dad ever since (ha ha).
Hubby can't spend Father's Day with his children as they are located all around the U.K. Teanna sent him a gigantic personalised Father's Day card with such beautiful heartfelt words. It brought a tear to my eyes, how precious! They have a special unbreakable bond.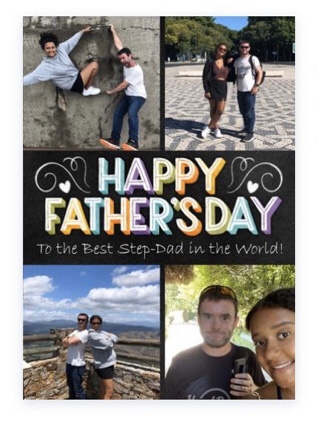 Treasured Times
Just a very small selection of FAMILY FUN & TOGETHERNESS.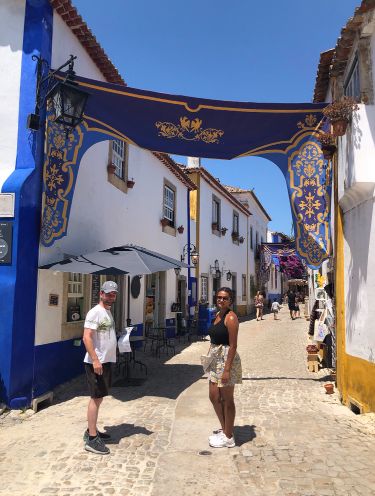 Overview
The highlight of my day was exploring the mesmerising castle and consuming the very tasty Portuguese cakes. I'm a bit embarrassed that most of my day trip highlights involve Portuguese cake (ha ha). If I close my eyes I can still taste the epic sweet creamy custard filling melting in my mouth. I can't believe I haven't visited the castle before as it's so close to our casa and free entry! I would have gladly paid €3-€5 entry fee for a ticket. I wish I had asked in the Tourist Information Centre if they hold any special events like a reenactment of a battle with a buffet feast fit for a king. We attended a live action theatrical show in Las Vegas called Tournament of the Kings and it was amazing. An adaption from the tale of King Arthur and immerses the audience in a tale of valour and treachery. There are lots of valiant knights (hot sexy men) with long flowing silky hair dressed in body armour riding beautiful mighty steeds and jousting with each other. I enjoyed a yummy chicken dinner banquet with a goblet of wine, what more could a girl ask for? Actually some cutlery would be nice as eating with my hands and OCD are not a match made in heaven (ha ha). Don't worry there were busty fair maidens for hubby to admire too (ha ha).
It was a magical and fun day. Nothing beats a leisurely stroll along the white sands and dunes, hand in hand with my soulmate and feeling the warm sand between my toes, the sun on my body and breathing in the salty fresh air. We had a lot of fun trying to recreate the "Baby hold my hand" couple pose and luckily for us the beach was empty because I couldn't stop laughing as it was so windy I had to hold my dress and hair down. Studies show that if you look at the ocean for 5-10 minutes a day you'll be happier and healthier. After todays trip I totally agree. I didn't think I was much of a beach babe but I think I've changed my mind. I am totally SEAHABILITATED (ha ha).
The most beautiful things in life are not things. They're people and places and memories and pictures. They're feelings and moments and smiles and laughter.