CELEBRATING MY 49TH BIRTHDAY IN BRISTOL UK
I haven't visited the UK in over 3 years since I relocated to Portugal. I booked a trip back to my hometown of Bristol, UK last year for my birthday but Easyjet cancelled at the very last minute and I was very disappointed. I didn't have any plans on returning until the summer of this year (2023) for my daughter's university graduation but 2022 was a tough year for my health and hubby thought I needed a little pick me up so booked me a ticket so I could visit during my birthday week. Flights are super cheap in March because my birthday doesn't coincide with any school holiday and is off-peak season. My return flight from Porto to Bristol cost €41.25 but I did have ridiculous flying times that were super early in the morning. I don't do well without sleep so I functioned solely on adrenaline, anxiety, food for fuel and a shed load of caffeine (ha ha).
Hubby stayed behind in Portugal on this occasion to work and look after our crazy pets. He doesn't mind staying at home as he visited the UK last year for work purposes so has already returned once without me. I was mildly gutted that he didn't compete with my mad ass antics and paint me a giant stone pink penis in the garden to rival my garden tittie art project that I embarked on when he left me flying solo for a week in 2022 (ha ha). I did leave 2 plain white tiles on the lounge table and heavily hinted that I'd love him to paint a portrait of our new Guinea pigs on each tile but he clearly wasn't listening and in his defense he did have to work 9-5. Hubby has his feet a little more firmly on the ground than me whereas I'm just deranged most of the time (ha ha). I think he was looking forward to the well deserved break away from me and my emotional baggage. He had a lot of fun without me and ventured on a long cycle ride up the mountains and cooked himself macaroni cheese because I'm not a fan of cycling or cheese and I wasn't there to boss him around and make him join me in multiple DIY chores. Enjoy it while you can my love (ha ha).
Excess Baggage & The Shut & Closed Case
The return cost of a flight on the cheap and cheerful airlines no longer includes a carry-on suitcase. Last year the airlines abolished this luxury so now the price only includes a really small bag 45 x 36 x 20cm which has to fit under the seat in front of you and you have to pay to take a large carry-on suitcase or hold baggage. I only visited for a week and I had no plans to go on any major shopping trips as I will embark on a proper shopping spree with hubby when we both return in the summer. We have sourced a house sitter so we can return together in July and have already booked our flights. I can't wait to catch up with my sister and meet our new baby nephew Rex for some precious aunt and uncle snuggles. We will be very busy dividing our time between Bristol, Nottingham, London and Essex. I squeezed so much into my case I had to sit on it to zip it up! I borrowed hubby's grey suitcase as the zip on my unicorn suitcase broke which made me very sad. You can clearly see the sheer excitement in my face, I was elated for this trip!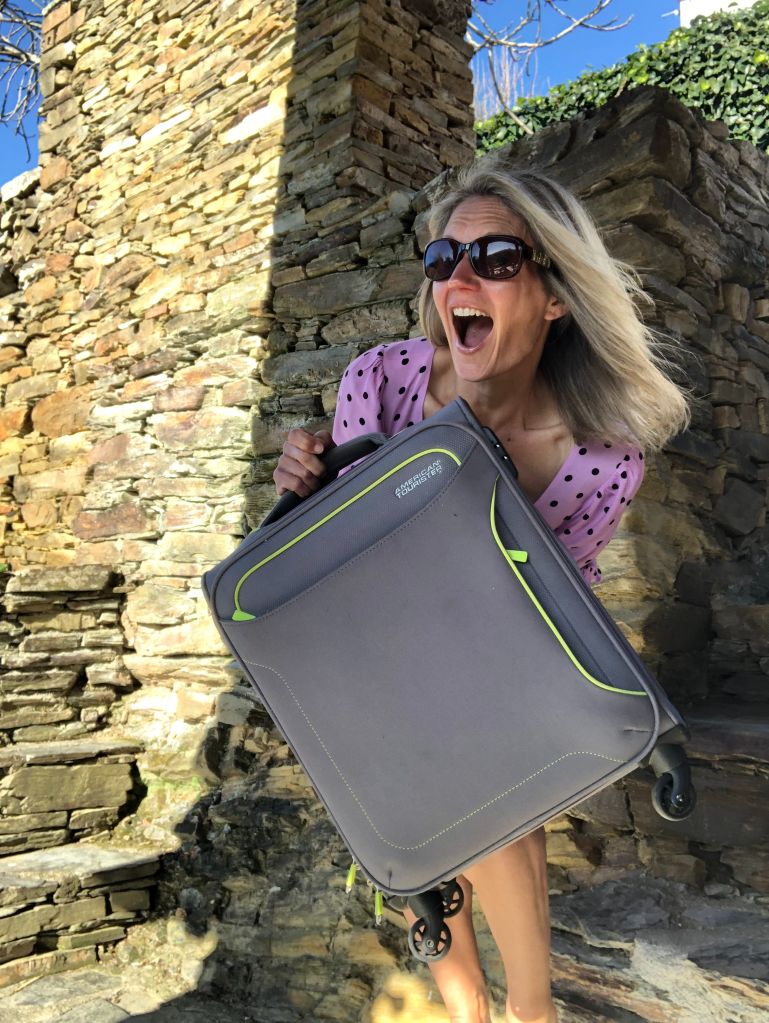 Auf Wiedersehen Pet
I was very sad to leave my precious fur and feathered babies, especially our new additions to our family, Guinea Pigs: Rick and Negan. I wanted to stuff their tiny little fluffy asses into my suitcase and take them with me as the highlight of my day is Netflix and Guinea Pig O Clock on my bed, it's way more entertaining than Netflix and Chill (ha ha). Bunny Milo couldn't give a shit whether I am alive or dead so wasn't phased about my disappearance for a week. Poor Judith AKA Poodith is a poorly bird at the moment so I was a bit sad to leave her so ill in case she dies when I'm not here. I have no idea what is wrong with her but she suddenly just cannot stand up and was confined to her nesting box and has produced a really soft egg. On the day of my departure she managed to venture outside of the coop and sit on the grass under the Portuguese sun, bless her. My guess is she either had an accident, maybe fell off her perch or has a nasty illness. The good news is she is still drinking water and eating reduced amounts of food. Please pray for my feathered friend, she is the baby and a sweetheart.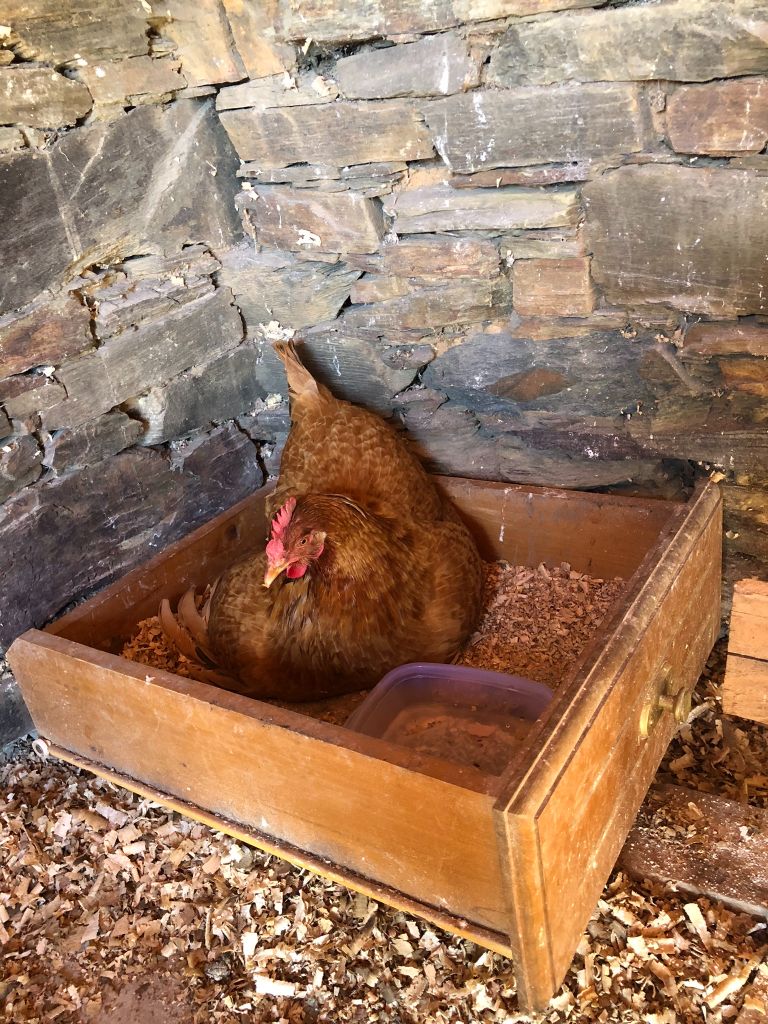 Facetiming Precious Pets
I missed my pets so much and I'm used to snuggling these 2 babies on my bed each night. Hubby was a hero and Face Timed me most evenings so I could speak to Rick and Negan. Most folk FaceTime their children, I Face Time my animals (ha ha). Here is a screen shot from one of our many calls. Just look at their little faces, they are delighted to see and hear my voice. Please excuse the poops, they poop everywhere they go. Their poops don't smell and are non offensive, unfortunately I can't say the same about me (ha ha).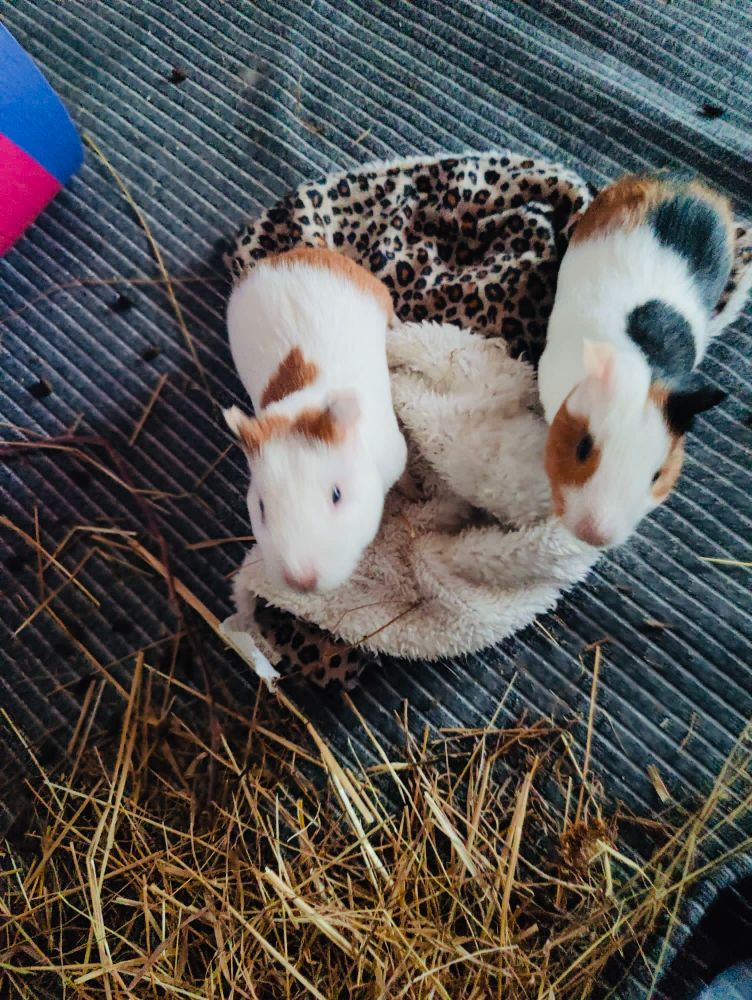 Frugal Flyer
As you will know, I'm a frugal girl and I really didn't want to pay extra for a large 56 x 45 x 25cm carry-on cabin suitcase. The cost varied day by day and seemed to go up and down like a crazy roller-coaster. Initially Easyjet wanted an extra €42.99 going out and €31.99 coming back. The frugal inside me was fierce and I adamantly refused to pay that price as the hold luggage costs were not that much more: €30.99 for 15kg or €36.99 for 23kg. Previous journeys have taught me the danger of taking too much stuff. I once travelled to Las Vegas with so much clothes and shoes and I only wore about 40% of it. I don't like to waste money so I decided to do something that I have never done before in nearly 50 years of being on this planet, travel by plane for a week's holiday with just 1 small backpack. The largest backpack I own is an Eastpack and it's my usual hiking backpack and the bag that I previously had my fishy accident in. On one of my hikes last year my lunch exploded and tuna fish saturated my bag so it smelt like fish for about 6 months until I risked putting it through the washing machine. Thankfully it only has a mild whiff of the sea now (ha ha).
At first I thought I could manage with just a tiny backpack but as my flight date approached I had second thoughts. If the trip was 5 days I think I could have managed but a full 7 days in the cold and I decided it would be best to purchase the large cabin bag. I don't mind packing light because it was a trip just catching up with family and friends, I didn't need multiple outfits and different day and night attire but the weather is cold, jumpers take up space and if I had to buy new warm clothes when I arrived in the UK then I might as well just give in and pay for the large cabin bag. I got lucky as around 30 days before my trip the large cabin bag price reduced to €25.99 going out and €24.99 coming back so a total cost of €50.98 which is actually more than the flight cost. The cheapest I ever saw it at was €23.99 so I bit the bullet and reluctantly gave in as I was worried that there would only be a limited number of availability.
I also got Speedy Boarding and awesome up front window seats with the price so it's fine. I was adamant that I made the most out of the luggage space so survived the whole trip with just the one pair of trainers on my feet. This left more space to cram as many curly wurly's, Cadbury cream eggs, hot cross buns and other British treats into my case as I humanly possibly could (ha ha). It was quite refreshing landing in the UK and not having to wait for ages at the baggage carousel for my hold luggage. Am I the only one who waits forever for my suitcase to appear? My luggage always seems to be the last one on the conveyor belt and I have a mild panic attack that my bag has gone AWOL. I am lucky that in the sense my clothing now is much smaller and once rolled up, I was able to fit in quite a few essentials. I don't think I could have managed with this size bag when I was at my largest and 100lb+ heavier as my clothing was a huge UK Size 22. Most of my clothing is a UK Size 10 or 12 now and small/medium so very compact.
I did consider buying one of those multiple pocket raincoats that Martin Lewis recommended but I didn't want the security staff at the airport to think I was crazy, I also didn't want to look like Inspector Gadget. I also researched special travel pouches which compress your clothes but they are quite expensive on Amazon so I didn't bother. This time I remembered not to wear my huge baggy 1980's bat-winged fluffy jumper as last time I wore it I got frisked thoroughly by a female security officer almost to the point where I felt violated, hubby was pissing his pants laughing at me. I didn't think my outfit through properly as it did look like I was stashing huge amounts of drugs under my armpits which is strange as surely the butt is prime location for the white stuff (ha ha). I also did not wear any hair grips as my daughter makes this mistake all the time and sets off the alarms. Then she spends about 20 minutes with the officer pulling about 20 hairgrips randomly out of her afro one by one, it's hilarious to watch from afar. I say afar because we always get separated when we travel as a family because no one thinks the white couple has a mixed raced brown daughter so they assume that we are strangers instead of a blended family. One thing I have learnt from my Bangkok airport experience is don't ever turn up to an airport drunk by human piggyback and NEVER joke or piss around with security staff EVER! I don't really have any tips for packing light. My only advice would be that we tend to overpack so if it doesn't add value to your life journey, don't bring it along for the ride.
My Basic Backpack
I have no idea how many litres this bag is but it's the regular sized backpack, not the mini one. I surprisingly managed to fit quite a lot into my Eastpack but am glad I splurged on the larger cabin bag too.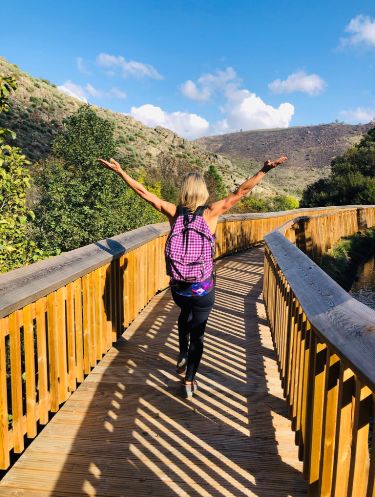 Solo Travel Anxiety
As my trip date approached I did have a few sleepless nights. My problem is I accept an invitation or book an event with all good intentions of having an awesome time and pushing myself outside of my comfort zone, then as the date approaches, I deeply regret it and get super scared and anxious. My eyesight is still not great after my recent emergency laser eye surgery to repair my retina and I still encounter random floaters and reduced vision in my right eye so I was really concerned about trying to read airport travel information boards and gate numbers as well as my aeroplane seat numbers. My biggest worry was trying to see the numbers on the public transport buses as they approached me and not putting my hand out then missing my bus which would have a domino effect resulting in me then missing my flight. I did not want to ask for airport assistance because that usually consists of access to a wheelchair and I don't have any mobility difficulties. In the end I decided to ask for help and booked the special assistance to help me find my seat. I was also super nervous about getting an IBS attack on the plane and spending the duration of the flight in the tiny loo. Then I also panicked about who might be sat next to me. OCD and social anxiety sure does suck big time. I'm such an overthinker and my own worst enemy.
Transport & Our Crappy Car
Our car is absolutely ancient and although usually reliable, we didn't want to drive all the way to Porto airport at 4am and risk getting stranded if we were to break down. There would be limited public transport at this time in the morning so we decided to splash out and treat ourselves with a night at a hotel close to the airport. We found an amazing 3 star hotel for €60 which is located just 500 metres from the airport. We also decided to take public transport because petrol prices have spiraled and even with hubby accompanying me to the airport and returning back via public transport, it worked out way cheaper than taking our car once I had calculated petrol and road tolls. We took the Rede Express (bus) which is very affordable. On my return journey I decided to make my own way to Coimbra by metro and train and hubby collected me from this city as my plane landed at 8am and I didn't want to inconvenience him too much because I'm a considerate soul (ha ha).
The Invisible Man (Not Quite) – Stay Hotels
The hotel was lovely but I was shocked to discover no coffee in the room, I was distraught! There was a small kettle, 1 bottle of water, 2 tea bags (1 chamomile and 1 black tea), 2 sugars and no milk. Hubby got the short straw and endured the herbal tea in silence whilst I pissed my pants laughing on the bed whilst sipping my black tea (ha ha). I can't drink chamomile tea, it looks like piss and tastes like camel feet (ha ha). I do think they could have supplied 2 bottles of water, were we supposed to share one tiny bottle of water? The bar downstairs located near the reception luckily sold coffee which saved my life. Tiny towels and toiletries were provided and the obligatory pathetic shower cap. Who wears a hotel shower cap ever? The answer is Helana, how sexy do I look (ha ha).
One aspect that made us laugh about this hotel room was the fact that the toilet cubicle has a completely translucent cubicle. You can see right through and witness anyone on the toilet which we thought was hilarious. You even get a great view from the bed thanks to the reflection in the mirror opposite (ha ha). It's a good job we are a married couple and not business colleagues or on a first date. If your staying at this hotel make sure you are familiar with your significant other to the level where you've seen them take a dump before (ha ha). I obviously made hubby reenact prime position on the throne for you to see. Don't worry, he kept his pants up. You are lucky as he poops on average about 3 times per day (ha ha).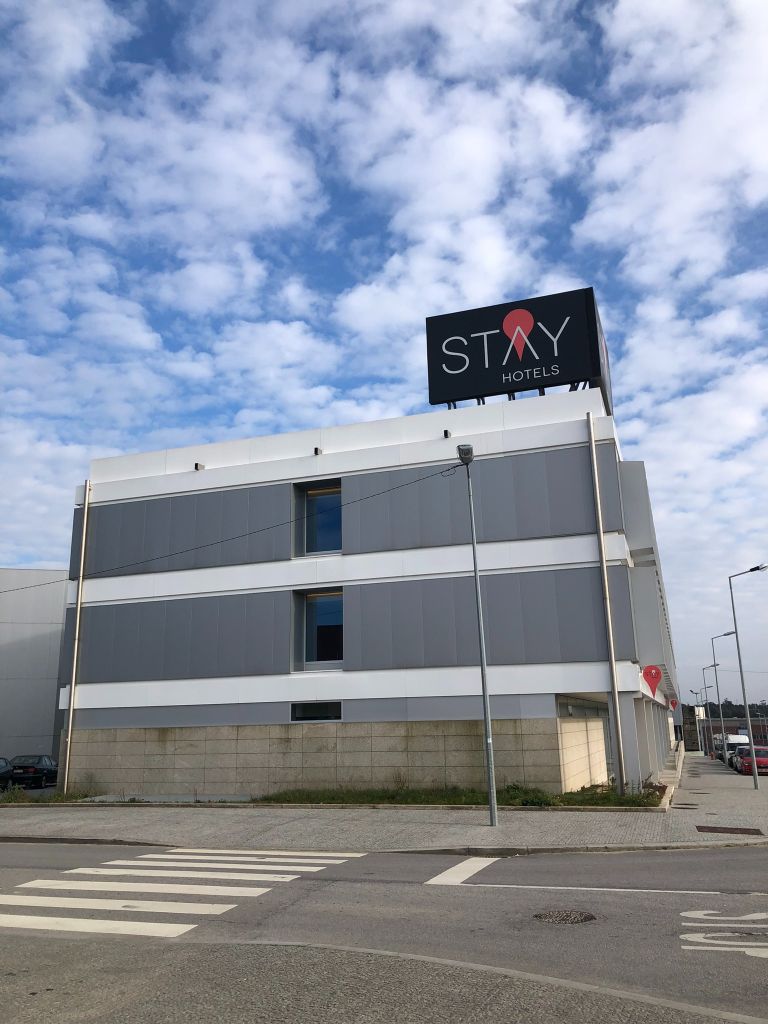 Just What You Need – The Sign
This sign was on a prominent position on the hotel wall just outside of the lift. I am sure I am not the only one who wanted to graffiti it and write the words "COFFEE" with a sharpie pen (ha ha).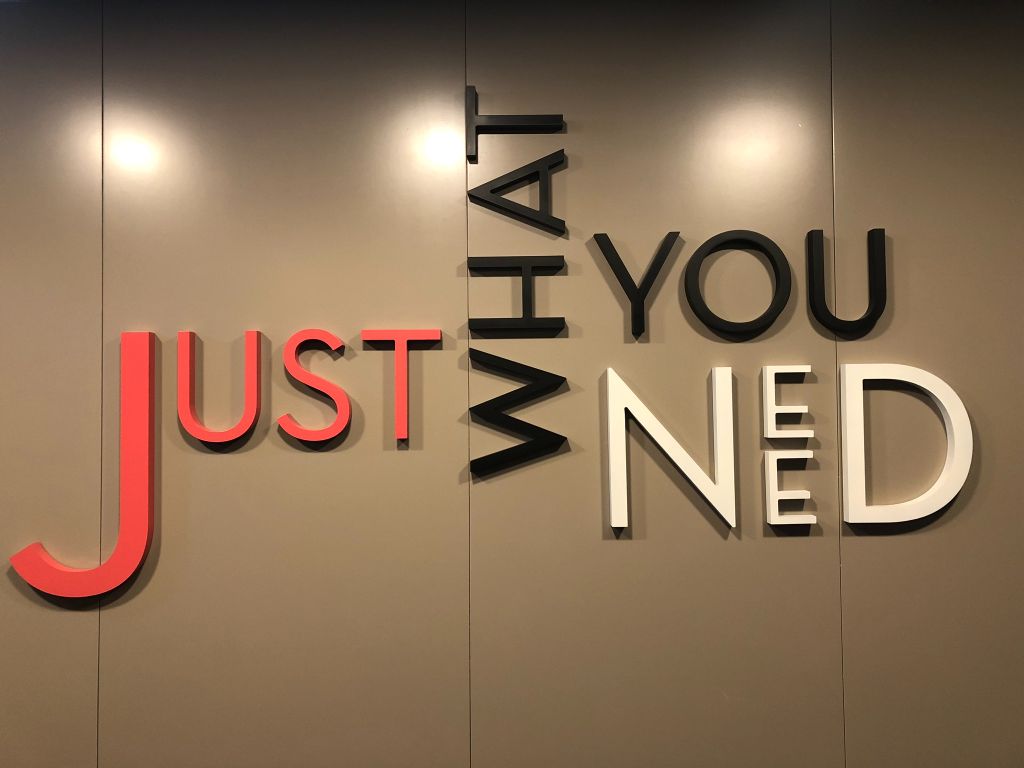 Our Last Supper Portuguese Style
It was early evening and we did have plans to catch the metro back into Vila Nova de Gaia and have a night time stroll and drinks alongside the river and bridge but some idiot realised they forgot their plug adapter for their UK hair straighteners so we made an evening trip to the huge shopping mall and ate our last dinner in Portugal at the food court. We had a look in one of my favourite shops "Gato Preto" and I was delighted to find our mushroom bowls. Teanna bought us a matching pair of gorgeous mushroom bowls and last Father's Day and I surprised hubby with breakfast in bed on a tray. As he stood up to take the tray to the kitchen his bowl slid off the tray and smashed into tiny pieces on the floor. I was gutted as the bowls were quite expensive, a gift and I couldn't replace it as they didn't have this design in any of their shops local to me. I was over the moon to find the design in the Porto branch. Hubby was not so over the moon at the prospect of negotiating a long journey home on public transport carrying a delicate china bowl (ha ha). The pressure was high but he managed to arrive home with it intact.
Pocket Money
Hubby made me laugh as he gifted me £4 that he found in his bedside drawer. I'm not sure if this was supposed to be my weekly budget or WTF I can buy with 4 quid but I graciously accepted it nevertheless as I never refuse hard cash (ha ha). It might buy me an espresso or two if I'm lucky. I doubt very much I will be able to buy a tiny strong coffee for the equivalent of 50 cents like I can here in Portugal. I've actually done my research and £4 can buy me 10 Cadbury cream eggs (ha ha). It's really weird to look at British money now after spending over 3 years handling Euro's. There is an old Yiddish Proverb: With money in your pocket, you are wise and you are handsome and you sing well too. I sang all the way to Asda to buy myself 10 Cadbury Cream eggs, not all of them made it back to Portugal (ha ha).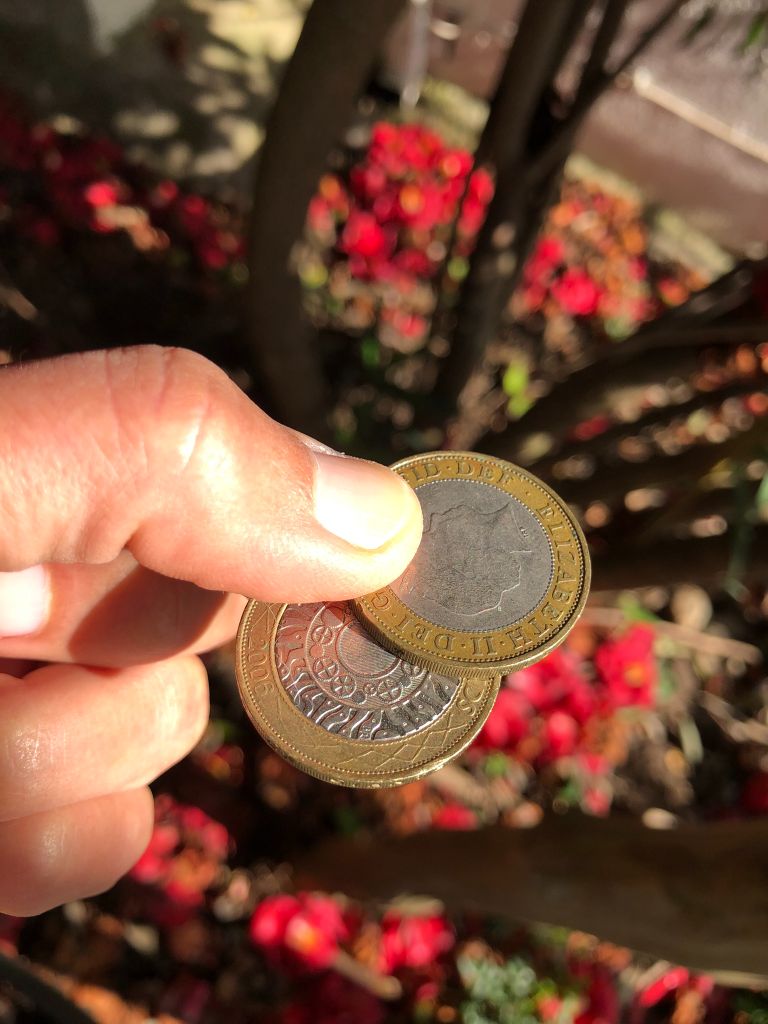 The Fabulous Flight
My airport experience was amazing but the Porto airport security queue was so long that it left me very little time to find my boarding gate (under 15 minutes). I arrived at the airport 2 hours prior to my flight and had no check in luggage. The air hostess was lovely and very accommodating and showed me to my seat. I had huge anxiety about who I would be sitting next to on the plane. I struck gold as the plane was fairly empty on the way out and I had 2 empty seats next to me so I got the pleasure of a whole row to myself, something that I don't think I've ever been blessed with before in my lifetime. I didn't pay extra to choose my seats but luckily I got allocated seats of 2F and 4F on the return journey which are window seats very close to the front of the plane. My biggest fear of all was having an IBS attack on the plane or whilst in Bristol. The smallest of changes to my regular diet can start a flare up and excessive fat and carbs usually kick off an agonising onset. Luckily enough for me, although my diet for the week included way more saturated fat and carbs than I would normally eat, I only got ill once, thank god. I watched with interest a man who visited the toilet a total of 16 times! Yes, I counted (ha ha). I felt every second of his pain!
I decided that it would be beneficial for me to buy travel insurance due to my recent eye sight loss scare. I got 3 quotes but decided to go with my bank as it was affordable and easy to purchase with the mobile app. Better to be safe than sorry. I was treated like royalty, the flight left on time and was an absolute dream. The coffee on board was not a dream, it was a £3 nightmare from hell (ha ha). There was a screaming toddler who had a tantrum for the first 20 minutes of the flight but she soon settled down. A young mum was re-allocated an upfront seat a couple of rows in front of me and my heart sank. This baby was an absolute angel and I made a point in speaking to the mum and letting her know how amazing her baby had been and that she should be proud, I think I made her day. Small compliments can make a difference so don't ever be shy to speak up and be kind to strangers. After all we are a nation of complainers.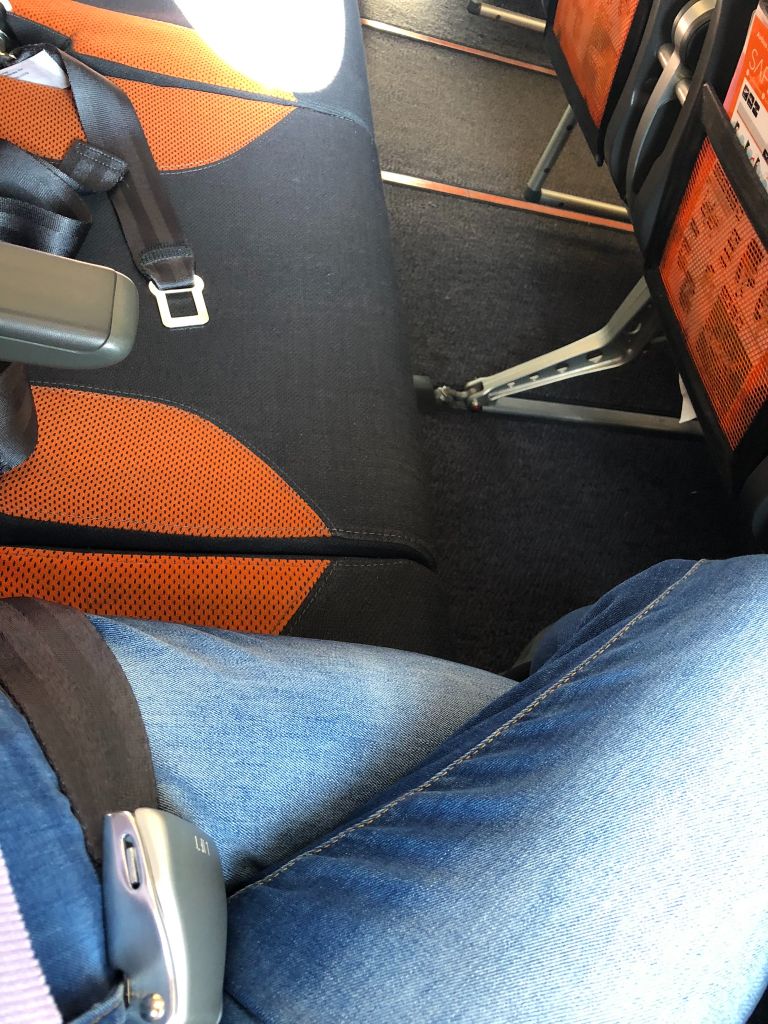 Teanna the Taxi
After years and years of being a personal taxi to my children it was refreshing to be collected from the airport by my daughter who had borrowed her dad's car. In all honesty I was more than a little apprehensive about climbing in a motorised vehicle with Teanna as I haven't had the pleasure of being a passenger in a car with her driving since she passed her driving test a few years ago. Teanna had to get a bus from her University town of Nottingham so arrived in Bristol after my flight had landed. I made an epic bad decision and decided to start walking down the busy A38 towards Bristol with the stupid idea that she would pick me up at the crematorium in 20-30 minutes and it would save her the hassle of having to pay and park in the arrivals short stay car park. I could also visit my friends grave and pay my respects. I managed to let her know the meeting point then off I headed in the absolutely freezing weather with a small suitcase on wheels and a backpack. It really was bitter cold and I ended up walking for over an hour! I passed 3 pubs and the pavement disappeared which meant I had to negotiate crossing the busy main road to find a safe grassy embankment to walk along. The grass turned to mud which forced me to carry my suitcase as the mud got trapped in the wheels and wouldn't move. My back was agony and I literally wanted to cry but I couldn't get any Wifi so I was unable to tell Teanna to pick me up from a warm pub.
I walked for several miles when I managed to obtain a signal and let my daughter know that I wasn't going to make it to the designated meeting point. She was luckily only a couple of minutes away and just as I hung up a good samaritan pulled up in his work van and said "I have watched you walk miles all the way from the airport, you must be freezing, please can I give you a lift somewhere?" Bless this hero of a man. I kindly refused but was so grateful as he had passed me and made a U turn in the petrol station to come back and save me, or possibly abduct and murder me, we will never know (ha ha). He was blocking my view so Teanna drove right passed me (ha ha). We eventually found each other and after a long roadside hug I staggered into the warm car. The journey was slightly traumatic for me and I hung onto the handle for dear life. I think it's purpose is to hang clothes on but my hand stayed tightly gripped until we arrived safely at my dad's house (ha ha). To be honest, I was so cold all my fear melted away when the hot fan hit my face as I was in ecstasy. Teanna if your reading this I Love you, your driving skills are actually pretty good, I award you a 6/10 for obvious reasons, I won't elaborate here. Scratches can be buffed out, no lives were lost and in her defense I did make her drive down a very narrow country lane and attempt a 3 point turn holding up about 6 cars (ha ha).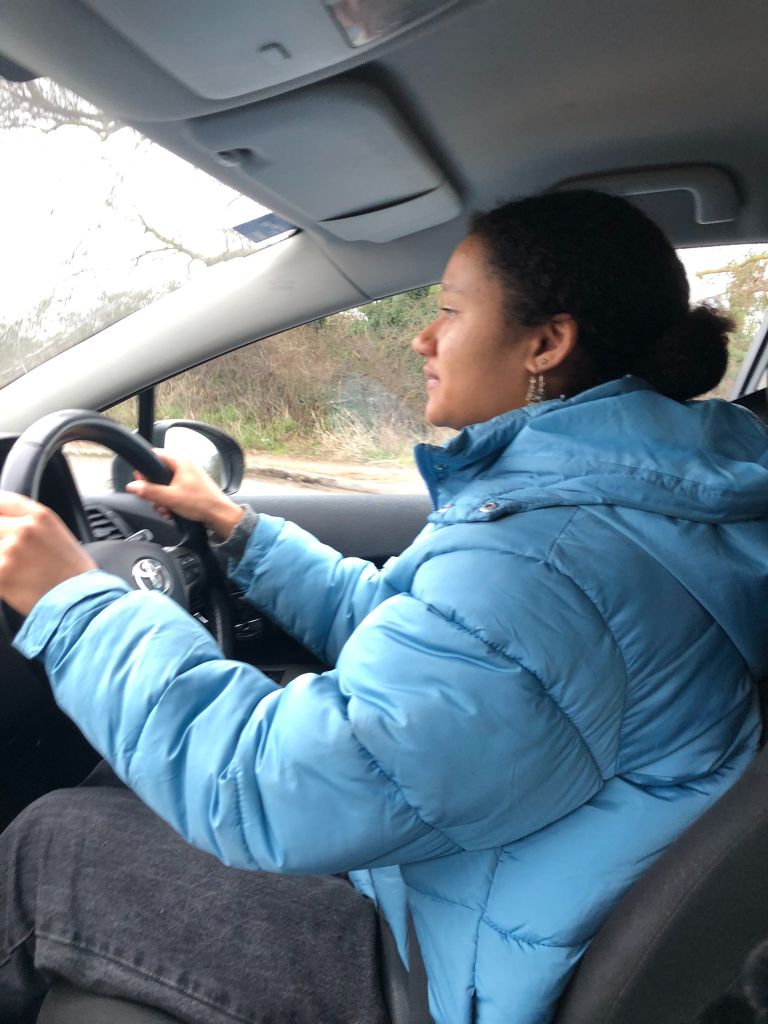 Mother & Daughter Selfie Fun
The nutters reunited! (ha ha).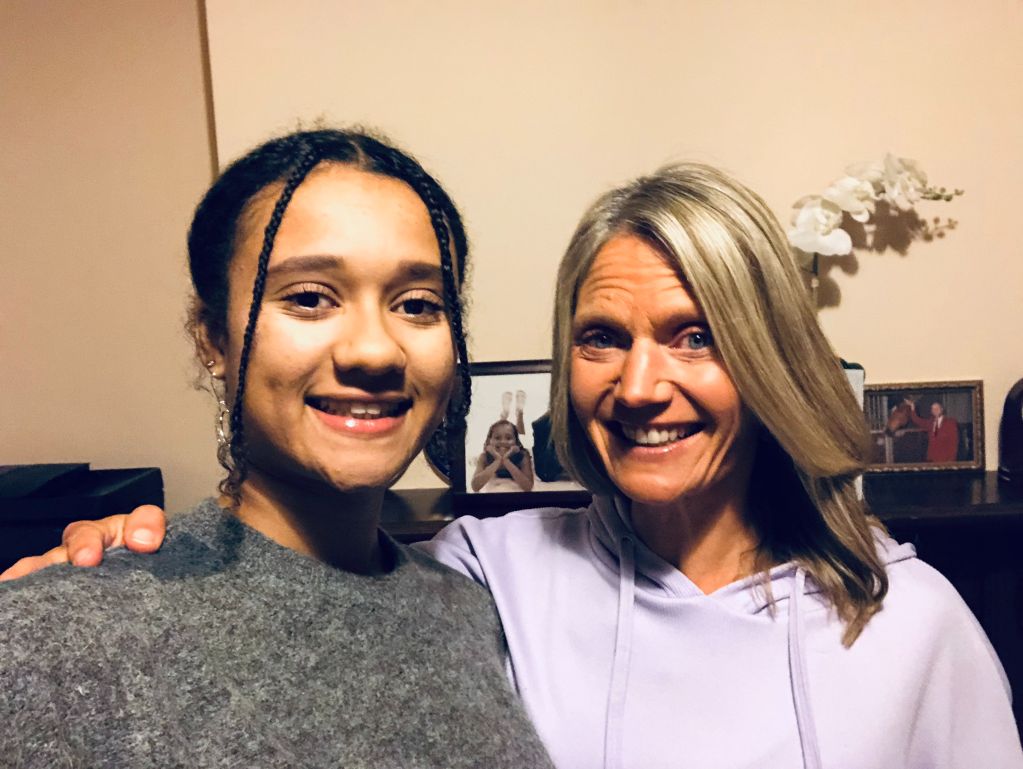 Convenience Verses Calories
Dad lives 2 doors down from a convenience store. Gosh, I would be fat as a house if I lived so close to all these snacks (ha ha). One thing that has helped maintain my massive weightloss in Portugal is the fact that we live in a remote rural village with no cafe or shop. There is a cafe and shop up the hill but our village is like stepping back in time and we don't have access to a Tesco express or corner shop. We also don't have any food delivery service like Uber Eats or Deliveroo. If it's not in the house, easily accessed or growing in the garden then you can't eat it. I forgot how much choice there is in the UK.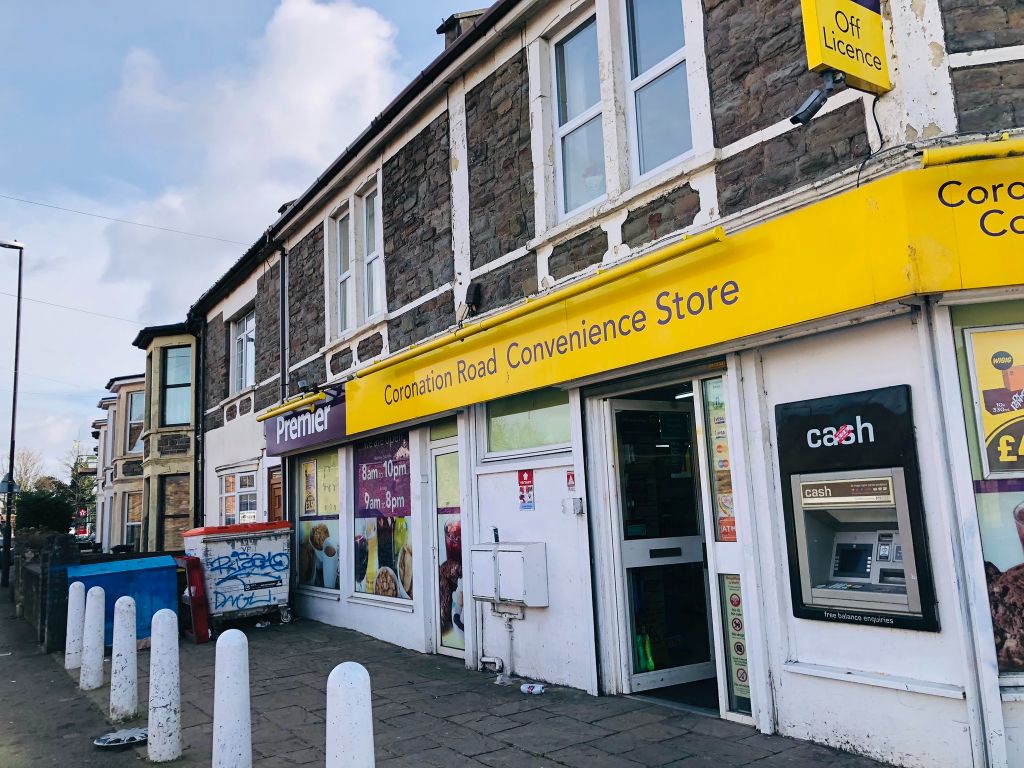 What is Bristol Famous For?
Gosh where do I start? Bristol is rich in maritime history and known for its significance as a historical British port. The city played a major role in the European discovery of and trade with North America, which included slaves and plantation goods. Bristol harbour is home to the SS Great Britain, The Matthew and the annual Harbour Festival. Bristol was at the forefront of advancements in aviation technology. The world's first commercial supersonic jet (Concorde) was designed and built in Filton in 1969. Bristol was also the first British city to be named European Green Capital and UK's first cycling city. Bristol has a thriving art scene, is a buzzing city bursting with green spaces. If you love arts and culture then the delights of The Arnolfini, Bristol Old Vic, The Bristol Hippodrome, Redgrave Theatre, Bristol Museum and Art Gallery will bring you much joy.
It's famous for it's amazing architecture including the Clifton Suspension Bridge where the first ever bungee jump took place, Cabot Tower and Bristol Cathedral. Bristol has its own 'leaning tower' (Temple Church), which is just one degree less than the Leaning Tower of Pisa at 2.7 degrees. Banksy, one of the most famous street artists of all time, was born and raised in Bristol. In the 1980s, when Banksy was just a young kid, there was a major street art wave in Bristol that Banksy was a part of. As a result, some of his earliest pieces can still be found around the city. While unfortunately some of his work is no longer here, there are still 13 pieces dotted around the city. Bristol is the home of Wallace and Gromit, Chicken Run and Swashbuckling Pirates! My favourite fun fact is that Darth Vader is a Bristolian! It is home to many famous people including J K Rowling who was born in Yate. Due to it's location it is known as "The gateway to the South West". Let's not forget the local music acts Massive Attack, Portishead and Roni Size among others. Across the world there are 35 cities, towns and other places named Bristol, all of which are believed to be named after the original (and best) Bristol, UK.
A well-known Bristol delicacy is the Colston Bun, the bun itself is a sweet bun made of yeast dough and is flavoured with dried fruits such as currants, candied peel and sweet spices. It's named after Edward Colston, a Bristol-born English merchant, philanthropist, and Member of Parliament who created the original recipe. Did you know that the first ever solid chocolate bar was produced at Fry's in Bristol in 1847? Fry's Chocolate Cream became the first mass produced chocolate bar in 1866. The company also created the first filled chocolate sweet Cream Sticks in 1853. Later, Fry's Turkish Delight launched in 1914! This was my mum's favourite chocolate bar although she should not have ate it being a type 1 diabetic. I found these tiny bars in the £ shop and they are only 55 calories each per bar. God only knows how they can call them a bar as it's more of a bite than a bar but delicious nevertheless. Fry's also created the first ever chocolate Easter Egg in 1873. The tasty Ribena cordial was originally manufactured by Bristol-based food and drink company Carters. Somehow I managed to scoff a whole packet of Turkish Delight mini's during my visit! I also bought a packet home for us both to enjoy together, hubby is happy as he likes to snack whilst working and so do I. The biggest dilemma is there are 7 mini bars in a bag which is a silly uneven amount. I might very well have to physically fight hubby for the very last one. My wrestling skills are pants but when there is chocolate as a prize, I will fight to the bitter end my friend, I fight dirty and I take no prisoners, you have been warned (ha ha). He was not up for the battle so cut it in half.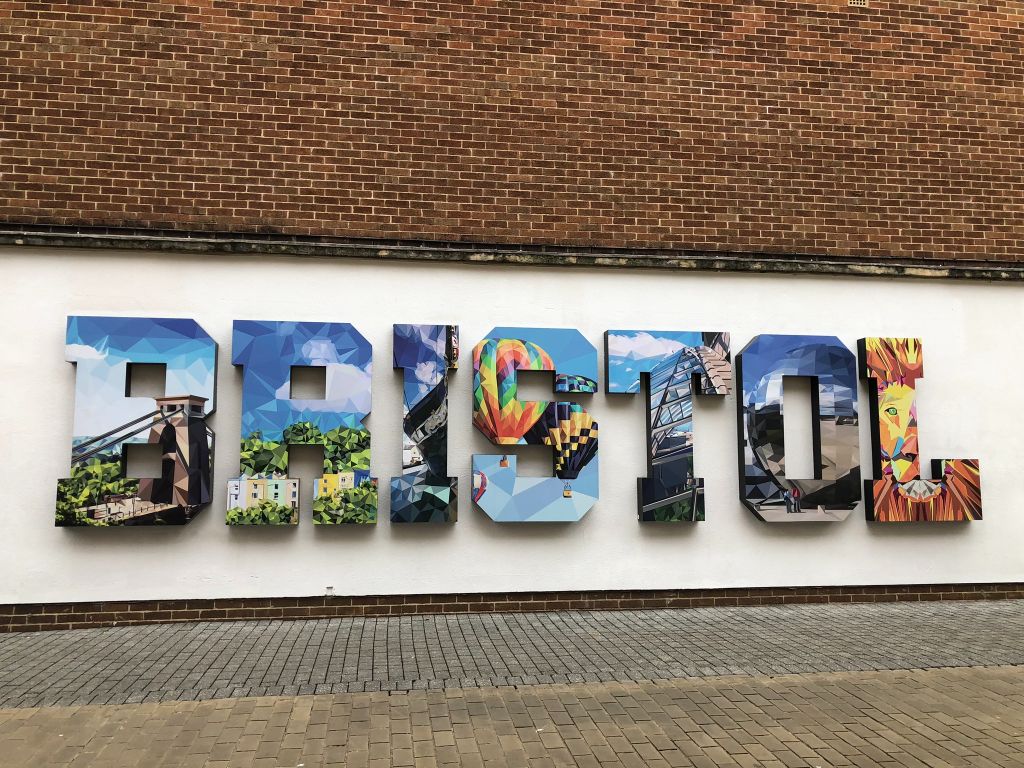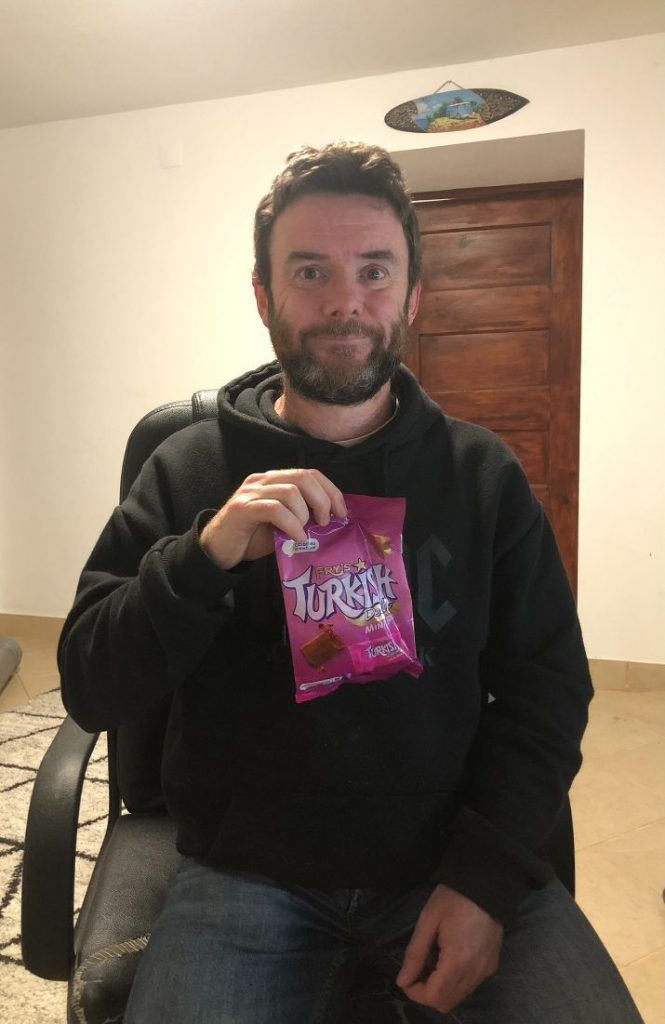 Bristol Balloon Fiesta
I LOVE the annual Bristol Balloon Fiesta and used to take my kids each year. It was a free event except for parking but everything inside cost an arm and a leg. I would visit with £50 in my pocket and once we had used every last penny on rides, food and drink, we would head home after the nightglow and firework finale, with a smile on our faces and a little poorer until the following year.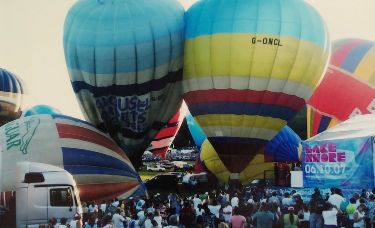 The Statue of Edward Colston
The statue of Edward Colston is a bronze statue of Bristol-born merchant and Trans-Atlantic slave trader, Edward Colston (1636–1721). It was created in 1895 by the Irish sculptor John Cassidy and was formerly erected on a plinth of Portland stone in a public area known as "The Centre" until it was destroyed by anti-racism protestors in 2020. On 7th June 2020, the statue was toppled, defaced, and pushed into Bristol Harbour by anti-racism protestors during the George Floyd protests related to the Black Lives Matter movement. The plinth was also covered in graffiti but remains in place. The statue was recovered from the harbour and put into storage by Bristol City Council on 11th June 2020, and exhibited in its graffitied state in the M Shed museum for a period from June 2021. Four people who helped topple the statue were found not guilty of criminal damage by a jury in January 2022. My daughter attended the protest and we both re-visited the empty plinth during our weekend together.
A lot of landmarks and street names are being renamed due to the link with slave trade e.g. In 2020 the Colston Hall has was rebranded The Bristol Beacon. There are several petitions and it is popular belief that the naming of both Whiteladies Road and Blackboy Hill have connections with the slave trade, but both names appear to be derived from pub names. Maybe the Colston bun will have to be renamed and called the Bristol bun. My favourite name change is a pub which was once called the Colston Arms, it is now called the Open Arms (how cute) but I really liked it's temporary name of "Ye Olde Pubby McDrunkface" (ha ha).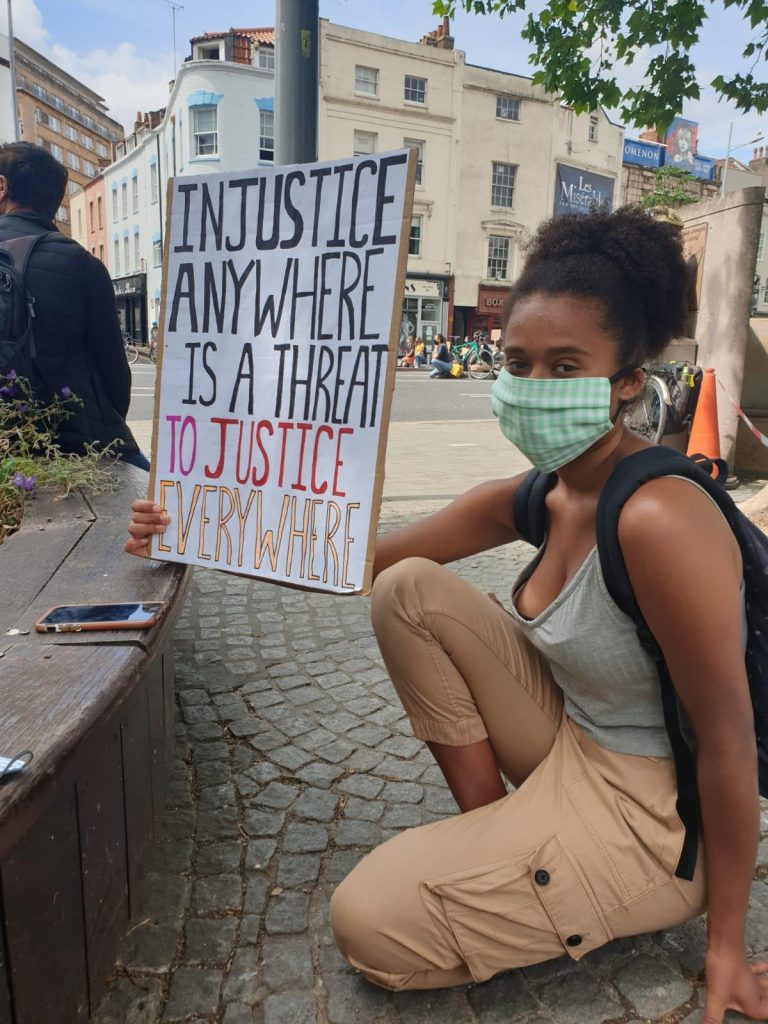 The Empty Plinth
It was a poignant moment for sure and it was slightly chilling to view the plinth with the name minus the statue.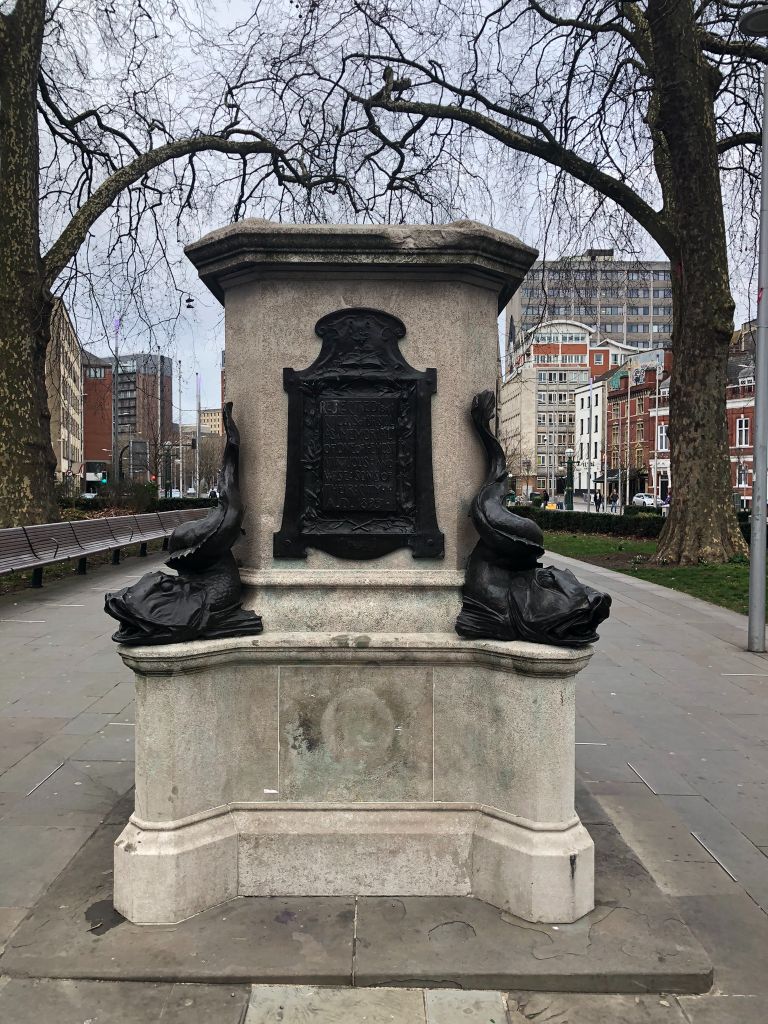 Southville – The New Clifton
Dad lives in BS3 in Southville and this area has changed so much from the 70's when I grew up here. A lot of the traditional shops have been replaced with trendy cafes, bistro's and deli's and it is home to Mark's Bread and the Bristol Beer Factory. Bristol in general, for one reason or another is intrinsically associated with so-called hipsters, probably as a result of its young population, two universities, booming vegan and vegetarian food scene, street art, abundant independent shops, thriving live music scene and strong politics. Southville offers a cool vibe and is now classed as the New Clifton. It was considered "Lower Clifton" since the 90's which makes me laugh as we always used to call it Ashton Gate and not Southville.
Ashton Gate is home to Bristol City Football Ground which is literally a few minutes walk from my dad's house. The old Tobacco Factory has been converted into a Theatre, restaurant and bar and it offers a Sunday Market and Farmer's Market. Some "Old School" stores are still in operation like Lion Stores hardware which now has an impressive lion mural spray painted on it's shutter. The Hen & Chicken pub which offers a comedy club is also still thriving and again has some impressive street art on it's exterior walls. I know dad struggles with all the change over the years and I think he in one of the few older generations (at age 80) who still remembers the good old times of BS3. It's got so hip and dad is one of the minority and old school fogies amongst all the arty farty young folk, vegans and yummy mummies. It is strange as years ago you would only ever hear a typical Bristolian accent on North Street. I stopped to ask a man directions to the Tesco Express and he was proper posh and rivaled an accent fit for the real hoity toity Clifton (ha ha).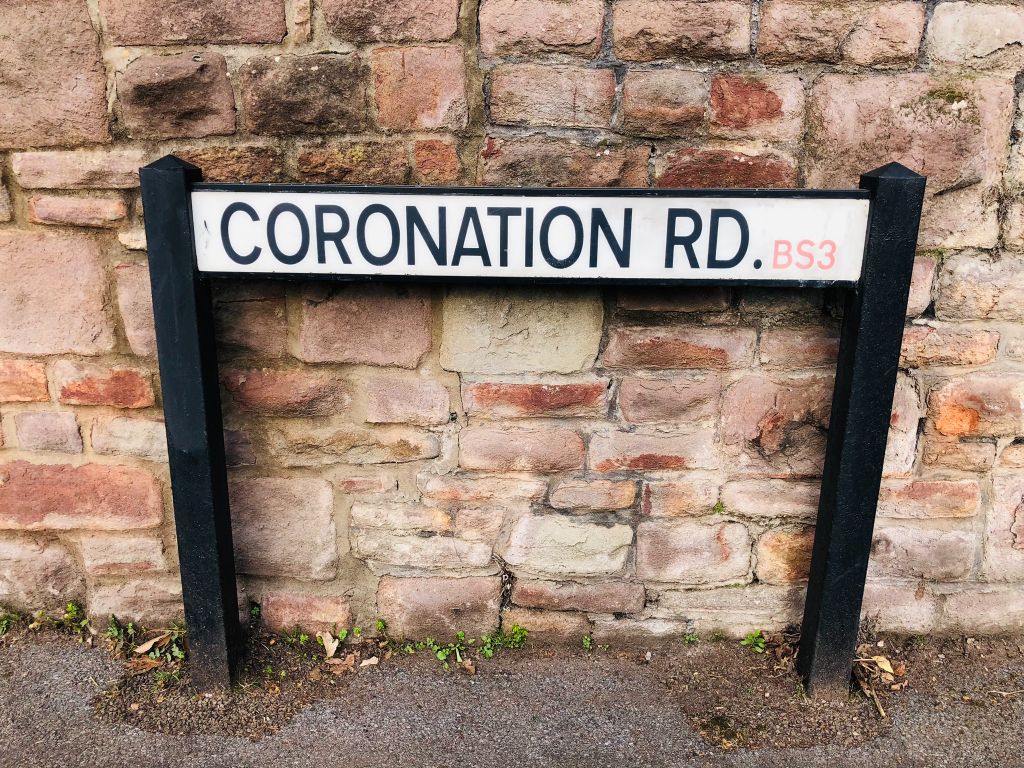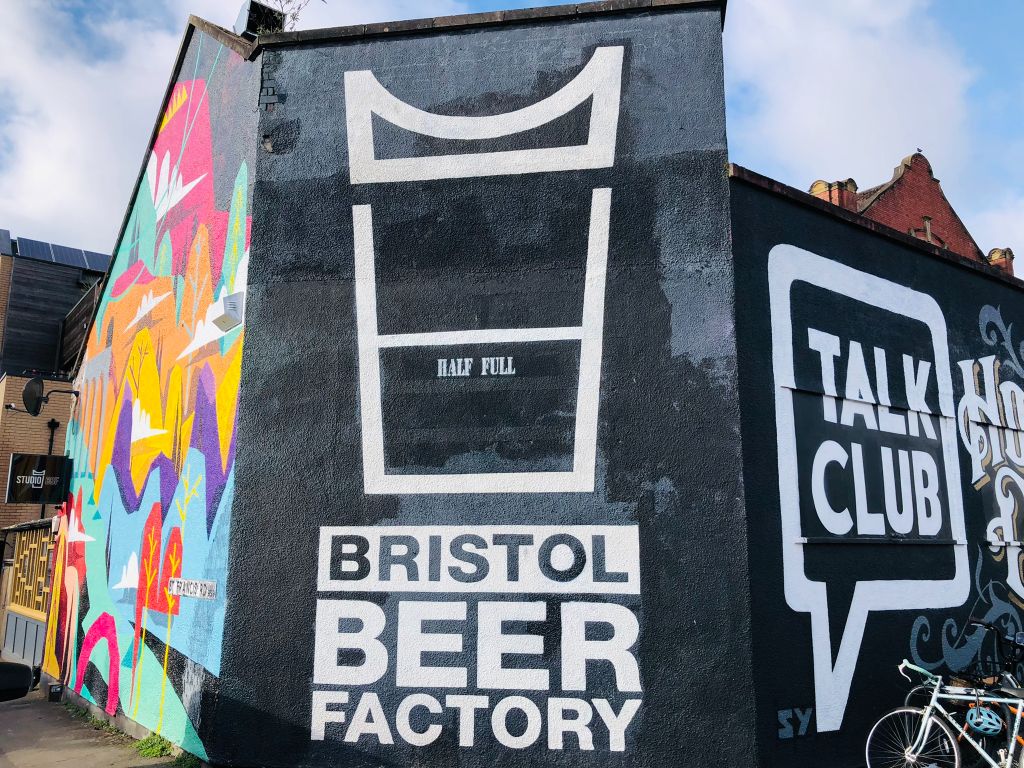 Tobacco Factory
This is where Teanna and I visited to see an amazing comedy show. It has a great cafe/bar and we sampled the North street Cidre.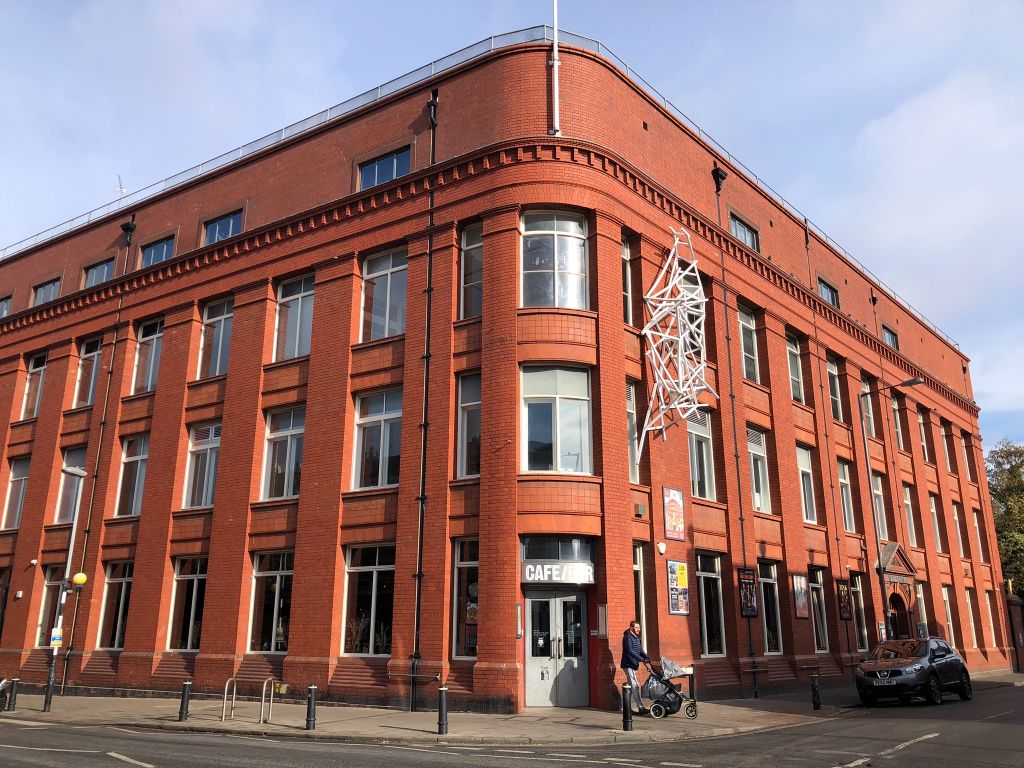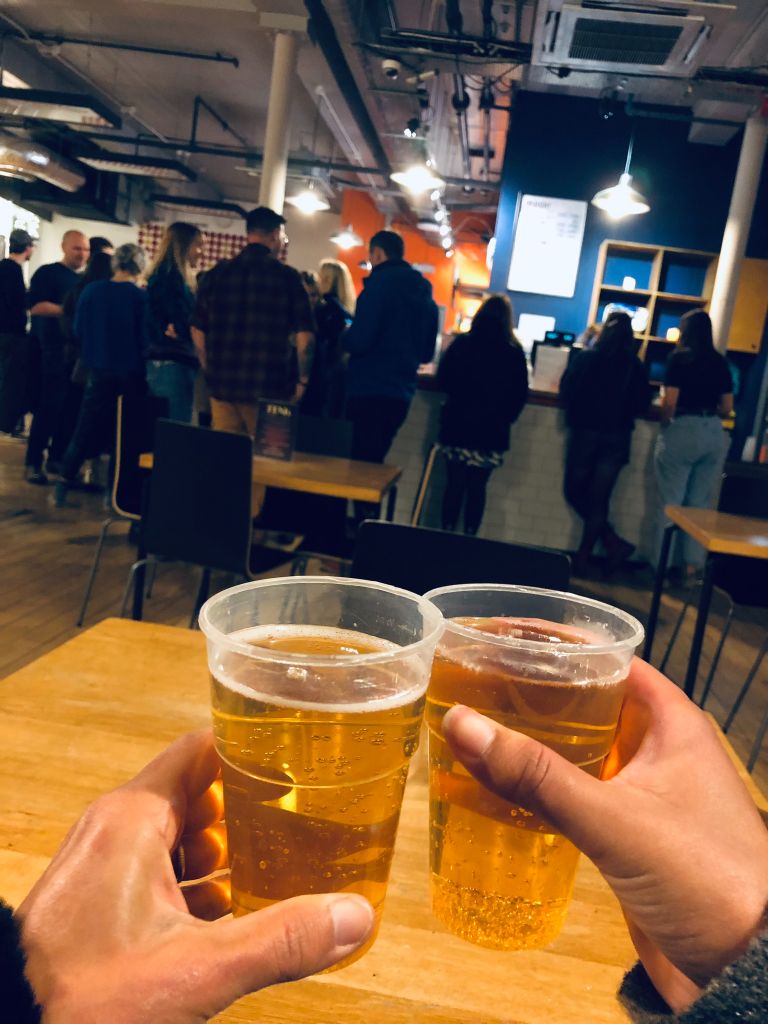 Pricey Property
Wow, I can't believe the prices of the property in my dad's local area of BS3, it's mind blowing. We rented a tiny flat in Redland BS6 before we relocated to Portugal. We got lucky as the landlord never hiked the rent in all the years we lived there and we only paid £675 for a 2 bed flat. He also did no repairs so swings and roundabouts. My son pays in excess of £1000 per month for a 1 bed apartment in Old Market! Just look at these prices below WTF!
3 years ago before we relocated to Portugal house prices in Redland and Clifton were around the 1 Million mark and flats were in excess of 500K. There was nowhere in Bristol that we could ever buy a 3 bed house with garden for under 100K. I am so glad that I made the move to Portugal, it's simply the best decision I've ever made and we are living the dream.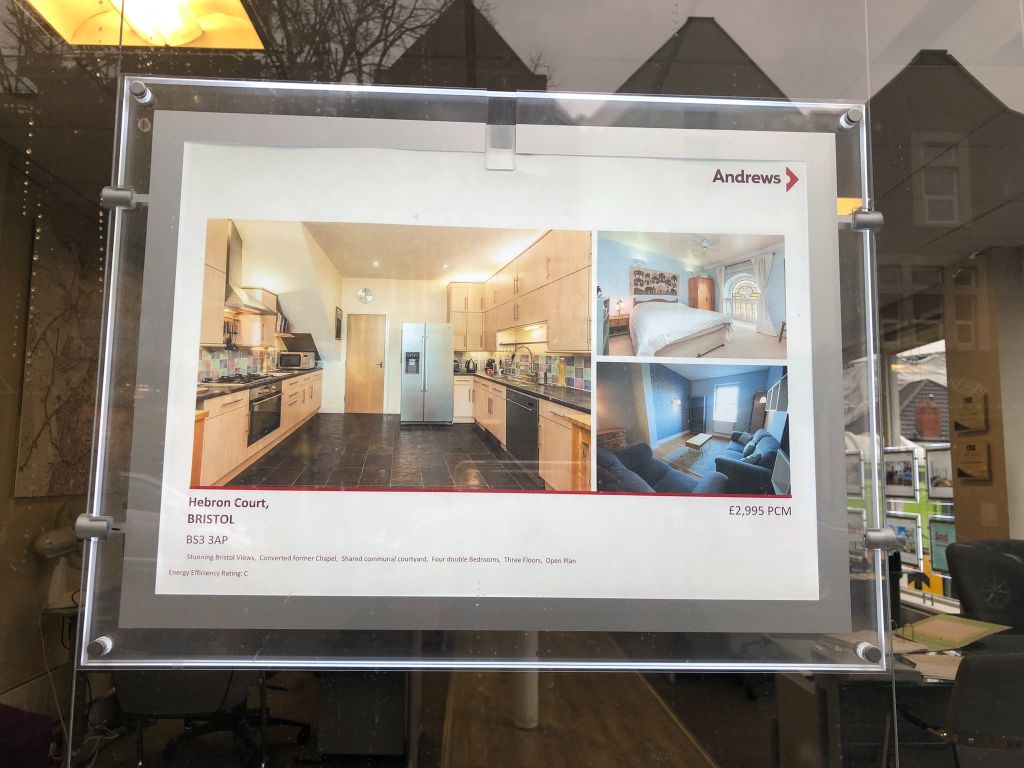 My Bristol Plans
This visit was mainly to see and hug my dad, son, daughter and a few close friends. I haven't seen my dad or son in over 3 years. My dad will be 81 this year and my son turns 30. My daughter Teanna has visited me in Portugal a few times and I spent the whole weekend with her whilst she was not at university. I was going to catch the bus or train and meet her in Nottingham, her University city but in the end she travelled to Bristol to meet me instead as I had already travelled a lot and my back was just not up for another long journey on public transport. My other plans were to visit an optician for an eye exam to update my contact lenses and to order eye glasses and prescription sunglasses because opticians cost an arm and a leg here. You can't seem to just get an eye exam without buying the glasses or contact lenses with them unless you go to see a specialist Ophthalmologist. Some opticians will sell you the prescription for around €25 but I couldn't find a local Optician willing to do this. The eye test is free here in Portugal but glasses are extortionate prices, quadruple what I would pay in the UK so I had an up to date contact lenses and separate glasses exam in Bristol. Then I perused the multiple styles to choose some regular glasses and prescription sunglasses. Luckily I took The Official Fashion and In Style Gok Wan Guru with me (Miss Teanna) to advise me what is on trend otherwise I would have chosen a frame that resembled Deirdre Barlow from Coronation Street in the 1970's and would have looked a right spectacle (no pun intended).
My Favourite Daughter – The Child That Looks Adopted
We had so much fun exploring Bristol together and embarked on some weird and wonderful experiences. Most mother and daughter duos visit a luxury spa or enjoy a bottomless brunch sipping cocktails. Not us weirdos! Teanna had a plan for us to get matching bunny tattoo's and she forwarded the artwork to the tattooist a couple of weeks prior to my visit but unfortunately the lady did not have availability for this weekend so our mother and daughter tattoo dream is put on hold temporarily. Instead we enjoyed some awesome retail fun exploring the maze of quirky stalls, street food and historic architecture at Bristol's St Nicholas Market. We ate yummy falafel from Eat a Pitta with heaps of humous, salad and pickles. Maybe I'm morphing into one of those arty farty vegans after all (haha). What next? Himalayan pink salt and just joking please don't get offended all you vegans.
Once our bellies were full the crazy adventures began! Our family fun not under the sun included Whistle Punks Urban Axe Throwing, Theatre tickets – Comedy Act at the Tobacco Factory to see Alison Spittle's "Wet" show and Four Quarters which is an old fashioned arcade bar located on Park Street in Clifton. It hosts over 20 original arcade machines spanning from the 70's to the late 90's, retro console booths and a basement bar. We played a lot of Space Invaders and Pac-Man! The cocktails were plentiful and my favourite was Princess Peach although my personality more likely suits a Citrus Bitch (ha ha). There was also a wide range of beers from local breweries and the games run on Quarters X4 for £1.50 or X15 for £5.00. This place would make a cool venue for a private hire party. We had so much fun beating others to obtain the highest scores so we could write funny messages. Axe throwing was probably not the nest choice of activity for someone with reduced vision and was pissed as a newt (ha ha). No one died at axe throwing, I know it was a miracle (ha ha). They made us sign a waiver/disclaimer. I did manage to spill someone's pint of beer all over my Zara coat. Teanna was robbed and beaten to 1st place by an Aussie bloke. He clearly had an unfair advantage as he's used to pissing around with boomerangs and was playing against 5 Sheila's (ha ha). 1st and 2nd prize won a drinks token so Teanna celebrated with a craft beer. We walked back home along the mesmerising Bristol harbourside and gazed in awe at all the pretty lights shimmering on the water and an illuminated wave art installation whilst trying not to fall in (ha ha).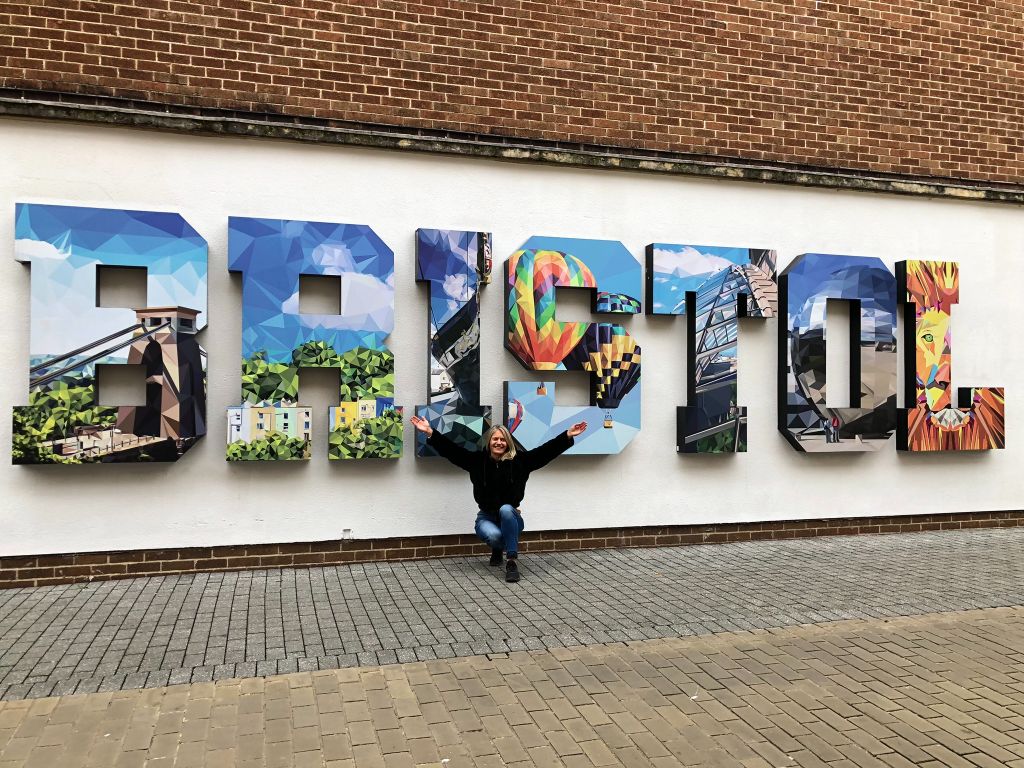 Spike Island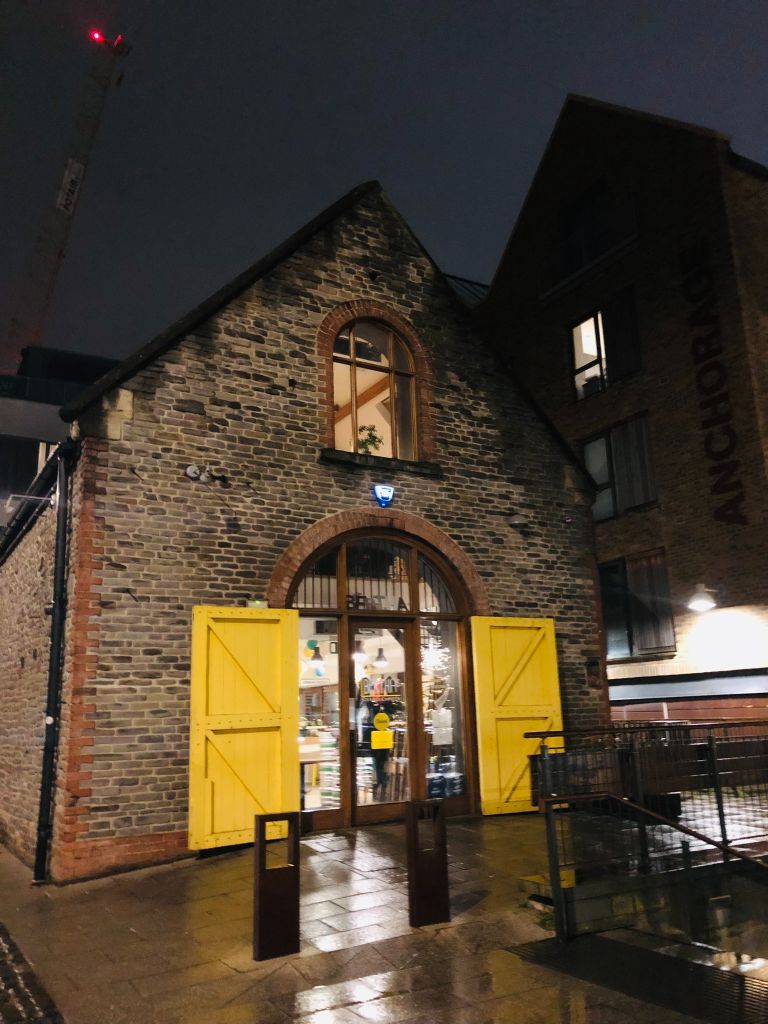 Bristol Harbourside by Night
Beautiful reflections on the water, MAGICAL!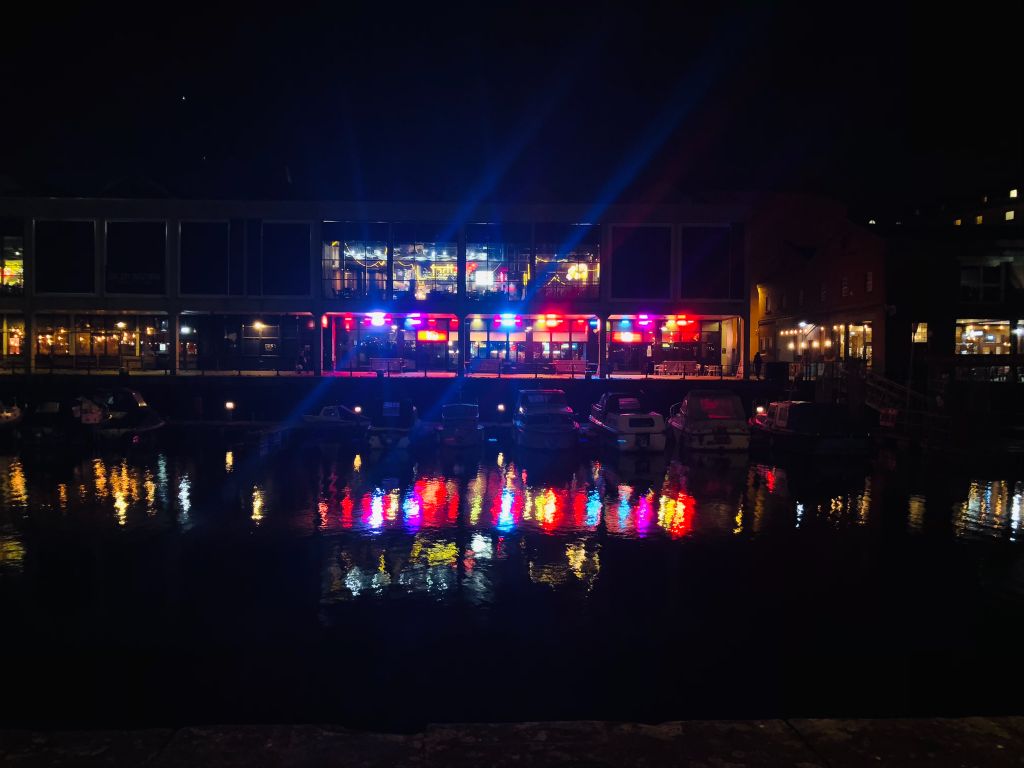 Swimming in Shit – Bristol Harbour by Day
Apparently there is to be a Bristol Harbour swimming pilot scheme to begin in April 2023, all thanks to Bristol City Council. Legally swimming in the harbour will soon become a reality in the Baltic Wharf. After an initial test swim in March, the harbour will be opened up from April 29th on Saturdays and Sundays for one-hour public swim sessions at a cost of £7 per person, and will run for five weeks. There is no way on hell's earth that I would submerge my body into that sewerage and I certainly wouldn't pay £7 for the privilege. I think I will stick to the safety of our glorious Portuguese river beaches with crystal clear waters, there is simply no comparison.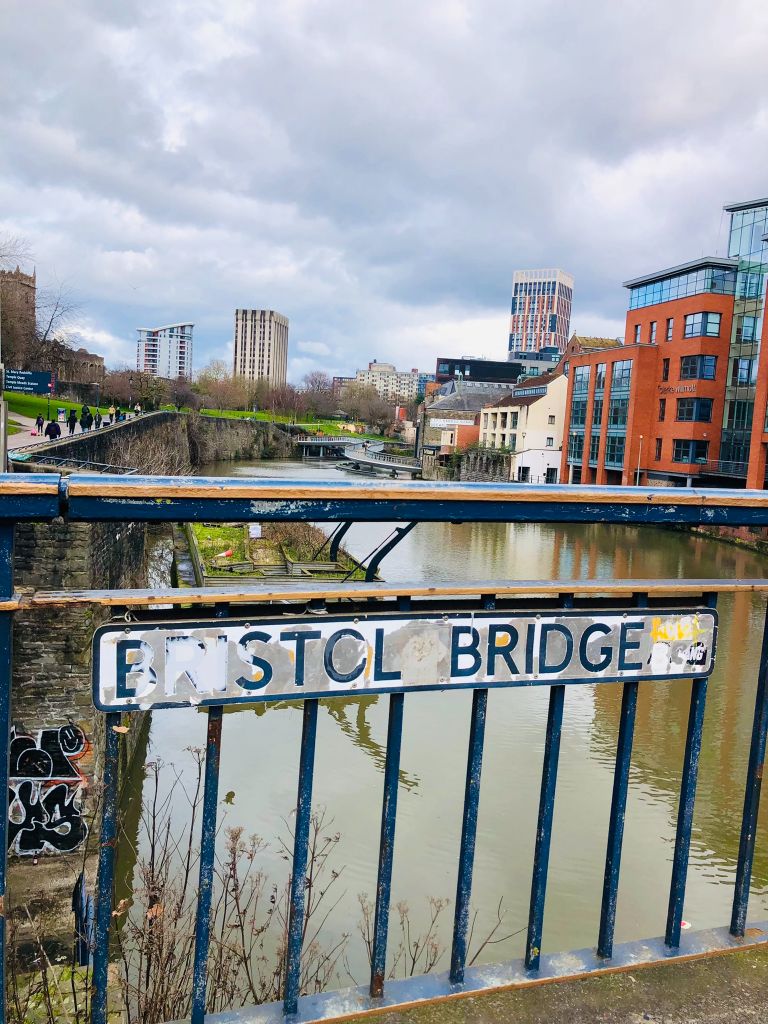 Swimming in Portuguese Paradise
As I said NO CONTEST!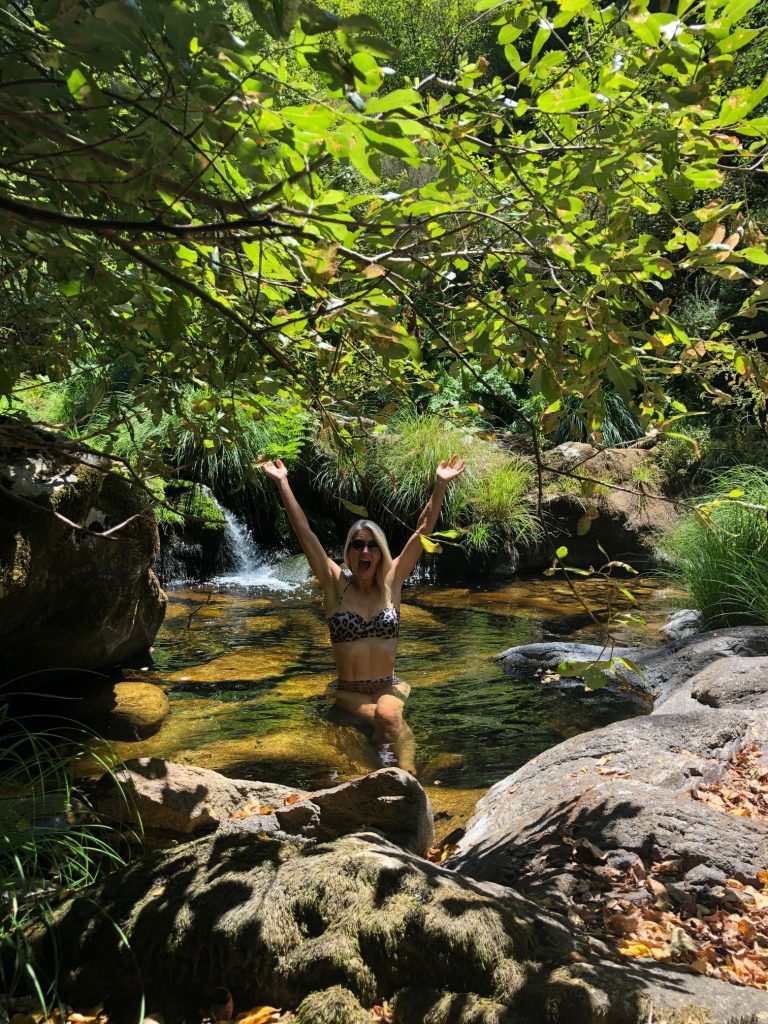 Blessed with the Best
The only thing you will find floating in Portuguese rivers are leaves and a crazy brit or family trio! (ha ha).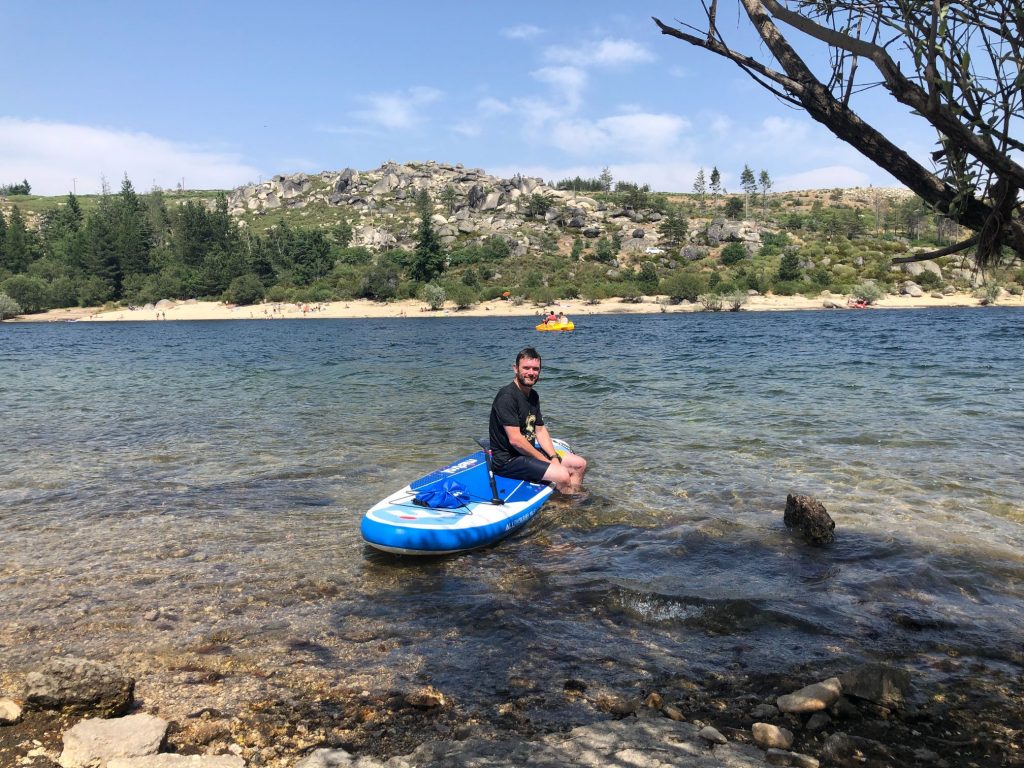 St Nicholas Market
Established in 1743 St Nicholas market is the oldest and best loved market in Bristol and has fantastic examples of Georgian architecture. There were so many cute ceramics at the market but I resisted as it's just overpriced stuff I don't need and I also had zero space in my case for unnecessary things. Somehow I also managed the temptation of the Bong Shop (ha ha). Those yellow rubber ducks nearly had me spending my money, so cute!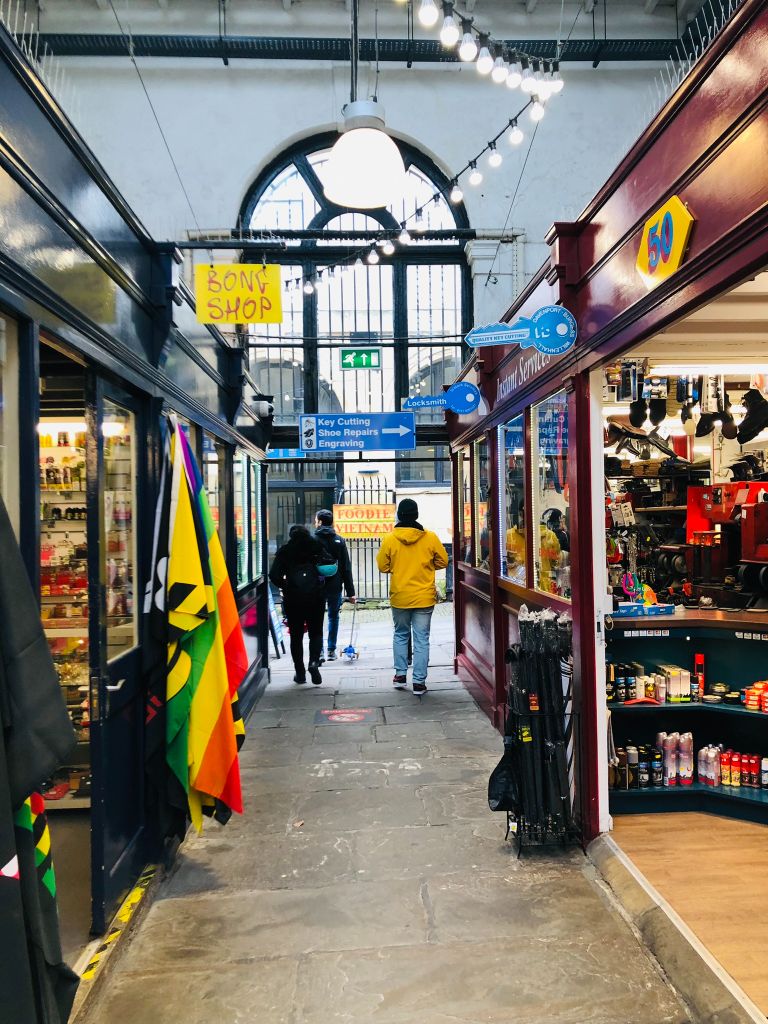 Celebrating my 49th Birthday
Ashton Court – The Short Cut & Silk Cut
I had a lovely jog around Ashton Court on my birthday. What is really funny is that my old Secondary School (Ashton Park) is located adjacent to Ashton Court Estate and as a teenager we were forced to run around the park for Cross Country PE lessons. I just couldn't physically run that far and hop over fences as I was a bit of a lardy ass lass. The absolute worst bit was they made you wear these huge big navy granny knickers and because we had to jump over fences some bright spark decided that we were not allowed to wear our gym skirts because they might catch in the fences and cause a health and safety hazard so running in our pants was the rule which horrified me and my thunder thighs. I came up with a cunning plan and used to hide in the forest area half way around and have a cheeky Silk Cut cigarette (we called them fags back in the day) then I took a short cut through the forest area and re-joined the others whilst pretend panting and somehow I got away with it (ha ha). I still think it's crazy that the local cafe and newsagent used to sale us 13 year old's a single cigarette for 10p whilst we were wearing our school uniforms and walking to school each day. In the 1980's Silk Cut was classed as such a pussy cigarette and we rapidly moved onto Lambert & Butler and a pack of 10 cost 76p! Luckily for me I gave up smoking in my 20's for a combination of reasons. Mainly due to health and cost reasons.
My Birthday jog was so lovely and the weather was good. After my 7K jog I took a leisurely stroll around the outside of the Manor House and gardens and admired all the flowers. There were bursting yellow sunbeam faces of vivid yellow daffodils and I had a splendid time remembering back to when my sister and I got shouted at by an old lady as we we picked daffodils for our mum in our local park as it was Mother's Day and we wanted to buy her flowers but we had no money. The lady screamed at us and we ran as fast as our little legs could take us all the way home whilst tightly gripping onto those pretty daffodils (ha ha). Yellow is such a happy colour and a symbol of Hope. What the hell do I look like? (ha ha). I bought a new cheap water bottle which will replace my old one which had the logo of #DadGoals because I purchased it from the £ shop around the same time of Father's Day (ha ha).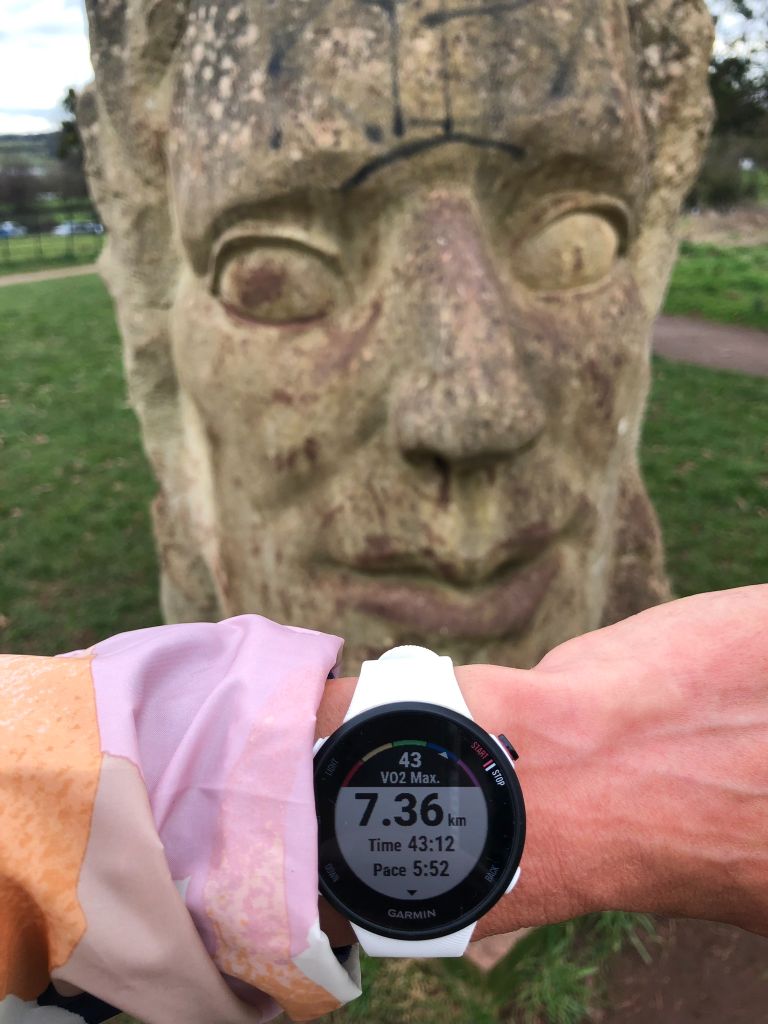 Underpass Graffiti
Just as I was about to leave the skies opened and it started to rain. I took a brisk walk back to dad's via the underpasses. This is the route that I had to take every day to my school. I found some funny graffiti which made me laugh. My advice would be maybe hold off on the weed until after the exams then celebrate with a spliff or two, it worked for Josh (ha ha).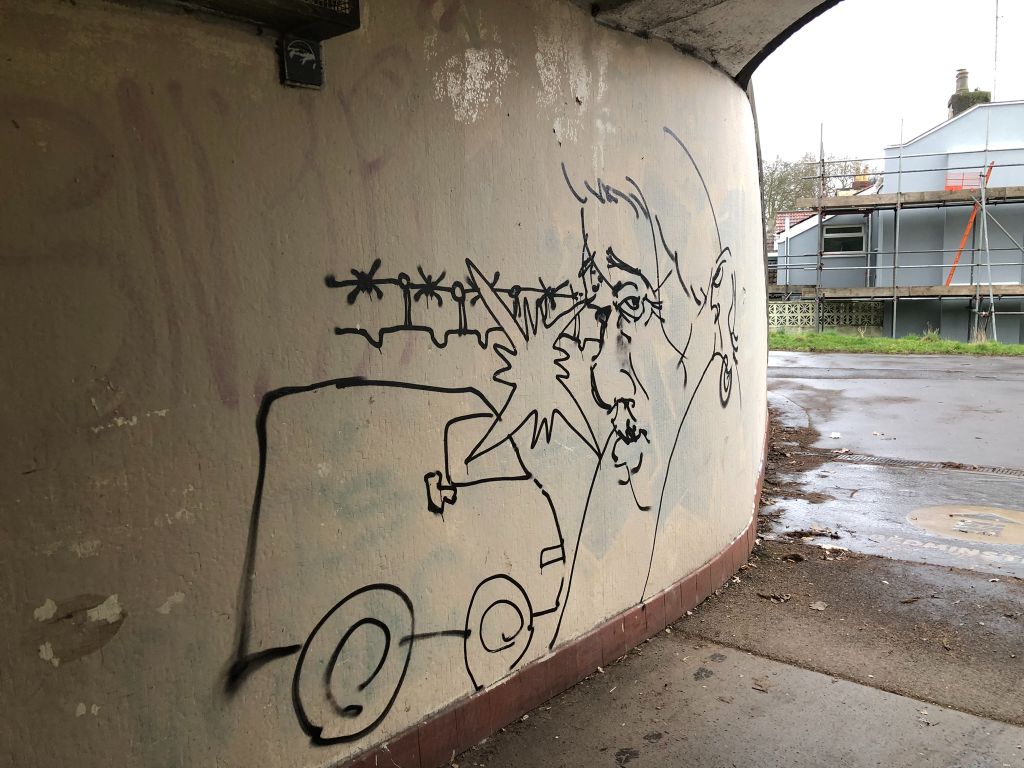 My Birthday Gifts
Teanna gifted me the most precious donkey themed gift with heartfelt message. The little note was so adorable and it's totally my fault that she got confused about the names because I did tell her that my lifetime dream was to rescue 2 donkeys and name them Rick & Negan. We recently adopted 2 Guinea Pigs who are both male and brothers. Due to the fact that we haven't sourced our land yet for the Donkeys, I'm not sure if I will ever get to live out my donkey fantasy and also they might not actually be both male, taking this into account we decided to name our Guinea Pigs Rick & Negan. I adore my Donkey gift and it's going to become my new lucky charm for sure. I'm not sure how but I managed to raise 2 amazing kids, I'm blessed with the best.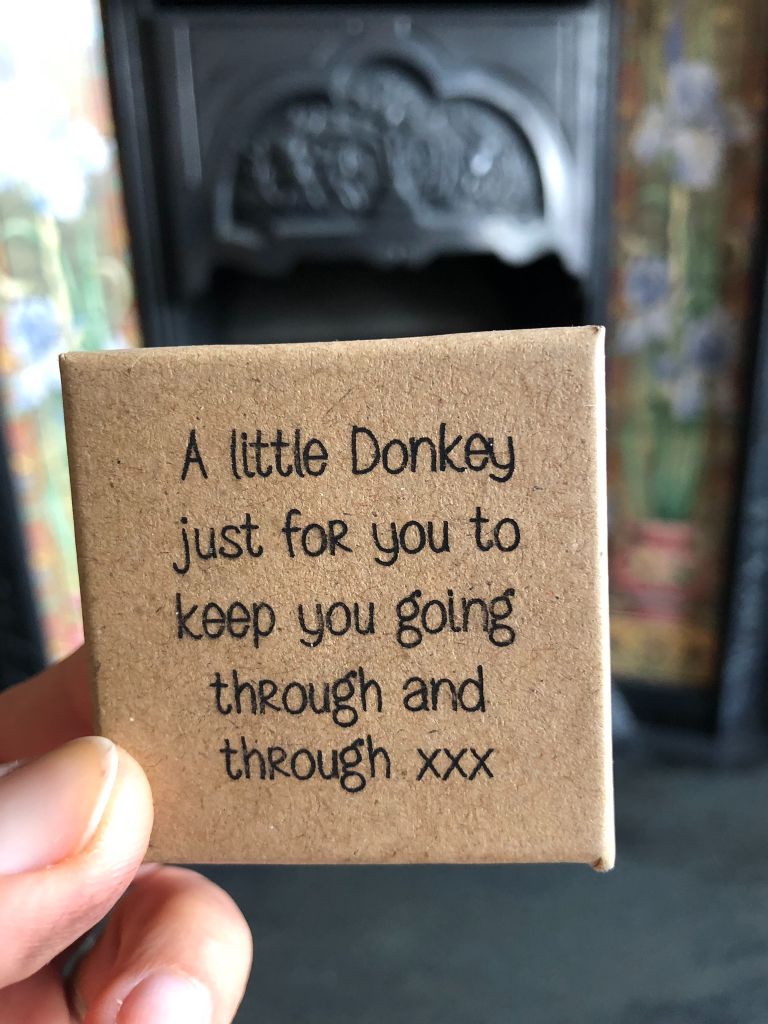 Deff Leppard T.Shirt
As well as my Donkey gift Teanna bought me a lovely T.Shirt from a shop at Cabot Circus, Bristol. Deff Leppard is one of hubby's favourite bands. I am spoilt and a lucky lass. These photos were obviously taken once back in Portugal as Bristol does not look like this in March and one would never venture into the garden during March in Bristol just wearing panties and a T.Shirt unless your house was on fire (ha ha).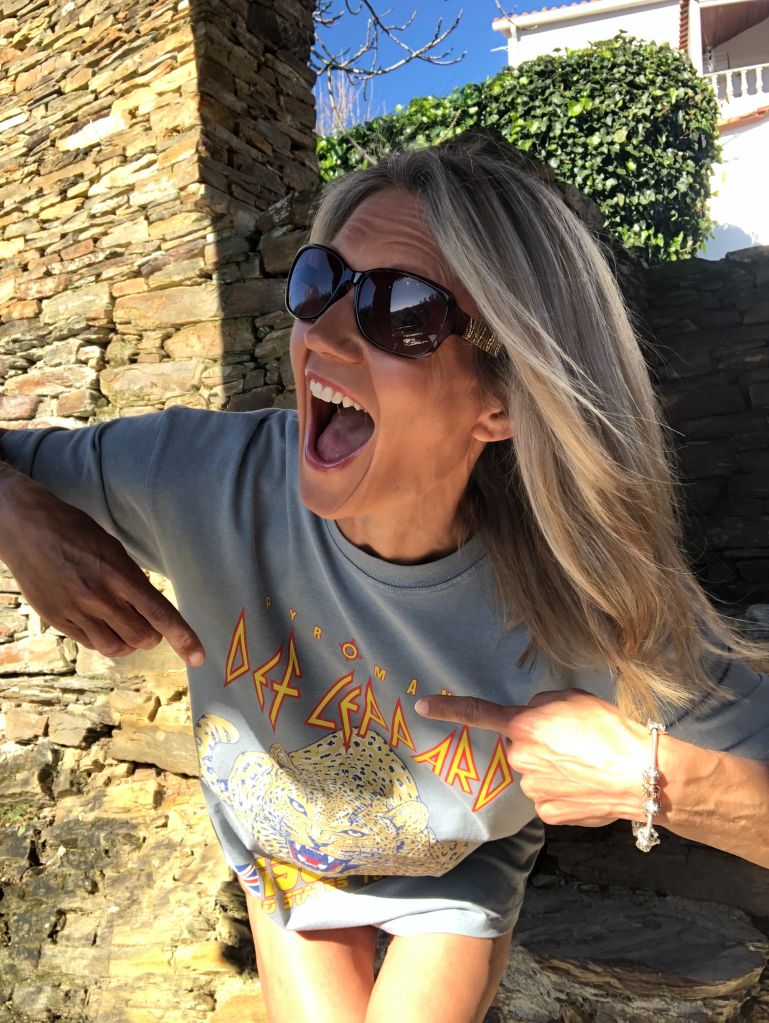 Birthday Cake
I didn't receive a birthday cake with any candles to blow out so I bought myself a birthday cake grenade protein bar with colourful sprinkles from Asda to enjoy on my special day. It was the last one on the shelf and on offer at £1.50 so it was meant to be and a yummy treat after my birthday jog. I resisted putting 49 candles on it (ha ha). Dad also bought me a couple of British custard tarts to enjoy.
My Favourite Son – The Child that Looks Like Me
Teanna headed back to Nottingham on the morning of my Birthday and I spent my Birthday evening with my son Josh. He booked a lovely restaurant "Pizza on the Park" in Clifton because he knows my favourite food is pizza. He wanted to book a steakhouse and I do love steak but my IBS stomach just can't digest red meat well and I didn't want to end my birthday evening laying on my dad's bathroom floor next to the toilet bowl begging for mercy for 5 hours straight (ha ha). Since relocating to Portugal I have embraced the lovely cuisine of thin crust pizzas cooked in outside ovens over hot stones and Portugal have some strange varieties and toppings including peas! They also like to put an egg on everything including pizza but nothing compares to the UK posh Craft pizza joints which scare me senseless because everything seems to be artisan posh or vegan and they have weird ass combinations and toppings such as pink broccoli, artichoke hearts, beetroot pesto, crispy kale and some strange variety of mushroom that I can't even pronounce. Don't get me started on the mysterious Jackfruit! It has taken me nearly 50 years to get to grips and accept pineapple on a pizza, I don't even know what a jackfruit is (ha ha).
I just like basic stuff like chicken, cheese, ham, sausage, chillies, etc. I enjoyed a scrummy pizza named "Double Trouble" with tomato sauce, chicken, ventricina, smoked mozzarella, jalapenos and parmesan. I must admit I did have to Google what ventricina was as it sounded like a STD (ha ha). It is in fact a spicy sausage, I love sausage! Double Trouble was the theme for our evening as we haven't seen each other in over 3 years so some drinking was involved which obviously resulted in double trouble, the apple doesn't fall from the tree, Josh is certainly a unique character and one of a kind like his momma (ha ha). A lot of my trip involved a shed load of British food. I had a blast celebrating my actual Birthday with my 1st born. After our yummy posh pizza in Clifton we staggered with a belly full of dough to a traditional English pub and drank our body weight in West Country Cidre. I will be glad to return to Portugal prices as the pizza meal for 2 cost a whopping £76, WTF! The photos get blurrier the more we drank (ha ha).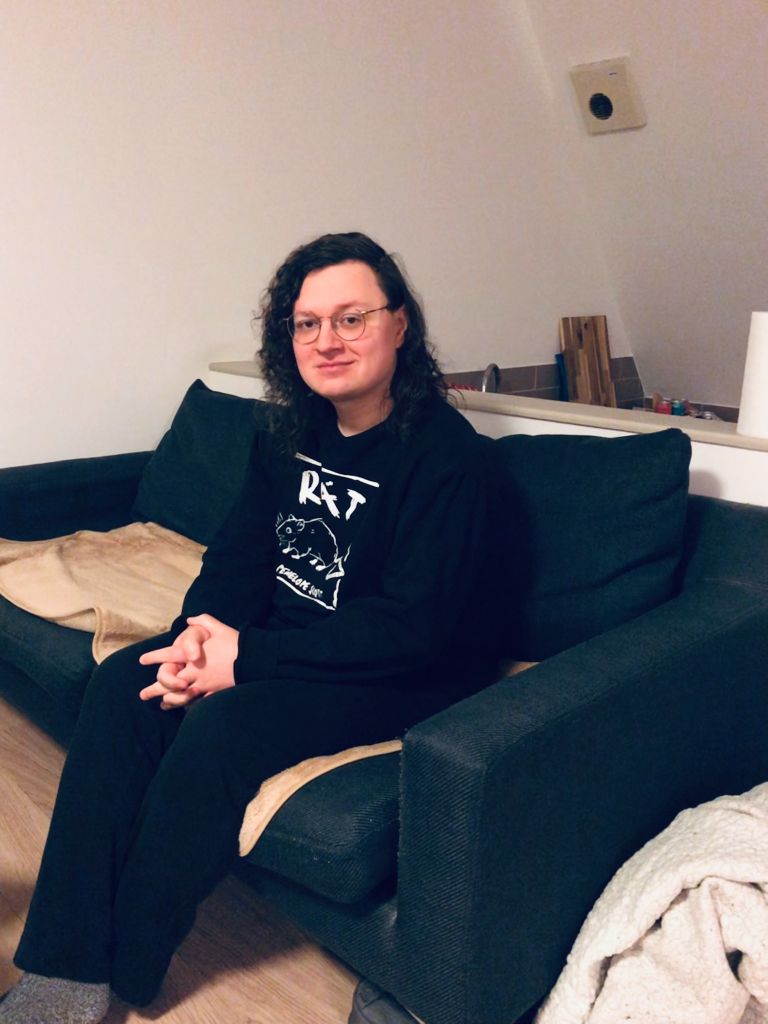 My Hero Dad
I didn't give my dad much warning about my visit so he had a full week packed with fun prior arrangements such as 2 football matches and a theatre show. We did manage to catch up for a lovely mid-week lunch. My dad is my hero as he lost mum 8 years ago but he is struggling on with his grief and is living his best life at nearly 81 years young! He is as fit as an Ox and I am pretty sure will outlive me no problem (ha ha). I love this photo of dad, he just doesn't age with time, he's like a fine wine whereas I'm stuck together with Sellotape (ha ha).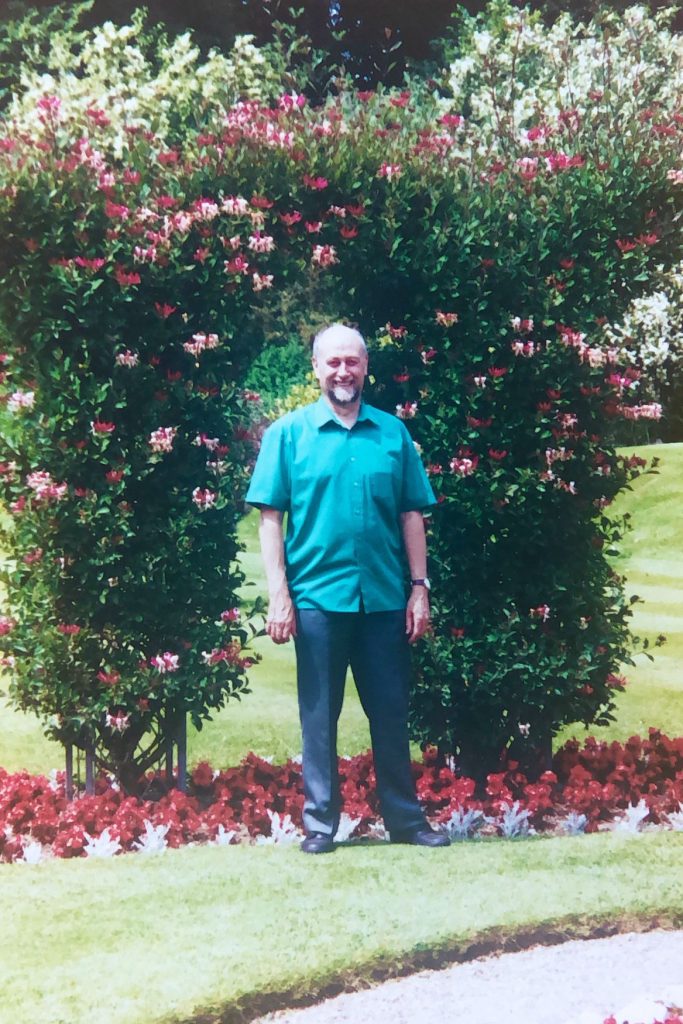 The Happy Couple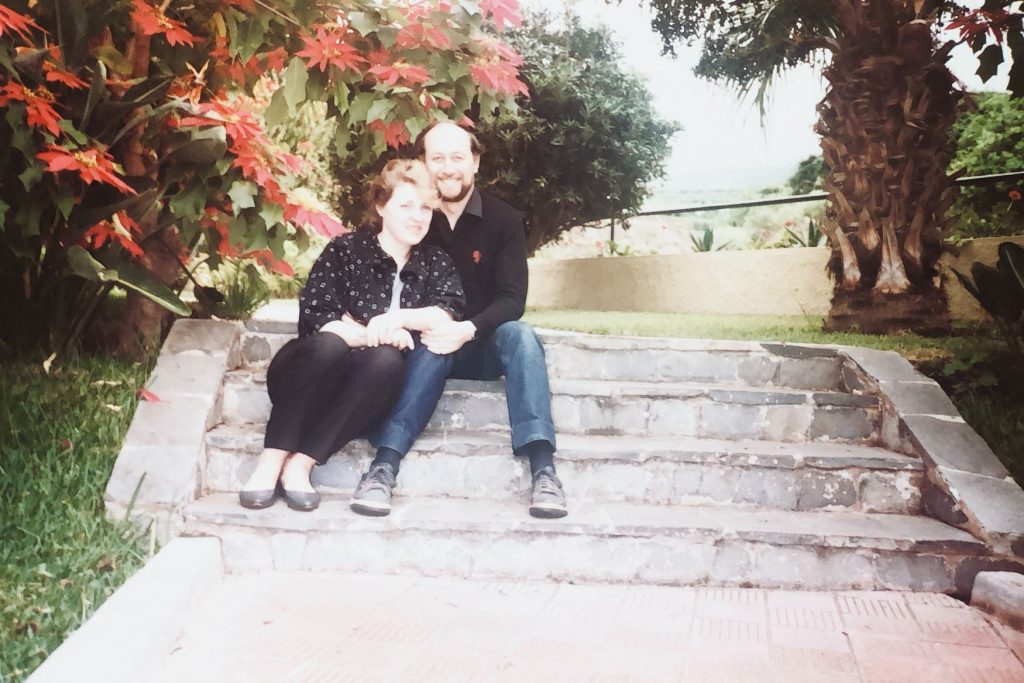 Dad & Daughter Selfies
Looking fabulous at nearly 81 years old! Dad, not me (ha ha).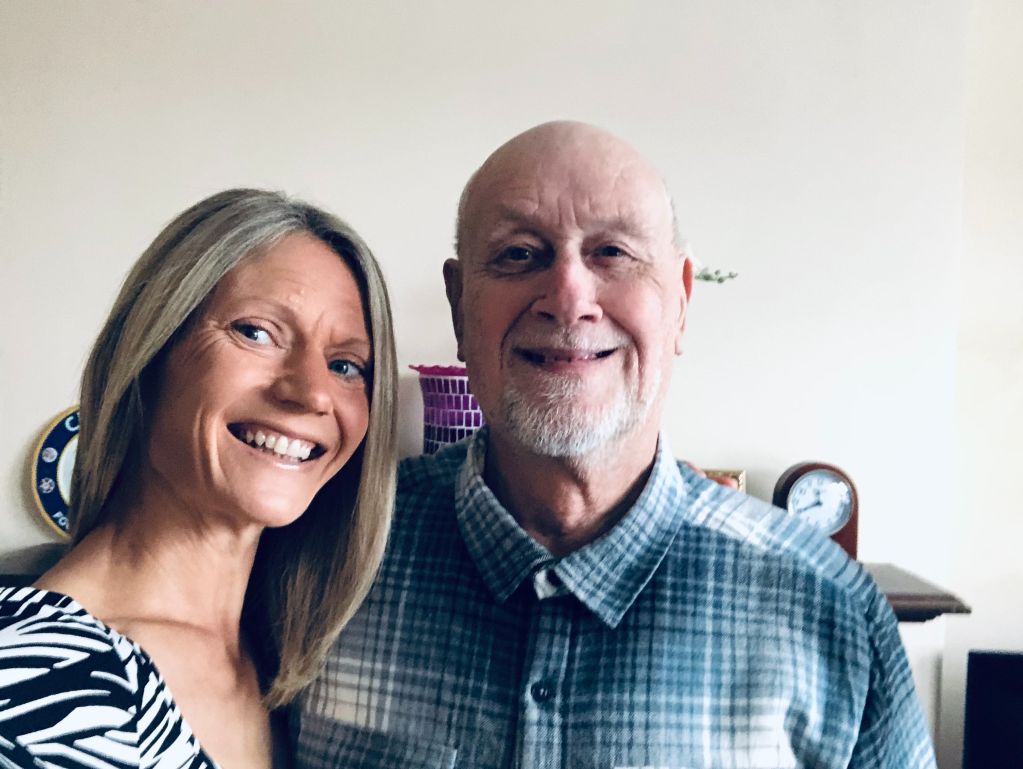 Bristol & Banksy
Bristol is home to so many talented artists including the famous Banksy. Bedminster hosts Europe's largest street art and graffiti festival "Upfest" each year. Sadly it's not running in 2023 but the magic will return in 2024. There are around 13 pieces of Banksy's art in Bristol, here are just 2.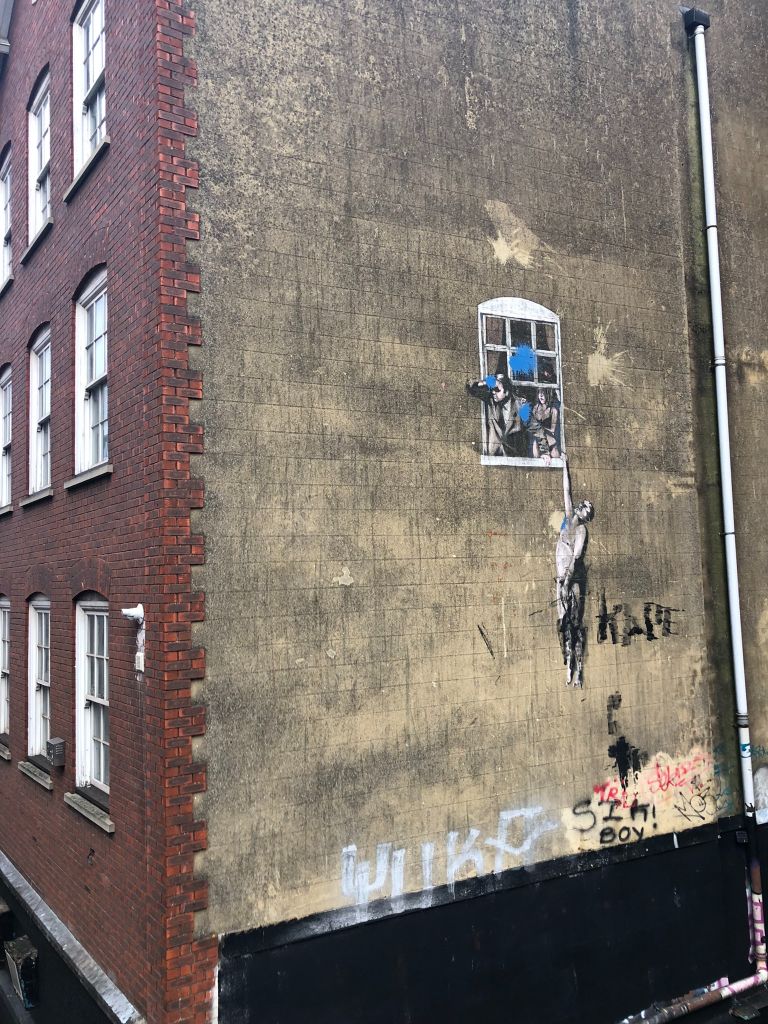 Urban Art Trail
I didn't expect my Bristol trip to turn into such an urban art trail. I stumbled across so much street art in South Bristol. North, South, East and West Street BS3 have so much art, it's awesome. I had so much fun discovering new corners of charm in Bedminster. I also found some amazing art in Stokes Croft and Bristol City Centre. I even stumbled across a couple of giraffes, hubby's favourite animal. It was good to view some of the shops closed as even the shutters are adorned with fabulous art and graffiti. I just had to make these photos large, I hope you enjoy them as much as I do.