BANK HOLIDAY EASTER DAY TRIP TO JARDIM DO PAÇO EPISCOPAL (BISHOP'S PALACE GARDEN) PART 1
After a busy Easter weekend of DIY on our casa (3 full days of back breaking home maintenance and gardening in the searing Portuguese sunshine), I planned an incredibly fun day trip to Jardim do Paço Episcopal (Bishop's Palace Garden) and the charming historic Portuguese village of Monsanto. I have always wanted to visit both of these wonderful places but they are located in Castelo Branco which is very close to the Spanish border and quite a long drive. I decided to visit both on the same day to cut fuel cost and reduce the car journey so less trauma on my bad back and chronic pain. Monsanto is a 2 hr 30 min drive from our casa and Bishops Palace Garden is a 1 hr 30 min drive but to visit both it's only 2 hr 40 min so it made sense to visit both in one day. I found a couple of spectacular Miradouro (Viewpoints) en route. I am not a fan of long car journeys and try to stick to no more than 2 hours each way but Monsanto is such an incredible tourist attraction and top of my bucket list so I actually didn't mind the long journey. It gives us plenty of quality togetherness for our silly random chats and Helen's famous car games (ha ha). Also hubby always treats me to car journey sweets if the drive is over 1 hour. I will always find a little romantic hidden edible treat stashed away in the glove compartment. I wonder if anyone actually keeps gloves in their glove compartment. I have decided to break the 2 tourist attractions down into 2 separate posts as they are completely different places and I don't want one post to be too long. I took way too many photos of Monsanto (ha ha).
Helen's Full Itinerary:
Miradouro de São Gens (Viewpoint)
Jardim do Paço Episcopal (Bishop's Palace Garden)
Miradouro da Praça dos Canhões (Viewpoint)
Monsanto (Historical Village)
Capela de São Pedro de Vir-A-Corça (Chapel of São Pedro de Vir-A-Corça)
Miradouro de São Gens (Viewpoint)
Our first destination was a beautiful viewpoint which is located very close to the Bishop Palace Gardens. We parked our car close to the Miradouro and walked up the steps to find a charming, tranquil area with spectacular sweeping views. We were the only ones there which was fabulous. We spent some quality time here watching the birds soaring through the bright blue sky and enjoying nature and simple pleasures. Afterwards we decided to walk to the Gardens as it was only a short walk (about 500 metres).
Life's a Climb …..
How pretty are these steps with the captivating canopy of trees leading to the Miradouro?
Scenic Selfies from the Top
Feeling on Top of the World! Nature is one of the most underutilised treasures in life. It has the power to unburden hearts, helps reconnect to that inner place of peace and brings togetherness XXX
Jardim do Paço Episcopal (Bishop's Palace Garden)
GPS Coordinates: 39°49'41.2″N 7°29'37.2″W
Information
Opening Hours:
From April to September: 09:00-19:00; October to March 09:00-17:00
Ticket Price:
Adults: €2
Seniors (+ 65): €1
Group (+10): €1
Students and Children up to 10 years old: Free Admission
History of the Gardens
The Baroque Style St John the Baptist Garden or Palace Garden as it is commonly known was part of a huge and complex farming landscape and aesthetic book once called "Grounds of the Episcopal Palace of Castelo Branco". In the 18th Century it consisted of two olive groves, a vineyard, a rabbit run, woods, vegetable patches (now the City Park) and the garden itself – all of which surrounded and protected the Bishop's residence. The Palace was the permanent residence of various bishops of Guarda (1771 to 1831), from the recently created Diocese of Castelo Branco. From 1834, various public services were housed in the palace and the grounds suffered unprecedented neglect in 1911, as a result of the Law of Separation of Church and State. The Palace Garden was placed under the auspices of the Municipal Council by lease.
The following year on the 5th October, to commemorate the second anniversary of the proclamation of the Republic, it opened its doors to the public. Finally in 1919, it was bought and became municipal property. The Episcopal Palace Garden was commissioned around 1720 by the Bishop of Guarda João de Mendonça, after arriving from Rome where he had lived for 3 years. Neither the whereabouts of the original designs (probably lost in the earthquake of 1755) nor the identity of the architect are known, however he may have been Italian. The garden is split into four different areas that are connected by various interlinking points and whose common element is water, the entrance, boxwood level, water garden and upper level. The design obeys the spirit of the place, both as regards the flower beds and the monumental steps that lead up to the main patio. The tile clad walls act as a repository of the past. The Boxwood Garden is rectangular in shape and constitutes the first level . It is divided into 24 sections, surrounded by hedges and boxwood benches and features 5 ponds with fountains, in allusion to the 5 Holy Wounds. In addition to this, it has a large number of statues, arranged iconographically, as if visitors had a genuine material and spiritual compendium of the world before their eyes.
On the Monumental steps are displayed the monarchs of the first and second dynasties, alongside Henry, Count of Portugal. At the bottom of the same steps, before you begin to climb, are smaller statues of the Spanish King's (The Filipes) who ruled Portugal and Cardinal Henrique, an advocate of the Castilian cause. At the same level can be found strategically located water spouts, the famous Italian giochi that exists nowhere else in the country – that takes visitors by surprise. On the opposite side, to the West, there is another imposing set of steps along which the apostles parade – identifiable by the symbol of their martyr. At the bottom are the four evangelists and the animals which identify them, according to the book of Apocalypse. Via these steps, one comes to the garden's upper level. This is a permanent allusion to water, and its power of purification. Moses surmounts the waterfall that flows into the large tank. In Western culture the biblical concept of the Gardens of Eden has for centuries served as the basis for the design of countless gardens. From this came the idea that the garden is an evocation, albeit imperfect, of heaven on earth. This information came directly from the leaflet I obtained at the booking office and I'm not sure it all translated 100% perfectly but I think they tried their best and that is all anyone can ask for.
The Palace was converted into the Francisco Tavares Proença Júnior Museum in 1971. It was named after its founder, a man of many scientific and artistic interests and a reputable archaeologist who first put his collections on public display in 1910. There are around 5,000 exhibits featuring important sets of Roman inscriptions, Bronze Age megaliths, Iron Age gold jewellery in addition to Neolithic and Palaeolithic articles. Also included in the collection are pieces donated from the Palace: painting, carpets, sculptures and other pieces from the 16th to 19th Centuries. The examples of embroidery are highlights of the section on Religious Vestment, Costume and Castelo Branco Embroidery. The atelier/school of regional embroidery is a must on any visit. It forms part of the Traditional Textile Methods section that demonstrates processes involved in weaving linen.
Museum Information
Opening Hours:
Tuesday through Sunday from 10:00 to 12:30 and from 14:00 to 17:30
Ticket Price:
Adults: €2
Students: €1
Children under 14 years old: Free admission

Although the leaflet says that the architect is unknown I have read that the gardens were designed by the engineer Manuel Tavares dos Santos. I must mention that the reason why I haven't viewed many Portuguese gardens that aren't linked to palaces or stately homes is because when I need a nature fix I gravitate to isolated wild and rugged countryside with crumbling ruins to explore. I appear to have a greater love for remote wilderness and mountain landscapes rather than pretty landscaped gardens. It's just my personal opinion and I think it's mainly because everything is so immaculately presented and there are usually more people around. I enjoy things that grow wild in random places as opposed to aesthetically pleasing arrangements of plants. Also official Portuguese gardens usually have an entrance fee whereas mountain hikes are free. I also don't have to worry about stepping on any out of bounds areas in the wild. The only rule I can break is leaving a gate open and letting cattle escape (I haven't done this honestly!). I always feel I'm not quite posh enough or worthy at some gardens. I'm also super clumsy so I have to be vigilant as to not break anything or knock over a valuable statue, vase or walk into a fountain because I'm looking at the clouds in a dolly daydream (ha ha). My rule only applies to stand alone gardens as I absolutely adore Palaces with gardens. There is just something magical about a palace so if the garden has a palace attached to it that I can view the exterior and interior of then everything I said can be forgotten (ha ha).
It was all so posh I'm surprised they allowed me entrance (ha ha). We were not offered a map when we purchased our tickets and once inside I saw a lady with a map so I sent hubby back out to get one in English. We only saw 2 other groups in the gardens so it felt very spacious and relaxing. The gardens are small and compact but there is so much to see and I loved strolling around the quaint avenues, meandering amongst Portuguese history and gazing at the beautiful scented roses, flower beds and trees (some rare specimens). The ornamental clipped box hedges that resemble a maze are stunning and the water features are very serene. My favourite granite statues were the striking 3 theological virtues – Faith, Hope and Charity and the 4 Cardinal virtues – Justice, Prudence, Fortitude and Temperance (they would make great chicken names!). We also found statues of our months of birth which was fun. I was in awe of the wonderful King's Staircase which has 33 steps lined with statues that represent the Kings of Portugal in chronological order. I was intrigued how Portugal's Spanish born kings are much smaller than those of the Portuguese born Kings. I tried to take multiple angled photos of all the Kings so you can see their size in comparison.
At the bottom of the Kings Stairway, there's a hidden, clap-activated fountain. This strange fountain was apparently built by a naughty bishop who liked to surprise maidens by soaking their petticoats. If hubby soaked my panties I would whip them off in an instant and strangle him with them for sure (well they were already moist anyway – this is explained further down in my post). The official cause of death on his certificate would read "Death by M & S granny panties" (ha ha). There is also a staircase which represents the Saints of Portugal and bust sculptures of famous Portuguese doctors. Many of the statues are made of stone, although it is said that they were once made of bronze and looted during the French invasions. I love the fact that as we wandered around the garden it unveiled a story from hell, death and judgement to paradise.
Glorious Gardens – Photo Gallery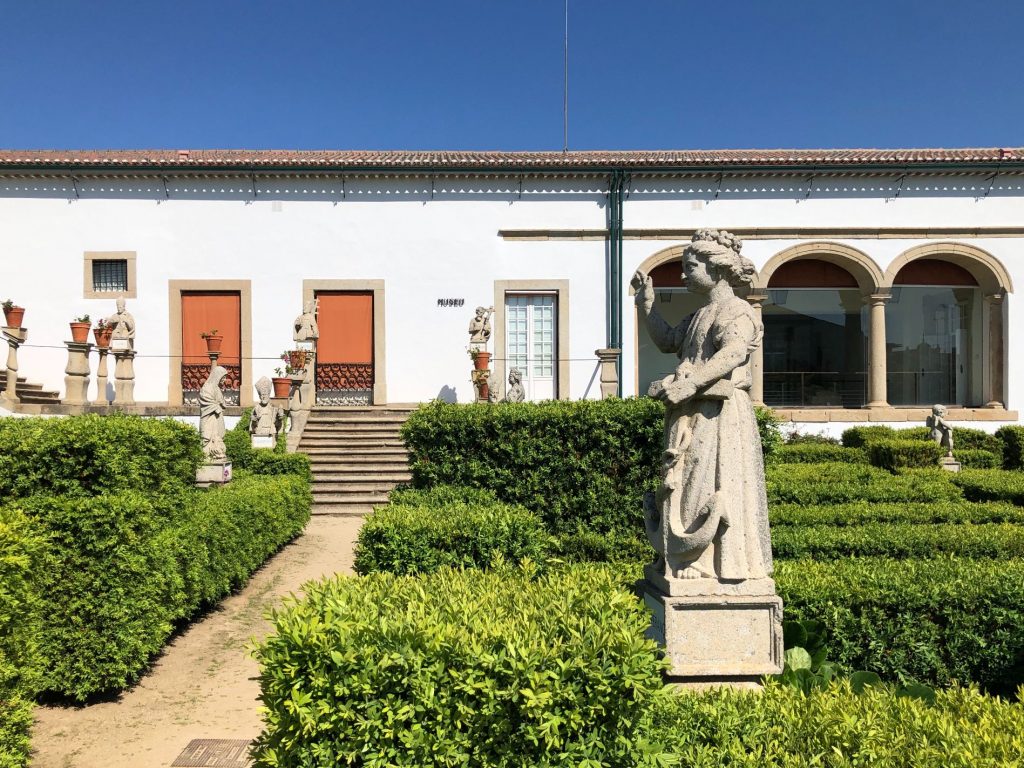 Helen & Henrietta the Hat
I pranced around the gorgeous grounds in my new Primark hat pretending I was Helen of Troy (The most beautiful woman in the world) rather than Helen Allen (The most average housewife of Portugal). There is a story about the hat. I have promised you all that one day I would visit a palace and swap my usual trainers for heels, a floral lady dress and a hat. The date is on the calendar. The palace is Monserrate and the place is Sintra although the upcoming wet weather forecast may potentially put a damper on the day and rather than a hat I may need a poncho. This garden visit was a trial run of me posing in my €4 Primark hat to try and get some majestic photos. I failed big time and have come to the conclusion that I just can't do hats and the only hat I own is a baseball cap. I just looked like an idiot and even a couple of blokes were laughing at me. Hats and me just don't work I'm afraid. I can't even blame the cheap hat as it's the head in the hat not the hat on the head. Although the hat shaded my face from the searing heat it made my head really hot so I don't understand the purpose of a hat. I have only just discovered that I don't like wearing hats. I am quite partial to a fascinator especially if it has feathers as it's a glorified headband really and doesn't restrict me. Maybe it's a sensory issue as I hate wearing socks too. I am not that fond of shoes either so as soon as I get into my house I whip off my shoes and socks (and bra – ha ha) and I would go everywhere barefoot if I could. Hubby just makes me laugh so much and I regrettably share that I wet myself a teeny tiny little bit laughing so hard and listening to the trickle of water flowing from the fountain only exacerbated the situation. Then I visited the little girls room to release the rest of my pee pee (I mean to powder my nose because I'm a lady now) and I got locked in the loo. Hubby heard me shouting and just left me in there for a well deserved break. I should have punished him by making him wear my hat for 15 minutes. I named my hat "Henrietta the hat" as I think that is a proper ladies name. Round 2 attempt of hat wearing will be Sintra, watch this space!
The 2 Photos I Don't Hate
The rest are CRINGE (ha ha)
My Awesome Kind Children
I shared my photos with my children and their responses were just too kind. Josh, my son said he liked the hat and that I should wear one everyday and try to convince the Portuguese people that hat wearing is a British thing (ha ha). Teanna said I looked like a dancer, god bless her. She is an epic dancer and the only dance I have mastered is "The Conga" after 3 bottles of wine and then it usually gets weird as some random bloke will join the conga line directly behind me and accidentally on purpose will drunkenly brush his man bits against my rear (ha ha). In all honesty we were just having a laugh with the hat posing. There are actually 2 photos that I don't hate but the rest are an epic fail as I just can't be serious and not have a laugh as life is too short. I have come to the conclusion that I just can't carry off a majestic hat look but I tried and we did have fun with plenty of uncontrollable bladder laughter.
Mr & Mrs Selfie Time
We couldn't see a thing in the glaring Portuguese sunshine. I was tempted to chuck my hat in the lake (ha ha). I love that hubby has one pose and he doesn't budge. He would make a good statue and I think his title should be "One Pose Pony" (ha ha).
Beautiful Portuguese Tiles (Azulejo)
I love the blue and white traditional tiled murals.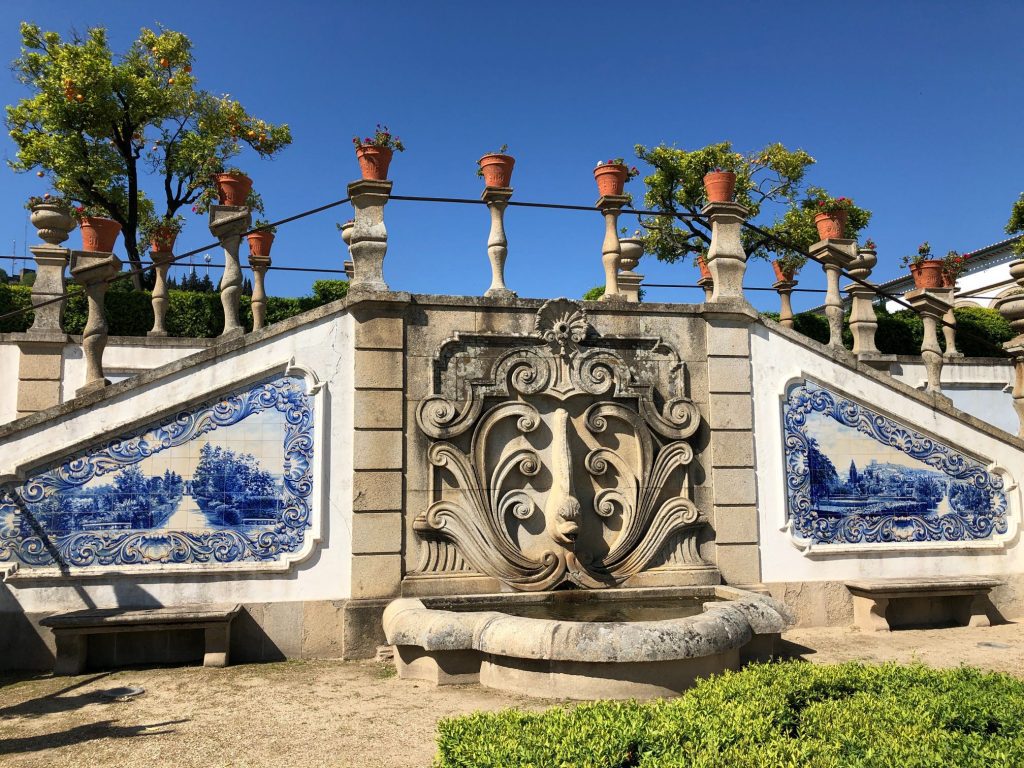 Museu Francisco Tavares Proença Jnr (Museum)
Map
City Park
The City Park is free and right opposite the gardens if you are a tight ass and don't want to spend €2 on an entrance fee.
Overview
What an absolutely incredibly beautiful tranquil garden retreat to visit with such an interesting history. It is one of the most original examples of the Baroque style in Portugal and I loved the Italian design. There is something really magical about strolling around Portuguese gardens and this experience was certainly extraordinary. My mum would have adored this place, she loved her garden, flowers and a visit to a garden centre, god rest her soul. It is not a huge garden which I liked as we only had a couple of hours to explore before we had to set off to Monsanto. I loved escaping from the world for a while and wandering around the immaculate presented labyrinth of hedges and themed pathways. We enjoyed each and every corner, especially the Kings Steps, all the granite statues sparkling in the sun, balconies with iron guards, mazed gardens, Portuguese tiles and the pretty ornamental water features. My favourite area was the Flooded Garden with a huge pool surrounded by high walls on the top floor of the garden. This water source was used to water the garden and the bishops used to go enjoy a boat ride too. Just imagine all this being your back garden! The view of the whole gardens glistening in their glory, the town and scenic views beyond the borders from the upper terrace is truly mesmerising.
I have not seen a garden quite like this and guess what? I didn't break any rules or knock over any statues and I also didn't trip and fall into a fountain (ha ha). I felt like I should be playing a posh game of croquet and eating strawberries and cream on one of the spectacular lawn terraces (ha ha). The bright vivid coloured delicate blossoms and all the Spring flowers coming alive was awesome. There are also lots of fruit trees bursting with citrus fruits. The only negative was it was a boiling hot day and we were roasting, and the fact that I got locked in the loo! Everything is beautifully laid out and flourishing just like my life. Some folk have complained about the entry cost which in my eyes is ridiculous. If you want a free park there is a City Park right opposite, the choice is yours. In my opinion it is definitely worth the small €2 entrance fee, a truly stunning work of art and nature combined. My sincere apologies for failing at trying to be a hat wearing LADY (ha ha).
My Favourite Photos
I will leave you with my Top 3 favourite photos of the day. Don't panic it's not me in my hilarious hat. If you look closely you will see my hat floating down the lake, just kidding! (ha ha).
Be sure to check out my upcoming Part 2 Epic visit to Monsanto XXX