SCHIST AVÔ WALKING TRAIL
On Sunday afternoon I had a great idea of going on one of the official hiking routes along the river Alva. There are a few different Schist walking trails and we decided upon the Avô walking trail which starts at Avô river beach and does a loop. It seemed like a great idea at the time and I probably didn't take into account the fact that we had already completed a 5KM jog around our village that morning! What I love about walking trails is the fact that you can grab a backpack, some small change, take a sandwich, water, swimwear, a towel (just in case you stumble across some wild river swimming) and off you go exploring to your heart content in the tranquil wilderness of central Portugal with not a soul around, pure heaven.
Departure and arrival point:
Ilha do Picoto (Avô) River Beach, Avô.
GPS Coordinates: N 40º17.720´W 007º51.957´
Route 8KM 2hr 10 mins (unless you get lost!):
The Schist walking trail of Avô is a circular trail that starts and ends at Ilha do Picoto river beach. After passing over the bridge of the Alva river we take the stairs that lead us to the main road and parish church of Avô. The trail follows the road, and by the Day Centre we enter on a dirt road that leads us to a single track along the Alva river. This single track was in the past the connection between Avô and Ponte das Três Entradas villages. After the single track we turn right in the paved road and pass the bridge. This bridge is one of a kind in Portugal, it´s over the junction of the rivers Alva and Alvôco and it connects the parishes of Santa Ovaia, São Sebastião da Feira and Aldeia das Dez. The trail continues on the paved road and it turns right on a dirt road towards Avô. Before Avô the trail passes by Mosteiro and Nossa Senhora dos Anjos chapels. At the crossroads keep straight towards S. Miguel chapel and castle passing by the stone pillory. After the bridge the trail goes right to Ilha do Picoto river beach where it ends. Sounds simple enough doesn't it! (ha ha).
Avô, Aldeia das Dez and Santa Ovaia
This Schist villages trail runs trough the villages of Avô, Aldeia das Dez and Santa Ovaia, three parishes of the municipality of Oliveira do Hospital and Coimbra district. Aldeia das Dez is part of the Schist Villages network and it was build on the northern slope of Colcurinho mount in Açor mountain range. This location gives the village a state of great beauty and is very nostalgic. The village is surrounded by a harmonious ensemble of mountains, cliffs and valleys, water reservoirs, rivers and streams.
Points of interest and distance from the starting point:
Ilha do Picoto (Avô) River Beach
Bridge over river Alva
House of the poet Brás Garcia de Marcarenhas
Avô Castle
Senhora da Assunção Parish Church, Avô
Ponte das Três Entradas 3900m
Roman Road (Old Imperial Route) 3900m
Santa Maria do Mosteiro Chapel 6400m
Senhora dos Anjos Chapel 7500m
The perfect burial spot!
The first half of the trail was pretty straightforward. It was a lovely hike, a little too hot but plenty of shade from the trees. I really enjoy walking and admiring the scenic views and wildlife. Overhanging fruit trees provided us with tasty snacks along the route and we didn't see another person on the whole trail except for in Avô. We found a lovely spot for our picnic right in the middle of a forest with beautiful trees and we had a well deserved rest on a rock covered in moss. Whilst sat on that rock it suddenly occurred to me that this would be an ideal prime location to bury a dead body! I said to hubby "You could murder me now and bury my body here and no one would find me." He looked at me and stated that he doesn't want to kill me as he is rather fond of me. I replied "I understand that, I just think it's a perfect place to bury a body" (ha ha). It's a good job he is used to my weird ass statements. We then continued on through the forest trail. The views are spectacular and I love the isolated odd house we stumbled across. Imagine living there in the middle of a forest!
There was one small muddy area where we had to try and jump over and we both got stung by nettles, I got stung on my left arm, not too badly. The signposting is via coloured paint on rocks and some sign posts. We arrived at Ponte das Três Entradas (Bridge of three entrees), a small village which has a bridge bearing the same name. The bridge is very unique as it's a bridge with 3 roads meeting in the middle where the river Alva meets the river Alvoco under it's 3 arches. It has panoramic views and I had great fun watching a fisherman. We also took a pit stop here and enjoyed a drink and a pastel de nata at a local cafe. I needed some sugar energy for the trek back. If I knew we were going to get lost I would have ate 2! At the beginning of the trail you will pass by a stunning Care Home, it looks amazing, I have no issues being sent here when I get older and I become too much for hubby to handle (ha ha). I wonder what the fees would cost!
Lost in the forest
Then it all went wrong! I have discovered that although hubby is great at leading city tours, his off the beaten track trail navigation is shit! A 10 year old boy scout without a compass or his orienteering badge would fair better. In his defence (hubby's not the boy scout) the signposting got very confusing and although we thought we were following the right route we managed to join an alternative route and walked straight past our turning which resulted in us walking a couple of KM off of our trail and getting lost in a forest. At one point I found a sign post for a cycling trail and thought I had joined that which panicked me senseless as it said 18KM! We took the wrong turn which was mildly worrying as we have all watched those 'Wrong Turn' films and they never end well, they all end in disaster with a dismembered body or two!
We followed the markers and were faced with a huge padlocked gate. At this point I am thinking that I can't bloody scale this monster of a gate with my bad back and I will end up getting stuck at the top and ripping my lycra pants! Luckily we didn't have to climb the locked gate as hubby led the way into a dense forest where a huge unchained dog started barking at us from a close distance. I don't blame this dog as he is obviously a guard dog and protecting it's owners property. What I was concerned about was the fact that it was unchained and I had visions of it attacking us and ending up in hospital having to have a tetanus shot. At least we were in the area of Oliveira do Hospital (ha ha). I also was worried that we were going to get lost in this forest and initiate a search rescue by helicopter. At least hubby was wearing a neon bright top which we could use for a flag. I'm not sure he would have wanted to get semi-naked and take his top off but luckily we never got to find out. We decided to turn back and try and find the correct route, at which point we found a water fountain. Then we had a 5 min debate whether the water was safe to drink. We managed to walk back and find the correct route. If we hadn't of got lost we would not have found the water fountain so it wasn't a huge disaster after all.
Animal encounters
We rejoined the trail and came across a very thin stray dog who was thankfully friendly and showed no signs that he wanted to eat me. Then we were met with a small dog who leapt of his property and chased us down the path. Then we met some goats and sheep. One sheep in particular was so friendly and kept grinning at me. He was laughing at us because we got lost and I don't blame him (ha ha). I really enjoyed this trail as there were a few landmarks along the way to view such as chapels, historic monuments, a bridge, castle ruins and a Roman road. I was especially impressed with Avô castle. The trail took us 4 hours but we did stop at a cafe and get very lost. I think the 8KM trail turned into a 10KM+ trail but it was fun. By the time we arrived back in Avô it was 6.30PM so too late and a bit cold for a dip in the river beach. I am looking forward to visiting Buçaco National forest next month to celebrate hubby's birthday. Maybe I will take lead with the map this time. I have read that the map that the tourist centre gives you with all the places of interest circled is really rubbish and they have wrongly printed South at the top instead of North, god help us (ha ha).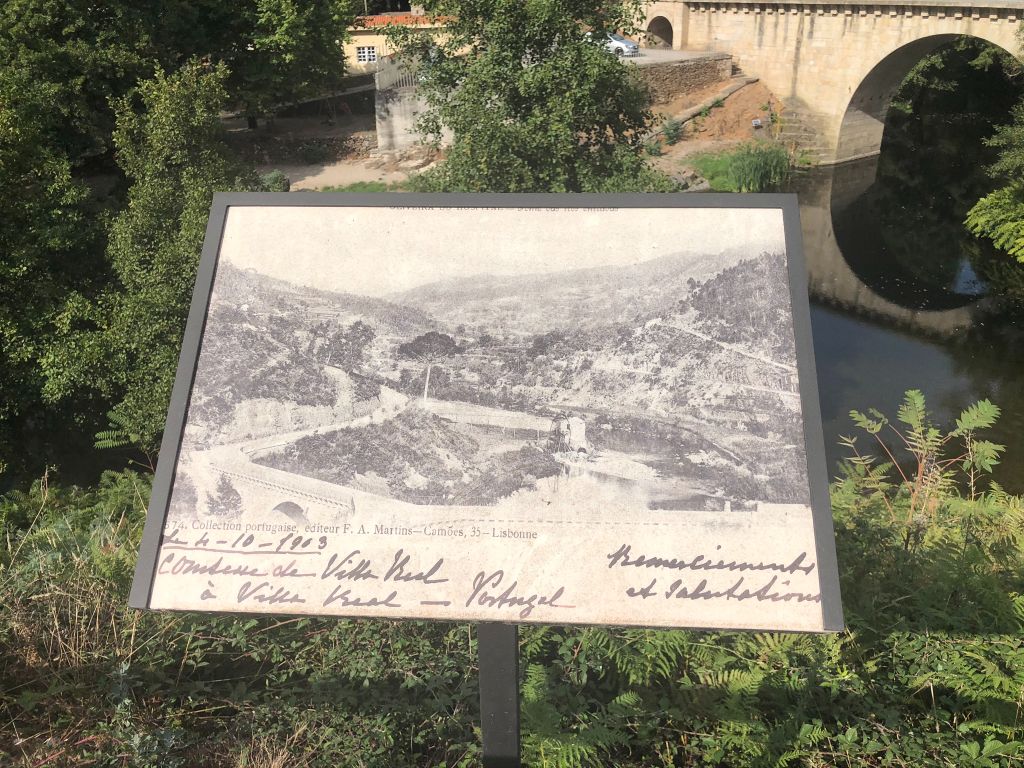 The highlight of the day was definitely the grinning sheep.