AN AFTERNOON TRIP TO MIRADOURO DO PENEDO C'ABANA (TÁBUA)
We enjoyed a beautiful relaxing Sunday Funday picnic at a local Viewpoint: Miradouro do Penedo C'Abana (Tábua), just a short 30 min drive from our home. We crossed over the bridge into Santa Comba Dão and took a sweaty hike up to another wild viewpoint because we are adventurists and love to explore. En-route we encountered a traffic jam. When I say traffic jam, I mean Portuguese style so it was a large herd of goats and their goat herder master. I never get bored of village rural life or all the local animals. There is always one naughty goat who doesn't listen and wanders off which is hilarious.
The Penedo C'Abana ou Oscilante (Boulder Hut or Oscillating Boulder) is a large rocky outcrop located near Póvoa de Midões in the municipality of Tábua and district of Coimbra. Its elevated position on the slope offers sensational views overlooking the Mondego river. The gigantic boulder is about 3 m high and 4 m wide. It was considered a Property of Public Interest on 3rd June 1970. Now for the fun part! The Penedo and its history is fascinating and this is why: The boulder has a tendency to shake a little when pressure is applied to the rock. The Mr & Mrs Challenge was on (ha ha). We tried our very best to make the Penedo oscillate and apparently there is a magic trick where a small stick is inserted beneath the boulder then it moves with ease and apparently it's not pure strength which is required but I'm not convinced. We are both fit for nearly 50 but no matter how hard we tried, we could not make the stone shake or even move an inch. I think it's a group exercise which would require me having some friends but I'm a Billy no mates (ha ha). In hindsight it's probably a good idea that it didn't move as I can't imagine the pain of this gigantic boulder landing on one of my toes, it must weigh several tons!
I can't believe I haven't visited this spectacular Viewpoint before. I have lived here over 3 years now and somehow I missed all this beauty which is right on our doorstep. We parked in the picnic park next to the bridge and took the short steep walk up the gravel dirt path. It was so steep that hubby had to walk in close proximity behind me so he could push my ass up the hill because I kept on slipping back down as i was wearing fashion trainers and not my hiking shoes with a sturdy grip. It's a good job he likes my rear end (ha ha). When we reached the Viewpoint, we found a car park and an easier less traumatic route right up to the tourist attraction. Oh well, it's all exercise and I need it because I eat way too much Portuguese cake and ice-cream. I kept thinking it was like that famous Alanis Morissette song "Ironic" (ha ha). We took a yummy picnic and found the best ever picnic spot with a table right between the famous rock near the Freguesia yellow flag which was lightly blowing to and fro in the wind. There was only one lady there when we arrived and she soon left so we had the luxury of having the whole place to ourselves as usual. I loved that there were a couple of selfie stick devices so we could obtain photos of us together. Unfortunately the one near the river was broken, hence why we didn't get many good shots here as it kept slipping down and taking photos of our feet (ha ha). The downside of having tourist attractions all to yourself is that there is no one you can ask to take a photo of you together. I got so hot, I ended up taking my shoes off!
We also found an idyllic, gorgeous wild Viewpoint across the bridge in Santa Comba Dão. We placed our picnic blanket down on a huge boulder and relaxed for a while after our short tiring climb. Wow, an astonishing duo of tranquil heaven with far stretching picturesque postcard views of the Mondego river. The landscapes here in Central Portugal never cease to amaze me. It was delightful to abolish all the DIY and enjoy a romantic rest day and yummy picnic amongst pretty nature. There were so many birds of prey soaring through the blue sky and fluffy white clouds. We ended the afternoon playing cards in the picnic park next to the bridge.
Hubby took a few photos on his camera which is way better than my old phone camera. I hope you enjoy the photo gallery. There is another local famous boulder called Pedra da Sé. I feel another Sunday Funday is on the horizon! It really was such a wonderful romantic afternoon under the Portuguese sun. I can imagine that it's a remarkable place to watch an epic Portuguese sunset with a glass of wine. I may be back in the near future on a Summers evening to witness a magical sunset and the Portuguese sky bursting all shades of vibrant reds and yellows. There might be a Portuguese pizza too because it's my favourite food. I am a basic girl and a cheap date (ha ha).
GPS: 40°23'57.0″N 7°59'17.3″W / 40.399167, -7.988131
Photo Gallery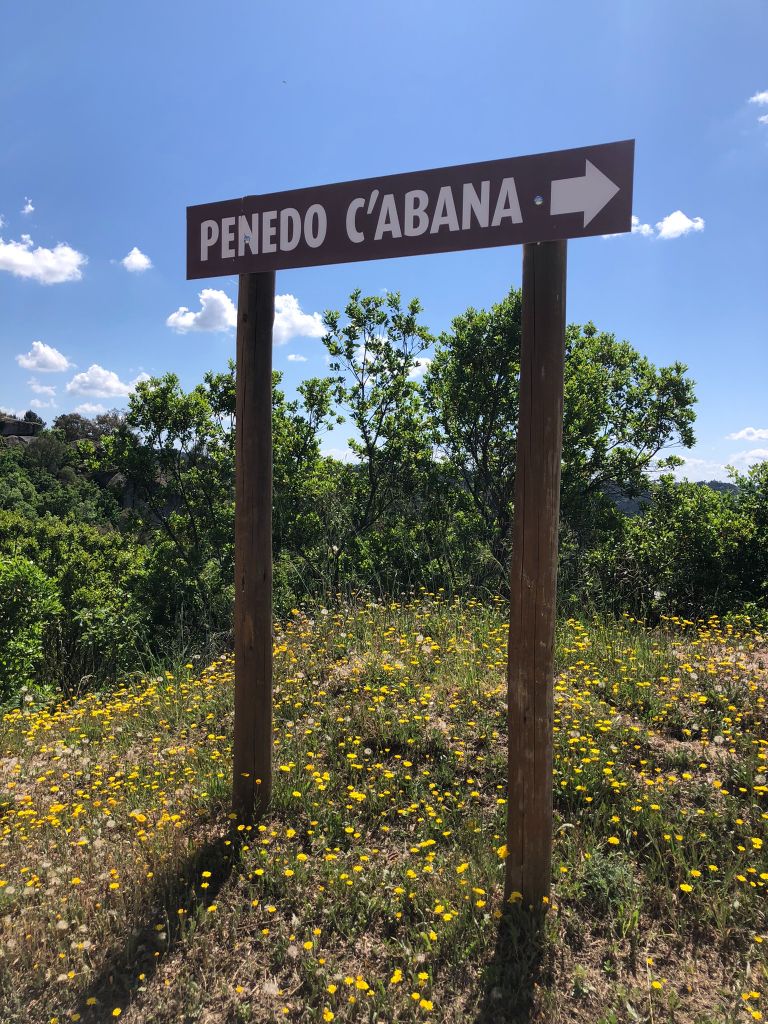 Scenic Selfie Stick Fun
This is the selfie stick/mobile phone port that was broken. I think the plastic casing warped in the Portuguese sun. They are not great photos but I'm just glad that we were able to get a few shots together as we always have the luxury of these places all to ourselves which is very special and incredible but there is never anyone to ask to take a photo of us so these little photo opportunities and mounts for some selfie stick fun is awesome. I look an idiot in my €5 Primarni hat but I only own 2 hats, this Lady of the manor hat or a black baseball cap. I also have a white tennis sun visor. So, in the heat of the day, I have 3 options. Do I want to look like Queen Consort Camilla (formerly the Duchess of Cornwall), an additional member of the Backstreet Boys or John McEnroe. On this occasion I went with the Royal look, right royal mess (ha ha).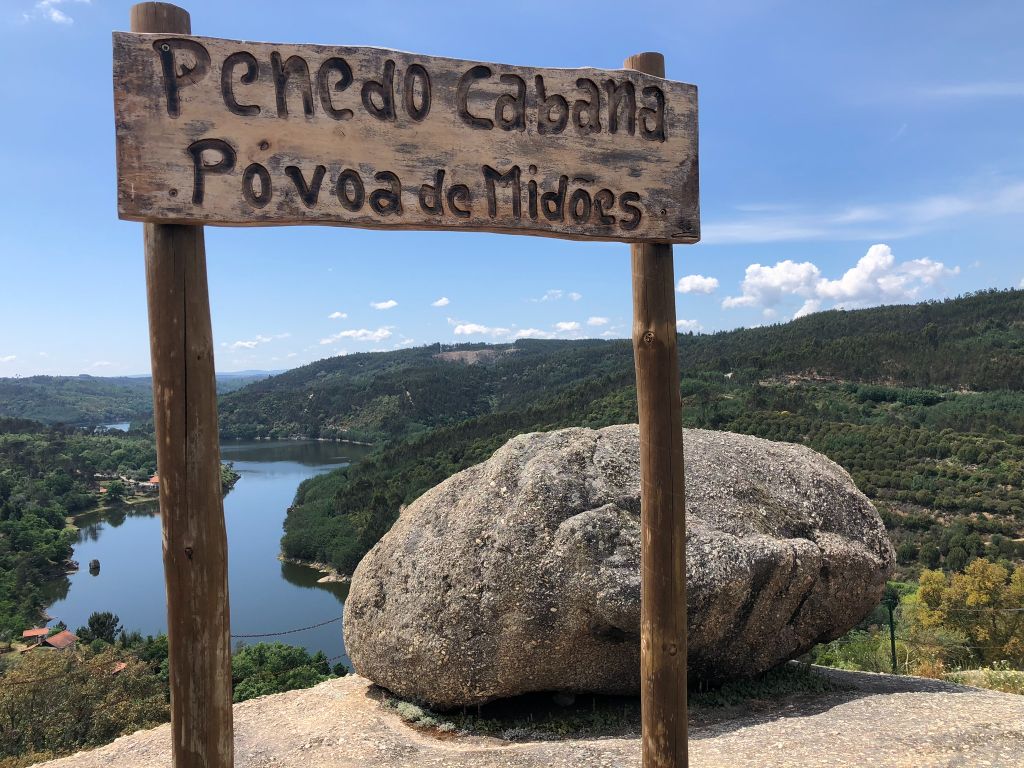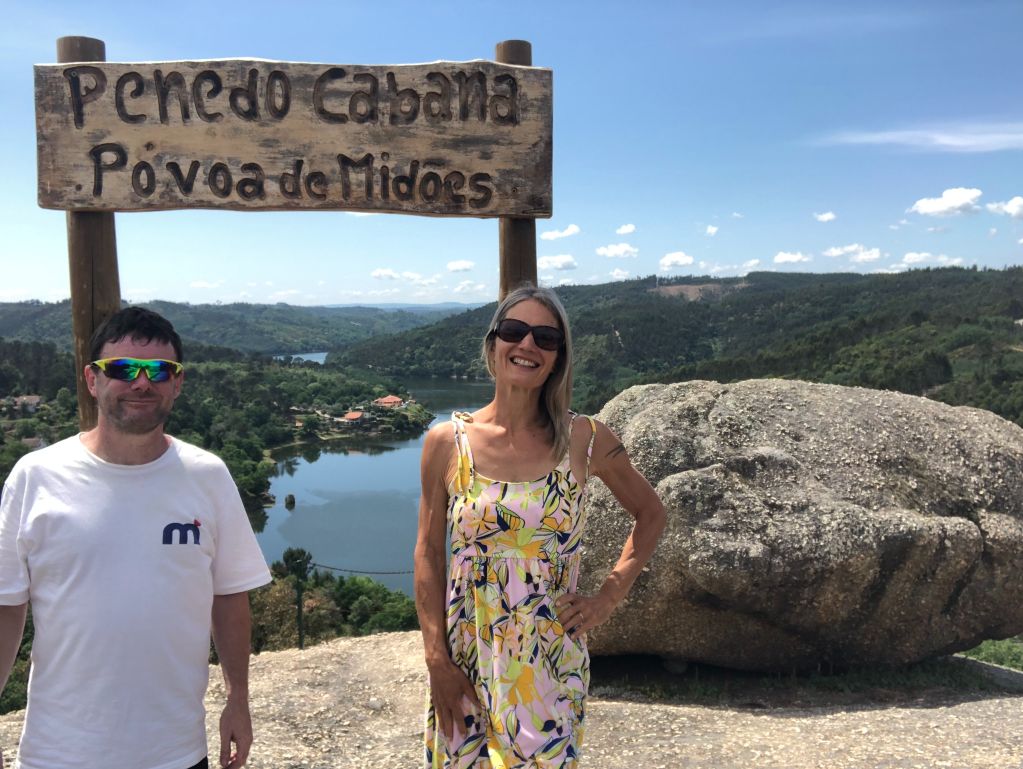 Perfect Penedo Picnic
I just had to have this picnic table as it was the perfect spot for our lunch. There was a lady sat here when we arrived and I was gutted because I didn't know how long she was staying for and I really so very much wanted this table as it was the only one and there was no large trees to sit under for much needed shade. She was also sat in a position which meant she would be in the background of our photos and I didn't want a random stranger as a backdrop to a famous penedo. I think my fog horn voice is a bit too loud because I thought I discreetly said to hubby "I hope she leaves soon" and I think she heard me (ha ha). I felt a bit bad but she quickly left so we got our heavenly lunch spot with the best ever view.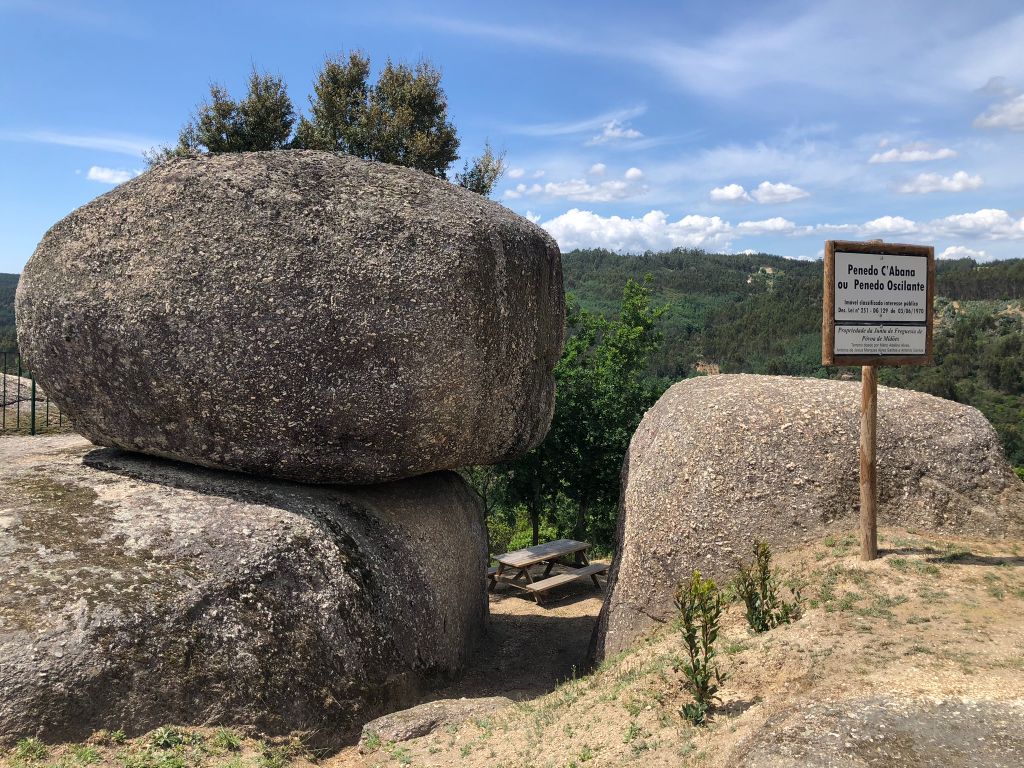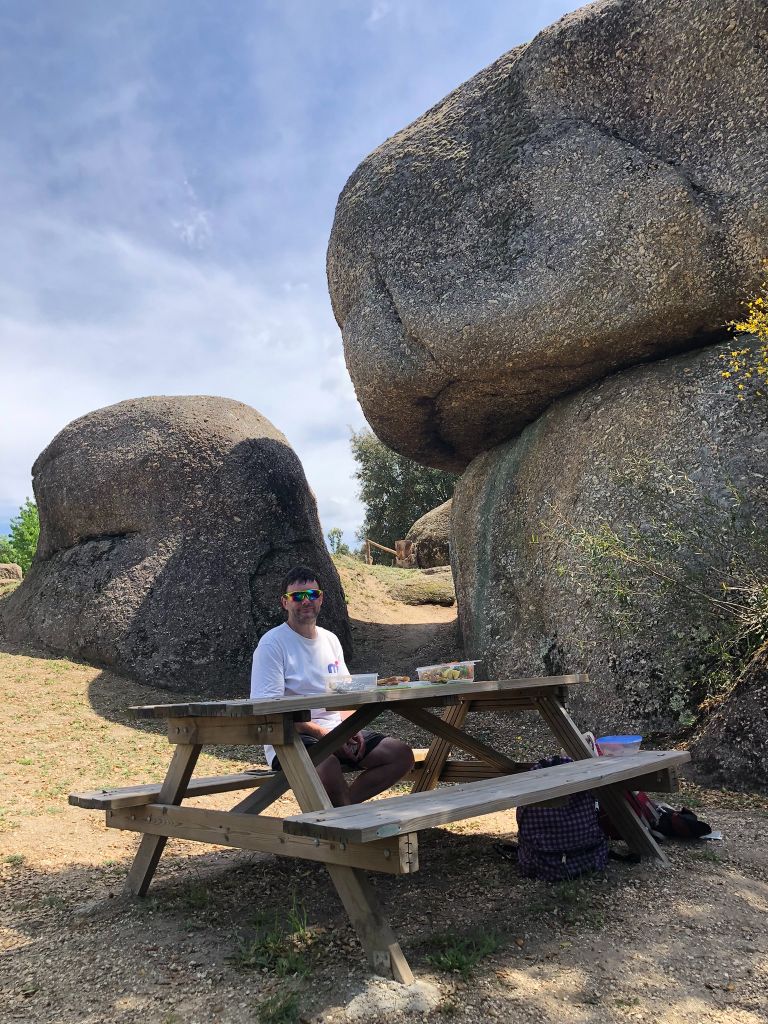 Benches & Burnt Butts
Wow, this selfie spot is breathtaking! It was also fully operational and working not like the other broken one so we took our opportunity and had a lot of FUN. The shoes ended up coming off but the hat stayed permanently on due to the high heat. I burnt my butt cheeks on this cute wooden bench and I'm still suffering. Trying to bend over in front of a mirror at my age to analyze how badly I scorched my ass is a whole workout. By the way, I did this at home not at the Viewpoint (ha ha). I would ask hubby to check it out for me but I don't think he has ever recovered from having to pick out all the prickly pear spikey thorns from my ass with tweezers. It was a couple of years ago now but an experience neither of us will forget in a hurry as he was operating for days (ha ha).
I LOVE how we go from Serene to Silly in 0.6 seconds! When I say "We" I obviously mean the "Me" because I'm the crazy Brit and hubby is one pose sensible Simon and keeps me grounded like my coffee beans (ha ha). I never know how to pose all lady like but you can't say I didn't try and I had a lot of fun in the process minus the burnt body parts. There was a lot of dancing, prancing and spinning around as usual but no jumping high into the air on this occasion as it was just too damn hot. You are never too old to have FUN in the SUN (ha ha).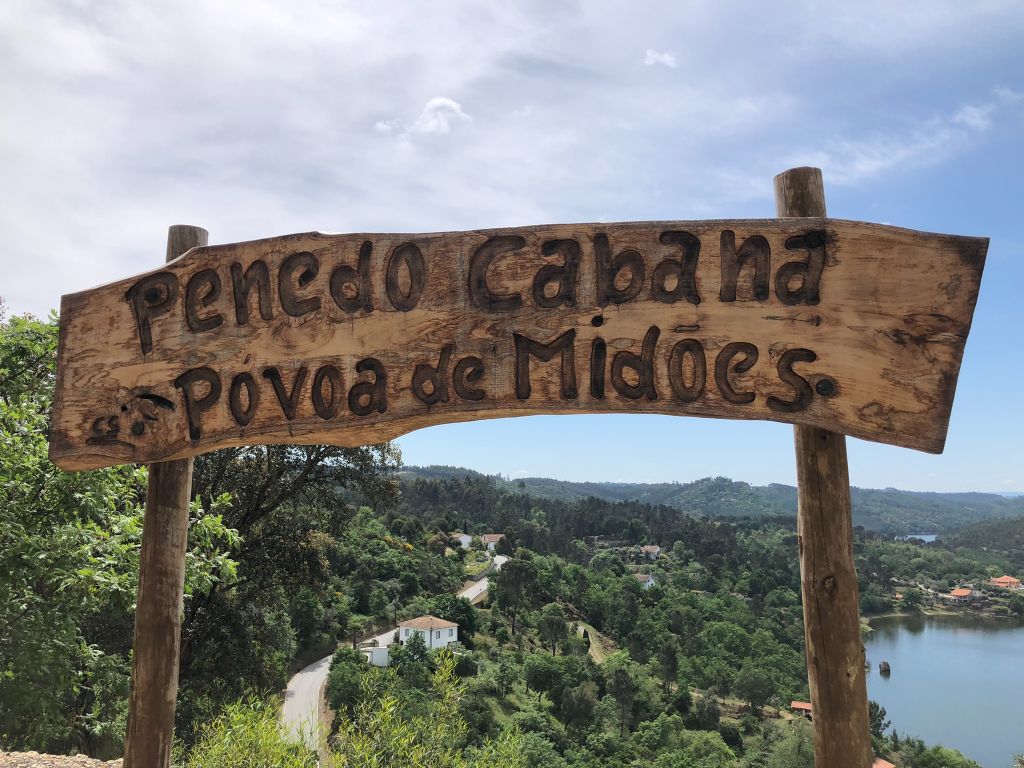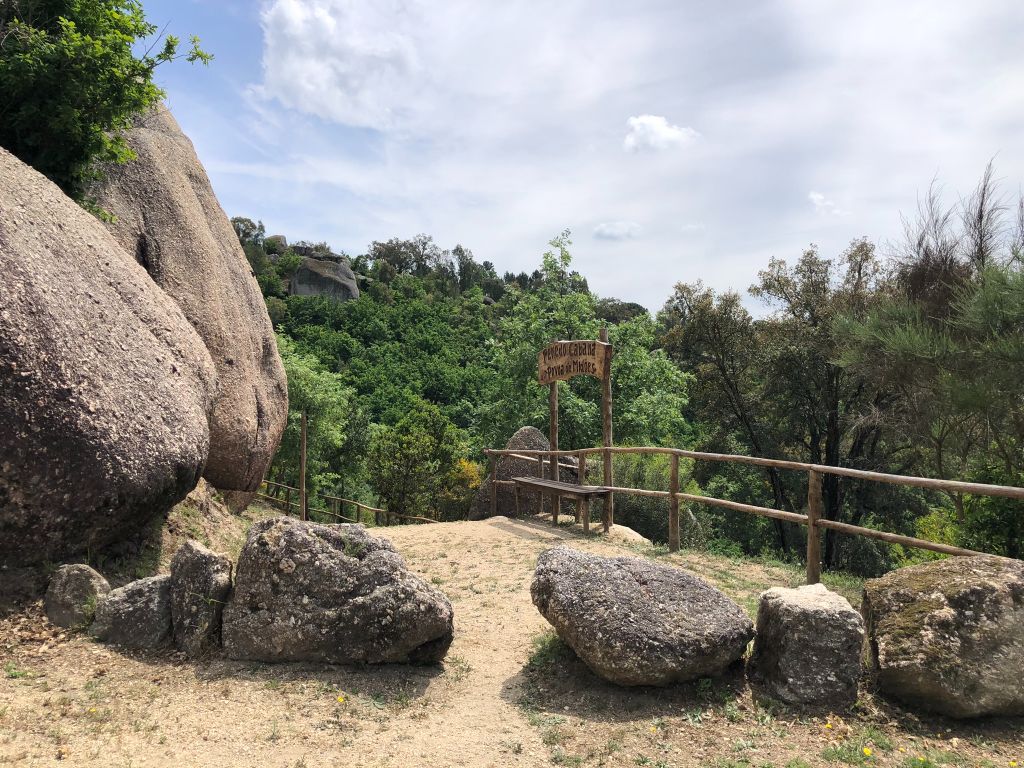 Picnic Park & Couple Card Games
Look how stunning this picnic park is! You can see it in the distance next to the bridge and little white chapel (Capela Jubileu 2000). I adore the stone book fountain located at this picnic park. What a superb green place to unwind and refuel. We didn't have our picnic here but we found some well deserved shade under a tree to play a card game: Exploding Kittens, the rude edition of course. I even won without cheating which is nothing short of a miracle because hubby is fiercely competitive. I blame this on him having 3 siblings and having to fight a battle on a regular basis (ha ha).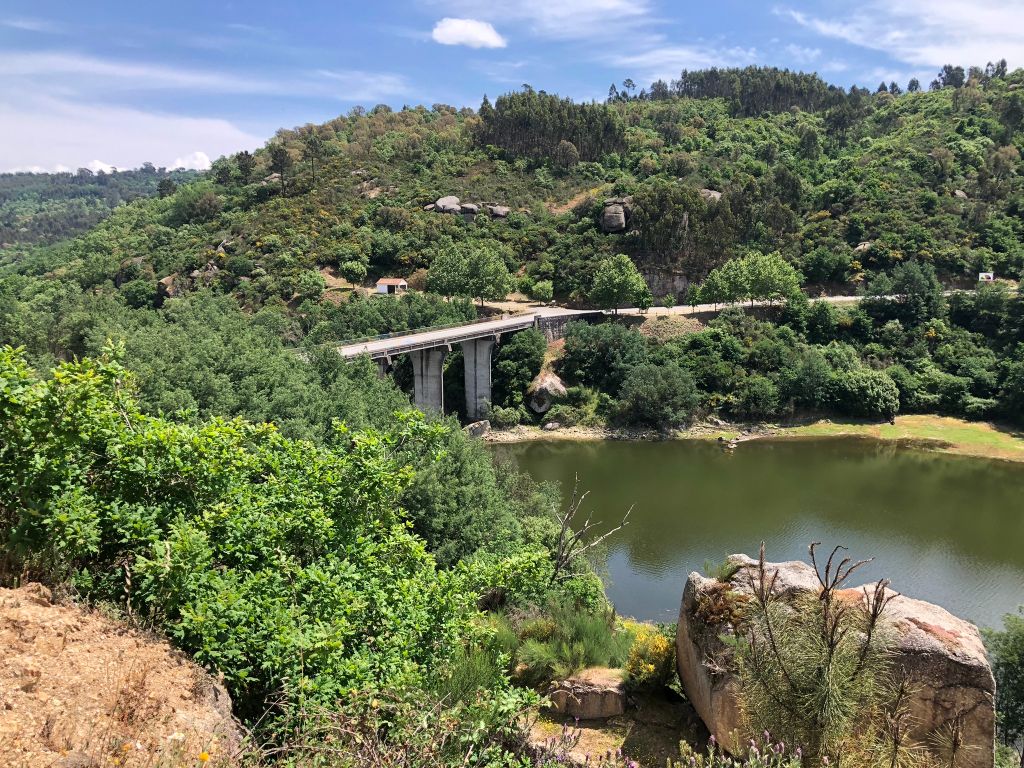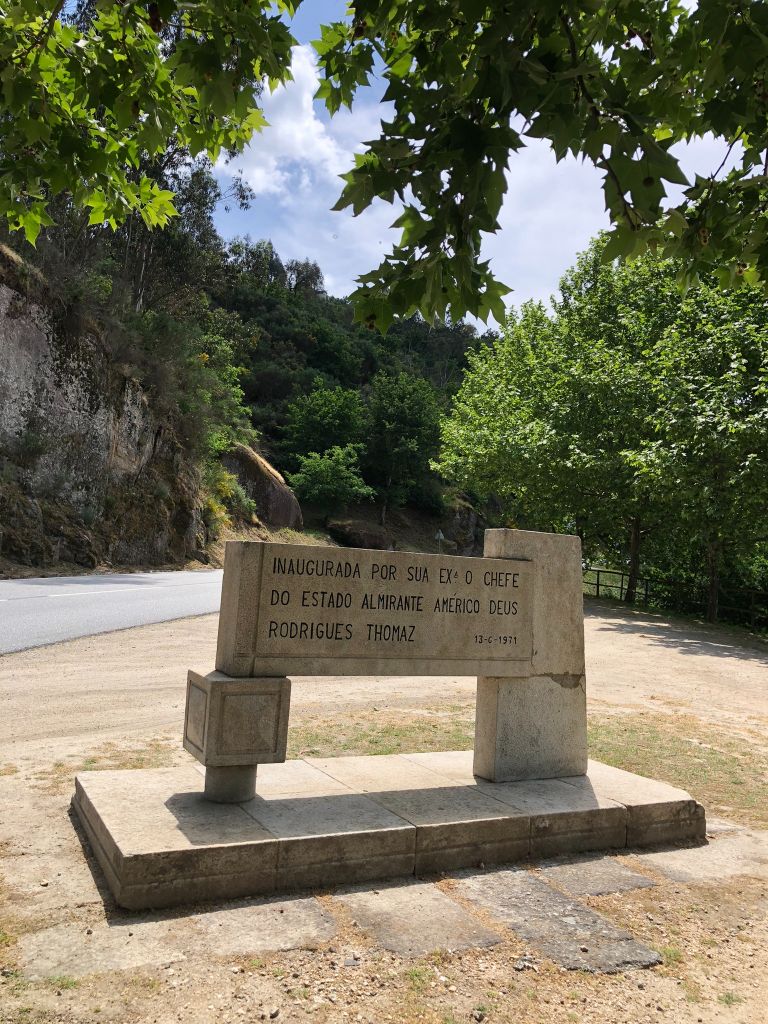 See You on the Other Side
Curiosity is the other side of caution. I decided to cross the bridge and take a sweaty hike to explore the other side because why not! I did have a plan to view another Viewpoint called Miradouro de Currelos which has a cute little wooden bench with a heart cut out of the backrest. We failed in our mission to find it. I don't like to be defeated but there was no signage and we walked a long way up a steep dirt track following hubby's GPS on his phone. We arrived at the location but no bench, how weird. I have a feeling the bench may have disappeared off the cliff edge because our photos of the river and bridge look exactly like other peoples so I think we were in the right spot or in very close proximity. A lot of the area is overgrown and hubby scratched his leg on brambles climbing down. It wasn't a failed mission because we found a wild and rugged spot on a huge boulder and sat here for a while with our legs dangling off the edge staring at our amazing find, what a hidden gem. Sometimes the secluded accidental Viewpoints are nicer than the official ones thanks to Mother Nature. I was mermerised by the majestic birds of prey soaring the sky and had a lot of fun watching them swoop down with the white fluffy clouds as a serene backdrop. The aroma of wild lavender growing between the rocky outcrops smelt divine. Lavender is such a calming smell and soothes my soul. Just look at this place, there's no place I'd rather be!