A TRIBUTE TO MY AMAZING MUM
6 years ago today my amazing mum passed away at the age of 66. I lost my hero and my lifeline. I have never felt strong enough in the past 6 years to write a loving tribute to my mum. I've always spent the day reflecting with my thoughts and have occasionally wrote a couple of sentences on Facebook but today I am a different person. I am in such a better mental state and I feel inner strength to type these words and share my wonderful memories.
Mum had her first stroke 3 years before she died. I remember the exact moment as I was at work at Fairfield High School in Bristol when I got the dreaded phone call from my dad. Mum was rushed to Frenchay Hospital and had an operation to remove a blood clot on her brain. The doctors explained that she might not make it and we were all expecting the worst. She came through the operation and then it was a waiting game. She recovered really well after her first stroke and eventually returned home. It affected her eyesight but mentally she was there and I could visit her at home and talk like we always used to. Unfortunately mum experienced several more strokes and spent time at The General Hospital as well as the B.R.I. I vividly remember one Christmas Eve when I had just returned home from visiting her on a hospital ward. It took over 1 hour for the bus to get me home and just as I entered my door the phone rang. It was a nurse who told me that mum was distraught and asking for me as she wanted me to wash her hair. I literally had just spent hours with mum and it was Christmas Eve. I wanted to spend the evening with my children and put mince pies out and carrots for Santa and his reindeers but mum was upset and asking for me. When I arrived mum said she didn't want her hair washing after all and I nearly lost the plot. She was having her hair washed no matter what. I took mum to the walk in shower and washed her hair, dried and combed it. It was so difficult to do with mum sat on a chair and I got bloody soaked through which was fine as the water from the shower hid my tears. I then tucked her in bed and waited for her to fall asleep before I left.
Her condition worsened and she needed round the clock care. Dad made a difficult decision and found an excellent nursing home close to Westbury-On-Trym. This decision was so hard for him as he knew mum would never ever want to be in a nursing home. We all visited regularly and this was really hard to do working full time and at this point I was a single parent to a 9 year year old and a teenager. The multiple strokes took their toll on mum and she morphed into a shell of the person we all knew and loved. She lost several stone in weight and was fed via a tube and often when I would visit after work she would be angry or confused. She lost her speech so her words were unintelligible which was hard. She would often be scratching her face to the point it bled and shaking the bed rail and on occasion she had her nightie over her head exposing herself which was so hard to see. It came to a point where I had to stop taking my children in to see her as she would swear at them obviously not knowing what she was saying. It literally broke my heart. Visiting the nursing home highlighted that mum was so young compared to the other residents. One celebrated her 100th birthday yet mum was only in her early 60's, life is not fair. The nursing home was lovely and the staff were fantastic but we all knew that mum would want to be at home. I don't want to dwell on negatives but I just wanted you all to know how difficult it is for stroke survivors and their families. Some make remarkable recoveries but others like my mum are stripped of their personality and dignity. They are physically here yet they are gone.
I was so incredibly close to my mum (Diane). As a child growing up we didn't have much money but we were rich in love. Mum would often go without to make sure we had everything we needed. She trained and worked as a mobile hairdresser (hence my very short fringes as a child) and had various cleaning jobs. She was great at baking, sewing and always made crafts for our school fetes. I loved her Cinderella topsy turvy upside down dolls. I started figure ice skating when I was about 10 and mum would get up at 5am every Sunday to take me for early morning lessons. Until you are a parent yourself and have to chauffeur your kids around (taxi of mum and dad) and stand for hours at the sideline of a footie pitch or dance studio you will never appreciate this sacrifice. Every Sunday we would wake up have breakfast whilst watching a kids cartoon called The Get along gang. Mum didn't like this show very much, her favourite was Danger Mouse and she loved the character Penfold. She also loved The wind in the willows and later on she enjoyed Wallace and Gromit. It's lucky I wasn't born a boy because apparently I was going to be called Brian after the snail in The magic roundabout T.V show. I'm now thankful I'm named Helen as I don't suit Ermintrude and if she named me after a cow I'm not sure I would have forgiven her (ha ha). As a teenager I used to help mum out at her evening office cleaning jobs. I would empty the bins and vacuum the floor. She would give me a couple of quid to spend on a magazine. I loved spending time alone with my mum.
Mum loved gardening, she had a couple of allotments over the years and a lovely little garden with a greenhouse. My kids loved helping their nan water the plants. Mum and I loved attending the annual Bristol flower show on Durdham Downs. A couple of times she would enter one of the baking competitions as this entitled her to free entry. One year in particular she entered her Victoria Sponge cake and was not happy with the constructive criticism the judges left on a card next to her cake, apparently it was heavy like a brick (ha ha). I wasn't brave enough to enter one of my cakes. The best I could do was enter the rude shaped vegetable competition. Who doesn't enjoy a rude naughty looking carrot (ha ha).
Mums garden
Mum hosted many of my children's birthday parties at her house over the years and she always organised some epic cakes.
Mum's 1990's buffets were legendary. She put on a great spread at her house after Josh's baptism. Amazing carb overload (ha ha). She also handmade the table floral arrangement. I'd kill for a sausage roll right now and don't get me started on the scotch eggs.
Mum was quite a strict parent, she said what she thought and didn't mince her words but that's one of the traits I loved about her, brutal honesty (ha ha). My mum raised us as a single parent so when I got pregnant at 18 during my backpacking around the world year trip she was my rock. One of the most wonderful memories I can think of is the day my son was born. I went into labour and was 2 weeks overdue. I puked on her carpet and she didn't bat an eyelid. At least the carpet was brown and patterned. She was my birthing partner and stood patiently next to the birthing pool and never left my side whilst I pushed out a 10lb Josh into the world. Feel my pain folks! She also took some horrendous photos of me giving birth, thanks mum! From day 1 mum took it in turns to stay up late and help feed Josh. One of us would go to bed at 9pm then wake for the 4am or 5am feed and the other would stay up for the midnight feed and we would alternate every night for weeks. We had a great little system and I never thanked her enough for doing this. I would have been exhausted and sleep deprived without her help.
These were the days of no cable or satellite T.V, no Netflix and we didn't have computers, laptops or mobile phones. We would often laugh about the T.V showing Job Club at 5am. I don't know any unemployed person who would get out of bed at 5am to job search (ha ha). My favourite pastime was to scroll through the teletext and look at holiday destinations and dream big. Once it got to a certain time all shows would stop broadcasting and you would view the test card, which was created by the BBC in 1957 and was aired from 1967 to 1998. It popped up whenever there were breaks in broadcasting. It was a young girl named Carole Hersee playing noughts and crosses with her stuffed toy clown. Looking back I must say it was creepy as hell. Apparently Carole is now in her early 60's now! (ha ha).
I left home at 19 and I would visit mum daily and we would sit, chat and drink endless cups of tea. When I started work and college I would phone her daily instead and we would chat about nonsense for hours. We would get 1 hour free on our land line phone plans so would have to hang up and re dial after 55 minutes but often we would forget so my phone bills were huge (ha ha). I am the mother I am today because of her. She taught me right from wrong and how to be a great mum, she also taught me how to bleed a radiator (ha ha). I learnt from the best. Whilst others stigmatised me for being a young single mum she had total empathy as she had walked in my shoes. When Josh was born my lovely Gran was still alive so my mum could not also be called Gran as it would be confusing. Mum decided she wanted to be called Nan so that was that. She had a very close bond with Josh growing up and she would read endless chapters of Harry Potter books to him at bedtimes when he would sleep over at her house. He was about 8 and a very confident reader but he loved his nan reading to him. Mum and I once had a heated debate about how to pronounce the Harry Potter character Dobby, it lasted for weeks! I attended a book reading workshop at Shambala festival a couple of years ago. It was great and the man running the workshop asked us all a question. "When was the last time someone read a story to you?" We all answered as a child. It was very surreal and being read a story to as an adult rocks big time! I highly recommend it. Mum also taught Josh life skills like how to tie his shoelaces.
I was living in Essex and married when Tea was born and mum missed the birth as Tea arrived 2 weeks early. Mum had planned to arrive a couple of days before my due date but Tea was inpatient and arrived early. Mum and dad rushed up from Bristol and stayed a few days to support me. We only had a 2 bed house so she had to sleep on our old sofa. She bought Tea 2 tiny designer dresses. She explained that she could never afford such dresses for us when we were babies and she wanted to spoil her first granddaughter. I still have these 2 dresses today, they are packed away in Tea's baby box as a treasured memory. Before we relocated to Portugal we unpacked the baby box and looked at them with Tea, such happy memories.
Mum always encouraged me to follow my dreams. She babysat for me whilst I attended various college courses including training to become a qualified Holistic Therapist. She also babysat on evenings as I continued my studies in Sports Massage, Crystal Therapy and Reiki. 15 years ago I started working in Education and mum was very proud of me as she knew what a challenging job it was especially working with students with special educational needs. Mum really was there for me whenever I needed her. Early in my relationship with Adrian I was rushed to hospital with a suspected ectopic pregnancy. Mum rushed to the hospital to be at my side. It resulted in a miscarriage and mum was so caring she was amazing and batch cooked us home cooked meals so we could grieve and recover at our own pace.
Mum taught me basic DIY skills and we wallpapered many of my rented houses together. When my son was very little I was offered a Council maisonette in a very rough part of Bristol. I was a bit reluctant to move to such an area with high crime, drugs and anti-social behaviour but it was an affordable home so I accepted the tenancy and took the keys. The home came with a £20 per room redecoration allowance because it was in a right state. This gave me £80 to redecorate the whole place. Even in the early 1990's this was a difficult task. Mum and I spent a whole weekend painting every wall and we even put a lovely wallpaper boarder in Josh's room. All the gloss paint work was painted bright red (god knows why!) and it took 2 coats of one coat white gloss paint to not see the red bleed through, one coat paint my ass (ha ha). We slept on the floor in sleeping bags and only had a kettle so we ate pot noodles and worked throughout the day and night surviving on a couple hours of sleep. We did a great job with team work. Unfortunately the next day when I was moving in a scary character came up to us and asked us if we wanted him to break in with a crow bar. I said no I have keys and a tenancy and he responded: "Well make sure when you move in you carry all your stuff inside black bin liners because if people see you have nice stuff they will break in and steal your shit!" WTF we took one look at each other and returned the keys to the Council office. I was gutted after all that hard work but mum made me see sense that it was not the area for a young single mum and a baby. Bless you mum.
A few years ago my daughter bought me a lovely fridge magnet. I used to collect fridge magnets but donated them all to the charity shop when we relocated here as I had so many. I only kept 2 special magnets that my daughter gave to me as gifts. The first magnet says "I love you to the moon and back" and this is our little phrase between mother and daughter as I bought her the Little and Big Nutbrown Hare book when she was tiny and I would read it to her every night, she still has it. Last year I was in a supermarket and I saw out of the corner of my eye the same book but in Portuguese so I bought it for Teanna. I thought she could read both books in English and Portuguese to her child one day. The second magnet says "Mums are like buttons, they hold things together" Oh my gosh how true is this quote! This is exactly how I felt about my mum and I'm so happy Teanna feels that way about me too.
Mum would always shy away from a camera and would be the first to admit that she was not very photogenic. It would be rare to catch her smiling on a photo. I do have a few snaps of her smiling and they are precious. My favourite photos are the ones I have with my mum holding my children as babies or them as small children. I can look at these photos and they take me right back to the exact timeframe, such precious memories. After she was gone I would rush to a phone every time I had good and bad news to share with her only to realise she wasn't here anymore. Mum left a gaping hole in my heart and her passing was one of the reasons why I decided to get married in Las Vegas and relocate to Portugal. 5 years before mum passed I lost my best friend to breast cancer and Bristol suddenly became an isolated lonely place for me. I think mum and Sue would be super proud of me and all my achievements. Mums favourite flowers were freesia and gypsophilia. I grew some gypsophilia in my garden here in memory of my mum.
Gypsophilia for mum
I have so many funny memories of mum, way too many to share so here are just a few. When I was a teenager mum would take me to the local markets. One day she parked up and we browsed the market. When we returned to the car it was gone! She reported it stolen to a security guard. He got on his little radio and a few minutes later the security guard found our car parked in a different area of the car park. So it wasn't stolen afterall mum just forgot where she parked it (ha ha). I think I adopted this trait from her because one day many years ago I drove my son to school, escorted him to his classroom then walked home. Later on I opened the front door to go shopping and assumed someone had stolen my car. I retraced my steps and realised I had actually driven Josh to school that day, I usually walked to teach him road safety and it wasn't far. Like mother, like daughter (ha ha). Another funny thing mum used to do was remove the starting motor gadget thingy from under the bonet when she left the car so it didn't get stolen.
One day I visited mum and she was drinking a cup of tea. I made her laugh and somehow she spat tea on the ceiling of her lounge. God only knows how she did this as she was barely 5 foot tall, sat down and the ceiling is very high as an old Victorian house. Anyway I think the tea stain is still there today. Another occasion I took mum to B and Q. Her eye sight deteriorated as she got older. I dropped her off right outside of the entrance but you are not supposed to stay there for longer than a few minutes so I parked up in the car park and waited for her. When she came out of the store I saw her and started to drive back to the same pick up spot. Unfortunately there was a queue of traffic to exit and mum just got inside another white car with a random bloke. It didn't look anything like my Vauxhall Astra. In fact the only thing it had in common was it was a white car. I could see her climbing in the passengers seat with her tin of paint and I was pissing myself laughing but there was nothing I could do. Bless her she was so embarrassed.
Then there was a time we went clothes shopping and mum decided to try an outfit on. This was not like mum at all. I was in a changing cubicle a few doors down when I heard commotion and ran out to find mum semi undressed with her arms in the air and an outfit covering her head. I quickly realised she was having a hypo. She was a type 1 diabetic and often experienced hypo's. It was obviously a scary moment but later on she had me describe what unfolded and I've never seen her laugh so much. Finally there was a time that we entered a local convenience store to pick up a few essentials and she put a pack of 4 loo rolls under her arm. She forgot to pay for them and was mortified. Ever since that day I referred to her as the shop lifter (ha ha). You were one of a kind mum!
Mum was a simple lady as she never wore fancy designer clothing, jewellery or spent money on hair, nails or makeup. Buying gifts for her for birthdays, mothers day and Christmas was always a challenge as she never wore perfume due to allergies and didn't eat chocolate as diabetic. Luckily mum had a passion for vintage brooches and I would spend hours rummaging around antique stores and flea markets trying to source the perfect one. Later she started liking hat pins too so my children and I gifted her dozens of brooches and hat pins over the years which she loved.
I not only loss my mother 6 years ago, I lost my friend, my supporter, my ally, my voice of reason and advisor. Whenever I had a bad day I could always turn to my mum and she was the light at the end of a dark tunnel. Her intuitive advice and endless love and caring for her family will always astonish me. Mum gave me many gifts over the years and a lot of stuff I couldn't bring with me to Portugal as we jumped on a plane with only 2 suitcases and hubby's bike. I had a lovely pink double sided mirror which is one of the last presents mum gave to me. It wasn't an expensive gift but mum knew I wanted one so bought me it for my birthday. We were so close that she had a second sense to know what I wanted and needed without me having to say a word. It broke my heart when I had to donate the mirror to a charity shop but it was just such a large fragile gift that I couldn't fit in my suitcase. For my 18th birthday mum gifted me a gorgeous gold bracelet with amethyst and diamonds. Mum knew Purple is my favourite colour and wanted to buy me something special for my milestone birthday.
Luckily for me I have a another treasured item that was small enough for me to bring with me. When I had my first child mum gifted me a beautiful family heirloom ring. It belonged to my grandmother and was given to her by her first love. The man in question proposed to my gran and gave her this ring as an engagement ring to be married. Shortly afterwards he got posted out to fight for his country as he was a soldier. He wrote to my gran almost every single day, beautiful letters about how he felt about her. Unfortunately my gran never received a single letter as her mum hid the letters. This meant that my gran thought he didn't care or love her anymore and vice versa. Gran was heartbroken and years later met my grandad and married him and went on to have 6 children. This story make me shed a tear and I often wonder what would have happened if she would have married her childhood sweetheart. I might not be here now. This ring means the world to me as gran gave it to mum who then gave it to me and one day I will also gift it to my daughter Teanna with the hope that she can gift it to her daughter. It is precious beyond belief. I have never really worn it as it's quite big, way to large for my ring finger and I don't ever want to lose it. Today I tried the ring on and have decided that I will wear it on 20th February every year in memory of my beautiful mum and gran.
My lovely Gran
These photos were taken the day after Josh was born. I discharged myself from hospital the next day and gran was gutted. She wanted to visit me in hospital and had made a little care package for me which consisted of a see through plastic carrier bag and the following inside: A magazine, chocolate, money, puzzle book, baby toy rattle, muslin squares and booties. Gran decided she didn't like the name Joshua (Josh) so she called him Joe instead which I found hilarious. She was so similar to mum and they shared a special bond.
Photo gallery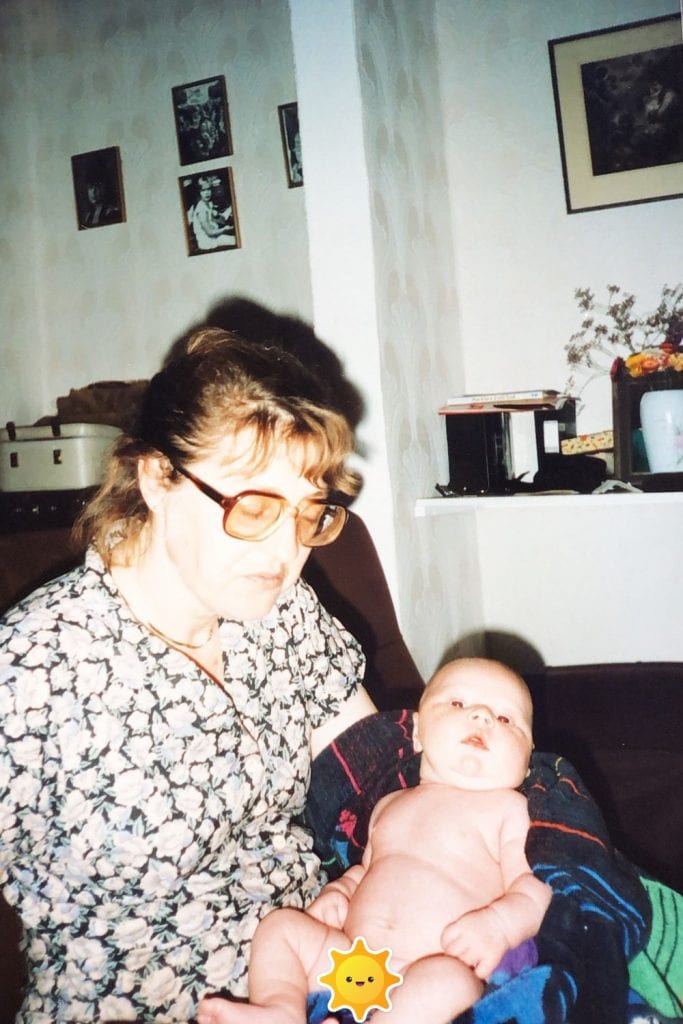 The photo above makes me laugh so much. 2 out of 5 of us have our eyes shut or semi-closed.
These are a few of my all time favourite photos:
Mum is actually smiling!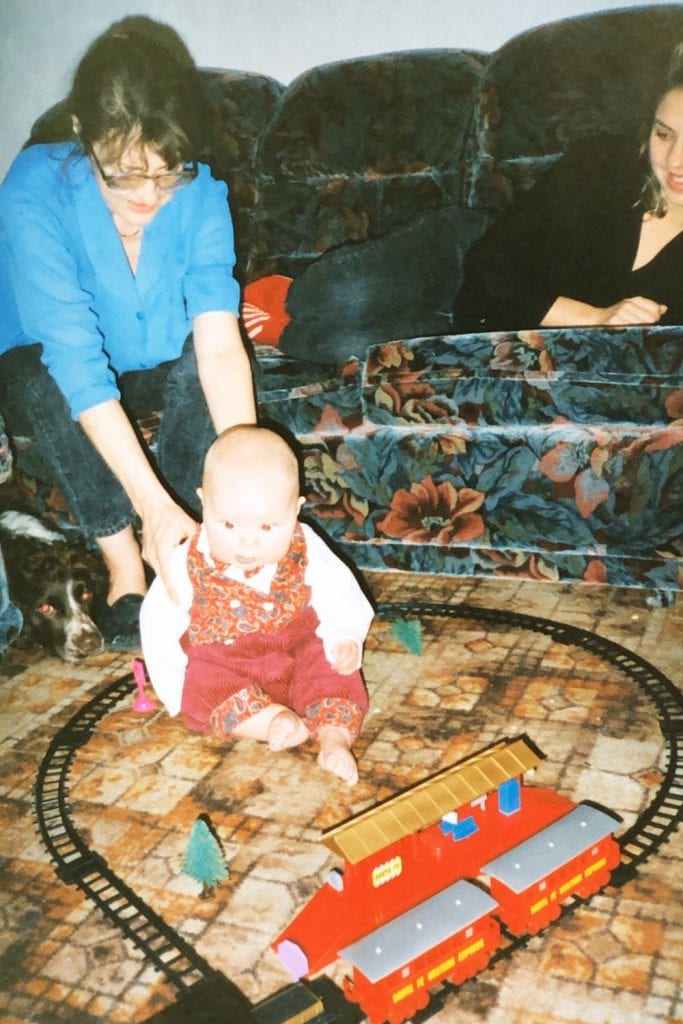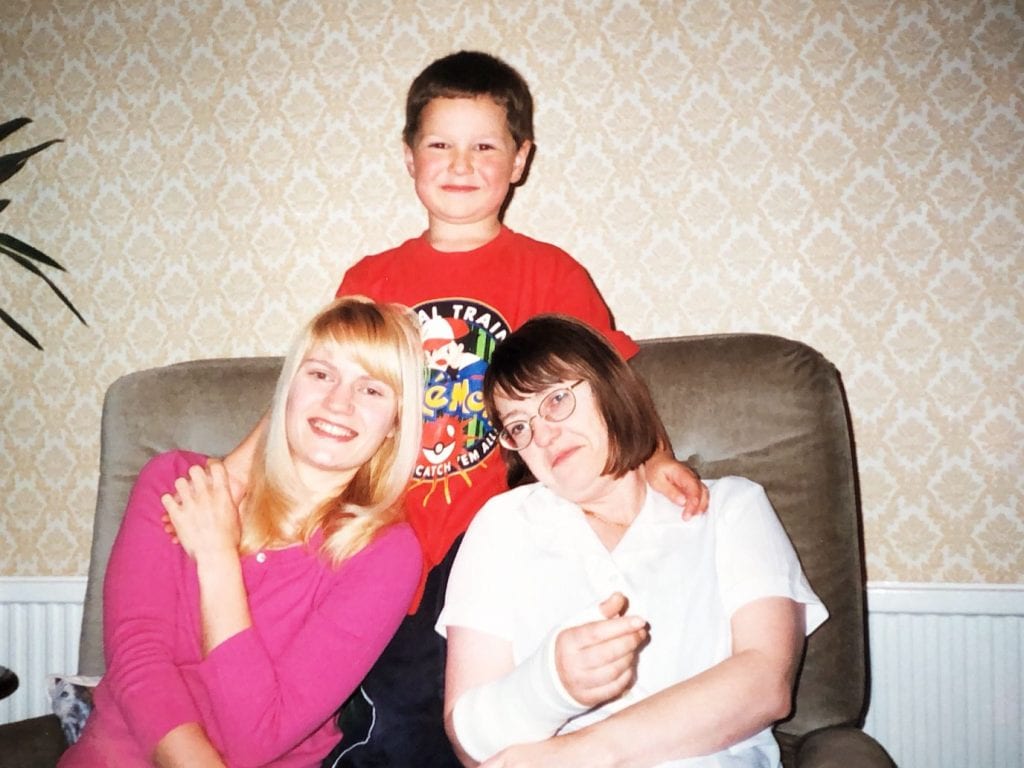 The last photo
I have a final photo of mum with dad that was taken at my flat. I don't like the photo as it portrays mum as a shell of the person she once was. I'm not going to add it to this post as I want to remember mum as the woman she once was (a strong, independent lady) and not the woman she was on that day. The multiple strokes and severe neurological damage completely wiped out my feisty mum and the years that she struggled on for took a toll on her mind and body. The day in question was Christmas Day and I was very surprised when my dad rang my doorbell. He had collected mum from the nursing home and made a huge effort so I could see her on Christmas Day. There were a lot of steps up to my flat so we patiently supported her up every step. She even managed a couple of mouthfuls of food (Christmas lunch) which was amazing as she had been fed via a feeding tube for what seemed like forever. I know mum didn't know who I was or her surroundings but it was a sweet gesture that dad made and one I won't ever forget.
Final thoughts
I can't help but to feel sad when I think about mum not being here to celebrate my daughter's recent 18th birthday. She would have spoilt her rotten. She also never got to see her head off to university. Mum would of been so very proud of Teanna, the first one in our family to ever go to university. Mum won't be here to see Teanna graduate, attend my children's future weddings or to become a great-nan if they have children of their own in the future. This makes me feel a whole lot of anger and sadness but I know these negative thoughts won't help me or bring her back. I am incredibly proud of my daughter Teanna as a couple of years ago she started volunteering for a local stroke cafe in Bristol. She would meet with stroke survivors and chat to them and arrange fun activities. She enjoyed making them cups of tea and escorting them to the toilet. She also volunteered in a local church youth group but I got the impression she enjoyed the stroke cafe more as she missed having a nan and wanted to help other stroke survivors as she way too young to support her nan at the time of her stroke, bless her. Even when Covid struck she joined the virtual zoom stroke cafe sessions until she headed off to university.
Today I will spend thinking about my mum and all the good times we shared. I am going to put my electronics down, avoid posting on Instagram and dedicate the day to mum and my wonderful memories. The world won't end if we don't post for a day. Mum disliked gadgets, she was old school and it took forever to persuade her to swap her old VHS player for a DVD player (ha ha). Sometimes I think she had the world sussed, often in life less is more. If the rain holds off I will immerse myself in nature in my garden and potter around just like mum used to in her garden.
Mum, you taught me everything I know, except for the most important thing. You never taught me how to live without you. I am lucky to have a wonderful husband so I am not alone. Life is not always fair. Thank you for being the best mum and the greatest nan. Until we meet again one day, I love you mum XXXXXX
UPDATE
My children occasionally read some posts on my blog. I never push either of them to read my posts but now and then they have a little look. I was over the moon to receive these 2 messages from Josh and Teanna. They will be turning 28 and 19 this year which makes me feel very old (ha ha). I was so happy to read their messages to me and to know that they care. I am truly blessed to have such caring, loving children.
Message from Josh
I read the blog post about Nan. I also read some of the other posts that I didn't read before. I learned some things I didn't know, I thought the post was well written and nice and real. I miss her too sometimes – I'll have dreams where she's in them and we'll be chatting in the kitchen of the coronation rd house like nothing happened, and they're not real but it feels cathartic. I agree, I think she'd be really proud of you and the nice life you built for yourself and the kids you raised too ♥️♥️♥️
I'm proud of you and the life you and Adrian have built for yourself. You had me so young and now you're only 46 and you're on this new and epic chapter of your life in Portugal and I'm so happy for you both, it really sounds amazing. I think you've managed to find a type of happiness that many people deny themselves for various reasons and I just think it's great. The photos are beautiful too ???? xxx
Message from Teanna
I read your blog post about Nan last night and it was absolutely lovely, made me cry made, made me laugh, I learnt new things about Nan and was so happy to see so many photos of her because I hadn't seen a lot of them before. Reading those stories taught me that she was such a brilliant mum, so caring and strong. I remember her as kind, fun and lovely. Our trips to the garden centre and sometimes toby carvery were one of my favourite things to do with her. I remember having such a good time and especially when it was Christmas and they would have rooms full of decorations and lights – it was beautiful. I think that must be why I'll always be down to go to a garden centre today, especially cadbury garden centre because it reminds me of good times. She was the best Nan, tucking you in under tons of layers and making sure your as snug as a bug, watching Caroline with me even if she was tired, making sausage rolls with me (an old addiction of mine haha), taking me to see Santa, letting me play with the garden hose and try to make rainbows. Looking back I probs wasted a fair bit of water.
I can safely say that like Nan was to you, you're the best mother to me and Josh. You must have gotten your strength and independence from her 🙂 I love you very much and I hope you have or that your run was good 
️