FESTA DOS TABULEIROS (FESTIVAL OF THE TRAYS) TOMAR (2023)
I LOVE Festivals and when I found the Festival of the Trays in Tomar I knew instantly that I had to attend this unique event and celebration. Something inside me sparked instant joy when I laid eyes on all the beautiful and bizarre colourful parades of hundreds of girls and women with strategically balanced ornate tray towers of bread rolls and flowers on their heads. Yes, you read that correctly, towers of bread, how weird yet wonderful! The festival is also called The Feast of the Holy Spirit. We have only visited Tomar once before back in 2020. We had a spectacular day trip to see the famous Convent of Christ and nearby spiritual holy land of Fátima. It is quite a long drive to Tomar from our casa – 130 km and an approx. 2 hour car journey each way. I had initially planned to go for the whole weekend and stay overnight but unfortunately every single hotel and accommodation in Tomar was fully booked and I didn't see the point in wasting money on accommodation in a nearby town as it resulted in a 40 min commute. In the end we woke up very early and attended for the whole of Sunday which is the best day to see the main parade. The 2023 event took place over the whole week (1st – 10th July). There is a really useful website with all the information one needs if you are planning a trip to the festival including parking. A few designated free car parks are available for vehicles and buses were provided for the small cost of €1 per person to transport visitors from the car parks onto the main event area.
The Festival of the Trays is one of the most ancient cultural and religious events in Portugal. The origin of this festival is believed to be Pagan and is held to honour the harvest season hence all the bread and flowers. The bread represents the Holy Spirit and the flowers symbolise fertility and harvest. Later it gained its religious element. According to some historians the Festival of the Trays dates back to the days of the Roman Empire. The Romans who lived locally called it Sellium. It takes place every 4 years and dates back to the reign of King Dom Dinis (Late 13th/Early 14th Centuries). Along with his wife Queen Saint Isabel the King established this celebration in honour of the Holy Spirit. There are a couple of myths and legends one being Saint Isabel and the miracle of the roses. Legend has it that Queen Isabel was helping the poor behind her husband's back, and one night snuck out with bread hidden underneath her dress. When her husband confronted her, she lifted her dress to reveal flowers (roses). I often do something similar to this in our kitchen when hubby sneaks up unexpectedly behind me when I'm stealing an extra cake. I shove it rapidly down my bra but it falls out the bottom of my clothing as I waddle off at high speed (ha ha). The bread rolls are said to represent the 30 silver coins over which Judas is said to have betrayed Jesus before the last supper.
The streets of the historical centre are adorned with thousands of pretty handmade paper flowers and brightly coloured quilts are draped over balconies. It was a beautiful sight to see. The ceremonies actually start on Easter Sunday or Resurrection Day. The Children's Procession takes place on the Sunday before the Grand Parade and is a smaller but cuter version of the main parade. The Butler's Procession formerly called the Bulls of the Holy Spirit Parade is held on the Friday before the Grand Parade. This procession includes ox-drawn carts/horses and carriages. Over the years the processions have adapted to our current times. Originally the Butler Procession was a symbol of Wealth and represented by bulls and The Holy Spirit Cows. The bulls were paraded in front of the locals and afterwards slaughtered and their meat was shared amongst the crowds whether rich or poor. Since 1966 the act of slaughtering has ceased and the meat is obtained from a local butcher and distributed to families that need it the most. The procession is followed by an orchestra. The Butler of the procession is the City Mayor and members of the community dress in black and white with a red ribbon neck tie. There is a Partial Parade on the Saturday followed by the Tray Exhibition and traditional Portuguese Parish games including quoits, races with old wine barrels, tug of war, donkey and cart races and climbing up greasy poles. I knew my pole dancing practice would come in handy one day although I'm more of a rat down a drainpipe (ha ha). I didn't have a go at sliding down the pole as I didn't want to injure my lady bits so close to my UK trip. The Grand Parade takes place on Sunday at 4pm after the morning Banners and Holy Spirit Procession. The crowns and banners relate to the different Parishes in Tomar.
Our Experience
We left our house at 8.20am and were supposed to arrive at the car park around 10am but we hit a big traffic queue just 5 km from Tomar. The Police were stationed at the junctions letting a dozen or so cars out from each side at a time. This added around 30 mins on to our journey and we arrived at the car park at 10.30am. We initially wanted to park in the next car park which was only a 2.7 km walk to the action but the Police directed us to the furthest away car park which resulted in a walk of just over 3.5 km which was fine. We didn't bother waiting for the bus and just took a leisurely stroll. Although the car park was fairly empty there were tons of people walking towards the festival. Lots of coaches were parked alongside the main road and huge groups of people were having picnics in fields adjacent to the road complete with foldable picnic tables, tablecloths and wine! We did have a laugh as it was only 10.30am but I assumed they had travelled from far afield. I needed the toilet so we stopped at the shopping area and went into the supermarket but the queue to the toilet was long and had about 80 women patiently waiting so I didn't bother. When we arrived at the event there were already hundreds of people there which surprised me. So many people had secured a prime shaded position hours in advance of the 4pm Grand Parade. Crowds of eager spectators were lined along the pavements and fully prepared with fold-up chairs, sun umbrellas, hats, water and picnic hampers. The Portuguese are very proud of their culture and it was clear to see. They are also a very patient nation because I would have zero tolerance if faced with waiting for multiple hours under the searing Portuguese sun. Us Brits are known to like an orderly queue but my patience has worn thin since I hit the menopause and I can't tolerate BS that can easily be avoided (ha ha). Look at the crowds at mid day! Imagine standing there for 4-5 hours, pure craziness.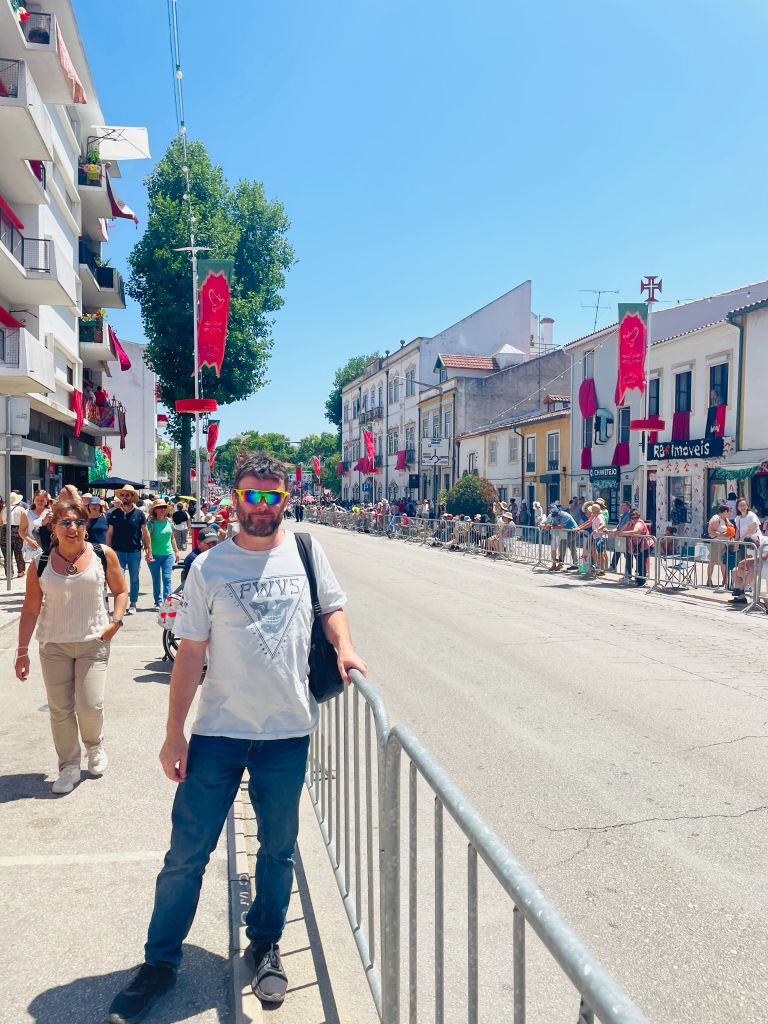 Love is like a Colourful Street
Not only did I misjudge the crowds and queues but I also did not expect it to be so damn hot. I was roasting in my summer dress and sandals. Even my fanny was sweating and that usually only sweats when I jog in 30+ degree heat. You know when your hot when your knickers get marginally moist and it's not linked to sexy time (ha ha). We decided to explore the charming cobbled side streets which are adorned with beautiful paper flowers and various themed decorations. There were quite a few to enjoy but every one was crowded and taking decent photos was more than a tad difficult. We tried our best to take a few photos and videos before we morphed into a hot sweaty sticky mess and resembled a bag of shit (ha ha). I loved the colourful rainbow street. The hedgehog was also adorable but the wonky eyed sheep were my favourite.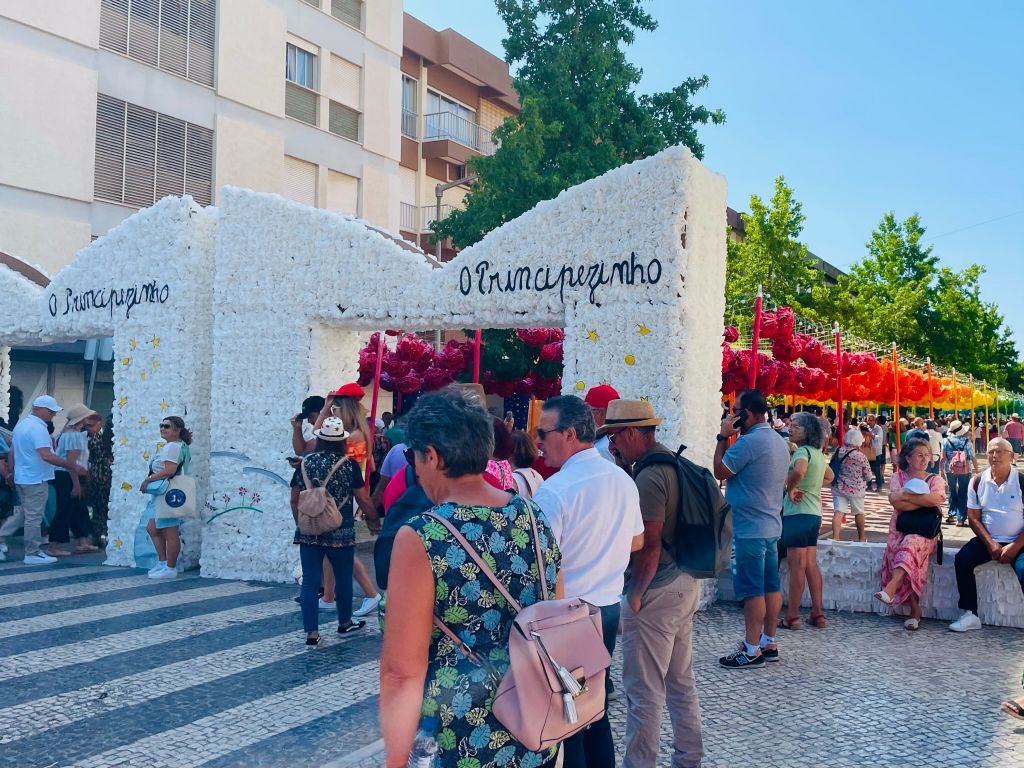 Cardboard Cut Out Hilarious Fun in the Sun
What is more awkward than asking a complete stranger to take your photo? Asking a stranger to take your photo when you don't speak their language (ha ha). We were a little lost in communication but my motto is "If you don't ask, you don't get" and this was a couple of opportunities not to be missed and would have looked a bit silly with just one person. I am slightly off line on the first attraction and I was supposed to slot my arms through the sleeves of the dress and hold the tray but I didn't want to touch something that a million other people have fondled over the week long event (ha ha). I did better on the second one but hubby did worse (ha ha).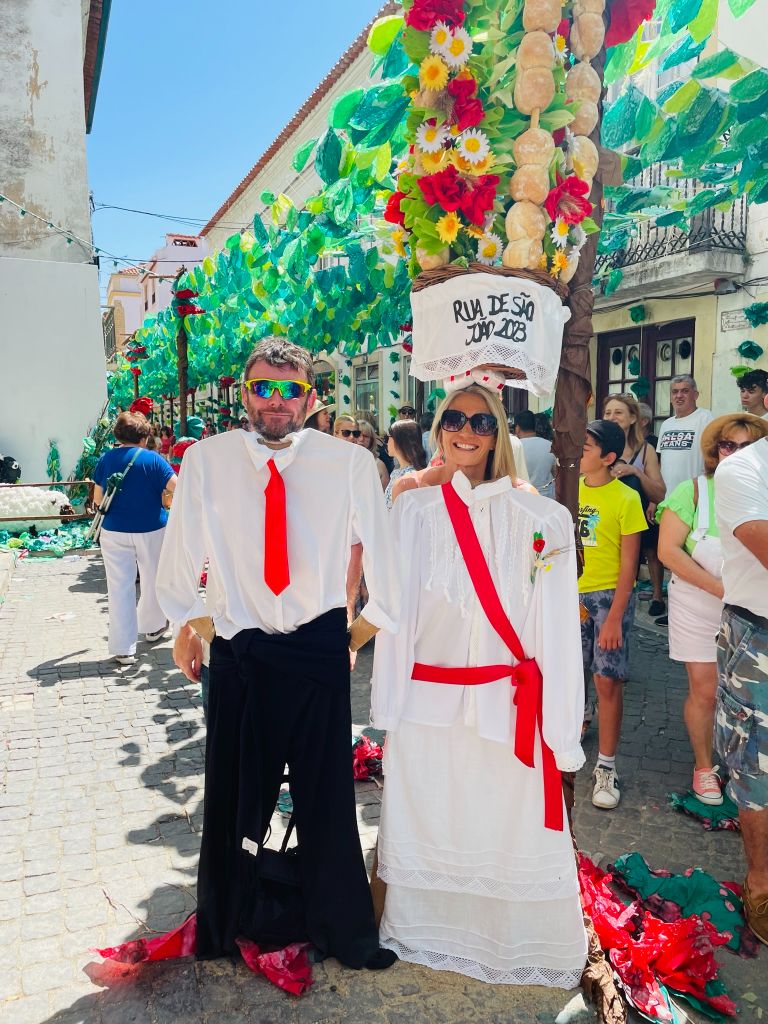 Selfie Colourful FUN
It was a little windy in the first 3 photos, bring on the cool breeze as it's gladly welcomed.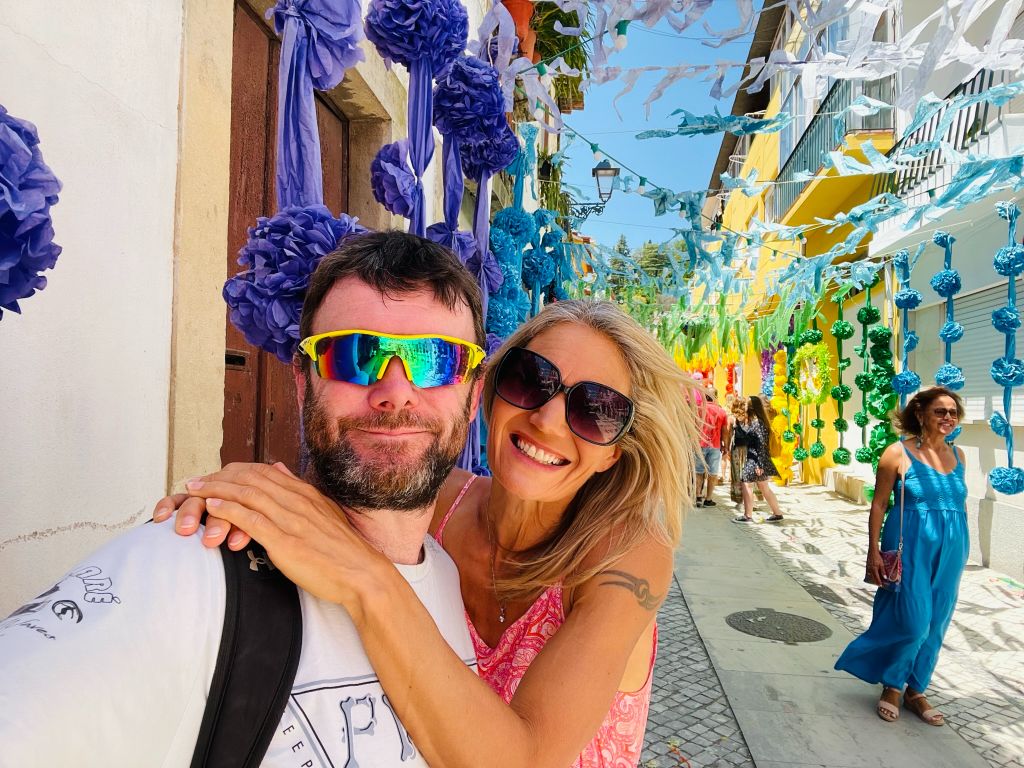 Mata Nacional dos Sete Montes
After our fun adventure we decided to make our way to the park to see if we could catch a glimpse of the trays as this is the starting departure point. We peered through the locked railings and indeed we saw all the pretty trays on the ground. It's a shame we didn't arrive at 9am to see the tray exhibition but I reckon there would have been huge queues well before 9am and I wasn't getting up at 4am unless it's for a date with Idris Elba or my house is on fire (ha ha). The first procession of the day commenced at 9.30am so there was technically only half an hour to view them anyway. I might have to return to visit this park because it looked very peaceful and a perfect nature haven.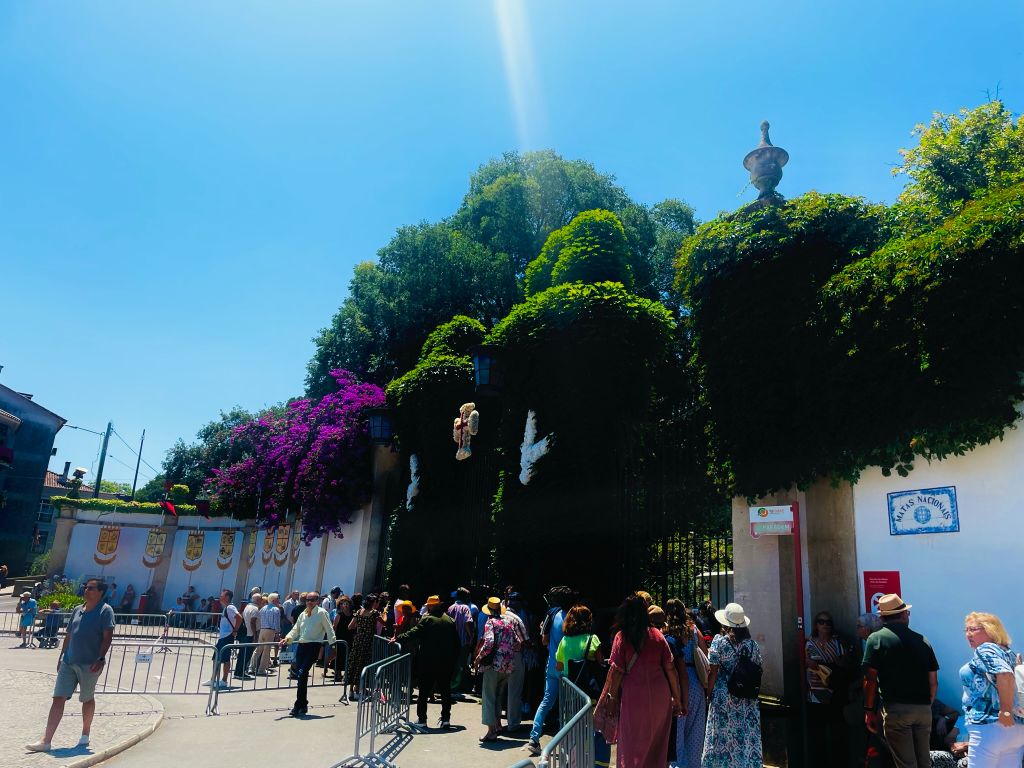 Loo Queue
I found a portaloo here with a queue that was not too long so I joined it whilst hubby just strolled right into the gents and was in and out in under 30 seconds. Gosh, I wish I was a man, hubby said he's glad I'm not (ha ha). I sent him off to locate us some lunch food and by the time I exited the loo he was waiting for me with a couple of yummy Pão com Chouriço which he purchased from the cafe opposite for a bargain price of €1.60 each. I love that Portuguese festivals do not inflate their prices too much like the UK. I couldn't see what I was taken a photo of and this lady obviously turned around right at the wrong moment, her face says it all! I think she thought that I was taking a photo of her, I'm surprised she didn't punch me in my face because it kind of made me look like a total racist which I'm obvious not. I was not capable of saying in Portuguese that I wanted a photo of the loo queue for my blog post (ha ha).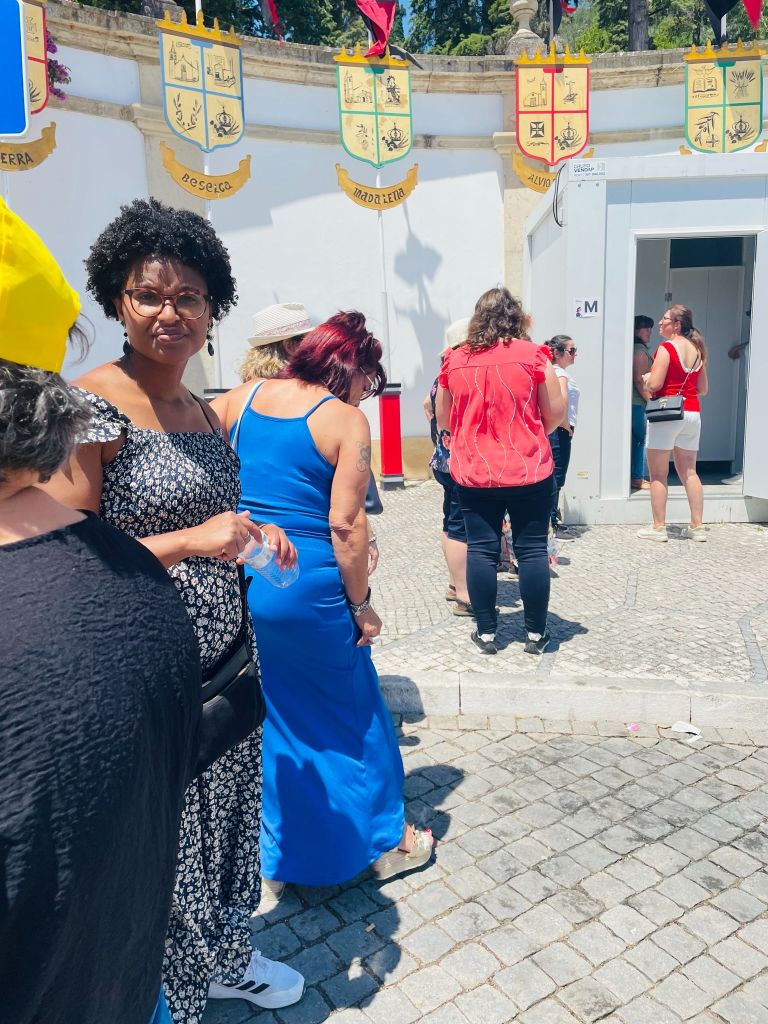 Lunch – Pão com Chouriço
We tried our best to weave in and out of the crowds to find a shady grassy area to sit and eat our lunch. We found a perfect spot right next to the Convent under the shade of a tree, God bless Mother Nature. There was a green with several food and drink options here and a big main stage for the evening's entertainment. We bought drinks and after lunch we topped up our water bottle from the free fountain because frugal Helena did not want to pay between €1-€1.50 for a bottle of water which usually costs cents.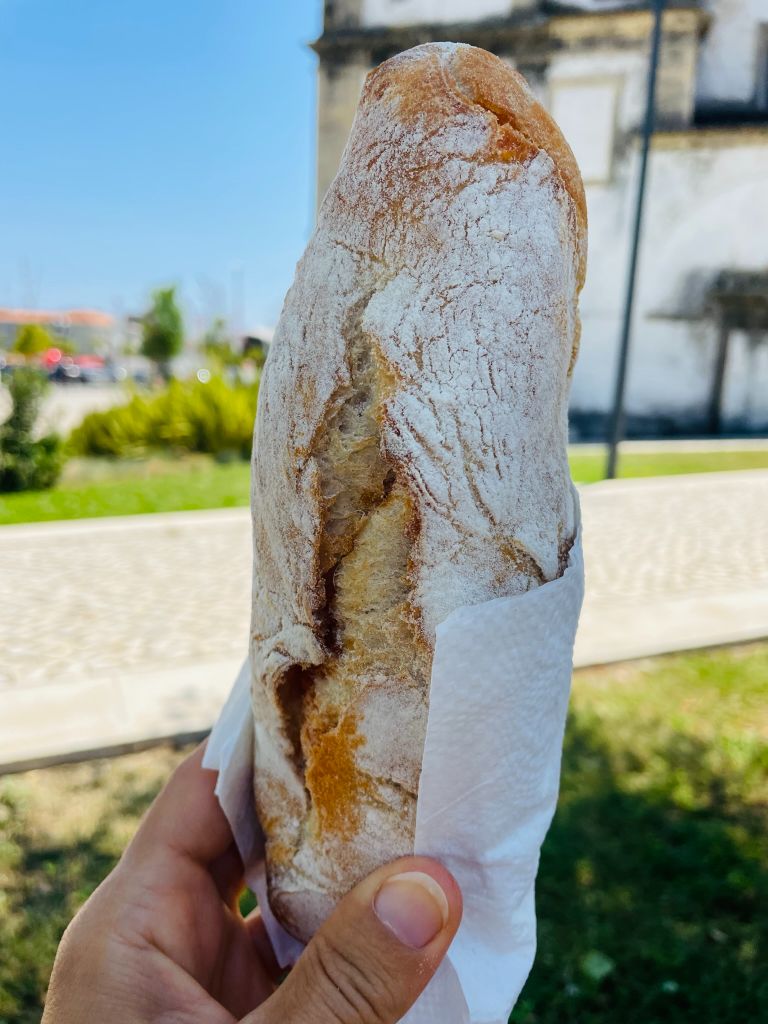 Igreja do Convento de São Francisco
After lunch we headed inside the cool Convent. When I say cool, I mean cold in temperature but it was also a beautifully stunning Convent with an amazing altar and artefacts. We walked around then took a pew for a while to cool down and reflect on life. The Church of the Convent of San Francisco is located on the fields of Várzea Grande. It was founded in 1624 by Franciscan friars from the religious community of Santa Cita. Built by King Filipe III and is a Mannerist style temple.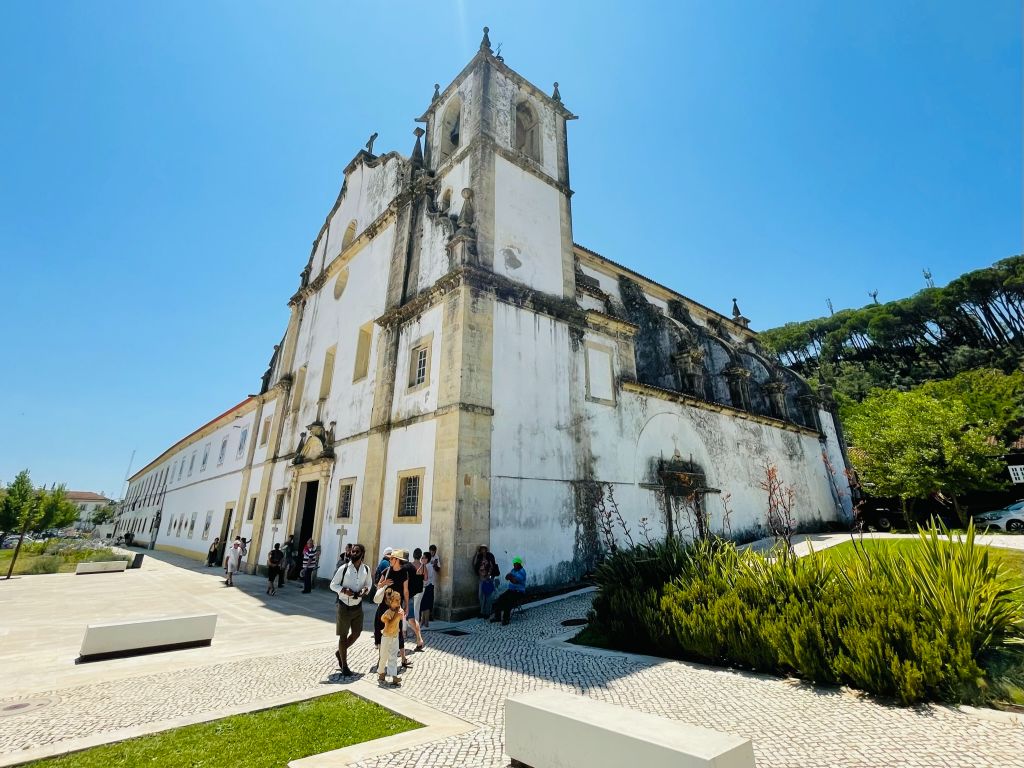 TOMAR Letters
Shame about the van parked behind!
T = Terrific
O = Outstanding
M = Marvellous
A = Awesome
R = Radiant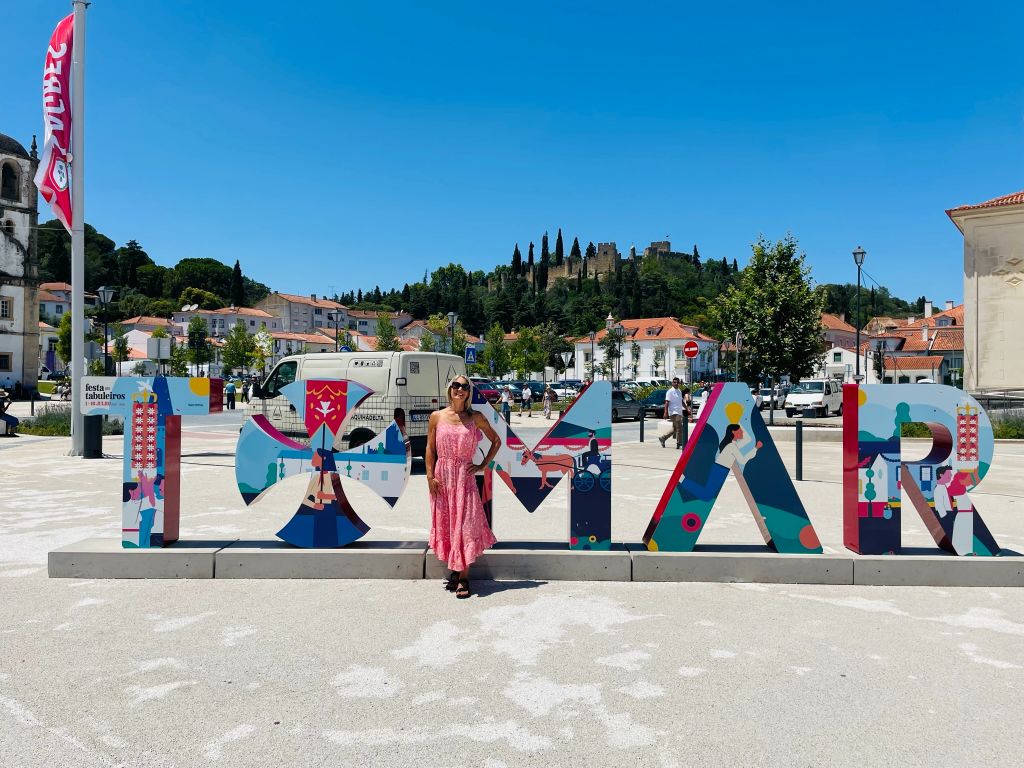 Pre Party Fun
As we left the Convent we were delighted to see a line of trucks carrying the parade participants. They were all chanting and singing as the drivers honked their horns and we cheered along with them. On our way back to find our spot to watch the parade we saw a few men and ladies all dressed in their traditional costumes chugging back a few beers. It was quite funny to see the pretty delicate ladies with a plastic cup of beer in each hand whilst the men had an espresso coffee or water (ha ha). I don't blame them as I would need more than a few beers for Dutch courage and a huge caffeine fix before I could even attempt to carry a heavy vertical tray on my head.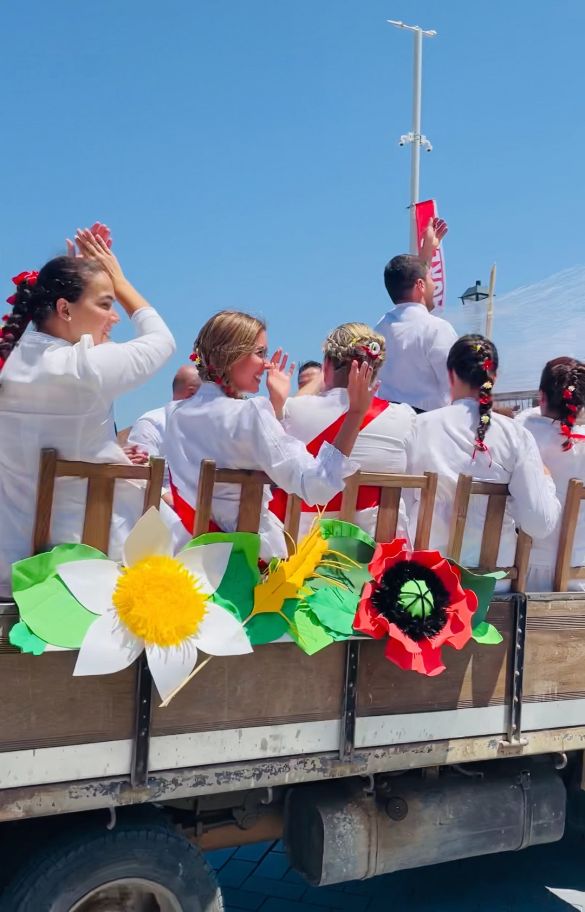 Location, Location, Location
By the time we arrived back to the parade route location it was even more packed full of people and the Police were closing roads and sectioning areas off with metal barriers. We wanted a front line position but I was only prepared to sit and wait in the heat for a maximum of 1 hour 30 mins because I'm a restless soul and can't sit still for long. My limit is when I visit my hairdresser for half a head of highlights and even then I fidget like crazy. At around 2.30pm we started looking for a good viewing place. Virtually every spot was taken but my eagle eye found a little gap right behind a street vendor selling plastic stools opposite the roundabout and I ran faster than Usain Bolt and secured front position places by plonking my ass down on the grass. By this time it was about 2.40pm and the action started at 4pm. We were familiar with the route as I printed off a paper map so I knew that it would be a lot later than 4pm by the time the participants made their way to us.
Whilst sat on the grass multiple people used our little entry way as a quick cut through so I got trodden on and kicked many times which pissed me right off big time. Some people tried to squeeze in front of us and sit down but I was having none of it (ha ha). Our original position was a little way back from the curb but we edged forward a tiny bit every time the lad sold a stool which freed up more space. In the end I man spread my legs so wide I nearly damaged my fanny bits but I managed to bridge the gap so no one could enter. Even then a dozen or more folk decided to just stand on my dress and barge through so I did the British thing and gave them the stink eye whilst tutting and saying "For fucks sake" in my loudest Bristolian accent (ha ha). Even the ladies behind us kept knocking into us but hubby got his revenge by farting on them at least half a dozen times. I knew it was him as he has a distinct smell especially after a spicy soya curry (ha ha).
It was chaos and then the lady next to me fell off her chair in a dramatic way. Her plastic stool just collapsed beneath her bulk and she fell backwards but grabbed onto a pile of stools and took them with her. It was funny as hell and I tried my best not to piss myself from laughing. The stools were being sold for €2.50 so you can just imagine the poor cheap quality if they were making a hefty profit. Sometimes in life you get what you pay for. I think it broke due to 3 reasons. 1. The lady in question was clearly over the maximum weight capacity for the flimsy plastic stool. 2. The heat of the strong Portuguese sun weakened the legs as they just buckled under pressure and 3. It was a €2.50 stool, cheap and cheerful but poorly constructed so what did she expect? Hubby and I had a lengthy chat whilst waiting for the action to start, we discussed at what age does one require a seat after walking around for hours on a day trip? We were both tired but I never considered buying a chair to have a sit down, it just didn't cross my mind. I suppose the time will come in a few years when I need to take rest breaks on a day trip. I have a sneaky suspicion that it will be the same time that we start twinning with matching clothing and I start wearing elastic waisted pants and skirts, let the good times roll like my belly fat (ha ha). Here is our little spot: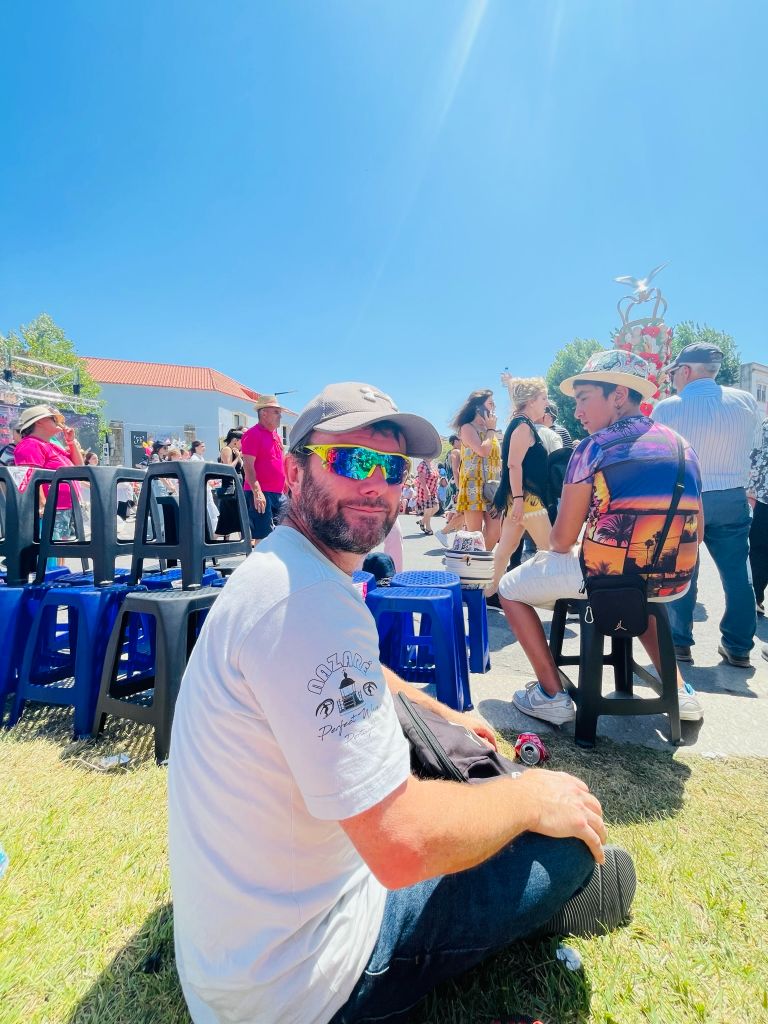 The Grand Procession of the Trays
The Grand Procession commenced from the park. First they passed by us in the distance and we saw just the tops of the crowns bobbing and weaving down the road. I asked to climb on hubby's shoulders but he said I would need to lose about 4 stone before he could embark on that kind of torture (ha ha).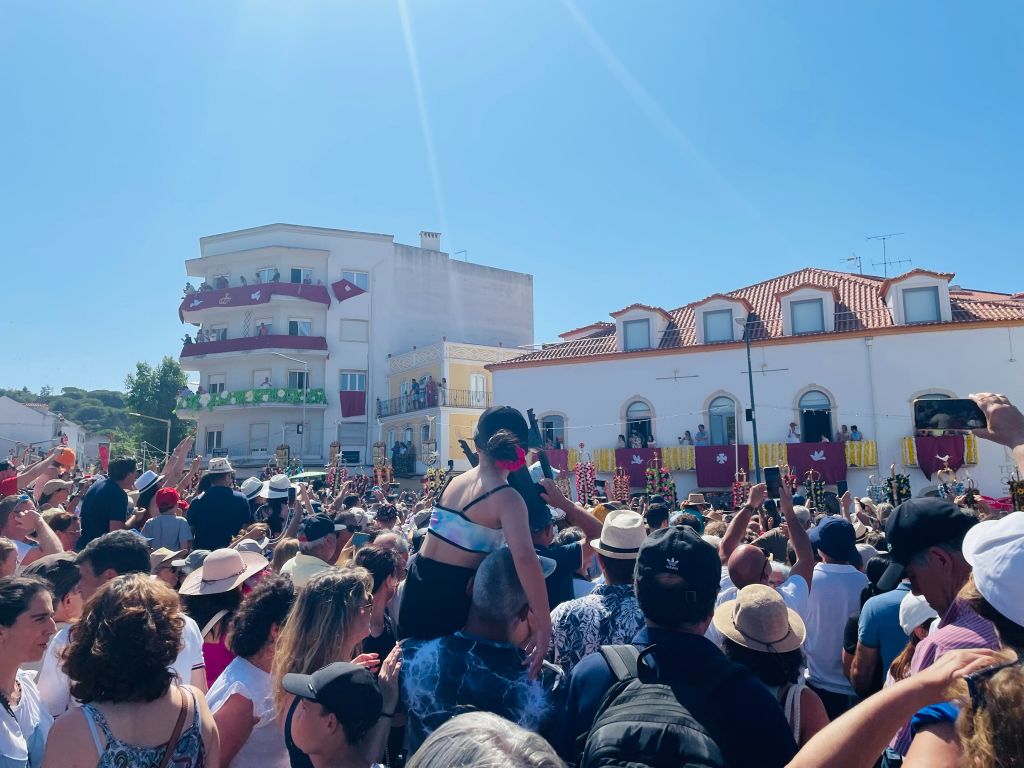 Big TV Screen
They arrived at the church and we watched the action on a large TV screen including the Mass and Blessing of the Trays. After the arrival into the town's main square, Praça da República (Republic Square), the trays are placed on the floor outside of the Church of Saint John the Baptist. The ladies enjoy a much needed rest whilst the open air mass begins. The Blessing of the Trays commences by an Official of the Catholic Church. A signal is given (bell) and then the magic commences. The women then all rise as one, the trays are magically elevated in front of the crowds of people to a round of applause which is a beautiful sight to see. Then off they go weaving their way through the town on their 5 km route. There was also a starting pistol which was fired off which made me jump as I thought someone had smuggled in a gun. Luckily the Police presence was strong. There were Police on foot, in cars and on motor bikes. Something else I misjudged was how long they would be in the church and the square for the open air mass and blessing. It seemed to go on for a very long time and they arrived at our location at 5.20pm. I nearly passed out at one point and had to sit on the floor as I was very dizzy and dehydrated.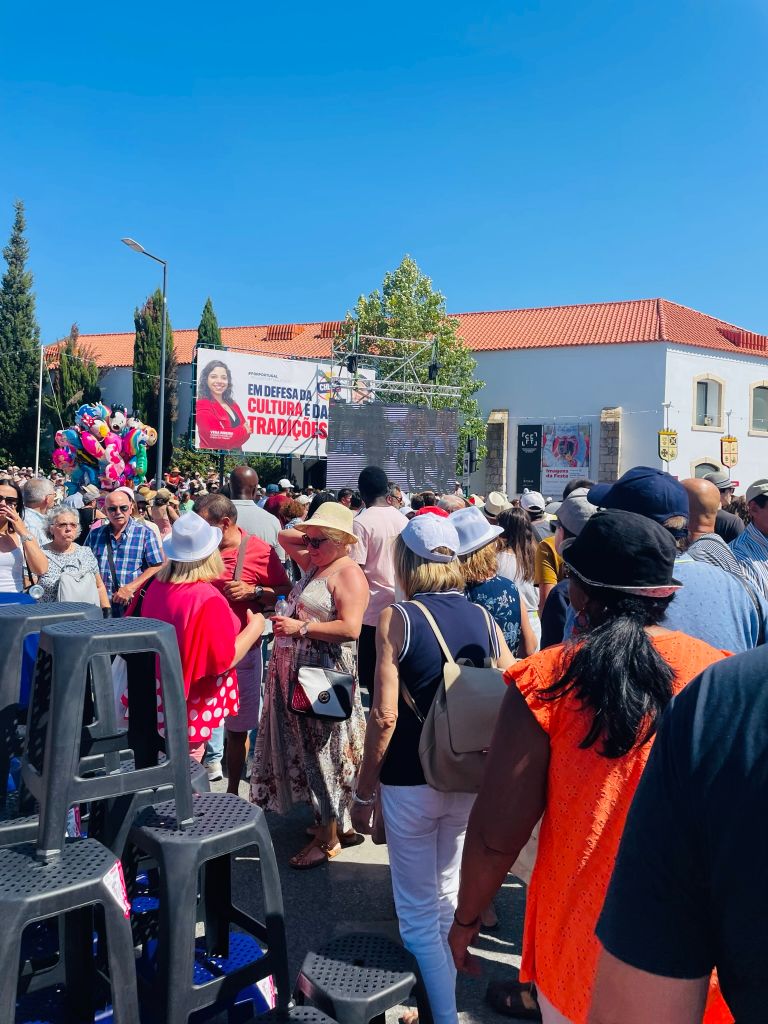 The Grand Procession – Up Close & Personal
Drum roll please! The Grand Procession was led by Police who rapidly cleared the roads and used metal barriers to keep the enthusiastic spectaculars at bay. I was pleasantly surprised to see so many sexy Policemen as our village GNR are not quite as easy on the eye (ha ha). It began with a marching band consisting of talented musicians (bagpipes and drums). It was a sight to behold and was followed by a crowd pleasing harmonic delight of trombones, trumpets and clarinets. Philharmonic orchestras and marching bands are an integral part of Portuguese culture. Next came the Holy Spirit Banners and Crowns. The crowns are carried on red velvet cushions by men and ladies all dressed in black trouser/skirt suits with white shirts and red ties. I was amazed that some crowns appeared to be very tiny whilst others were large. I didn't realise heads came in multiple sizes (ha ha). There were some ladies dressed in what I can only describe as black cocktail dresses with feathers teamed with stilettos. I still can't get over the dress sense here. It was all a bit "1990 cringe cruise outfits" from C & A (ha ha). They were struggling in their heels even though they were not carrying anything. There were also men in long black Harry Potter style robes.
Then the magic of the tray talent begins. The women wear pure white long flowing dresses with a coloured sash and the men wear white shirts, dark pants, tasseled caps on their shoulders and a tie matching the colour of their ladies sash. Each female is accompanied by a male. It was a unique and glorious sight to watch the ladies glide through the cobbled streets gracefully like swans carrying the heavy trays on their heads like triumphal chariots. It was enchanting and evoked a range of emotions deep inside of me. There were a few ladies that were displaying gritted teeth and forced smiles and I don't blame them. Quite a few wore the red coloured sashes which represent Tomar. The traditional tabuleiro tower is as tall as the person carrying it and contains 30 loaves of bread weighing 400 grams each! It is decorated with paper flowers, wheat sheafs, ears of corn and secured to one's head with 5 cane spikes from a wicker basket decorated with a white embroidered cloth. The top of the tray is adorned with a Coroas (Crown) which contains either a white dove, symbolising the Holy Spirit, Esfera armillary sphere, symbolising the historical Portuguese maritime expansion and over the sphere, the Cross of the Order of Christ. An average tray weighs around 15 kg (33 lbs). During the procession there is a shower of floating flower petals that magically falls from the bright blue sky which is very serene to watch. If you know me you will understand that I have a passion for confetti. Everyday is a throwing of confetti day in my lady of leisure life (ha ha). 
It took around 30 mins for all the procession to pass by. It ended with another marching band because why the hell not! Then the cattle parade of bulls and carriages carrying princesses and finally the Scouts. I'm not sure if there is a maximum age for Scouts here in Portugal but some looked about 25 in their long socks and woggles. I'm apparently too old to join the local Fire Brigade as a volunteer firefighter but it looks like I may not be too old to join the Scouts. I think I would fit right in because my motto has always been "Be prepared" (ha ha). On the Monday after the Procession, to round off the Festival, the meat, bread and wine that were blessed the previous day the "Pêza" is shared and distributed to the needy. Was it worth the long hot wait and nearly passing out to gain a front position view? Absolutely YES! It was mind blowing and totally sensational. I really can't put it into words. It is such a bizarre yet beautiful concept and truly a bit bonkers like me. It is definitely a festival for your bucket list, everyone should attend this festival if just once in your lifetime.
There were people watching from their apartment balconies and I couldn't help but think that they had the best prime location. I was tempted to offer them €20 for a 30 min time slot on their balcony and a cool beer (ha ha). If I were younger I could have flirted with the men and used my assets to gain free entry like a nightclub back in the day. Unfortunately my only asset is my perky personality as my boobs resemble a deflated airbag of a car after a major road traffic accident (ha ha). I bet the hotels and accommodation on the route were booked years in advance! One man scaled a high wall and sat on top to get a birds eye view, it was very precarious indeed and I was very worried for his personal safety. Many sirens, ambulances and fire engines were active during our visit and I think a lot of people might have fainted or got ill in the high heat. It's a shame the sun was so bright which produced a vivid glare on many of my photos, I tried my best folks!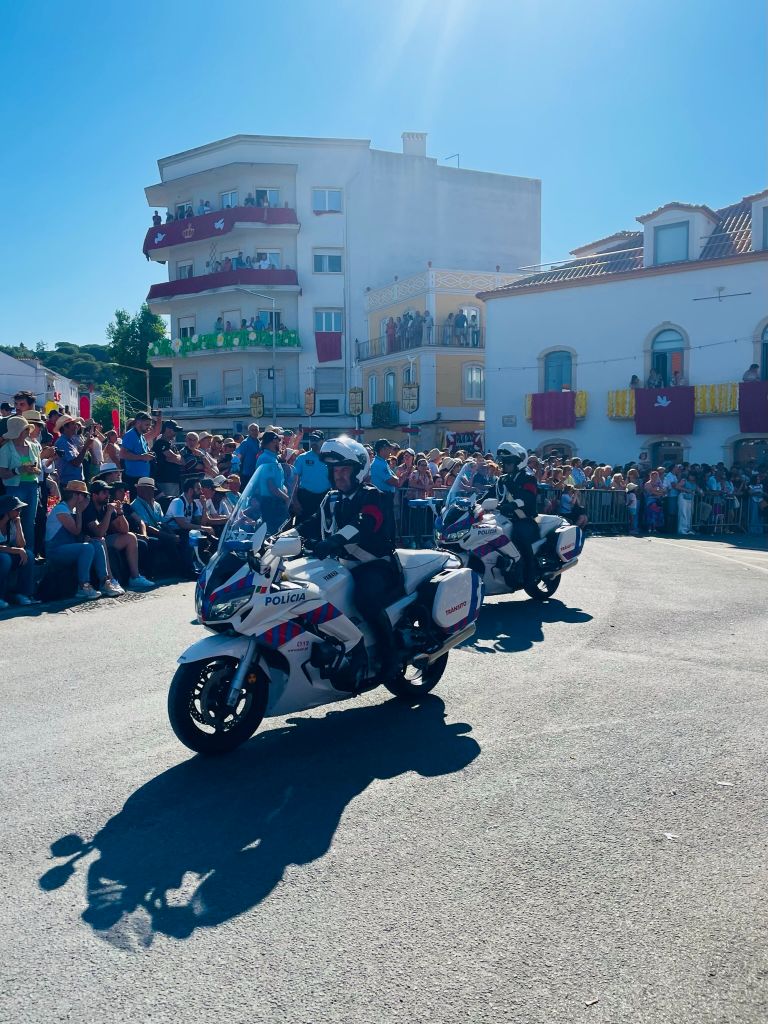 Gritted Teeth verses Smiles
I honestly don't know how they did it and survived to tell the tale! I would have been swearing profusely beneath my breath and would be displaying more than gritted teeth for sure.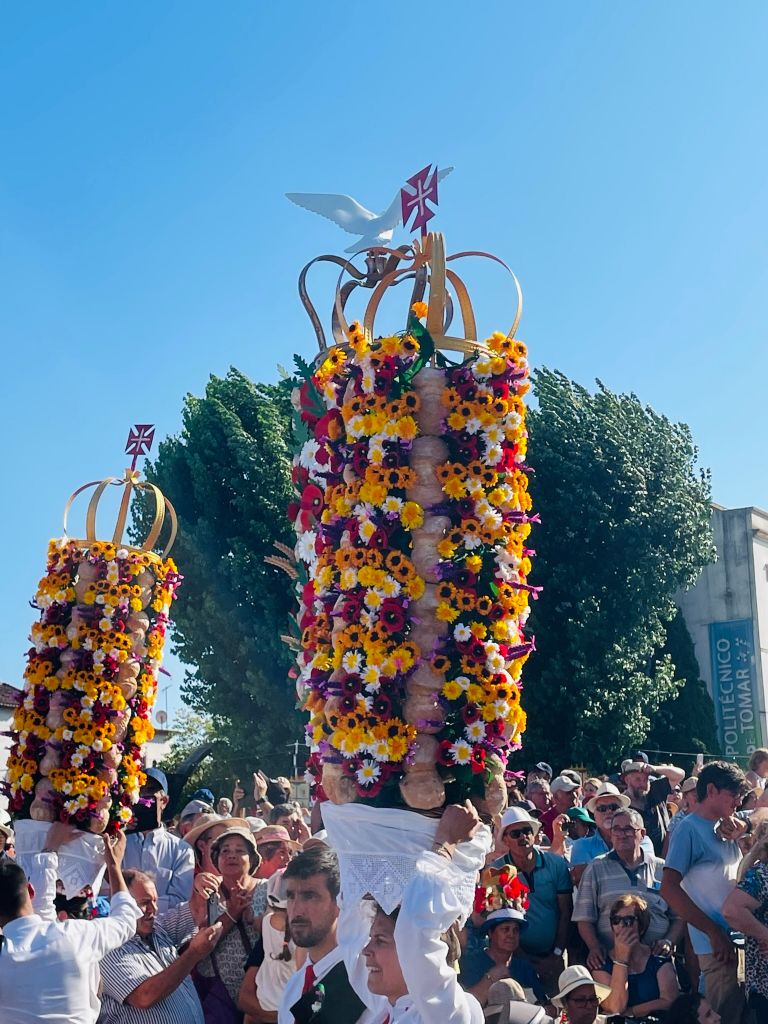 The Mighty Fallen (A Trio of Toppling Trays)
I felt extremely gutted for a trio of ladies as a slight gust of wind unbalanced them and their trays toppled off their heads. A huge congratulations to the guy who managed to catch the tray and prevent a disaster. Only a couple of bread rolls hit the floor and the lady in question was so graceful in her rapid recovery she is a true star, bless her. I also witnessed one male stop and wipe his ladies brow with a handkerchief and tuck her hair behind her ear which was just too cute to see. I was on "Photo Mission" whilst hubby was on "Video Action" but his phone overheated and malfunctioned resulting in every video becoming glitchy so I kept on switching between photo and video modes. It was difficult as I could not see a thing in the glare of the bright sun. All I could see was my face in my phone's reflection so I had no idea of what I was capturing. Also weirdly enough my phone captured the mishap of the falling trays on video and at the point where the tray went down it recorded in slow motion. I have no clue why or how I did this but it magically caught the drama.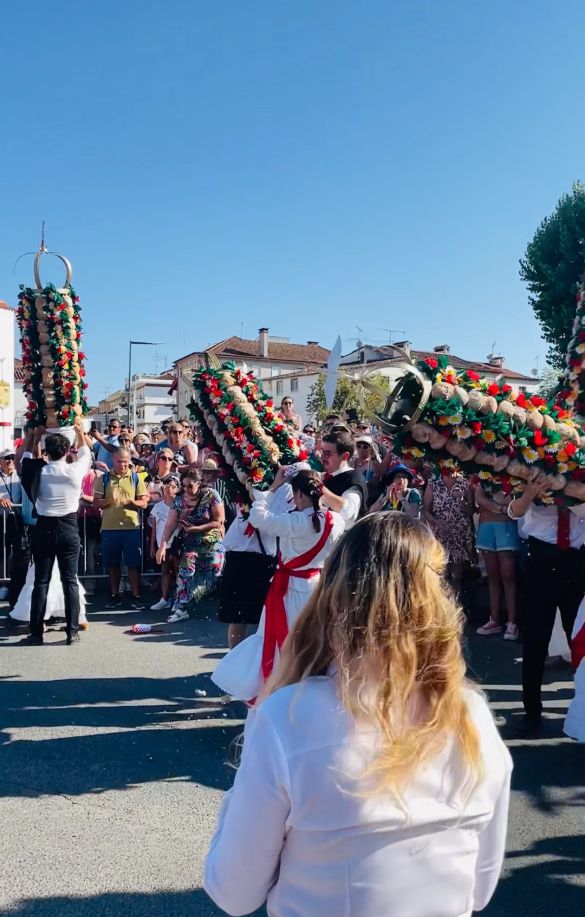 Praça da República (Republic Square)
The beautiful historic main square: Praça da República is home to the Town Hall building, the Church of São João Batista, and the Palace of Dona Maria da Silveira. Located in the centre is the statue of Dom Gualdim Pais, founder of the city and Grand Master of Order of the Templars in Portugal. It was absolutely heaving during the day when we tried to visit – See first 2 Photos. We returned later in the evening and it was less crowded – See last 4 Photos.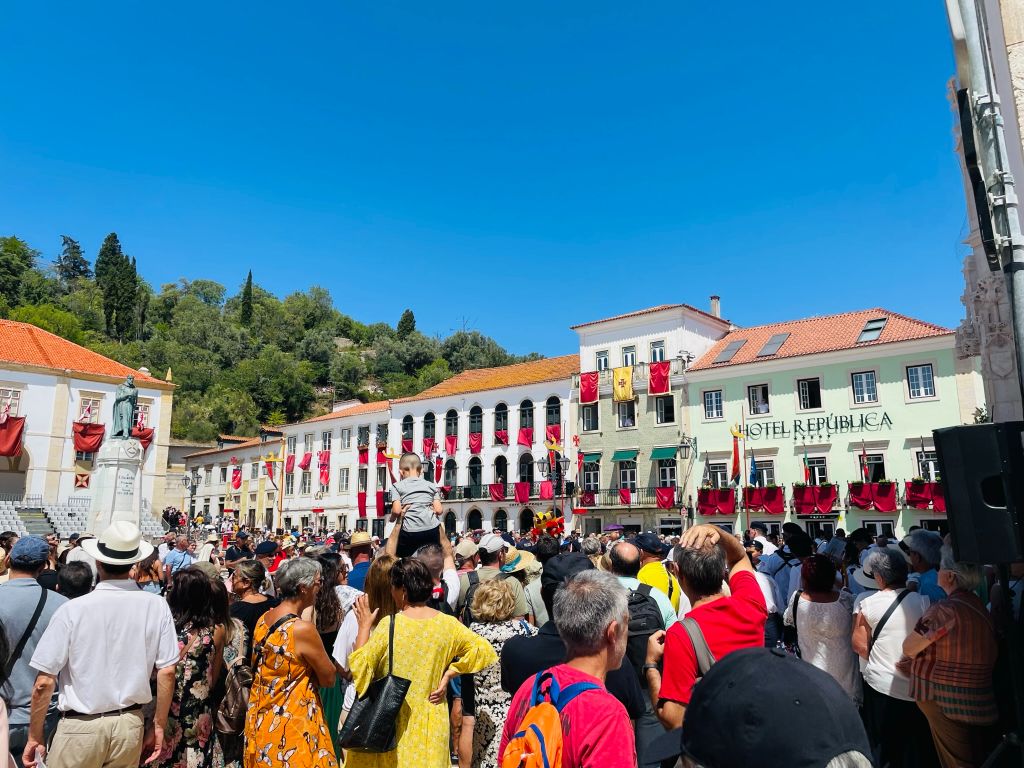 Queues and Crowds
The only negative of the day was the queues and crowds. We decided not to take our usual picnic because I didn't want the hassle and weight of carrying it around in my small backpack in the heat. We decided to eat out for lunch and dinner. This was a bit of a mistake because every cafe, restaurant and street food vendor had massive queues. I was getting quite anxious at one point because it was so hot and I was limiting my water intake because the ladies loos had massive queues and I was also faced with not knowing where we could source food for lunch before the main parade. Nearly every cafe had run out of ice cream too but luckily we found an ice cream parlour, Hallelujah, praise the lord (ha ha). The crowds were something else entirely. If you know me then you will fully understand that I suffer from social anxiety and am not great with large amounts of people no matter what the space. We have been so lucky because for the past 3+ years nearly every day trip we have embarked on has been heavenly solitude with often zero or very few tourists.
I knew this was a huge popular festival but I did not anticipate just how many folk would visit on Sunday. It was absolutely rammed packed and we got stuck in many human traffic jams. Some people are assholes and tried to rudely barge their way through, others just ram their kids stroller into the back of your feet and take your skin off, they literally use it as a weapon and shout "Disculpe" and think it's all fine and dandy. They don't get the concept that we are all trying to go in the same direction and there is no fast track pass. Then there is the chair situation. Lots of people are carrying around fold up chairs and vendors sell the cheap plastic stools which resulted in me being hit in various areas of my body multiple times. By the end of the day I was a little bruised and battered from my epic experience, no pain, no gain (ha ha). The high temperatures did not help with people's tolerance levels and for a generally calm person my patience was wearing thin and I was a little frazzled. It was so busy that at one point I thought the Pope might be here to bless the trays (ha ha). It was worse than the queues at Disneyland!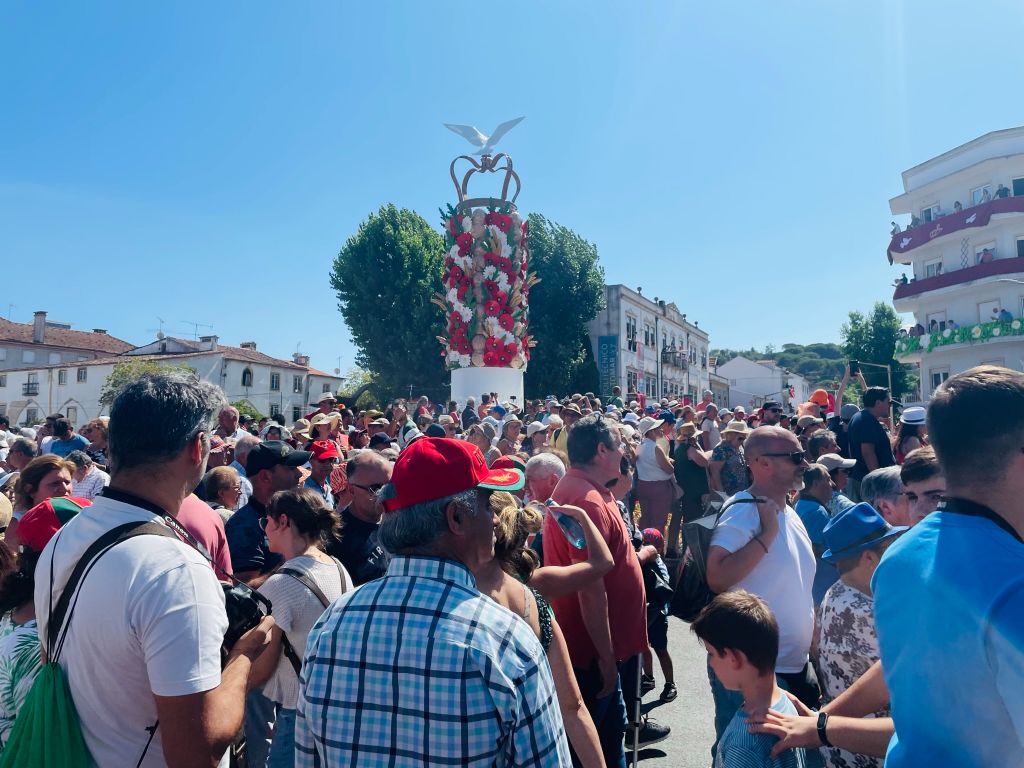 Time to Party – Evening Fun
After the Grand Procession we decided to revisit the Convent to cool off then explore the side streets again to see if we could get some better photos. It was a bit quieter after 7pm because I think a lot of the coach parties had left for the day. The temperatures started to drop and we eventually got to enjoy a light fresh breeze which was heavenly. It was great to get some photos without strangers in the background or staring at us but a bit disappointing to see the piles of rubbish on the floor and that some of the paper decorations had been destroyed and a few stolen! I did want to peruse all the cute shops and boutiques but they were all closed or about to close. Around 8.30pm we decided that we had experienced enough as we were absolutely exhausted and still had a 2 hour drive home. We took a slow walk back to the car park and stopped at a cafe for refreshments. I did have a plan of buying pizza at the event because I found a cute Pizzeria and my plan was to walk up to the castle because I spotted a castle on the hill but we were so tired and actually not very hungry so we just headed towards home. We left the car park at 9pm, worn out and weary but with a smile on our faces. Apologies for looking a little disheveled, hours in the sun will do that to a lady who is nearly 50! (ha ha).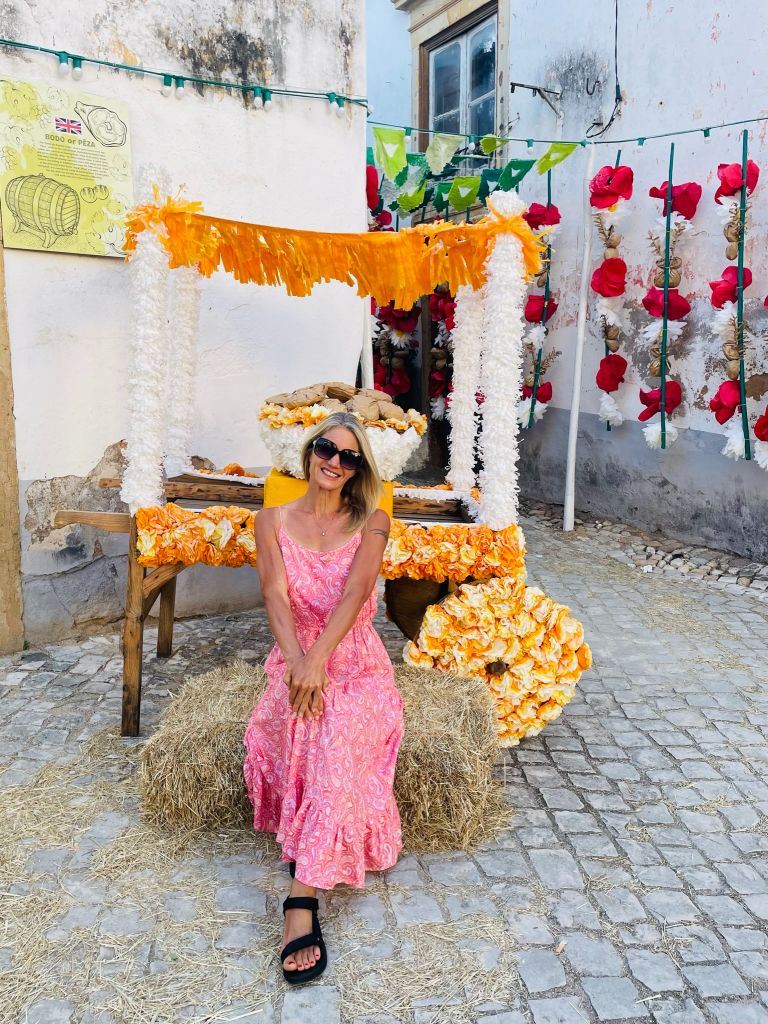 Evening Entertainment
When the sun goes down the celebrations continue with concerts on large stages, dancing in the streets and later dazzling fireworks over the river with a musical light show. We stayed late into the evening and watched the sensational sunset over the main stage and enjoyed some of the early evening entertainment and talented musical artists. Although I love the main artists on the big stages, I actually prefer the quirky local talent that I often stumble across by pure accident. These guys were AWESOME!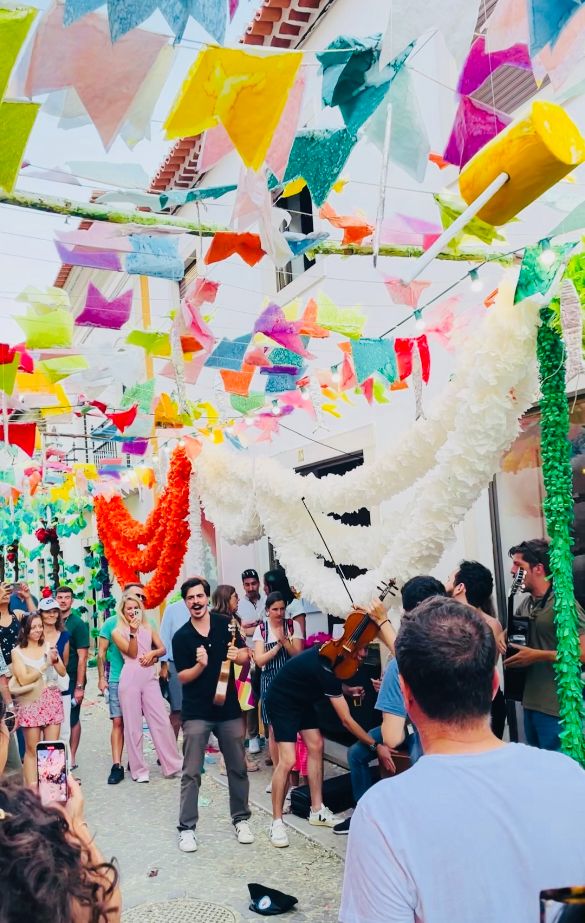 The Stolen Sheep
Some AH stole one of these sheep! It wasn't me, I don't have a large scale paper model sheep in my garden, I promise, Scout's honour. I love the black sheep but that's no surprise because I've always been the black sheep of our family, I bring embarrassment and shame on all those around me (ha ha). I was shocked to hear that someone stole one of the sheep. It's not a small creation or easily stashed down one's pants (ha ha). If your wondering how I found out that it was stolen, my Facebook friend Maria informed me that one of her sheep were stolen. Nothing is sacred or safe, apparently not even papier-mâché sheep!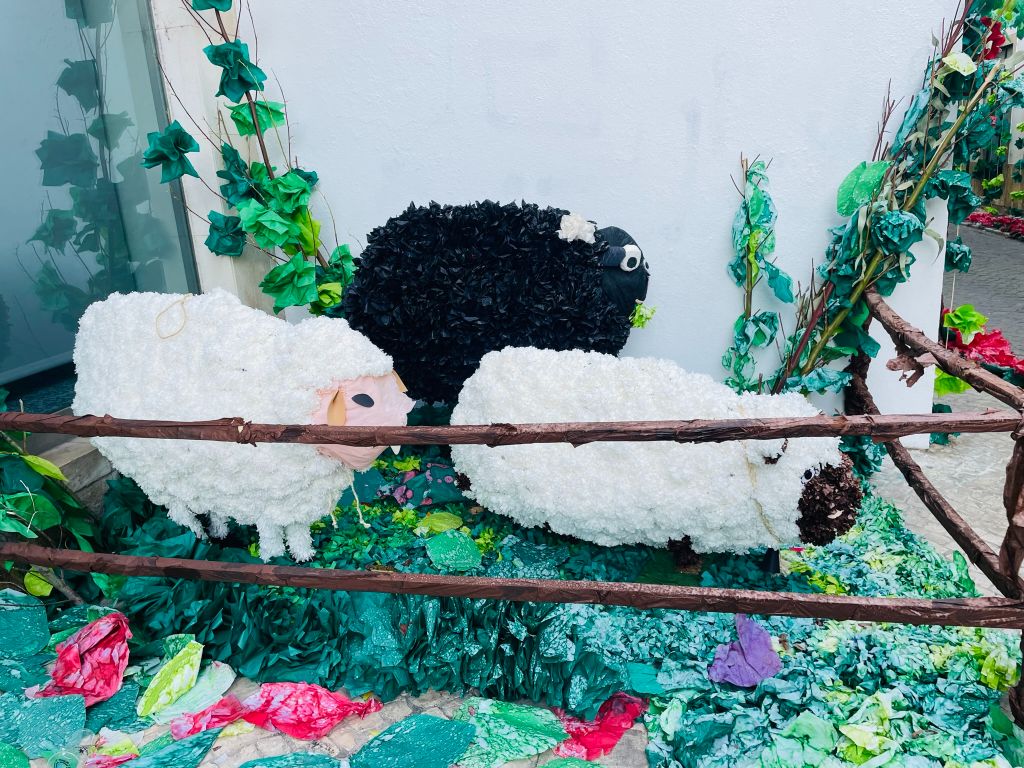 Portuguese Gastronomy
Of course it wouldn't be a Portuguese Festival without local Portuguese cuisine. There were so many options of food and beverages including beer and wine. The local restaurants have outside BBQ's where the men roast whole hogs – Leitão (piglets), the smell was more than tempting except I don't really eat pork. This restaurant by the water looked and smelt delicious but unfortunately we weren't very hungry.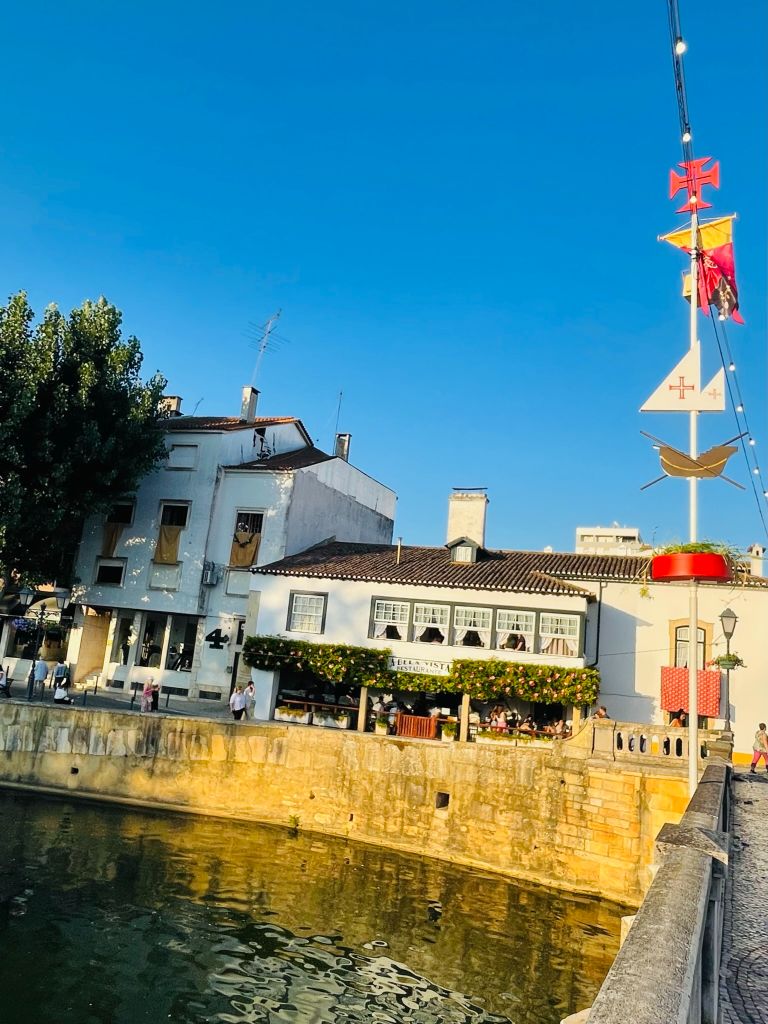 Confetti & Bullshit
The streets were not so fresh upon our departure. They were covered in litter as well as confetti and bullshit. That is the price you pay for hosting an event on such a humongous magnitude. You can't blame the bulls for the shit as it's nature and a 5 km route. I often get the runner's trots on my daily jogs after one too many morning coffees, I blame the caffeine. When you gotta go, you gotta go (ha ha). I am thinking that the name "Confetti & Bullshit" would make a great wedding dress shop name or maybe it's more appropriate for a divorce lawyers office (ha ha).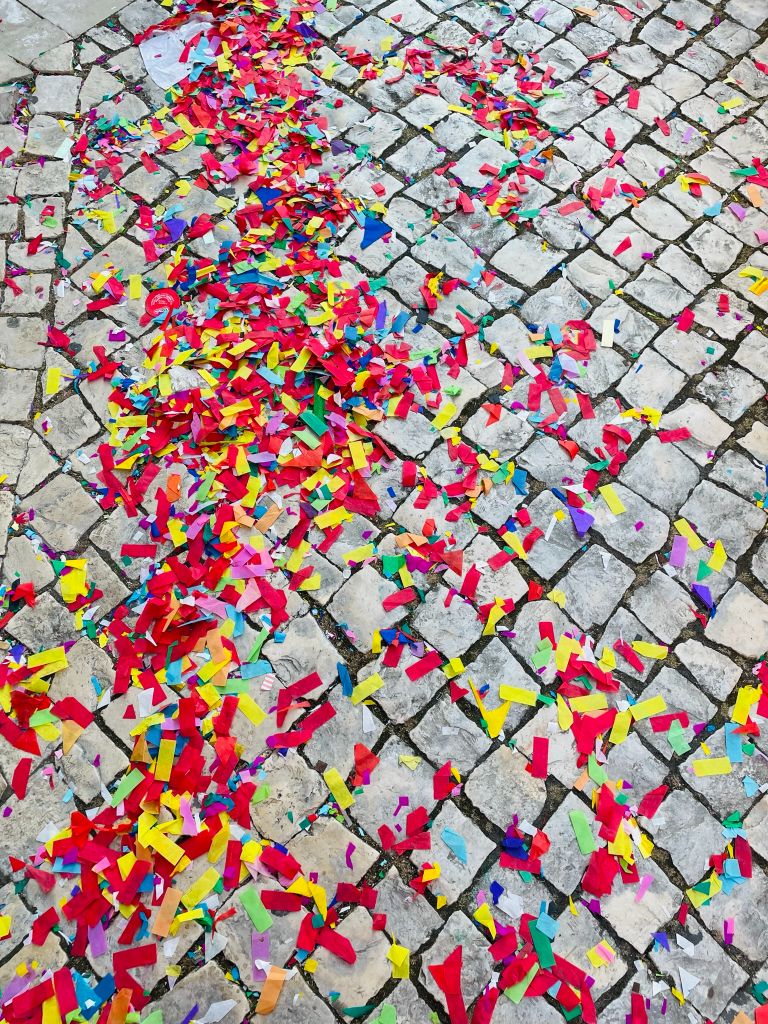 Mall Food Portuguese Style
At around 10pm we both got hungry so we decided to stop off in Coimbra and find a restaurant but then I got distracted by the sight of a bright big wheel near the Mondego river so we decided to visit the nearby Forum shopping mall for my favourite mall food Alentejo washed down with 2 espresso coffees for the caffeine hit, then hit the fun fair "Feira Popular" because it is only on for another week.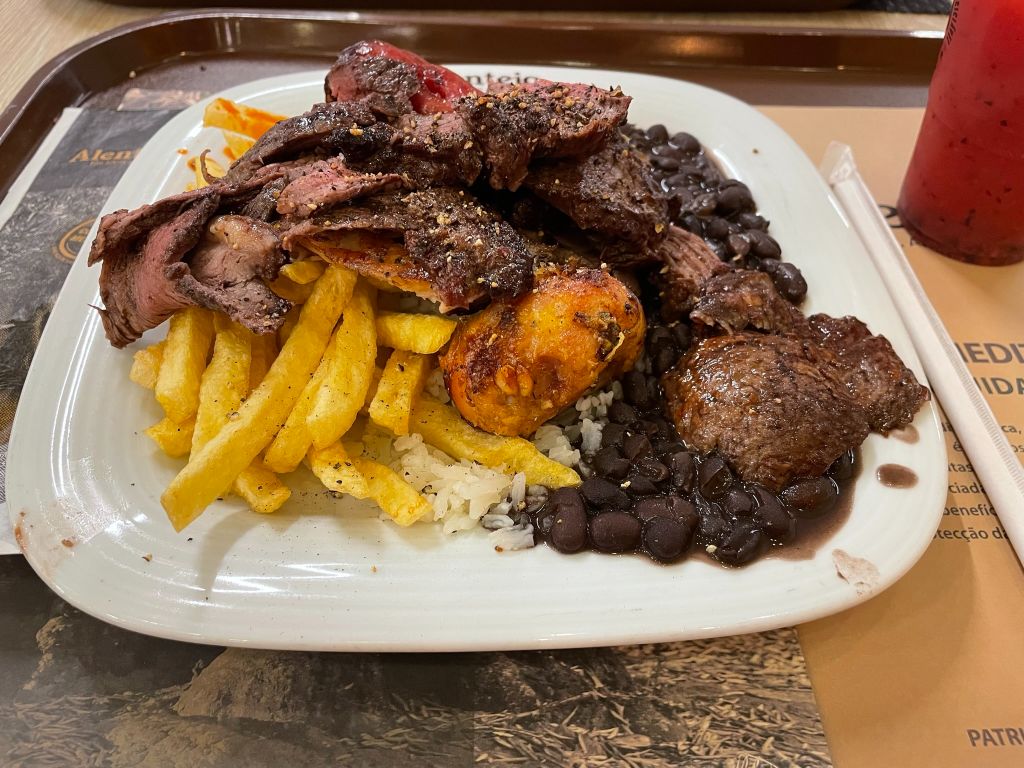 A Bun in the Oven
I had a funny experience in the mall toilets. The cubicle I entered had a pregnancy test box in it! I took photos and sent a message to hubby that read "There's a bun in the oven and it's not a Pão de Deus" (ha ha). Luckily for me my ship has sailed as I'm post menopausal and my baby making days are truly over. If I were pregnant I would be in deep shit with hubby as he had a vasectomy years ago because 8 children is enough for any man! My 2 are 30 and 21 this year so I don't think they would be too impressed with a new addition to the family and a baby brother or sister. I couldn't help but think "Who takes a pregnancy test in a public toilet?" I wonder what the result was.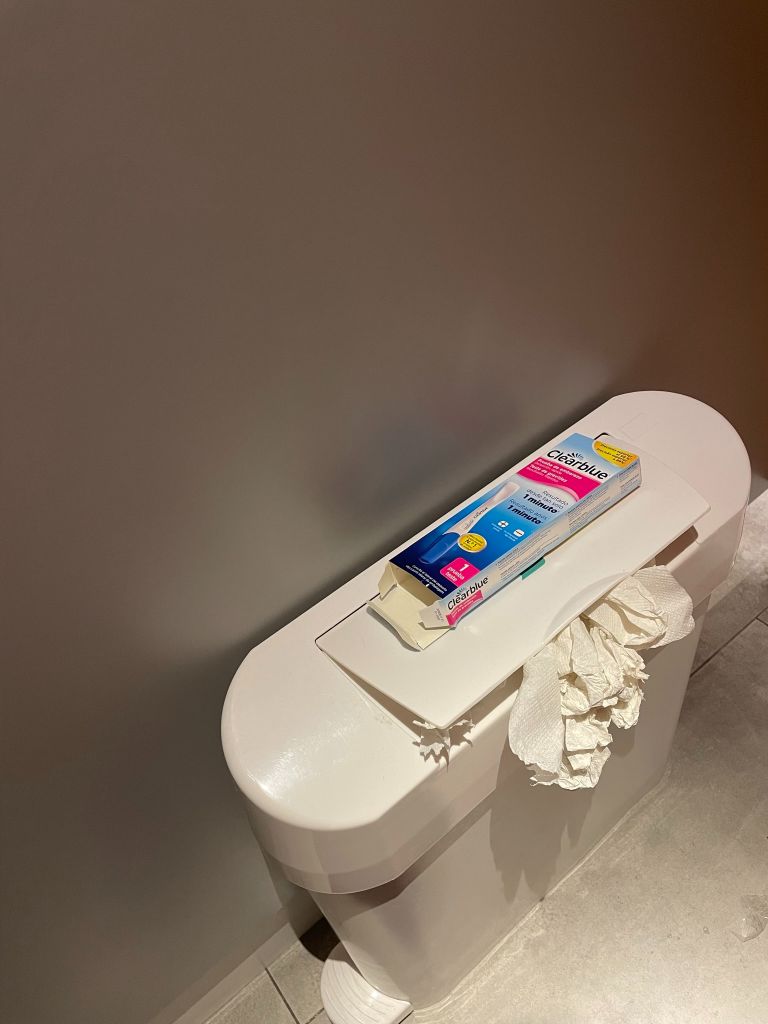 All the Fun of the Fair
We arrived at the fair around 11pm and stayed until Midnight. I love fairgrounds. They instantly take me back to my childhood and the smell of candy floss and farturas was in the air, such a mouthwatering sweet aroma, shame I did not have room for dessert. The Mondego river looks so pretty with all the mirror images of the lights reflecting off of the water and the fountain is lit up too. There was a strange show at the fair and all I can say is it reminded me of something from Willy Wonka – Charlie and the Chocolate Factory, it was weird and wonderful but very slightly bonkers to the point where I thought someone might have slipped some hallucinogenic drugs in my drink (ha ha). Hubby agreed and we just stood there and looked at each other with confused looks on our faces. Hubby caught eyes with the sound engineer who had long hair and looked like he might be a Metallica fan, they shared a smile, a manly nod and a WTF look then parted ways (ha ha).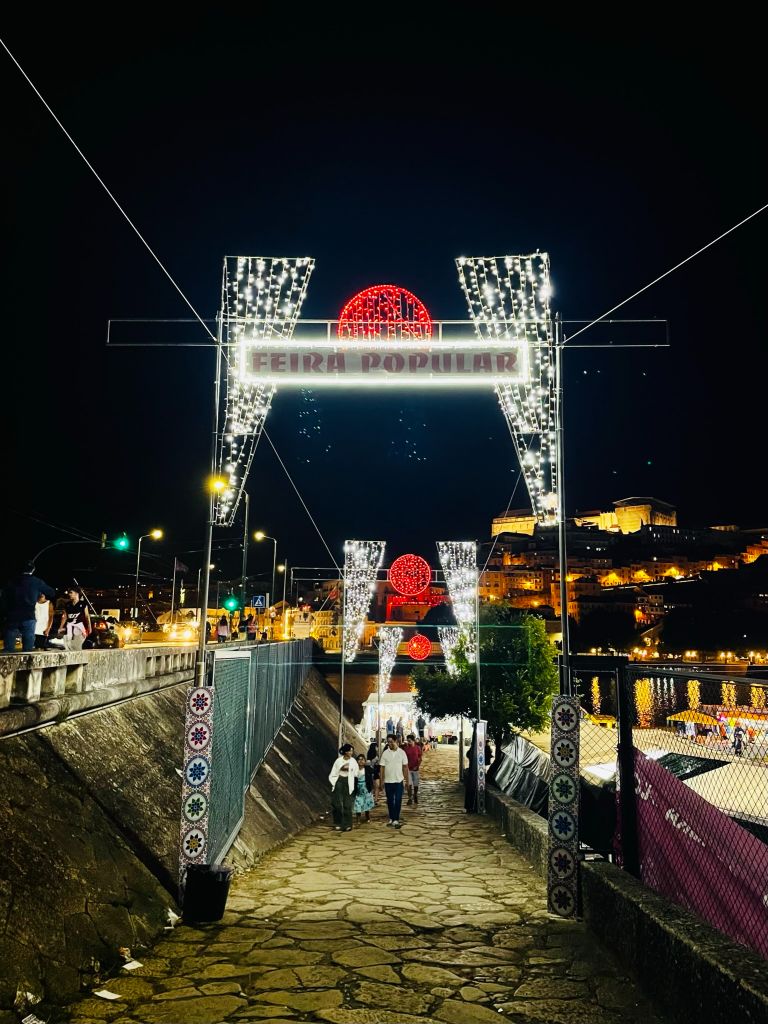 The Tomar Tray Reenactment in Vinhó (AKA The Unbalanced Brit)
Let the Tomar tower tray reenactment commence! I could not resist the urge to try and balance a tower of bread on my head. I had enough trouble trying to balance a basket on my head previously so I knew the challenge would be fierce and next level difficult. My balance is poor due to spinal surgery and a broken foot which never completely healed properly. I used my lap tray and borrowed hubby's lunch time bread rolls. I even topped it with a Christmas dove decoration and fake flowers to get the festival vibe and full ambiance. I would have used real flowers from our pretty garden but hubby was worried about getting bugs on his bread. I assured him that the bugs are edible and extra protein (ha ha). Unfortunately I didn't have a crown apart from my flashing light up "Feliz Aniversário" one which I did not think was quite appropriate for the occasion. I should have a golden jewel encrusted crown because I'm obviously a Positive Princess (ha ha). I even tried to mirror the ladies outfit with the only white dress I own and a recycled hamper red ribbon for a sash. Not quite the long virgin white dress which represents purity. I'm surprisingly no longer pure or a virgin but I am a pure nutter for sure (ha ha). 
I'm not sure hubby was too pleased that I borrowed his 7 bread rolls that he gets delivered from our village's daily Pão van. I think he was concerned that I would drop them multiple times on the dirty ground whilst pissing around in our garden. It was hilarious and I've not laughed as much in ages. The bread rolls just wouldn't stay erect as I ran out of BBQ skewers and only had tiny cocktail sticks. Hubby led a hand and tried to secure them with cotton thread which worked for about 5 minutes. It ended in an epic fail with the bread leaning over like the Leaning Tower of Pisa, then it just collapsed, luckily onto the tray, hence my sad little face (ha ha). What can I say, it's a lot harder than it looks balancing bread on one's head.
I could not master this fine art so I don't think I will be taking part in the 2027's parade unless I get a lot more practice beforehand. Practice makes perfect so you never know and what a privilege it would be to participate in such wonder! My neighbours missed out on my bread balancing fiasco. It's a crying shame as I think the bloke would have loved the show (ha ha). I am pretty sure that he thinks I have officially lost the plot. They assumed I was crazy when I was semi-naked photographing myself with homegrown lettuces strategically placed in front of my naughty bits but this latest parade would have resulted in confused expressions on their faces, for sure. They are likely used to my weird antics by now, my garden shows are nothing new. Imagine how sad they will be if I do move house next year (ha ha). They don't permanently live in the house behind us, it's a holiday home so we only see them about half a dozen times each year if that. I do love the calm and quietness of having no irritating noisy neighbours but it has hampered our Portuguese language learning. I've never had so much fun with half a dozen + 1 bread rolls (ha ha). Life is a balancing act, be certain to step with caution and tact. As you can tell, I'm clearly an unbalanced Brit and I'm not good with towers or trays, I should stick to table dancing (ha ha).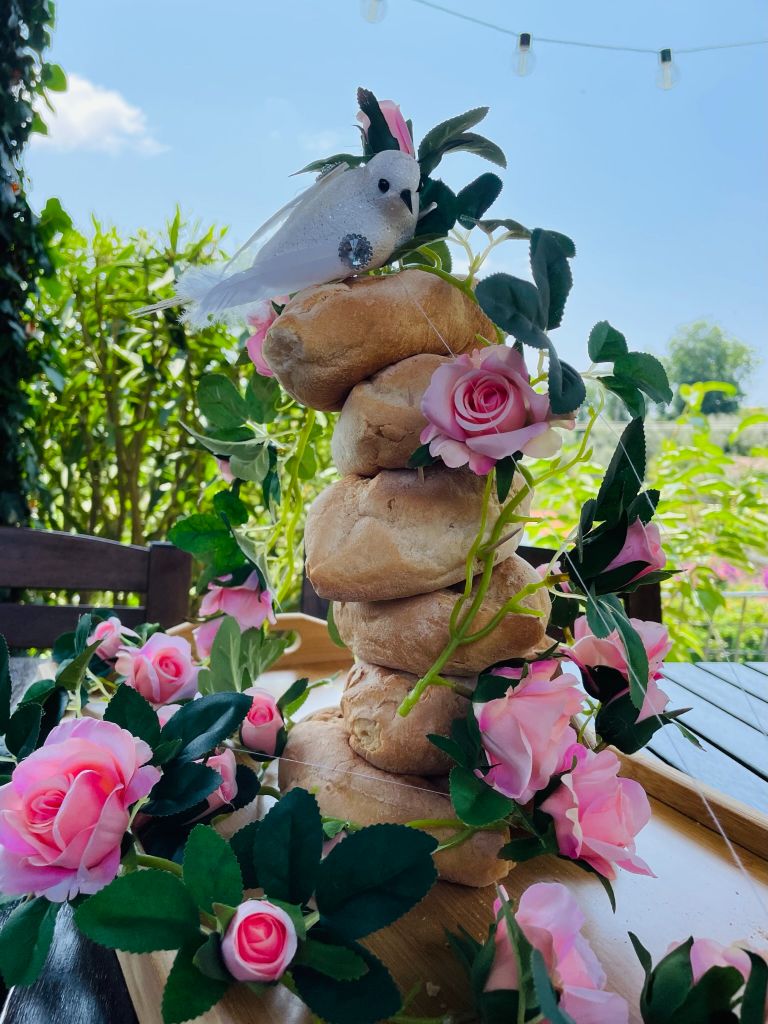 Hubby's Nipple Rolls
I tried to entice hubby to join in my garden tray parade, to walk alongside me as my male escort. I probably should have phrased that better as I make him sound like a make prostitute, he's not, he is a Software Engineer, I promise! (ha ha). He declined as he was busy at work earning a crust (ha ha). He loves Portuguese bread and these reenactment rolls are his favourite. He calls them his "Nipple Rolls" for obvious reasons. Here he is posing in our garden with his Nipple Rolls next to our unkempt Bush Tomatoes.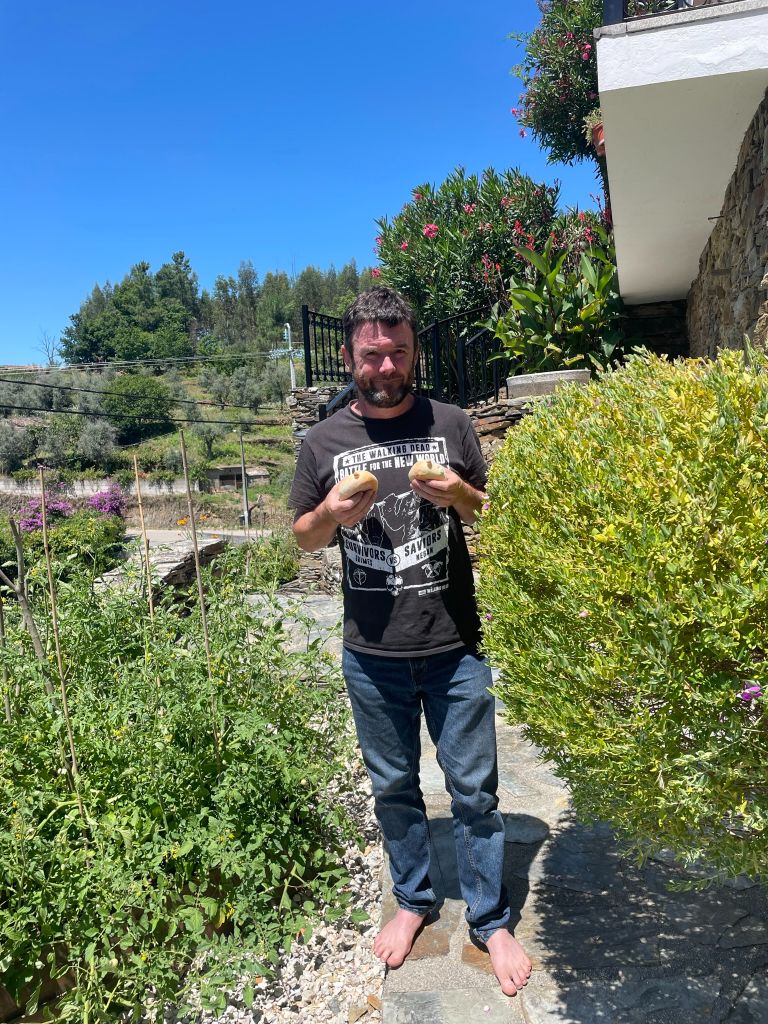 Overview
Oh my gosh, what a unique display of Portuguese Religion, history, tradition, culture and spirituality. It was definitely a mindblowing visual delight and one of the most lavish, colourful and traditional events in Portugal's cultural calendar. If you want a festival with the wow factor then this is the festival for you. It was a simply breathtaking and unforgettable experience, one of a kind for sure. It was so beautiful and overwhelming and quite difficult to put into words. My photos do not do it justice but I eventually managed to wear hubby down and he bought me a new iPhone so my photos are much better quality than my old ancient iPhone camera. Persistent nagging wore him down (ha ha). I have lots of videos on Casa Valhal facebook and Instagram if you want to see the glorious live action. The whole town of Tomar is magically transformed into a sea of vivid bright colours. The street decorations were magnificent with so much elaborate attention to detail. I was very nervous about the crowds when I read that over half a million visitors descend on Tomar in July solely for this festival. Apparently there were 700 thousand visitors on Sunday! I think half of them hit me with their folding chairs (ha ha). There certainly were crowds and it did feel a little overwhelming at times but my social anxiety levels were low as I was too busy joining in all the fun and soaking up the amazing ambiance. I was also determined to stay late for the duration and experience everything as it was a long drive so I wanted to make the most of our day.
The event planning must start months in advance as there are thousands of coloured paper flowers to hand make and decorate the streets. I can imagine generations of families and many local communities coming together to create such masterpieces, how wonderful and a great unity spirit. I loved everything about this Festival and it was incredible to see all the balconies decorated with blankets and quilts handmade with love and passed down from one generation to another. The highlight of the day was the Grand Parade with women from ages 20's-80's participating in the 5K route in the scorching Portuguese July heat. They certainly have more stamina than me! I will never ever complain again about jogging my short 5 km exercise route. These ladies are my heroes, I literally do not know how they survived the ordeal in the heat of July. I love the fact that it's the females who do the manual hard work and heavy lifting – Girl Power! Portugal can often feel like a "Man's World" especially in the rural villages and often a tad sexist at times so to see the ladies lifting the trays was refreshing to witness. I only saw one man carrying a tray.
I often see little old ladies working on their land in my village and I am a strong believer that all the daily fresh air and exercise prolongs their life. Whenever a local dies here it is advertised in our village on multiple lamp posts and telegraph poles. This made me laugh when I first relocated here as in the UK lamp posts are used to display posters of lost pets. Hubby and I always read the notices with respect for our community and are often amazed at the ages. Many survive until they are in their late 90's and one local lady managed to make it to 99! In my eyes it is definitely down to the glorious sunshine, stress free lifestyle, Mediterranean diet, fresh air and exercise. It really is a great life although I have no intention of living until I'm 99. I said to hubby, if I make it past 80 just roll me off a mountain top as I don't think I could stand another 40 years of chronic back pain. 
It was such a pleasure to witness this festival and I feel incredibly blessed to have been able to attend such an awesome cultural event seeing as it only occurs every 4 years, a bit like the World Cup but better in my eyes because I hate football but I do love a man in shorts (ha ha). This festival totally exceeded both our expectations and I found myself getting a little emotional at one point and it was truly mesmerising. It was such a display of pride and devotion. The trays are a demonstration of faith as they are associated with the Eucharist and represent abundance and sharing which was heartwarming. Without a shadow of a doubt this rare gem of a festival is the best ever Portuguese celebration that I have attended since we relocated here over 3 ½ years ago. We are so lucky to have witnessed such a breathtaking festival of Thanksgiving and offerings in the ancient Templar city. Will I be back in 2027? Probably not but who knows, I might very well participate in the next parade with a tray on my head. If I do join in the ceremony I have a sneaky suspicion that my tray will be missing more than a couple of bread rolls at the halfway mark. I would greedily snaffle a few bread rolls and wash them down with Portuguese wine that I sneakily stashed in my dress pocket, if my dress has no pockets then I will stash it in my bra (ha ha). What a perfect day and a magical memory to last a lifetime.
May God gift you all the colours of life, colours of joy, colours of happiness, colours of friendship, colours of love and all the other colours you want to paint your life in.