CORONAVIRUS DIARY – LIFE IN LOCKDOWN
I thought I should start a specific Covid-19 post and update it regularly.
Portugal declared a 15 day state of emergency on 18th March and approved the extension by a further 15 days until 17th April 2020. Portuguese President Marcelo Rebelo de Sousa said on Friday he would propose next week extending a national lockdown until 1st May as the number of coronavirus cases in the country rose above 15,000. Parliament is likely to approve his request. As I write this, Portugal has so far reported 15,987 confirmed cases and 470 deaths, 10 times lower than neighbouring Spain.
Prime Minister Antonio Costa said: "It would be a wrong signal for the country to lift the state of emergency." "There is still no light at the end of the tunnel." "We have to walk through this tunnel and the more disciplined we are now the faster we will get to the end of it."
Portugal only had around 642 confirmed cases and two deaths from coronavirus when a 15 day nationwide state of emergency was declared on 18th March, shutting down all non-essential services. Even before that, the government closed all schools and nightclubs, banned gatherings of large groups and suspended flights to Italy and China. Portugal was very quick to implement measures. Portugal has a reputation of being slow paced but I couldn't be more proud to live in a country who took immediate action with a proactive approach when faced with this pandemic.
New restrictions are in place over Easter which state that citizens cannot travel outside their municipality of usual residence between 0:00 on 9th April and midnight on 13th April, "except for health reasons or other reasons of imperative urgency".
All non-essential businesses are closed to customers, although restaurants and some cafes (with bakeries) are open to provide takeaway services. Supermarkets, pharmacies, bakeries, petrol stations and banks remain open but must implement capacity restrictions. Many have a one in one out rule and hygiene measures are great – disposable gloves handed out and hand sanitiser distributed to each customer at our local supermarket. Apart from our monthly food shop and then weekly trip to a nearby village for fresh food supplies we have been confined to our property and garden. Everyone in our little village is following the rules and helping out each other which is fantastic.
When we moved here at the start of January 2020 we never imagined we would be faced with this situation. We had so many plans and dreams that are currently put on hold for now. Luckily for us we managed to renovate our bedroom and lounge before lockdown commenced so we have some normality and rooms to live in and we also have a bar which helps. We have a lovely garden with breathtaking views which never cease to amaze me. Hubby is still currently working remotely from home (with a slight pay cut) and if it is not raining, I work in the garden most days as there is so much to do. I am finding it more difficult to cope inside if we have a spell of rainy weather for a few days as although there are tons of DIY jobs to do indoors we do not have the equipment to carry out these jobs and can't get to the stores until they are re-open. We don't have any books, board games or a life time of crafts to occupy us as we relocated with a couple of suitcases so we essentially have an empty house which is great for hide and seek – although hubby has mastered my hiding spot – under duvet in bed, every time.
Our April trip back to the UK was cancelled so I don't know when I will see my children and family again which causes me some anxiety. As a parent, I don't think you ever stop worrying about your children. They may be adults now but they are still my babies! Thankfully we have great technology now so daily video chats are fun, especially when it's really hot and sunny in Bristol, UK and raining here in Portugal – ha ha. I miss the hustle and bustle of my weekly local market, monthly city shopping trip to a mall and visits to the local cafes to have a coffee, cake and chat with the locals. I will also miss all the upcoming trips to the beaches, river beaches and hikes in the mountains. My hair is beyond repair – I might have to shave it off and start again! I gave hubby the Covid cut last week which is not great. In all fairness to me I only had a pair of clippers and no comb or scissors and his hair grows fast. He is not exactly going out to see anyone except for his daily work video conference meetings and I expect everyone is in their P.J's from the waist down. I also saved him a few euros!
I am trying to stay positive and the most important factor at present is to stay home and be safe. We are the lucky ones as it has not had a huge impact on our current life, Portugal is our 'new normal' and we were still adapting to our new slower paced life when the pandemic hit. We somehow managed to time it perfectly, relocate and complete all necessary paperwork prior to everything kicking off. For us it's just a few plans and dreams which have to be put on hold for a while. So, the office is half complete and we can't renovate the spare bedroom – not a big disaster under the circumstances. We are not working and fighting (risking our lives) on the front line like some of our unsung heroes. We are not the ones unable to attend the birth of our child or the funeral of a loved one. We are self-isolating in a small tranquil rural village with plenty of outdoor space and an abundance of community spirit and cabbages!
We have no panic buying or food shortages and are financially stable at present. We also have bidets so if we did ever experience any toilet roll shortages in the short term future we have the luxury of two bidets (tiny shower for your butt!). I do spend a lot of time reflecting and thinking about others less fortunate than us. I worry about all the young people with special educational needs that I used to support in my job at a local college. Many of the students have a diagnosis of ASC and ADHD. I know life without the routine of college will be a huge disruption to their day to day life and traumatic for their whole family. Gaming is a hobby that a lot of my students loved. My son works in the gaming industry and at present it is huge. I spoke to Josh yesterday and he explained that one of his games 'Adopt me' broke the world record with 1.6 million people playing at once! They are also hiring new staff for jobs. I think this is amazing and as long as everyone is getting their daily fresh air then why not game, it brings joy to many in these times of boredom and uncertainty.
I am amazed at peoples new found skills and get up and go during lockdown. I am not learning a new skill or have any immediate plans to bake sourdough bread, learn to knit, play the guitar, grow mushrooms, paint with watercolour, revamp my wardrobe or perfect a dance routine with hubby (although that would be hilarious as he has zero coordination or balance). I am not dressing up and having online dinner parties with friends or completing 5000 piece jigsaw puzzles. Nor do I have any plans to come out the other end of this with any new self discovered talents apart from consuming a weeks calorie intake in one day – not sure that is a talent unless it contains 500 chicken wings in 30 minutes to beat the current world record – game on!
I think I am coping reasonably well, although I may be slightly losing my marbles as whilst gardening yesterday I did have a small wedding ceremony for two snails – Simon and Simone complete with vows and pink flower petal confetti. Simone was not impressed, she climbed on top of Simon then took a shit down his back then deserted him at the altar! Nice one Simone – a girl after my own heart. I should have done that to my first husband – just kidding – love you Carlos and appreciate the fact you are keeping our gorgeous daughter safe. Oh I just thought, I did learn a new skill – I started this blog and mastered the world of Instagram, Twitter and Facebook.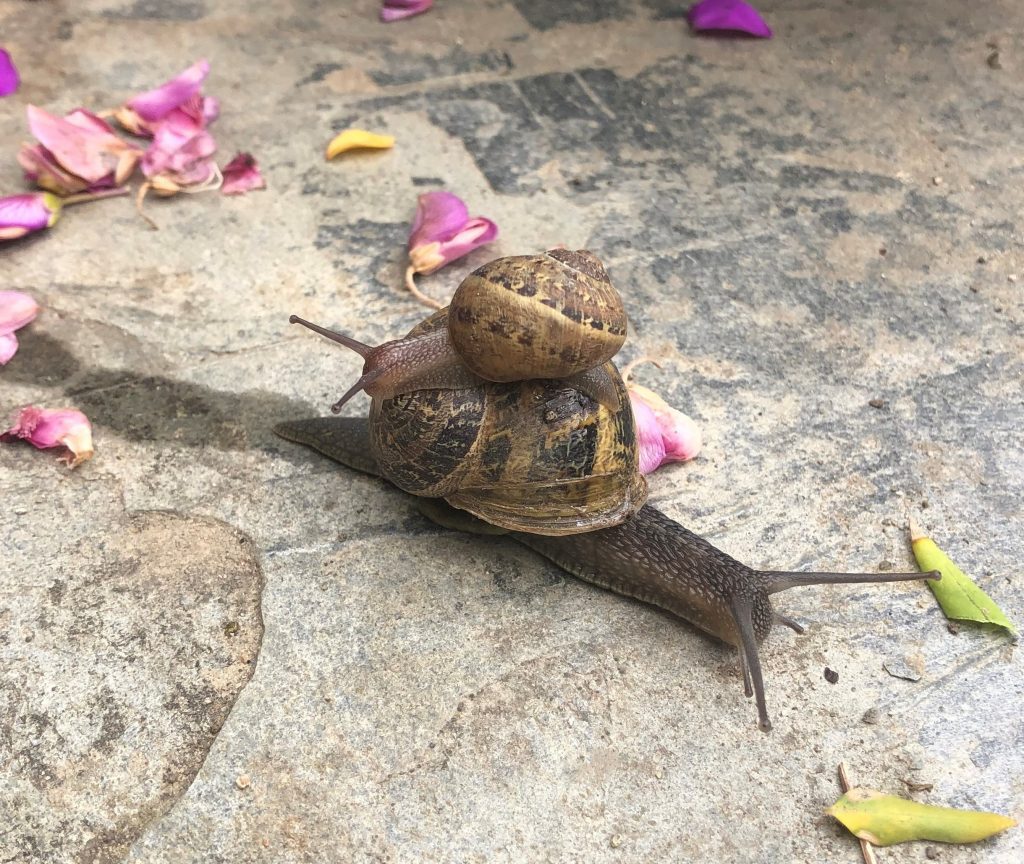 My day to day life is having a lie in, listening to the Covid-19 updates in English each morning via podcast or Youtube whilst eating brekkie, taking on at least one task around the garden or house each day and practising my Portuguese online for at least 10 minutes every single day and with Portuguese people when I can – social distance shouting from my garden to random person in street below. I also chill in my favourite covered spot in the garden every day (even in the rain) as it's not always cold when it rains here. I try not to feel guilty about relaxing and spending time with my thoughts – positive thinking instead of stress and worry. As I write this it is pouring down with rain and forecast to last for days. I'm debating going for a jog in the rain as I have no chocolate Easter eggs left. Bring on the sunshine and an abundance of hope.
X Stay safe and positive everyone X
14th April 2020 Quick update
Today in Lidl supermarket, Arganil they are only letting in 1 person from each family, so 1 family member no couples. This was not the case last time we visited. There has also been a lot of discussion on social media about wearing face masks and if this will become one of the new mandatory rules of our state of emergency – wearing a face mask whilst in places heavily populated e.g. supermarket, post office, bank etc. At present this is not the case.
I am amazed at all the festivals that are being livestreamed over the internet. Festivals are a big part of the Portuguese culture and to know we can still access some joy during these tough times is lovely. I also heard today that the Portuguese national ballet company are sharing a different show each week – what a delight!
17th April 2020 Update
INFO DIRECT FROM SAFE COMMUNITIES PORTUGAL:
PRIME MINISTER'S PRIORITY FOR NEXT 15 DAYS WHAT NEEDS TO COMMENCE IN MAY
The Prime Minister revealed yesterday afternoon in Parliament how the Government wants to get the economy moving again. It will only be in May. Until then, there are 15 decisive days to restore people's confidence so that they can gradually return to the streets.
The goal is to "revive the economy, without letting the pandemic go uncontrolled", explained the chief executive in a debate in which he challenged the Portuguese to take a vacation inside, and left the wish that this was the last debate to renew the state of emergency. Here is the executive's strategy based on information left by António Costa.
What must be guaranteed in the next 15 days:
Make means of personal protection, such as community masks and alcohol-based gel, abundant on the market;
Have hygiene standards in workplaces, public spaces and, in particular, public transport. This is the "greatest logistical difficulty" the Government has to respond to, says Costa;
In the particular case of public transport, the executive wants to find ways of having "different schedules, having a new organization of work" that avoids creating rush hours, but also "increasing on the supply side" so that "everyone can safely begin using public transport again";
Have the confidence that the robustness of the National Health Service (SNS) is able to support itself in the face of, "necessarily, an increased risk of transmission whenever we relieve the contention".
What the Government wants to start doing in May:
Face-to-face classes, even if partial, in years 11 and 12;
Reopen day care centres to support families, many with income losses or increased effort when teleworking. The idea of reopening day care centres is not new, and had already been considered at the meeting with health technicians where the date of May 4 was proposed as a limit for resuming face-to-face classes. This is because the virus affects younger children very little. A study by the Escola Superior de Saúde Pública, presented this Wednesday at the meeting at Infarmed, revealed that other countries started by reopening schools with young children due to the "low risk of transmitting to many people: children of that age return home from school and have little social life independent of their parents. This has a high economic impact: parents can go back to work ";
Open pre-school, at least during the beach/countryside period, so that children can get back together;
Restore the face-to-face service in the Public Administration services and end the suspension of procedural deadlines;
Gradually reopen the economic activities where the Government decreed the closure. Start with the small neighbourhood trade – "the one that brings fewer people together, requires less travel distance, which best serves the local economy", explained Costa -, to then move on to "small shops with open doors to the street" and only reach the large commercial spaces after;
Set specific safety standards for professionals and users of personal care activities, such as hairdressers and barbers. The aim is to create conditions to have these services open;
Begin opening cultural facilities for those which have a fixed capacity and marked seating, to allow reopening with the necessary social distancing, "although it may be required, as in public transport and schools, to use a community mask";
Create distancing rules for sports venues and open-air shows, similar to what will be done by the union centrals in the celebrations of the 1st of May and which the Church intends to guarantee in ceremonies;
Continue teleworking for those who can do it. These people will have greater freedom of movement to take their children to day care centres, use the shops that are gradually reopening, public transport and cultural facilities, even if they have to wear a mask. The Prime Minister considered teleworking essential, for instance to allow "the operation of public transport to run as smoothly as possible".
The Government also wants to work with companies to find better ways of organising working time: "some working in the morning and others in the afternoon, some working a week and others another week". The aim is to progressively free people from domestic confinement.
I totally agree that safety is paramount and we do not want to start re-opening places too soon. There is no mention of timeframe for restaurants re-opening or the re-opening of boarders – travel e.g. flights. There is a huge impact here on family run restaurants who rely on tourists. I also have friends here who are separated with some of the family here in Portugal and others back in the UK so these people are obviously desperate to be reunited. There is a lot of talk here about Romanian fruit pickers being flown by chartered flights back to UK to pick fruit, I have strong feelings about this but will stay out of this debate for now. There is also a lot of talk about wearing community masks which is quite conflicting as different professional websites are advising conflicting information.
20th April 2020 Update
After a beautiful weekend of sunshine we are back to rain so I'm stuck indoors working on my blog and writing an article for someones website. I think I am slightly loosing the plot as we now have come up with a phrase 'Is it raining outside?' This actually means I want pancakes. If the other person says yes then we get home made pancakes in a themed shape sometimes a bird or bunny. I don't know what is going to happen if I actually want to know if it's raining outside but I'm happy to eat pancakes everyday. I don't know how this started or why? I have no answers, it's a lock down mystery.
On a more serious note Jorge Branco a journalist has started a newsletter in English updating us all with news on Covid-19: https://jorgebranco.substack.com/
24th April 2020 quick update
From 30th April – VAT on face masks and hand sanitiser will be reduced from 23% to 6%. Also tighter restrictions during the Bank Holiday 1st-3rd May 2020, same rules as over Easter, no leaving your municipal. I sent hubby to Côja today – nearest shops (10 min drive) to buy eggs, can't wait to get chickens. He noticed that a lot more people were wearing face masks and gloves. He was not allowed into the greengrocers as he didn't have gloves and there were none outside for customers. We are going to have to buy some face masks and gloves as I really feel the next step here is going to be mandatory wearing of both whilst in shops etc. Everything else is fine here at Casa Valhal, we have had a couple of weeks of rain (on and off) which means I can't do as much gardening as I like but all in all we are fine. A little crazy as the UK is basking in sunshine. Oh well, all the rain is good for the garden and after the rain we get the most beautiful rainbows. If only there was a pot of gold or euros at the end of the rainbow! I could then afford a hot tub for the garden to sit in the rain (ha ha).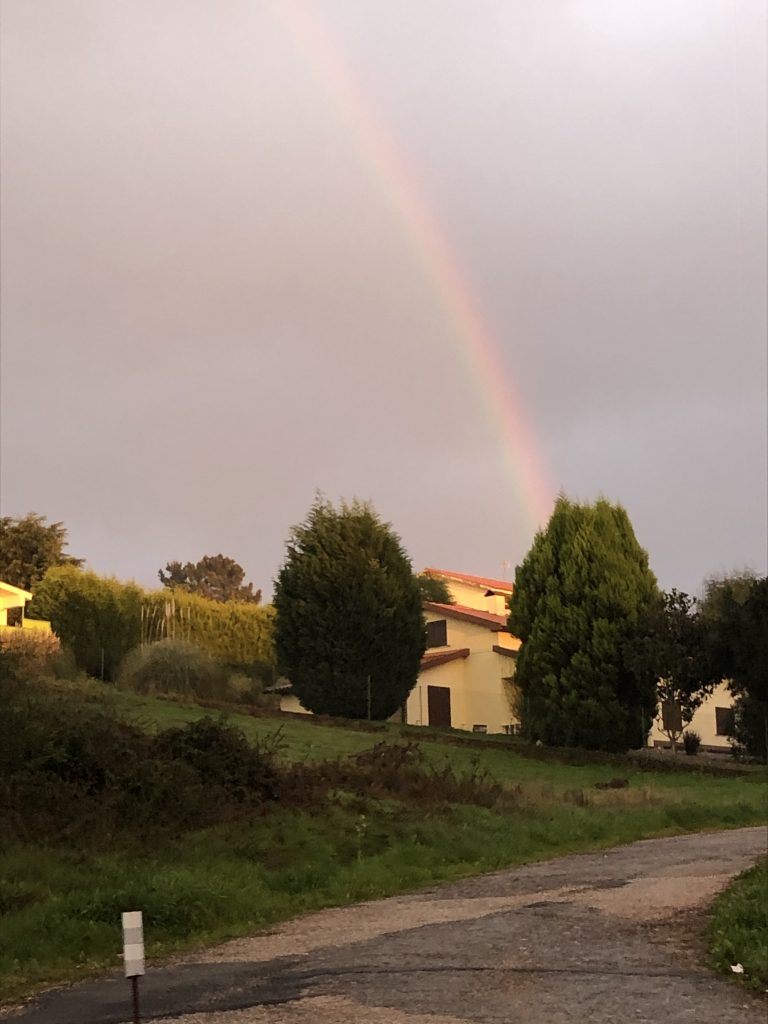 28th April 2020
STATE OF EMERGENCY ENDS 2ND MAY MIDNIGHT.
The President of the Republic said that the state of emergency will no longer be renewed on May 2nd. "It is hoped that it will not be necessary to resort to a state of emergency in the future; if it is, it will be considered," said Marcelo Rebelo de Sousa, at the end of the meeting with public health specialists. Council of Ministers will decide on 30th. Some restrictions may end, or change others may not. So that it is wise not to speculate. The President and PM have made it clear that it is a long haul.
Personally I think people will misinterpret the end of our State of emergency, this does not mean restrictions are ending, just the official, judicial and legislative State of Emergency. Not renewing the state of emergency doesn't mean everything goes back to normal, there will still be restrictions, like possibly having to wear face masks outside your home etc. but it means that some businesses can reopen with safeguards in place but we will know more later in the week. It does seem strange as there are tighter restrictions again re: travelling outside your municipal during 1st-3rd May.
NOTE MORE CONCRETE MEASURE WILL BE ANNOUNCED AFTER THE COUNCIL OF MINISTERS MEETING ON 30TH APRIL, SO PLEASE DO NOT SPECULATE UNTIL THESE ARE KNOWN.
30th April 2020
As of midnight on 2nd May Portugal will no longer be in a 'State of Emergency' but a 'State of Calamity!' which is a reduced measure. People that I have spoken to on social media are confused as they assumed calamity to be a higher and more restrictive measure than emergency but this is not the case. I still stand by what I said before. I am concerned that places will re-open too soon, the virus will spread further then prime minister will put into place higher levels of restrictions putting us further back on the road to recovery. Also there is no mention of contact with friends and family so I assume this stays the same with social distancing and staying at home. Hubby visited the local shops today for milk and reported back that there are definitely more people out and about flouting the rules by buying take away coffees and standing right outside of cafe doors all chatting together in groups!
Changes:
INFO DIRECT FROM SAFE COMMUNITIES PORTUGAL:
From 4 May
Mandatory confinement for sick people and under active surveillance, and civic duty of home removal;
Prohibition of events or gatherings with more than 10 people;
Funerals only with the presence of family members;
Professional practice continues on a teleworking basis, whenever functions allow;
In public transport, buses with a driver's cab; and disinfectant gel dispensers (maximum capacity of 66%);
In public services, decentralized customer service counters (service by appointment);
In local shops, opening stores with an open door to the street up to 200m2 (capacity of 5 people per 100m2); hairdressers, manicurists and the like (by appointment); bookstores and car trade, regardless of the area;
In the area of ​​culture, opening of libraries and archives (reduced capacity and physical distance)
Possibility to practice individual sports outdoors.
From 18 May
Reopening of schools for 11th and 12th years, from 10 am to 5 pm, day care centers (with the option of supporting the family), and social facilities in the area of ​​disability;
Reopening of stores with open door to the street up to 400m2;
Reopening of restaurants, cafes and the like (50% capacity);
Opening of museums, monuments and palaces, art galleries and the like (reduced capacity and physical distance).
From 30/31 May
Restart of religious ceremonies, with rules to be defined between the DGS and religious denominations;
Resumption of official football competitions.
From 1 June
Partial teleworking, with lagged schedules or mirror teams;
Reopening of Citizen Stores;
Opening of stores with an area greater than 400 m2 or inserted in shopping centers;
Reopening of daycare centers, pre-school and ATL;
Reopening of cinemas, theatres, auditoriums and concert halls (reduced capacity and physical distance).
5th May 2020 (Personal feelings – bit of a rant)
Although the restrictions are reduced and there are some smaller shops and places have reopened, I have no intention of going out. I was right about the mandatory wearing of masks in shops and public transport. You can receive a fine if you don't wear a facial mask on public transport. Hairdressers have reopened by appointment only but I am quite happy to wait another month or so and see how the situation progresses. I don't leave the house at present as Lidl are still only letting 1 member of a family in so it's pointless me going with hubby for the monthly food shop as it's a 30 min drive each way and then I have to sit in a hot car. I also have no intention or desire to sit in a cafe with a face mask on trying to negotiate a coffee cup or wander around a smaller store with a face mask on trying to keep at the recommended distance and not being able to browse as only a certain number of people can enter at one time so there may be a queue outside putting you under pressure. I would rather wait until 1st June and access the situation. I get plenty of fresh air from my weekly jog and the garden each day so not leaving the house or garden is not difficult for me.
Our challenge is we are going to have to buy face masks just in case we want to pop to a store in the nearest village. There doesn't appear to be any major shortages here in Portugal and hubby did have a go at making one from his sock which gave me a giggle. He's going to make a sock puppet out of the other one! I'm still not convinced re: facial masks. The disposable ones I have seen everyone wear here do NOT prevent airborne virus and offer little protection, they just stop stuff like blood splashing in your face if you work in the medical field. I know the people who are pro masks say it's not about not catching anything from someone else, you are trying to avoid spreading your germs to other vulnerable people (and I get that) but if the virus can pass in or out through a disposable paper mask I don't how it prevents anything or helps apart from psychologically. I watched a video from a medical expert who explained the different types of masks and he confirmed that the basic paper ones won't do anything regarding prevention. You need the masks that seal closely to the face and filter out a high percentage. Rules are rules so for me I will buy and wear one if I need to go into a store as they won't let you in without one but to my knowledge it can be any type of mask including homemade ones which confuses me. Any measure to help the situation I will follow as Portugal has done a tremendous job and have been praised worldwide for their efforts. I think I'm just going to stay in my garden with the nature for a while and grow my vegetables!
8th May 2020 – A shopping trip and a mild rant about face masks
Our face masks arrived in the post yesterday (50 disposable triple layer protection) so today we decided to venture out to a few shops. They are compulsory now so you need to wear one to enter a store. I haven't been shopping for so long so I was quite looking forward to a trip out to buy a few essential DIY and home items so we can carry on with tasks around the home. Hubby had the day off as a Bank Holiday (VE day) and weather was forecast to rain PM but it turned out to be a scorching hot day. We placed an online order with Leeroy Merlin but they were out of a few items that we really need.
Firstly we drove to Tábua as it's only 30 mins away and they have a home and garden DIY store. It turned out to be more of a construction store and no garden stuff so we then travelled onto Viseu as we know there are a couple of great stores there. It was a huge mistake going on such a hot day. I knew I would find wearing a mask difficult as I fidget a lot and am always touching my face and if one hair brushes my face I have to touch it and brush it away. I was not prepared for how uncomfortable wearing a mask would make me feel. All but one shop had air con and it was so stifling hot in the stores I found it difficult to breathe through the mask. Breathing in was OK but breathing out was horrendous as all your hot breath kind of sits inside the mask and made me feel quite faint and was very suffocating. The garden centre was the worst as certain areas inside were heated to a high temperature for the inside plants. I physically could not spend long in this place.
If that wasn't bad enough, one man in AKI queue for checkout clearly was not following the rules of social distancing even though there were signs everywhere and guidance tape on the floor. He kept moving really close to me and every time I edged forward so would he to the point I could feel him right behind me. I kept turning around and staring at him but he didn't get the hint and he kept touching every item in the baskets leading up to the tills, picking it up without gloves then putting it back which annoyed me.
Although we managed to buy everything we wanted to keep us going on home and garden tasks for a good couple of months we had to visit three different stores and I was really struggling by the end. It just wasn't a pleasant experience at all. Everyone is trying to negotiate the store and keep at a distance and seeing everyone in a mask was not a happy shopping adventure. The only glimpse of joy is that in Agriloja there are always escaped birds from the pet section flying around which is nice to watch.
There are staff monitoring the wearing of masks at every entrance and hand sanitiser is available upon entrance and exit of some stores. Everyone seems to be abiding by the rules and wearing a mask and you are refused entry without one. I saw a variety, disposable masks like ours, DIY dust masks, material recyclable washable ones and homemade ones. On the drive home I had my head hanging out the passenger side window to cool off like a dog gulping up the fresh air (ha ha).
I don't think I will be going shopping again anytime soon as I found it very depressing. I will send hubby to Côja for weekly supplies. I am wondering if the wearing of masks will be compulsory on 1st June when the shopping malls reopen. I have to visit IMT Coimbra re: driving licence exchange but they have extended so I have until 30th June so my next trip out will likely be near the end of June and I was hoping to team the IMT day up with a visit to a mall to buy a birthday gift for a relative. Next phase restaurants and cafes are reopening. I can't see how that will be a nice experience wearing a mask so I think I will give it a miss. I totally understand the measures put in place as people are still dying everyday and deaths here now stand at over 1000. Some of the staff in the stores today were quite abrupt and I can't blame them. I don't know how they wear a mask for 8 hours and stay sane. It makes me think about all the medical staff in hospitals on the front line who have to wear the really tight medical masks, they really are heroes in my eyes.
I should have planned it better and not gone on such a boiling hot day. Worse thing is that when we arrived home we unpacked an item from it's box to find out it's missing 2 vital pieces! This means a 2 hour round trip back to Viseu Agriloja tomorrow!!!!! We are going to have to try and explain in Portuguese that there are 2 parts missing which is not gonna be easy. Note to myself to check boxes every time in future. You learn by your mistakes. I am so annoyed as I don't want to get up early again, travel all that way and it's a waste of petrol. On a positive note, I suppose I will get to see the birds again!
18th May 2020 update
Today the official 'State of calamity' was extended until 31st May. Restaurants and cafes reopened with certain restrictions including a maximum capacity, social distancing, wearing of facial masks (obviously not when your eating or drinking) and hygiene measures e.g. gloves, hand sanitiser and staff disinfecting areas several times per day also customer paying by contactless card. Commercial establishments with a floor area of 400m2 also reopened. We also heard the news that beaches will reopen on 6th June with a whole list of rules. As I said before, I know we need to support our local businesses but I still have no desire to rush to a cafe with a face mask on. Also Lidl in Arganil are still only letting 1 family member in at one time so I am still sending hubby on the monthly food shop and weekly supply trip as I don't want to sit in a hot car. Just in case you are interested, I managed to return the compost bin and swap for a complete one and it was not as hot so I just about managed with the face mask but still felt uncomfortable so I'm staying at home.
From 18th May:
Reopening of schools for the 11th and 12th grades, from 10am to 5pm, of crèches (with the option of supporting the family), and of social equipment for those with disabilities;Reopening of commercial establishments with a floor area or parts of a shop open to the street up to 400m2;
Reopening of restaurants, cafes and bakeries (50% occupancy);
Reopening of outdoor terraces
Municipalities can decide to open larger establishments on a case by case basis
Opening of museums, monuments and palaces, art galleries and similar (reduced capacity and physical distance).
31st May 2020 update
Tomorrow is 1st June and we are entering a new phase of ´de-confinement´ by the government and our State of Calamity has been extended until 14th June. Portugal recorded yesterday 1,396 deaths related to Covid-19, 13 more than on Friday and this concerns me a lot. Many people are now enjoying a drink at their favourite cafe or restaurant but for me I'm not sure I would feel at all comfortable entering a restaurant with a mask and having plastic dividers with a constant thought that the number of deaths are still rising. I am still happy to stay at home for now and I am worried about the easing of restrictions. I do understand that tourism is huge here and the local families rely on people visiting their establishments but I do still not feel 100% comfortable doing this yet. I will have to venture out mid June to Coimbra so will let you know my experience.
Some of the new rules:
The civic duty of staying at home is no longer required.
Regarding gatherings of people, the limit is extended to 20 people (except if they belong to the same household). For the Metropolitan Area of Lisbon the limit of 10 people remains in force.
With regard to events, it is now permitted to hold celebrations with gatherings of up to 20 people, and the DGS must determine the guidelines, namely the capacity of religious ceremonies, events of a family nature (including weddings and christenings, both for civil and religious ceremonies and for other commemorative events) and events of a corporate nature held in appropriate spaces for this purpose.
No Quarantine for Tourists – I don't understand this, if I travel to the UK I have to quarantine so surely it would be beneficial for the same to happen here. The Prime Minister assured today that in Portugal there will be no quarantine rules for those coming from outside the country, and said he was calm and "unhurried" about the reopening of the land border with Spain.
Restaurants can return to using their maximum capacity, as long as they manage to ensure a distance of 1.5 meters between tables and put acrylics (an impermeable shield) between customers, said the Prime Minister today.
In catering and similar establishments there is no longer a limit of 50% of their capacity if separation barriers are installed between customers facing each other and the distance between tables is 1.5m. Mask to be worn on entering obviously to be removed when eating.
Food and drink consumption areas (food-courts) of commercial premises are no longer closed, except in the Lisbon Metropolitan Area.
Leisure activities not based in schools will re-open 15th June later than previously noted to make sure all safety measures are in place. I am not sure if this includes beaches. 6th June was the date for re opening of beaches but I assume it's now 15th June. I have no intention of visiting a beach yet so I'm not concerned about date of re opening.
There will be a maximum capacity at the beach and security at beaches to increase. The beaches will be monitored by 742 members of the Institute of Aid to Castaways (ISN), Maritime Police and Navy, announced today the National Maritime Authority (AMN), indicating that, regarding the capacity of users, "it is difficult" to bar entry. In addition to these 742 elements guarding the beaches, there are 7,610 lifeguards ready to be hired, said the director of the Instituto de Reliefs to Castaways (ISN), Commander Velho Gouveia, considering that "this number is sufficient". This is very reassuring and great safety measures.
Gyms to reopen as well as theatres, cinemas and shopping malls (all with strict guidelines). Face masks need to be worn.
Vehicles with a capacity of more than 5 persons can only circulate with two thirds of the capacity, unless all occupants are in the same household.
We are still coping really well and feel very lucky to be living in such a tranquil rural setting with strict guidelines in place. There are still plenty of projects around the house and garden to keep us busy for the foreseeable future.
26th June 2020 update
The Situation of Calamity is reviewed every 15 days here in Portugal. The current extension ends soon and will be extended until the 14th July 2020. The latest change is from Situation of Calamity to ´Situation of ALERT´ for most of Portugal apart from the Metropolitan area of Lisbon which will move to a ´Contingency Situation´ and 19 parishes in that area will stay in ´Calamity´ with restrictions for the latter of gatherings limited to 5 people. This is due to the increased number of infected people testing positive.
The Prime Minister announced yesterday evening that the date of effect will be 00:01 hours on 1 July. He stressed that this does not signal that we are moving to a ´pre-Covid normality´. Overall, there are few changes as the state has decreased with gatherings still limited to 20 and all of the general hygiene and social distancing measures remaining in force.
Numbers: The Directorate-General for Health (DGS) announced this Thursday the existence of 1,549 deaths and 40,415 cases of Covid-19 in Portugal, since the beginning of the pandemic. The number of deaths rose, from Wednesday by six, while the number of confirmed people increased by 311, which corresponds to an increase of 0.8%. There are 436 hospitalised patients, seven more compared to Wednesday. 67 are in Intensive Care Units, minus six compared to Wednesday. The number of recovered cases rose from 26,083 to 26,382, plus 299.
The main talk at present is if there will be an air bridge. We are still awaiting definite confirmation of this. Until then we are complying with the safety rules and as usual just staying at home for now. We do have to visit Porto soon and I am feeling quite nervous but for now I am staying clear of Lisbon.
22nd September 2020 update
Apologies, I haven't updated this post for so long. We have adjusted to the new normal quite well now. Things change quite rapidly here in Portugal and I've made a decision to NOT update this post and advise people to refer to the Safe Communities website for updates. On a personal note I recently had a wonderful 2 week visit from my daughter who managed to time her visit extremely well resulting in her not having to quarantine on her return to the U.K on 1st September which meant she could return to work and earn cash for her uni fund. As a couple we are still staying at home a lot although we did venture out to many tourist attractions during my daughters recent visit and I felt safe visiting river beaches where I could easily social distance. Stores and shops here are very great at enforcing rules of maximum capacities, the use of hand gel upon entry/exit and wearing of facial masks. I feel safe here in Portugal which is the main thing and I just hope and pray that things get better soon.