ACTS OF RANDOM KINDNESS
I decided to join in with this current craze. The reason being because often when I'm having a bad day with my chronic pain, I venture out on my power walk/jog and accidentally stumble across something very small and insignificant but a simple pleasure that makes me smile and feel all warm and fuzzy inside. It could be a butterfly that lands on me, a pretty flower growing amongst the wild weeds, a snake or some weird and wonderful graffiti. Often it's not the grand gestures that bring joy but the small daily acts of kindness that can reap huge rewards for both the giver and the receiver. This new trend usually involves little crochet artisan handmade gifts but I am weird and quirky so obviously I had to switch up the game a bit and I'm shit at arts and crafts. Hubby is the crochet king, I can't crochet or knit because I don't have a creative bone in my body and I have arthritic hands. I have fabulous ideas in my head but when I try to execute them in a craft or project I fail miserably 95% of the time and just make a shitty mess (ha ha). My only crafting success was my garden "Tittie Art Project" which was a roaring success.
Hubby recently bought me a resin mold jewellery kit to make Pandora bracelet charms and it came with a free Kingfisher bird mould which turns into a trinket for a necklace. He gave me one of each as a reward for completing the DIY radiant railing task. It turns out that I'm not too shabby at this craft so I decided to make a few extra birds and leave them in strategically placed locations in nature with a little heartfelt message. Why bother, you may ask? Well, I like to think it will lift someone's spirits and brighten their day and if it makes one person smile and feel good then I have succeeded in my mission. You never know how your kindness can transform a random stranger's day and turn it around from a shit day to a great day. Hubby used to make me a packed lunch for work and put a little post it note in there with an origami animal and a little chocolate which really cheered me up after a 3 hour stressful meeting. I've renamed my project "Kingfisher Kindness" and here is my little message: I'm not lost, I'm just alone. If I make you smile, Please take me home.
The Kingfisher Kit
This is such a wonderful gift but beware if your a clean freak the glitter will scatter around your entire house and magically travel to every inch of all your rooms, no place is safe (ha ha). I remember a few years ago, my daughter was gifted a sparkly temporary tattoo kit and she decorated my whole arm. These temporary tattoo's were more semi permanent and very durable, they lasted for weeks much to the delight of my employer who were not too keen on my "Bratz" body art (ha ha). I am not precious about my house but have a few house proud family members. The best family fun you can with your not so favourite family members is to gift them a card with glitter confetti inside. When they open it in their show home they will be pissed as hell. If you can trick them into opening it in their car then you have struck gold (ha ha). If they are male it's even more fun as it can get stuck in their facial hair and beard glitter is the best look on masculine ripped men (ha ha).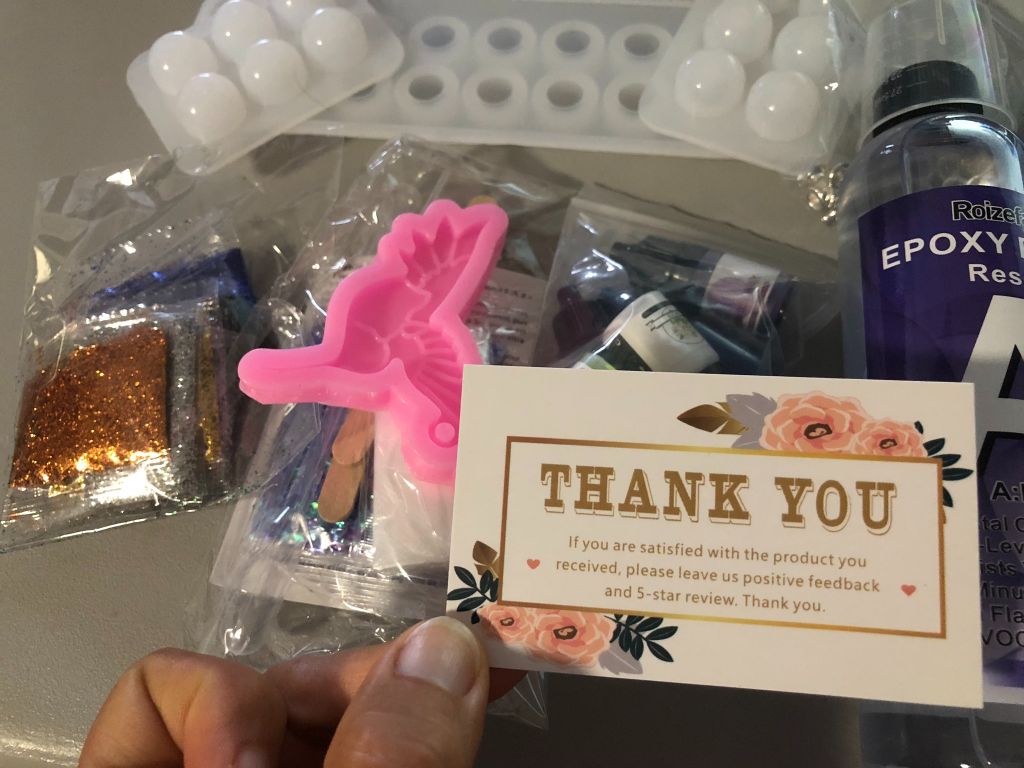 My Gorgeous Gifts
This is where the idea came from. My gorgeous artisan handmade gifts from hubby. A beautiful surprise for completing the mammoth task of the DIY radiant railings. I even got a certificate for the fridge.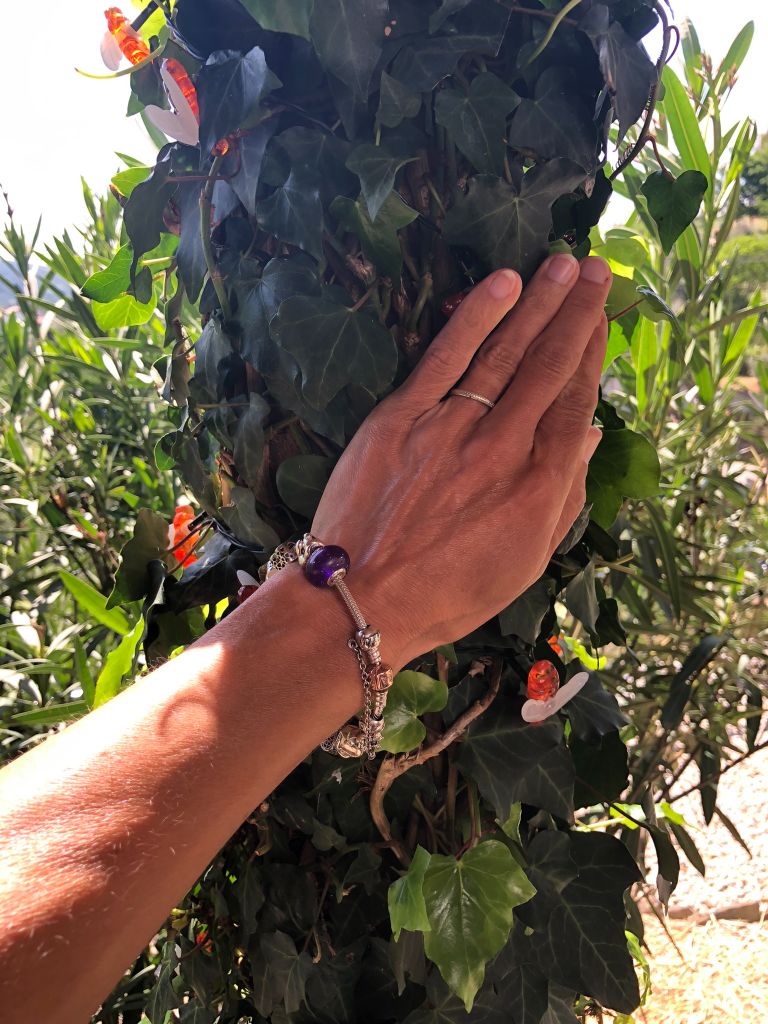 Yarn Bombing Portuguese Style
Look how amazing the Lorvão Monastery gardens are! The Portuguese embrace the crazy crochet culture, I LOVE it!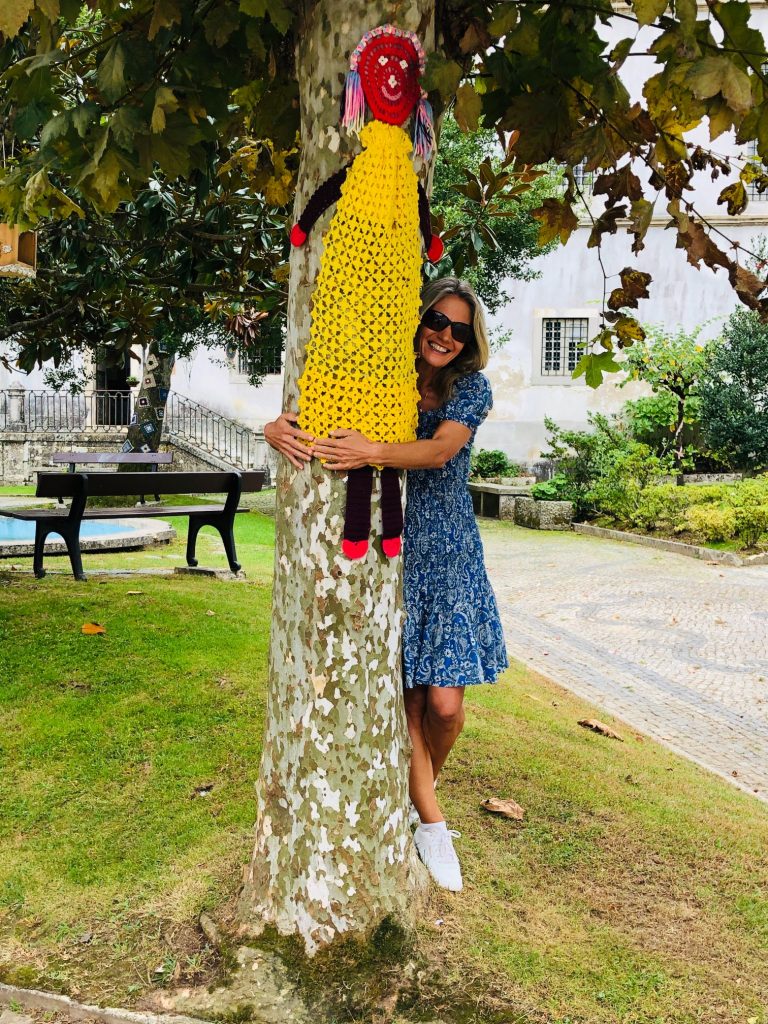 Crochet Christmas Tree
The Crochet Christmas Tree in Águeda was awesome too!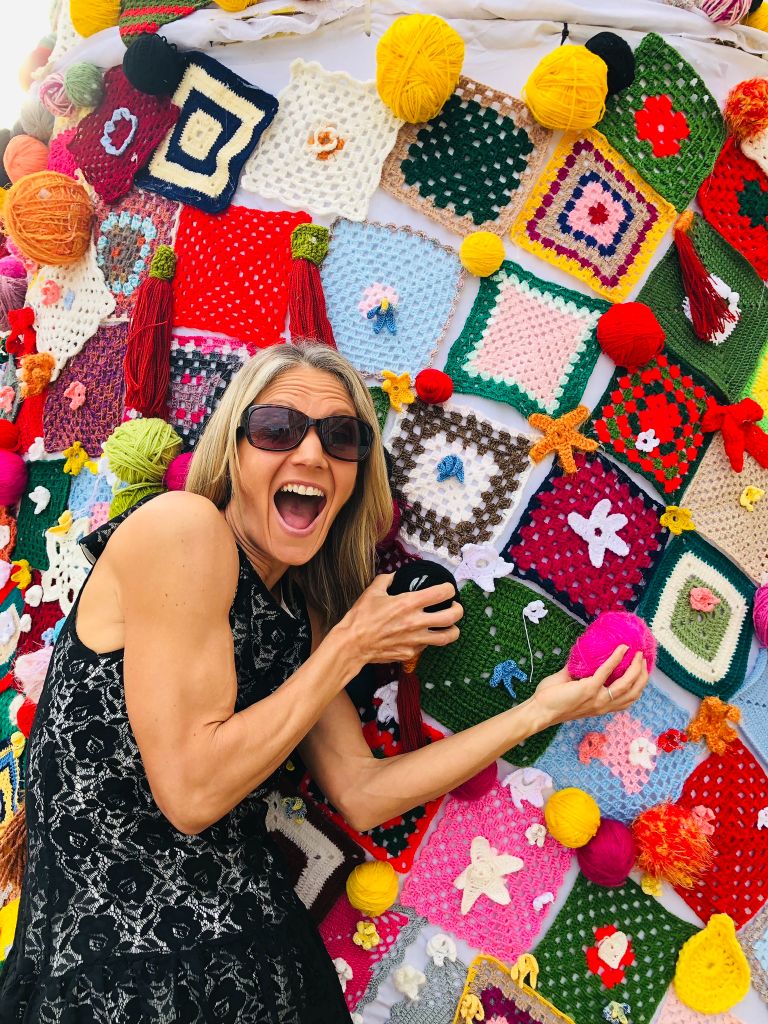 Creative Hubby
This is Leroy the Donkey. Hubby handcrafted this awesome Donkey for our 8 year wedding anniversary. I have no words! I have heavily hinted for a soulmate for Leroy. I will name him Merlin. The time will come but hubby is a little pre-occupied with his new job at present. I will sit and wait patiently like a good little wifey (ha ha). I also want him to crochet me lots of tiny bumblebee's to decorate the garden. Many moons ago hubby crocheted me a purple and white panda for my birthday. I honestly thought there was an engagement ring hidden inside but it was literally just a crochet panda (ha ha). I did get an engagement ring in due course, just not on that day. My disappointment was evident (ha ha).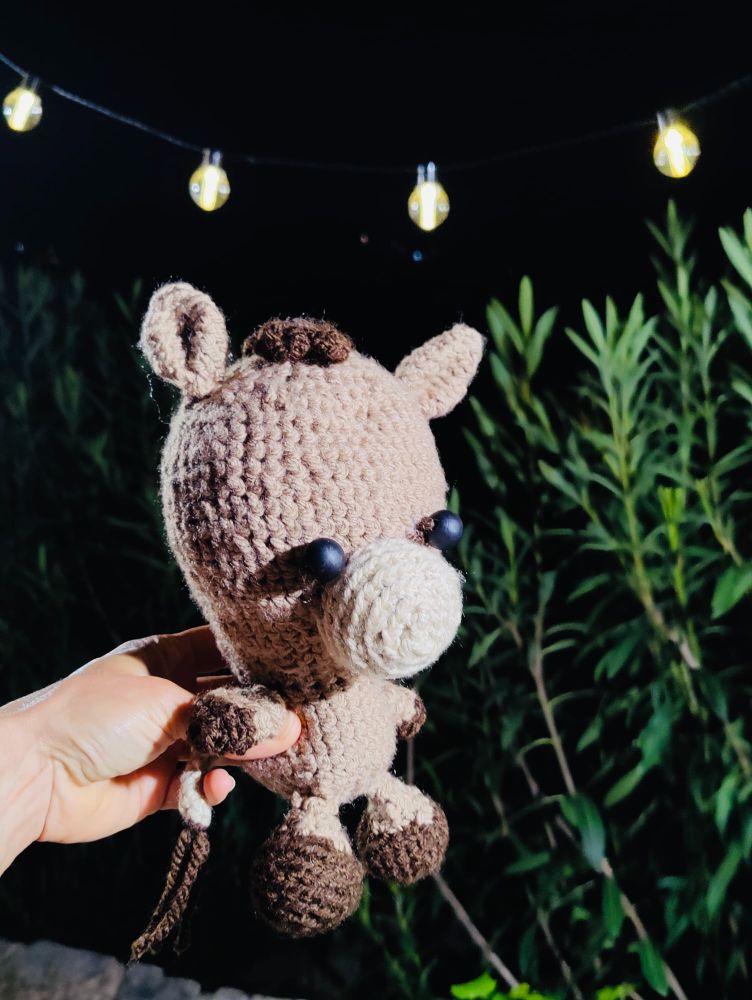 My Garden Tittie Art Project
This was my art success! I surprised hubby with this art project whilst he was visiting the UK (May 2022). He loves my titties (ha ha). The birds took quite a fancy too and pecked my nipples so I had to do a refresh paint job and I've also applied a coat of clear lacquer to seal the deal and make them magically glossy and gorgeous like me (ha ha). All titties deteriorate over time my friend (ha ha).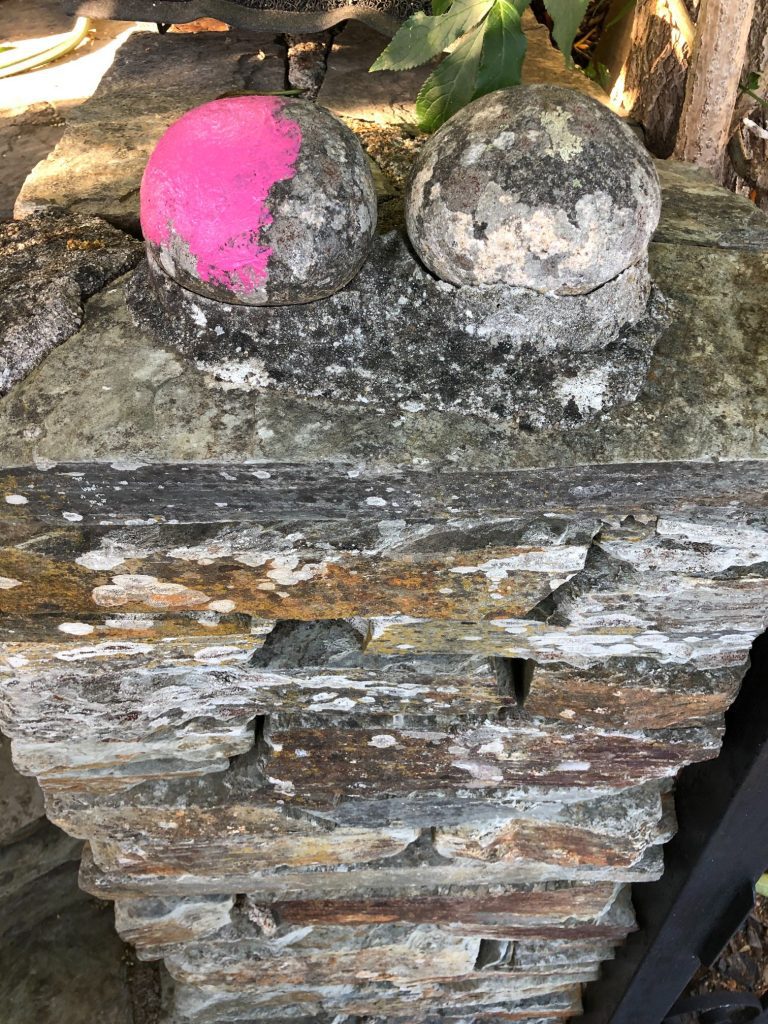 Kingfisher Kindness
I thought sparkly orange and green would be a good combination and the frugal me recycled a little plastic pouch and bow. I also made lots of extra charm bracelet beads in different colours to hang on a tree. I added a blue and white Kingfisher bird to each end. I hope they make someone smile. My only fail was cutting a little bit of bunny Milo's butt fur and trying to set it in a charm bracelet bead. It just looked like dust or fluff (ha ha). I thought it would be a cute gift for Teanna seeing as her bunny is here in Portugal and she is in the UK. It was an epic fail but it's the thought that counts (ha ha). I am learning to crochet so I can leave little Random gifts of crochet kindness. The options are endless: Bees, butterflies, animals, flowers etc.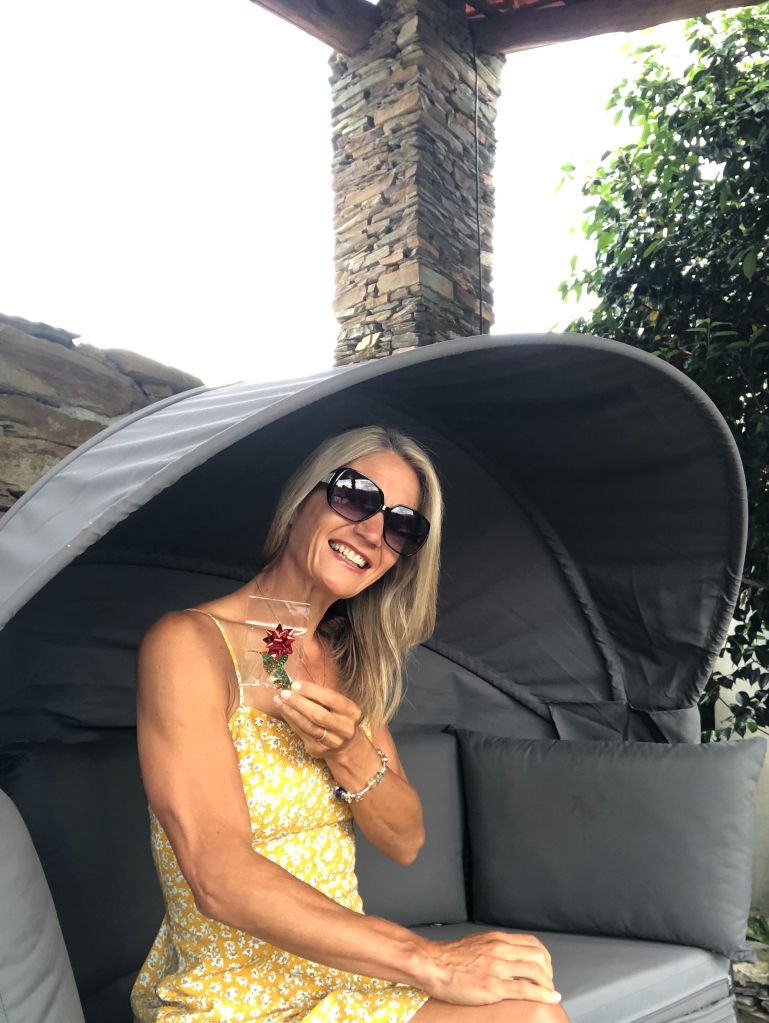 Chelsea Kingfisher – The Boys in Blue
With UK Fathers day approaching fast I might very well have to make another bird for my awesome Dad. A blue and white Kingfisher to hang in his garden. His favourite colour is blue and he is a huge Chelsea fan so I might have to make another blue and white marble effect design for him but without the glitter as he's not really a glittery type of man, although he shines bright like a star in my eyes.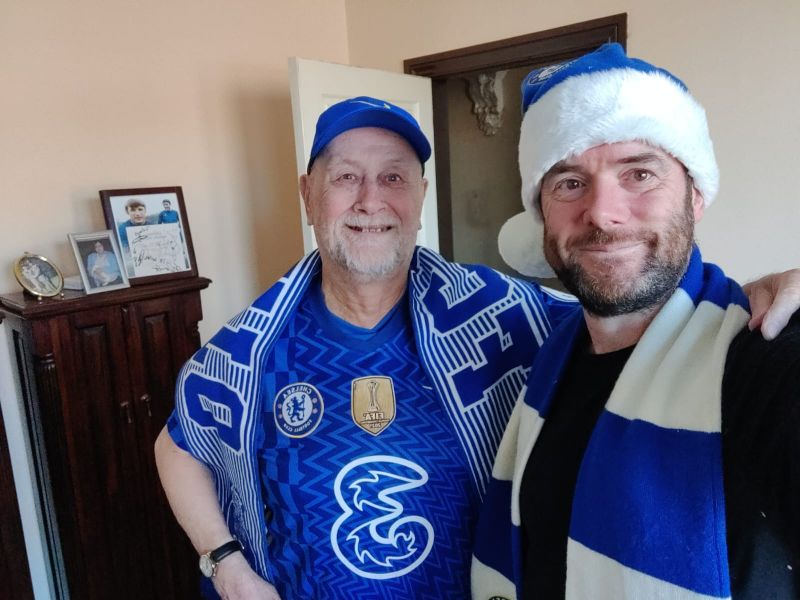 Bee Creative & Happy
I LOVE Bees and we are blessed with so many buzzing beauties in our garden. I don't have an artistic bone in my body but I had a genius idea to paint bees and flowers on white tiles to decorate my garden. It's clearly evident who got their GCSE in Art and the greedy piglet who chose Food Technology (ha ha). I did try my best effort but I suck at painting. I was relocated to paint mixer because we only have limited colours so I tried to blend new funky shades.
The end result is awesome as hubby is multi talented and we had a lot of fun together. In my defense I did transform my old stone pillar into a fantastic pair of garden titties which are still a quirky focal point and party conversation starter (ha ha). Hubby also tried his hand at painting a few garden stones but I found this harder than painting the tiles as the surface is uneven. He is currently teaching me how to crochet so I can make tiny crochet Bees to hang up on a string in my favouite shaded garden terrace spot. If you can't BEE CREATIVE, then BEE HAPPY!
Creativity Takes Courage – Adriano the Artist
I am mildly jealous of his talent. Maybe I will get better over time like a fine wine or an old smelly cheese (ha ha). One thing to remember is that "Every artist was first an amateur."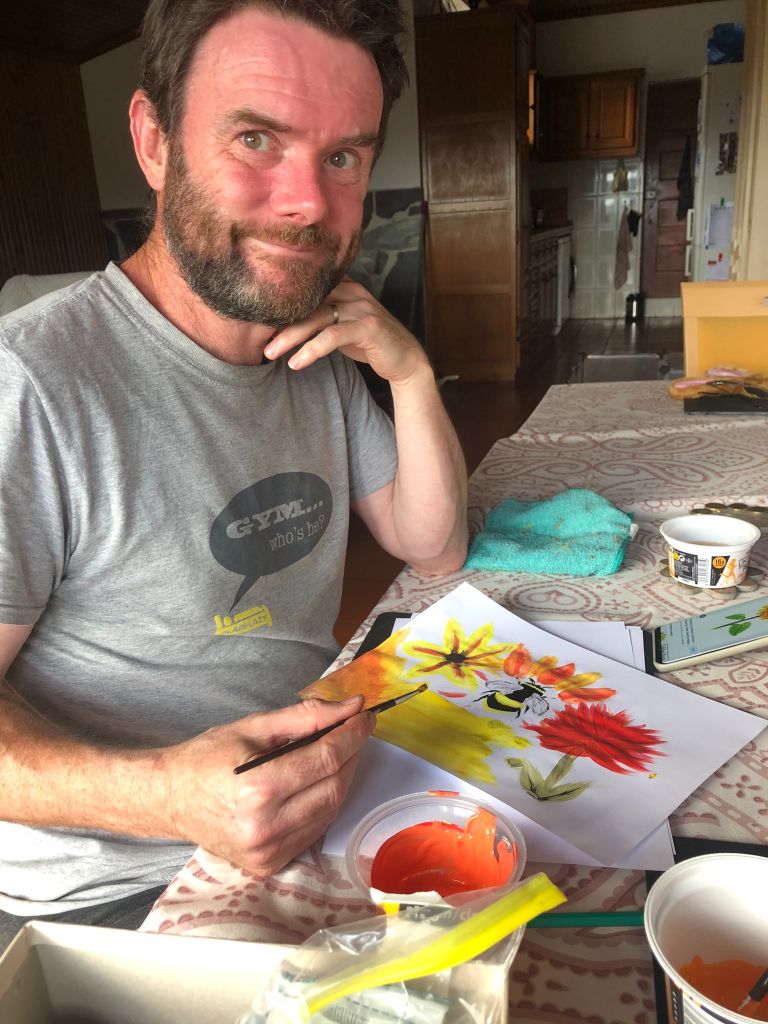 Garden Bees & Carrot Top Titties
My attempt at painting stones ended in an epic fail. I really should stick to gardening as a hobby. I think I am better at vegetable art and my rendition of the Carrot Top Tittie is a winner and worthy of The Turner Prize (ha ha). By the way, I'm not obsessed with titties, honestly!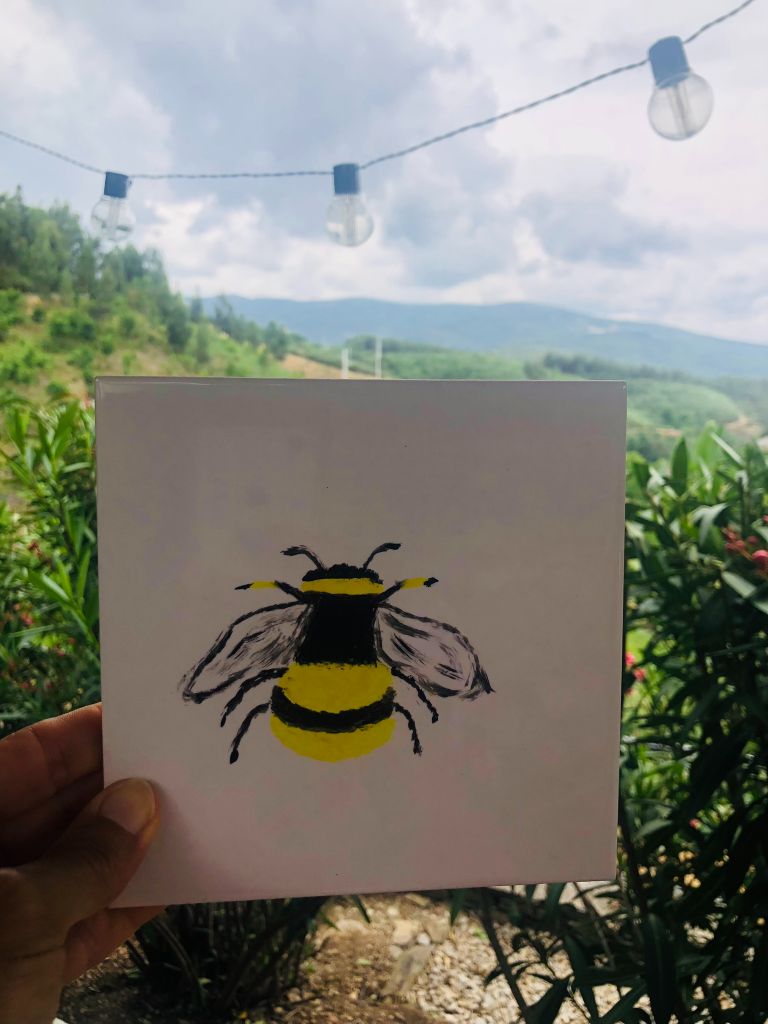 Fabulous Fail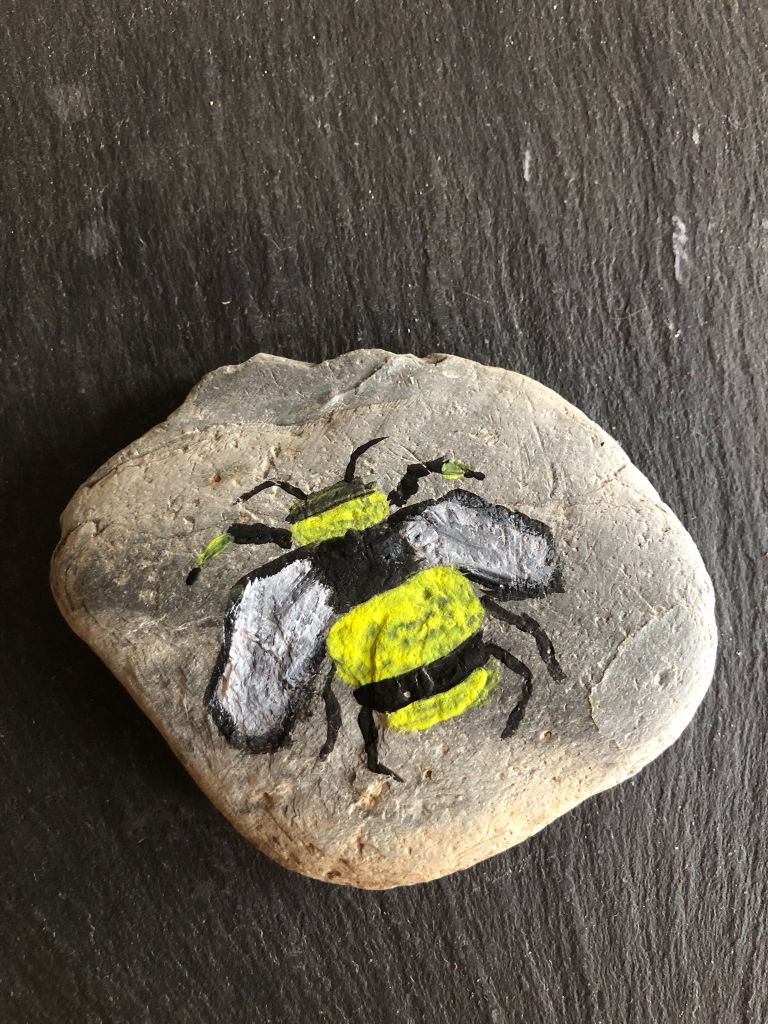 Bitching & Stitching – Helena's Crazy Crochet Club
Come join my new beginners Crochet Club, there's endless cups of coffee and homemade Pão de Lo (Cake). Don't panic, I didn't make the cake so you won't get food poisoning (ha ha). There is not much bitching but plenty of curse words because I suck big time at crochet (ha ha). I read a quote on a Therapist's website that hit home: "Be brave enough to be bad at something new" – This is definitely me (ha ha).
My next challenge is to crochet multi coloured rainbow Bees to celebrate June as it is LQBTQAI+ PRIDE month. LOVE is LOVE.
Piggie Eye Patch
My first attempt was a fail and resulted in what resembles a tiny eye patch that would fit my Guinea Pigs (ha ha).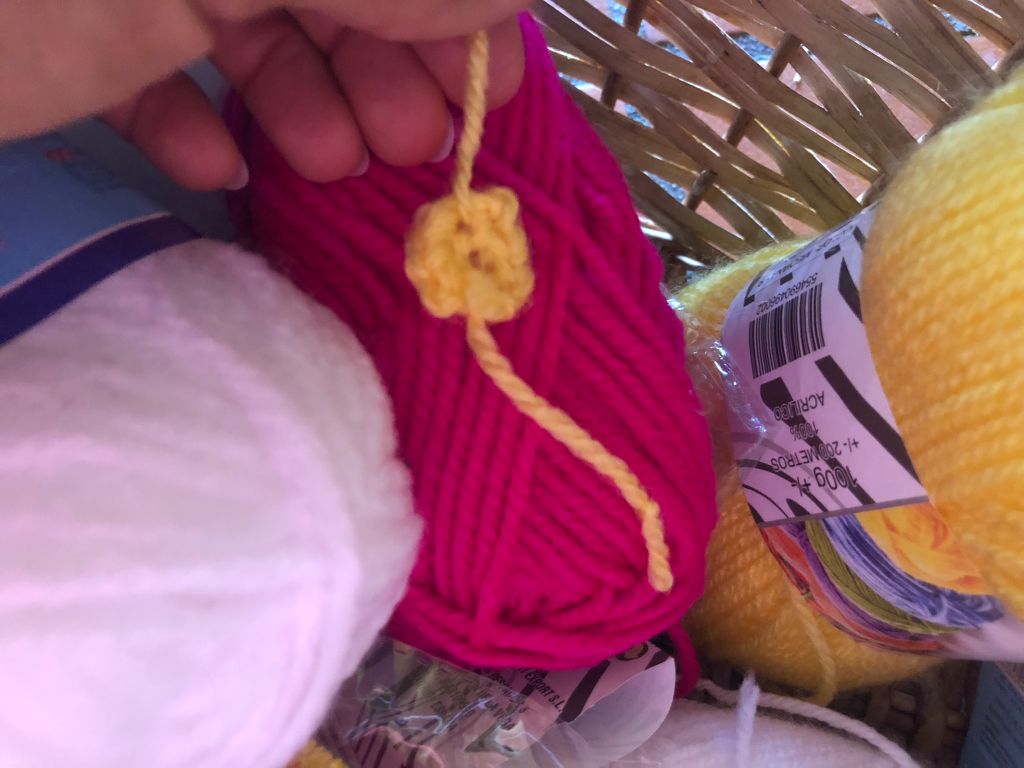 Bee Beautiful
Meet Bella & Bernard the two tiny Bees (ha ha). Did I crochet these 2 beauties? Maybe, maybe not, it's a secret (ha ha).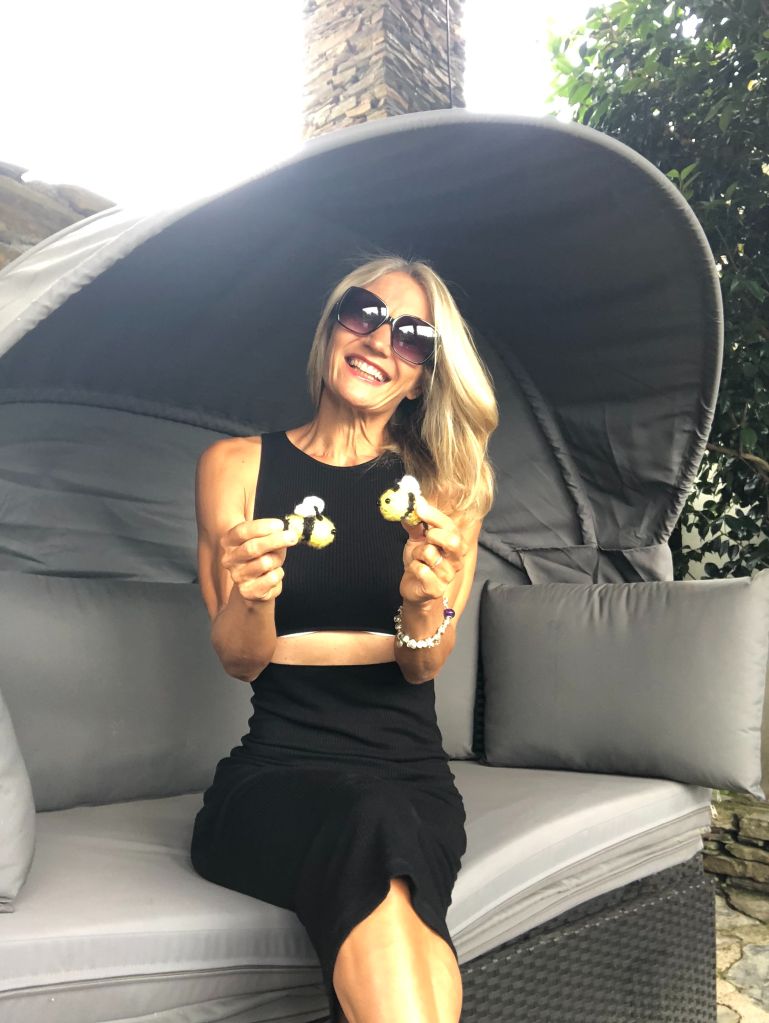 Endless Talents
Hubby's talents are endless, not only is he a Creative King but he is Casa Valhal Chef and whips up a yummy Paõ de Ló with fresh organic eggs from our chickens. This cake is always consumed over a 3 day period because we are greedy (ha ha). It is delicious accompanied with my homemade orange jam and a banana.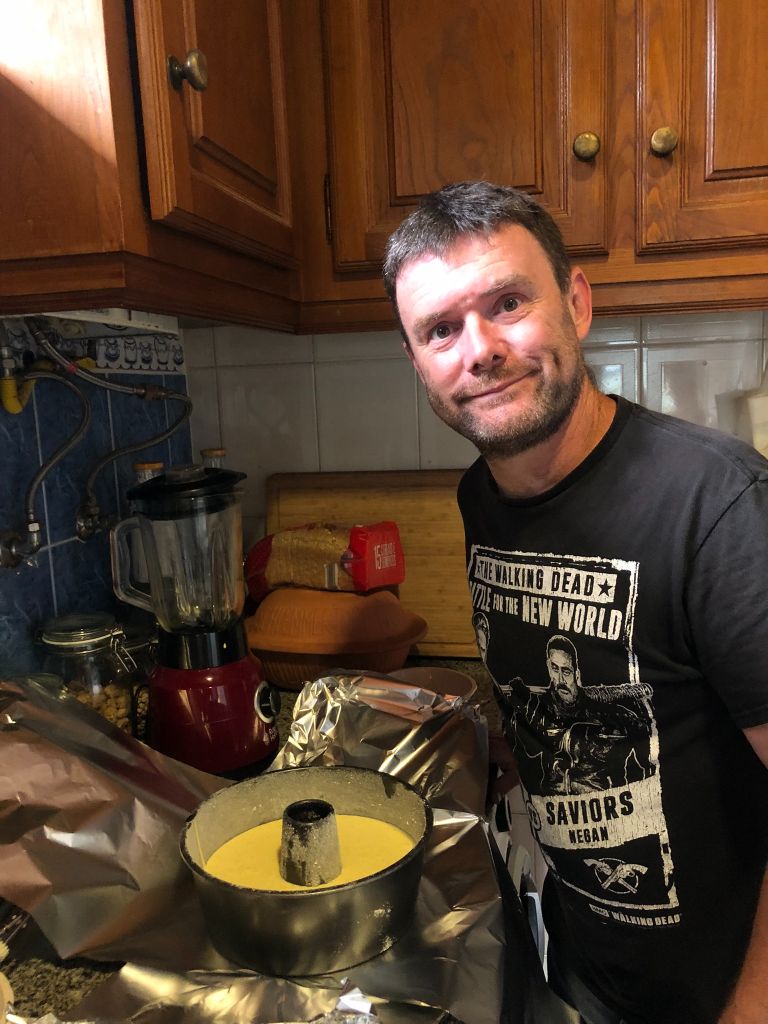 Final Resting Place
This title sounds like my burial spot! I'm not dead yet but I'm half way there and living on a prayer (ha ha). We ventured on a beautiful Sunday Funday hike in Tábua and I had planned to take my little act of random kingfisher kindness and to leave it at a secret location en-route. My hope was to make a stranger smile for a while. Unfortunately my menopausal scatty brain fog head had other ideas (ha ha). I forgot to pack it and left it on my dining table! What can I say, the good intention was there, it was just not executed on this day. It's a shame as just look at all this beauty and nature, so many awesome places I could have left it to be magically discovered.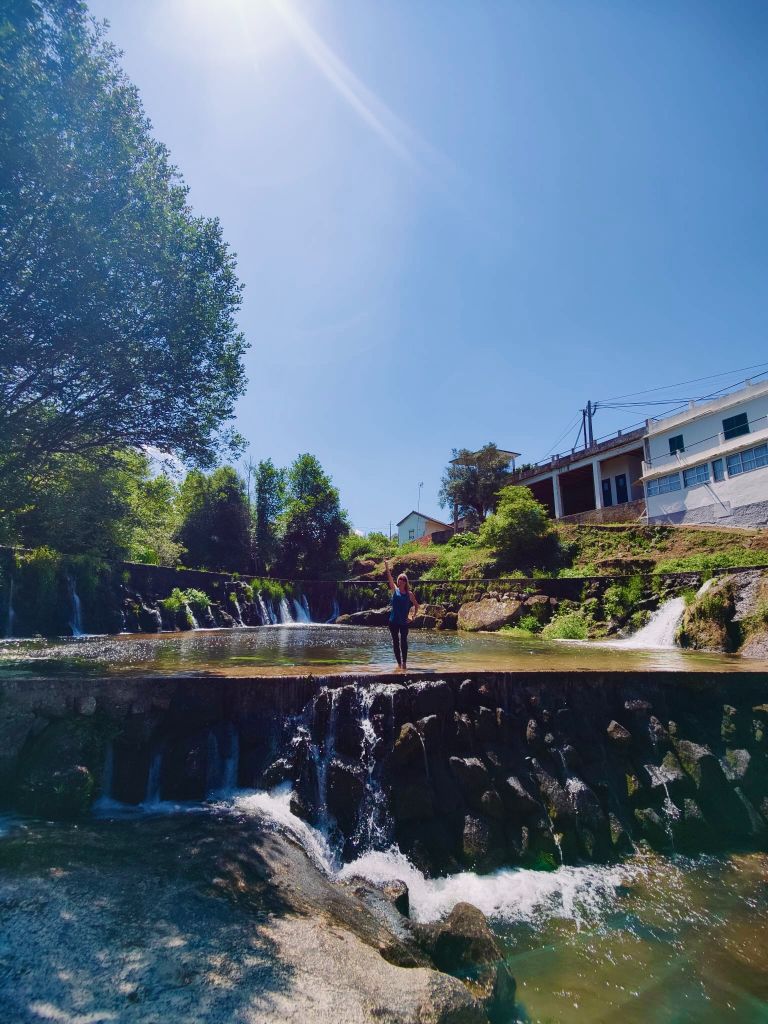 Final Thought – Let's Build a Community of Kindness
Why not join in with the Random act of kindness craze? You don't have to make something you can offer a compliment which is free and doesn't cost you a penny, give your time or buy an inexpensive treat for a stranger e.g. a coffee. The options are endless so you can be creative. If you do find any poorly made resin birds, bunnies, guinea pigs or any kind of animal amongst nature in Central Portugal, it might be mine. I hope it delivered an abundance of JOY and if not then sincere apologies, I tried (ha ha). Lets spread joy and happiness like sparkly confetti and build a community of KINDNESS.
UPDATE
On UK Father's Day we ventured on a beautiful day trip to Aveiro and I remembered to take my little Acts of Random Kindness! I left them on the pretty colourful baloiço (swing).