A DAY TRIP TO COIMBRA
Captivating Coimbra
I have only left our house on a couple of occasions since March but I needed to visit Coimbra IMT to sort my driving licence which has an extension until 30th June. Coimbra is a beautiful city and a straight forward 1 hrs drive each way from our small village. It's a major city and has so much to offer including Coimbra University which is the oldest uni in Portugal and one of the oldest in Europe. There is also the Baroque library, several chapels, monasteries, national museum, art galleries, sculptures and for nature lovers there is a hilltop garden so you can gaze out over Coimbra and the Mondego river as well as a beautiful view of the mountains. There are also botanical gardens which are spectacular. I know of 3 shopping malls: Coimbra shopping, The Forum mall and Alma shopping mall. I really like Coimbra and it has something to offer everyone. It has a great vibe but for me it's too busy a place to live, I prefer the tranquillity of the countryside but I love the fact that I can jump in a car and be there in an hour. At some point I am going to have to download a walking app of Coimbra like we did for Porto and explore all the hidden gems as there are so many I still haven't seen. It's a shame we won't be sight seeing today but we just don't have the time.
The main purpose of the trip today was to visit the IMT, Leeroy Merlin and a shopping mall. We need some paint for renovating the spare bedroom and some accessories for the office renovation. I also need some flip flops as my £1 Primarni (ha ha) flip flops have worn a hole in the sole. I purchased some expensive designer flip flops from T K Max before I relocated to Portugal but they really hurt my feet between my toes so I gave them to a charity shop and stuck to my bargain cheapo ones. What can I say I'm a bargain basement girl (ha ha).
IMT
IMT should stand for 'I'm Mad Today'. We left the house at 7am and arrived at IMT at 8am. There were 3 men waiting outside already, obviously not in any type of queue as this is Portugal and they don't queue like us Brits! I left hubby in car as last time we paid for parking only to find out it was closed so I told him to sit in car and wait for me. I joined the 3 men and waited. The signs on the window said 'By appointment only' and gave a telephone number to phone. I have tried to phone this number and every time I do no one speaks English so I get no where. I also emailed them on the general email and also the appointment email address but they have ignored all my emails. I waited outside with my face mask on for a whole hour. In this time several more people came and also hovered outside, again forming no official queue. As it was getting closer to 9am and opening time more people came and tried to push in. I could definitely feel my stress and anxiety levels rising. One bloke asked me if I was waiting, I replied yes. Did he think he could just rock up at 8.59am and just walk in first? Anyway 9am came and the security guard opened the door and called out a name then shut the door.
They indeed are only seeing people by appointment and by the look of the number of people outside they have made several appointments for 9am. Some blokes tried to speak to the security guard as they didn't have an appointment but he was having none of it. I didn't see the point pestering the security guard and he wasn't hanging around anyway. I left a bit annoyed that I had spent an hour waiting for nothing but in the back of my mind I kind of knew this was probably not going to be a successful visit to IMT. I got into our car and phoned my ex husband Carlos who is Portuguese but lives in UK. He phoned the number and spoke to someone on my behalf. Apparently they have received all of my emails just haven't replied. They know that I don't need the BE category and just need the basic B and B1 categories so they will now post my driving licence to my home address. They also confirmed that the extension to end of June has now been extended again to October. So hopefully my Portuguese driving licence will arrive some time before October. Let's hope so otherwise if I return to UK I won't be able to hire a car without a licence. Hubby and I have a bet on – which will arrive first my Portuguese driving licence or our Ryan air refund – I reckon my driving licence.
The shopping experience
Next stop was Leeroy Merlin. We needed a lot of paint and brushes/rollers to paint the spare bedroom. Now I always spend an average of 2 hours in Leeroy Merlin. It takes so long to find the items and translate the language. I took so long today I nearly peed myself! Today my favourite member of staff was working who speaks excellent English. You know most pubs have their locals who frequent a lot. Well Leeroy Merlin DIY store is my local instead (ha ha). We managed to purchase a couple of really nice light fittings for the office and spare bedroom.
Stores inside of shopping malls reopened on 1st June so we next headed to the Forum shopping mall. This is one of my favourite malls. Parking was easy and entering the mall was fine but there were some queues at a few shops. Most stores have a maximum capacity hence the queues. Primark had a maximum of 90 people but another shop had a maximum of 3! You have to wear a face mask and there is hand sanitiser at the entrances and exits of almost every store. I have never used so much hand sanitiser in my whole life! Social distancing is in place and great at the checkouts as there is tape on the floor but as far as it goes inside stores people do not understand the concept of social distancing which makes me mad. Hubby liked it when we purchased the rug as rolled up it was long and acted as a natural social distancing barrier. Anyone who got too close got a swipe of the rug (ha ha). There was also a one way system with arrows on the floor and a security guard telling you off if you go against it. I got shouted at a lot! It's really weird shopping in Coimbra Primark as the uniform is the same as the UK and my lovely daughter has a Saturday job at Primark Bristol (currently furloughed). Today I saw a young lady that looked just like Teanna from behind and for a split second, I thought it was her, then I got sad because I miss her. I managed to buy a couple of pairs of 1 Euro flip flops and a pair of leggings as I live in leggings in the garden. I also needed to buy some new knickers as someone used a pair as a duster – don't ask!
We then drove a short distance to a great retail park – Parque Mondego which has excellent furniture stores and Decathlon. Only Decathlon had moved! I'm talking about Decathlon the sports store, I did not compete in a decathlon just in case your confused. I can't exercise for 2 days solid and I'm shit at the high jump! It had only moved right next to The Forum mall (ha ha). So after a few shops we returned to Decathlon for bike stuff for hubby then we decided to check out a mall called Alma Shopping which I have never been to before but it has a store called 'Casa' which I love. Hubby kept commenting that his mask was falling down to which I replied "Just like my knickers" (ha ha).
Purchases galore
We managed to purchase:
Paint for walls
Primer and paint for floor tiles
Rollers & brushes
Rug for office
Light fittings
Trellis for garden
Shoe rack
Desk office lamp
Wall art
Flip flops, leggings etc.
Tea towels
Stuff to fix bike
Birthday pressie for sister – better late than never (it's a brown scarf!) It's actually not, that's a joke for her just in case she reads this but she is probably busy murdering some poor squirrel with her crazy cat!
Soya from the huge Continente supermarket in The Forum mall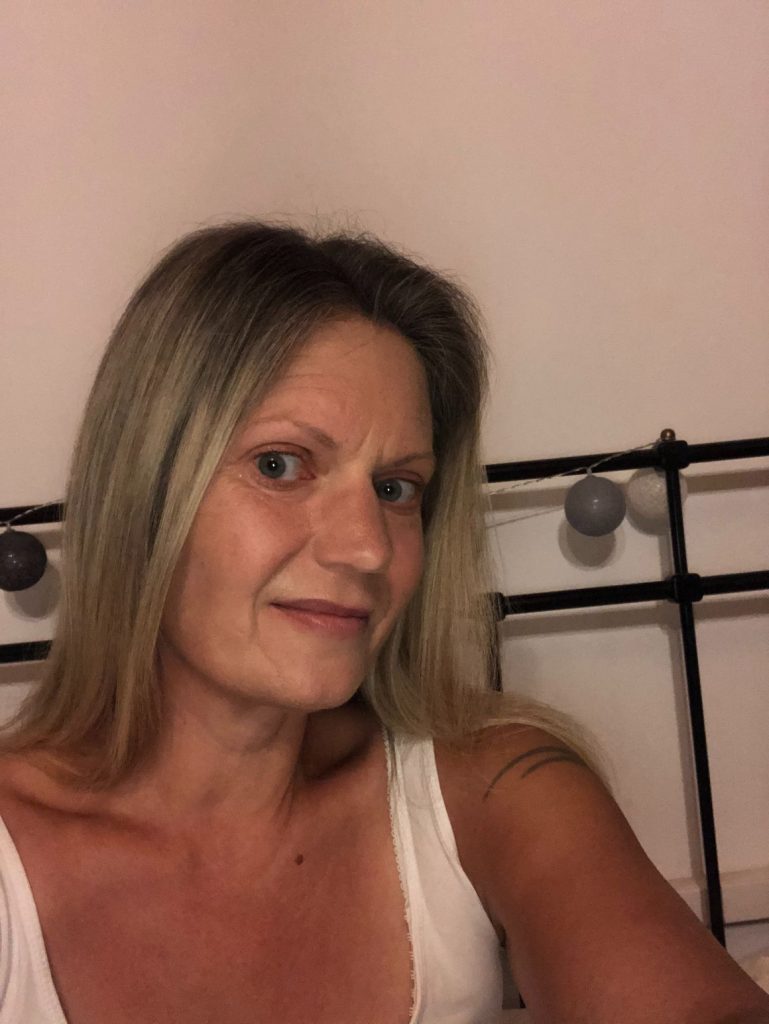 Lunch
I really wanted to visit a local Portuguese cafe for lunch but by lunch time the mask was making me feel so uncomfortable and I had a really bad headache so we had lunch at a shopping mall and afternoon coffee and cake at another mall.
Summary
I did not like waking up at 6am and today is the longest ever I have worn a face mask for. It started to hurt behind my ears today and it was really hot. The gherkins in the burger for lunch did not help as I kept burping after lunch and a trapped burp inside your mask is not a pleasant experience. I did find myself rushing around and only going into a shop I knew I wanted to buy something in, so not much browsing or window shopping which is a shame. It was an OK trip and I did manage to purchase almost everything on my list but I felt a level of anxiety for the whole day. I am much happier in my garden amongst nature listening to the bees and birds so I don't think I will venture out now for a good month or so. It's just not an enjoyable experience for me. You are able to take your mask off when you eat and drink so we had a mask break at lunchtime and during the afternoon and I did enjoy my coffee and Bolo de Arroz. We arrived home at 7.30pm so a long day for us. I think I need an early night! Next month I have the challenge of Ikea, Matosinhos – wish me luck as last time I spent 5 hours there and I didn't even get to eat any meatballs XXX