WEIRD & WONDERFUL THINGS IN PORTUGAL (THAT MAKE ME SMILE AND LAUGH)
I will update this post regularly as I am often faced daily with LOL moments.
Chicken lady – Funniest experience to date has to be an elderly lady at Arganil market. They have a stall that sells live chickens and this lady whips a chicken out of her handbag and is holding it by the scruff of its neck and shouting at the stall holder. I really wish I could have understood their conversation. By her actions and level of angriness I can only assume she had previously purchased the chicken and was bringing it back for an exchange or refund as not satisfied. Maybe it was a rubbish layer. Anyway I was thinking to myself how far did she travel with a chicken in her very nice handbag? Is this the Portuguese equivalent to returning a size 10 pair of skinny jeans to Topshop because you can't fit one leg in them but at the time you were so prepared to slim down to fit in them for your holiday but then couldn't resist office cake Friday.
Breakdown safety – You have to carry a high vis jacket, red triangle and spare bulbs in your car at all times. We often see drivers who have broken down at the side of roads and every time they have their red triangle out and their high vis jackets on. This is great but they still drive like maniacs and it makes me very puzzled as they can follow these safety rules yet they can't stick to the speed limits.
Road names in Portugal are epic – Driving anywhere with a sat nav is entertaining and still makes me laugh e.g. Avenida José Bonifácio de Andrade e Silva. This is the road leading up to the Forum shops in Coimbra and I love it as it sounds like 'Bonita fartio' on the sat nav and Bonita in one of my daughters names (she has 6!) always makes me laugh.
Parcel deliveries – They often beep for us to come down and collect a parcel as they can't be bothered to walk up our steps – there are a lot. Some couriers have phoned my husband and asked him to meet them in Côja (a 10 minute drive away) or at a nearby Cafe. We don't mind but we find it funny that a courier who had previously met my husband at a local cafe to collect a parcel called him recently and asked if he knew a lady in Vinhó and gave us the customers full name. It was clearly a non Portuguese name and this courier thought we would know them for some reason as she hadn't left a telephone number and he could not locate her address. Unfortunately we couldn't help. We are British but we don't know every Brit in Portugal.
Health and safety – out the window – Before we purchased our car we bought a gas bottle for hot water at a local petrol station and they said they could deliver immediately. We explained we had to walk home so it might take 20 minutes. We started walking and 5 minutes later the delivery driver and his colleague beeped at us and gestured they would give us a lift home. This van had 3 seats in the front and a shit load of gas tanks in the back. Adrian got in first, it's one of those high vans so you have to hoist yourself up. Anyway I am trying to also get into the van but there's not another seat. There are 4 of us crammed into this van and I can't shut the door because my fat ass is hanging out of it and there's no seatbelt for me. Driver speeds off in true Portuguese tradition and I eventually slam the door shut but it's not shut properly. I am hanging onto that door half sat on Adrian who is also half sat on the female next to him and I'm desperately trying to pray the door doesn't open and I die. That 10 minute drive lasted forever but we did have a laugh about it afterwards.
Everyone we met during our first month here was called Carlos!!!!!!!!!!!!!! Also funnily enough, this happens to be my ex-husbands name.
The sardines shop – In Porto there is a shop that sells tinned sardines with the year you were born on the tin. I don't like sardines and I don't get it. We have had more than one discussion on the WHY. Hubby said he is going to buy me a tin on my birthday every year. I responded that I will kill him and bury him in the garden and no one will ever find him! (joke).
The British aisle in supermarkets: Overpriced items that the Portuguese know the brits love and can't do without. O.K I get the tea bags, baked beans and gravy. I don't get the birds custard powder and I'm certainly not paying over 5 euros for the tinniest jar of marmite. Don't get me started on the Fray Bentos tinned pies!
Intermarché supermarket in Arganil has a launderette in the car park. Wash your pants as you shop, why not?
Translating documents – Often places have a notice put up in Portuguese and I use my phone to translate to English. Sometimes it doesn't translate properly and I find it hilarious. Presently the Arganil town hall is closed for 10 months due to refurbishment so you have to go to the Citizen Space next to the Finance Office. Their notice translates that the roof is leaking and it's raining indoors! Also a garden construction company listed Low maintenance gardens, garden of varied styles, grass on carpet, poop or seed! Hilarious.
Entering/leaving village signage – When you enter a village you will see a sign with the name of the village. When you pass through that village instead of just seeing a sign for the next village you will also have the same first sign with a red cross through it letting you know you are leaving that village. I find this strange. Sometimes in the UK you would see a sign saying thank you for driving safely through our village but never an entering and leaving sign.
Plunge pools – I found them hilarious before I came here. A silly little pool that you can't swim in because it's not big enough to swing a cat – not advisable by the way! After spending more than 1 boiling hot day in March in the garden I have changed my mind. I get it now as you get so bloody hot a quick plunge then back to gardening work seems like a plan – they still make me laugh though.
It's illegal to urinate in the ocean (pee in the sea) in Portugal. I need to remind hubby of this before we go surfing in Nazaré as it's quite a lengthy process getting out of a wet suit. I can easily pull a muscle trying to get my jeans off so a wet suit is gonna take some effort on my part and most likely be a 2 person job!
The locals: 3 old ladies in my village – unless it is raining you will see then sat on this particular bench chatting, eating or knitting. Just 3 friends chilling on a bench. When it's really hot they have huge straw hats on. They always bring a smile to my face. They seem to find it funny when we jog past them too.
Doorbell, what doorbell! No one uses the doorbell here, well we don't actually have a doorbell but we do have a front door with a knocker which is technically on the side of the house. Instead people just shout from outside.
2020 or 1990? Portugal in some aspects is stuck 30 years behind other countries yet we have super fast fibre optic internet in a rural village.
The Capela dos Ossos (Chapel of Bones) is one of the best known monuments in Évora, Portugal. The Chapel gets its name because the interior walls are covered and decorated with human skulls.
There is a town named 'Fail' in Viseu, Portugal. Lucky for us we live in 'Vinhó' which translates to 'Wine' in English. There is also a small town named 'Cansado' which I often drive past, this translates to tired!
Boa Tarde or just a simple turd! – when we first moved here I was working in the garden and many passers by shouted 'Turd' at me. This confused me as I thought gosh maybe they don't like us Brits, then I realised that they were saying 'Tarde' a shortened version of 'Boa Tarde' (good afternoon) ha ha – no turds thank goodness. We have got to know the locals now and there is a super friendly lady with an over zealous wave who passes by everyday, I love this lady already.
A Portuguese brought the habit of drinking tea to England. Catharine of Braganca, a Portuguese princess, and Queen of England, introduced the habit of drinking tea in England. Though she did not introduce Tea, she made it a fashionable and widely drunk beverage. She was also responsible for the English using forks at dinnertime. It's a damn shame she didn't tell the Portuguese how to actually make a decent cup of tea! Ha Ha.
Axe man (run for your life) – you will often see men and ladies walking down the country lane pushing a wheelbarrow or carrying a bucket. On our first jog we encountered a man with the hugest axe you have ever seen. Just walking with a huge axe on his shoulder. Now I've watched all the films on netflix and a man with an axe is never a good ending. I was a little worried that if I jogged past him too closely that I might startle him so I gave him a wide birth.
Getting heckled by a Portuguese man on one of my jogs. He found it very funny to shout 'run faster' in Portuguese, accompanied with rapid running man arm movements, I wouldn't mind but the only 6 pack he has is in his fridge.
Scary ass dolls head – scroll down for photo if your feeling brave.
They pump your gas – the staff pump your gas (petrol) for your car at the local petrol station – we don't get this service in the UK and it makes me feel like royalty. Due to current situation they are no longer pumping gas so you have to do it yourself.
Washing – The Portuguese know how to dry clothes – they have many imaginative ways of drying their clothes on a sunny day – I have seen weird lines running between flats which always makes me laugh but I suppose they don't use tumble dryers here as such nice weather they wash then hang out where ever.
Pharmacies and cafes – There are so many pharmacies everywhere. You will never be short of a pharmacy or cafe.
Merry Christmas, have a banana – Braga apparently has a very unique Christmas tradition where every year, on December 24th, people from all over the city come together to eat bananas and drink Muscatel at Casa das Bananas on Rua do Souto. Count me in, I'm partial to the odd banana.
The river of oranges – you may have heard my rant about the orange tree that sits between our house and our neighbours house. The oranges hang over the wall and fall daily onto the road below then cars run over them making a huge mess. What I have now discovered is that when it rains, it washes the oranges into the drain that runs the length of the road. It forms a little river in the drain channel and the oranges are swept along and travel down the road and end in a neat pile by our car. Fun to watch too! If your bored there is a video on Casa Valhal Instagram.
Portuguese phrases. My favourite is: We are not "clumsy" we just "look like a silly/dizzy cockroach" ("Barata tonta"). Perfect phrase for accident prone us!
Size matters – Lovely short Portuguese lady in supermarket asked my hubby a question in Portuguese. We explained we speak little Portuguese and she then asked in English "Can I borrow your height?" We laughed hard as hubby is 5ft 7 and I'm 5ft 4 so hubby has never ever been asked to reach for something off the top shelf before. He was delighted, the lady was 4ft nothing and her hubby was in a wheelchair, bless her, she made my hubby's day, he now thinks he is a giant and can conquer the world!
Peas on a pizza – WTF, I only just got used to the egg on a pizza.
I order a coke with no sugar and get 2 beers instead.
Staples – The Portuguese love to staple receipts together. Whether your in a DIY store or a supermarket the staff will take time to staple the two receipts together. Just think how many staples they must get through!
Millie – Remax's mascot who accompanied our 1st house viewing and trip to the Notary, bless her. Check out her tiny Remax coat in the photo below.
Tabards, buckets and cabbages – all the ladies in my village wear a tabard and carry a bucket with a cabbage in it! Teanna said she is going to buy me a tabard for Christmas but bling it up, a bit like 'Pimp my ride'. She is going to sew titty tassels on my tabard!
Water – If you buy water at a cafe/restaurant, 'Fresh' is bottled water from the fridge and 'Natural' is tap water. Took me ages to work this out (ha ha).
Tiles – I love the blue and white tiles but some houses are covered in weird tiles on the external walls.
Dogs – whilst driving or pottering in the garden you will see a dog on it's own go past. At first I thought gosh there are tons of stray dogs but most have collars and look well kept. I really think they belong to someone and just take themselves off for a walk. I worry about them being hit by a car and we have already had several near misses. When I see one I can't help but sing 'Maybe Tomorrow' – The Littlest Hobo TV show theme tune to myself:
There's a voice that keeps on calling me
Down the road, that's where I'll always be.
Every stop I make, I make a new friend,
Can't stay for long, just turn around I'm gone again
Maybe tomorrow, I'll want to settle down,
Until tomorrow, I'll just keep moving on.
Down this road that never seems to end,
Where new adventure lies just around the bend.
So if you want to join me for a while,
Just grab your hat, come travel light, that's hobo style.
Maybe tomorrow I'll want to settle down,
Until tomorrow, the whole world is my home.
So if you want to join me for a while,
Just grab your hat, come travel light, that's hobo style
Maybe tomorrow, I'll want to settle down,
Until tomorrow, the whole world is my home.
There's a world that's waiting to unfold,
A brand new tale no-one has ever told.
We've journeyed far but you know it won't be long;
We're almost there, we've paid our fare with a hobo song.
Maybe tomorrow, I'll find what I call home,
Until tomorrow, you know I'm free to roam.
So if you want to join me for a while,
Just grab your hat, we'll travel light, that's hobo style.
Maybe tomorrow, I'll want to settle down,
Until tomorrow, I'll just keep moving on.
Until tomorrow, the whole world is my home.
I am having this song at my funeral along with Michael Jackson's 'Man in the mirror' and 'Make me a channel of your peace'. Family – be prepared to sing and wear fancy dress! It's all in my will.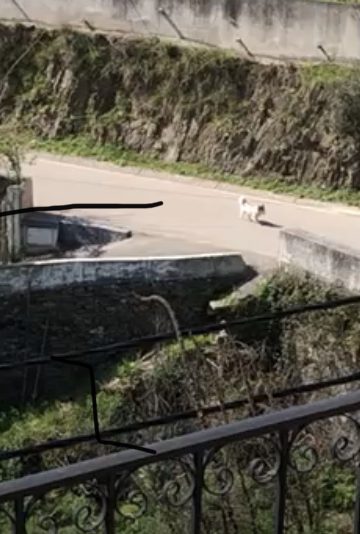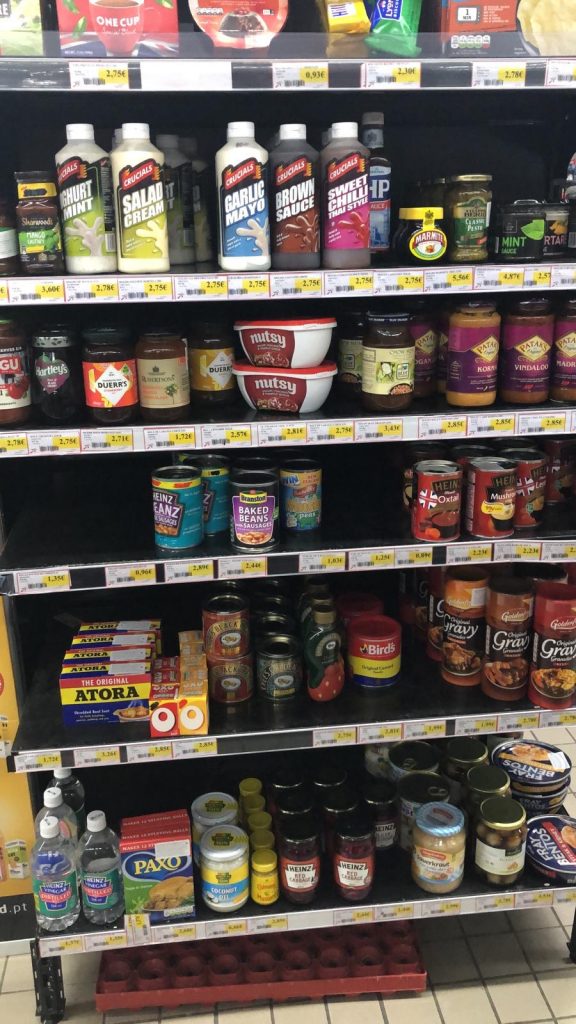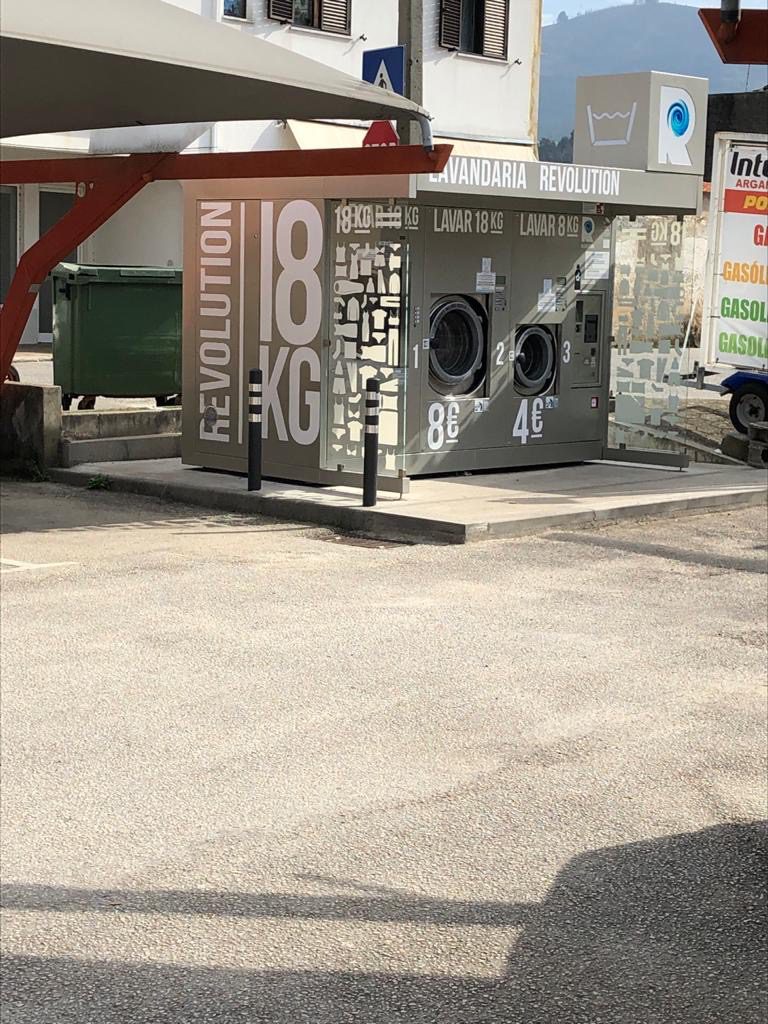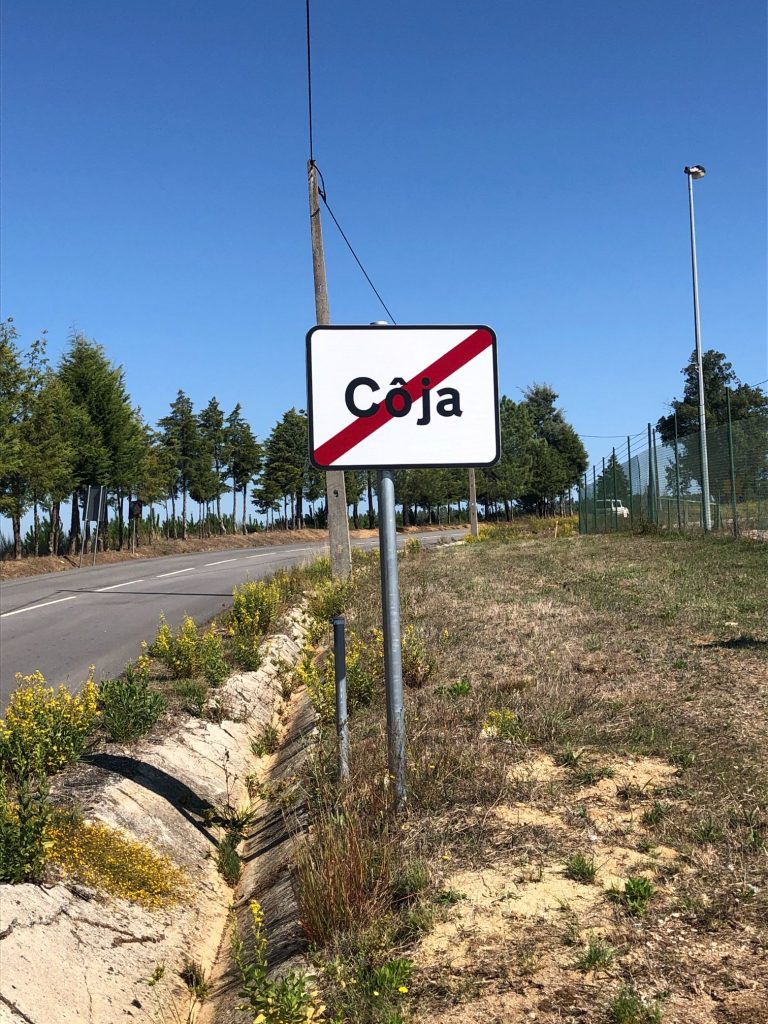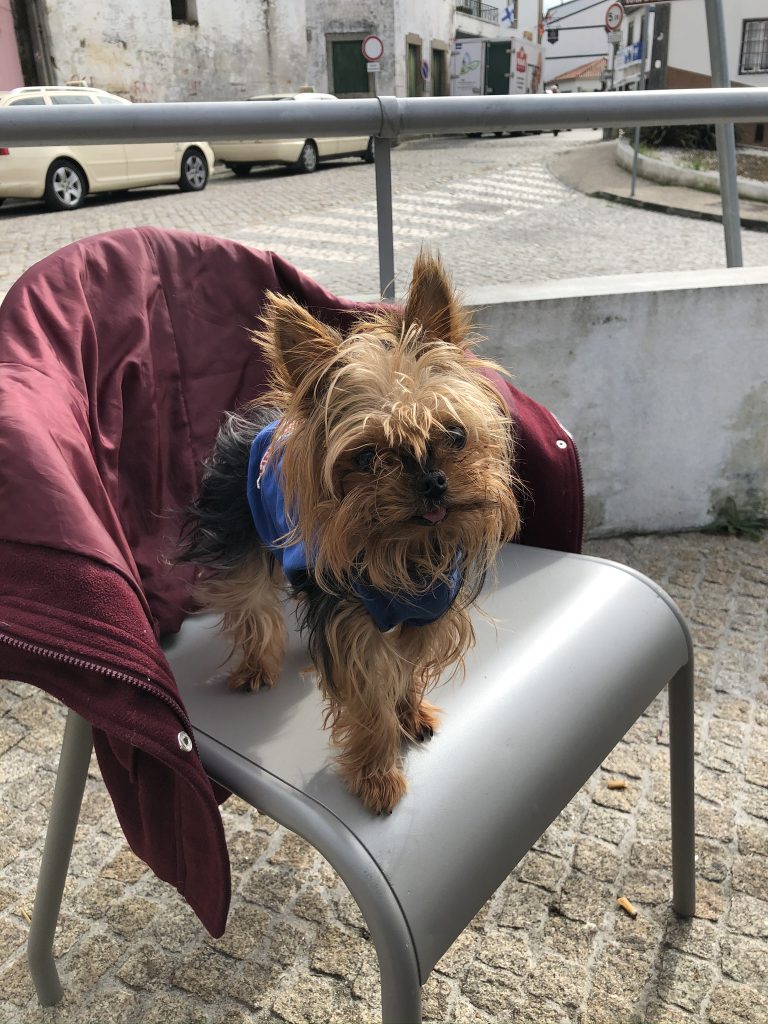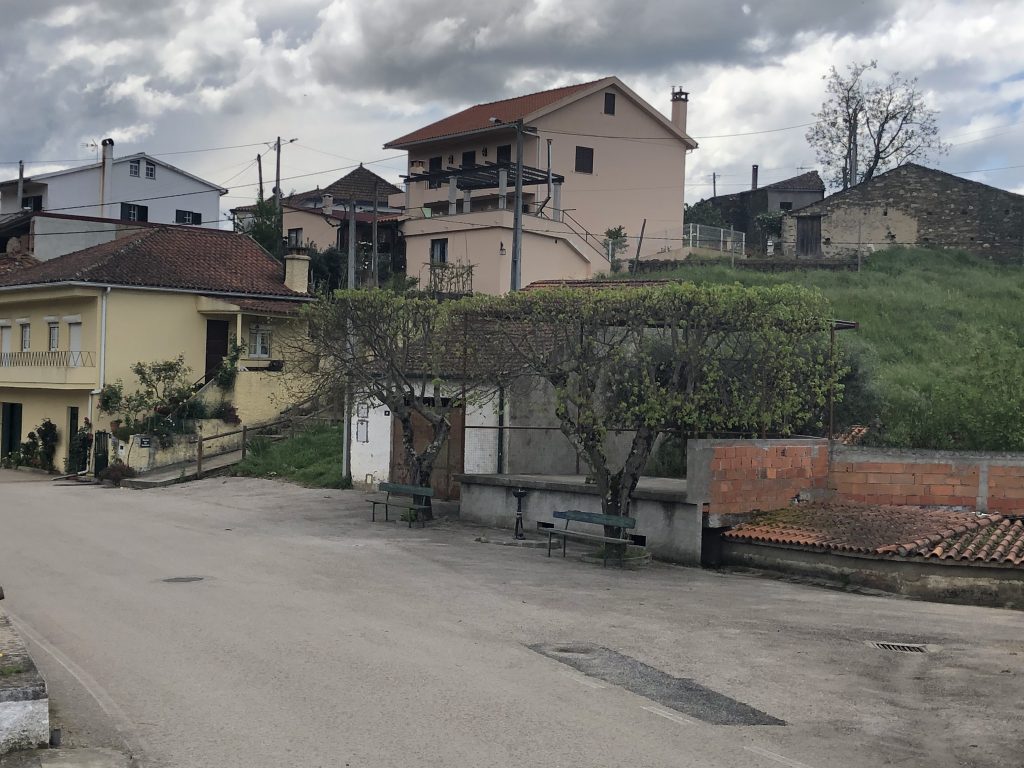 THE SILENT EMPTY BENCH – I CAN'T WAIT FOR MY LOVELY TRIO OF LADIES TO RE-VISIT THEIR BENCH AS WATCHING THEM HAVE A NATTER WHILST KNITTING AND SNACKING ON PORTUGUESE DELIGHTS BRINGS A SMILE TO MY FACE EVERY SINGLE TIME
I SAW THIS ON MY JOG TODAY. NOT GONNA LIE IT FREAKED THE SHIT OUT OF ME. FROM A DISTANCE I THOUGHT IT WAS A FOOTBALL, THEN I GOT CLOSER AND THOUGHT IT WAS A SEVERED HEAD, I REALLY NEED TO GET MY EYES CHECKED OUT. WHAT IS IT ABOUT DOLLS THAT FREAK ME OUT SO MUCH? WE ONCE VIEWED A HOUSE IN RADSTOCK, UK AND EVERYTHING IN THE HOUSE WAS PURPLE, CARPET, FURNITURE, CURTAINS ETC. IF THAT WASN'T OFF PUTTING ENOUGH THE SELLERS A MIDDLE AGED WHITE COUPLE HAD LOTS OF SCARY BLACK DOLLS POSITIONED ALL AROUND THE HOUSE, I HAVE NO CLUE WHAT THEY WERE THINKING OR THE STORY BEHIND IT BUT IT WASN'T A STRONG SELLING TACTIC AND NEEDLESS TO SAY WE DIDN'T PUT AN OFFER IN! IF THIS DOLLS HEAD DOESN'T CREEP YOU OUT YOUR BRAVER THAN ME.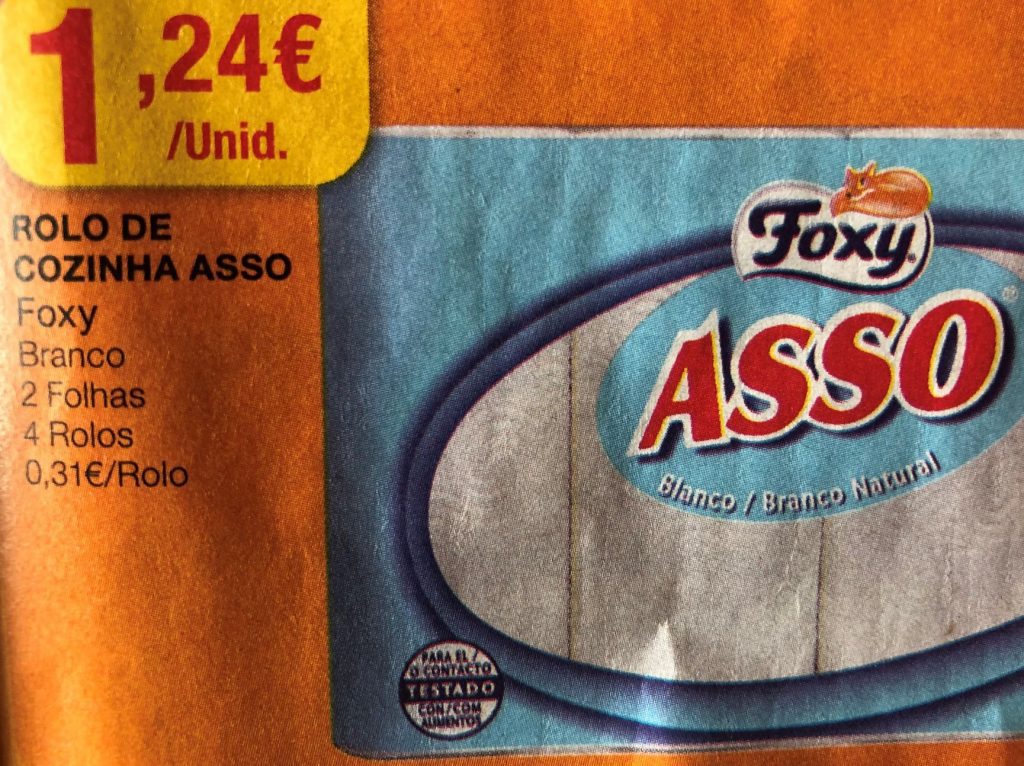 SOME OF THE PRODUCT NAMES MAKE ME LAUGH. THIS KITCHEN ROLL IS CALLED 'FOXY ASSO' I THINK IT WOULD MAKE A BETTER NAME FOR TOILET ROLL AS MY ASS IS SO FOXY (HA HA).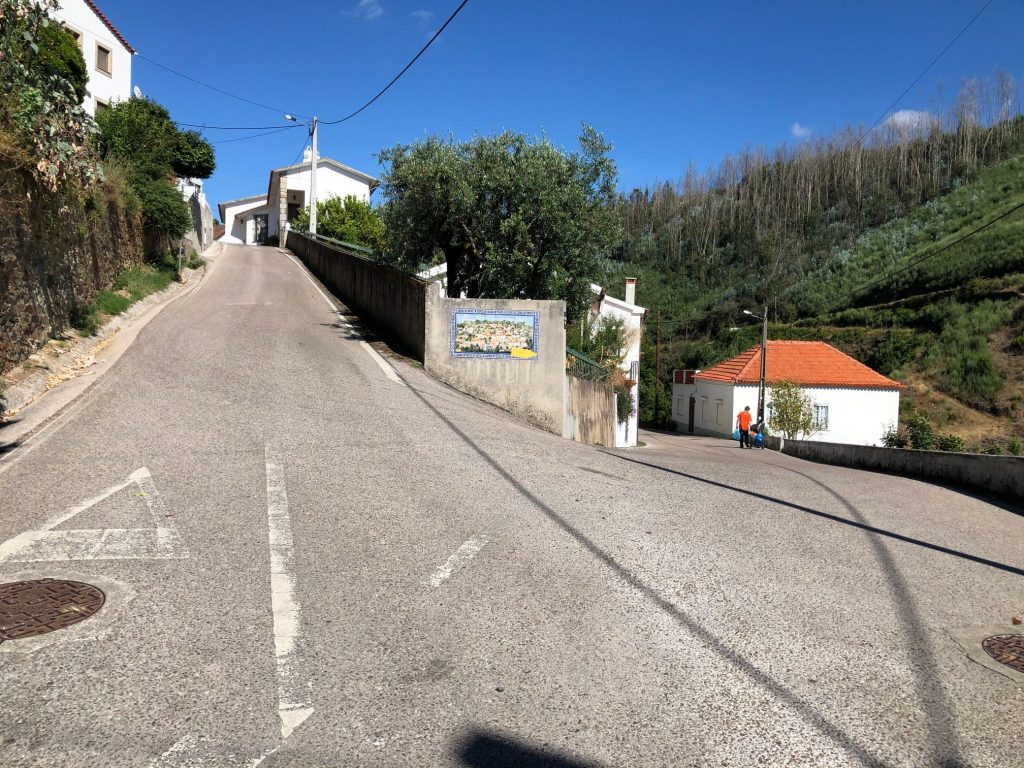 THERE IS CURRENTLY A ROAD DIVERSION NEAR US SO PEOPLE HAVE TO DRIVE PAST OUR HOUSE TO GET TO PIÓDÃO. ONCE THEY GET PAST OUR HOUSE THERE IS NO FURTHER SIGN AND EVERYONE DECIDES TO TAKE THE LEFT TURN INSTEAD OF RIGHT. THE PEOPLE WHO LIVE TO THE LEFT MUST BE GETTING FED UP OF TOURISTS DOING U TURNS IN VINHÓ SO SOMEONE HAS MADE A HAND WRITTEN SIGN – GENIUS! THIS MADE ME LAUGH A LOT.
I SENT HUBBY INTO SHOP TO BUY ITEMS FOR A PICNIC AND HE RETURNED WITH THESE HAM AND EGG CRISPS. HE OPENED THEM IN THE CAR AND OMG IT WAS LIKE SOMEONE HAD RELEASED THE STINKIEST FART EVER! IT WAS VILE, WE ALL BLAMED EACH OTHER THEN REALISED IT WAS THE CRISPS. TEANNA THOUGHT IT WAS HILARIOUS. THEY TASTED RANK AND I DON'T KNOW WHO CAME UP WITH THE IDEA OF EGG CRISPS BUT IT'S WRONG. THE SMELL LINGERED FOR A FURTHER 90 MINUTES TO THE POINT WHERE I WAS HANGING OUT OF THE WINDOW TO BREATHE IN SOME FRESH AIR.
TOILET SIGNS ARE WEIRD AS HELL! THESE ARE BOTH SIGNS FOR FEMALE TOILETS AND I HAVE WALKED INTO THE MALE TOILETS (BY ACCIDENT – HONESTLY) ON MULTIPLE OCCASIONS. IT'S VERY STRESSFUL TRYING TO WORK OUT WHICH IS THE MALE AND FEMALE TOILETS. DON'T GET ME STARTED ON THE LACK OF TOILET SEAT, PAPER, LOCK AND SOMETIMES LIGHT. I'M FED UP OF SQUATTING AND I'M NOT SURE HOW MUCH MORE MY THIGHS CAN TAKE (HA HA).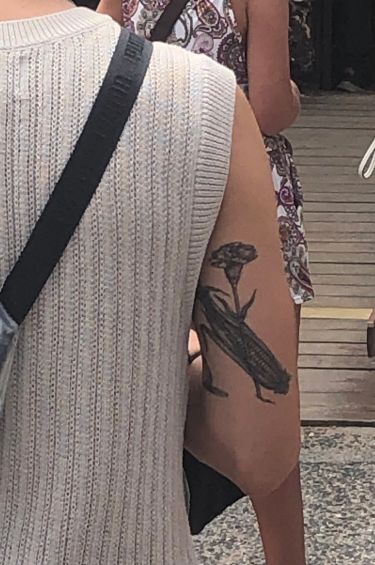 THE CORN ON THE COB TATTOO! NOW I QUITE LIKE TATTOO'S, I HAVE A COUPLE AND I WAS STOOD BEHIND THIS BLOKE IN A QUEUE AND I REALLY WANTED TO ASK HIM WHY A CORN ON THE COB TATTOO? MAYBE HE HAS FOND MEMORIES OF PICKING CORN IN THE FIELDS WITH HIS MUM AS A CHILD OR MAYBE HE JUST LIKES CORN, I HAVE NO CLUE BUT IT'S WEIRD AS HELL!
MY DAUGHTER SPOTTED THIS LADY LOOKING VERY THOUGHTFUL STOOD ON HER BALCONY GAZING OUT AT THE WORLD. THEN WE GOT CLOSER AND REALISED IT'S A MANNEQUIN, WTF!!!!!!!!! I HAVE NO WORDS FOR THIS. I HAVE AN IDRIS ELBA MANNEQUIN ON ORDER FOR MY BALCONY (HA HA).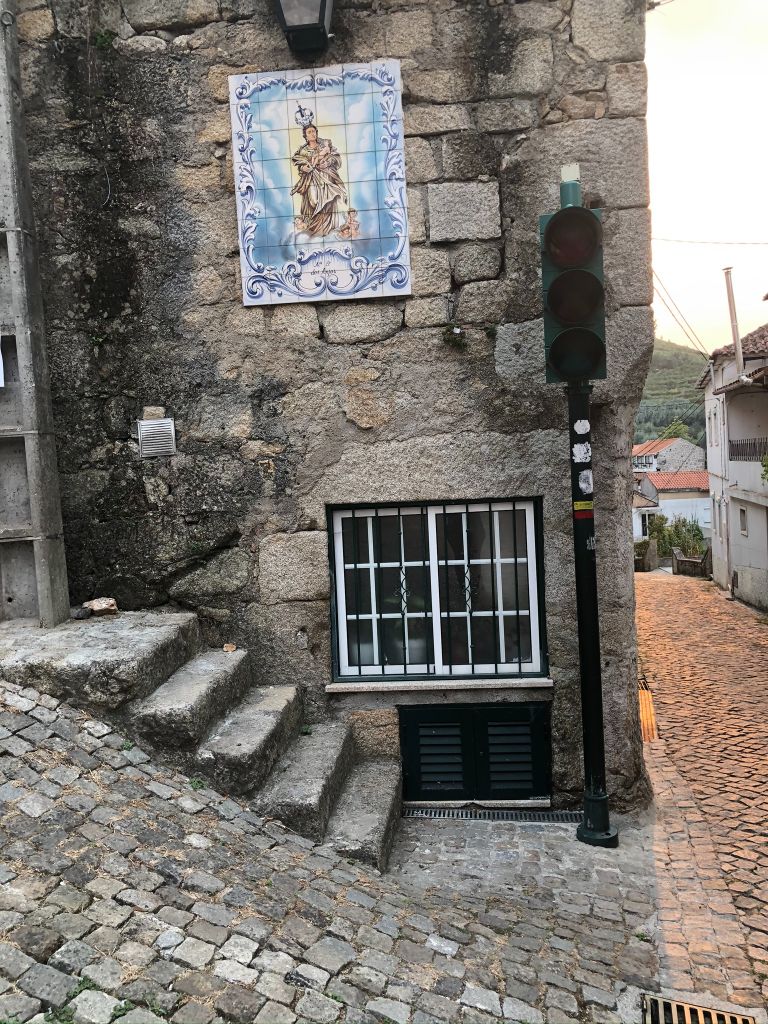 FOUND THIS QUIRKY LITTLE HOUSE WHILST ON A SCHIST WALKING TRAIL. WHAT THE HELL IS THAT TRAFFIC LIGHT FOR? HA HA.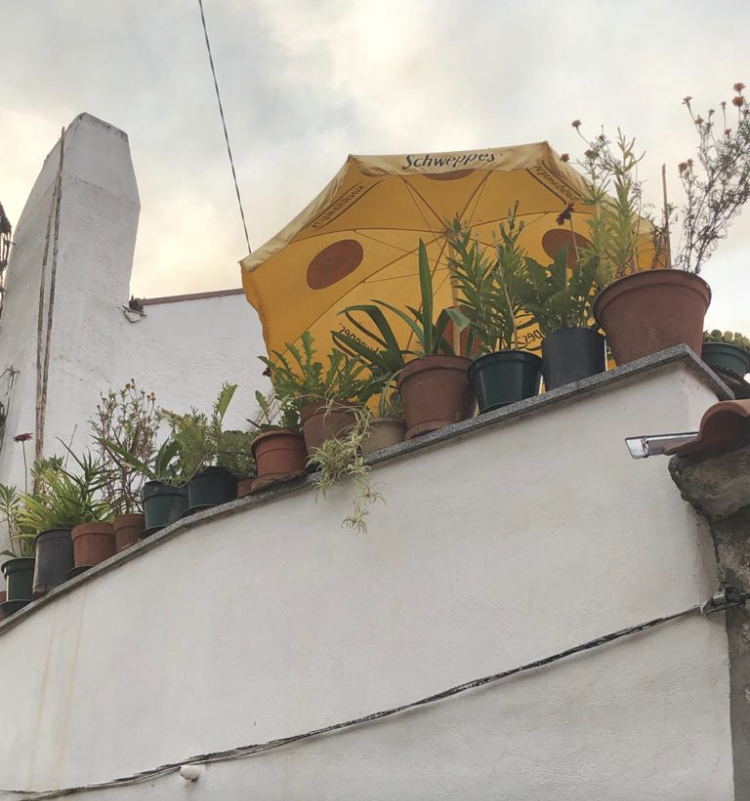 IT'S SO HOT HERE THAT EVEN THE PLANTS GET THEIR OWN PERSONAL SUNSHADE.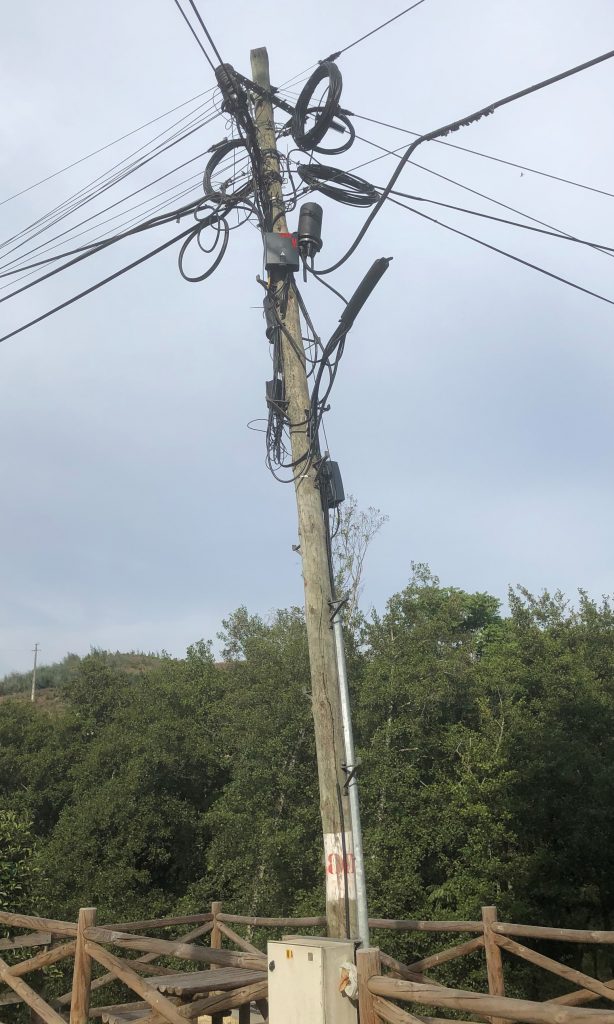 THIS POST MADE ME LAUGH, NOT ONLY IS IT BENT AND LOOKS LIKE IT'S GOING TO FALL, CHECK OUT ALL THESE WIRES, HEALTH & SAFETY OUT THE WINDOW!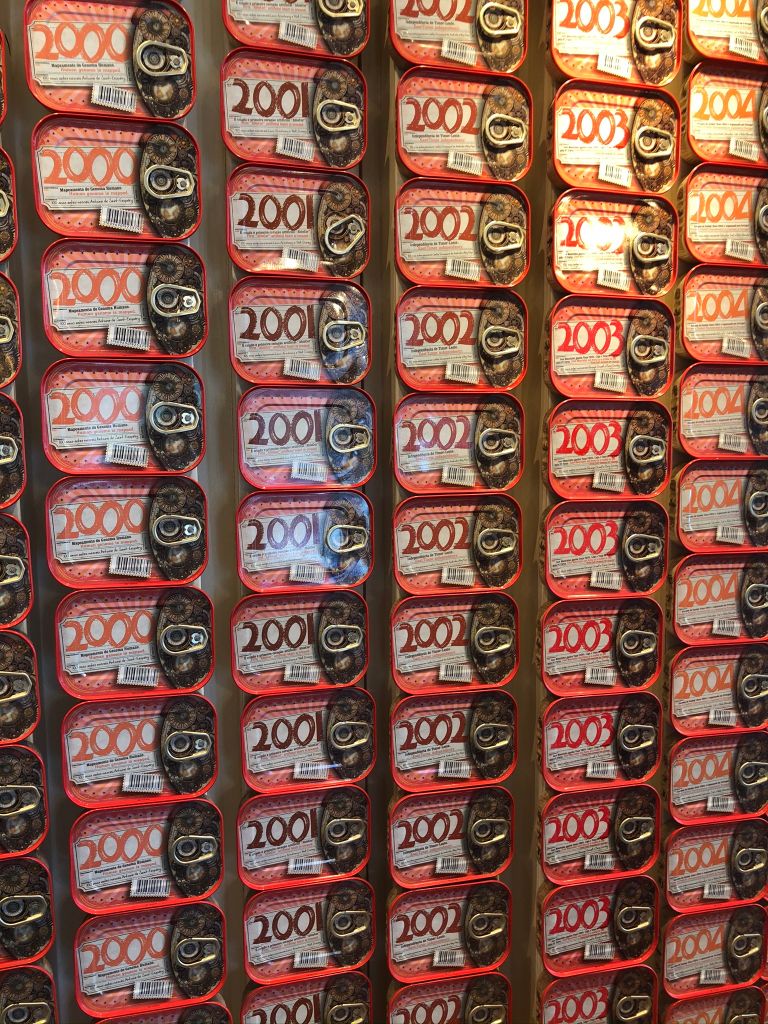 THE FAMOUS SARDINE SHOP SELLS TINS OF SARDINES WITH YOUR DATE OF BIRTH ON THE TIN, I HAVE NO IDEA WHY. I DON'T GET IT AND WE HAVE HAD MULTIPLE CONVERSATIONS ABOUT IT. I STILL DON'T GET IT!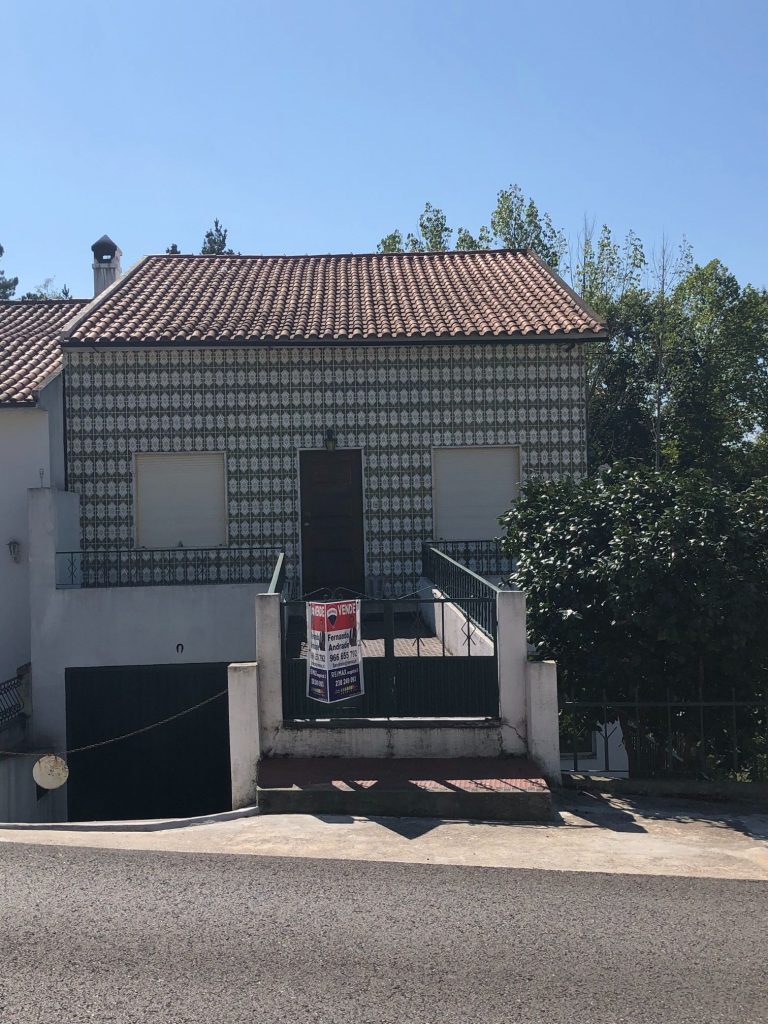 THIS HOUSE IS FOR SALE, JUST LOOK AT ALL THOSE GREEN TILES! NOT FOR ME (HA HA).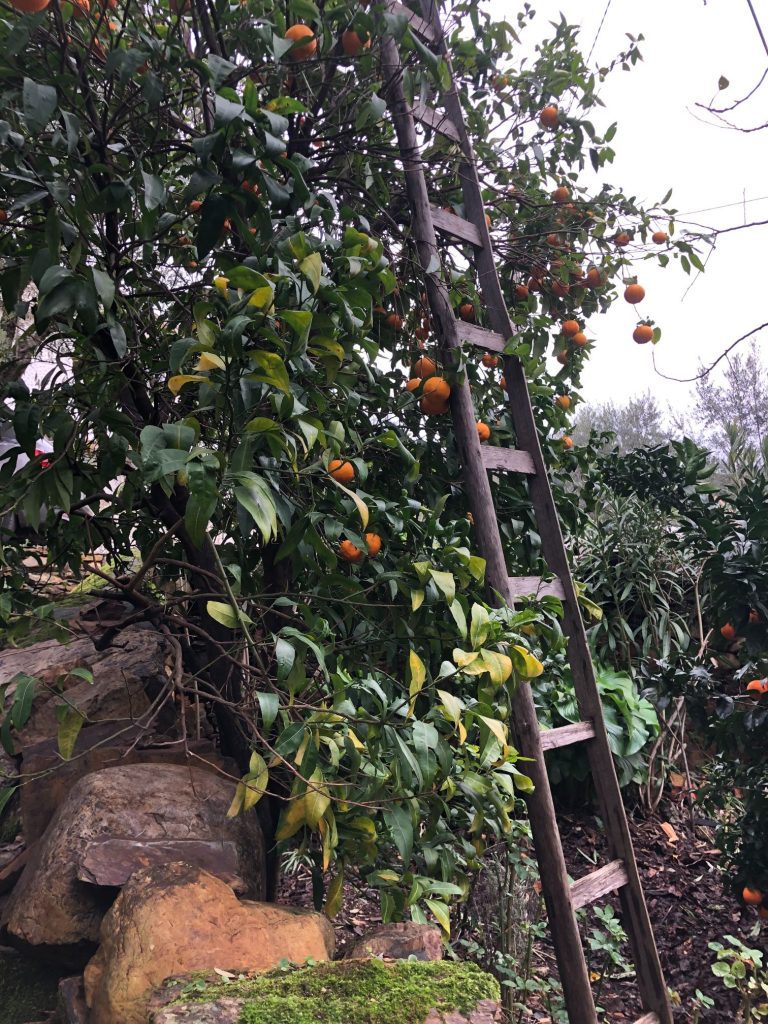 THIS LADDER AGAINST THE ORANGE TREE MADE ME LAUGH. IT'S AN ACCIDENT WAITING TO HAPPEN! I THINK MY HOMEMADE ORANGE PICKER IS A SAFER OPTION BY FAR!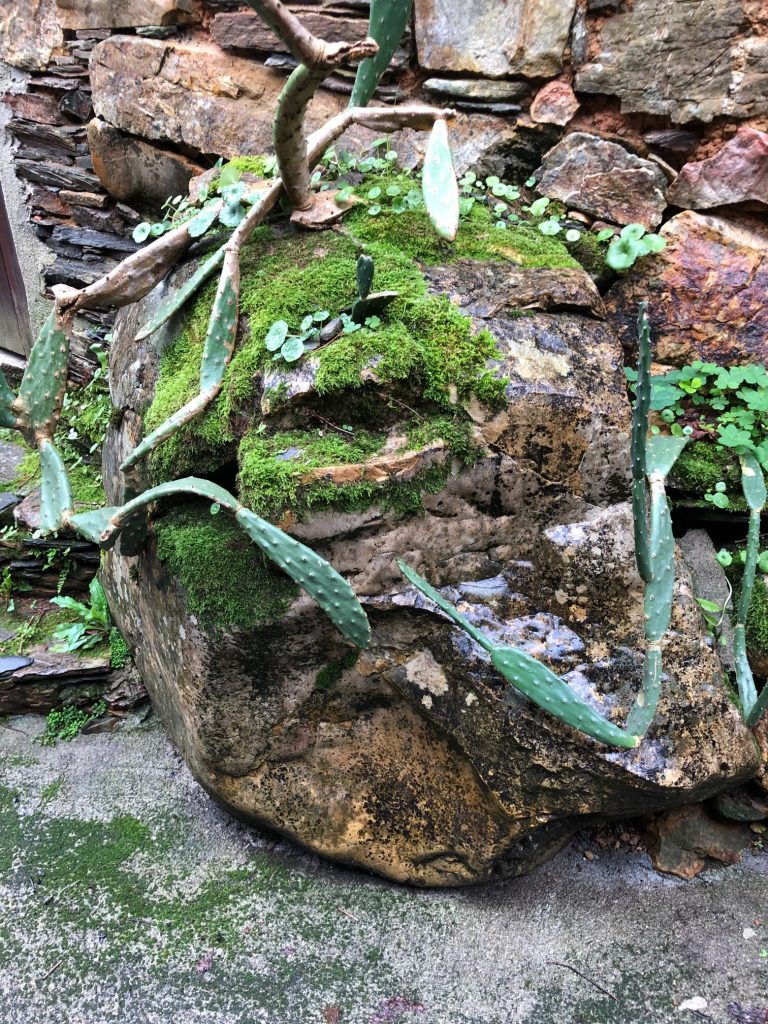 THIS PROVES MY POINT THAT PRICKLY PEAR'S GROW ANYWHERE!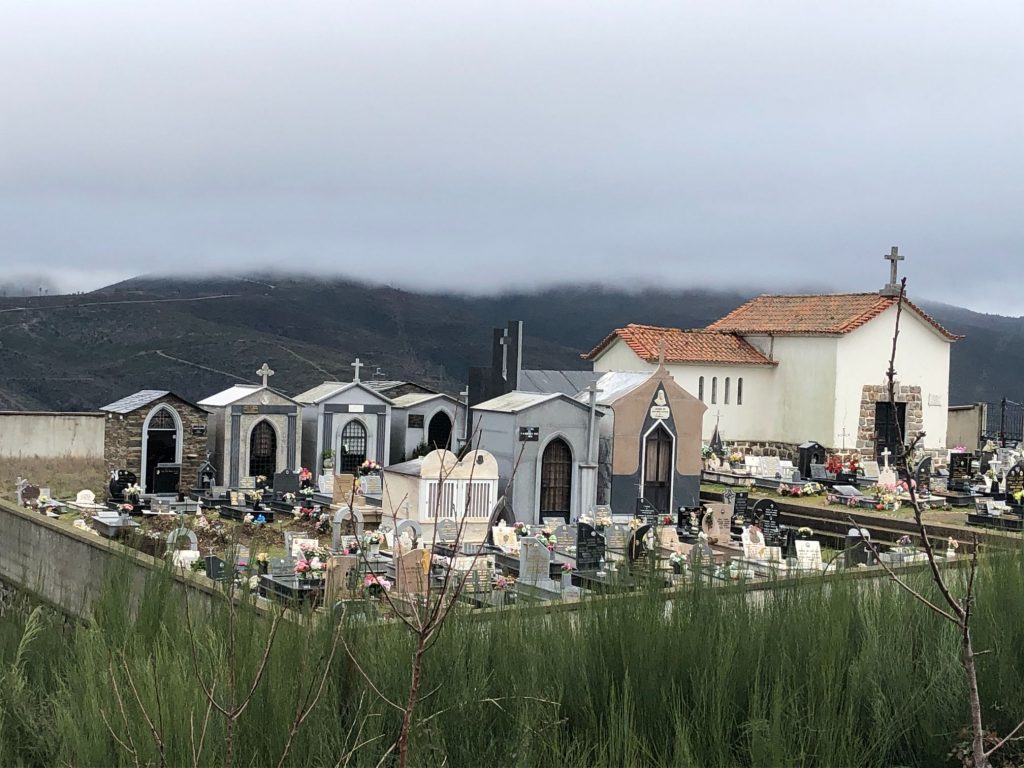 I ABSOLUTELY LOVE THIS LITTLE CEMETERY. HOW WONDERFUL IT IS WITH LITTLE BUILDINGS THAT LOOK LIKE BEACH HUTS FOR THE DEARLY DEPARTED.
THIS IS WHAT A TRAFFIC JAM LOOKS LIKE IN MY VILLAGE.
We stumbled across this weird and wonderful little wash room whilst on one of our hiking schist trails. The villagers still use it to wash clothes the old fashioned way and I suppose it's the equivalent to a U.K launderette.
We also stumbled across the above ruins whilst on the same hiking trail. The old ruins intrigue me so much as they are everywhere and I often wonder what the story is behind each and every one and how they got in such disrepair. A lot of the time Portuguese people may pass away and live in a very rural area and the house then gets passed down to various family members. I can only assume that none of them want the challenge or have the money to fix the houses and over years they start falling down. The younger generations also don't wish to live in small villages away from the cities as jobs are limited and they may need to stay local to cities for employment. Who knows their true story but I find them fascinating.
On part of the same hike we walked through an area which had tons of bees and quite a few liked my hair. Then I spotted a row of Portuguese bee hives. I bet the honey from these hives is spectacular, I love honey, there are a few honey festivals in Central Portugal and I would love to attend in the near future when festivals are back on.
We stumbled across this crazy ass house on a schist hiking trail. When you live in a terraced house and you can't build sideways, build upwards to the sky!!!!!! Hilarious.
The make-shift hot tub: Agriloja have this huge garden tub for sale! It was scorching today so I nearly bought it for the garden, I was thinking I could sit in it and hubby could hose me down with my new garden hose that shrinks, expands and looks like a snake, I could have my very own plunge pool (ha ha).
A huge green bear in Parque Verde, Coimbra, just wonderful!
The crazy Sardine shop which I have already mentioned some time ago. We visited the shop in Porto but have now found the same shop in Coimbra. This time I purchased a very overpriced tin of fish for my cousin back home in Bristol.
A beautiful Rainbow water display in a Coimbra park. Who doesn't like a rainbow!!!!!
Yarn bombing in the street of Coimbra, love it!
Someone has a display of Snow White and the 7 dwarfs in their front garden (ha ha).
Some very strange but wonderful sculptures in a local garden.
On one of my day trips I really needed the loo whilst we were driving. I have OCD and huge anxiety about using public toilets and I have used some horrendous ones in petrol stations so I was overjoyed to see a sign for a beauty spot and park with picnic area and WC. It looked so promising but I was faced with this! I am used to not having a seat here in Portugal and no toilet paper so I always carry tissues but I've not ever encountered a squatty potty floor toilet yet. The smell was so bad but I had to pee. It was horrendous, so bad that I had to take a photo to show hubby who was sat in the car. The worst part was I sprayed pee pee on my bloody leg! (ha ha).
I found it rather strange and funny that this little sachet of sugar that came with my coffee has a Portuguese idiom on the back, not relating to coffee at all. My Portuguese is still limited but I think it translates to: When the mouse leaves the house the cats walk! WEIRD.
We were SUP boarding at the Mondego river and packing up our stuff when this truck drove in to the picnic area. It has a 2 seater sofa with 2 ladies sat in the back! I have never laughed so much in my whole life, only in Portugal! I had to be discreet in taking the photo as I got caught last time taking a photo of the Donald Trump look a like, his lady friend was not impressed. I wonder if it is his chat up line. "Hey ladies, fancy a ride in my open top vehicle? Hop in the back and feel the wind in your hair" (ha ha).
Another day another doll head! I was near the end of my evening run and I thought I saw a dead animal in the middle of the road so I obviously had to investigate as I often find dead cats and dogs which traumatises me. Turned out to be another horror movie scary ass dolls head! No body just a dirty head! This is the second time I've found a dolls head in my village and it scared the shit out of me (ha ha). I really need to get my eyes checked but in my defence it was getting dark.I think it looks like my twin sister separated at birth as we have the same hair and I'm a dirty girl (ha ha). I sent the photos to my son (Josh) who replied "You're the person in the horror movie who died first because they take a selfie with the cursed object". I replied "The pretty girls always die first" (ha ha).