CAMINHOS DO SOL NASCENTE HIKING TRAIL (AROUCA PR3 ARC)
I love Arouca Geopark and the enchanted Serra da Freita with endless mountain landscapes and breathtaking viewpoints. It is a long drive from our casa (2 hrs each way) and 130 km but it's well worth it. The Arouca Geopark is located in the district of Aveiro, just over 60 km from Porto. It was classified as a UNESCO World Geopark in 2009. Serra da Freita is part of the Gralheira massif, together with Serra da Arada, Arestal and São Macário and it extends to the municipalities of Arouca, Vale de Cambra and São Pedro do Sul.
We have visited Arouca a few times now and each visit has been spectacular. We have walked the famous Paiva Walkways twice, braved the dizzy heights of the 516 Bridge and ventured on a road trip to view many of the Geosites including the curious and fantastic phenomenon "Birthing Stones", the outstanding Mizarela Waterfall (Highest waterfall in mainland Portugal), Campo Dobras da Castanheira (Castanheira Fold Field) and São Pedro Velho Viewpoint. There are so many interesting hidden gems and ancient stones with legends and stories to tell. The Geopark offers diverse nature and unique archaeological heritage including 41 Geosites and covers an area of 328 km2. There is so much to explore including traditional schist villages, wild rivers, lagoons, waterfalls, river beaches, bridges, mystical mines, and so much more. If you are an adrenaline junkie and captain brave you can try some extreme sports like canyoning or white water rafting. I think I will give it a miss as although I would love to try canyoning, I'm not sure my bad back would cope and I nearly drowned in the Paiva river! It was a frightening experience as I got swept away down river and hubby jumped in fully clothed and literally saved my life, my hero!
I dread a 2 hour car journey but this drive seemed to go really quickly and we had a nice chat about nonsense as usual. I entertained hubby, like I always do with my fun and games as well as singing. I think I should start a band as I have strong vocals (ha ha). I have a new band name: "Rogue Burger". The name originates from my mini clear out of our chest freezer. I was looking for the oranges and lemons that I froze to make jam throughout the year and I stumbled across a sad lonely rogue homemade burger at the bottom. I think it's a fantastic band name and if there is a band named "Shit the bed" then why not "Rogue Burger" (ha ha). Hubby also stashed some Haribo sweets in the glove box to keep me a happy bunny for the long journey.
It was so hard to choose from all the wonderful trails. The fauna and flora are so pretty at this time of the year and the area is home to the Iberian wolf! After much deliberation I decided upon the epic PR3 ARC Caminhos do Sol Nascente (Paths of the Rising Sun) 13 km circular hiking trail. It's a tradition that every time we visit Arouca we end up with a perfect pizza from my favourite pizzeria and we sit and eat it in the nearby park. The pizza place is only a short 7 minute drive from the starting\ending point of the trail, yes I googled it, I don't mess around when it comes to my all time No1 favourite food in the world: PIZZA (ha ha). I found a few more delightful detours to view and break up the journey, here is my final itinerary:
Itinerary
Baloiço da Serra da Arada (Swing)
Porto do Inferno e Garra (Hell's Gate and Claw)
Minas de Regoufe (Mines)
PR3 ARC Hiking Trail
Baloiço (Memorial com Vida – Swing)
Casa dos Doces Conventuais (Regional sweet treats)
Arouca Park (Pizza)
Pedras Cebola (Onion Stones)
Panorâmica do Detrelo da Malhada (Viewpoint)
Baloiço da Serra da Arada
This scenic swing was not on my original Itinerary but we drove right past it on our way to Arouca and as we are adventurists and LOVE to SWING, we just had to make a pit stop. This is the first swing that actually made me feel nauseous. I think it was due to hubby's erratic driving around all the hairpin twists and turns straight after my breakfast then swinging so high that we reached dizzy heights, it all was just too much for my delicate tummy (ha ha). If you like to swing high and soar through the sky and almost touch the clouds then this is the swing for you as you reach staggering heights. I did hope and pray that the rope didn't break as I would have catapulted myself off the edge of the mountainside into the abyss (ha ha).
Dizzy Rascals
Joy makes us Giddy and Dizzy! If you have a beautiful view and a scenic swing, you don't need a good Portuguese wine to make you feel dizzy (ha ha).
Hilarious Helen
This is definetely the highest I've ever reached on a swing. I'm not sure how hubby managed to capture these hilarious photos but they make me laugh so much, just look at the state of my hair! (ha ha).
Blue Sky Thinking
WOW! look at this sky! It gives a whole new meaning to "Blue sky thinking" (ha ha).
Helen's Head for Heights – Porta do Inferno e Garra (Hells Gate & Claw)
Do you have a head for heights? Located right in the heart of the Gralheira Massif you will find this unique and magnificent place. First we had to negotiate death defying hairpin twists and turns of the mountain roads which always make me feel nervous and very nauseous. We have encountered a few near death incidents so my heart beat is always racing when we venture so close to the mountain edge with no safety barriers. Luckily there were barriers on the most dangerous sections. The name "Hells Gate & Claw" is linked to the narrow passageway on the summit that resembles a portal between 2 dimensions which separates two steep valleys, where Aveiro meets Viseu and almost 1000 metres in altitude of cliffs. The landscapes and views are phenomenal and not the least bit hellish. If you look closely you can see the mountain cut into several water lines which resembles a bird's claw. What an unbelievable viewpoint we found. At first I wasn't sure about climbing over the barrier but as I always say "You have to risk it for a biscuit" (ha ha). We braved it over the barrier but we made sure not to get too close to the edge.
Brave it Over the Barrier – Mountain Selfies
I have the strongest grip on hubby. This is the only time I am a clingy wife, to save my life (ha ha).
The Edge of Reason
I can't believe hubby stood so close to the edge! He nearly gave me a heart attack! I took a little more caution as one gust of wind could have resulted in GAME OVER! (ha ha). We visited the Grand Canyon a few years ago with an official tour guide and I wandered off away from our group. Apparently the tour guide and hubby were frantically looking for me and they sent out a search party as they thought I had gone over the edge! I was very embarrassed when they found me safe and well. I cause havoc wherever I go (ha ha). True story.
Old Fossils – I am Yours & You are Mine – Minas de Regoufe (Regoufe Mines)
There are 3 ancient old Roman Mining Complexes located nearby: Regoufe Mines, Rio de Frades Mines and the Pena Amarela Mines. I only had time to visit one so chose the Regoufe Mines as it looked the most interesting to me and a total off the beaten track adventure. We had a lot of fun roaming around the fabulous crumbling archaeological abandoned site and climbing steep rocks. We struck gold again or should I say diamonds or coal (seeing as we are in a mine), we were the only old fossils there (ha ha). I made these photos large so you can see every single detail as it's so incredible and there are no selfies so no huge Helen & Hubby double chins in neon lime to view, phew (ha ha). Is it O.K to have a spontaneous game of Hide & Seek at the age of 48?
If you are fascinated by history you can read more about Regoufe Mines here: http://http://aroucageopark.pt/pt/conhecer/geodiversidade/geossitios/minas-de-regoufe/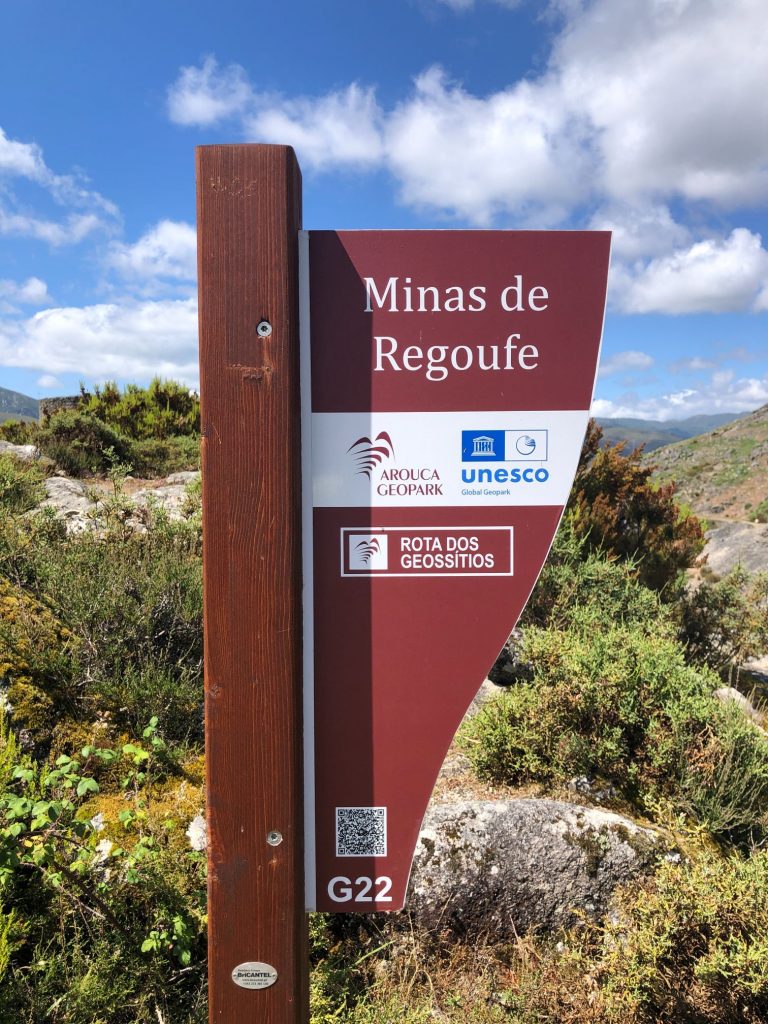 PR3 ARC Caminhos do Sol Nascente (Paths of the Rising Sun) Hiking Trail
GPS Coordinates: 40°54'50.0″N 8°14'07.0″W
Points of Interest
Cascades of Rocas (Waterfall)
Igreja Matriz de Moldes (Moldes Main Church)
Moldes, Bustelo, Adaúfe, Espinheiro, Fuste, Vila Cova, Povoa and Friães (Portuguese Villages)
The trail starts at the Main Church (Igreja Paroquial de Santo Estevão). Hubby dropped me off at the church so I could explore the architecture whilst he found a spot to park. The route soon took us off the paved road and through lush green forest areas bursting full of pine, oak and chestnut trees. The first half of the trail is a slight elevation and not very challenging, going from approx. 400 metres in altitude to around 800 metres. The terrain underfoot is quite rocky which slows you down. We had a lot of fun exploring all the different villages and Rocas waterfall. There were bandstands, watermills and the pretty quaint Chapel of Catarina (built in 1747). We found a serene place to enjoy our usual protein and caffeine fix, right on top of a huge boulder with magnificent views of the mountains, such a scenic spot with the wind turbines in the background. It was mildly challenging climbing up but great views from the top. We also found the most awesome picnic park with a BBQ and Moldes baloiço (scenic swing) offering gorgeous stretching views. There were plenty of tranquil soothing sounds from the Ribeira de Moldes and cute stone bridges to cross.
It was such a nature haven and so many grapevines, corn fields and granneries. We always say to each other "Don't go into the corn fields" as we have all watched the 80's "Children of the corn" supernatural slasher horror movie. We also watched one film where people kept disappearing into the corn fields and couldn't escape. It was very weird and we endured 90 minutes of random folk entering and getting lost in a maze of corn. There was a mysterious tunnel built into a granite building in Friães which was fun. I suddenly needed the toilet halfway into our hike. I don't mind wild peeing but wild pooping is a big fat no. Hubby dared me to knock on a stranger's door and ask to borrow their toilet. I am not brave enough to do this and luckily my IBS is constipation dominant and not the other way, if you know what I mean so I just held it in and my tummy ballooned so hubby renamed me "Helen the Hippo" (ha ha). Lots of the villages had tons of fruit trees and we always have fun and pretend to eat the overhanging fruit to make each other laugh. 2 plums accidentally broke off the tree branch in my hands as I was messing around so I had to eat them after a quick wash (the plums not me) although I needed a wash as I fell in the stream and got really muddy, hence the outfit change. I always wash fruit as you don't know what others spray their crops with, we grow 100% organic with no pesticides but not everyone does. I always take a spare change of clothes if I embark on a long journey as I'm very accident prone. I just wanted to reinforce that I changed because of mud and I didn't have a code brown incident with my pending poo situation although only god knows how I didn't poop my pants especially after the plums, not one of my best ideas (ha ha). I have mastered the challenge of changing outfits in a car and have it down to a fine art now. I can even whip a sports bra off over my head in record speed without exposing my deflated airbags to anyone (ha ha).
We met many animals including a cute pig and her piglet, chickens, goats, cows, a super friendly dog (that apparently looked like me) and a pony who also looked like me (we have the same hair!). Maybe I have found my spirit animal. I climbed onto somebody's land to stroke the pony because it was tied up on a rope and looked a bit sad. We also witnessed a speedy wild hare dart across the road in front of our car on the way home. It was beige with the fluffiest tail, we adore rabbits so it made my day. We didn't see another soul on the whole hike which amazed me as Arouca is such a popular place for hiking lovers. We also got lucky with the 3 scenic swings and 2 viewpoints as again we got the luxury of having the whole areas to ourselves which was very surprising for a Saturday in June. Whilst driving to each tourist attraction we saw lots of trail runners with hydration vests. I was intrigued as to what was going on so hubby googled and found out that there was a weekend 100K ultra race in Arouca. Wow, 100K puts my 7K power walks to shame. I could never ever run 100K and we saw some exhausted looking runners late into the evening. Rather them than me, that's a crazy distance and so many hills! Today we twin in our lime green T.Shirts. I wonder who is beginning to dress more like who. Twinning is Winning (ha ha). The shirts are so very bright which is a positive because if we get lost we can use them as a flag or they may very well glow in the dark (ha ha). This hike (13 km) was a little longer than our usual hikes which are 7-10 km. Afterwards my calves were on fire but so was I. The whole trail took us 4.5 hrs including time to stop for a break and lunch and I would consider this route to be of easy-moderate difficulty with no major challenges.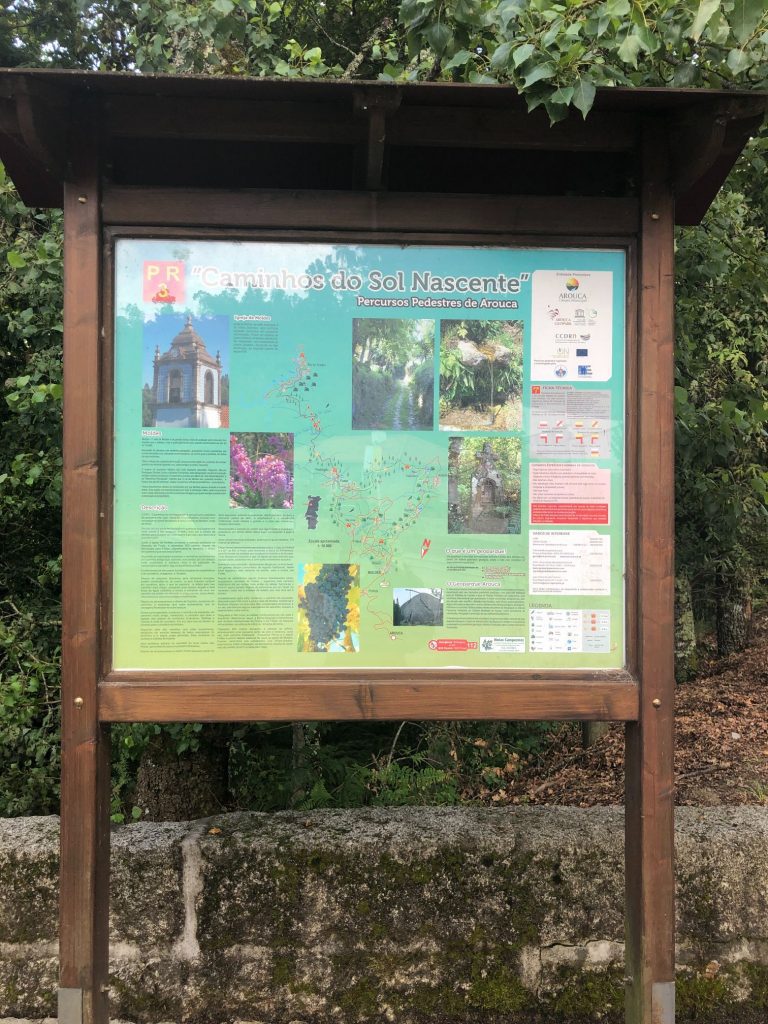 The Portuguese have a Sense of Humour
My Portuguese still SUCKS but I could just about translate this with my limited Portuguese language skills and I found it very funny especially the last tornado statement (ha ha).
Baloiço de Moldes & Parque de Merendas da Palma (Scenic Swing & Picnic Park)
Baloiço de Moldes is located in Fuste, in the heart of Arouca Geopark. It is a special place, with a unique beauty. We took some time here to soak up the silence of the mountain and breathe the fresh air and stare in awe at the breathtaking and wide view over the valley of Moldes. You can also view the mountain of Srª da Mó, to the north, the Serra de Montemuro to the northeast and to the northwest the villages of Adaúfe and Bustelo, with their terraced fields. The picnic park has cute tables and benches just perfect for a pleasant lunch. When I unpacked my food I realised that it had leaked again. This time instead of salmon it was a tuna and veggie frittata so a bit better but my backpack hasn't recovered from the last lunch leakage incident. It still emanates a waft of fish every now and then, to the point where I get paranoid that it is me that is smelling (ha ha). The tuna, lemon and olive oil juice saturated everything in my bag including my new phone battery pack. I have no one to blame but myself as I started trail running and jumping up and down for a laugh forgetting I was carrying my own lunch as hubby usually carries my lunch since the salmon incident and I get trusted with easy safe items like water and bananas (ha ha).
Just Keep Swinging
Cloud Spotting
More Blue Sky Thinking (ha ha).
Pack it In, Pack it Out
Hubby sent me this hilarious hiking sign. It is supposed to highlight the importance of taking your rubbish home with you or disposing of it properly but we both think it looks like 2 people set off on their hike but only 1 returned. The picture seems to suggest that a murder has occurred and it looks like one person is shoving a dead body into the boot of the car. It is hilarious but I'm concerned it might give hubby ideas to bump me off in a deserted forest (ha ha). I wish I hadn't cut off all the text as apparently the second bullet point explains how to bury your poop which may have came in handy (ha ha). It also made us think back to the weird encounter we had when we went on a scenic remote walk and came across a car in the middle of nowhere with the car boot open. 5 minutes later we saw a man digging with a spade. He saw us and ran like the wind towards his car. He threw his spade into the boot and drove off at a speedy pace. We had a look at the area where he was digging and it looked like a grave. My only hope was that it was Fido the dogs dead body under the earth and not his wife of 30 years (ha ha).
Perfect Portuguese Pastries – Casa dos Doces Conventuais
After our hike we drove the short 7 minutes to the centre of Arouca and parked up right outside of our favourite pizzeria. It was too early for dinner so we visited the famous sweet shop to sample Portuguese pastries and enjoy a well deserved coffee. Arouca is famous for its sweets and pastries, their confectionery originated in the Convent of Santa Mafalda de Arouca. The sweets were considered to be the great highlight of the Convent and made from all the surplus egg yolks left over from the starching of their habits (religious headwear) which used many egg whites. With the extinction of the religious orders in 1838, these sweet recipes were maintained by servants and preserved in family tradition until nowadays, using the same ancestral methods. We just had to visit this famous candy shop to sample the sweet regional treats and heritage of this remarkable town. There are so many cakes and pastries to choose from and most are made from eggs, sugar and almonds.
I was intrigued by the weird and wonderful names such as Charutos de Amêndoa (Almond Cigars), Barrigas de Freira de Arouca (Nun's Bellies), Beijos da Freira (Nun's Kisses) and Garganta de Ferreira (Nun's Throat), Castanhas Doces (Sweet Chestnuts), Roscas de Amêndoa (Almond Threads), Manjar de Língua (Tongue Delicacy), Pão de Sao Bernardo (Saint Bernard Bread). There is even a pastry named Morcelas Doces (Sweet Blood Sausages) which is made from sweet black pudding, bread, jam, almonds, sugar, butter and cinnamon and Manjar de Língua de Arouca (Arouca's Tongue) a sweet dish based on the ancient recipe for Manjar Branco. It is made with eggs, flour, sugar and cow's tongue. I'm no vegan but all these animal body parts made me feel quite queasy (ha ha). We stuck to the safe option of Charutos de Amêndoa and Roscas de Amêndoa as we love almonds and I didn't want to risk puking in the car on the way home because I only bought 1 set of extra clothing with me (ha ha). The cakes were DIVINE and very yummy in my tummy.
We were initially going to buy our cakes and eat them in the park but once we saw how beautiful the place was we decided to dine in rather than takeout. The inside is very posh with elegant tables and seats and pretty pastel colours, not the usual plastic seating that is in most Portuguese cafes. If you visit Arouca you must visit this awesome shop. WOW it is AMAZING and definitely the best place to sample Portuguese pastries in Arouca. It is very pretty on the inside and cheap, a bit like me (ha ha). The cakes are quite a bit smaller than usual pastelarias but that means you can just eat more as they are only €1 and calories don't count when you've just hiked 13K (ha ha). I have included the menu in my photos, apologies for the photo quality and angle, it was super hard to get a readable photo as there was a bright strip light above my head and it kept reflecting off the glass table. What a genius idea to have the menu beneath the glass table top. It saves the planet by not having to produce new ones when they get tatty and I don't have to touch a menu that everyone has fingered so it limits risk and my OCD anxiety. The bill came to €5, €1 for each cakes (we bought 3), 70 cents for an espresso (with a free mini sweet treat) and €1.30 for a coke. What a bargain! The shop had a section with many local regional products to buy. Can you tell I LOVED this place (ha ha). I only wish it was nearer to my home and not a 2 hour drive. I would love to buy a selection of their cakes to celebrate an upcoming birthday and we could have a taste sampling party in our garden with cocktails and Portuguese liquor.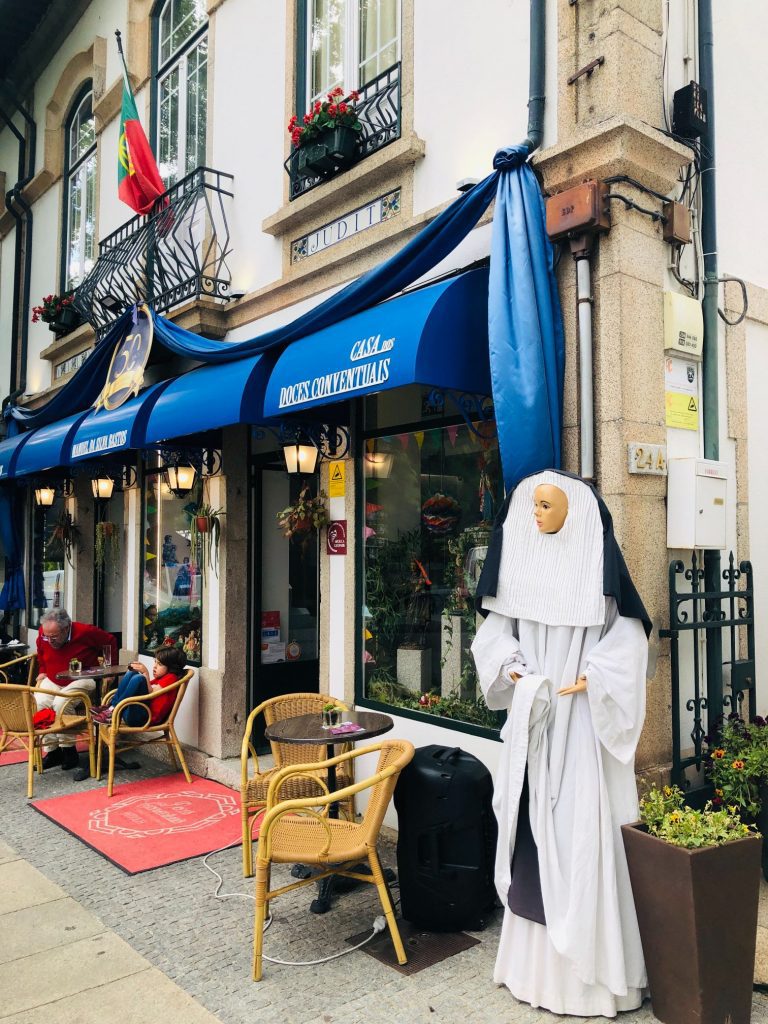 Prayer & Reflection – Baloiço Memorial com Vida (Memorial with Life Swing)
After our sugar and caffeine fix we walked the short 1 km distance to view another scenic swing. This is a new Swing inaugurated on 15th May 2022 in honour of those who have died victims of Covid-19, as well as all frontline workers battling the fight against the pandemic. What a beautiful tribute and serene place for prayer and reflection. A Heart = Symbol of Life. Located in a natural green space with tremendous views. I'm going to say it again, we had the whole place to ourselves, just magical.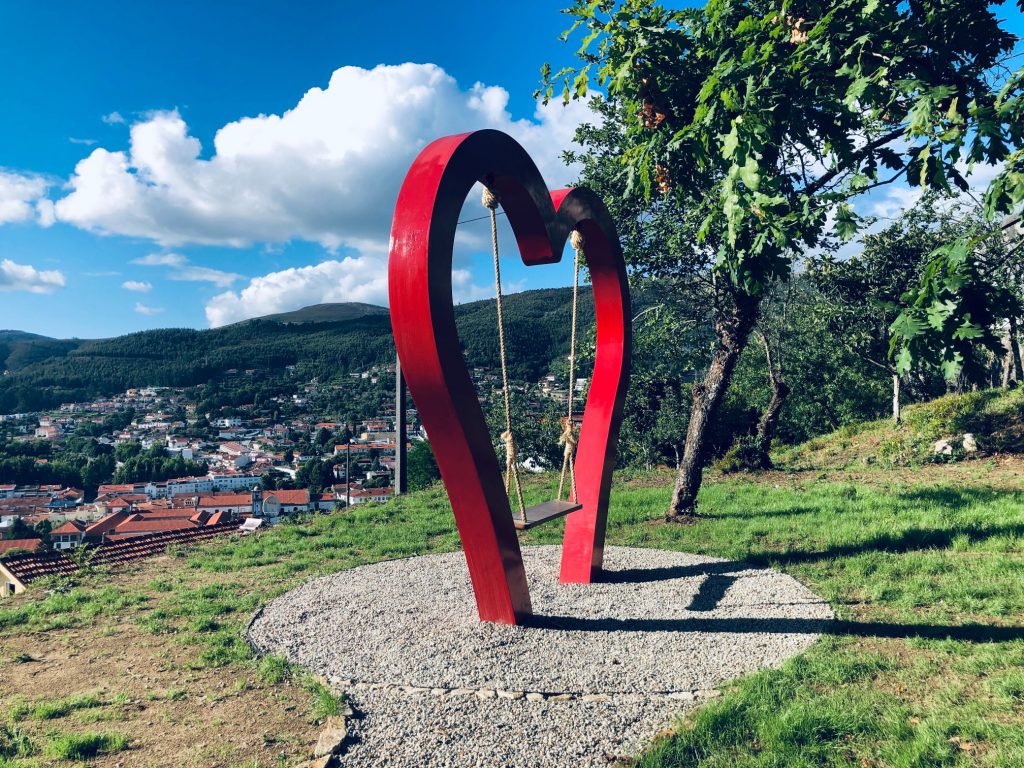 Trusty Tripod
Hubby set up our cheap selfie stick tripod to try and capture a distant couple shot. This is the only one we got as the sun was so bright I think hubby had a challenge with the little button, he also forgot his sunglasses and left them in the car which made seeing anything impossible, he tried, bless him (ha ha).
Arouca Park ("Deliciosa" Pizza)
A visit to Arouca always includes a perfect pizza in the park. The pizzeria has indoor and outdoor seating but we prefer to sit amongst nature and dine in the gorgeous park as it's a safer and nicer option. I love this park, it's so pretty with the fountain and statues. I did have to laugh as there was a man doing tricep dip exercises on a park bench, then there is us 2 stuffing our fat little cheeks with yummy pizza (ha ha). I LOVE this pizza way more than I probably should. It has chicken, bacon, mozzerella cheese and pineapple (I know I used to hate pineapple on a pizza but now I like it). The pizza is called "Deliciosa" and it really lives up to it's name. I also love shouting "DELICIOSA" at the top of my lungs whilst eating it in the park, much to hubby's delight. I also shout it in my best Italian accent which is strange seeing as we are in Portugal (ha ha). It is the only pizza where hubby will actually eat the olives because they are sliced and not whole olives and he said they actually taste good. It is also the only pizza I have consumed here that is not dripping in fat, there is not any grease seeped into the box. Don't get me wrong I know it's packed full of calories and saturated fat but I don't care. Everything in moderation, balance is the key to a healthy mind and body.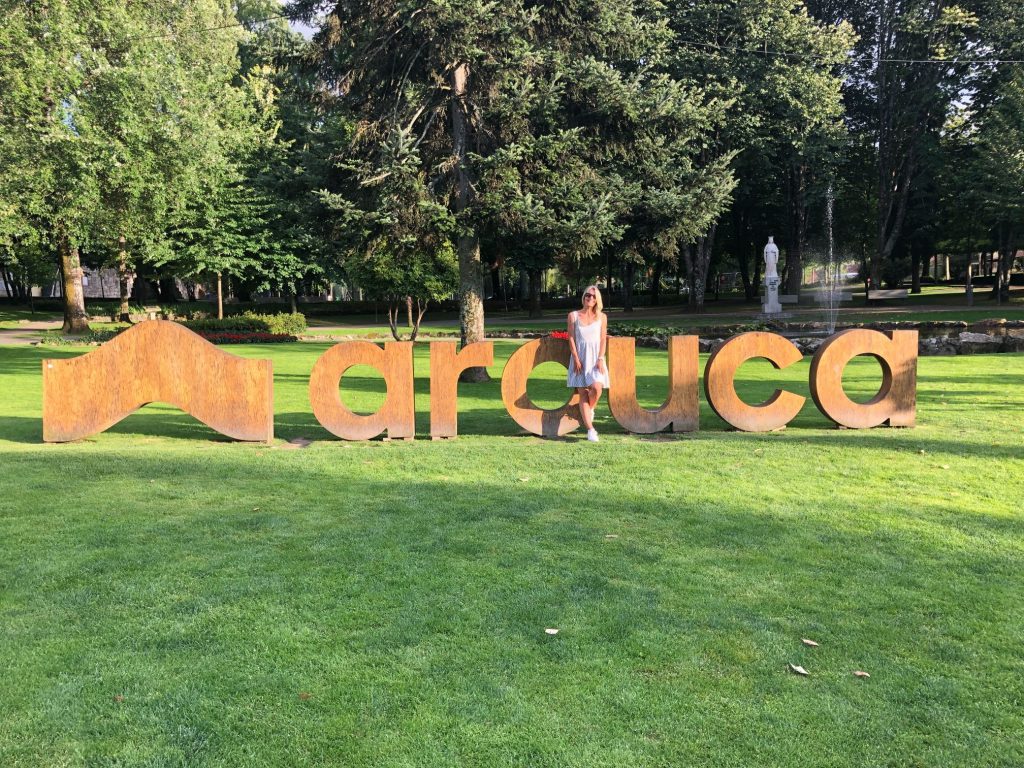 Battered Onion Ring Anyone? – Pedras Cebola (Onion Stones)
On the way to our last Viewpoint we passed by the famous Onion Stones (Geological formations) so hubby stopped the car so I could take a closer look. There is a little family funny story behind these famous stones. Previously we ventured on a marvellous day trip with my daughter to various Geosites in Arouca. We visited the Birthing Stones and the rocks that resemble corn bread. The Onion Stones were on my itinerary but we couldn't find them because hubby's GPS went wrong and there was no signage at the time like there is now. We kept on calling them onion rings instead of onion stones which made the 3 of very hungry and crave battered onion rings which are not a thing here in Portugal. So these photos are for you Teanna, here are the Onion Stones just for you my darling girl. Now go order me a Rogue Burger with a side of Onion Rings and you can throw in some dirty fries for the dirty girl (ha ha).
My Marilyn Monroe Moment – Panorâmica do Detrelo da Malhada (Viewpoint)
We made a final pit stop at this famous viewpoint. We tried to visit this viewpoint a couple of years ago but couldn't find it so frustratedly gave up. What a mesmerising viewpoint and well-designed infrastructure (platform). I've never seen anything like this before, absolutely astonishing and awe inspiring. On a clear day you can see the entire Geopark and as far as the Atlantic Ocean and the mountains of Gerês. It is Geosite Number 1 and in my eyes it really is Number 1. We arrived in the evening to watch a sensational soulmate sunset. I was shocked to have the whole place to ourselves again seeing as it's really easy access and you can drive up really close to the main attraction. When you see multiple wind turbines at the top of a mountain, you know it's going to be WINDY! Hubby has cycled up our local mountain range Moura da Serra and he made it right to the top by the wind turbines so whenever I see wind turbines I say "You cycled up here didn't you?" and he replies "No". My theory is that they all look the same from a distance, little white windmills perched on the mountain top. I say it at every mountain in Portugal and the joke is getting old now and maybe wearing a little thin but I will continue to run with it to annoy him (ha ha).
As there was not another human in sight, hubby filmed me dancing and prancing around so I could sent a little video to my daughter to cheer her up. We have less than one week before her flight out here and her passport has gone AWOL so it doesn't look like she will make it out here to Portugal for her 2 week visit which makes me very sad. I hope the video made her laugh, it's safely deleted now as I looked a right idiot (ha ha). Changing into a casual baggy dress was probably not one of my more sensible ideas as I encountered a Marilyn Monroe iconic dress malfunction moment with wind blowing up my skirt. Then again my hiking cropped T.Shirt wasn't the best option either as it rode up on the swings (ha ha). In the 1950's film The 7 year itch, when they hear a subway train passing below the grate in the sidewalk, Monroe's character steps onto the grate saying "Ooh, do you feel the breeze from the subway?", as the wind blows the white dress up exposing her legs. So I stood on the platform and said "Ooh do you feel the breeze from the Enchanted Mountains?" (ha ha). Unfortunately I didn't look sexy like Marilyn just dishevelled! Well I did just hike 13km and fell in mud (ha ha).
Seeing is Believing
Standing halfway up a mountain with the wind blowing my fine hair everywhere I smile, exhale and take in the stupendous panoramic views, for this is one precious moment to treasure in my amazing new beautiful new life. It's everything I've ever prayed for and more. It is such a wonderful feeling to be content with life.