GRANFONDO – SERRA DA ESTRELA
Hubby is a keen cyclist and signed up for the Granfondo, Serra da Estrela which took place on 3rd July 2022. This race is an epic challenge in the Serra da Estrela Natural Park. It is a crazy long distance up the highest mountain in mainland Portugal. Granfondo Serra da Estrela offers the opportunity for all cycling nerds (I mean Lovers – ha ha) to experience the emotions and challenge of high mountain stages in the only destination with these characteristics in Portugal. The arrival at the mythical top of the Tower, at 1993 meters of altitude, is always magical and marked by strong emotions. The route is incredible and takes you through the magnificent Zêzere Glacier Valley on the final ascent to the finishing point (Torre).
On Yer Bike & Put the Fun between Your Legs
I was beyond excited to attend our first proper event since relocating to Portugal 2.5 years ago. The race has the maximum capacity for 1200 participants. I have an annoying habit of not calling things or places by their actual name. I call this event "Grand Fondue" which is quite apt because Serra da Estrela is famous for it's cheese. I attended as his personal cheerleader. My squad had 1 participant (ME) minus the skimpy outfit and pom poms. I stood on the side lines with caffeine fuelled enthusiasm as a dedicated wife admiring the tight lycra clad talent. I wasn't disappointed. It was an early start for me (6am) so plenty of coffee was needed as I don't do early mornings.
There were lots of activities set up for supporters/family members. Bonus of the day was making a pit stop at the Bread Museum to buy their yummy chocolate bread for a well deserved post race carb treat. I visited the fascinating Toy Museum as I had hours to kill and I didn't want to join the group hike as I've already done it. I found a lovely cafe for coffee and cake then met back up with hubby for the award ceremony. Hubby was kitted out in his new race T.Shirt and rode his new donated bike.
Cost
To enter the race the early bird price cost €42 if you are not registered with the Portuguese Cycling Federation.
Route & Distance
The race is Seia – Manteigas – Torre – Seia.
Granfondo 174 km
Mediofondo 97 km
Programme
7:00 – 8:00 Registration (Receive wristbands, T.Shirt and dry bag for spare clothing).
8:30 Race starts.
11:30 First athletes (Mediofondo) arrive at the Torre.
13:00 Granfondo athletes arrive at the Torre, professional photo opportunity and receive medal (Torre closes at 17:00).
12:30 – 18:00 Final meal.
16:00 Trophy award ceremony.
Registered & Race Ready
The location of the Registration is Largo António Borges Silva, next to the City Hall. We registered the day before on the Saturday but you can also register on the day of the race. We attended on the Saturday as soon as it opened at 14:30 as it's our first time and we didn't know how big the queues would be. I didn't want hubby to be stressed on the morning of the big race and it meant I could stay in bed until 6am. We managed to register within minutes as the queues were short. We made an important pit stop at the Pão Museum to buy a couple of my favourite chocolate loaves of bread. 1 for the freezer and 1 for the cake hole of my mouth. I also bought the cutest tiny 100% Serra da Estrela sheepskin booties for my new baby nephew Rex who lives in London then we relaxed in the park which was preparing for a Blues & Jazz Festival. There were entertainers and street food which smelt delicious.
When you register you are given a dry bag and you add a label with your unique personal number then hand it back. This bag is transported to the Torre so when you reach the top, you have dry clothing to change into. The registration pack includes 3 wrist bands/labels (race, bag & lunch) and a number to fix to your bike. It also contains a grey T.Shirt, a water bottle, snack bar and an energy gel shot. Hubby bought the spotted official race T.Shirt as a souvenir. If you buy the premium spotted shirt you get a special entry and get to go in the premium starting box at the front with the pro athletes. May god help him (ha ha). We took the opportunity to climb the steps onto the main stage and take some photos. I went up and I'm not even in the race (ha ha). This is the only time I will ever be a pretend winner!
Pão Museum Pit Stop
As I have mentioned on more than one occasion, a trip to Seia is never complete without a visit to this quaint shop at the Pão Museum to stock up on their tasty chocolate bread, I'm addicted! This time they had samples to try so I pretended that it was my first ever visit and tasted every single bread, even the chocolate bread (ha ha).
Happy Helen
It doesn't take much to make me happy. Good food, company and hugs, I'm like a dog (ha ha).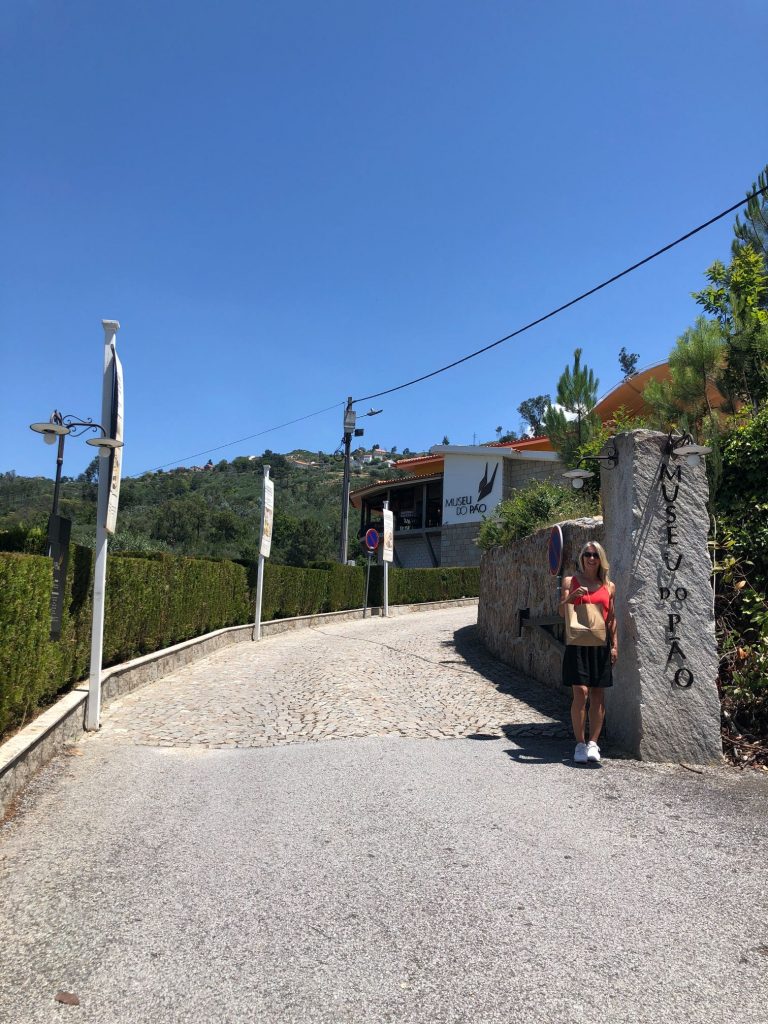 Do You Think I Will Spot Him? – Princess Posing
Hubby bought a new cycling bright coloured neon shirt for the race with matching gloves and bike pouch/bag. I made fun of him and said he was like a 5 year old girl with a matching hairband and handbag (ha ha). He also purchased the official premium race spotted shirt and was given the basic grey T.Shirt included in the entree price. Seeing as he wouldn't get to share these 2 shirts with you, I made him do a "Helen fashion parade" in our garden when we got home and I wouldn't let him have any chocolate bread until he modelled his clothing range for me (ha ha). I think he looks amazing in the spotted shirt. It's a shame he didn't want to wear it on the big day as I wouldn't have had any difficulty spotting him (ha ha). Then again if over 1000 turned up in the same shirt I might end up taking the wrong man home with me (ha ha). The last 2 photos are hilarious, he is trying to pose like I do, all serene looking into the distance and the sky, bless him. I think he did a better job than me in recreating my garden catwalk poses!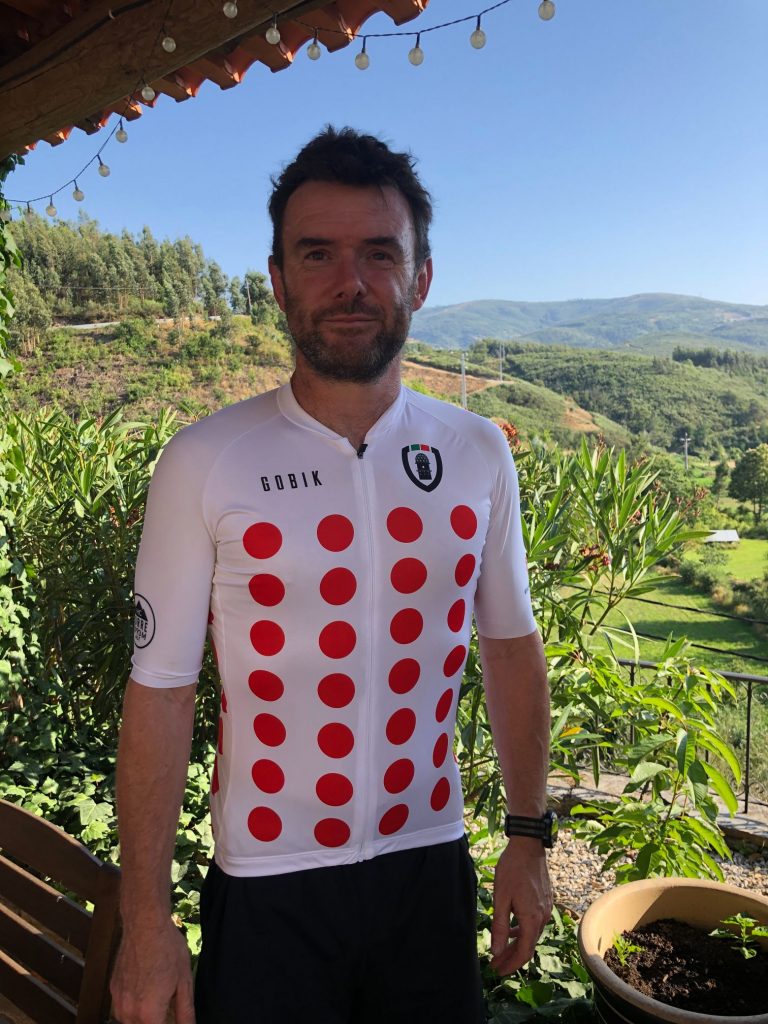 Number 611
This is the Number that is attached to your bike with the chip in the back.
Parking (On the Day of the Race)
We arrived just before 8am and there were plenty of free parking spaces close to the starting point.
Hydrated & Fuelled
There are various water and snack stations en route. The final meal is included in the registration price and family members can join you for an additional fee of €15. The final meal consisted of a buffet with a selection of food and drinks.
Boxes
There are 7 boxes, one Premium and 6 (A – F) based on your registration number.
Age is just a Number
There are different age categories. Men: Elites 18 – 29, Masters A 30 – 39, Masters B 40 – 49, Masters C 50 – 59, Masters D 60 – 69 and Masters E Over 70. Hubby is 49 in a couple of months so he was one of the oldest in his category. On a positive note if he doesn't die in this race, in a couple of years he will be the youngest in his category which may or may not be an advantage.
Women: Elites 18 – 29, Masters 30 or above. I'm not sure this is entirely fair! I have no clue about transgender athletes. I assume if you identify as a male or female then you would just enter that category. I am not going to divulge too much into this as I haven't got any firm facts to share.
A Bicycle Made for 2
The funniest part was the tandem bike category. If only I had a coccyx we could have entered as a couple. I wonder who would have got the rear seat position. Hopefully not me as hubby's flatulence is fierce. (ha ha).
Going for Gold – My Medallion Man
There are 3 levels of Diploma, Bronze, Silver and Gold. To receive the various 3 levels you need to complete the course in a certain length of time. I'm not going to list all the separate timings as there are many but I will share hubby's age category, he is 48 and Masters B. Here are the timings he needed to achieve:
Bronze: 8 hrs 35 mins
Silver: 3 hrs 45 mins
Gold: 3 hrs 10 mins
Child at Heart – Toy Museum
I had some time to kill so I visited the wonderful Toy Museum and I really enjoyed the experience. It was very refreshing to see old fashioned Portuguese toys as so many children of today spend hours of their spare time in front of a computer screen or mobile phone. It was really cool to see the old traditional wooden classic toys. It took me right back to my childhood. I was born in the 70's and I used to have a favourite toy. One of my earliest childhood memories is of my beloved wooden dog on a string which had a spring for a tail. Everywhere I went I would drag this little wooden dog behind me with its tail dancing back and forth. Happy memories of a lifetime ago! I will write a separate post on the Toy Museum but here are a few photos to entice you to read my upcoming post (ha ha).
Pre-Race Photos
I don't do early mornings with my chronic pain so a 6am start was very early for me. I needed a lot of caffeine and 2 breakfasts! one consisted of chocolate bread, of course.
Keep the Rubber Side Down – Hubby Heading to the Starting Point
Here is hubby heading to his starting position looking all fresh and relaxed, NOT FOR LONG! (ha ha). Apparently "Keep the rubber side down" is cycling slang for "Be safe".
The Race is On – A Sea of Lycra
There were plenty of beautiful fit men and ladies in lycra to gaze in awe at. It was a stunning array of neon colour. I got a fantastic position to watch the start of the race. After they set off I walked to a couple more points to see if I could spot hubby. I can't believe I actually managed to capture him on video! His shirt was so bright so I didn't think I would struggle spotting him but everybody had a brightly coloured neon outfit and there were so many in the same colour as him. My eyesight is so poor that every man, woman and dog in lime green was hubby until proven otherwise (ha ha). I had to delete a shed load of random neon men photos when I got back home. Next time I will make him wear a santa hat on top of his bike helmet to stand out or maybe I will make him go naked (ha ha). The cyclists were going at such a speed, I am surprised my photos are not all blurry like my eyes from the lack of sleep.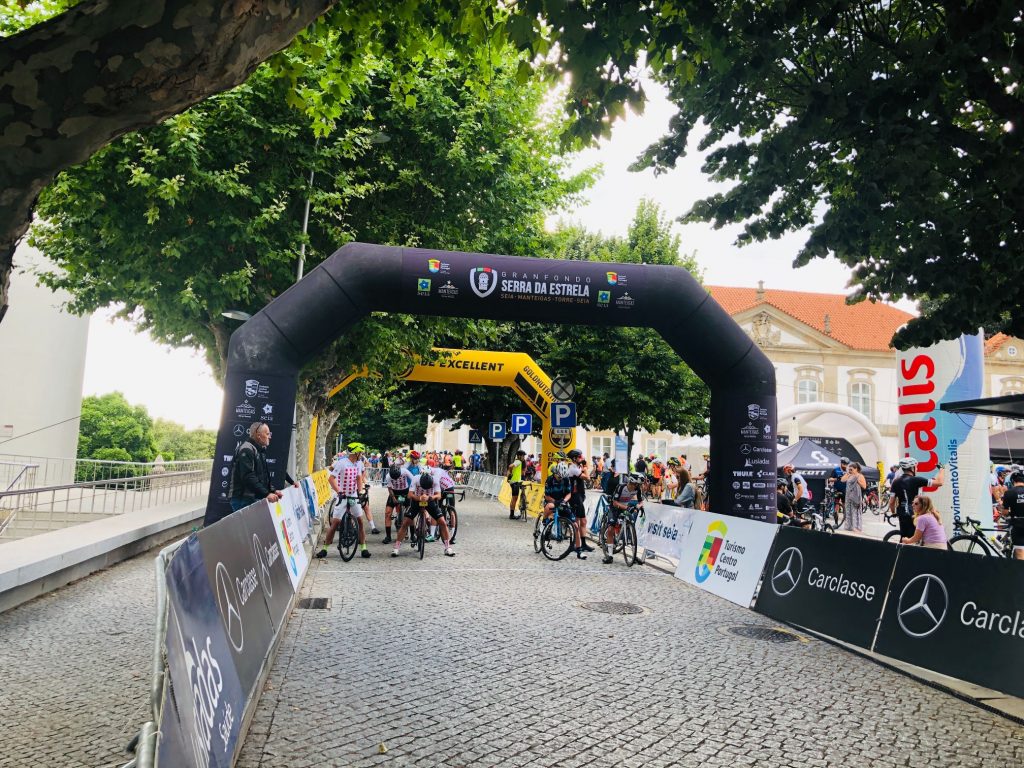 En Route Sweaty Selfie
This was taken just after Manteigas. Not looking so perky now (ha ha). He looks a little tried but is still SMILING, bless him.
The Finish Line (1993 m Altitude)
When you reach the Torre (Finish line) you have a photo opportunity on the podium. The person who arrived just before you takes your photo and then you stay on to take the next person and so forth. I think the guy who took hubby's photo was a bit drunk as one photo is very slanted. Maybe he drank all the alcohol from the beer tent (ha ha). The highest altitude is 1993 metres, a number I never forget as this is the year my son was born. He will be 29 this year which makes me feel very old (ha ha).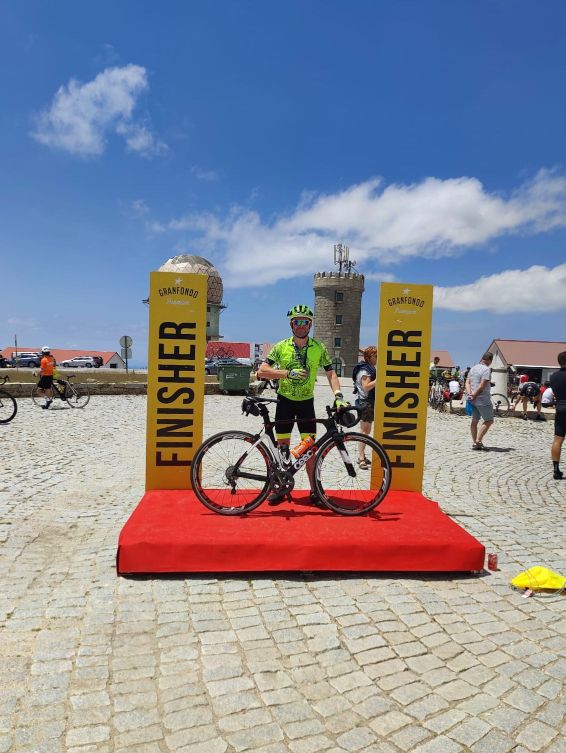 Say "Serra da Estrela Cheese" for the Camera – Professional Photos
There is a professional photographer who takes photos at the Finish line at the Torre and at various points throughout the race course. You can go online after the race and insert your personal identification number and obtain 4 free photos. If you want more they are a whopping €8 each for each digital download which in my eyes is daylight robbery and reminds me of the U.K school photo annual rip off when your kid wouldn't smile or would pull a silly face and your pressured to buy the damn pack including photo bookmarks. Imagine if I charged €8 each for every photo I take, I'd be a rich bitch. Hubby just chose 4 and despite my moaning they are lush photos of my HERO in action.
Timings
Hubby took a total of 4 hrs and 25 mins to reach the Torre. When you get given your bike number it has a little chip in the back which records your timings through different checkpoints, this time includes breaks. He checked online and he was 258th out of 406 who completed the course in the Mediofondo race. 528 were registered and signed in so it appears that quite a few people dropped out or didn't make the finish line in time. I thought he got Silver as he sent me a photo with his medal that looked silver but he actually got Bronze. I'm easily confused (ha ha). He was hoping for Silver and it was looking very promising until he hit the 52 km mark and got severe leg cramps. He had to stop 3 times to stretch which slowed him down. If this had not of happened he would have got Silver which is a shame but he is just happy that he made it to the end and I'm happy that he made it back safety with all his limbs intact! Apparently there was one scary hair raising incident when a driver in a car decided to overtake hubby on a mountain bend then a car was coming in the opposite direction so it slotted back in, right in front of hubby and he had to brake hard. I think car drivers assume they are faster than cycles but going down a mountain hill cyclists can quite often pick up a tremendous speed. Hubby saw a man collapsed just a few km from the Torre. He had 2 people with him and they had already called the medic so didn't need his kind offer of help. How gutting to collapse 12 km from the finish line! I hope he recovers O.K. Hubby also came 2nd out of all the entrants from the U.K which sounds an amazing achievement until I tell you the truth. There were only 2 people from the U.K who participated in the race on the actual day (ha ha).
Medal Fountain Fun in the Sun
After the meal we visited a cafe for Ice cream and caffeine fix before the awards ceremony. Hubby needed a poo but a man was in the toilet for over 15 minutes so we found another one as you know when someone's hogged the loo for over 15 mins it's not going to be a pretty sight or smell if you summon up the courage to enter, apparently runners trots are real so I'm assuming it might apply to cyclists too (ha ha). We took a few minutes to cool off in the fountain and hubby let me wear his medal! It was so hot at the ceremony with very little shade. I very nearly stripped off and dived in the fountain. I may have risked it for a biscuit if the GNR (Police) weren't present (ha ha). As well as the medal you get to download a Diploma (Certificate). Hubby printed his off and I will attach it to the fridge with magnets like I would with a 4 year olds school award and potato print artwork (ha ha).
The Awards Ceremony
The awards ceremony was very quiet and it looked like people only stayed if they were receiving a trophy which I find sad. The least you can do is stay and support your fellow riders, congratulate them and cheer loudly for their accomplishment. There may be people who were still in the race at 4pm and I think some folk left early as they live quite a distance away. Hubby got chatting to a man at the Torre who had travelled from Lisbon! We are lucky to live 45 mins from Seia. It was awesome to see the ladies collect their trophies as this race seemed very male orientated. After researching numbers hubby confirmed that only 35 females participated in the whole race. 11 in the Granfondo and 24 in the Mediofondo. I also cheered loudly for the over 70 category as I'm no spring chicken. When you're as old as me you will know that once you head towards 50 things just start falling apart health wise and you make agonising grunting noises when you have to bend over to retrieve something off the floor that you have dropped (ha ha). I loved the awards ceremony and the pride in the winners' faces spoke a thousand words. I saw a proud nanna watching her young grandson collect his trophy, when I say young he looked 18-20 and she was over 65 but so elated for him, it was such a joy to see and special family moment. My Portuguese language is still poor so I have no idea who the celebrity people were who presented the trophies. One looked like a Butlins Redcoat and the chubby man in the bursting at the seems suit jacket looked a lot like Stelios from Easyjet (ha ha).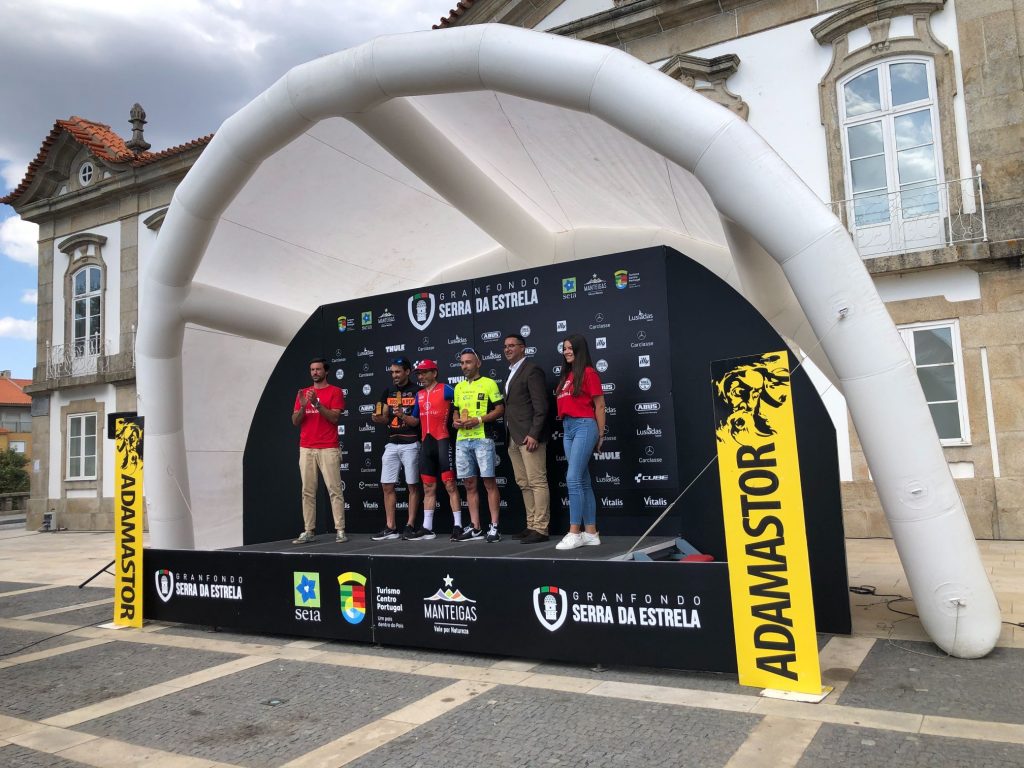 A Hero's Welcome
What a HERO! I am "wheelie" proud of hubby (ha ha). 97 km is a BIG challenge, I struggle with my 7 km power walks. I think he was more than a little saddle sore afterwards and he walked like a cowboy for a few days (ha ha). Rather him than me, my fanny would be on fire. As we drove home from the race we passed through the little village next to our which was decorated in fabulous red hearts, paper flowers, tinsel and bunting. I said to hubby that I put flags up and made the effort to congratulate him on his success (ha ha). I have no idea what the pretty display is all about but it's cute as hell. I find it funny that tinsel is used here for all celebrations as in the U.K tinsel is a Christmas thing and not used throughout the year.
The Real Celebration
I discovered the reason behind the epic decorations. This is the actual event in the next village to ours and why the bunting and flags were displayed but don't tell hubby. He still thinks it was all for him (ha ha). This event was huge for our area and we could hear the music at 2am from when sat on the toilet in our bathroom. Yes, I am at that age where I need to pee during the night, old age sucks (ha ha).
Overview
This event was so much FUN and I think hubby is going to enter next year too. I did feel sorry for any tourists who were visiting the Serra da Estrela and getting stuck behind 1200 cyclists on the hairpin twists and turns of the narrow mountain roads. I was super impressed with the organisation and communication from the organisers. I thought this event was going to be packed full of supporters and elbow to elbow fighting for a good spot to take photos similar to the London marathon but it was actually so calm and tranquil. There weren't that many supporters on the sidelines which is a bit sad but it felt safe and wonderful as I hate crowds.
What a unique and crazy experience and certainly a treasured lifetime memory. It was a perfect day and a story to tell the grankids one day. I am so PROUD of hubby as this race is one of the toughest climbs in Portugal. He arrived home and had a long soak in the bath, his first ever bath in Portugal! He always takes showers. His sole aim was to just finish the race and receive a medal. My sole aim was for him not to die. Seeing as the furthest he has ever rode is around 50 km he did so amazingly, he totally smashed it in the scorching Portuguese heat. FOREVER MY HERO HUBBY XXX
I will leave you with a funny quote:
"Get a Bicycle, You will not regret it. If you live". Mark Twain.