CANAS DE SENHORIM MEDIEVAL FAIR
We enjoyed the Côja Medieval Fair so much that we decided to attend another one. I am addicted to Medieval Fairs as they bring much joy, unity and celebration. Festivals inspire us to count our blessings and help each other. I find them mesmerising, I'm dazzled like a child in a candy store. This fantastic fair is located in the quaint village of Canas de Senhorim, Viseu and is a 40 min drive from our casa. I left my decision if to attend until the very last minute as my tooth drama is still causing me moderate pain. As soon as I get the bone spur chiselled off, it re-grows back at lightening speed, piercing my gum and causing havoc. This wonderful event returns after a 3 year interval (due to Covid). It is a long weekend event Friday – Sunday and this years fair is very special as it's been running for 30 years so a milestone celebration of tradition and joy. I was beyond excited to see the Cavalry knights on horseback. I had visions of Poldark in my head and I wasn't disappointed. It was a beautiful Saturday evening celebrating Portuguese culture, heritage and history. We were blessed with glorious sunshine and an average temp of 25 degrees, amazing seeing as it's the 1st October! The event offered something for everyone: Falconry display, animals, battles and duels, music with drums and traditional Portuguese instruments, dancing, processions, tournaments, street animation/theatrical performances and re-enactments. There was a yummy medieval banquet supper at 20:00 on Saturday night and plenty of taverns selling delicious food/drink and artisan handicrafts including jewellery, crystals, shoes, hats, belts, handbags, baskets and wicker products, plants, sculptures, paintings, personalised signs with traditional Portuguese family surnames, toys, incense, handmade soaps, candles and even swords and weaponry. Hubby wouldn't buy me a sword for health and safety reasons but mainly because I'm clumsy as hell and have already visited Arganil A & E multiple times this year! There was a lot of stalls selling Portuguese sausage and so many different varieties of smelly cheese. The families with children were enjoying the carousel and the traditional wooden games. We arrived early evening and stayed until it closed with a spectacular fire show around midnight. Hubby was designated driver and I'm no longer on Tramadol so I could sample as many goblets of Mede as my heart desired, Cheers!
This event was so incredible especially when nightfall came as the setting amongst a labyrinth of cobbled streets takes on an intense mystical atmosphere in the dark. A few of the buildings were lit up with pretty colours, just magical. I really loved that there was a main centre stage for most acts so it gave a great opportunity for everyone to see the performances amongst the swarm of visitors. In all honesty it was way too crowded for my liking. It wasn't too busy at first but within a couple of hours it was heaving with hundreds of people squeezed onto the narrow cobbled streets and it was crazy to try and negotiate the crowds. Some folk just don't get the concept that we are all trying to go in the same direction to the same place but continue to push past you aggressively or ram a pushchair into your calves. I had to give a couple of blokes my death stare which actually surprisingly worked. During some of the shows there were a lot of young children, under 7 year olds running wild and free. Even during the jester show with fire, some parents allowed their children to run through the roped off area, it was a crazy health and safety hazard! Some parents showed up minutes before the act started and shoved their children to the front of the crowd to sit on the floor and I had a couple of kids practically sat on my feet whilst others cried, ran around and caused havoc. Others were so tired and just wanted their bed. I do not understand why parents didn't take them during the day to enjoy the festivities and instead stay until midnight. Don't get me wrong, I love kids, just not yours! (ha ha). Just kidding (no pun intended), I know it's a family event and fun for all but it's a parents job to know when their own kid is exhausted and ready for bed. The beer will always be there tomorrow! My favourite part of the night was the Fire show and the Cavalry Knights on horseback as I love horses and I also love easy on the eye knights in full armour (ha ha). There were jousting battles, duels and tournaments: knights piercing rings with their swords, hitting targets and slicing cucumbers which was all very entertaining. I was expecting to see some acts from the Côja Fair but the only same act was the man with the bird of prey. I recognised him from his big beard. There was one man who was very funny and got the whole crowd cheering and booing. He was super enthusiastic and looked like he really loved his job, bless him.
The food stalls were rammed packed and the queues were insane. I really wanted a main meal for my dinner but I didn't want to miss the entertainment so we opted for Pão do chouriço e queijo which was so yummy. It was hot straight from the bread oven and a perfect combination of hot, freshly baked bread, stuffed with tasty chouriço and oozing with melted cheese. We followed with delicious churros, chocolate dipping sauce and coffee. We bought 6 churros, she gave us 12 so we ate 6 each! Washed down with sangria in a cute clay goblet for me and lemonade for the designated driver. I was confused as despite the huge queues for food and drink there was virtually no queue for the toilet and I only saw 1 facility and the ladies only had 3 cubicles. I was limiting my sangria as I pee a lot but I had nothing to worry about. I initially wanted to arrive around 16:00 as the good acts on the itinerary were on 16:00 – 24:00 but we ended up arriving just before 18:30. I really wanted to attend the Medieval Supper at 20:00 but I didn't read the map properly and I couldn't find the location of the banquet. Apparently it was located in a tent near the cavalry horses. Our friend found it when she left around 21:30. Oh well, you win some, you lose some. There were lots of tasty options for food with many gastronomic delicacies including hearty soups, bifanas, sausage, cheeses, crepes, farturas, toffee apples, roasted chestnuts, dried fruits, a spectacular cake stall and so much more so we were spoilt for choice. The aroma in the air was delightful and way too tempting. All the workers and stall holders wore traditional period costume and actors dressed as kings, knights, princesses, fools and beggars, they engaged and mingled with the crowds which was fun to watch. It was a great place to people watch the weird and wonderful, one of my favourite pastimes. The streets and the balconies of the houses were decorated with flags and banners bearing the traditional coat of arms. Everyone was happy, there was such a great vibe and it was lovely to see families enjoying themselves, we had a very merry time.
Wow, can I just say how amazing this event was! So much time, effort and hard preparation work has gone into this wonderful festival making it a huge success and an authentic experience. Bravo to the Municipal of Canas de Senhorim and to all the organisers, workers and volunteers involved. My only negatives about the night were: 1. The queues for food especially the Pão na Pedra (Bread on the Stone) tavern. We joined the queue but gave up in the end. The chef cooking the bread on the hot stone was very speedy but the elderly 2 ladies serving were slower than my garden snails, sorry ladies. I did consider changing into my leopard print tabard and helping out behind the counter. I have the skills as my first ever Saturday job at the age of 13 was working in a bakery called Crusty Corner (ha ha). 2. Lack of seating. I really wanted a sit down to rest my bad back but all the seating was mainly next to one food tavern and people ate then stayed put and didn't budge all night. This made it very difficult for people who wanted to purchase food that is not easily ate standing up e.g soup. I didn't want to get knocked into carrying hot soup and risk burning a child. My suggestion would be more bales of hay to sit on which would have been awesome. 3. The schedule was a bit vague. Some events were scheduled 16:00-24:00, a more precise time would have been helpful as not every act was on the main stage or in front of it. Some dance and music acts were in different locations and luckily we stumbled across some amazing talent just by chance as we were in the right place at the right time. There was a lovely exhibition celebrating 30 years of this festival and it was interesting to view 2 rooms with different posters spanning across the 30 years.
We were exhausted by 21:30 and were thinking about leaving but we stayed to watch a hilarious jester show and by the time it finished it was 22:15 and I really wanted to stay for the Fire Show "Decades of Dreams" at 23:30 so we decided to persevere with the crowds and stay until closing and I am so very glad that we did as the Fire Show literally blew my mind, it was dazzling, simply breathtaking and totally exceeded my expectations. The big sparkly firework on the stage during the finale sent sparks flying in all directions. A few sparks came hurtling towards the crowd and all the kids sat on the floor at the foot of the stage. I was mildly amused to see the sheer panic in their eyes and see them scream and run to find their parents, that's karma my friend (ha ha). The jester was hilarious and tried drag hubby up to participate but he declined as our Portuguese language is poor and he didn't think he would be able to fully understand the instructions. He stripped down to his yellow pants (underwear) near the end of the show (jester not hubby) which was mildly alarming as it was a family show with many children. Some people just have to flash their bits. I usually do this by pure accident when I've had one too many glasses of vinho (ha ha). Fancy dress has always bought much fear to me but I've decided I need to invest in a Renaissance Medieval costume for 2023. I am aiming for the buxom busty blonde, showing just the right amount of cleavage without looking like an old slut but I will most likely end up resembling a toothless, haggard old wench (ha ha). Either way, I am fully committed to the fun and festivities of an era gone by. If all fails I can always come dressed as a prostitute, I think I can perfect this style, especially if I wear red, I have this look in the bag, totally achievable (ha ha).
Map & Schedule of Events, including Car Parking
There were 2 designated parking lots just a couple of minutes walk from the event. If you fancy attending this event next year be sure to follow the Canas de Senhorim Facebook Page as they advertise and share the schedules and directions including GPS for car parking.
Photo Gallery
My photos do not do this event justice as my old iphone camera is not great with night time photos in the dark. I do have some awesome videos on my Casa Valhal Facebook and Instagram page if you fancy viewing them. It's hard to share the joy of an act in a photo and many are action shots so a tad blurry. I promise they are blurry due to the fault of my crappy old phone and not the multiple goblets of sangria and my unstable mind, I mean hands (ha ha). I have made the photos large to share this magnificent festival.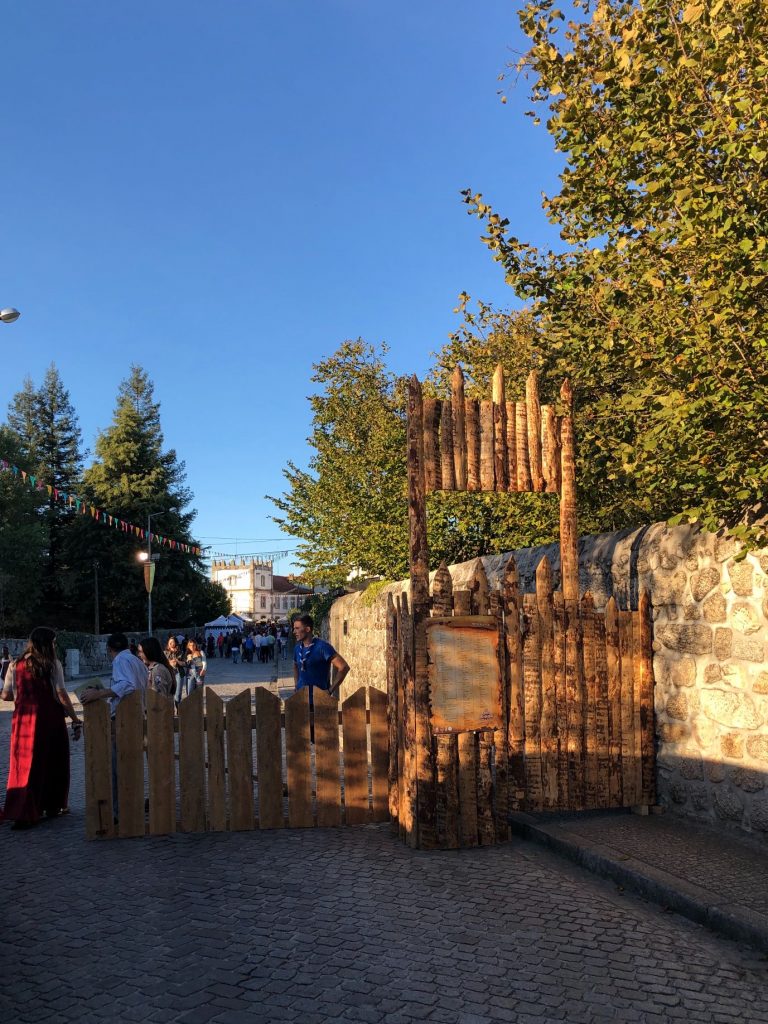 Going to Siege
Apparently "Going to Siege" means: To go to the bathroom. I suppose it's like the phrase "Dropping the kids off at the pool" (ha ha). So from now onwards, when I make hubby pause Netflix to visit the loo rather than saying "I need a pee/poop, pause the T.V" I'm going to say "I'm going to siege and it will be a while." I wonder how long I can keep it going before I annoy hubby senseless (ha ha).
Feasts & Festivals – Medieval Banquet
I was gutted to have missed the Medieval Banquet Supper but somehow I have managed to find another one in a nearby village which just happens to be held on the night of hubby's birthday later this month! There isn't much information out about the event at the moment only that it's connected to the historic village of Côja and is celebrating 900 years of history with a fantastic feast. I hope to treat and surprise hubby on his upcoming birthday, watch this space! Our next festival is the local Alva Beer Fest. God help me and my hangover (ha ha).
Overview
I absolutely LOVED this Medieval Fair, it was a unique, creative and fun festival and we totally embraced the craziness. Medieval Fairs are not just for nerds and history buffs. If you have never experienced one, I highly recommend it. The only thing missing was the axe throwing but it's a good job as my eye sight is poor and after a few goblets of sangria it could have resulted with a murder charge or at the very least manslaughter and a lengthy jail term (ha ha).
Here's to the nights that turn into mornings and the friends that turn into family!