STAND UP PADDLE BOARDING IN PORTUGAL
Stand Up Paddle Boarding (or SUP) is a hugely popular sport in Portugal along with kayaking and surfing. All three of these water sports are on my Portugal bucket list so I was super excited for the summer to arrive and to book our first ever paddle boarding lesson. To be honest, what I know about paddle boarding, I could write on the back of a postage stamp but I am learning new facts and skills every day which is progress in my eyes.
What is Paddle Boarding?
Paddle boarding is a water sport performed in the ocean or flat waters like lakes, rivers or lagoons. You use your arms to manoeuvre a single blade paddle to propel the board through the water whilst either standing, sitting, kneeling or lying on the board. Most people glide through the water looking graceful, then there is me! I am not so graceful and look like a bull in a china shop but I am working on my skills and aim to look like a super hero princess SUP warrior, watch this space (ha ha).
History of SUP
Modern stand-up paddle boarding began in the 1940's in Hawaii when Waikiki beach boys would stand on their boards while teaching their students how to surf. John Ah Choy was a local Hawaiian who surfed, but as he got older he struggled to get up and down from his board so he would stand up and paddle out with his board and a canoe paddle to catch the epic waves.
SUP lesson with Coimbra SUP
I thought it would be a good idea to book a SUP boarding lesson and learn the basics from a professional so I booked a lesson with Coimbra SUP. I researched a few companies in Central Portugal offering SUP and this place had great reviews and was local. We booked the initiation lesson which lasted 2 hours and the location of Verde Parque in Coimbra was perfect as the Mondego river is warm so not such a shock when you fall in. The lesson cost €25 per person and it was just the 3 of us with 2 friendly instructors. We were taught the basic safety instructions and how to stand correctly, steer in all directions and turn slowly as well as fast. It was such a fun time and we really enjoyed ourselves. I am nearly 50 so took the easier option which is apparently called "The old man stand" one leg at a time rather than a jump with both legs. My daughter Teanna is only just learning to swim so the first time she fell in was a shock to my system and most likely hers too (ha ha). I nearly pooped my pants for those couple of seconds that she was under water. Then her head burst out of the water, it was very dramatic like a holy baptism or a not so very majestic mermaid launching out of the sea (ha ha). I literally thought for a solid 2 seconds she's gone, she's dead, her dad is gonna kill me, then my panic turned to joy and laughter when I saw her little face. Thank god for life jackets! She fell in so many times, if I had a Euro for every time she fell in I could have a night out on the town with plenty of vinho (ha ha). I fell in twice because I was playing it safe. Mainly because when I do fall in I stupidly forget to close my eyes and a whoosh of water floods my eyes and dislodges my contact lenses then everyone and everything is a blur. Is there such a thing as water sports goggles? I wonder.
Here in Portugal you can hire SUP boards, kayaks and canoes from most river beaches and the cost is usually around €10 per hour so I feel this course was great value for money and gave us the opportunity to try before we buy and invest our hard earned money on our own boards. At the end of the lesson we were given some free time to paddle right up to the water fountain around it and back again. Coimbra SUP has lockers to store your valuables and changing rooms too. We had already embarked on a kayaking adventure and were debating if to buy kayaks or paddle boards. This lesson confirmed our choice as we had way more fun paddle boarding and the decision was unanimous. We were super keen to invest in a couple of paddle boards ASAP. It was such a lovely day and it just goes to show that your never too old to learn a new skill. When I got out of the river I had a minor accident and hit my knee against a rock. I also sliced the bottom of my big toe. In future I will wear my water shoes as some of the rivers in Portugal often have sharp stones and rocky formations near the entrance points. After our lesson we took a drive to the stunning Tocha beach. I love Portugal and I especially adore the lady walking up and down the beach honking her horn and selling Bola de Belém, delicious. I'm going to have to embark on a lot of paddle boarding to burn off all the calories from all the delicious Portuguese cakes and ice cream ha ha).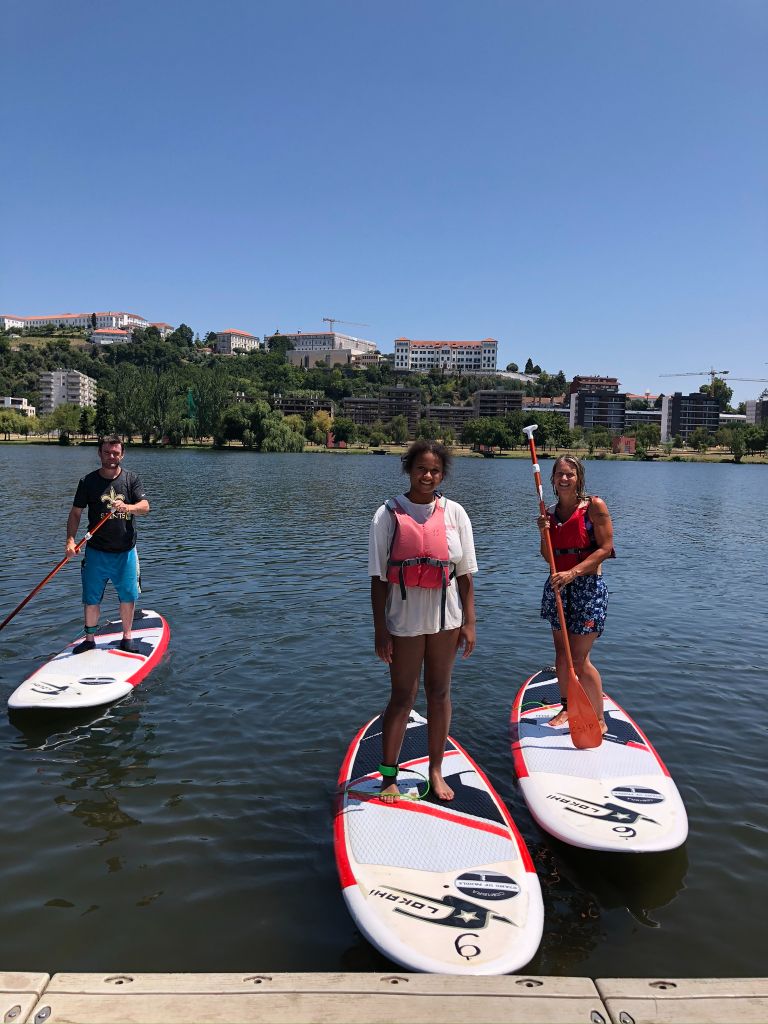 Tocha beach
Not really paddle boarding related but we ventured onto a beautiful beach (Tocha Beach) and had some more family fun relaxing after our SUP boarding lesson. I found a pretty shell which I gifted to Teanna and she is going to make it into a necklace to commemorate our first ever SUP boarding experience.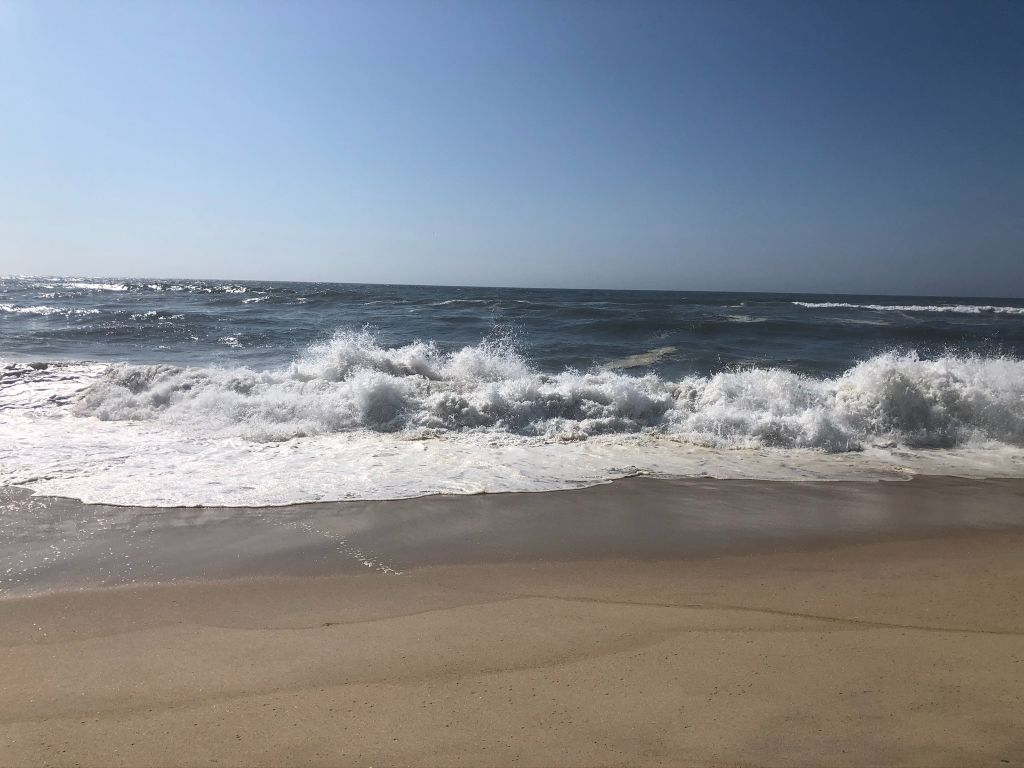 This photo below has nothing what so ever to do with paddle boarding but I made hubby and Teanna pose in this position just so I could take a photo of the man in the middle who portrayed an uncanny resemblance to Donald Trump. Now let me explain, there are not many Donald Trump look a likes here in Portugal, believe me when I say this, it is true. Anyway I was trying to take a photo of him but his lady companion caught me in the act so I had to be discreet in my mission. I hope this makes you laugh as much as it made me laugh. If not, oh well, you win some, you lose some and we as a family laughed for a solid 10 minutes. I only wish I could have taken a photo from the front but I wasn't brave enough.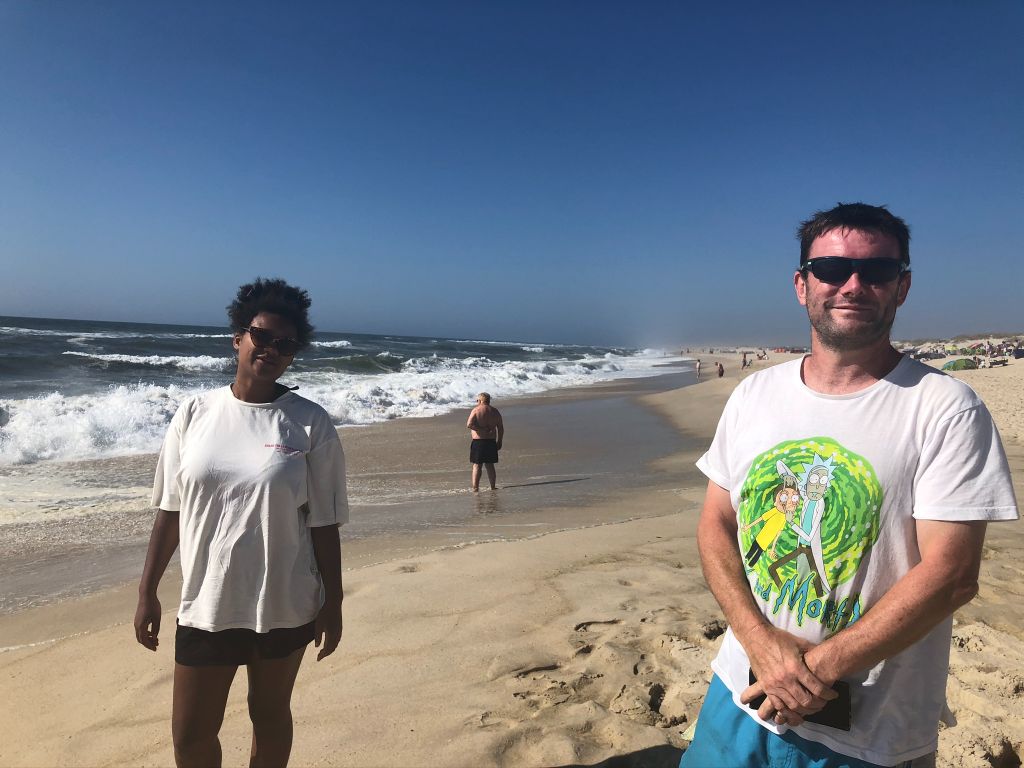 What I love about SUP
I absolutely love that it is so versatile. It can be performed on waves in the ocean and the calmness of flat waters like rivers, lakes and lagoons. You are not restricted to the ocean like surfing.
Unlike kayaking I have several positions not just seated positions: standing, straddle, on my knees, on my bottom, lying on my back or tummy (sounds a bit like my sex positions – just kidding ha ha). Due to my chronic back pain (failed spinal surgery) I often find it challenging to be in the seated position for prolonged periods so SUP is perfect for me as I can change positions frequently and I can even add a seat and turn my board into a kayak if I wish.
I also adore that I can combine a sport with my absolute joy of nature. Paddling down one of the many rivers in Central Portugal is pure heaven with Vitamin D and sun rays on my body, magical. Experiencing beautiful rock formations, breath-taking cliffs and caves whilst I re-connect with nature and leave the world behind for a few hours is priceless. I also love that I can jump off my board and wild swim into epic caves that I can't reach from land and hopefully one day in the near future I will summon up the courage to jump from the high cliffs into the crystal blue waters below.
It is a whole body workout as it helps improve my balance and flexibility with little impact on my aging joints. It's fantastic for my core too and the paddling is not only an upper arm workout for me as when I am resisting against the water with the paddle I am also working on strengthening my legs, core, spinal muscles, neck, arms and glutes. Also when I fall in I have to use my upper strength to pull my body weight back up onto the board. It basically is a workout for all my muscle groups and sometimes my shoulders ache for a couple of days afterwards, no pain, no gain (ha ha).
It also works the smaller intrinsic muscles around your feet, ankles, knees as you maintain your stability on the board so I am even working muscles that I didn't even know I had.
It's a great sport for all levels and total beginners like me. I have poor balance due to a bad break on my left foot which never healed properly but I can stand no problem and when I stand it is helping to improve my balance and coordination.
A lot of people say it is 'moving meditation' that requires full concentration, helping you clear your mind of stress and focus on the here and now. Not sure about that but I do find it therapeutic.
It's great for recreation and to have a laugh with my family and bond with my partner but it's also great for longer distance journeys, yoga (if that's your thing), fishing and even surfing.
It's such a fun activity to share with friends and family but I also love to paddle off on my own and find solace in the peacefulness of the moment, listening to the birds chirping away and watching the teenagers jump from the high rocks and somersault into the water below is an unforgettable experience.
Watching my teenage daughter fall in the water is the best therapy and FUN I have experienced in a long time, pure satisfaction, I nearly wet myself laughing once I knew she was not drowning.
Purchasing our SUP boards
After our lesson we were keen to purchase our own boards and lucky for us Lidl had a super offer. What can I say, I visit Lidl for a pain au chocolate and walk out with 2 paddle boards (ha ha). Lidl had a great offer on Mistral inflatable SUP boards for €299 which included a full starter kit and the following accessories: Adjustable aluminium paddle and extra paddle end to adapt into a double paddle for kayaking, removable fin, seat to adapt to kayak, leg coiled leash/strap, pump, dry bag, puncture repair kit and carrying holdall. The only item it doesn't come with is a life saving jacket. I read reviews before we bought them and they are a mid-priced board that sits in the middle of Mistral's inflatable range. A great beginner-friendly board, a great all-rounder and is perfect for river exploration and coastline navigation alike. The board has a carry handle which makes it easy to carry when inflated and a section for your personal items with bungee cords and rings at each end for tethering. All reviews highly recommend the Mistral and confirm that it is built from high quality materials and the board itself performs very well in a wide range of conditions. When properly inflated it's super rigid and stable, which helps make the board easy to paddle and manoeuvre. I totally agree and think these boards are epic.
I think the inflatable SUP boards are a great invention as often being in excess of 10 foot, the hard-bodied versions can be a pain to store and transport. Inflatable boards get around this issue by packing down to the size of a large rucksack making them much more user-friendly and fit into our car boot with no issue at all. I imagined them being flimsy like an inflatable lilo but they are so strong and rigid, ours can hold up to 150kg each and although they are 1 person boards I can carry my daughter when she visits, a small child or dog if I wish. I don't have a small child or a dog and I'm not going to kidnap either to prove a point but I'm just saying (ha ha). It's easy to inflate and takes us about 10 minutes to inflate and another 10 mins to deflate and pack away. I do find that it is a struggle trying to fit the board with all the accessories into the backpack but we get there in the end. The backpack has a carrying handle but can also be worn on your back like a rucksack which is great. It's not too heavy and weighs 10.8kg. We purchased the cheaper complete kit and the boards length is 10 foot 5 inches, 33 inches wide and 6 inches thick. There was a longer board with full kit available for a higher price of €399 but we are beginners and totally happy with our purchase. Apparently the price of our board and all the accessories should retail between €500-€600, so we are chuffed to bits.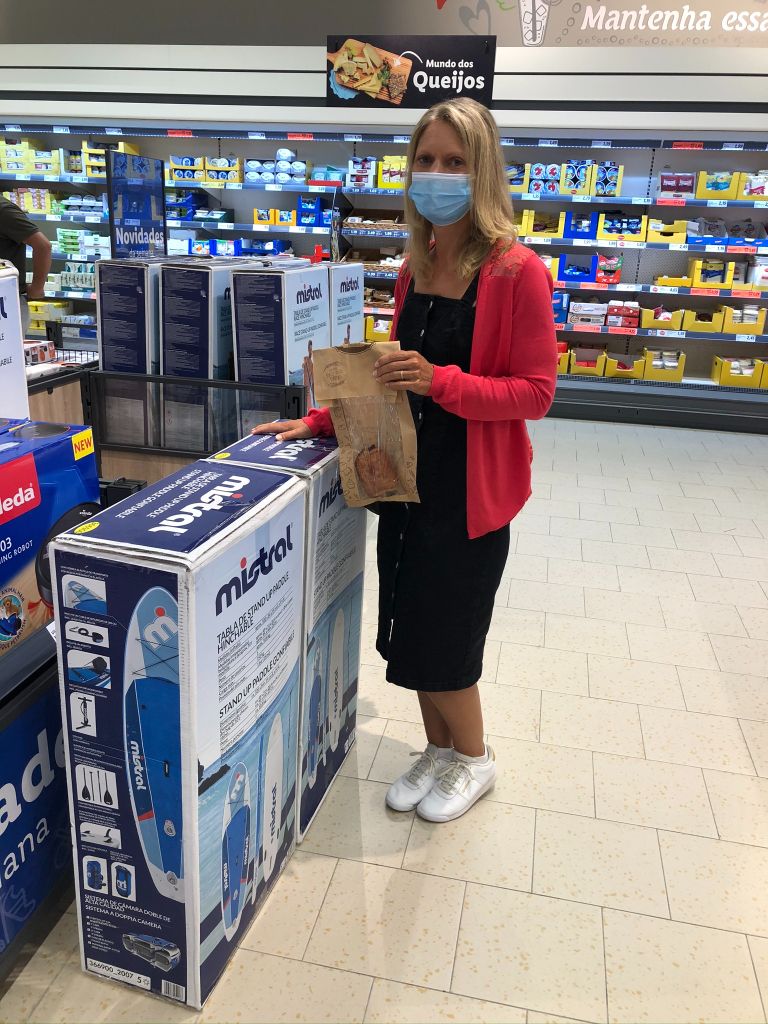 Safety equipment
The paddle boards that we purchased came with a full kit including the ankle leash coil and the only safety device it was missing was a life jacket. We are average swimmers but Teanna is still a beginner and can't swim more than a few strokes so we made it a priority to visit Decathlon and buy her a life jacket. I was shocked to find that Decathlon had no 60-80kg life jackets in their Viseu store. I find this pretty poor service as they sale paddle boards, kayaks and surf boards but had no safety equipment in stock which could potentially save a life. I can't imagine a cycling store not having any safety helmets in stock. I wasn't even trying to buy the cheapest one, I was willing to buy a more expensive one but they had nothing. I decided to have a look online and found that they had a couple available in the Decathlon Aveiro store so I ordered online a mid range black safety jacket for €40 via click and collect option.
I think I will likely use this jacket once Teanna heads back to the U.K as I'm pretty accident prone and clumsy so it will keep me safe. The only other safety equipment I can think of is maybe a whistle, compass and a light if you plan to paddle after sunset. I also purchased 2 great plastic waterproof protectors for our phones. Originally I bought these as I sometimes like to take my phone in the water at river beaches when on my lilo and take photos from the river. I purchased them from Amazon U.K £12 for two and they are excellent, you can take great photos through the plastic protector. When we paddle board we like to take our phones for safety just in case we needed to make a call if one of us fell ill or were injured. Once inside the protectors we place inside the dry bags and attach to our boards. Teanna managed to flip the board over when she fell off and it was upside down for some time and she had 2 iphones in the dry bag but they didn't get wet at all so I highly recommend them as very cheap and saves your phone from an early death by drowning or water damage. I hate wearing shoes and socks and I especially hate wearing water shoes but some rivers can be very rocky at the bottom and after my experience of slicing the bottom of my toe open I would recommend these shoes for safety measures. Finally I would recommend you dress for the temperature and don't forget the sunscreen if hot.
Christening our new paddle boards
Our first use of our paddle boards was at the fantastic Castelo river beach which has the amazing Ilha do Castelo ou dos Amores (Island of the Castle or of Love). We had so much fun paddle boarding to our very own deserted love island. We hired Teanna her own paddle board with life jacket and the three of us headed off to the island. We tethered our boards and explored the island before heading to another beach area then back to the main beach. Such a beautiful tranquil place to trial our boards for the first time. I will never ever forget this experience of trying out our boards for the first time by paddling to our very own deserted love island. Teanna even had a dog jump on her paddle board at one point (ha ha). It was so cute I nearly stole him. When I adopt a dog in the future it is so coming paddle boarding with me. I did invite bunny Milo but he has a fear of water so declined, his loss (ha ha).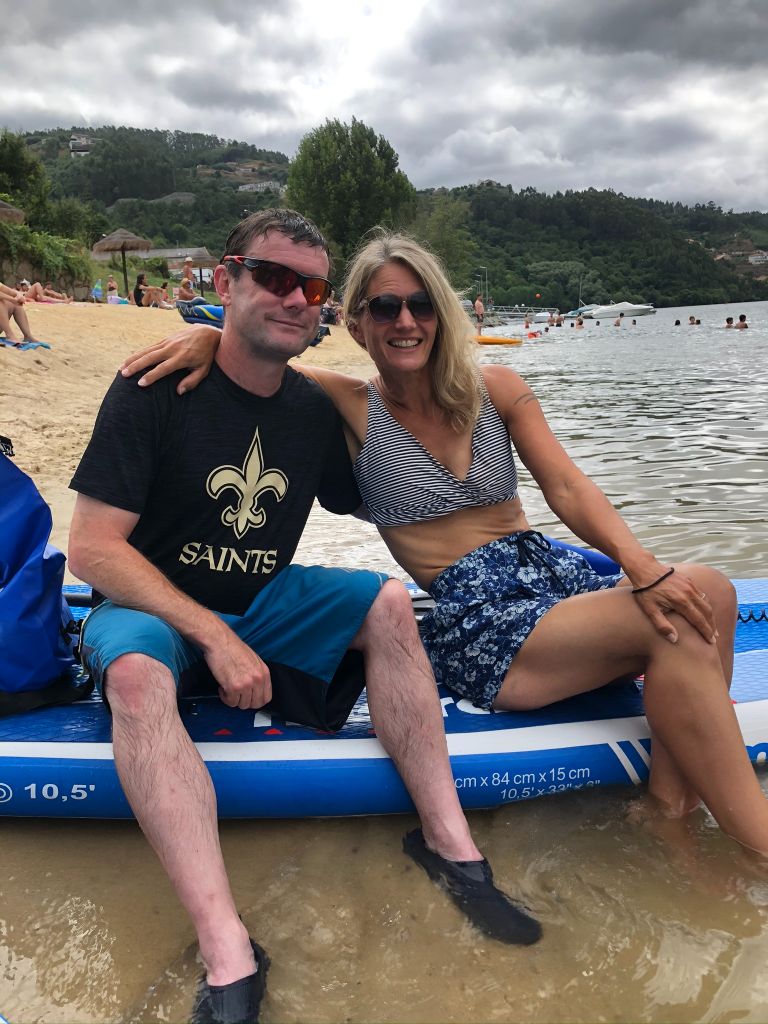 Naming ceremony
We now have names for our boards, I initially wanted to go with Terry and June but after much family debating we decided upon Nemo and Dory. My board is obviously Dory as I'm perimenopausal and forgetful (ha ha).
Family paddle boarding
We haven't ventured on a long journey yet as Teanna has only just returned home to the U.K so the 3 of us were sharing our 2 boards. We have had so much fun spending time together on the local rivers. Hubby and Teanna have got very good at turning their boards around fast. This takes quite a skill and you have to shuffle right to the back of your board which is hard to accomplish. I love watching them and filming them fall in. I've never laughed so much in my entire life. I on the other hand just try to stay upright on the board and not take some child out when I fall in (ha ha). I am trying to be brave and try new challenges outside of my comfort zone like jumping in off of my board. I am proud of Teanna for standing on our boards and jumping off into the river as her swimming skills are still limited. I would be really scared if I couldn't swim even with a life saving jacket. Teenagers have no fear. Maybe us oldies should take a leaf out of her book!
My new motto is: risk it for a biscuit but try not to shit myself which actually translates in my head to risk it and try new things then I get rewarded, not always with a biscuit, sometimes with a nata or the pure satisfaction that I gave it a go and succeeded, oh and try not to physically code brown in the process (ha ha). I'm quite proud of myself as I have a hidden disability, chronic pain and a few health difficulties but I try my best and always give 100% effort and never give up. With sports I know my limits and make adaptions so I can find fun activities that keep me fit and healthy but are achievable and fit into my day to day and weekly life.
I can't wait to pack some Portuguese food and water and head off for an epic adventure with hubby. Our plan is to paddle board until we are tired and stop off for a little rural picnic then paddle board back to the car. I have to bear in mind that it's not a circular hiking route and there is no one to move the car and meet us so whatever linear route we embark on I have to paddle back so I need to save some energy. What's great about owning our own boards is the fact we are not restricted by time. We can take a rest whenever we like then re enter the water. Hiring costs soon mount up so we will break even in no time. I can't wait for all the epic adventures that we are going to share on our new boards Nemo and Dory. I am already googling new places to explore. I absolutely love paddle boarding, if it's good enough for the celebs like Julia Roberts, Cameron Diaz and Jennifer Aniston, it's good enough for Princess golden coaches Helena (that's my new nickname after I fell in love with the coaches at the Coach Museum on our road trip to Lisbon – ha ha). I hope I have inspired some of you to try out paddle boarding as it's so much fun. It's lovely to find a sport that is enjoyable to participate in then it doesn't feel like exercise at all, just FUN, FUN, FUN.
Pateira de Fermentelos
Paddle boarding on the largest natural lagoon on the Iberian Peninsula was such a fantastic experience. It was a bit choppy at times! I will definitely write a separate post on this place as it's so picturesque.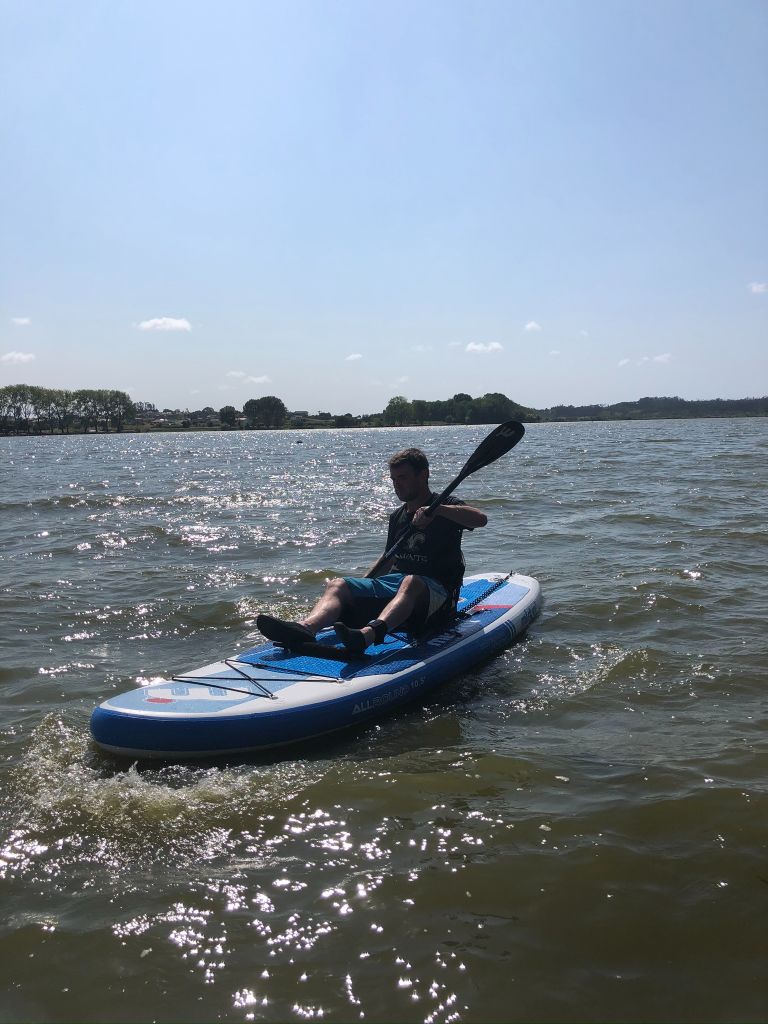 Cascalheira river beach (Secarias)
Strange but true fact: One side of the Alva river is Cascalheira river beach in Secarias, Arganil and the other side is called Ronqueira river beach and is in the municipality of Tabua, how strange! We along with many others just call it "Scary Ass" instead of Secarias. There's nothing scary about it, it's beautiful. I am going to write a separate post on Local River Beaches which will include a few of our favourites which are all under a 30 min journey from our home.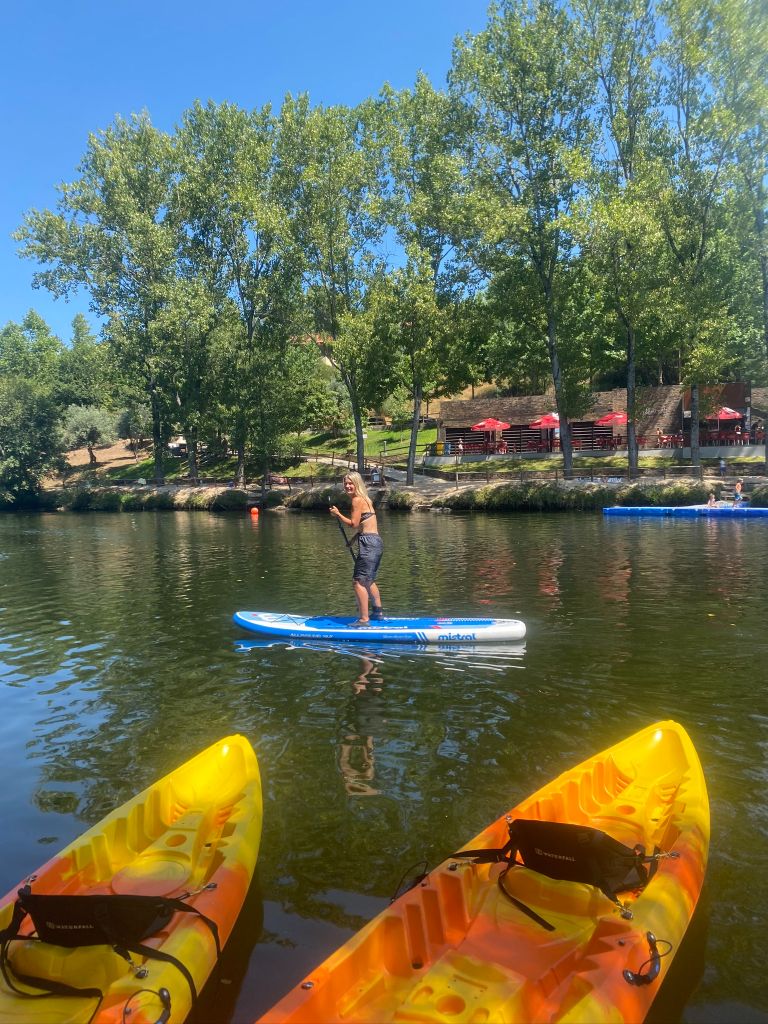 Leisure zone of ​​Valeiro do Barco (Sarzedo)
I love this place as it's so close to our home and is a leisure zone area as well as a river beach. It has a swimming pool, tennis courts and is next to a campsite. Recently the local municipality have made some great renovations and added a couple of swings, bridges and cute benches. They seemed to have rebranded it as Sarzedo which is the area it is located in within Arganil. I love the fountain, water wheel, diving board and espeically enjoy the wooden board in the middle of the river where I can climb and sit to watch hubby and Teanna paddle board.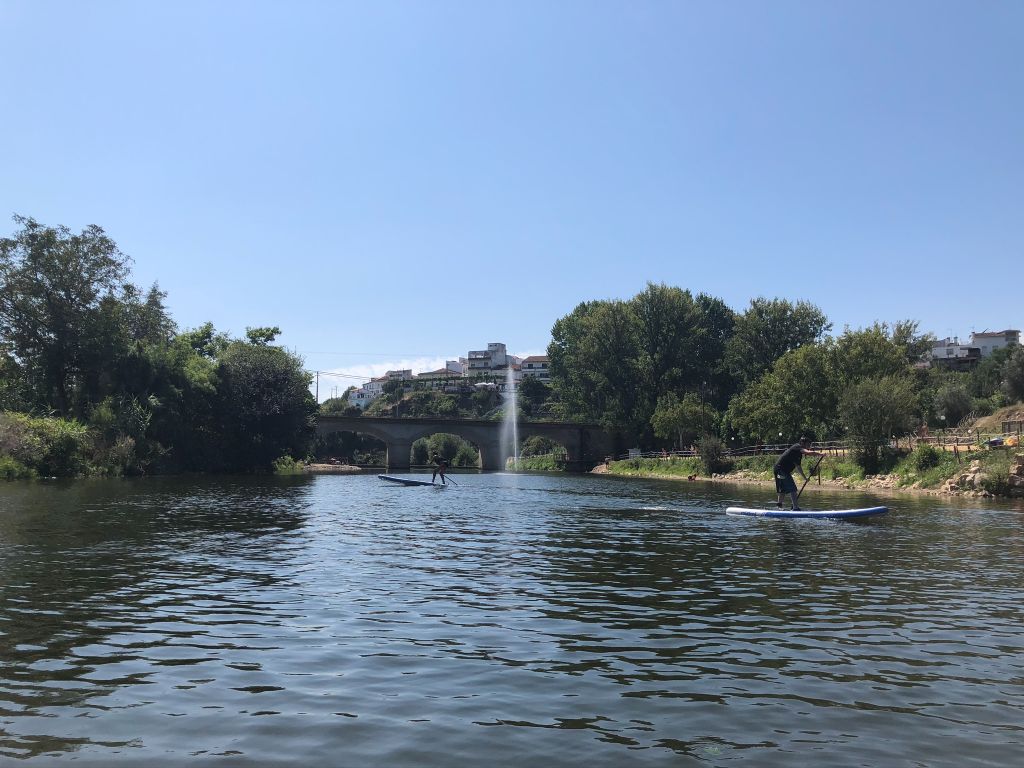 Parque Merendas Senhora da Ribeira (Mondego river)
The Mondego river is so beautiful with warm water so we decided to return to a spot where we previously kayaked with Rock and River. It is a stunning little picnic park with an abandoned chapel. Last time we visited the water level was much higher as we could kayak through the chapel. Now it is August the water level is much lower. You can see the water marks on the side of the chapel and huge boulders. We had an amazing afternoon here paddle boarding and covered some distance, a beautiful spot for a swim too, excuse my fresh face and messy hair which appears to be in different stages in the selfies (ha ha). We saw a huge majestic stork (hopefully it wasn't delivering a baby as we have 10 children between us!) and I also saw something jump right up and somersault out of the water. I believe it was a dolphin but hubby thinks it was a large fish. I'm sticking with my dolphin sighting (ha ha). We even got the delight of a man wearing speedo's whizzing past us on his speed boat, why not I say, if you got it, flaunt it my friend (ha ha). When we were packing up and leaving a truck arrived with a 2 seater sofa in the back with 2 ladies sat on it! Only in Portugal (ha ha). I am wondering if the bloke uses this sofa as a chat up line. "Hey ladies, want a ride in my open top vehicle? Hop in the back and feel the wind in your hair" (ha ha). See last 2 photos.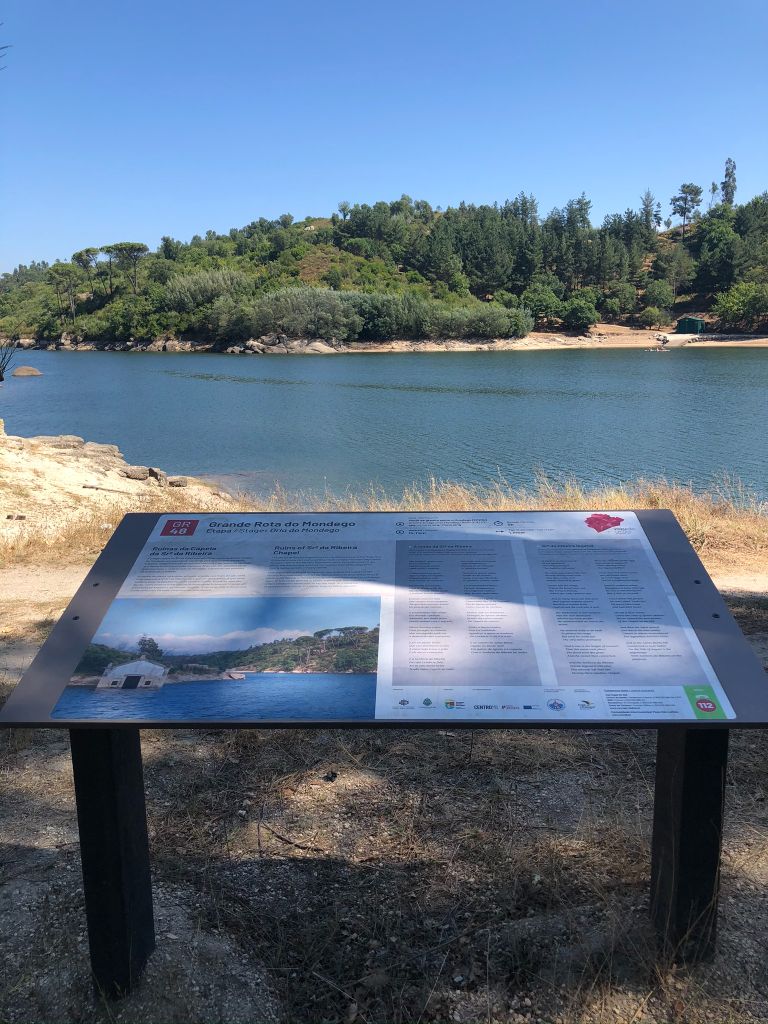 Palheiros and Zorro river beach
This river beach is beautiful and a short 15km drive from Coimbra so we visited after some retail therapy at Forum shopping, Coimbra. It was very busy on a Saturday and I have never seen so many people kayaking. I love the Mondego river as it's always warm. There are great facilities here with a cafe/bar, kids playground, BBQ area and a lovely bridge. There was even some live music playing! As we paddle boarded down river we saw so many little natural spots with 4 X 4's loaded up with kayaks. It really is a popular place for tour guides and kayaking experiences.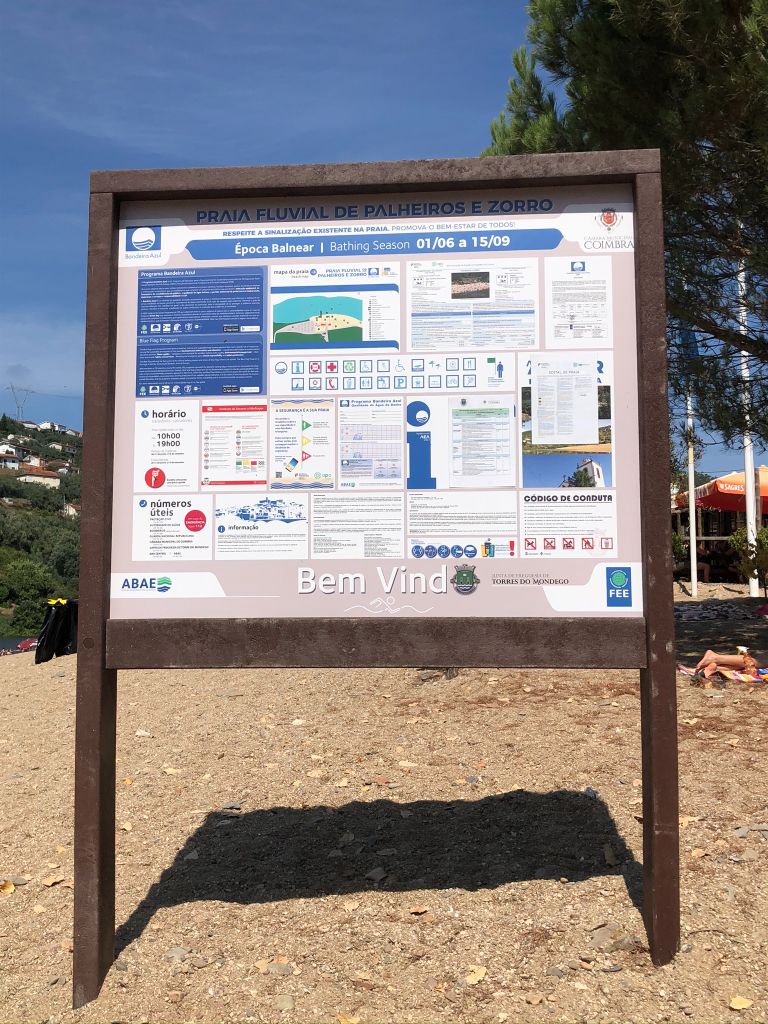 Vale do Rossim
To celebrate Teanna's birthday and the August U.K Bank Holiday we ventured on a SUP boarding day trip to Serra da Estrela. We visited 2 amazing lagoons: Vale do Rossim and Lagoa Comprida. We had so much fun paddle boarding in Vale do Rossim, it's 1437 metres above sea level and set within a glacial valley, the largest glacial valley in Europe! The back drop is stunning and the sun glistening on the crystal clear water is just magical. I thought the water would be freezing being so high up but it was actually very warm I even ventured in the water for a swim with the fishes. There is a beautiful cafe/bar and they hire the funniest pedalo's with a slide on! There were very few people so a gorgeous and tranquil afternoon and we even recorded Teanna a birthday video message from the middle of the lagoon (ha ha). We also met some friendly cows. A perfect day with my soul mate. We are trying to work out a way that we can return to Lagoa Comprida and paddle board as it looks epic. The difficulty is accessing the water as it's quite a walk with heavy boards from the car park and you can only drive down so far without a 4 X 4 vehicle. Watch this space!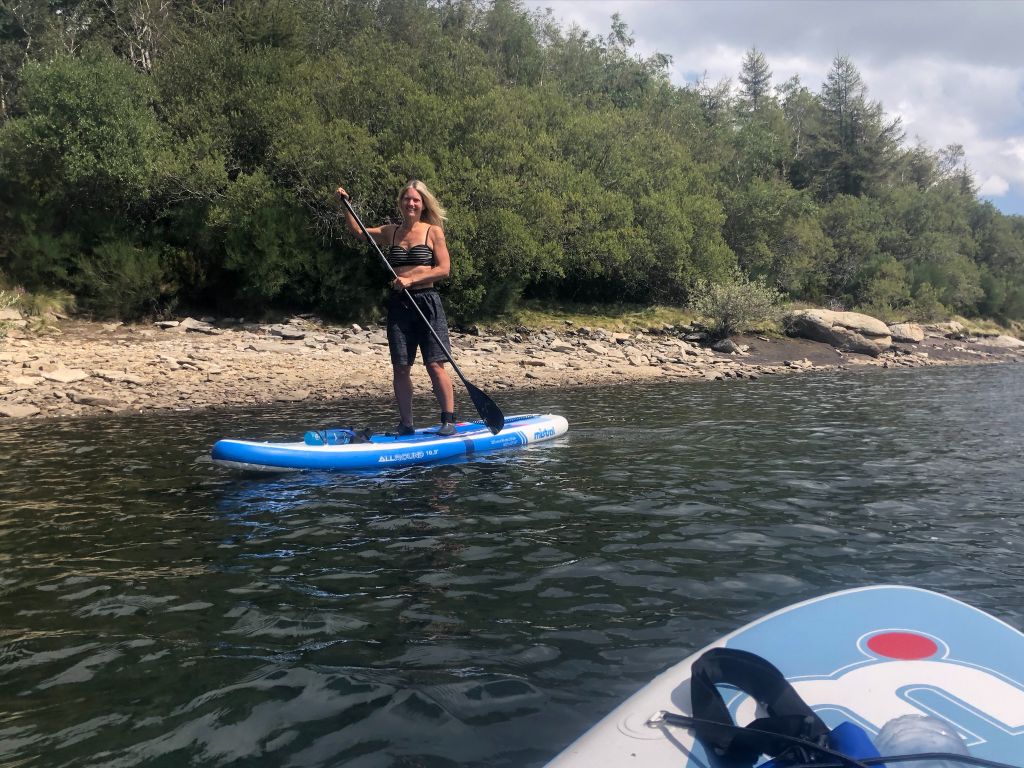 Lagoa Comprida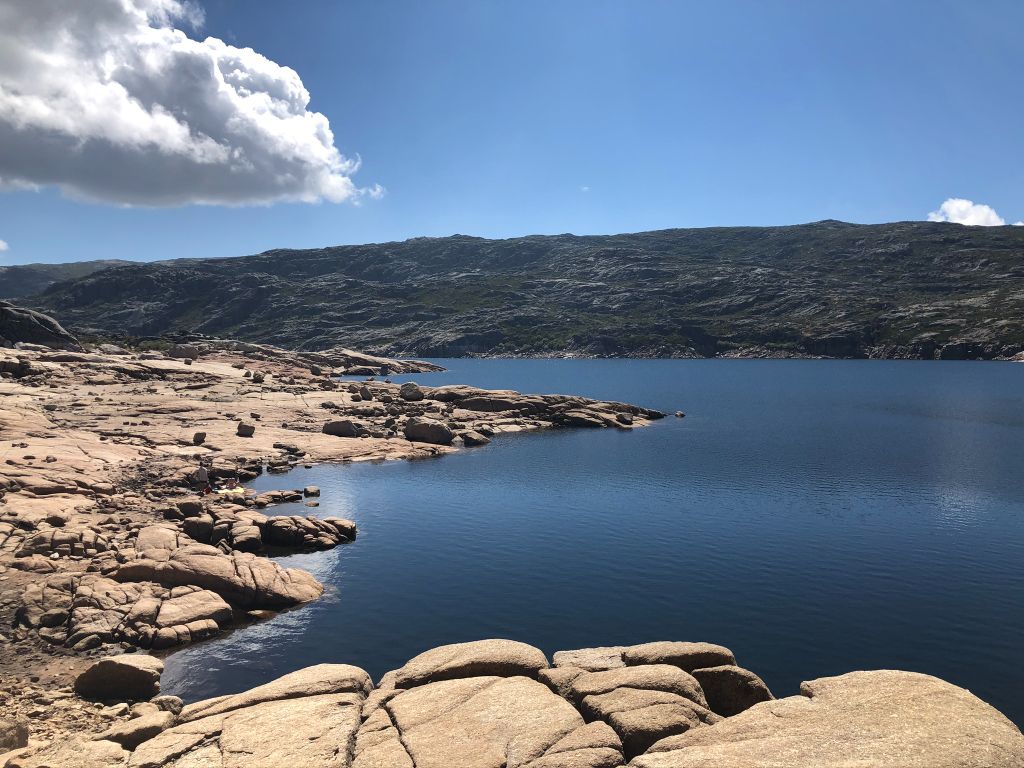 The friendly Serra da Estrela cows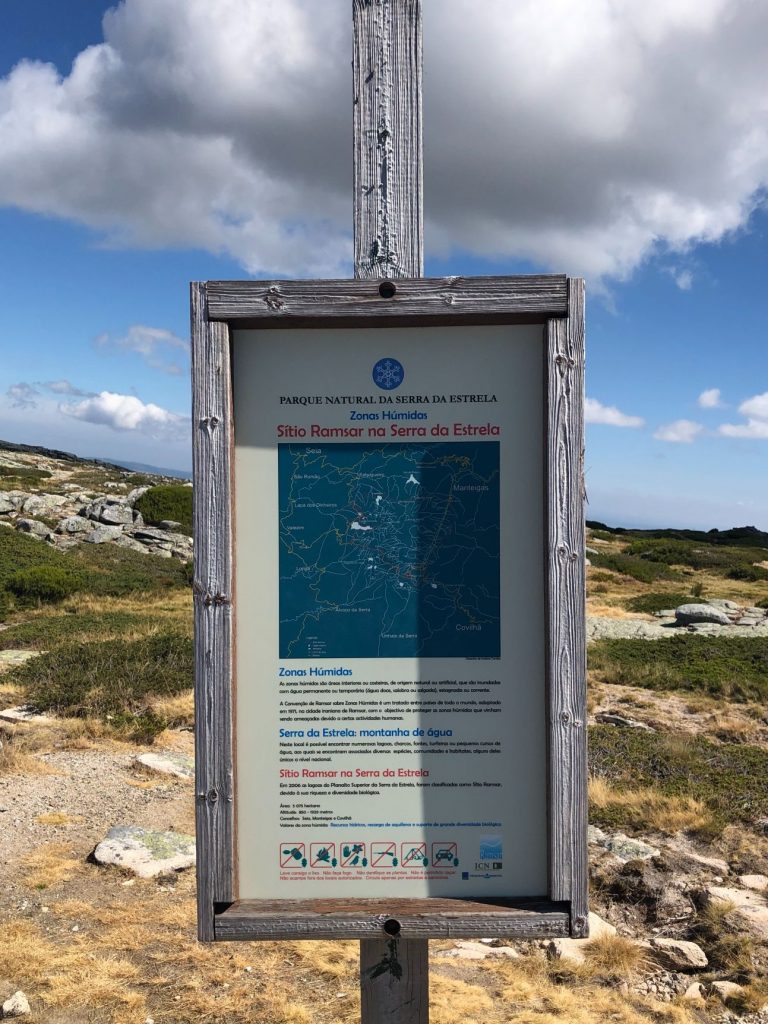 Albufeira do Cabril river beach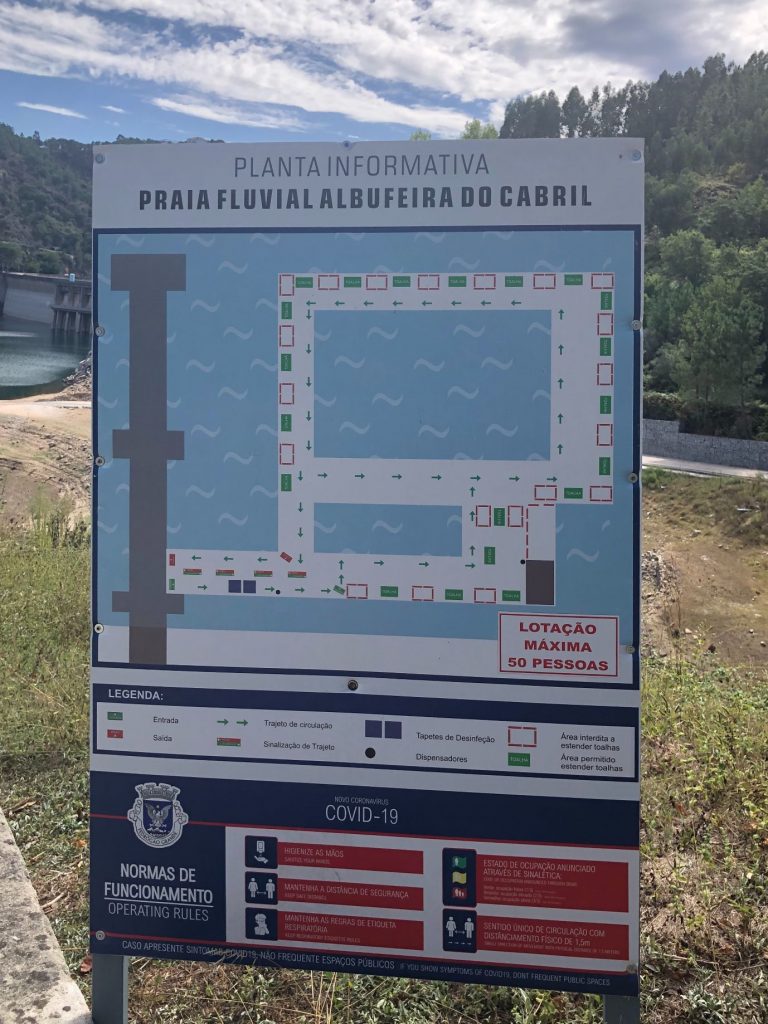 Côja river beach – Moinhos de Alva leisure Zone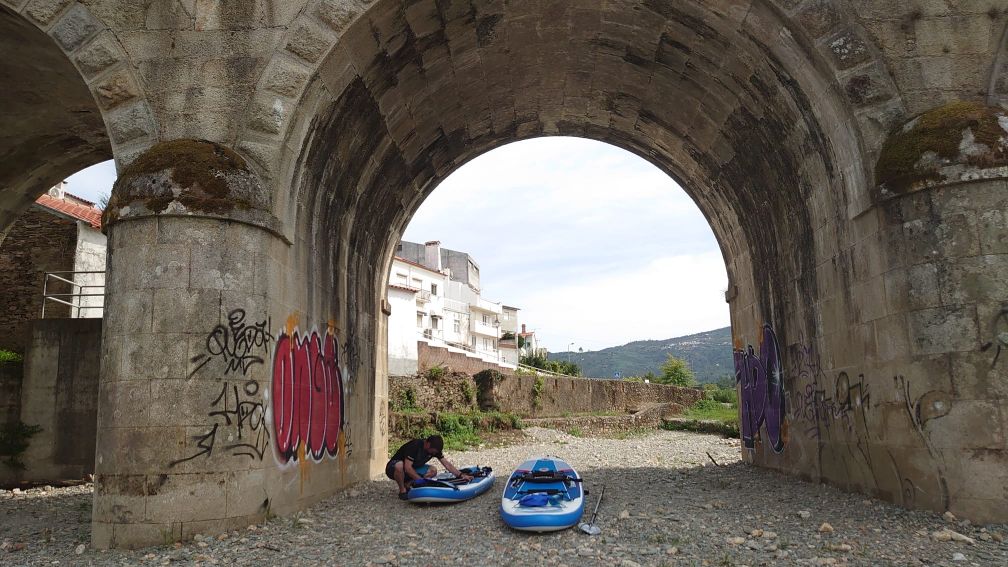 Barragem de Fagilde
Another super Saturday SUP boarding at Barragem de Fagilde with my soul mate. Found an amazing secluded nature spot on the Dão river and paddled 5km round trip right up to the Dam, bar and back. What's amazing is the river beaches are now closed and some are gated off from the road so when we access them from the river we get the whole place to ourselves. We are children at heart so had to have a go on the seesaw and rope swing. I was a bit over enthusiastic on the rope swing and hurt my fanny (ha ha). Beautiful picnic by the river with epic Portuguese cake and we spotted a couple of cray fish and many birds of prey. Sensational day with the whole beach and river to ourselves, pure heaven.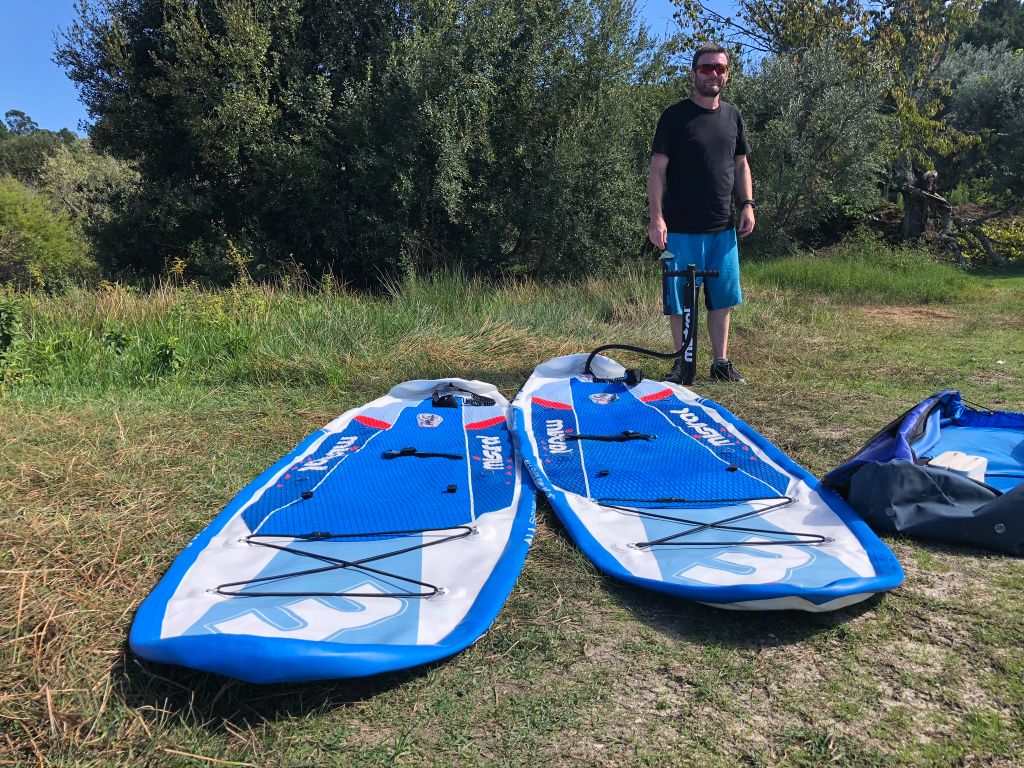 Barragem da Aguieira
A spectacular day paddle boarding in a secluded spot near Santa Comba Dão. We enjoyed an impressive 10km of the Dão and Mondego rivers. Not another soul around except for a few fishermen and 1 speed boat who kept zooming up and down creating mini tsunamis for us which was fun. We found a quirky little bar with epic seating made from old wine barrels and enjoyed paddling right up to the dam and viewing all the boats. So many fish jumping high up out of the river. Hubby found a tiny stone that looked like a tooth so made me "Helen the Hippo" from the picnic tin foil. I think he may be trying to tell me that I look like a hippo from too many Portuguese pastries (ha ha). Another beautiful tranquil day in this epic country.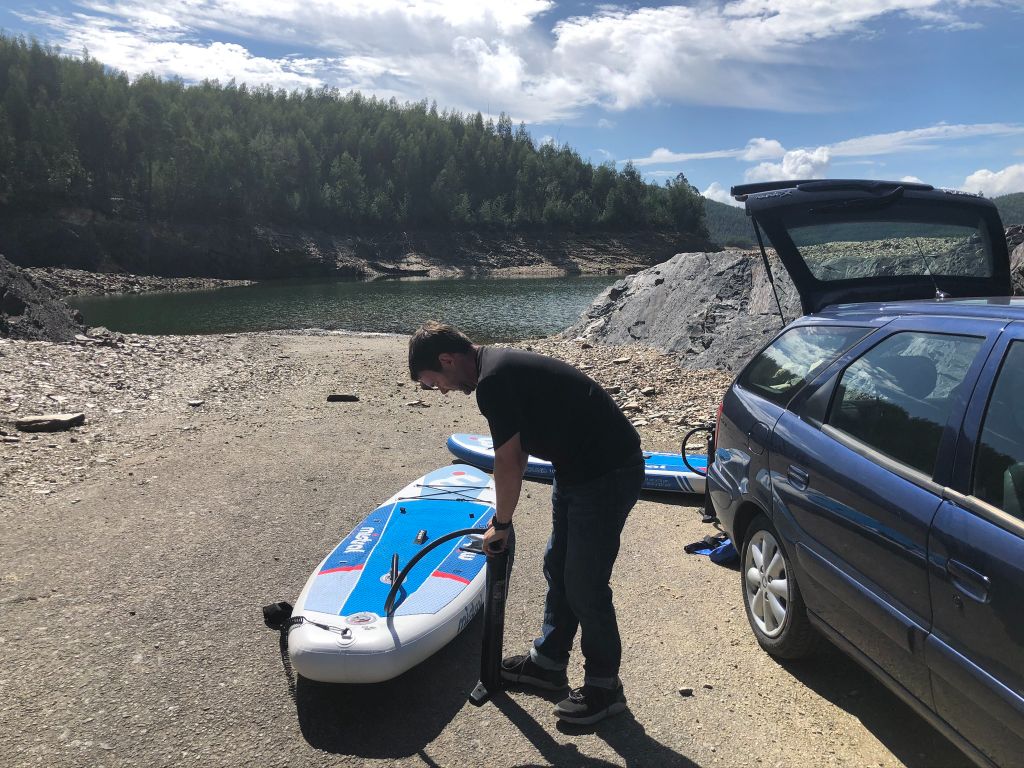 Moinho das Freiras
After a hike to a waterfall we continued on to the wonderful Moinho das Freiras and met up with some fellow Bristolians for an afternoon of paddle boarding. There is a quaint stone bridge and we paddle boarded right under the bridge. If you enjoy hiking make sure you sample the "PR2 Trilho do Zêzere" trail.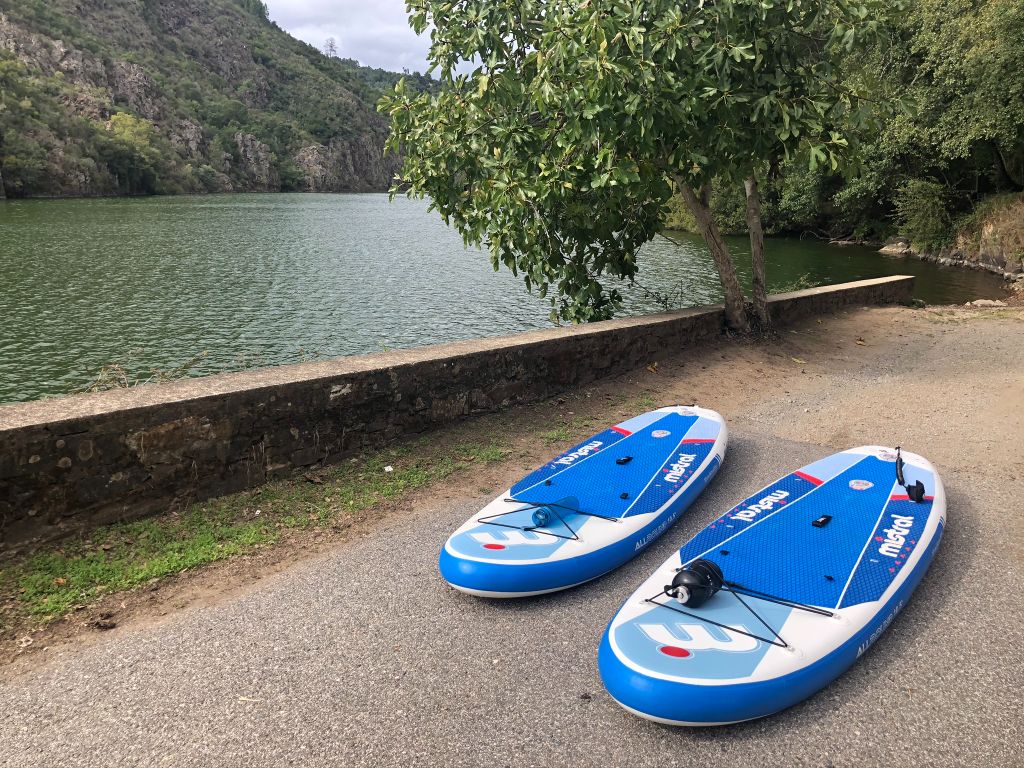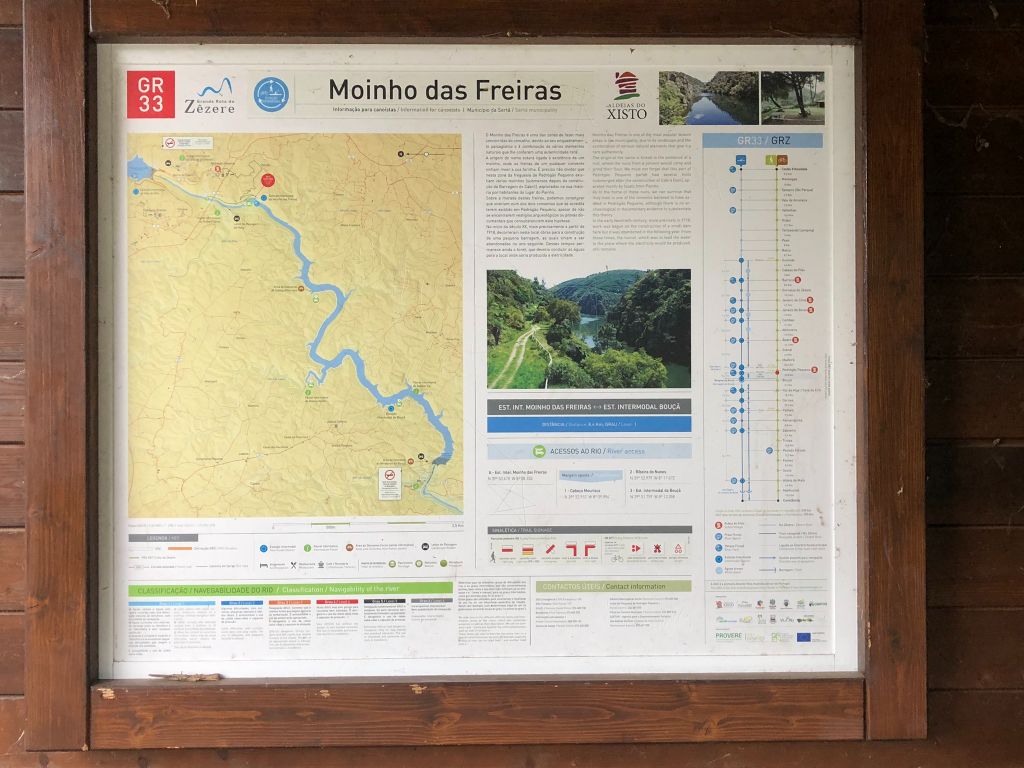 Barragem de Fagilde (2nd visit)
We enjoyed ourselves so much on the Dão river so we returned to Barragem de Fagilde and paddled in the opposite direction to our previous visit a couple of weeks ago. It was quite hard paddling against the wind. We found an amazing secluded tranquil spot with a little island, spectacular swishy clouds, pure heaven. I'm making the most out of every last second of October sunshine in this beautiful country I now call home. I hope no one wants to visit as our house and garden are a bit of a mess and neglected but I don't care as we are too busy having FUN. The tasty Portuguese sweet treats were yummy too. I feel so grateful and blessed to live in Portugal.