BALOIÇO DE PEDREIRA & LAGOON
Another rare weekday off work for hubby so we visited Baloiço de Pedreira and then spent the afternoon paddle boarding on the river Dão. I have a separate "Swinging in Portugal" post where you can view all the swings we have visited and see the GPS and photo gallery. I decided that this swing deserved it's very own post because it was the bomb! You can find my other swinging post here: https://casavalhal.com/swinging-in-portugal/
This weird and wonderful swing which opened in June 2020 is located in a surprising location, a deactivated quarry in Cela, Castro Daire, Viseu. Pedreira in Portuguese translates to Quarry in English. I was not sure what to expect from this leisure zone but I was elated when we arrived and saw the rural exquisite natural scenery and all the awesome quirky striking additions as well as the beautiful scenic swing amongst dazzling nature with views over the gorgeous serene emerald green lagoon. This place is right up my street and a little bit bonkers, like me (ha ha). It made me smile so much and I ran around the place like a curious child discovering all the hidden treasures. As usual we had the whole place to ourselves which is unbelievable! We spent a good hour here before one other family arrived. It was a scorching hot day and we had so much fun exploring all the different installations and reading the messages on the individual artwork. I found it strange that some of the signs were in Portuguese yet others were in English. All the beautifully vivid colours made me smile. I really loved the swing overlooking the pristine lagoon, the strange random doors and window frames and the bright yellow "Never Give Up" bench was way too cute. Hubby liked the front end of the truck complete with steering wheel and the brightly coloured jokey fun direction signposts with distances for far flung places and random captions. I know my beach cover-up that my daughter Teanna bought me is slightly see through but don't panic, I have my leopard print bikini on underneath with sturdy big granny knickers because I'm a wild animal and I thought we were going SUP boarding in the lagoon. I couldn't be bothered to dress up or wear a nice frock as it's not practical for SUP. This way I can just whip my cover-up off, throw on a pair of shorts and off I go paddling into paradise.
I was really sad when I discovered that bathing was prohibited in the lagoon as it's so pretty and peaceful. The only thing to break the silence was the echo of the singing frog chorus. I really wanted to paddle board on the water as it looked so inviting. I'm not sure why you are not allowed but I think it may be a health and safety issue due to the fact that it is located in a disused quarry. We heard loud bangs like gunshots and huge explosions nearby and I think there might be an active quarry right next to the leisure area and there are large rocks and boulders which could easily become unstable and crush you in an instant. As you can tell by my photos we had a blast here. There are many cute and quirky things to view including a bath, a toilet, several chairs including a peace seat, sculptures made from recycled materials and there is a rustic shabby chic hut complete with furniture which we entered to mainly get some shade as it was so hot. Inside were little seats, a table and an old fashioned china jug. I have a sneaky suspicion that once upon a time there was a full tea set but it's either got broken or stolen. It wasn't me by the way! I do break stuff by accident but I'm no thief. I literally climbed on everything I could get my leg over (ha ha). I loved having the whole area for so long to ourselves before the other family arrived as I can't be silly with people watching because I apparently embarrass hubby big time. Trust my cycle nerd hubby to find a bicycle. There are stone picnic tables and benches if you wish to bring a picnic and make an afternoon of it. There is a tranquil hammock too if you fancy a siesta or for reading a good book. I managed to stand on a tiny spiky thing which penetrated my flip flop and foot so hubby had to carry me to safety and do a mini operation and extract the object. I'm so accident prone, I am a total liability but he loves me. I have made all the photos large so you can see every detail of this magnificent place and read the signs.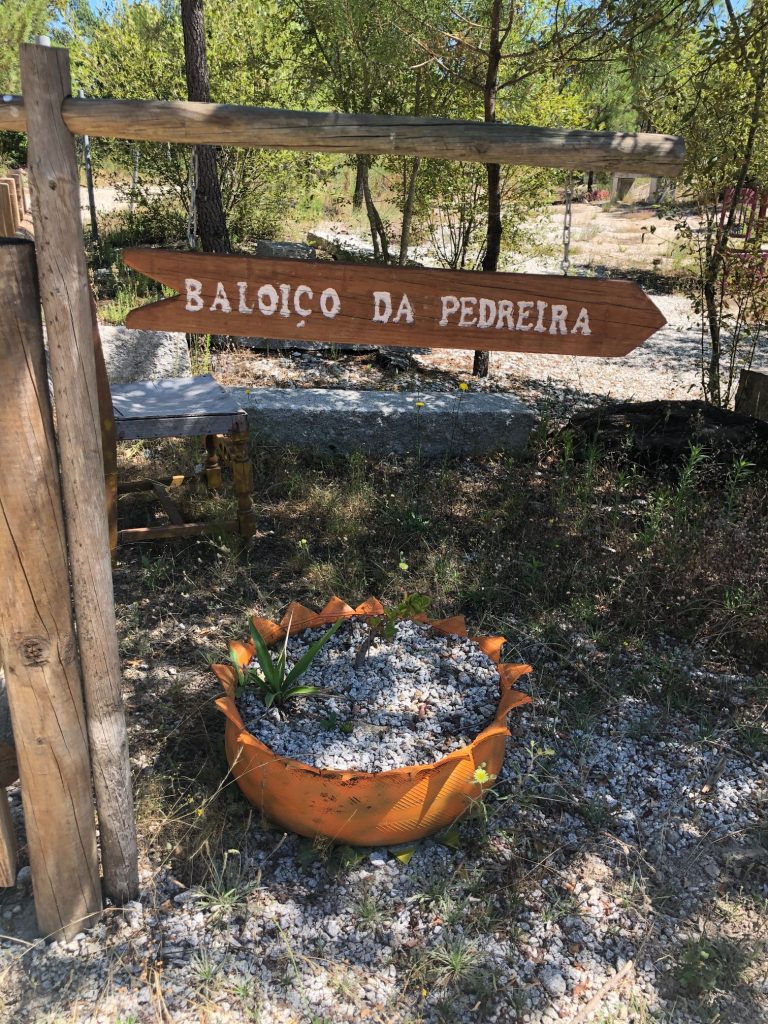 Serenity Swinging
The swing is adorable and has a cute wooden heart carved into the wood where you can take a photo through it so it appears like a keyhole effect but it was very tricky to take such a precise photo. It was virtually impossible to not get a blurred image and we just couldn't see anything as our phone screens got too hot and went dark so hubby didn't manage to get the swing sign name in the heart photo but at least he didn't chop my head off as usual (ha ha). He tried his best, bless him and in his defence it wasn't his fault as we were blinded by the Portuguese sun. €1 and a Pastel de Nata to anyone who can guess how many attempts he made at capturing the perfect photo (ha ha). I took 4 of hubby and failed at every attempt so deleted them all. Just as we were about to leave, a couple arrived with their small child. I took this as an opportunity to ask them politely if they could take a photo of us together on the swing and the man kindly obliged. Then we returned the favour so they got a nice family photo, or maybe not so nice as hubby was the photographer and the lady gave him an actual old school camera and not a mobile phone (ha ha). I think our heart photos are endearing so it was worth the effort.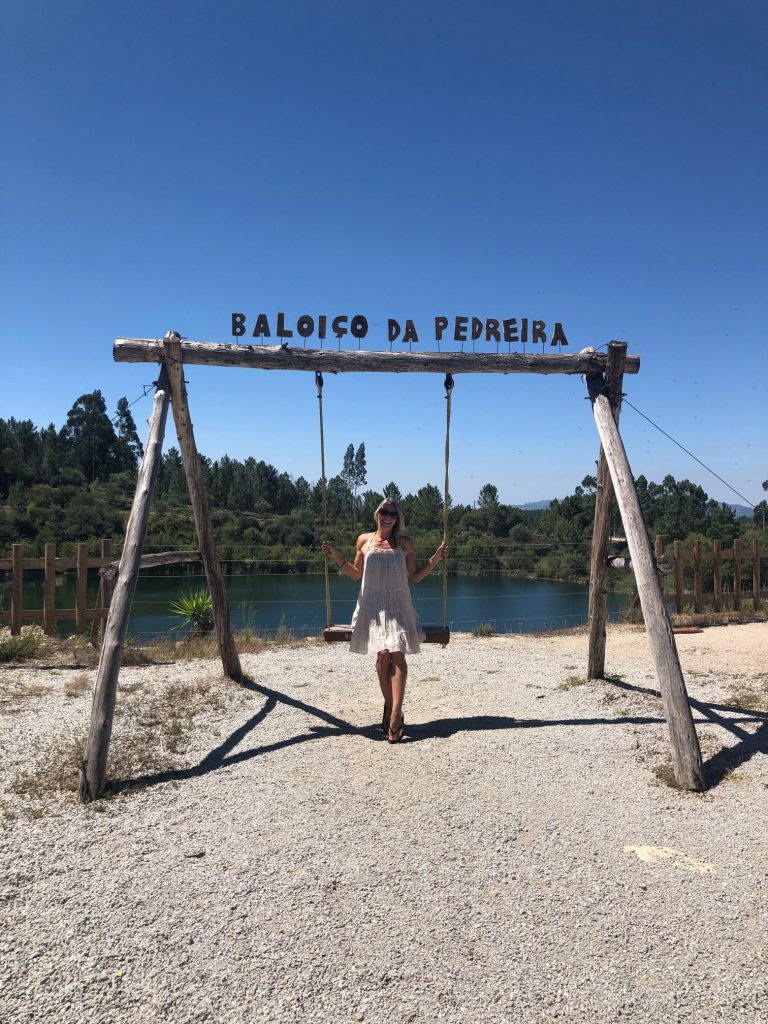 Never Give Up Bench
"Never give up on something that you can't go a day without thinking about." Winston Churchill.
Toilet Humour – The Pretend Poop
I obviously could not walk past this toilet without striking a pose as if I were taking a massive dump, not very ladylike but funny as hell (ha ha).
Hammock Helen & Hubby
We ended our awesome visit with a chill out in the shady hammock overlooking the glistening green lagoon. I was mesmerised by the mirror effect images on the water from the rocks and trees. Some women want diamonds, I just want a hammock (ha ha).
SUP in the SUN
We were sweltering in the Portuguese heatwave so we took a 20 min drive onto one of our favourite SUP locations. We paddled an impressive 10 km down the river Dão and stopped off at a little bar for coffee and ice cream, hubby obviously had a coke for his caffeine fuel as I just can't convert him to coffee (ha ha). We did get into an awkward situation when we tried to enter a really posh luxury looking bar. A member of staff confirmed that it was a private bar/leisure complex and you have to pay €5 for the full day to access the area and sun loungers. We just wanted to visit the cafe for a caffeine and sugar fix so visited the bar/cafe next door instead. Maybe they didn't want the common Brits invading their chic and lavish establishment as we looked very dishevelled from paddling 10 km (ha ha). I was mildly gutted as it looked awesome, I could see from a distance a gorgeous love seat adorned with an epic green floral heart which was so picturesque. They were having some renovation work completed and I could hear a loud drill so actually I don't think it would have been so peaceful after all and my €5 was much better off being spent next door on coffee, coke and yummy ice cream.
Overview
We had a riot at this place and I haven't laughed so much in ages. It really is a unique and precious find and certainly one of a kind. It is such a calm place free from disturbance and I forgot all about the stresses in my life. For an hour it was our personal little hideout retreat. A peculiar oddball of a place but a perfect dreamland in my eyes and makes a great backdrop for the best photographs. Everything is bursting with colour and as usual I've not photoshopped or edited my photos so the colour you see is real living colour! What an absolute magical find. How can anyone visit here and not smile, it lifted my spirit. Hubby agrees with me and found it all charming. This is what life is all about, enjoying common interests and fun hobbies with those you love and sharing precious moments together.
Be silly, be fun, be different, be crazy, be you, because life is too short to be anything but HAPPY.