5 DAY ROAD TRIP (DAY 5 BUDDHA EDEN, ÓBIDOS & PENICHE)
Day 5 and our final day of our epic road trip takes us to Buddha Eden, Óbidos and Peniche.
Buddha Eden 1/2 Day
The enchanted Bacalhôa Buddha Eden has been a firm favourite on my bucket list for a long time. It's such a unique tourist attraction which you would not expect to find in the middle of the countryside in Portugal. It is completely removed from the traditional Portuguese culture and very unique. It is the largest oriental garden in Europe with over 100 hectares of land, 35 hectares dedicated to the gardens and is located at Quinta dos Loridos in Bombarral. I was a little apprehensive before our visit as I didn't know what to expect. The photos I viewed looked amazing but I was worried it might be a bit tacky and like a Disney theme park (if you know what I mean). I had nothing to worry about, this place is awesome!
I was intrigued as to why and how the garden came to exist so did a little research and found out the following: In 2001 a wealthy Portuguese investor and art patron José Berardo was shocked by the Taliban government´s greatest acts of cultural barbarity and the destruction of the giant Buddha's in the Bamiyan village of Afghanistan. The Buddha's were demolished, erasing from memory masterpieces of the late Gandhara period. Berardo started the garden project in recognition of the cultural and spiritual monuments. I love the fact that it's a non-profit and the Berardo Foundation manages Buddha Eden with a mission to create a space for all people regardless of religion, ethnicity, race, gender identity, sexual orientation, age, disability or class. Their holistic mission is to seek unity in diversity as a way to discover happiness and in doing so these actions go some way to cancel out the destruction in Afghanistan and spread a culture of peace and love.
It was a scorching hot day and we explored every inch of the park. I was like a small child as every corner I turned I was amazed at what I saw. It was a massive sensory overload in a good way. If you want a tranquil day out and to find inner peace then this is the place for you. We arrived early and it seemed like we had the whole place to ourselves. There was no queue and the entry cost was only €5 per person and free for under 12's. There is a small train which can take you around the park which costs an additional €4 per person but we decided against it as it was a scorching hot day to sit on a vehicle with a face mask on so we walked instead. The gardens were open from 9.00-19.00 when we visited in Summer. The place is gigantic and we only saw a handful of people whilst we were there. We had so much fun exploring the different areas, it's stunning and we loved it all especially the huge palm trees, marble and granite Buddha's, sculptures, pagoda towers, amphitheatre, modern and contemporary sculpture art, hand painted terracotta soldiers/warriors, carved dragons, lions, angels, fountains, the huge central lake with Koi fish, pond and stepping stones, lily pads and frogs jumping in the air and exotic plants, bamboo forest and vineyards (If you like wines, you can enjoy wine tastings). Teanna and I had a race across the stepping stones which was fun and I didn't fall in. I resisted the urge to push Teanna in (ha ha). I felt like a contestant on Takeshi's Castle. The central staircase is the focal point of the garden which leads up to the huge golden Buddha. We were so lucky to have the place to ourselves and spent time here just chilling and reflecting on life.
The African sculptures art garden and the bamboo forest were our favourite areas. Just when I thought we had viewed everything on offer I turned a corner and saw huge African animal sculptures everywhere! It was one of our favourite places and we spent a lot of time here admiring the glory whilst singing along to Lion King songs (ha ha). Hubby loves giraffes so he was in his element. I think the sun had got to us all as we started to try and recreate some of the sculpture poses which was hilarious and I nearly wet myself at one point laughing so much. Jokes aside I am always intrigued with the meaning behind sculptures and it was fascinating to find out that the African sculptures art garden is dedicated to the Shona people of Zimbabwe, who for over a thousand years have been sculpting stone by hand into works of art. They believe in ancestral spirits known as "Vadzimu" and their sculptures demonstrate the union between the two worlds: physical and spiritual. For these artists, each stone has a living spirit, which influences what it will become and their job is to "release the spirit of the stone". Teanna's father is originally from Africa so she really enjoyed taking photos of the sculptures to send to him back in the U.K.
There are several Buddha sculptures by the lake with coins stuck on them. I think this is a symbolic offering, a good deed to bring positive karma. Teanna placed a 5 cent coin down on the wealth and health buddha and 10 mins later she found a 20 Euro note on the floor (ha ha). No one claimed it so she bought herself a beautiful handmade necklace from a little boutique in Óbidos. That's karma – Good things come to good people. I resisted the temptation to rub the Buddha's bellies to bring good luck, wealth and prosperity as I'm sure it would be disrespectful except for the laughing Buddha and I didn't want to look like the British crazy lady. However I did say a little prayer by the lake for my health and chronic pain to continue to be manageable and for all my family and friends to have good health and a lifetime of happiness. 
We visited a nice cafe on site where we stopped for drinks and ice cream. I was a little gutted that there is a strict rule about no picnics on site. We bought a picnic but luckily for us we only spent half a day here so afterwards we drove 1km to a nearby nature forest with picnic tables and enjoyed our lunch. I did see a lady and her family buy drinks in the cafe and crack open her sandwiches but I didn't want to get told off or kicked out. I am not sure why they have this rule, it seems a little silly to me but maybe they don't want people leaving behind a huge mess or maybe someone started a BBQ, who knows. We absolutely loved Buddha Eden. I was blown away by the beauty and originality of the gardens. Apparently the sculptures change regularly so it is a little different every time you return. It oozes uniqueness and is a place of peace, tranquillity and spirituality. Wear your comfy shoes and be prepared to do a lot of walking!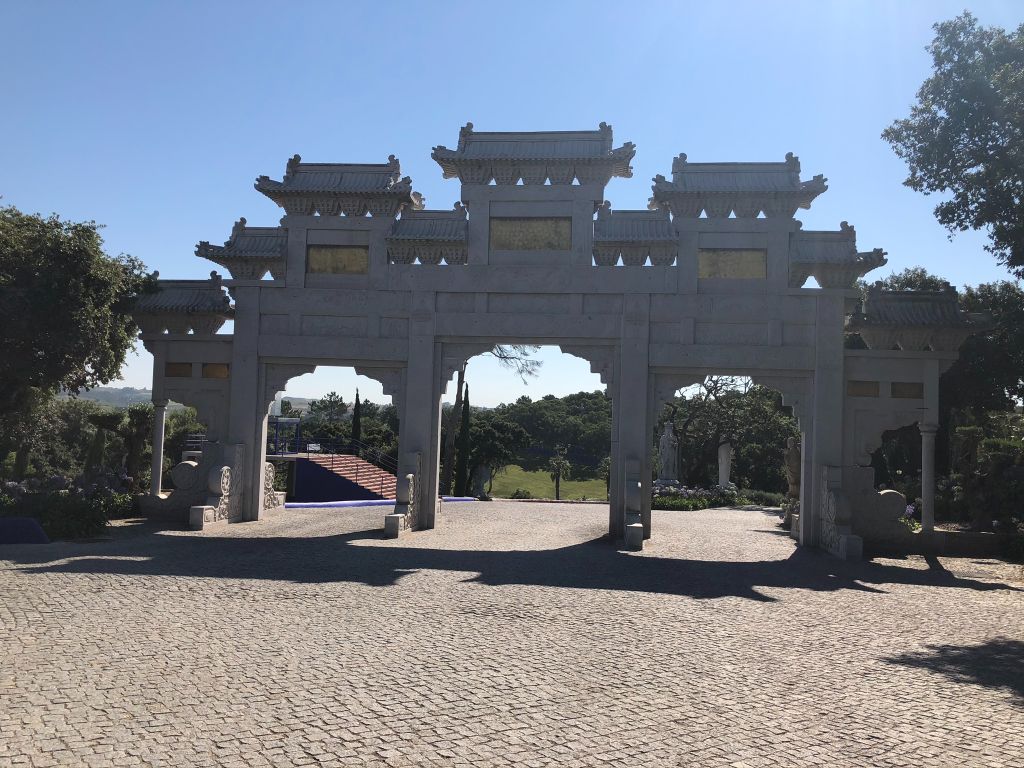 The sculpture reenactments
Here are the crazy Brits trying to reenact the sculpture poses. I was laughing so much it was tricky to get a photo (ha ha).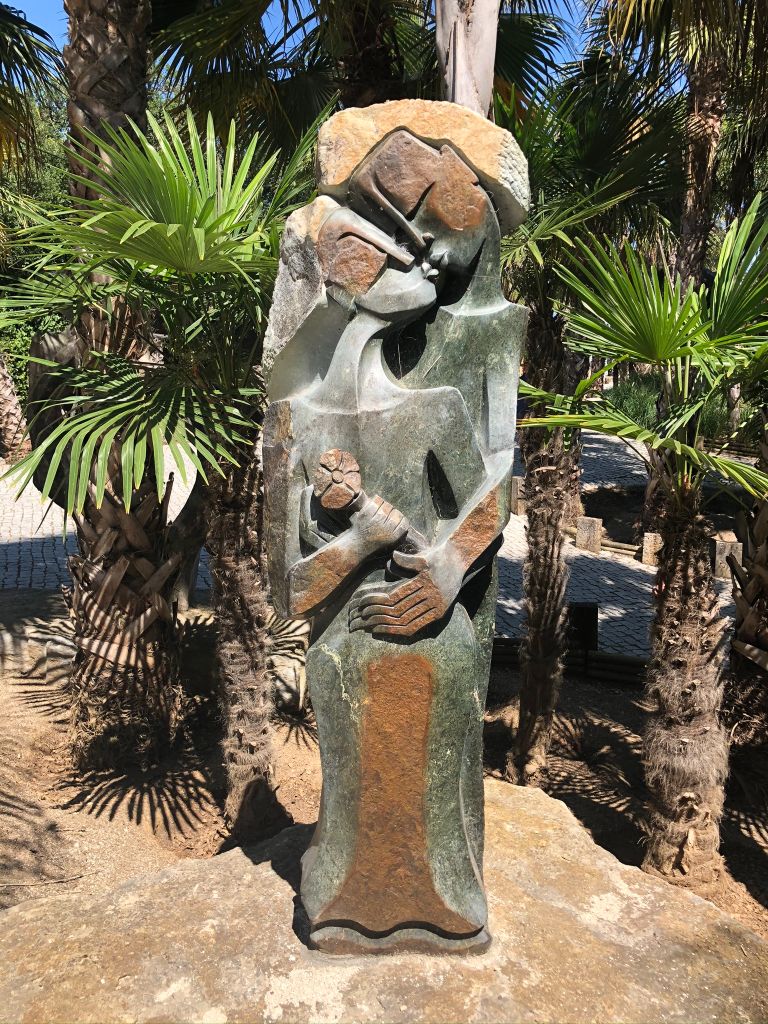 Óbidos 1/2 Day
I usually try to embrace the Portuguese culture and language and write all the places in Portuguese but we were given the map in English which makes sense as our Portuguese language is still poor, so the tourist attraction names below will mostly be in English this time as per the map.
Memorial Cross
St. John the Baptist Church
Wine Cellar Bookshop
Aqueduct
Town Gate
Casa da Música Municipal Auditorium
Camóes Monument
Rue Direita
Organic Market/Bookstore
Town Hall
St. Martins Chapel
St. Peter's Church
Novaogiva Gallery
Municipal Museum
Almshouse Church
Abílio de Mattos e Silva Museum
Santa Maria Church
Pillory
Town Portico
St. James' Church/Bookshop
Castle
Old Arms Square
Our Lady of Grace Gate
Our Lord Jesus of the Stone Sanctuary
We started off our day at the car park next to the tourist office and had to pay for parking which is not very usual in Portugal but it only cost a couple of euros. After obtaining a map in English from the tourist office, we headed off on our journey. I have heard so many good things about Óbidos. I was very excited to visit as it is known to be one of the most picturesque and well preserved medieval towns in Portugal. It is such a unique small town bursting with charm. Óbidos was gifted to the Queen of Portugal on her wedding day and the town became part of the dowry of all the queens of Portugal until 1834. Crikey what a magnificent wedding gift! I think I got a raw deal as my first wedding gift list was from Debenhams and I received a crockery set and a dodgy vase. Second wedding gifts resulted in zero gifts as we eloped and got married in Las Vegas (ha ha). We had so much fun wandering around the maze of little narrow cobbled streets with white washed houses and bright coloured flowers everywhere. We visited all the places on the map and were blown away by the pure beauty. There is so much to see and we had an epic time exploring the Roman castle ruins and it's 14th century battlements/city walls and courtyard, churches, chapels and monuments. The town gate: Porta da Vila is absolutely beautiful with elaborate traditional tiles and the aqueduct is fascinating. Rua Direita is popular for shopping and full of restaurants, bookstores and shops selling a multiple of homemade crafts. We didn't go inside of any of the shops except for the jewellery shop and the ginja shop as they are all so very tiny, it was roasting hot and we were trying our best to stay outdoors with air circulating due to Covid to minimise any potential risks. Teanna treated herself to a beautiful handmade necklace from a boutique on Rua Direita with the €20 note she found on the floor after her Buddha Eden trip, good karma. 
The site of Óbidos Castle was occupied by the Romans, Visigoths and later the Moors, who fortified the town in the 8th century. The castle was taken from the Moors during the reigns of King Alfonso I, and King D. Sancho I. The whitewashed former palace is now a glorious hotel. The castle walls and battlements are very high (13 metres), narrow and scary with no handrails. Not a great combination with my poor balance but I risked death for a once in a lifetime experience and it was epic. I did keep thinking to myself one stumble and I tumble and we had a long conversation about what the 2 crazy idiots would do if I fell off and died (ha ha). Hubby said he would be sad but I would die whereas Teanna said she would be sad but thought I might survive! We experienced amazing views over the terracotta rooftops and the lush plains beyond including views of vineyards and orchards. I really enjoyed venturing inside all the interior of the churches and chapels. Teanna is not a fan of religious buildings but as it was a scorching hot day she was happy to retreat inside for some shade. She literally saw the wonderful Igreja de São João Baptista and was in there, faster than Usain Bolt, no hesitation (ha ha). She spent quite a while viewing the artefacts in the display cabinet in this church and I was thinking, wow she is embracing culture and religion only to then see a mobile air conditioning unit right next to her legs wafting a breeze up her skirt (ha ha). Bless teenagers of today, May peace be with you along with a sturdy icy air con breeze! Our favourite church was the Igreja Santa Maria which is located in the Praça de Santa Maria (Square), make sure you view the interior as it is out of this world.
Óbidos is very small and compact so we viewed everything in 2-3 hours. I can imagine it getting very busy during non Covid times during summer months. Luckily for us it was very quiet and tranquil and I am so glad I got to visit the spectacular Óbidos and all it's delights. It really is very different from the other places we have visited. It was fun to learn that Óbidos hosts various events such as The International Chocolate Fair in April, the Medieval Market in July and August where you can see people in traditional dress and sample delightful foods amongst dancers and jesters. There are also music events such as the Classical Baroque Music Season and the Opera Festival. October is Fólio an International Literacy Festival and Christmas sees Óbidos light up with colour and all the delights of a traditional Christmas. I'm definetely up for the chocolate festival as I'm a chocoholic!
We returned to the car park and re-gifted our parking ticket to a very grateful Portuguese man. I was delighted that we still had time to venture on to Peniche.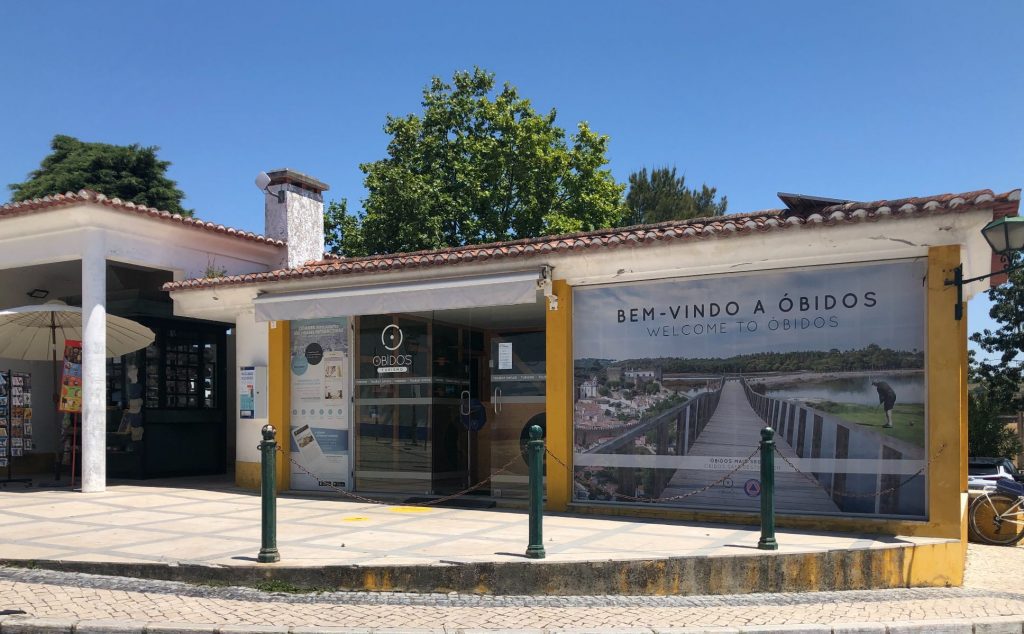 Ginja tasting in chocolate cups – yummy!
Peniche – Late afternoon-Evening
Peniche was not originally on my itinerary as I didn't think we would have time to view it as well. Luckily for us Óbidos is small so we managed to view all the sights in a couple of hours and we thought it would be an absolute shame not to take the short drive onto Peniche. As hubby was driving I quickly googled a few tourist attractions to view and came up with the following:
Nau dos Corvos – rocks with a viewpoint (Cabo Carvoeiro)
Fort de Peniche
Marina de Peniche and Lighthouse
Praia de Medão-Supertubos
Peniche is one of the largest fishing ports in Portugal. I have always wanted to visit Peniche but I was slightly concerned that it might be similar to Cascais and Ericeira hence why it was not on my original itinerary. We didn't have long to explore Peniche as it was late afternoon/early evening by the time we got there. We drove to an amazing viewpoint: Cabo Carvoeiro, a majestic cape with 25-metre cliffs with eroded rocks that have strange karst formations on the top and viewed the fantastic Nau dos Corvos (Ship of Crows) a tall rock shaped like a ship. On the horizon you can spot the Berlengas Islands. I really want to take a boat trip to these islands once Covid is a distant memory. We stood in awe and I got such a sense of pure freedom here.
We then ventured onto the Fort of Peniche and then onto the harbour and lighthouse. We took a leisurely stroll right along the harbourside up to the lighthouse. Wow what a picturesque lighthouse! We spent some time here watching the boats sail by and the fishermen sat on the rocks. There was an epic fartura van so we sat by the harbour with our legs dangling over the waters edge whilst eating the tastiest fartura's. I can never resist singing "Sitting on the dock of the bay" (ha ha). Although this song now has a new meaning and feeling to me since my dad chose it as a song at my mum's funeral. Whilst sitting overlooking the harbour I spotted a beautiful sandy beach in the distance and begged hubby to take us there.
Last stop was Praia de Medão-Supertubos which is famous for surfing and even made a recent list of 7 Natural Wonders of Portugal. The combination of the shallow slope, north wind and ocean currents gives rise to a tall, perfectly hollow wave that is the ultimate for surfing and bodyboarding. There isn't a wave like it anywhere else in Europe, and every October it's the location (along with nearby Praia do Baleal) for the Rip Curl Pro event when the best surfers in the world strut their stuff. WOW WOW WOW! An absolute superb end to our epic 5 day road trip. I didn't want to go home, my family had to literally drag me off the beach! It was evening but I stood in the glorious sea gazing out over the horizon with the wind pushing the big ocean waves against my feet and I instantly felt the coolness of the water invigorate me and everything just seemed to go in slow motion for a while. I'm not sure why I feel so connected to the sea, I'm not a typical beach person but I always get a sense of serenity near the ocean. As I stood here I said a little prayer and thanks for such an incredible trip. We really are so very blessed to live in such a beautiful country.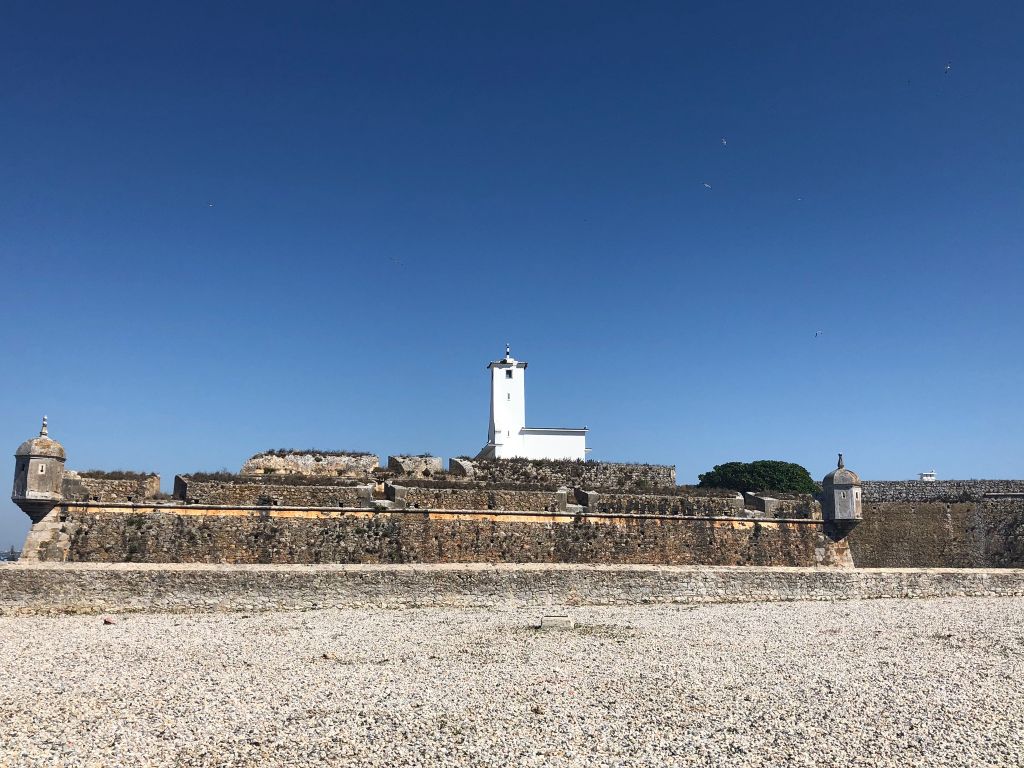 5 Day Road Trip Overview
That's the end of our 5 day road trip. I hope you have enjoyed the posts and that it has inspired you to visit some of these awesome places. Wow, what an adventure of a lifetime we had. I am so glad I got to share such wonderful places with my daughter Teanna. We really had so much fun and although it was a jam packed 5 days, it was so amazing to share with my little family. It's hard to pick a favourite but if you're limited for time I would definitely recommend Lisbon with a day trip to Sintra. One tip I do offer you is don't go in the heat of summer. It's really tough walking in the Portuguese heat and very exhausting even if you are fit for your age.
What are you waiting for! Go cease the moment and make some treasured memories, after all who knows how long we have left on this planet!