SURFING IN NAZARÉ
Hubby is crazy about surfing and a proper surfing lesson has been on his bucket list for ages. Last year we visited Nazaré and had such a fun time but we didn't venture into the water. I decided to surprise hubby and book him a surfing lesson. After a little research I reserved a place with Nazaré surf school who are situated right on the beach. We booked the 2 hour small group lesson with the instructor and all equipment for €25. Teanna and I decided to not participate and to watch from a safe distance. Our plan was to admire all the six packs and beer bellies from the safety of the sand (ha ha). We were not brave enough to try surfing as Teanna can't swim that well and I wear contact lenses which dislodge everytime a wave splashes in my face so I can't see shit all. Teanna is going to practise her swimming and I will investigate how to surf with lenses (maybe buy goggles). Then we can all go surfing as a family next year together. I love Nazaré, it's a 2 hour drive each way from our casa but so worth it. On this occasion we visited the Mira Aire Caves in the morning then continued onto Nazaré as we had a choice of time slots for the surfing lesson and chose 4pm. I'm not going to rant on about Nazaré too much because I already have a post on Nazaré from 2020 so I'm going to concentrate on the surfing lesson in this post. We love Nazaré and it's crescent shaped beach with white sands. The viewpoints from the Sitio are unmissable.
Nazaré has one of the oldest traditions in Portugal linked to fishing and is world famous for it's waves and surf. Canhão da Nazaré is an underwater geomorphological phenomenon that allows the formation of gigantic and perfect waves. It is the largest submerged canyon in Europe. Surfers from all over the world visit Nazaré especially during November-March and many world championship surfing events take place here. When we arrived at Nazaré we were a little concerned as the waves were HUGE and the lesson was aimed at beginners. Due to the waves being very ferocious the instructor explained that they would be travelling by minibus onto a calmer beach (Salir do Porto) with less vicious waves which was a 20 minute journey away. This meant that Teanna and I wouldn't be able to watch them all surf so I was absolutely gutted. We asked if there was room in the minibus but unfortunately it was full so our only option was to return to the car and drive to the other beach and meet hubby there. Now this might seem an easy task to you all but I don't drive here. The reason why I don't drive here is because our car is a lot bigger than our old one and I don't feel confident. I can't get used to driving on the wrong side of the road and my experience has been that the drivers here are bloody nutters! They don't know how to use a roundabout and speed like crazy. I value my life and I want to live.
Teanna offered to drive but I know she is not covered by our insurance because I emailed them prior to her visit and they said that we would have to give them all her details and they would evaluate if she can be added. I just assumed that it was the car that was insured here not the person and thought anyone over 18 with a drivers licence could drive fully insured but I was wrong. So I had the hard decision of (A) Driving us there and hoping we don't die or (B) Try and get a taxi or Uber. I decided to bite the bullet and drive us there afterall I am a good driver and used to drive all over the U.K. It was a long walk back to the car park and I went through so many emotions, disbelief, sadness, nervousness and anger. Teanna tried her best to cheer me up and encourage me, bless her. The journey took 23 minutes and it was basically a straight drive along the coast and through several roundabouts so not too challenging but I was so very nervous. There was a close call with a pedestrian and a zebra crossing but he survived and so did we. After spending a while to locate a parking space we eventually got one and found the surfing dudes and dudettes on the beach. Hubby wasn't easy to find but we found the group eventually and spent 15 minutes knee high in the ocean frantically waving at him. He eventually saw us and I think he was really relieved that we made it there safely as he was worried about us. It was so much fun to watch hubby and the small group catch the giant waves. I found it funny as the best surfer out of the group was a young girl of about 14 (ha ha). She was ace and very talented. Hubby really enjoyed the lesson and left very tired, sore yet exhilarated. Surfing is apparently very physical and a workout for the whole body. Salir do Porto is a beautiful beach with the biggest sand dune I have ever seen (50 metres high!). It is the largest in Portugal and is said to be the largest in Europe. It was fun to watch all ages climb to the top and run down the dune at high speed and slide down on their boogie boards.
Hubby had a blast surfing in Nazaré and us girls had so much fun watching them surf. I think surf watching is now my new 3rd favourite hobby. SUP boarding will always be my 1st with cloud spotting a close 2nd. Next year I might sign up hubby to one of the surfing schools for a week long surfing camp. It was fun learning all the slang words for surfing. Here are just a few: A "Grom" is a young and inexperienced surfer, also known as a "Grommet". "Grubbing" is falling off the surfboard while surfing, a "Junkyard dog" is a surfer with poor style, "Men in grey suits" are sharks, "Hang 5" is riding a surfboard with one foot placed on the nose of the board and 5 toes hanging over the nose, a "Dick dragger" is a derogatory term referring to the action of lying down on your board while riding a wave, usually used for bodyboarders. A female version is a "Clam dragger" and my favourite is "Hang eleven" which is used to describe a male surfer who rides naked. I don't think hubby is brave enough or body confident to Hang Eleven, not even for a dare (ha ha).
We took our first funicular ride to the top of the Sitio for tasty ice cream and walked the return journey back down with a pit stop at the incredible viewpoint. There is a new addition of a scenic swing which wasn't there last year. Nazaré really is such a magical place. It is very beautiful to see the sun reflecting off the cliffs, feel the sand between my toes with a cool sea breeze over my body. If you are lucky you will get to view women wearing the traditional native dress with 7 skirts and they are often sat selling dried fish on the seafront. Don't forget to try some delicious fish or sea food such as the fish stew (caldirada) made from fresh catches of the day. After the surfing lesson we headed back to Nazaré. The day ended with pizza on the beach and delicious churros whilst watching the sensational sunset. It was fascinating to munch away on pizza whilst watching the sky change colour minute by minute, the sun disappearing behind the line of the horizon and the birds soar in the sky. A truly captivating and another perfect ending to a beautiful family day.
Nazaré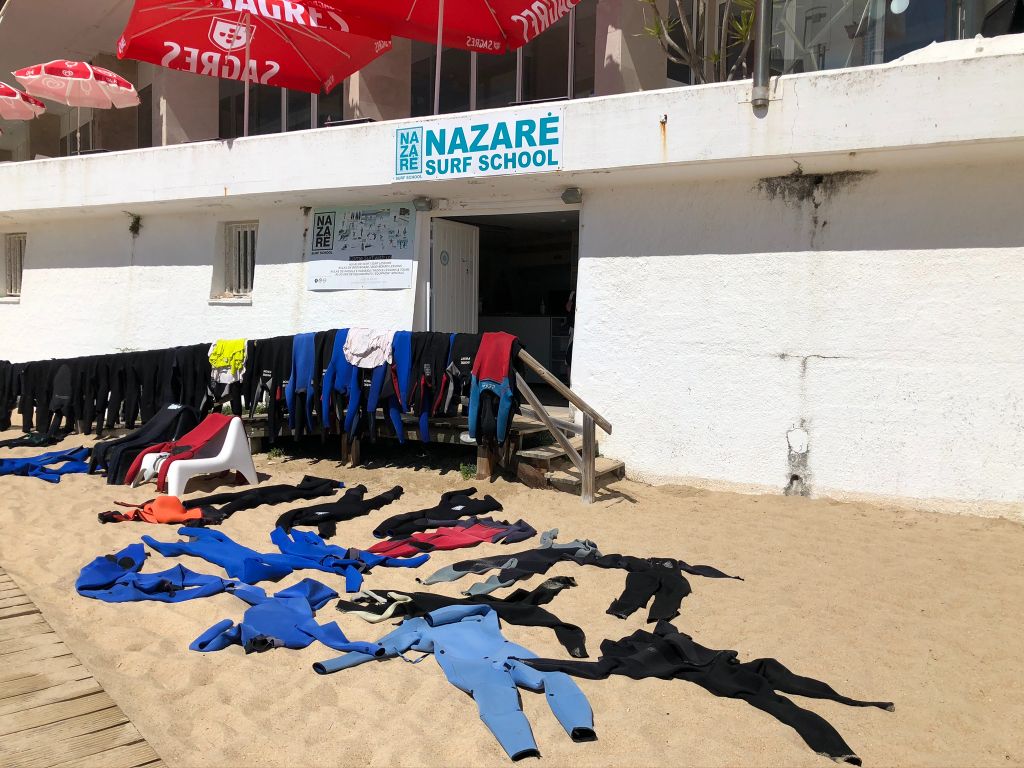 Surfing lesson at Salir do Porto
Sensational Sunset
Happiness – available from a sunset near you
Pizza, Churros and the perfect sunset, what more could a girl ask for!