FOOD & DRINK
The Portuguese food is amazing. You will find that there are many famous dishes which vary from region to region. They love their meat and seafood, lucky for us we are not vegans. Portuguese stew (meat and fish) is also very popular. Their breads and cakes are so delicious. Portuguese cakes are made with lots of egg yolks and sugar. They also love almonds and cinnamon. As you can see from the photo's below we have been eating way too many cakes which has played havoc with my gluten intolerance but it would be rude not to fully commit ourselves into the Portuguese culture of cake eating and coffee drinking. Look out for a Padaria (bakery) and a Pastelaria (pastry shop).
The Pastel de nata (Portuguese egg tart) is the most famous sweet pastry but my favourite is Patas de veado (Swiss roll filled with egg custard, the roll is sliced diagonally then coated in custard and desiccated coconut with a thin line of cinnamon down the middle). The name patas de veado translates as deer hooves since the final appearance of these rolls resembles animal trotters, just try not to think about that when you are eating it!
Pão com Chouriço is a delicious bread stuffed with Chouriço.
Bacalhau – the Portuguese love their salted cod fish. We are not huge fish lovers and only really eat salmon, tuna or baked cod. I love prawns but hubby doesn't so I rarely eat them. They sell this fish everywhere and it absolutely stinks to the point I feel very nauseous in supermarkets.
Seafood – Octopus, Sardines, clams and tripe as well as most seafood is also very popular.
Cabbages – the Portuguese love cabbages to make their soup. They grow really well here and I have even seen some growing out of the side of a wall. They have the tallest stalks, this is one of my neighbours cabbages, just look how tall that stalk is! It amazes me how creatures manage to crawl all the way up to the top to eat the leaves.
We live in quite a remote isolated area so we have vans that drive by selling bread and fresh fruit/veg which is great. Caldo Verde (cabbage soup) is very popular but Vegetarians beware some of the Caldo Verde has small amounts of meat in them so ask in advance.
Bread is amazing here. I love visiting the bakery for freshly baked bread and rolls.
Bifanas are traditional Portuguese pork sandwiches.
Francesinha (meaning Little Frenchie or simply Frenchie in Portuguese) is a Portuguese sandwich originally from Porto, made with bread, wet-cured ham, linguiça, fresh sausage like chipolata, steak or roast meat, and covered with melted cheese and a hot and thick spiced tomato and beer sauce.
Olives are very popular and you will see olive trees everywhere in Central Portugal.
Chestnuts are very popular in winter time, there were many street stalls selling hot roasted chestnuts in Porto when we visited.
Peri peri chicken is amazing.
Honey is also very popular, Portugal have a honey festival too.
Wine is very cheap, coke is expensive – the kind you drink not snort!
Coffee is very popular and most Portuguese order Café (Pronounced cah-fé) which is a tiny black shot of espresso and very cheap (30-50 cents). There are lots of different coffees for example Galão (Pronounced Gah-lo) is a shot of espresso in a tall glass that's topped up two-thirds of the way with milk. Meia de leite (Pronounced May-a de late) is half coffee and half milk. There are several more which I haven't tried out yet. I have purchased a stove top espresso maker and from the espresso base you can make almost any coffee in the comfort of your own home.
I usually order a Cappuccino when at a cafe – be aware that this is obviously not a popular Portuguese coffee so some are made on the great coffee machines but others are the instant packet and some come with about 6 sugars already in them and 2 sugars on the side. You will encounter a variety of toppings – cinnamon usually but I have sampled chocolate strands like the ones on top of fairy cakes and actual coffee beans too. They are also very small cups compared to UK Costa or Starbucks but very cheap so you can have 2 or 3 if you want to stay up all night fretting about buying an old house and maybe you should have bought the modern flat with the balcony and a communal pool – just kidding, still living the dream!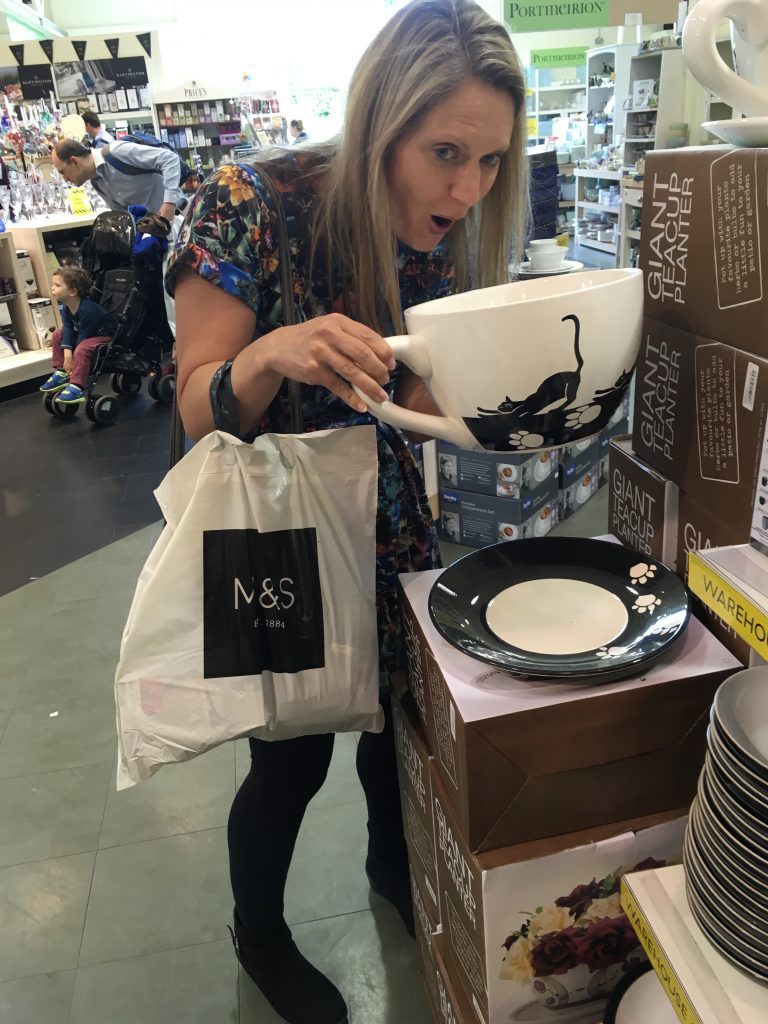 Tea – don't order tea unless you are super brave. My husband does not drink coffee (I know, I don't understand it either) so always orders Cha preto com leite (black tea with milk) and the variations that have been served to him are hilarious. Most of the time it's luke warm frothy very milky tea and sometimes in a tall glass. I so need to lure him into the world of coffee. I'm not sure it's gonna happen anytime soon. He also managed to tip and spill a whole tall glass of tea in one cafe. By the look on his face when the tea arrived I just don't think he could face drinking it as it looked like dish water. Pretty dramatic response but I can't blame him really.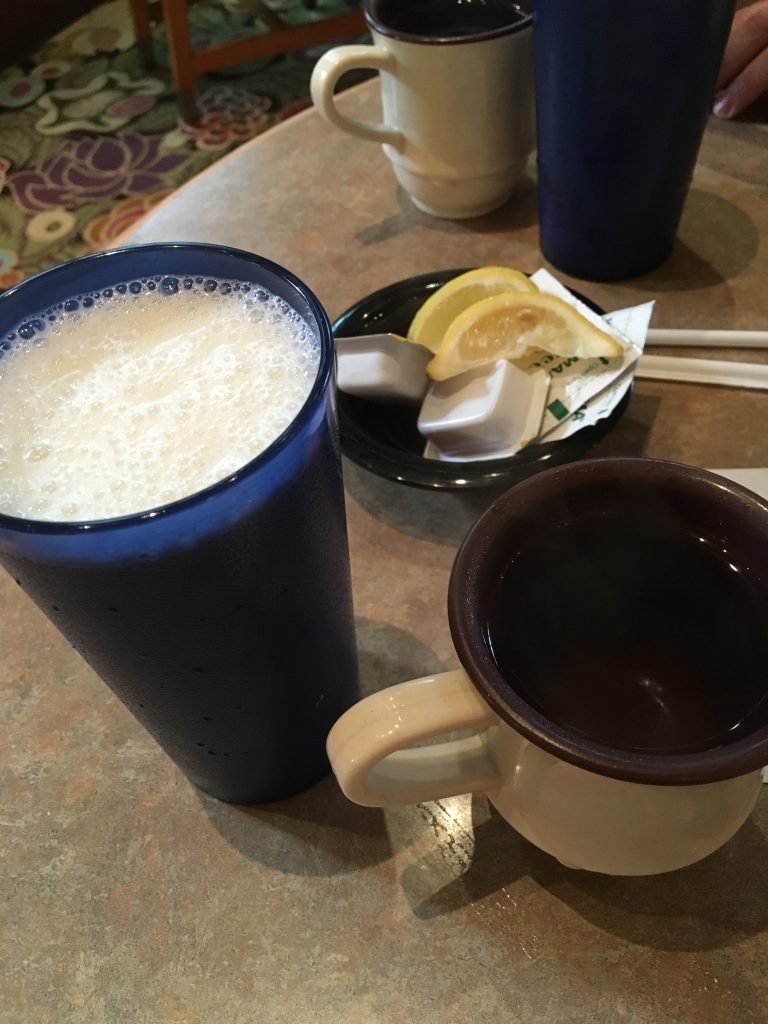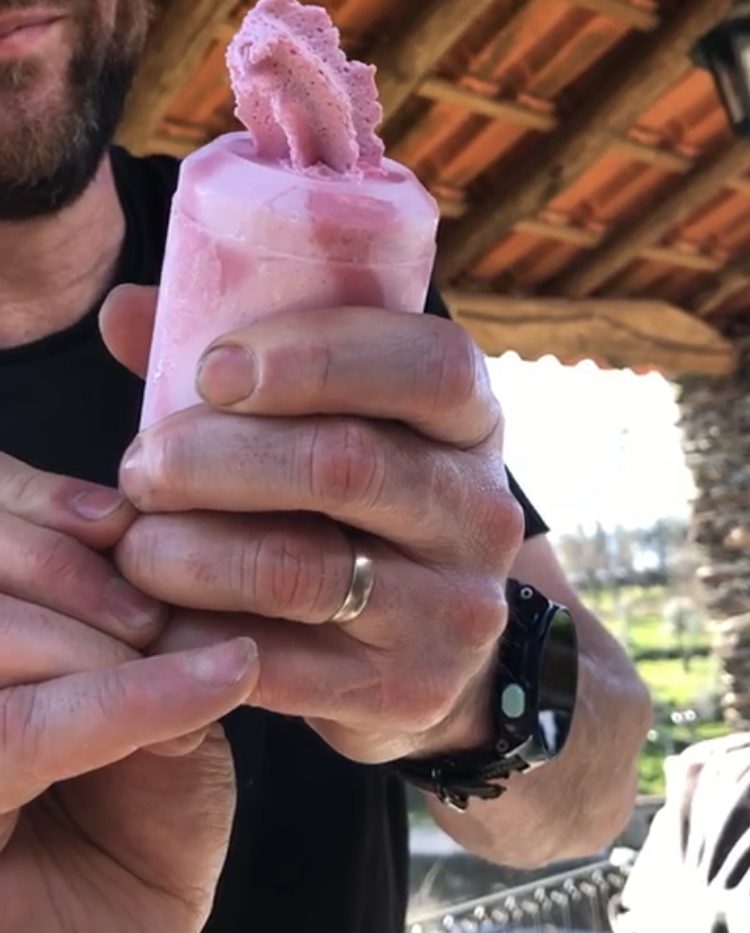 Cafes
Portugal is famous for all their beautiful Cafes and pastries. We love Argus cafe in Arganil. Go say hi to Carlos he is so friendly. They also have accommodation above which is super modern and great price.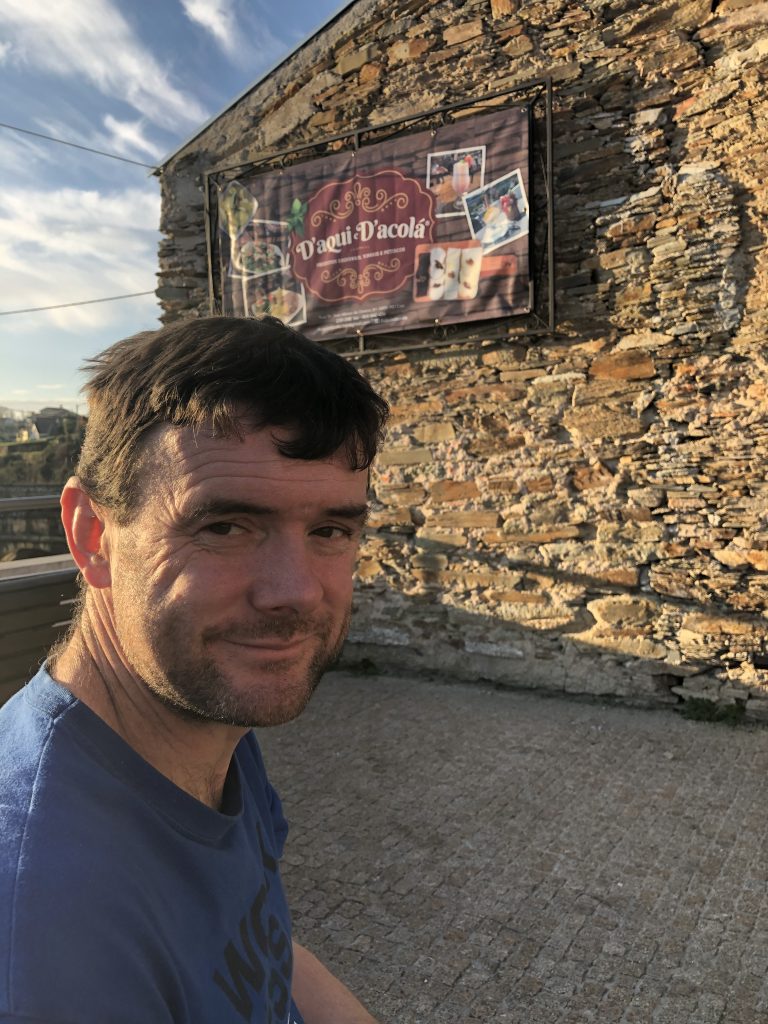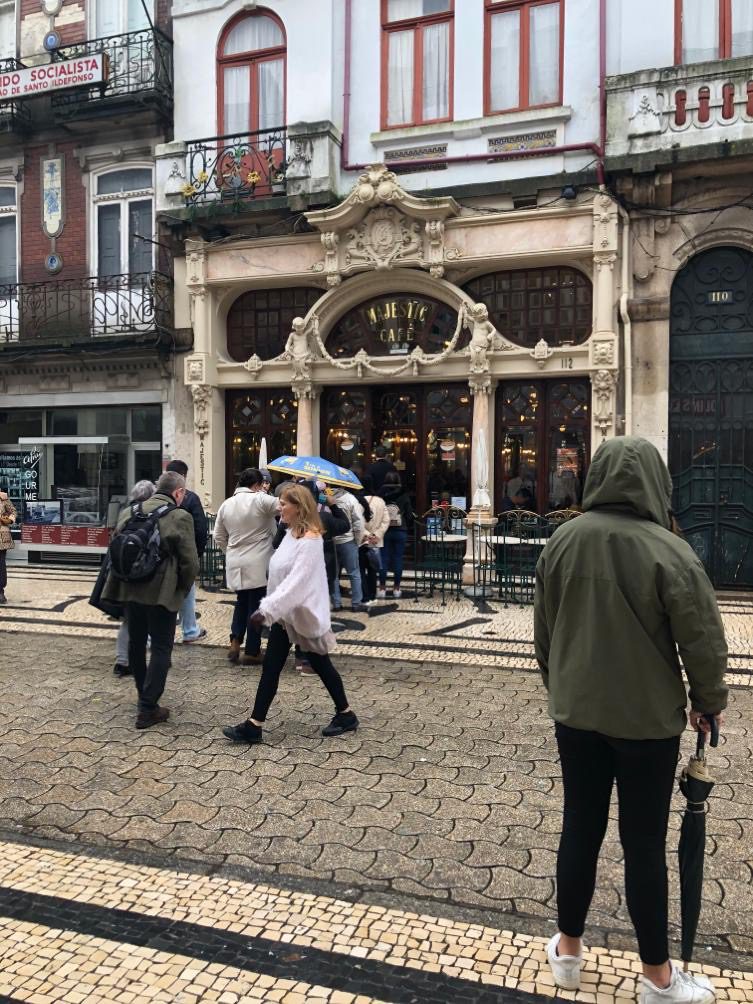 Carnival/Shrove Tuesday – Pancake day
Enjoy your pancakes everyone – my hubby always makes me pancakes and I especially love the bunny pancakes: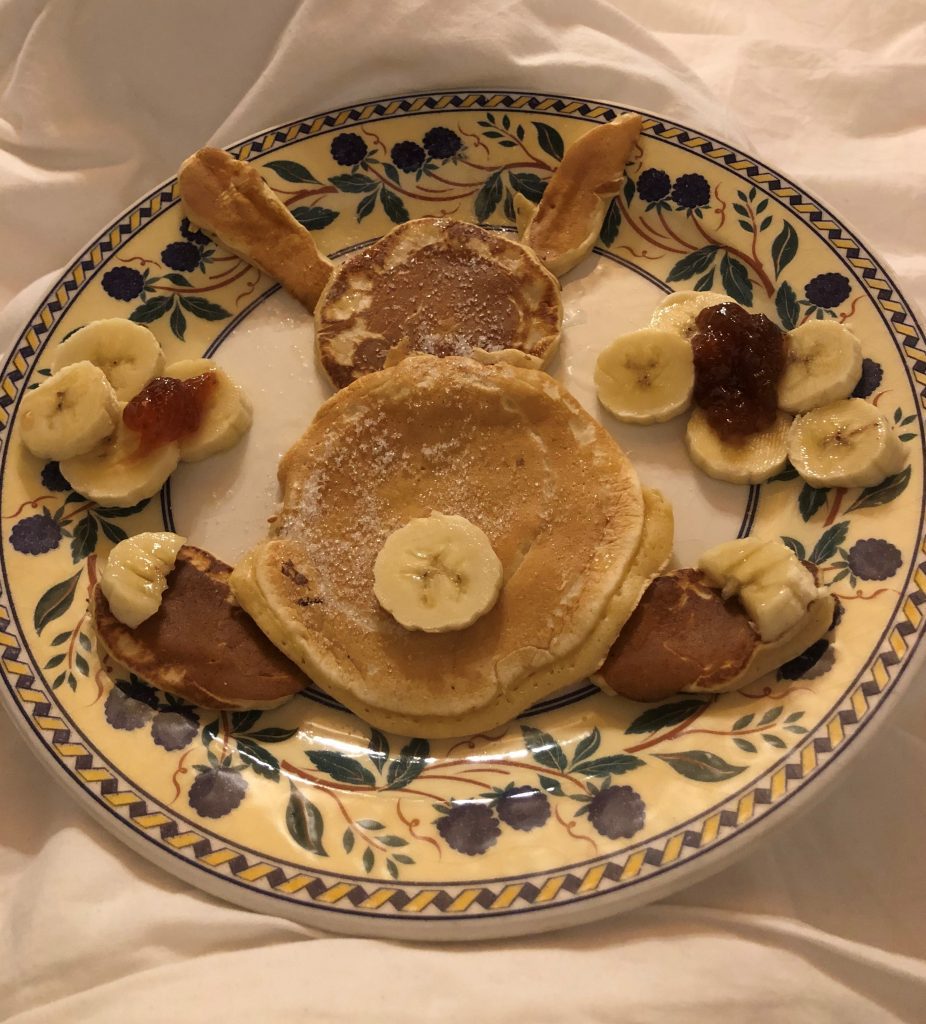 Update 21st June 2020 The flat peaches
Today we visited a supermarket and I found these weird peaches. They sell regular peaches like the ones we get in the U.K but they also sell 'Pêssego Paraguayo' which literally translates to 'flat peaches'. I have never seen flat peaches before. They look like I have sat on them with my fat ass! (ha ha).
I adore Portuguese sweet treats.