AVEIRO AND COSTA NOVA 2020
Todays trip got off to a really bad start when we were stopped by police just heading out of Côja and pulled over at a roundabout. We have never been stopped before by the police here whilst driving. I totally blame my daughter, as soon as she visits and is sat in the back of our car we get stopped. She must look like she has just committed a crime or maybe has some drugs stashed in her big Afro, ha ha. I panicked as they carry a gun and I don't know why but I just got really nervous as we can't speak the language very well yet. He asked hubby to open the boot. At which point I wanted to joke and say I can't as the dead body will fall out, but I resisted. I was actually thinking that if he pops our car boot he is gonna get hit in the face with 3 semi deflated lilo's and a couple of damp towels, ha ha. He asked hubby where we lived and what he did for employment but did not check our ID. He was actually super nice and friendly. Anyway that was our first brush with the law here. Knowing me and my antics there will be many more to come!
I was really excited to visit Aveiro (The Venice of Portugal). It is not a huge city compared to others but it has so much to offer. The best way to see Aveiro is to take a Moliceiro boat tour through the Ria de Aveiro. We found a free car park and took a leisurely stroll through the town to the starting point of our tour. The walking tour provided great opportunity to view the epic sights and charms of the city. Don't forget the traditional kiss (Vows of eternal love) on the Valentine Bridge, where you will see brightly coloured ribbons instead of padlocks. There is such a diverse variety of attractions here to see. One minute you can be enjoying a boat ride, then there are the beautiful chapels, churches, museums and monuments. I really love the parks situated in the middle of cities where you can take a well deserved break. I enjoyed watching the ducks on the pretty lake and there is a forum shopping area right in the heart of the city if you fancy shopping. There are also many cute stalls alongside the river selling local and traditional goods. Don't forget to sample the traditional sweet delicacies of soft eggs.
We then took a short 10 min drive to Costa Nova beach for a spot of lunch and to chill on the beach. Unfortunately the cafe/restaurant on the beach was full and had 6 people waiting in the queue to be seated so we found a lovely little bikers cafe. The colourful striped houses of Costa Nova do Prado are beautiful and the beach was surprisingly empty with very few tourists. We also took a long stroll to Praia da Barra to view the lighthouse. There is also a lovely harbourside which is well worth a visit.
We found a free car park on our way to our first attraction so parked here and took a short stroll in the sunshine. At Costa Nova beach we parked for free close to the Bikers bar.
GPS Coordinates: (Aveiro free car park 'Parque Estacionamento Nossa Sra Aflitos'): 40°38'33.1″N 8°38'42.7″W
GPS Coordinates: Costa Nova beach 'Bikers spot bar' 40°37'03.5″N 8°45'04.2″W
Walking tour:
This tour looks brief but we stopped off at many additional attractions on the way. We stumbled across Valentine Bridge and a beautiful chapel. You can also take one of the many boat rides.
Rossio Park
Art Nouveau Museum
Forum shopping centre
Parque Infante dom Pedro / Parque da Cidade
Moliceiro boat tour
Praia da Costa Nova and harbourside
Praia da Barra and Lighthouse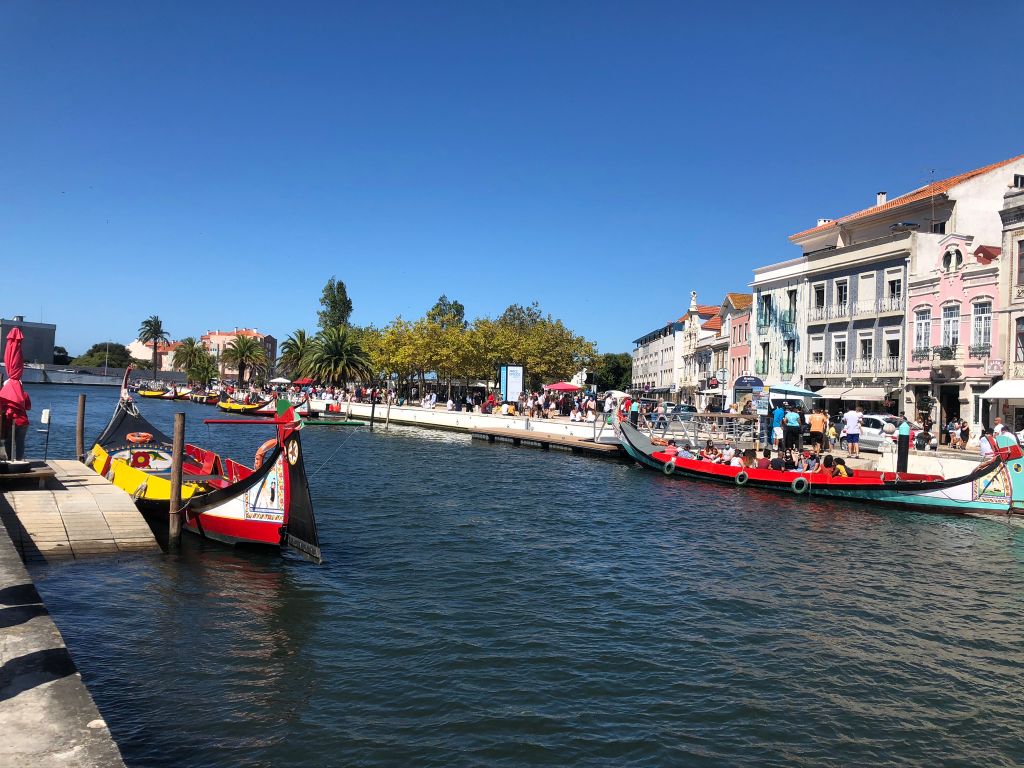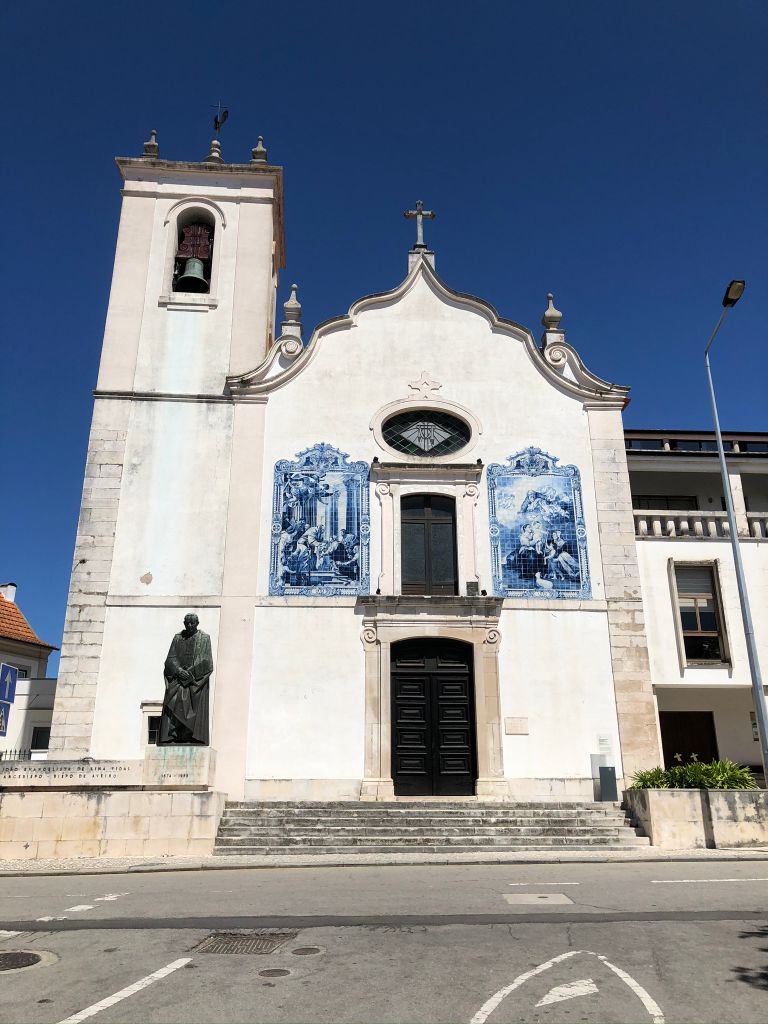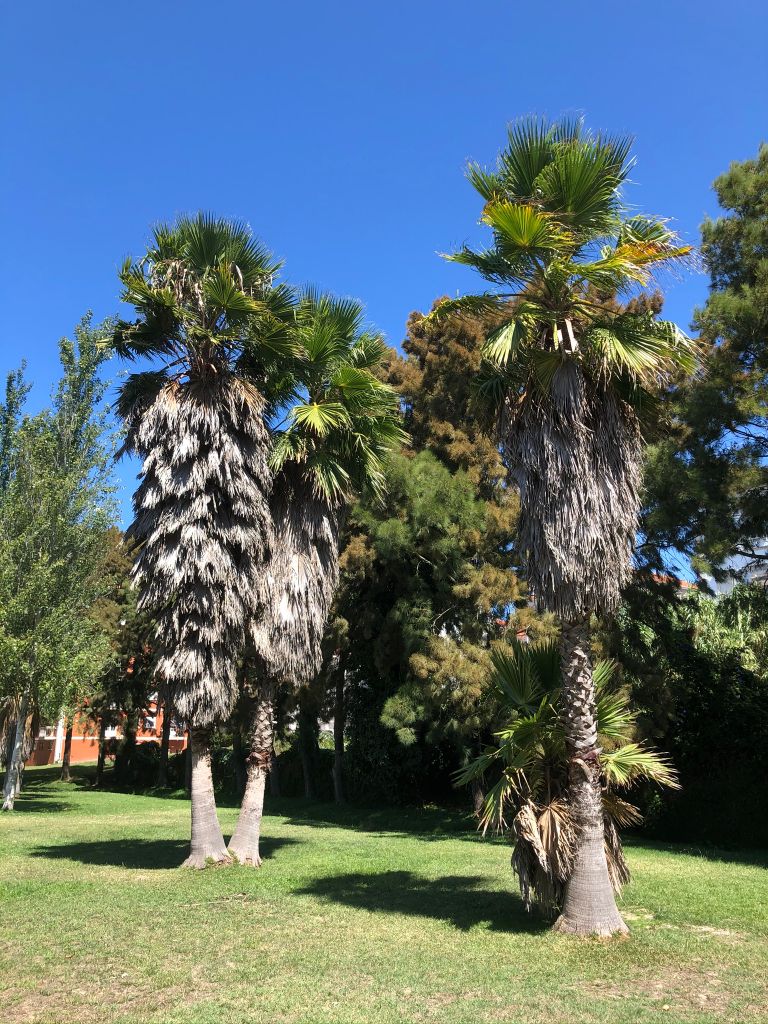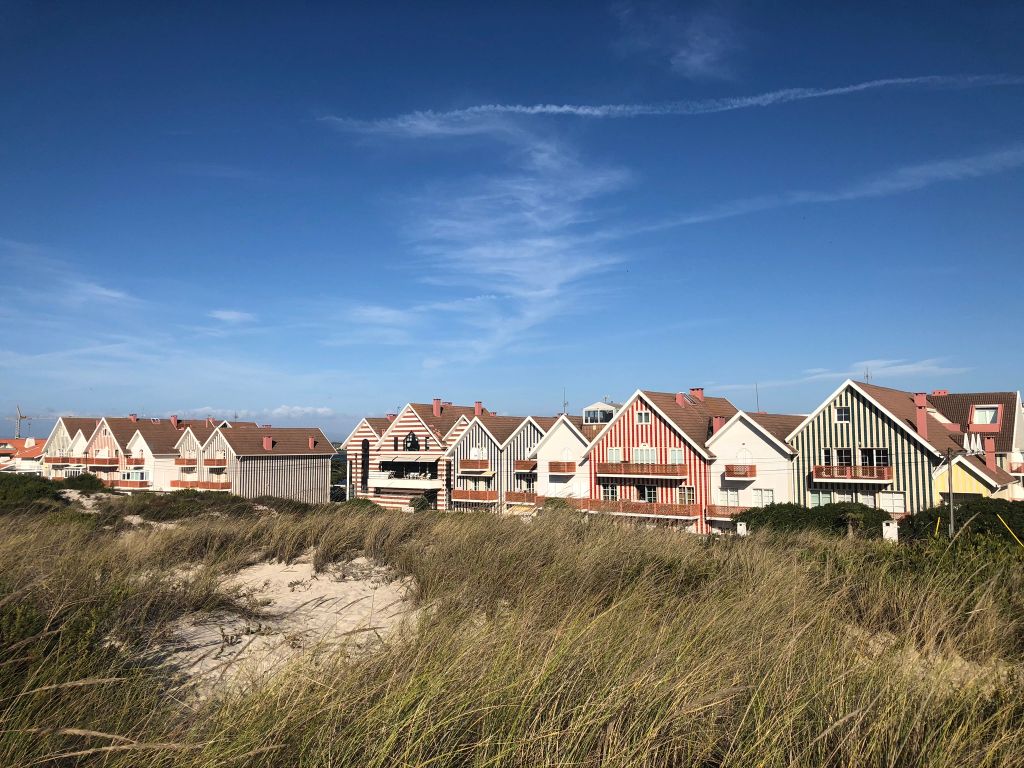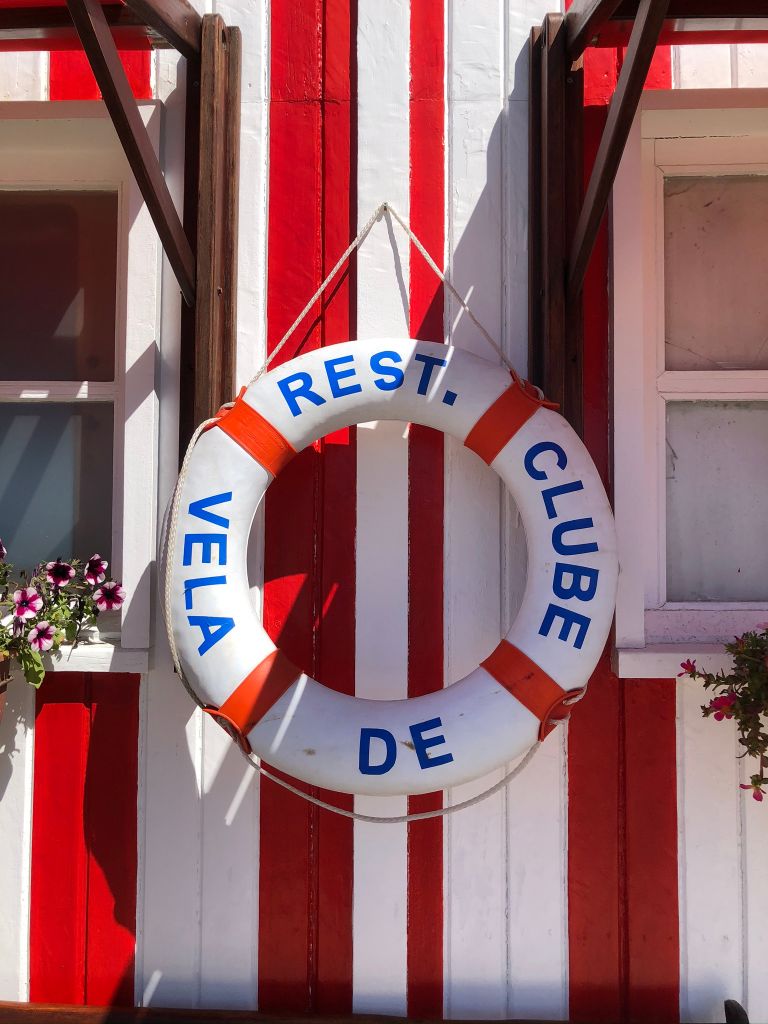 September 2021 Update
Our last visit to Aveiro was over 12 months ago. Ria de Aveiro (Aveiro Lagoon) was unfortunately too choppy for SUP. I would have got swept away and caused an emergency. What makes this lagoon unique is it's salt water. I was so intrigued that I made hubby drive us onto the Salinas (Salt Pans) and we chilled out at Aveiro, Costa Nova and Barra beaches. It was very windy! You can tell the level of wind from the state of my hair (ha ha).