VIEWING LAND FOR SALE
This morning I went for a jog and saw a 'for sale' sign on the property next door but one. Obviously the curiosity got the better of me and I had to view it (ha ha). Hubby phoned up and we managed to book a viewing for late this afternoon. It is a small area – plot of flat land 550m2 with a schist house for renovation. I have viewed online many old ruins for renovation projects and most come with a huge amount of land e.g. 1-2 acres if not more. Prices for such land range from around €15,000 in areas close to us. Land alone with no ruin or possibility for building a habitable home e.g. only a yurt, can start from €5,000.
The land we viewed was mainly flat with olive trees and a fig tree. The 'house' was more of a large stone shed and we could only peer over the top of the door but it definitely required a lot of renovation. I am unsure of what defines a ruin from a house but this building had a roof, a bad roof held down by stones but it needed a lot of work. Rules here in Portugal for building work are very complex. Some land you are not allowed to build a habitable house on at all. The estate agent explained to us that the house AKA schist stone shed has never been registered and as it's urban land you can build up to a certain percentage of the lands size, hence why the plot is quite expensive for such a small amount of land. It is not advisable to buy a plot of land here that does not have either viability to construct, or a current project approved. There are different licences you need to apply for and things can get very complicated regarding planning permission especially if you don't speak the language very well – that would be me! Sometimes you can only build to a certain size and it all depends on what the current land/property has on it currently and what it has been registered as. There are many houses that are built here illegally and this causes issues when trying to get insurance.
If you're interested in purchasing a piece of land in Portugal, the first thing to do is visit the town hall (camara) to check out how the land is categorised (Licenca de utilizacao). Also obtain a good solicitor/lawyer who can carry out certain checks for you. If there are no utilities connected, this could be a costly adventure. We see so many ruins around Central Portugal and this is because many old ruins get passed down the family when a person is deceased. The younger generation may not want to leave the city or move so remote due to work commitments so the old houses deteriorate and become derelict. It's such a shame as there are some amazing ruins near us. I sit on many of them as resting points during my jogs (ha ha). You know most people can tell you where all the pubs are, well I can tell you where all the ruins are! Top tip: If you see a stick that looks like it might be propping up a ruin roof, don't attempt to take it as a garden stake for your tomatoes. If you do happen to do this get ready to run like the wind as the remainder of the roof falls in, also don't wear a neon vest which clearly identifies you (ha ha). Just kidding this obviously did not happen to me, I have more common sense!
It was very interesting to view this land today but unfortunately this project is not for us at this present time. I am concerned about who will purchase this land as it is pretty close to us. I just pray to god that the new owners don't build a huge house and get large barking dogs or cockerels. This is the uncertainty of living in such a rural area. There is so much land around us and little pockets of land can be sold off. This plot is literally opposite the house which already has the 2 barking dogs and cockerel so I already know that although it's some distance away, if they do get loud animals, I will hear them for sure. Fingers crossed this doesn't happen. I'm off to enjoy the peace and tranquillity before my bubble bursts!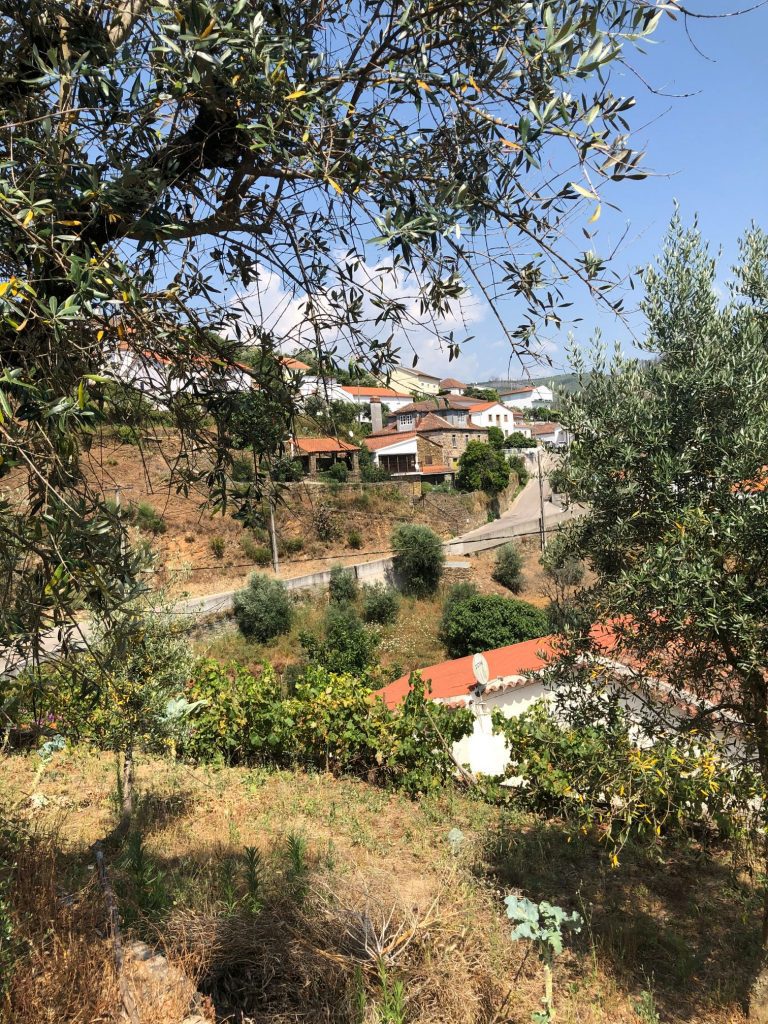 The photo above is taken from standing in the plot of land for sale. You can clearly see our house at the top middle of the photo. This is how close this land is to our home. I am praying for quiet, considerate neighbours (ha ha).
I have just viewed online a beautiful mountain plot of land near us with a slate ruin. It's at the top of a valley with stunning views. It has 8.500 M2 (circa 2 acres) terraced land with mains water. Suitable for cultivation, organic gardening and fruit trees. Private and peaceful, perfect for off the grid living. Only €15,000. I bet it has shit internet (ha ha). I'm not gonna view it as I will end up buying it, I know what I am like.