ROTA DAS PONTES HIKING TRAIL (CORTES DO MEIO – COVILHÃ PR17 CVL)
After a full weekend of DIY and gardening we rewarded ourselves with a Bank Holiday Monday hiking trip. A long awaited hiking adventure in nature and quality soulmate solitude with my trusty hiking hubby companion was just what the doctor ordered. I have missed hiking so much but due to a foot injury I had to hang up my hiking shoes for a while. We love Serra da Estrela mountain range and live so close that I planned another hike this time to view the paradise haven, sparkling waterfalls and idyllic natural pools of Cortes do Meio which is part of the Aldeias de Montanha network. The village of Cortes do Meio is a short 15 km from Covilhã and just under 1 hr 25 min drive and 65 km from our casa. I couldn't decide between the PR17 CVL circular Rota das Pontes or the PR15 CVL circular Rota das Termas but ended up choosing the PR17. We haven't been on a hike since February as I injured my foot. It's still bad and I can't run any distance but walking is not too much discomfort and I am craving a hike in nature. I love hiking as I don't have to dress up or wear make-up, I just throw a packed lunch, sunscreen and my sunglasses in a backpack, wear comfy workout attire with my trusty hiking shoes and off we head on our adventure. I even found a wonderful scenic Viewpoint and Swing to make a pit stop en route.
Cortes do Meio is the Capital of natural pools in Portugal. The title was registered in 2019. Resting on the southern slope of Serra da Estrela, Cortes do Meio is nature in its purest state and the waters are its most precious treasure. The semi-glacier Ribeira das Cortes is a stream that surrounds the village. The name of this trail "The Bridges Trail" is very misleading as although you do view a lot of eye-catching bridges that make up the landscape the main attraction is the dozen waterfalls, wells and natural pools with clean, fresh and crystal clear waters. They are spectacularly carved into the rocks and some of the most beautiful in the region. Each one is uniquely different from the other and offers a different ambiance. The natural surroundings are perfectly tranquil and very lush and green. The highest of the water courses on this route is situated at an altitude of more than 776 metres. It was a warm sunny day in May and perfect for hiking because it wasn't too hot like it is now. I know from prior experience that the waters in this region are absolutely ice cold so I didn't pack my bikini or towel on this occasion. If it was anything like the weather has been over the last few days I think i would have struggled as there isn't much shade. The best part about hubby working for a U.K company is that he gets all the U.K Bank Holidays off and they are usually just a normal working day here in Portugal which means that we can explore on a weekday (Monday) and it's usually a lot less busier than weekends when folk are off work. The downfall is that a lot of tourist attractions are closed on Mondays for some reason but not hikes as nature is open 24/7.
Swinging in Symmetry – Miradouro e Baloiço da Amizade
I found this wonderful Viewpoint and Scenic Swing in Peso, Tortosendo, Covilhã whilst googling the hiking trail and it is just a short 5 km from the start of the trail so I just had to visit. It was a little tricky to find as our Sat Nav took us to a dirt road and I was surprised to find no signage at all. We didn't want to risk driving our car up the pot-holed dirt track so we left it at the bottom and set off on foot. We had no idea how far it was but decided to take a chance. The hill was quite steep and to be honest I didn't think we were going to find the swing but before long we stumbled across it and WOW what an astonishing rugged landscape with lavender growing everywhere and the aroma was delightful. The hand in hand hike to the swing through Portuguese wilderness flanked with vivid colourful wild flowers was absolutely gorgeous. Isn't it strange how plants in the wild can thrive without being watered or fussed over by an over enthusiastic Brit whilst her plants in her own garden receive love and attention but often die (ha ha). What an enchanting place. The swing is positioned on a little wooden platform and there is a white tower structure (I'm not sure what it is or its purpose) but we had endless fun seeing who could climb the highest, hubby won again, I wasn't bitter as I don't have a competitive streak like him. If you are wondering how we managed to get distance shots with us both in the photos I will share my secret. Hubby transformed our cheapo little selfie stick into a tripod and we managed to get some photos of us swinging together in symmetry which is harder than it looks (ha ha). It's not easy to look elegant whilst swinging through the air like a chimpanzee (ha ha). As usual we had the whole place to ourselves again, just heavenly. Hubby left his sunglasses in the car so we did get a few more selfies but as usual he was blinking, I now call him Blinky Bill, like the cute Aussie koala from the children's T.V series (ha ha). The views from the platform are gorgeous and stretch far and wide. What a cute little find! My new motto: "Couples who Swing Together Stay Together" (ha ha).
PR17 CVL Points of Interest:
Ponte Velha
Poço da Ponte Velha
Ponte do Lagar
Poço das Azenhas
Poço do Funil
Water Mills
Ponte do Porto da Tábua
Poço do Forno Velho
Pontão Fundeiro & Poço da Praia
Ponte do Salto
Poço do Embude
Poço do Caldeirão
Poço do Combarão
Ponte do Combarão
Poço da Formiga
Poço da Monteira
Forno Comunitario
Ponte Nova
Poço do Fatela
Villages of Bouça and Cortes do Meio
Aqua Therapy – PR17 CVL Rota das Pontes
The trail starts with a decline from behind the children's playground in the village of Cortes do Meio. We parked our car very close to the starting location and headed on our merry way but not before I explored the village's Bandstand because there is something very magical about an old fashioned ancient bandstand. I resisted the urge to dance and twirl as a man was staring at me (ha ha). Next to the Information Board you will find a plaque that states the date when this trail was inaugurated (2021). It's a very new trail which means that all the signage is fantastic, the trail is very well maintained and the signposts haven't had time to deteriorate, fall down or get overgrown with vegetation.
The first bridge you will view is Ponte Velha and there is a natural pool with the same name. The path follows alongside the stream and you cross several bridges and have the opportunity to view upto 12 waterfalls/natural pools which are located along the whole route. The path leads you on an incline up to Pontão Fundeiro and Poço da Praia and just after here you will reach the highest elevation then you take the decline and descend back down towards Ponte do Salto. There is an option of cutting the trail short and taking a divert to the village of Bouça if you wish. We decided to view all 12 and had so much fun climbing the winding shepherds pathways. Most of the pools are easily reachable but a few of them are off the official route so you will need to hike a few extra metres to see them all but believe me when I say it is worth the sacrifice.
I loved how each lagoon had a different appearance and atmosphere. Poço da Monteira even has a river beach and facilities. The scenic landscapes are breathtaking and there are so many wonderful little spots next to the water to enjoy a tasty picnic and relax. The mirror reflections on the water of the trees and clouds are stunning and we met so many animals. I would class this trail as Moderate difficulty as there are some steep slopes to master and a bit of mountain goat climbing on all fours but that is all part of the challenge and burns off the calories from the yummy chocolate bread (ha ha). I convinced hubby to venture on every single detour to view all the 12 poços which resulted in us hiking over 10 km with some fun barefoot wading through water (ha ha). I am a bit crazy and have to see everything. I literally had a printed out map and I made hubby navigate us to all 12. I was very tempted to take my first wild swim of the year in the sparkling crystal pools but I didn't have my bikini, I'm not brave enough to skinny dip and the water was "muito frio" which is very typical for this region which can get snow and ice in wintertime. There are some parts with shade but a good majority of this trail has no shade at all and I can imagine it gets roasting hot during the summer, just something to be aware of and you have a choice of 12 different paradise pools to cool off in if you get all sweaty Betty.
I was absolutely gobsmacked that we didn't see another soul until we reached the village of Bouça so we got every single one of the dozen waterfalls and natural pools to ourselves again! I warned hubby in advance that it was highly likely that this trail might be busy because Serra da Estrela is such a popular tourist attraction. I prepared myself mentally for tourists and having to share the delights but how wrong was I! I can't begin to explain how incredible and romantic this was for us. It just makes the experience so much more enjoyable not having to share nature with loud and often obnoxious people. I didn't have to worry about being caught having a wild pee, as there was not another human soul in sight, just animals and we didn't get lost because the signage is superb. We were able to enjoy solitude, embrace nature and pause for a while in perfect harmony.
There were so many brightly coloured scented flowers and photo opportunities such as the villages dotted on steep slopes with jade green terraces framed with an abundance of florals which are very picturesque. I ran out of battery on my phone and my portable battery pack was flat because I forgot to charge it but luckily hubby had some battery left, his phone camera is way better than mine anyway. There will be lots of scenic photos of nature and hubby's rear as usual but not just rear of the year this time, rear of the year with flowers too! What more could a girl want, sexy ass and flowers (ha ha). I love this time of year when all the Portuguese countryside is covered in a blanket of yellow mellow broom. There is an old Portuguese tradition called "As Maias" where locals decorate their doors with yellow broom on the night of 30th April. It symbolises the end of winter, banishes evil spirits and asks for protection and fertility for the land. The houses are decorated at night so by the morning time they are covered in flowers in full bloom. Yellow is used as it represents light and life. Throughout the hike I slipped on gravel approx. half a dozen times or more and so did hubby. We never fell down but we were very close. There are also tree stumps and many trip hazards so be aware and wear sturdy footwear. I wouldn't risk normal trainers as you need a proper grip.
We stopped at the Ponte do Lagar (bridge) for our usual snack of a protein bar and a can of coke. I always drink over 2 litres of water every day but I do enjoy the occasional fizzy caffeine fix especially during a hike. There is a lovely wooden picnic table and seating area so we didn't have to unpack our picnic blanket. After our break we explored the ruins of the old water mill and found some fascinating graffiti inside. I am always intrigued by graffiti and Adrian found his name carved into the wall which was funny. Well it was "Adriano" with an O on the end but that's what I call him here anyway (ha ha). The scenic backdrop views of the granite mountains are striking. We found another ideal spot for our lunch and swapped our usual tranquil trickle of waterfalls for an intense and unique roaring white foamy waterfall with glorious views. There are so many different opportunities next to the lagoons for a picnic lunch and dip if it's summer or you are brave. Nature is the best place to recharge.
Photo Gallery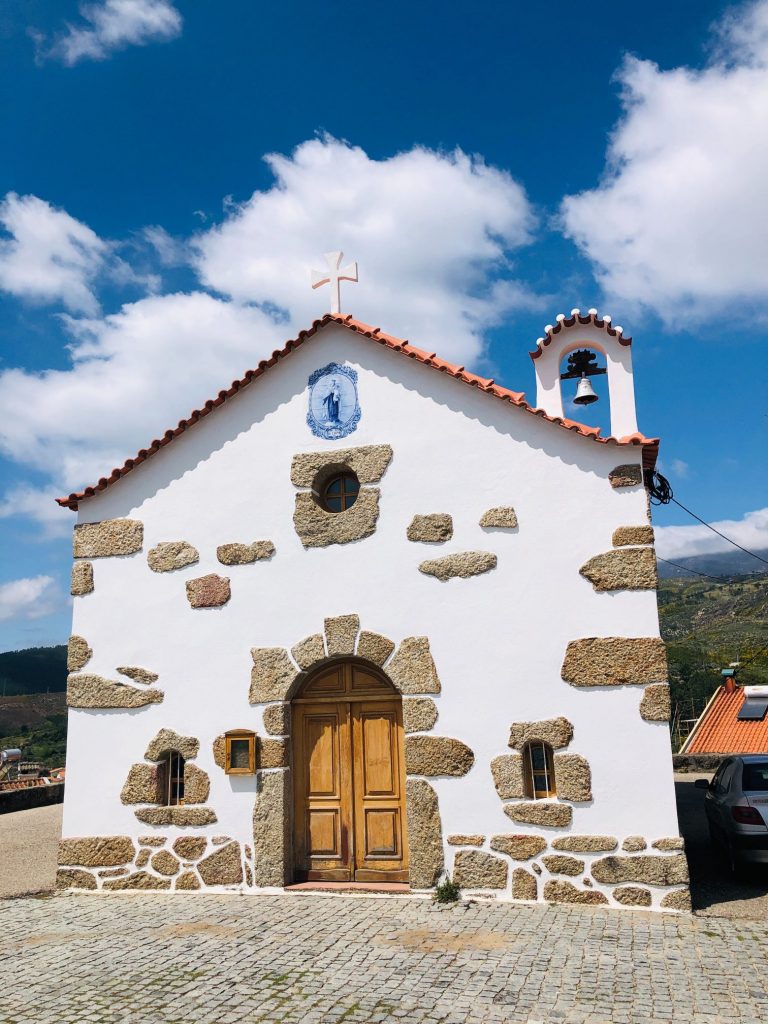 Perfect Poços – Poço das Azenhas and Poço do Funil
Wow what a gorgeous peaceful sanctuary! These 2 neighbouring areas were definitely my favourite places, a rare dazzling gem and we spent time here exploring each and every corner including the moss covered ruins of the water mills. It is a steep slope down so I made sure to hold on to hubby's hand and on the way back up he got right up close and personal as usual and had to shove my ass on a few occasions when I slipped, god bless him, it's a good job he loves me and my ass (ha ha). Make sure you climb up to get a birds eye view but also be brave and climb down onto the gigantic boulders for a closer look of the waterfall and the purest, crystal clear sparkling lagoon, so clear you can see right to the bottom. It's a flawless serene oasis, dotted with ruins of water mills crumbled with time and giant boulders scattered amongst bright green vegetation. We jumped across the water onto the huge rocks to explore and for some incredible photo opportunities. I was mesmerised by the colour of the pools sculptured into the rocks. I love natural swimming pools without all the nasty sewerage and chemicals. I will definitely return in the summer for a wild swim. I had better buy a bikini that fits. We are so very fortunate to live near such natural wonders. My favourite spot = BIG Photos.
Aqua Selfies
4 Pose Helen Verses 1 pose Adrian he is literally like a statue and doesn't move (ha ha).
Aqua Adventure – Wading through Water
Another firm favourite of mine is Poço do Embude. It was a little bit of a detour to reach up a steep incline of gravel and stoney terrain but so worth it. I love how the sign says +500 m/- 500 m which I am assuming means give or take 500 m. Or maybe it means 500 m there plus 500 m back, who knows. I had to persuade hubby to view this one as I'm not sure he was as enthusiastic as me. I convinced him in the end and I'm so glad I did. I think he knows that if I have a bee in my bonnet then to surrender to my crazy ideas, it makes for an easier life (ha ha). If you never go, you'll never know and after all in the end we only regret the chances we didn't take.
When you reach the top there is a sign directing you to the right and the left area is roped off and prohibited. We were faced with an unstable high wall made from traditional Portuguese stones which were not fixed or cemented in so they dislodged and moved with every step. There was a stream on the right and a sheer drop to the left with boggy grassy areas and huge rocks. I didn't want to risk cutting through the boggy area as it was saturated with water and I was afraid that I might dissapear down a sinkhole and how is hubby going to explain that one to my family? I heartily attempted to cross but lost my balance half way and crouched down in a panic. I know my limits and had to turn back as I risked toppling off for sure. The challenge was getting back up from the crouching tiger position – the animal not the sex position from the karma sutra (ha ha). I just about made it back without falling off and hubby was not far behind me. You would need the balance and enthusiasm of a gymnast and nerves of steel to cross that unstable wall safely even hubby got stuck halfway so retreated. I love waterfalls but I love and value my life way more and I don't want to die. I couldn't get any photos of the unsafe area as I was crouched down and praying a lot at the time but you know it's bad if I don't attempt it because I am definitely one to take risks on hikes to view the pot of gold at the end of the rainbow.
Not wanting to admit defeat I had a cunning plan to take our socks and hiking shoes off and wade through the water which in all fairness was a great plan but the water had gravel and sharp stones at the bottom which was tricky. The villagers from Cortes do Meio used to walk barefoot to supply the city of Covilhã with milk, goats, coal and gorse. So on this day we recreated history by following in the locals footsteps (literally). We eventually made it but the water was so cold. I used the word "invigorating" but hubby said "Ducking freezing" with a capital F (ha ha). I was hoping the water would be therapeutic and have a divine intervention and magical healing powers to cure my bad foot, but it didn't (ha ha). Something brushed past my ankle and I thought it was some kind of creature but then realised it was just a clump of moss. We eventually made it through and climbed down onto a gigantic boulder to enjoy the huge waterfall and indulged in yummy Pão do Chocolate. This waterfall is absolutely heavenly and serene, so natural and fresh and I bet it gets packed in summer. Relaxing together alone on a huge rock was priceless and a beautiful moment to treasure.
I wasn't going to share this but I have to keep it real and be honest. We found a quick and easy route back without having to wade through the water. Just a stroll along the waterside over the grass! I have no idea why this area was roped off and the sign directs you to the right through the dangerous path. Maybe it's private property but it seems a little strange to me. There were no signs preventing access on the way back so we took the safe option. There is an area with a sink/wash basin next to the roped off section so it looks like a communal area. We did have a laugh about our dramatic unnecessary aqua adventure but it was fun and made us laugh. On the climb back down it is quite slippery and I had to grab onto objects to prevent falling over. Top tip: Trees are often deeply rooted and far more stable than wooden signposts (ha ha).
Crazy Brits
Just a couple of crazy brits wading through water. Apologies for my tired face, I don't do make-up on hikes in Portuguese heat and I had to take my sunnies off to see where I was going (ha ha). The water got deeper and so did the fear!
Poço do Embude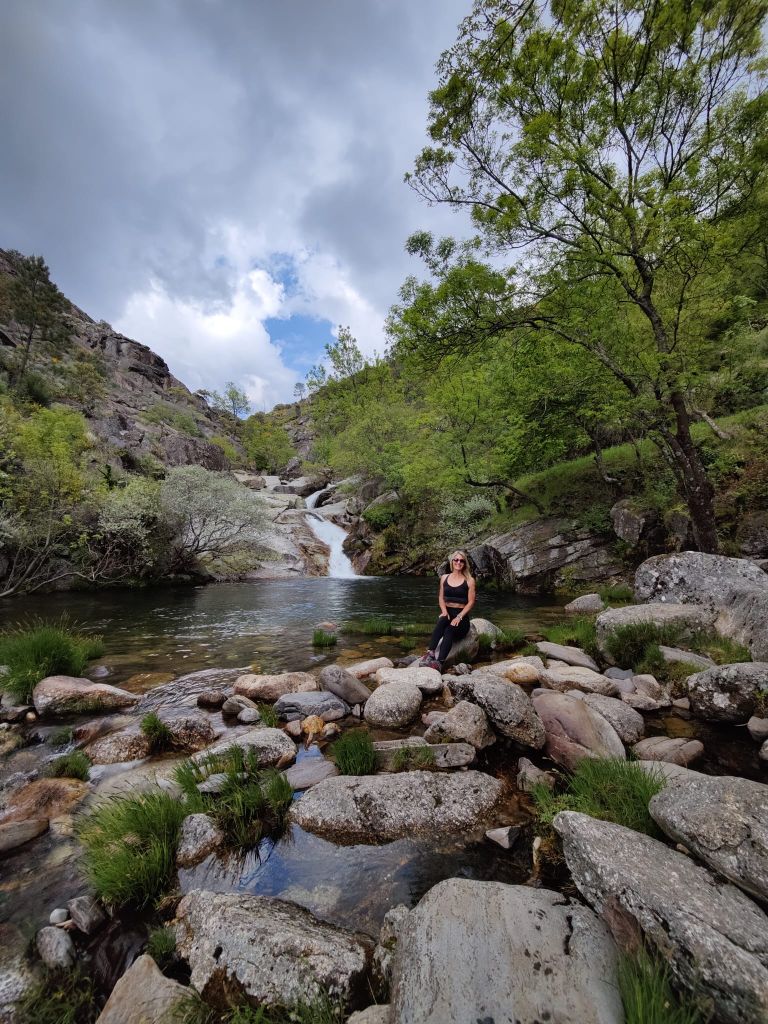 Colour Coordinating
When you just realise that your sweatshirt matches the colour of your plate! (ha ha).
Waterfall Selfies with Pão de Chocolate
The Pão de Chocolate from the Bread Museum that we sliced and froze is still going strong!
Bouça Village
Bouça is a typical quaint Portuguese village with ancient cobbled narrow streets and typical granite houses adorned with flower boxes and brightly coloured potted flowers. I loved viewing all the old windows and rustic doors. We took a little stroll around the village, viewed the Chapel and topped up our water supply at the pretty water fountain. The water from these little village fountains tastes so pure and completely different from tap water at home as it usually is sourced directly from a mountain spring.
Caffeine & Cashpoint
Hubby bought his wallet and card but forgot his cash (coins) for beverages! I didn't think we would find a cashpoint in either of the villages so was totally shocked to find one in the next village.
Cortes do Meio Village
The name "Cortes do Meio" is due to the abundance of stone huts, called Cortes. They have a thatched roof and were built by shepherds to house their cattle. Agriculture and Pastoralism continue to be present in the local economy and goat remains the gastronomic delight of this parish. We arrived back at the starting point of Cortes do Meio at around 6pm so our trail took 5 hours with a snack and lunch break. We spent some time here exploring the quaint village and viewed the Forno Comunitário (Community Oven) with a fascinating history, Lavadouro Fonte Do Terreiro (Communal clothes washing area) with pretty tiles, Fonte das Três Bicas (Fountain of the 3 spouts), Praceta Quintela (Village Square) with seating area and weird and wonderful barrels and finally a gorgeous church. This village is lovely and has received extensive redevelopment from the local council. I was amazed to find all the silver plaques dotted around stating the date of when the point of interest was inaugurated and who by e.g. Covilhã President.
There is an old legend linked to Fonte das Três Bicas. A monument of unquestionable beauty, it was, and still is, the scene of rituals, which have already become a symbol for the people of the village. In ancient times, the girls of the village visited the fountain with their pitchers to get the crystal clear water and to meet their boyfriends. There is a wall that, was always full of boyfriends who took advantage of the time when their parents were not around to flirt. As a teenager growing up in the 80's we used to visit the local park, drink a litre of cidre and flirt with the local boys so I suppose not much changes (ha ha). Currently, on the feast of S. João, when the clock in the tower strikes twelve, the villagers head to the fountain to break an egg, a ritual, as they say, that lets us know what the future has in store for us. How strange! Am I the only one thinking "What a waste of an egg!" (ha ha).
Coffee for the (Wo)Man
There were no cafes open except for the one next to the community oven and it only had dark inside seating and I don't do the inside of cafes, not when I can sit outside in the sun and also prevent any risk of catching Covid. The other cafe was closed and we could only find a sports bar/cafe which was oddly weird as it wasn't your typical Portuguese cafe but very modern and had no outside seating. We ventured inside because I was desperate for caffeine and I do like to visit the village cafe if we pass through a village at the end of our hike. It is not the same driving a few km to another cafe or shopping mall as I like to support local businesses as much as I can. Although it was modern the staff were definitely old school typical Portuguese. I found a perfect spot in the sunshine by the window and rested my exhausted legs. We always find it funny as when hubby orders a coke and an espresso they always assume the coffee is for the man and the soft drink is for the lady. A lovely elderly tabard wearing lady delivered my coke and a glass to our table. The reality is, the coffee is for me, small, dark and strong like my man, I resisted saying stiff (ha ha). Trust me to lower the tone! I had to make these photos small as we are very hot, tried and dishevelled but still SMILING (ha ha).
Poço da Fatela
There was one last poço to view and again I persuaded hubby that we absolutely needed to view it even though it was nearly 6:30pm and I am so glad we did as it is very different to all the others we viewed. A glorious huge natural pool of emerald green water preceded by a waterfall created by a weir. Much to my delight I found lots of nature art – painted rocks, tree stumps and fence posts decorated with patterns to resemble totem poles, how weird and wonderful, just like me. (ha ha). If it were up to me I would have had a photo with every single one but there were a lot and hubby's phone battery was starting to get low too and he needed it for the directions home.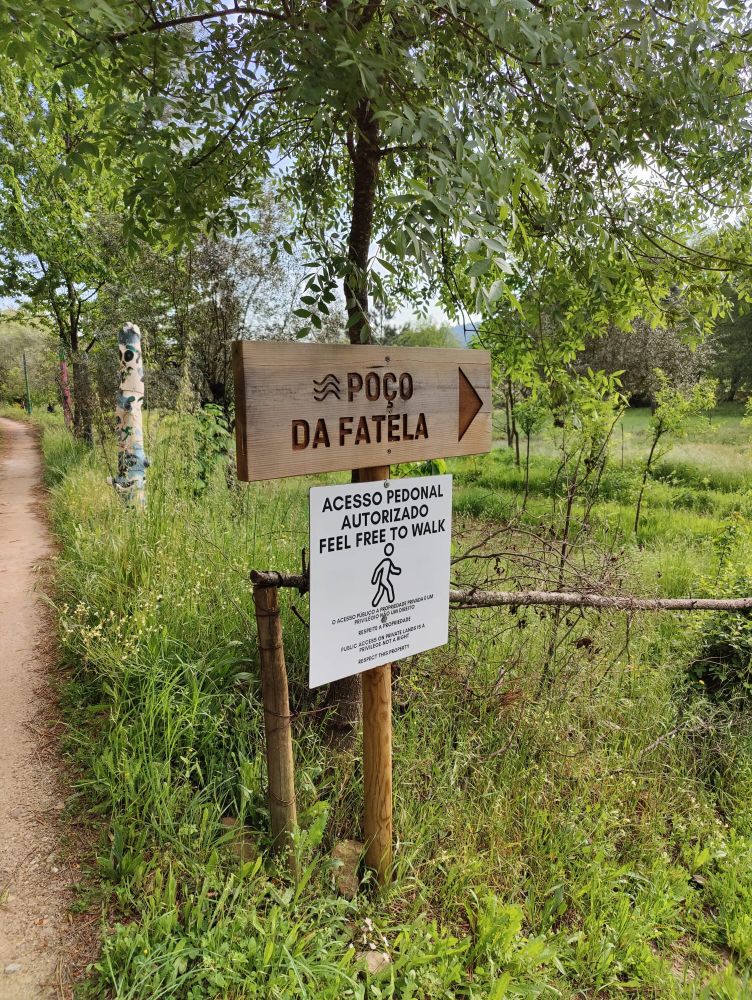 The Sugar Fix Challenge
We headed home around 7pm and hubby stopped in a tiny petrol station to top up on gas and buy me some journey home sweets and a can of coke. Although it was a small petrol station with a tiny shop there were a group of about 5 men outside drinking mini bottles of Portuguese beer. I always find it strange that alcohol is sold at petrol stations and you will often find a bloke sipping a cold one standing on the forecourt. Everywhere is a bar including McDonald's food hall in the shopping mall but I do wonder if it's the best decision to sell alcohol to folk who have obviously driven to a rural located petrol station. Hubby and I had a weird encounter here. I stayed in the car and the petrol station had a little restaurant attached to it. Our vehicle was parked right opposite the resturant window and a table of 4 diners. There was no one else in the whole restaurant apart from them and they were sipping their drinks and staring directly at me. I tried to look away but every time I glanced back they were staring at me with the Portuguese stare which can last a painful lengthy 5 minutes or more, it was more than a little bit awkward (ha ha). Hubby returned with 2 cans of coke and no sweets. He said the man had a board with different packets of sweets attached to it. Hubby pointed at a packet and the man said "Não". Then hubby pointed at a different packet of sweets and the man said "Não". Hubby tried 3 times then got a bot embarrassed so gave up and the man said "Pois" which is the British equivalent to "Whatever" (ha ha). Why have packets of sweets pinned to a board as samples if you don't have any in stock? It's all a bit weird if you ask me. At least with ice cream boards here in cafes they put a big cross with a wipeable black marker pen through the ones they have sold out of which makes sense. I had one last awkward glance at the diners who were now on their starters then we headed off home. I resisted the urge to wave bye bye at them (ha ha).
Pretty as a Picture – Baloiço da Portela (Vila Cova de Alva)
On the way home we made a pit stop at our local baloiço (Scenic swing) in Vila Cova de Alva as it has had a revamp. It was around 8:30pm at night but still lovely and bright outside. The swing has moved positions, it has a new picnic area and a magnificent new window frame because this outstanding view deserves to be framed! We resisted the opportunity to role play a scene from a drive through fast food restaurant. Remember folk, it's not food if it arrived through the window of your car.
Helen & The Hedgehog
About 1 km from our home we saw an animal in the middle of the road and hubby instinctively swerved and nearly killed us by driving off the road into a ditch! It was a hedgehog and we assume very poorly as it was still very light at around 8:30pm and they usually only venture out at night when it is dark. It was crossing the road but half way across it started a suicide mission and just walked very slowly directly towards our car. We came to a screeching halt and I did want to get out and play animal hospital with my limited veterinarian skills which consist of a St John's Ambulance First Aid Certificate and Girl Scout (Brownie) Pet Badge from the early 80's (ha ha). There was nowhere to safely park the car and get out so I didn't bother then felt guilty as hell. The next day hubby ventured on his ridiculously early pre-work cycle ride and passed the hedgehog at the side of the road. It was dead or maybe it was just sleeping. Who am I kidding, it was dead. Sadly you can't save them all! I named him Harold the Hedgehog, RIP my dear friend.
Overview
There is something very cleansing, soothing and therapeutic about sitting on a huge flat boulder and relaxing next to flowing water. Viewing a dozen poços was like my very own mini healing retreat, a true festival of waterfalls and lagoons. It was an absolutely beautiful day and one of my favourite hikes so far. Idyllic nature and a pristine little oasis at every corner and views I won't forget in a hurry. This is one of the most fantastic and picturesque hikes I've encountered in the Serra da Estrela. If you like refreshing waters and appreciate nature as much as I do then this trail is for you. It not only includes several waterfalls and natural pools but you also get to explore an olive press, water mills, bridges and the mountain villages of Bouça and Cortes do Meio. What I really liked about this hike was the fact that we didn't have to walk for too long before we came across another point of interest. Previous hikes have often resulted in a km or two of dirt track or paved road which is a little bit boring and challenging in the Portuguese heat but this hike has so many attractions to view that are close together in distance. The next day I discovered a really bad red painful mark on my ankle and it got worse over the next few days. Maybe that moss was a creature in the water after all! I tried antiseptic cream and it didn't work so I applied some antibiotic cream that I had left over and it healed in a couple of days. I thought I was going to lose a leg and that wouldn't be good for any future hikes because I'm useless at hopping on one leg as I just fall over as I have poor balance (ha ha). I would highly recommend that you view all 12 poços, especially my 2 favourites. Another gorgeous tranquil adventure with my soulmate. A combination of aqua therapy, my BFF, nature and zero people, my kind of perfect! I think I was a mermaid in my previous life! Feeling grateful always for the natural beauty around us.