CÔJA MARKET
I have already written about Côja in my post titled 'Welcome to Vinhó', mentioning that it is our nearest village which has amenities such as river beach, bank, DIY shop, supermarkets, newsagent, betting shop, bakery, butcher, greengrocer, fortnightly market, doctors, dentist, fire station, school/nursery etc. On Saturday we visited the market which runs every 3rd Saturday of the month. It was closed for a while due to Covid-19 but has recently reopened. The market is great and offers a range of stalls selling a wide range of food and crafts to include fruit, veg, sausage, cheese, free range eggs, jams, chutneys, honey, plants, clothing, jewellery, crystals, soaps, spices, cakes, art work, artisan crafts, multiple handicrafts and medicinal products, Bach flowers, essential oils and flower essences, tools, furniture and much more. I even spotted a hairdresser, Indian head masseur and tarot card reader! There is street food too and a few stalls offering secondhand goods a bit like a car boot sale. I have never seen Côja so crowded. I really enjoyed the market and we haven't visited it for so long but there was not much social distancing going on! Hubby visited the bakery whilst I waited outside, the cafes were really busy. A bit too crowded for me to stop for a drink and cake so we bought a drink and took it down by the river Alva where apart from 2 fishermen we were the only ones there. We found a tranquil little spot to watch the world go by.
I have forgotten how beautiful Côja really is. There is such a good vibe there and a mixture of Portuguese and non Portuguese. We sat for a while by the river in the sunshine just thinking about how lucky we are to be here. Then out of nowhere two ladies swam past us! They must have come from the direction of the river beach.
2023 Update
We visit this market quite often now as the number of stalls has increased significantly. Some folk call it "The Hippie Market" because it has a lot of Vegan foods and weird and wonderful stuff. I trained as a Holistic Therapist back in the 90's (Aromatherapy, Sweedish Body Massage, Reflexology, Indian Head Massage, Reiki and Crystal Therapy) so I am familiar with essential oils and their healing properties. I have an open mind to alternative therapies/remedies and would rather try natural sources before I turn to drugs (anti-biotics). Saying this, I am still amazed at the strange stuff on offer at this market, I can barely pronounce half of the items for sale let alone know what they are or what I do with them. Do I eat them, inhale them or waft them around a room (ha ha). There are things like Cacau, tahini, makdous, guayusa, dragons blood, copal incense, macrame jewellrey, Kefir grains in goats milk ready to spawn, falafel, tea tinctures, elderflower wines/cordial syrup and crazy fun fermented stuff in jam jars. One day I might push myself out of my comfort zone and try the beetroot fudge (ha ha). There are also folk offering yoga retreats and rhythm rituals as well as people sat on the floor playing flutes and strumming guitars. Some of the artisan crafts now include ethnically sourced handmade dreadlock spirals, felted merino wool and so much more. After the market there are workshops at nearby locations offering tile painting, primal dance and chakra healing if you fancy it.
I do find the gluten free options great for my chronic IBS and there is a lovely cake stall that sells the yummiest GF individual carrot cakes. They are mini so I need to consume 2 (ha ha). I have also bought a lovely secondhand pre-loved lilac Next Jumper for €4 and a couple of Warehouse denim skirts for €3 each, so the frugal me is a happy bunny indeed. I also love that they don't actually sale live animals except poultry, so no rabbits or guinea pigs crammed into tiny cages which makes me want to save them all.
If you think it's just all vegan stuff you would be wrong as there are now stalls catering for a variety of taste buds. There is a Dutch and a German stall as well as typical British/English cuisine such as dry cured English back bacon, pork pies, scotch eggs, steak and ale suet puddings and there is a Pastie Man who sells all different flavoured pasties including chicken curry, veggie curry, pork, gravy pies and rabbit! I have to walk by at a rapid speed and avoid eye contact because I feel that even if I take in a whiff, I am betraying our pet bunny boy Milo (ha ha). There are also lots more stalls selling homemade lotions and potions like lip balms, soaps, shampoo and conditioner and deodorant solid bars and sun screens with insect repellant in them. Some are quite expensive but they are handmade without nasty toxins and ethnically sourced so in my eyes you get what you pay for in life. I have also seen a wonderful seed swap stall and an interactive forest stall for children with creative arts and crafts. It really is a mixed bag and has something for everyone and I try to visit as often as I can.
The market has a great Facebook group if your interested: Barril Market in Côja My only gripe about this Facebook group is the fact that some (not all) sellers advertise here leading up to the market and they don't list their prices. I think it should be a rule that if your advertising individual products then list the size and price. Frugal folk like me like to see prices so we can make choices. Just a small observation as for me personally and hubby (who works full time), it is an unnecessary annoyance and time wasting chore to have to PM individual sellers for prices. Often I don't bother as I just assume it's going to be expensive if the price isn't listed which is not always the case. My time is precious and I'm not getting any younger (ha ha).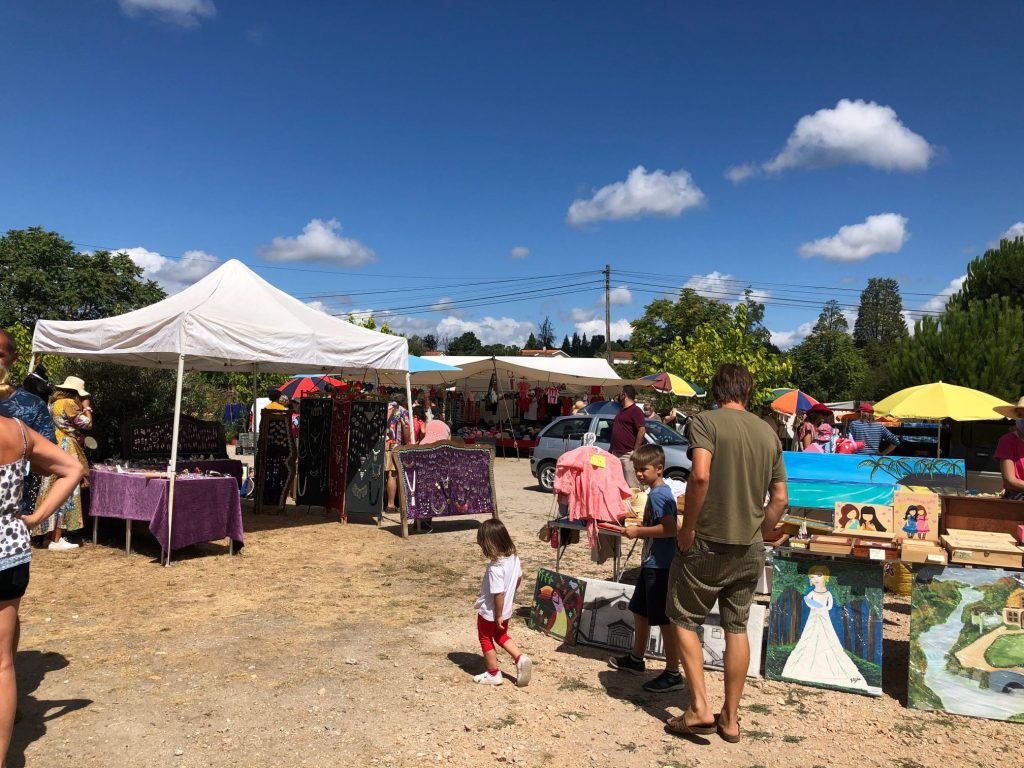 Feb 2023 Purchases
I have recently purchased some wonderful artisan gifts to take back to the UK for my friends and family including some gorgeous pretty painted rocks, handmade crystal and resin necklace and silver earrings. I adore the artistic rocks, so damn cute!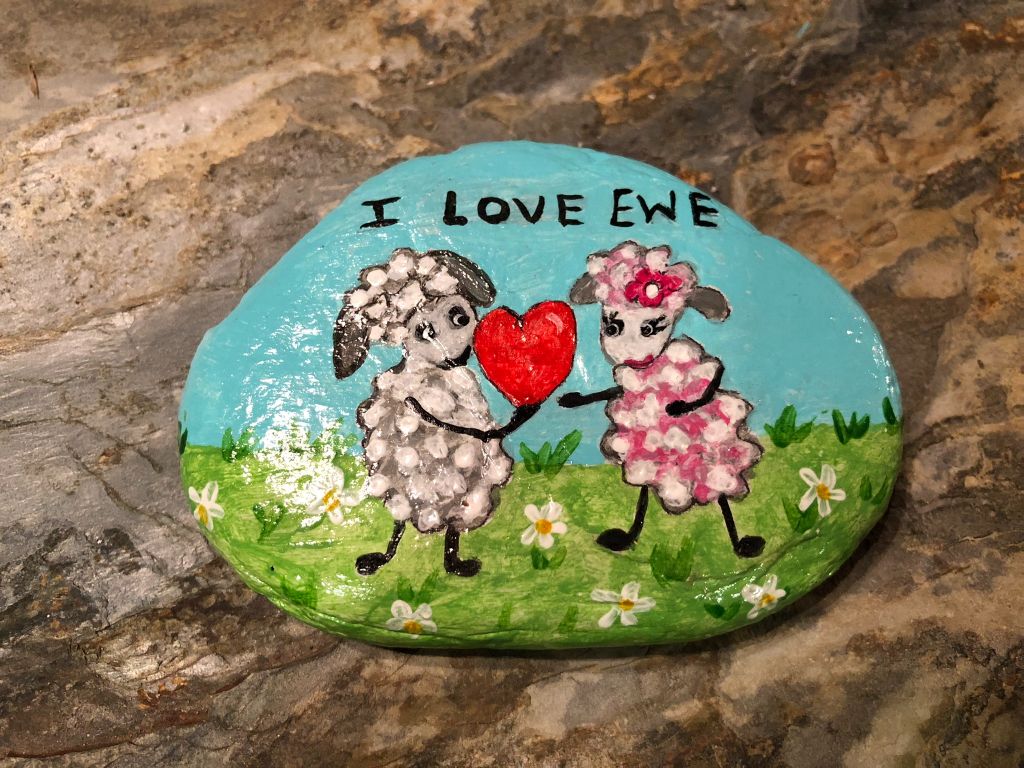 Painted Stones by Anita
The lady that paints the stones is super talented. I bought a few stones to take back to the UK as gifts. My heavenly mum loved cheese so the little mouse and cheese stone was a perfect gift to place next to Mum's urn of ashes on Dad's fire mantlepiece. I also placed the I Love Ewe (sheep) stone on my best friends grave. It was perfect as her name was Sue so it read "I Love Ewe Sue". Finally the gorgeous bunny stone was bespoke and custom made. My daughter wanted us to get matching bunny tattoos but unfortunately the tattoo parlour had no availability on the weekend we were in Bristol together so I gave the art work to Anita and she custom made this gorgeous stone for Teanna. She loved it so much and carries it around in her pocket as a good luck charm.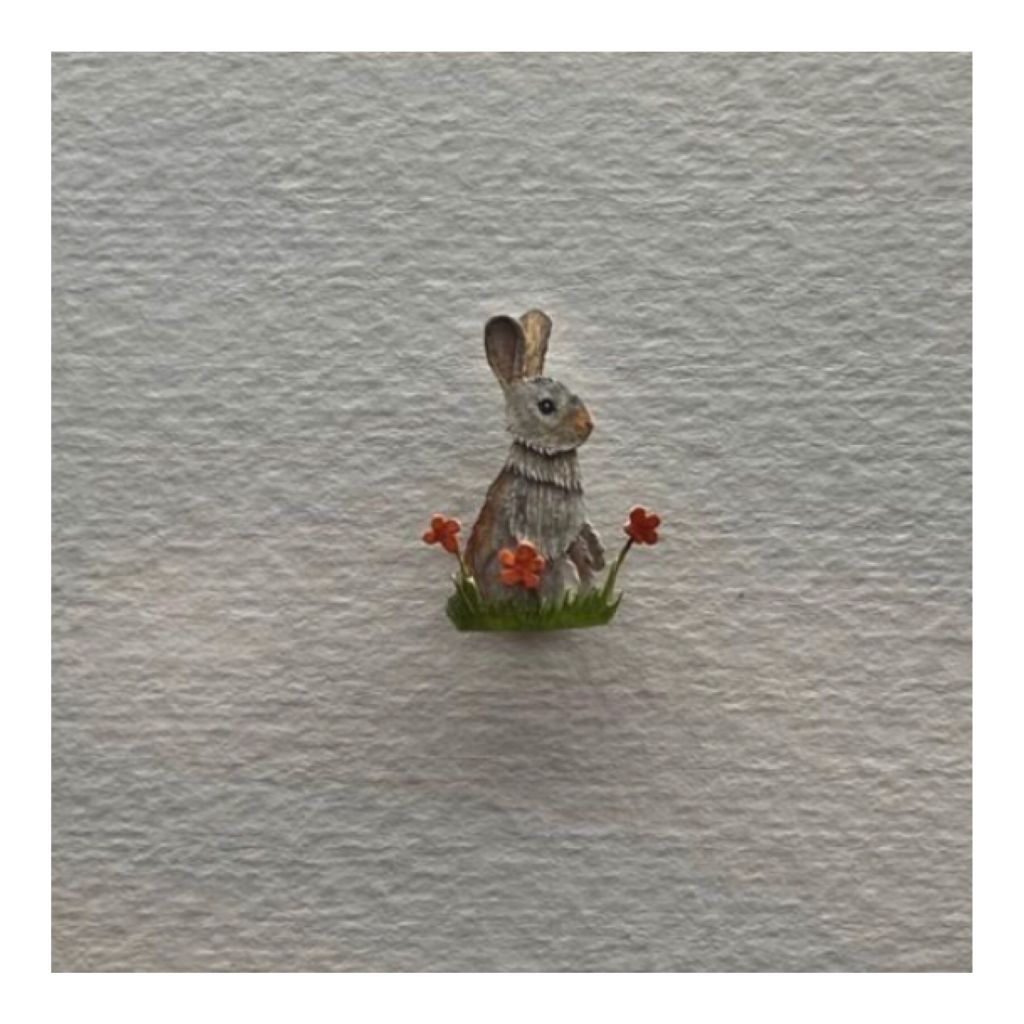 Cheesy Gifts to Myself
Once I returned to Portugal I visited the market again and I am now the proud owner of these couple of cute mouse and cheese themed painted stones. I wanted similar ones to the stones I bought for mum so every time I look at them in Portugal, I will think of Mum and her love of cheese. I LOVE them.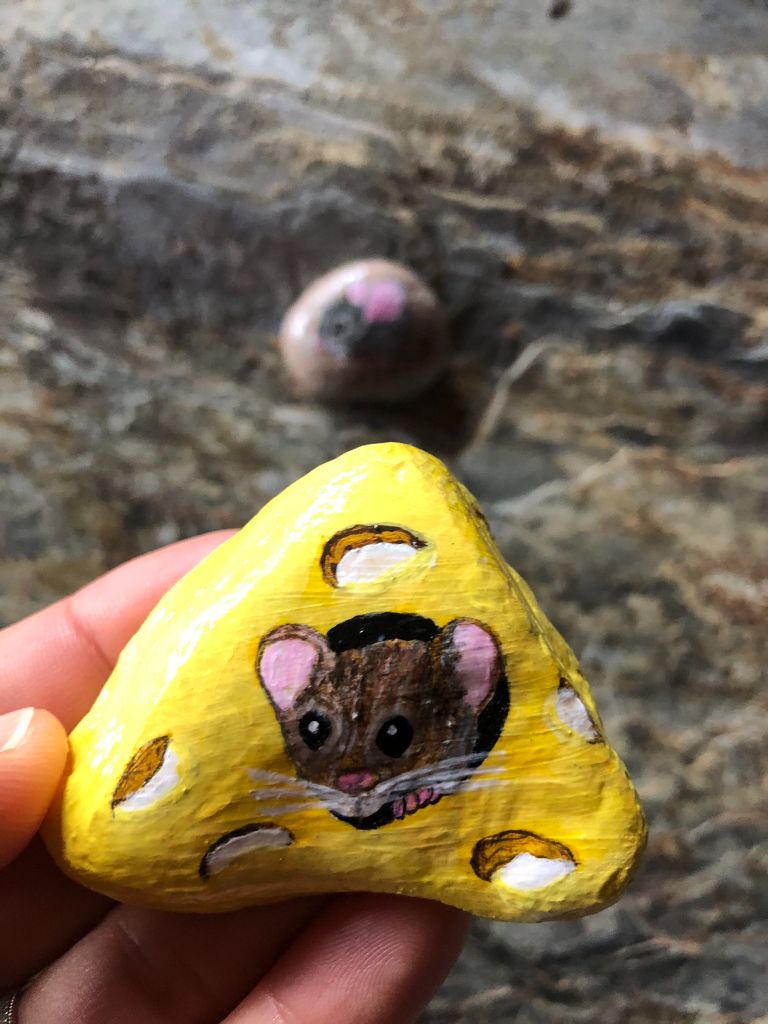 Graduation Gift
The very talented Anita painted Teanna a personalised bunny Milo stone with a graduation cap as she graduated from NTU. It is so awesome! This is sunny Bristol, UK (July 2023), don't get confused, it usually rains (ha ha).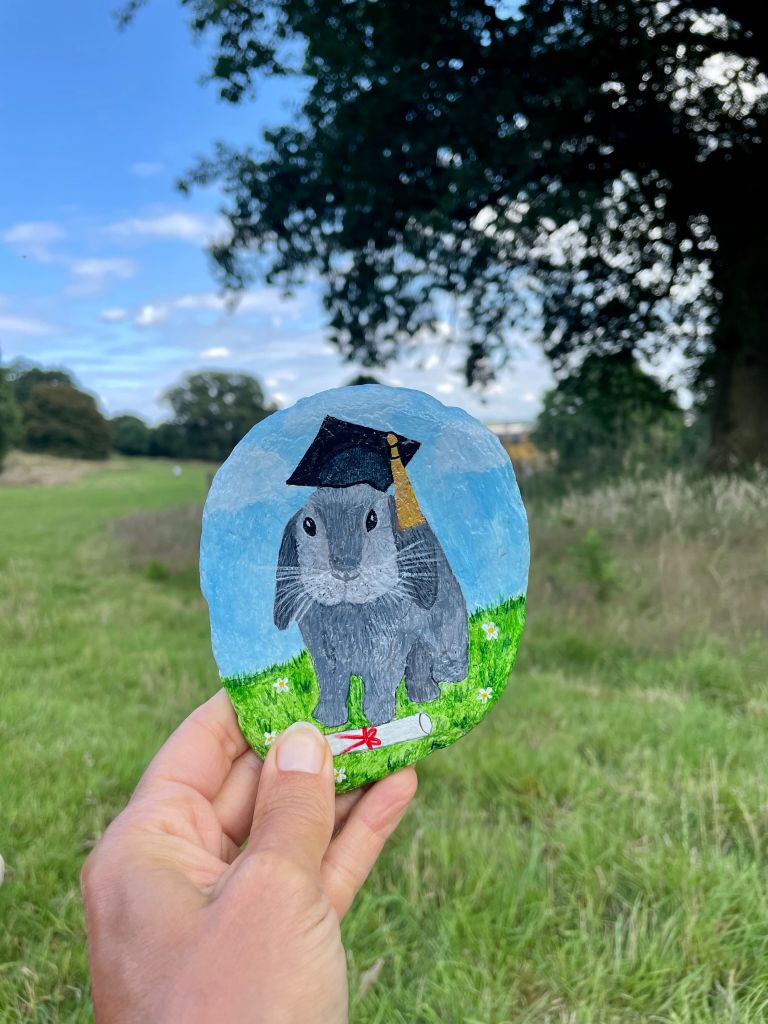 Bee Happy
I could not resist the stunning Bee stone and the Ladybug.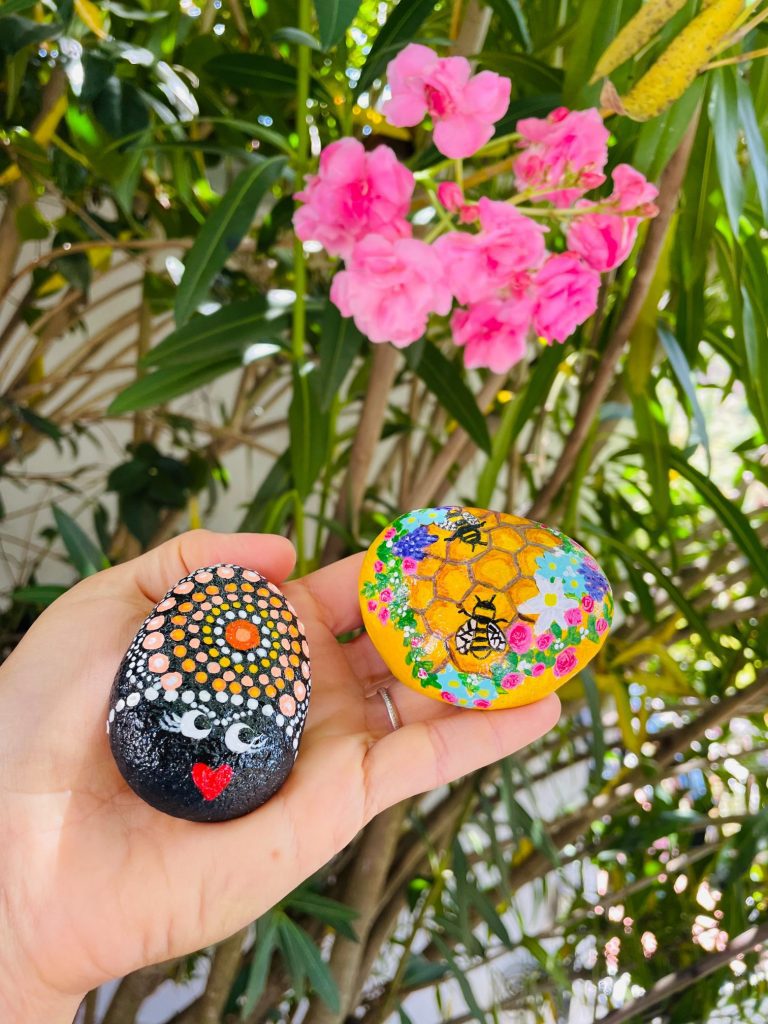 Sister Gifts
We purchased a couple more of these gorgeous necklaces to take back to the UK as gifts for my sister in laws. They loved them and so do I.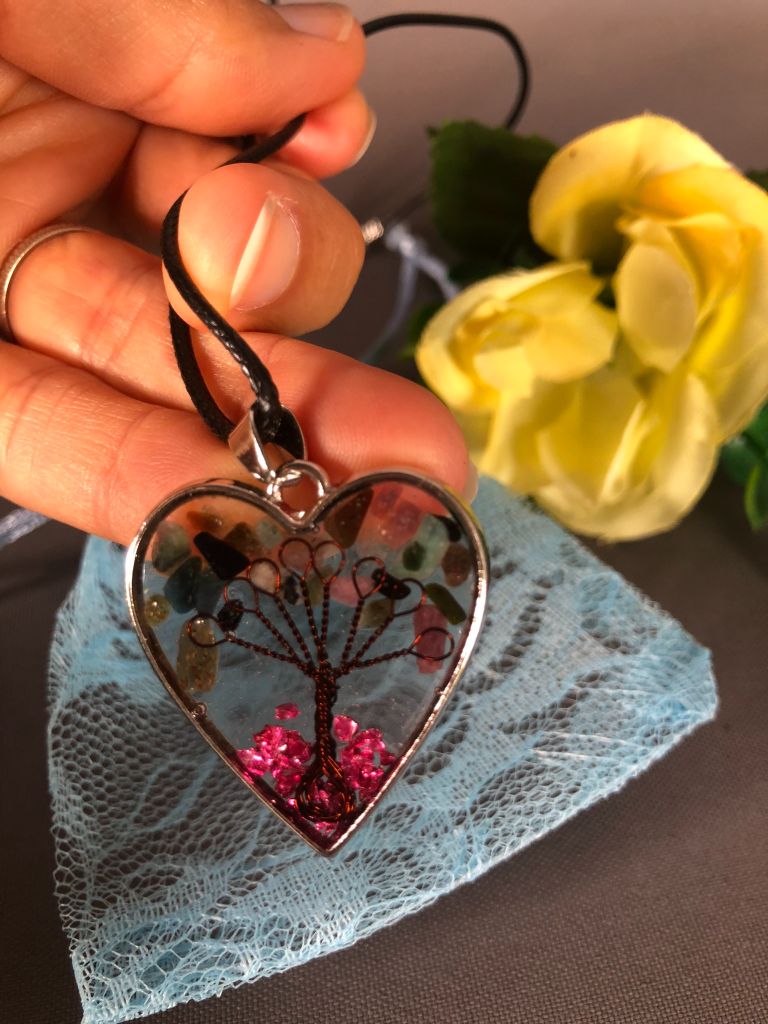 Silver Earrings
I bought Teanna these pretty silver earrings from a charity stall at the market. All the proceeds goes to an animal shelter which melts my heart as I adore animals way more than people (ha ha).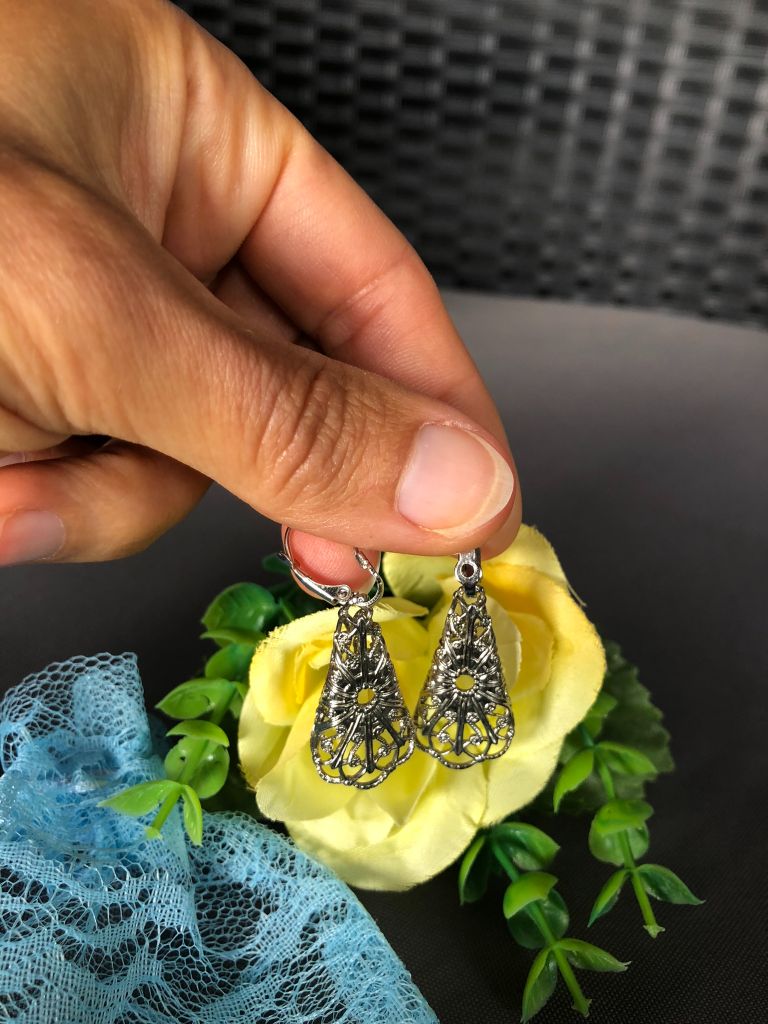 Strike a Pose
Here is Teanna wearing her new earrings, very pretty, Cheers!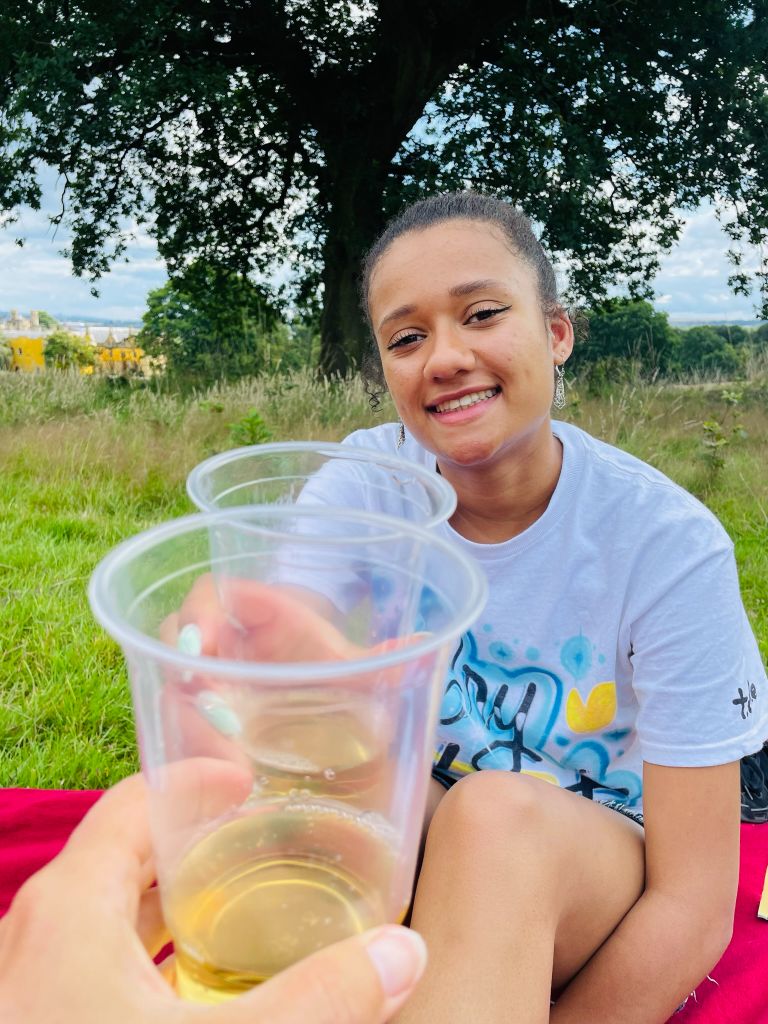 One Man's Trash Is Another Man's Treasure
It is well worth joining the Facebook market group as often folk will offer stuff for free to collect from the market. I managed to obtain a lovely glass chess and checkers game board and a pair of New Balance footwear all for free. One man's trash is another man's treasure. I'm a frugal girl so was absolutely delighted with my freebies. Sharing is caring and I LOVE the community spirit.
God help hubby as he is a genius at chess. I on the other hand haven't played a game since the late 1980's. He had to explain the basic rules to me so I didn't cheat and our first game was over in minutes, it wasn't quite the Queen's Gambit (ha ha). I am fortunate that hubby has the patience of a saint. Chess it an intellectual game which requires a lot of skill. Maybe I should stick to Throw throw Burrito or Exploding Kittens, the rude edition of course (ha ha).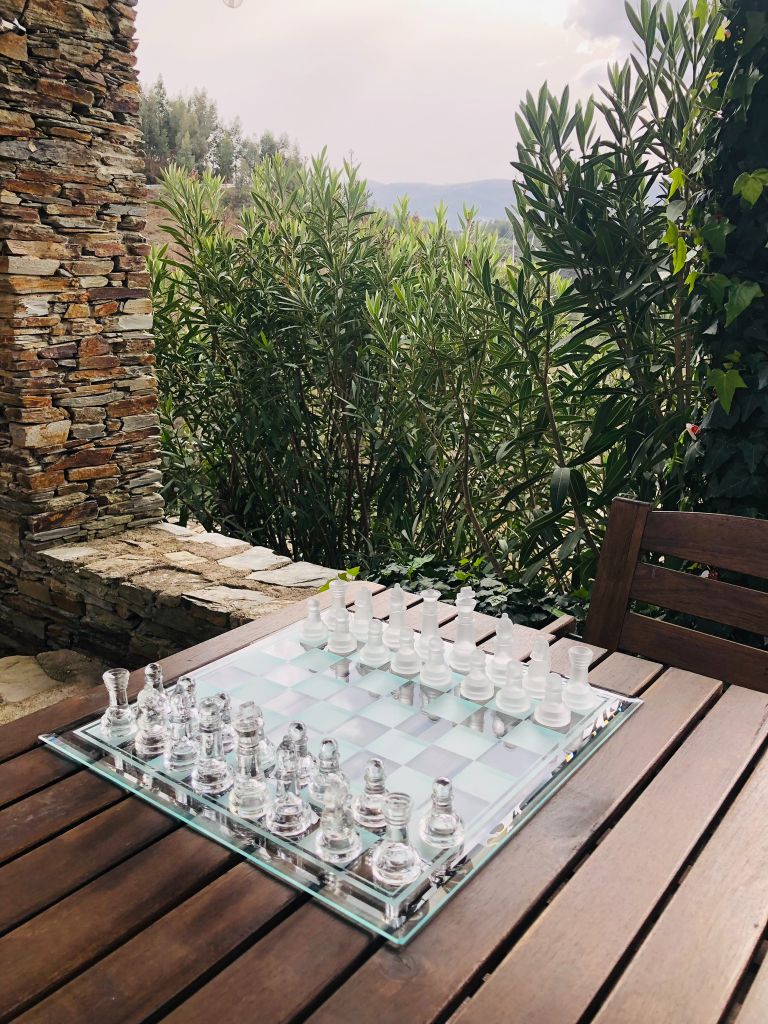 Crazy Chess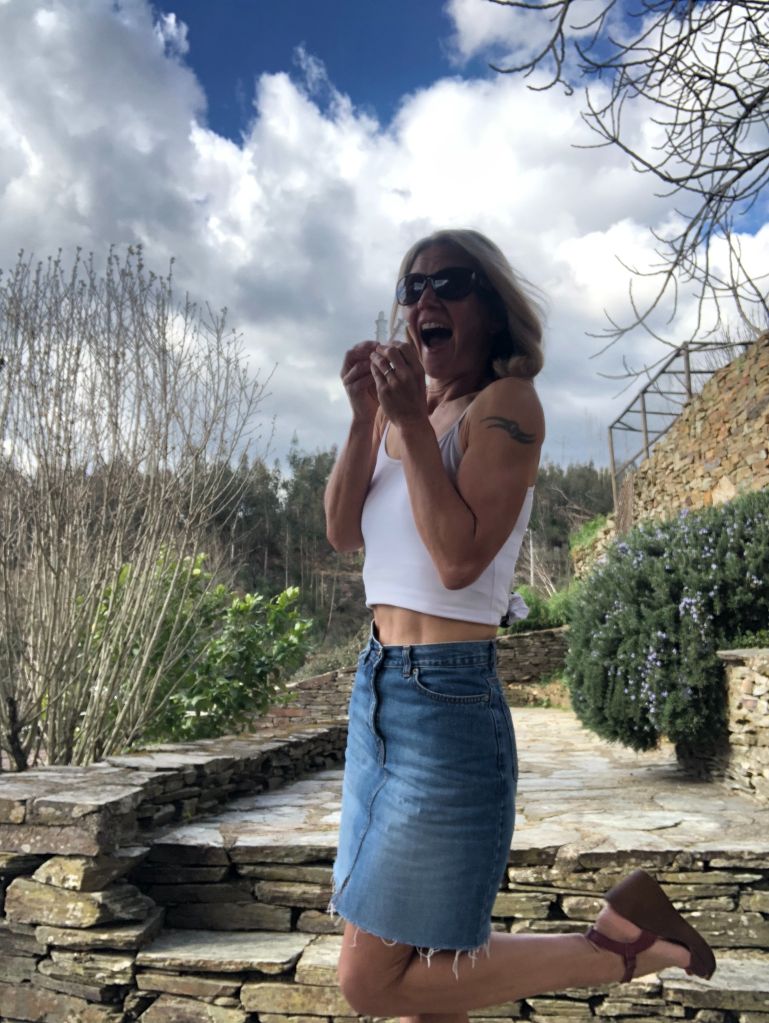 Pre-Loved Clothing Frugal Finds
On Saturday I bought a beautiful Pre-Loved Urban Outfitters mustard daisy dress (BNWT £39) and a cute Hollister black onesie/shorts. I think it's called a romper or jumpsuit which is highly appropriate as we all know how I like to romp and jump high in the air (ha ha).
I'm not sure how I'm going to lady pee pee in a hurry if my weak menopausal bladder calls for an urgent bathroom break. It's basically a baby grow without the easy access crutch poppers (ha ha). In hindsight I probably didn't think it through properly but they were a bargain at €5 each. I had no idea if they would fit as I felt no desire to unleash my nakedness upon strangers by trying them on in public at the crowded market but they turned out to be a perfect fit. I also bought an awesome gift for my darling daughter Teanna but I can't share a photo as she randomly reads my posts and I don't want to ruin the surprise but it's as beautiful as her soul.
Hubby treated himself to a gigantic Cherry Bakewell Tart, it's bigger than his tart of a wife (ha ha). I resisted the cake temptation as I need my ass to fit into my new outfits then later after an afternoon of gardening, I changed my mind because that's a woman's prerogative, so I stole half because sharing is caring (ha ha). My neighbour enjoyed my garden posing fashion shoot. I'm aiming for "Nifty at 50" but I think he shouted out "Mad & Menopausal". I might start charging an entrance fee to watch, €1 as I don't wanna price myself out of the market (ha ha). Just to be kind I will also throw in a couple of free courgette's.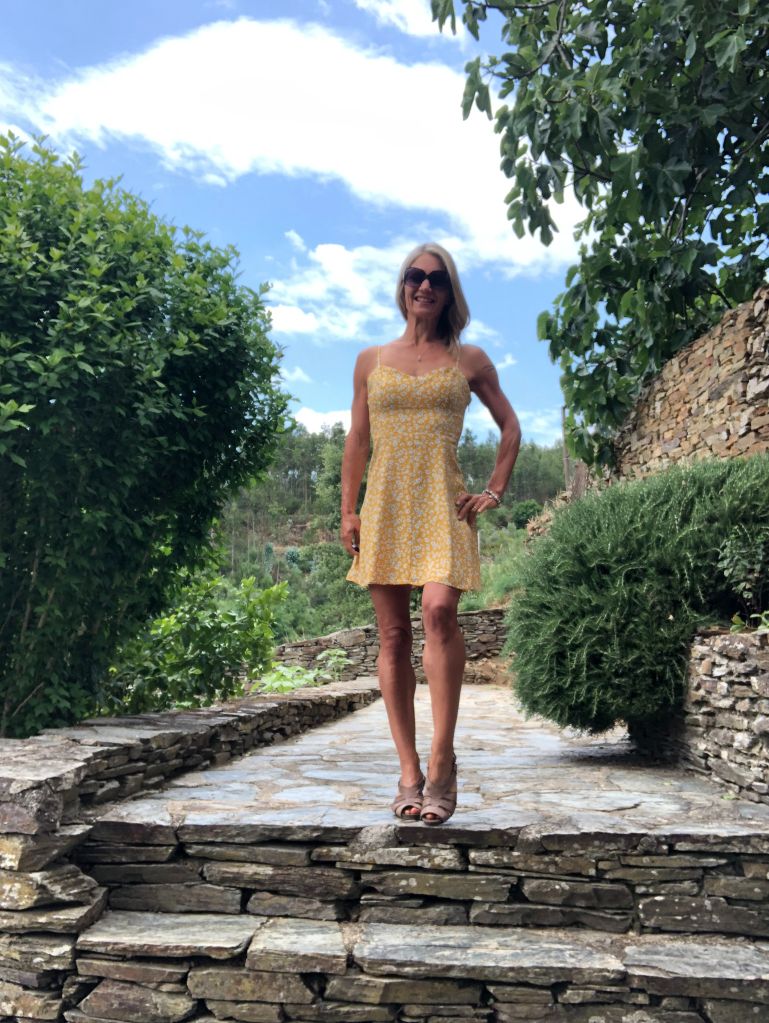 Speakers & Slippers – Community Spirit
I LOVE the community spirit of Côja market vendors. One seller put an add on the Market's Facebook group page asking if anyone had old speakers for an art project. I have a couple of speakers in my loft left from the previous owners so I offered them for free as they are just gathering dust in my loft. When hubby dropped them at her clothes stall she kindly offered hubby some silk slippers from a small independent family business in Vietnam. Hubby chose me a beautiful antique pink pair and I adore them. Hubby chose well which is a total surprise as he usually has no dress sense to the point I need to contact the fashion police (ha ha). Kindness pays off and sharing is caring. Thank you Felicity, you are a true star.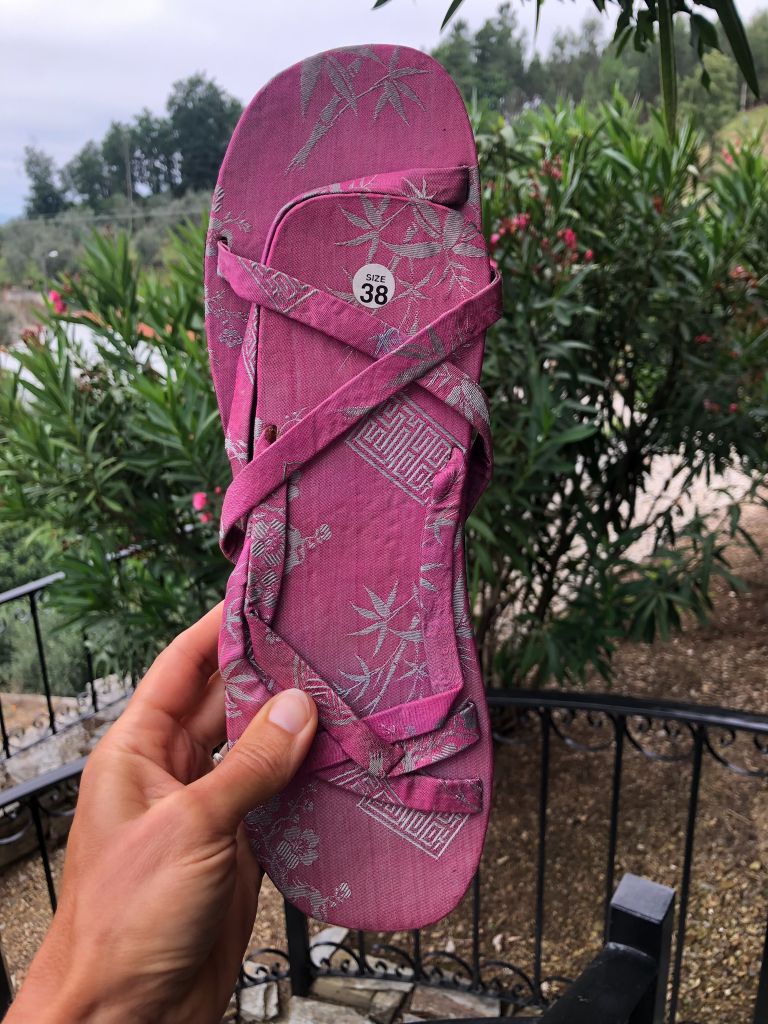 Beautiful Necklace
My daughter visited during the Summer of 2023 and purchased lots of gifts from the market to take back to the UK for her friends birthday presents. She also bought herself a few treats including this fabulous necklace for €10. Teanna loved it so much she worn it everywhere! Jewellery is something that has to do with emotion…