CASCATA DA FRAGA DE ÁGUA D'ALTA
Who doesn't love a beautiful waterfall? I absolutely adore waterfalls and I don't know of any person who looks at a waterfall and doesn't feel instant joy and happiness. Waterfalls are wonders of nature and I just love the sight, sound and feel of them. I think it's my love of nature and water combined in a natural phenomenon and that I'm the star sign Pisces. We are very lucky to live only a few minutes drive from the famous Fraga da Pena waterfall. There are many waterfalls in Central Portugal and I thought it was about time to add an epic waterfall onto my daughter's trip itinerary. After a little research I found the stunning Cascata da Fraga de Água d'Alta. Waterfalls can be a bit hit or miss in summertime as sometimes you can venture on a trek only to find no water in them as they have dried up so I wanted to find a waterfall that didn't involve a huge hike just in case it was a bit of a disappointment. Lucky for me I found one where you can park on the road and take a few steep steps down to see the glory. A waterfall doesn't take a full day to view without a long hike so I needed to find some other sights to view nearby. I came up with the following itinerary:
Miradouro do Cabeço Mosqueiro
Passadiços do Orvalho
Cascata da Fraga de Água d'Alta
Praia fluvial de Santa Luzia, Vidual
Miradouro do Cabeço Mosqueiro (Viewpoint)
We started our day trip with a scenic drive to the Miradouro do Cabeço Mosqueiro (Viewpoint) which is located in Orvalho. It is a stunning large area which includes a picnic area, various seating options and BBQ, toilets, monuments and cute wooden trains and animals which we obviously sat in as we are children at heart (ha ha). The stone viewpoint has an altitude of about 660 meters and after a short climb of a few steps we got to enjoy a magnificient panoramic view over several villages and you can even see the Serra da Estrela in the distant horizon. Again, we were the only ones here so got to enjoy all the beauty to ourselves. It was very windy at the top of the viewpoint so I apologise for my hair photos in advance (ha ha). You know it's super windy if Teanna's afro is unkempt as it doesn't normally move an inch. I was very happy to find unlocked toilets which looked rather attractive on the outside. Note to myself: Never judge a book by it's cover. Do NOT use these toilets unless you are super brave caveman Dave. One word HORRENDOUS! Actually I need to elaborate as a lady with IBS I need to pre warn you all. So very nasty, dirty, smelly and so many flies I was expecting to find a corpse! I didn't luckily.
Passadiços do Orvalho & Cascata da Fraga de Água d'Alta
Run wild and free like a waterfall
I absolutely love the wooden walkways here in Portugal so I was delighted to find Passadiços do Orvalho. A 9km each way linear walkway. The Orvalho Walkway is located in the district of Castelo Branco, the parish of Orvalho and municipality of Oleiros. The PR3 Geo Route looks amazing and along the hike you will discover a series of geo monuments classified by UNESCO, such as the Cascata da Fraga de Água d'Alta (Waterfall) and the Cabeço do Mosqueiro (Viewpoint) and you will also get to view spectacular landscapes en route. I really wanted to do this hike but due to the fact that we had already completed a 7km local hill run that morning we decided to take the lazy option and drive to the waterfall, viewpoint and river beach. We got a bit lost finding the waterfall because our sat Nav is pants. Sometimes it is brilliant and takes us exactly to the right spot but more than often it takes us to some unknown dead end in the middle of nowhere miles away from our intended destination. We eventually parked up right at the start of the wooden walkway and took the steep decline down to the waterfall. You cannot see the waterfall from the roadside so it's kind of a hidden gem which I love but it did make it a bit difficult to find.
I was blown away at the size and beauty of the large waterfall. As you walk down the wooden staircase you are faced with an unforgettable view of the serene waterfall and crystal clear waters which will stay in my memory for a life time. I like to stand at the foot of a waterfall, close my eyes and listen to the power of the pounding water tumble from the cliff tops, spray my body with a fine refreshing spritz and everything kind of stops still for those few moments. The Fraga de Água d'Alta is made up of a set of waterfalls that span a 50 metre drop. The largest of them falls vertically from a height of 15 metres and the water below forms a little lagoon where you can take a dip if you are hot. It's the biggest waterfall in the Geopark Naturtejo, the Beira Baixa region and home to one of the largest populations of blackberry tree. It's fantastic that you don't have to endure a hot sweaty hike to reach as this opens up opportunities to people who may not be able to walk significant distances. I know I keep saying this but It's definitely becoming a trend as again we were the only ones at the waterfall. It was such a tranquil family day out to celebrate U.K Fathers Day back in June. We decided to walk across the little bridge and explore the wonders of the start of the trail. I am so glad we did as we found a couple more smaller waterfalls and a tranquil little spot with a picnic table for our lunch. It is so very pretty and we had fun exploring the forest and trees. I even found a tree with carvings A & H on it for Adrian & Helen! It was such an amazing day to adopt the pace of nature for a while. There are some really cute little animal art work sculptures dotted amongst nature, we found frogs, owls, snails and even bunnies. It was so peaceful I didn't want to leave. A perfect little oasis full of mystery waiting to be discovered.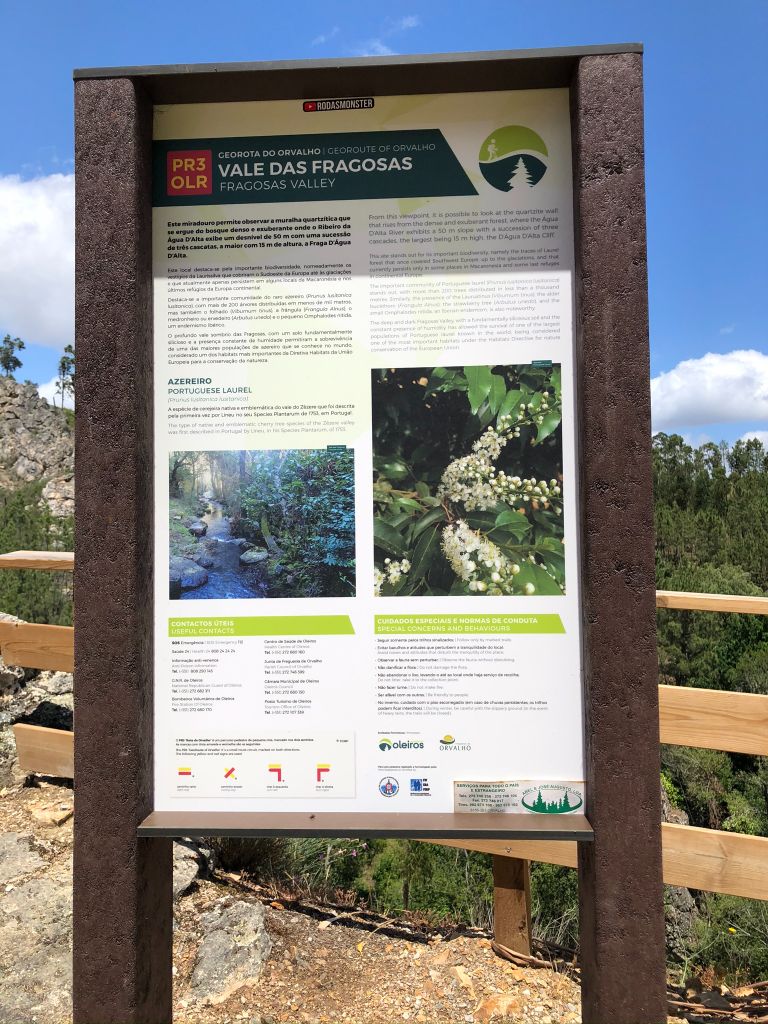 Praia fluvial de Santa Luzia (Vidual)
My family had to literally drag me away from the waterfall (ha ha). We then ventured onto the beautiful Praia fluvial de Santa Luzia, a spectacular river beach located in Vidual in the district of Pampilhosa da Serra. It's quite a unique spot as it is a mountain dam which is fed by water from the Vidual and Unhais streams and from the Rio Ceira reservoir, through a tunnel. The views of the dam from above are spectacular and the surrounding green mountains and rock formations make it a pretty setting. I love the fact that it was a huge lake with calm waters and has a blue floating pontoon platform so Teanna can practise swimming without the risk of drowning. We took a lovely stroll around the pontoon and watched the fishermen for a while. It has a few free beach umbrellas for shade, a delightful cafe and the toilets are clean! You can also hire kayaks and enjoy watersports on the crystal clear blue water. I also love the fact that there is a lot of natural shade from trees next to the sandy beach area with picnic tables. There were a few people at the river beach braving the waters, not me (ha ha). It wasn't a particularly hot day back in June and the lifeguards were not yet on duty as officially not the river beach season yet. I love this river beach and it is only a 45 min drive from our home. We did manage to return to this river beach in July and brave the water so I will write a separate post at some point. If you like to explore schist villages then the river beach is situated between two schist villages (Fajão and Janeiro de Baixo). It really is a spectacular river beach to visit with many hiking and cycling trails nearby.
Miradouro da barragem de Santa Luzia & Capela de Santa Luzia
On our way home we found some other hidden random treasures including a couple more Miradouro (Viewpoints) one with an amazing view over the dam (Miradouro da barragem de Santa Luzia) and another with a cute chapel (Capela de Santa Luzia) so we stopped off to explore. Next to the chapel are some steep steps which lead you to a stone viewpoint. Opposite the chapel there is a cross nestled amongst the cliffs that Teanna spotted. God, I wish I had a teenagers eyesight, I feel I'm missing out especially on small obstacles in the far distance (ha ha). I love spending time at these viewpoints soaking up the panoramic views and atmosphere. We often drive past the brown tourist attraction road signs saying Miradouro and I shout STOP at the top of my lungs and if it's safe to pull over then hubby pulls over parks the car and we go and explore. I have different alert words for him now as STOP was used as a general alert but now we have different ones. DOG is becoming very popular as there are so many stray dogs. At first STOP panicked hubby as he thought there could be immediate danger ahead so now he knows STOP is just because I want to view something. CYCLIST is another firm favourite along with WALKER and JOGGER. It's a complex system but it works for us (ha ha). It can get very windy so high up at the viewpoints which plays havoc with my fine hair (ha ha). My new nickname was going to be Windy which is basically Wendy (with an Australian accent) but Teanna thought people might think I had a flatlulence problem (which I don't) so I'm sticking with Princess golden coaches Helena after my love of our recent visit to the National coaches museum in Lisbon. I would rather be known as a princess than Little Miss farty pants anyday (ha ha). I can't believe all this beauty is under an hours drive from our home and the scenic so very lush green views en route are spectacular if you can cope with the zig zag mountain top roads. We are so blessed to live in such a beautiful Country.