A DAY TRIP TO CASCATA ÁGUA D'ALTE & CASCATA DA AGUALVA
When the weather is predicted to be a scorching 40 degrees there is only one place to be and that is submerged in water at one of Portugal's many nature spots. After a full day of fun visiting the city of Águeda I planned a relaxing nature day trip chasing waterfalls. We have viewed many of the famous waterfalls in Sever de Vouga including the famous Cabreia waterfall and magnificent mines. Today was about heading off the beaten track for a unique adventure to explore some of the lesser known waterfalls. July is not really the best time of year to view waterfalls as due to the heat, recent drought and lack of rain they are often left a little dry so are not always that spectacular to view. It was way too hot for one of our regular PR hikes as I never hike in extreme heat as it's exhausting and the risk of being trapped in a forest fire frightens me. My aim for this trip was to drive to a few waterfalls in different locations and embark on short hikes to reach them which were no more than 500 metres there and back to the car. I wasn't too bothered if the waterfalls were a little dry as long as there was some river, stream or lagoon to be able to dip my toes in if I got too hot. I love exploring waterfalls, they are magical places, hidden in the middle of woods on magestic mountain slopes with stunning landscapes and unique biodiversity. I adore a nice walk in the fresh air, embraced by wild nature. There is nothing more awesome than sitting next to a beautiful waterfall and watching the soothing crystalline waters rush down the granite rocks and listening to the birds chirping away. We have seen so many frogs recently which fascinate me. Hubby loves frogs and has built up quite an unhealthy relationship with Tiago the Toad who lives in our garden. I often hear him chatting to Tiago when he goes out late at night to put the chickens to bed (ha ha).
Initially I had 5 waterfalls on my itinerary but we ended up only viewing 2. I also found a scenic swing en route with spectacular views over the river Vouga. The waterfalls are located in the Sever do Vouga and Vale de Cambra regions which are both in the district of Aveiro. The swing is located in the region of Oliveira de Frades and district of Viseu. This is the first time ever that I have hiked in shorts. I'm not usually brave enough to wear shorts unless I'm paddle boarding. I like to wear leggings as I'm self conscious about my legs and I always fall into bushes and scratch them. I also get bitten a lot by bugs so long pants are definitely a safer option for me but today was so hot so I unleashed my lady legs. I'm glad I wore my hiking shoes as some of the terrain underfoot was slippery and unstable, a bit like me (ha ha). I also wore my bikini underneath as it was such a hot day and I knew I wouldn't be able to resist a wild swim in nature. The first waterfall is approx a 1 hr 20 min drive from our house and around 100 km. Whilst driving we passed through a village named "Chaos". Hubby said I should live here (ha ha). I prefer living in Vinho which translates to wine.
Itinerary
Cascata Agua d'Alte
Baloiço do Rio
Cascata da Agualva
Cascata do Poço de Grade
Cascata de Aroes
Cascata do Poço do Linho
Cascata Agua d'Alte
Our first stop was the beautiful Cascata de Água D'Alte located in Vilarinho, Talhadas, Sever do Vouga. We parked close by in the nearby village and took the short walk down the trail to reach the fall. I was amazed that the waterfall was so big and it had plenty of flowing water but unfortunately not enough to fill the pool below so not suitable for swimming. What a rare beauty surrounded by dense vegetation. We had the whole place to ourselves as usual so spent time exploring the different wooden platforms and viewpoints. What a beautiful serene place with picnic tables and seating area.
Baloiço do Rio
This scenic swing is located in Oliveira de Frades, Viseu and has the most breathtaking landscape and gorgeous views over the Vouga river. Again we were able to park very close and take a short walk to view the swing. We had a lot of fun swinging really high to the point where I felt dizzy. Feast your eyes upon the wonders of nature. Hubby kept looking at the river and saying it would make a great SUP boarding spot (ha ha). I have a separate post on "Swinging in Portugal" where you can view all the swings we have visited, GPS locations and many photos. You can find it here: https://casavalhal.com/swinging-in-portugal/
Cascata da Agualva
Our next waterfall was the serene Cascata da Agualva which is located in Lourizela, Sever do Vouga. The Agualva waterfall represents, without a doubt, one of the best kept secrets of the Lordelo River. This waterfall is about 400 metres above the bridge over the Lordelo, between Couto de Esteves and Lourizela. Access is difficult via the riverbed and short paths along the banks but the rewards are immense. The waters of Lordelo are designed in a drop of more than 10 metres high between large dark-colored cliffs, forming a narrow well below. The water took advantage of the difference in hardness of the rocks in the riverbed to excavate the slope that gave birth to this waterfall. The Lordelo River is a typical mountain river that rises at the top of the Arestal Mountains, and descends abruptly on its short course to the Vouga. Many species of flora can be found here as well as amphibians, reptiles, birds and insects, some of them quite rare. There was definitely a rare bird in the water today, me! (ha ha). This waterfall and many of the others on my itinerary form part of the Route of Water and Stone hiking trail.
Wow, what a beautiful place with easy access. There was not a spectacular flow of water but we had a lovely leisurely walk next to the stream and we climbed over rocks and boulders to find a secluded little private oasis with a mini waterfall and lush green fern fringed little rock pool. This was my favourite part of the day, it was blissful. We enjoyed our protein snack and caffeine fix next to the water under the shade of a tree. Then we stripped off and entered the water for a refreshing dip. Well, I stripped off, hubby entered fully clothed (ha ha). We sat in the pool and had a challenge of who could catch a little fish first. We both lost this challenge. Hubby then got out and left "Sparkly princess mermaid Helen" to it. I love wild swimming and these little gems of tranquillity. I had so much fun here and the little pool had a sort of crater hole like a natural hot tub big enough for my ass so I sat there for an eternity just chilling amongst nature and listening to the birdsong. I only just discovered today that hubby doesn't really enjoy natural rock pools or wild swimming. He gets in the water at river beaches and loves surfing and windsurfing so this surprised me a lot. I think I can work on him over time and change his mind like I did with the tree hugging. He still won't drink coffee but he is definitely a converted tree hugger now (ha ha). If he doesn't fall in love with wild swimming I can always divorce him and find husband number 3 (ha ha). I wanted to stay longer here but we still had a couple more waterfalls to view so we packed up and headed off on our next adventure. I had so much aqua therapy FUN splashing around in my very own natural rock pool. Hubby took lots of photos of me and we were amazed when we got home and found the one of me which looks like I have Angel Water Wings (ha ha), too cute.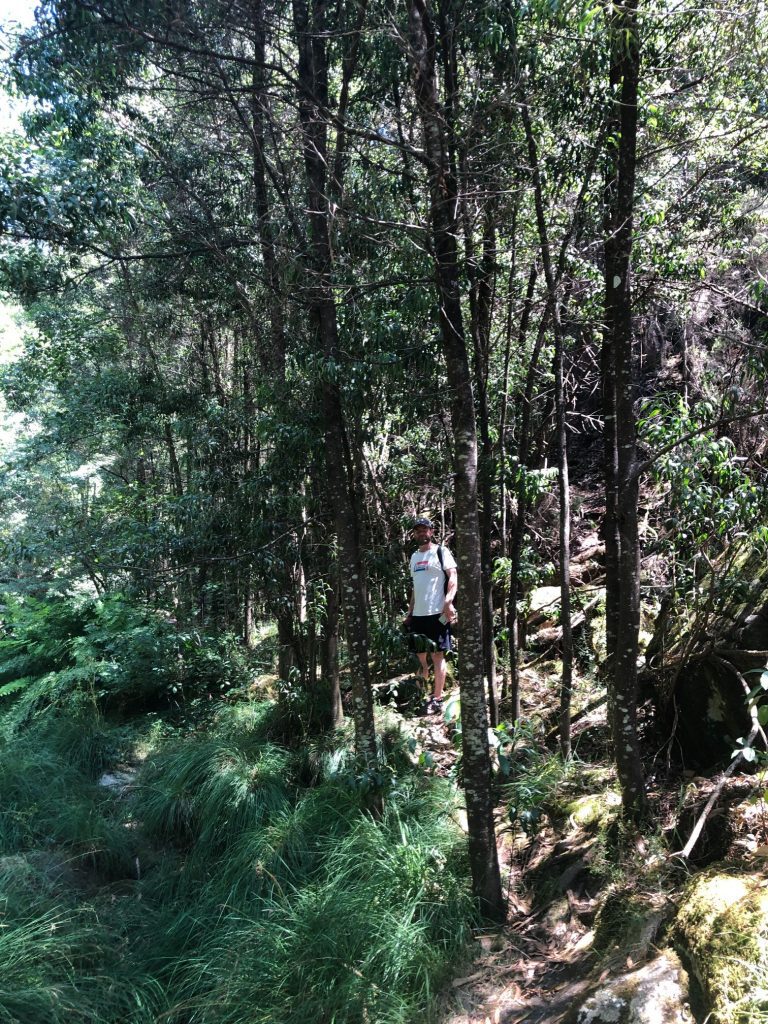 Personal Bikini Body Positivity Challenge
Losing weight has definitely given me the confidence to try new things that I wouldn't have attempted when I was obese. Stripping off and getting in a pool, river or ocean with people in close proximity still dreads me with fear so finding these secluded little spots with not another soul in sight means I can have fun in the water and enjoy it without feeling like anyone is staring at me or judging my body. I recently purchased a new bikini with big granny knicker bottoms so I feel less exposed. I love spending time in the water, I enjoy swimming and for a long time I let my insecurities control my experience because I was afraid of people staring and judging me. I've said it in my weight loss posts but body positivity and being body confident is difficult for me. People assume I am confident because hubby takes a lot of photos of me but this is untrue. The only reason I let him take so many photos is because when I was fat I wouldn't let anyone take a photo of me so I don't have hardly any photos of me with my children and them growing up which is a shame. If only I knew then that these photos are pictures of my memories not my body. I only wish I were one of those people who could look in the mirror and love my body, flaws and all but I'm not there yet. I always scrutinise myself which is not good. I don't love myself or even like the way I look but I am learning to embrace my body and wear swimwear that makes me feel comfortable and beautiful. I am trying to forget the concept of bikini body ready and not compare myself to others. I refuse to edit my cellulite, stretch marks, lose skin, wrinkles and dimples out of photos. It's NORMAL and should not be erased.
Don't get me wrong I know I've had an epic health, diet and weight loss journey and I've smashed my personal health goals. I just wish I were happier with the end result and the shell of my body I'm left with. Learning to love oneself is hard but I'm working on this. Acceptance is a total mental process which may take me some time, and then some more. It doesn't matter how many times someone tell you that you look nice, if you don't feel it yourself it's fruitless. I am not confident for hubby to take any photos of me standing up in my bikini and I have only just let him take photos of me in the sitting position without shorts or a sarong to hide beneath. I often feel that maybe I am too old for a bikini but then I realised that bikini's don't come with an age limit. Hubby usually challenges me on day trips but today I set myself a personal challenge: To have a full body frontal standing bikini photo by the summer of next year (2023) and by the following year (2024) to go skinny dipping in a private location and be brave enough to have a photo taken of me to record the moment and personal journey without exposing any nipple or muff (ha ha). I think I'm going to have to find 3 large fig leaves (ha ha). My final personal challenge is to go paddle boarding in my bikini as I always wear men's surfing shorts as they are longer and usually have pockets. I might even do a bikini shoot for my 50th birthday, who knows. Finally please remember that the beaches are going to get a selection of bodies this summer because we are all unique and individuals. Everybody is worthy no matter what their shape and size so get out there and enjoy life to the max and eat the ice cream!
Lately I have been reading a lot of poems written by Donna Ashworth. She has a new book called "I wish I knew" which has so many inspiring poems. I LOVE this woman. This poem below is perfect for today.
Or You Could Just Live
You are going to wish your body was more,
You are going to wish your body was less,
You are going to wish your body would change,
You are going to wish your body would not.
You are going to wish your body was many things, between now, and the day you leave this mortal coil.
And one day, as is always the way, you will look back, and see that your body was always as it should be.
Doing its best to be you, for you.
And you are then going to wish that just once, you had told your body, 'I accept you, as you are, right now'.
And that maybe had you done this, you would have spared yourself a lifetime, of wishing for something you didn't really ever need.
That what it was you should have been wishing for, in fact, was the courage to accept, the strength to embrace, the wisdom to really see, what you have.
You're going to wish for many things, when it comes to your body.
Or you could just wish for health.
And live your life, flawed and beautiful.
Cascata do Poço de Grade
This waterfall was a mystery and still is. We found the sign and it confirmed the same as our GPS, that it was located 300 metres to the left but there was no safe pathway or any further signs once we reached the dam. We walked across the dam bridge and down the steps to the bottom and along the riverside to the right but couldn't hear or see the waterfall. We tried to go left next to the huge pipe but it was dangerous and blocked by vegetation. I don't like to give in and not see everything on my itinerary but I'm not risking my life for a mediocre waterfall that would likely be dry as a bone. We were a bit gutted but admitted defeat. Know your limits folk (ha ha).
Cascata de Aroes
It was definitely a deja vu moment trying to locate this waterfall. Our GPS took us to a random place in the middle of nowhere and there wasn't even a sign for this waterfall so we had no hope in hell of finding it. We would have had more luck finding a needle in a haystack and we were roasting hot and getting a little frazzled so in all honesty we didn't really try that hard and quickly moved onto the final waterfall.
Cascata do Poço do Linho
This waterfall is located next to a bridge that connects the villages of Paraduça and Ervedosa (in the municipality of Vale de Cambra). Legend says that the name of the waterfall comes from the fact that women used to wash linen in the well that forms downstream of the waterfall. I asked hubby if he wanted to whip off his smalls so I could wash them in the river but surprisingly he declined (ha ha). As we approached this waterfall I could hear the sound of many children shouting and having fun so I knew we weren't going to have the luxury of having this waterfall to ourselves and I couldn't help but feel a little disappointed. If you park by the sign it is literally only a few metres until you reach the glory down a wooden walkway, so super easy access. It seems to be a popular place for the local teenagers and there was a large group of about 15 children and one male adult. I have no idea if the man was supervising all these children but they did all seem to know each other. It was very awkward to take photos here as I didn't want to photograph other people's children without their consent. Although the waterfall was small due to lack of water there was plenty of water in the well below, enough to jump in and swim. I really wanted to enter the water for a swim but not with a dozen kids (ha ha). We climbed down under the bridge and sat on some huge boulders to enjoy our lunch. Today we were running late and I didn't have time to cook my usual frittata so we went basic and just grabbed some bread and a banana and enjoyed a banana sandwich. There was a little rock pool and I saw so many frogs and even managed to photograph one. I named him Freddie. There was quite a bad fly situation here so after a while we decided to leave and head back to my favourite spot: Cascata da Agualva. We stayed until early evening then ended the day with yummy ice cream.
Overview
Despite not locating all 5 waterfalls, we still had a lot of fun on this day trip. It was definitely a more relaxing day and perfect for recharging our batteries. I do love city trips but my heart will always belong to nature.