5 DAY ROAD TRIP (DAY 4 CASCAIS & ERICEIRA)
Day 4 of our road trip takes us to the fabulous Cascais and Ericeira with a pit stop at the stunning picturesque Azenhas do Mars. After 3 days of public transport and walking the hind legs off a donkey it was great to jump into our old banger of a car and head to explore the coastal delights close to Lisbon. There is so much beautiful coastline to view and I narrowed it down to the following places: Cascais, Ericeira and Azenhas do Mars. Hubby was over the moon to visit some of the world's most famous surfing destinations and us girls were happy to visit Portugal's white sandy beaches and vast oceans for some well deserved rest and relaxation after our crazy city excursion.
Itinerary
Cascais ½ day
Praia da Ribeira
Praia da Rainha
Casa de Santa Maria & Lighthouse
Praça 5 de Outubro (Main plaza)
Nossa Senhora da Luz Cascais (Forte) and Harbour
Parque Marechal Carmona
Boca do Inferno (Blow Hole)
Coastal drive to Praia do Guincho
Azenhas do Mars – Picnic lunch
Ericeira ½ day
Explore the World surfing reserve 4km stretch coastline famous waves
Praia do Sul/Baleia ou Sol
Old town
Praia Algodio ou Norte
Praia dos Pescadores
Praia da Ribeira d'Ilhas
Miradouro Restaurado (Viewpoint)
Praia Foz do Lizandro
Mafra Palace – didn't have time, maybe next visit!
Cascais
Cascais has an incredible 30km of coastline, which combines beautiful wild beaches with rocks, forts and palaces. It is a fantastic place to visit away from the hustle and bustle of Lisbon and was a popular destination for the elite and Portuguese royalty. The colorful streets of the historic centre are bursting with shops, cafes, bars and resturants. We embarked on a lovely self guided walking tour including Praia da Ribeira, Praia da Rainha, main plaza, harbour, fortress Nossa Senhora da Luz, Casa de Santa Maria and lighthouse and the wonderful tranquil Parque Marechal Carmona where we saw so many species of birds. We then took the N247 coastal drive onto the famous Boca do Inferno, a unique sea-arch and cliff formation (blow hole) and had a wander around the eroded cliffs trying not to fall off the edge (ha ha). Then we took a glorious scenic coastal drive onto Praia do Guincho (Scream Beach), located on the Estoril coast just 5km from Cascais. It's great for surfing and part of the Sintra-Cascais natural park.
Praia da Ribeira
What a beautiful beach right in the heart of the town overlooking the fishing harbour and fort.
Praia da Rainha
Wow, how stunning is this beach? It used to be the private secluded beach of Queen Amélia during the 1880's. We fell in love with Queen's beach, it's golden sands, emerald crystal clear waters and the rugged rocks which provide privacy. Such a stunning place surrounded by little white houses with beautiful vivid draping floral displays.
Casa de Santa Maria, Lighthouse & Museum
Out of all the attractions that we visited in Cascais, this place left me speechless and literally took my breath away. We had a wander down to explore the cove and it really is a picture postcard view with a beautiful landscape. The blue and white striped lighthouse was built in 1868 on the grounds of Santa Maria Fort. It stands 8 metres high and is such a sight to see standing guard over the mouth of the Tagus river.
Casa de Santa Maria was built in 1902 and commissioned by Jorge O'Neill a descendant of the Irish royal family. It was designed by Portuguese architect Raul Lino. It is very beautiful and it's Mediterranean architectural style with Moorish influences are spectacular. For 100 years it was a private residence for 3 separate owners. It is currently a Museum, after its purchase by the Cascais Municipality in 2004 and in 2012 it was classified as a Monument of public interest.
Praça 5 de Outubro (Main plaza)
This is the main square in Cascais and is home to a large bronze statue of King Pedro I and the town hall with museum which has an amazing ornate facade of azulejos (Portuguese tiles) depicting various catholic saints. The square is named 5th October to commemorate the date in 1910 when the monarchy was abolished and the First Republic of Portugal was established. This square has the stunning wavy pavement typically seen in Portugal and always makes me go slightly dizzy if I stare for too long. Teanna said it's like an optical illusion and I agree with her. Just don't look too hard after you have consumed a glass or bottle of vinho (ha ha).
Nossa Senhora da Luz (Forte) and Harbour
The Marina in Cascais is the largest marina on the Portuguese Riviera. Located on the Bay of Cascais it hosts numerous high profile sailing events and is absolutely beautiful. It has over 650 mooring stations and we had fun here viewing the multiple vessels and discussing how cool it would be to own a boat here in Portugal. The Citadel of Cascais is a fortress which includes The Fort of Nossa Senhora da Luz, The Tower of Santo António and The Palace of the Citadel. The 15th century fort overlooks the marina and was constructed upon the instruction of King João II. It was originally named the Tower of Santo António. It is a fine example of military architecture and was built to strengthen the defences of Lisbon's imminent shores. The fort was later reinforced and renamed Nossa Senhora da Luz (Our lady of the light). Today stands a hotel, palace and galleries and the area is known as the "Art District". There is a statue of King Carlos I who used part of the citadel as a lab of marine biology. Teanna is always intrigued with the statues and often they are called Carlos which is her father's name so she always makes a point of stopping and checking out the plaques for their names. We take a lot of photos of King Carlos (ha ha).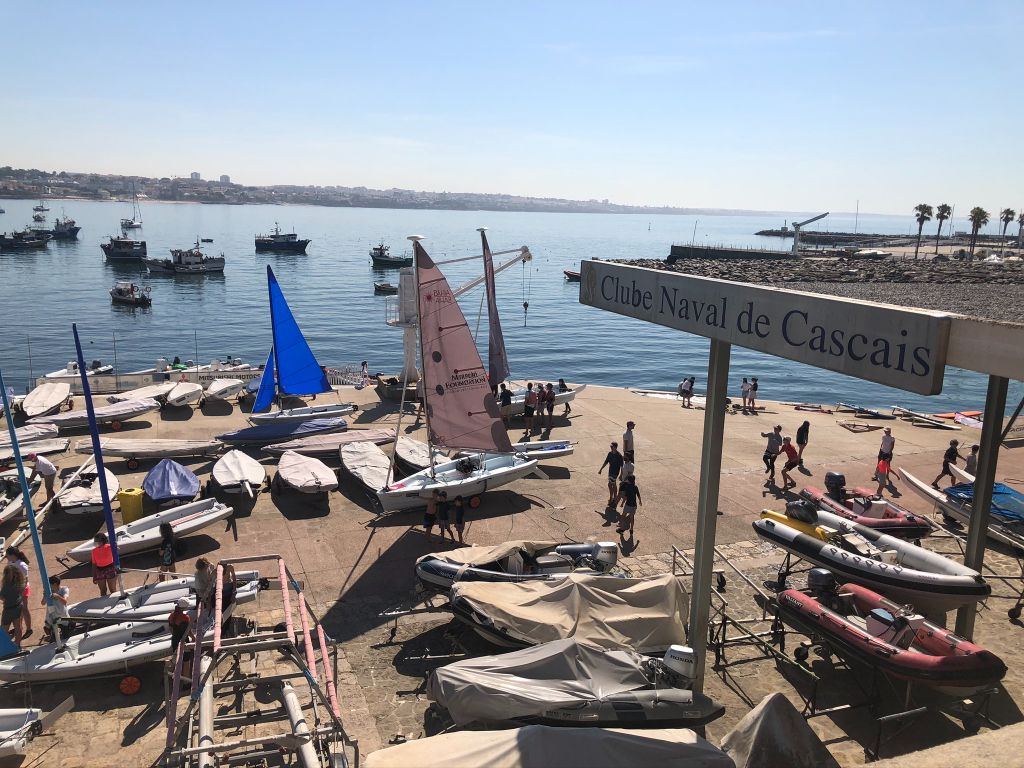 Parque Marechal Carmona
This is a peaceful and magnificent park which is also home to the Museu dos Condes de Castro Guimarães and Conde de Castro Guimarães Palace, also known as the Tower of São Sebastião. After the 1974 revolution, it was renamed Parque do Gandarinha, although it is still known today as Marechal Carmona. We enjoyed a peaceful stroll through the park right in the heart of nature. We met lots of birds who were roaming free including peacocks, chickens, roosters, pheasants and ducks. There is a quaint chapel with traditional Portuguese tiling, a pretty lake, charming bridge and many different species of trees and flowers to view. We left this park with a renewed sense of energy.
Boca do Inferno (Mouth of Hell – Blow Hole)
One of the main tourist attractions in Cascias is the famous Boca do Inferno, which is a unique rock formation, originally once a sea cave which collapsed forming a sea arch. It got it's name due to the rock formation resembling a mouth and the tremendous sound the waves make as they crash against the rocks making the emerald green sea explode upwards like a volcano. It is a place where you can observe full beauty and strength of nature within a unique natural setting. Towards the right there is a viewing platform and we even saw a diver and fishermen. The waters were fairly calm when we visited so we didn't get to view a dramatic scene, nevertheless it was amazing to witness. We also explored the rugged cliffs towards the left and took some photo opportunities whilst there was no one there. It was refreshing to feel the wind and sea breeze on my body. It is a very romantic place and a tranquil setting to refresh ones soul. I think this would be a remarkable place to return to and watch a magical sunset and feel a direct connection with nature. Unfortunately this place is known as a site where many suicides take place which is truly sad.
Praia do Guincho
Praia do Guincho, otherwise known as Scream Beach. There's only one thing to do on this beach and that is SCREAM, so I did, much to hubby's delight, his face says it all (ha ha). When I read about this wild beach and it's crazy huge waves and white sand dunes, I just had to visit. The backdrop to this beach is incredible, the best ever views of the hills and mountains of the Serra de Sintra Natural Park. It's known for being a windy beach but it wasn't too windy when we visited.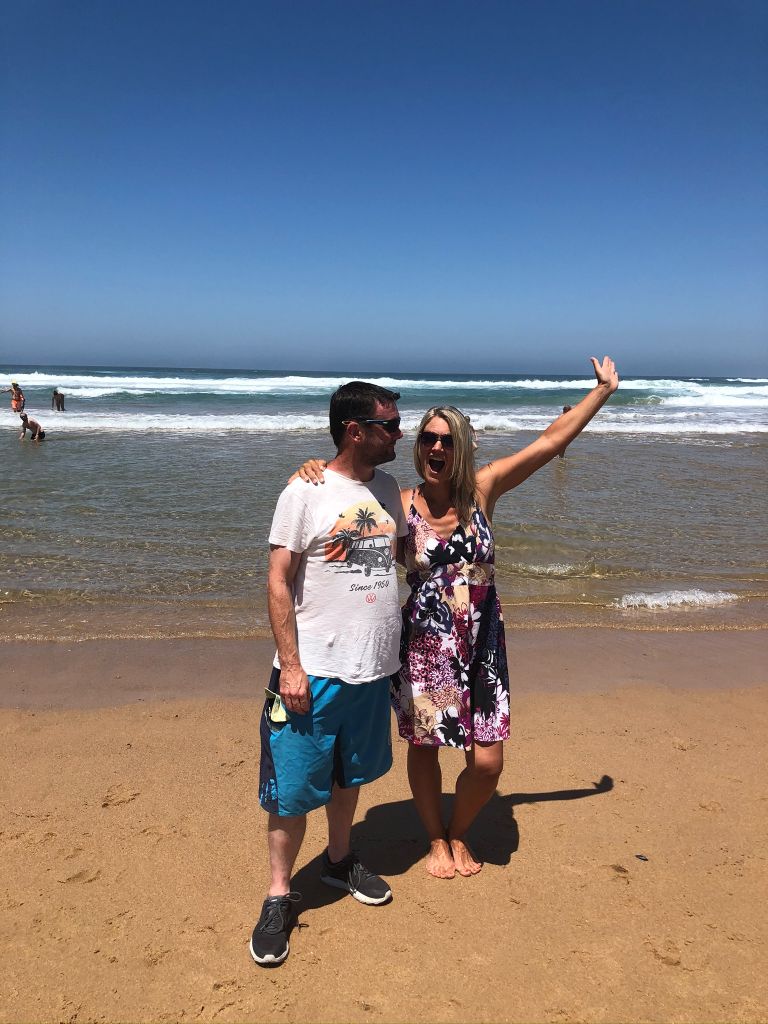 Azenhas do Mars
After Caiscais we headed onto Ericeira but made a pit stop at Azenhas do Mars which was a recommendation by a Facebook friend and actually located in the municipality of Sintra. Thank you to the wonderful Emilia who suggested this stunning place. The little village is nestled high on the cliifside with cute white houses and the sea water infinity pool looks so inviting. We had the best ever tasty picnic overlooking the gorgeous coastline. This place is one of the most idyllic places I have ever visited. It is literally a picture postcard with breathtaking panoramic views. We enjoyed our picnic lunch here and climbed over a high wall to find a secluded tranquil spot on the cliff edge which most likely breached some health and safety rule. I managed to accidentally flash my knickers again mounting the wall. That teenage boy is going to need therapy (ha ha). This is becoming a habit so I think a pair of shorts or a skort is the answer as I don't want to get arrested for indecent exposure (ha ha).
Just look at this sensational place blessed by nature, PURE HEAVENLY. It really is one of the the most beautiful pearls of the Portugal coast.
Our perfect Portuguese picnic spot
Ericeira
Ericeira was hubby's choice as he is crazy about surfing. It's another charming traditional Portuguese fishing town and home to the world famous surfing reserve and has a 4km stretch of coastline famous for it's epic waves and powerful surf. Ericeira is a small coastal town in the west of Portugal, with traditional fishermen's cottages and cute cobbled streets. It not only has picturesque beaches but rolling lush green hills and spectacular views of the Atlantic Ocean. We visited a wonderful beach: Praia do Sul where I had an epic fail! I thought I had grabbed and packed my bikini but instead I had the bikini top and a pair of black knickers. I really need to get my eyes checked. We didn't have time in our schedule to shop so after a little cry in the toilets and an ice cream and coffee to console myself, I braved the humiliation and went in the sea in my pants! Yes, the crazy British lady who is nearly 50 strutting her stuff in her underwear. It literally was the walk or more like the waddle of shame after all those pastries (ha ha). The seaweed at this beach is punishing and whipped me good and hard around my sausage legs (ha ha).
Praia do Sul/Baleia ou Sol
Old town (The war of the pigeons)
We had a lovely wander around the old historic town, bought some delicious Portuguese pastries from the pastelaria and sat in the town square to enjoy our treats. Hubby accidentally dropped a few crumbs of pastry which basically started a pigeon war. I am not even joking about the chaos which unfolded. ONCE UPON A TIME in Ericeira, hubby droped some crumbs on the floor, a pigeon flies over and starts to peck at them, then another pigeon joins him and tries to share/steal the crumbs. Other friends of the second pigeon join him and soon we have a crowd large enough for a pigeon party. The first pigeon snatches his crumbs back and flies off and the other pigeons follow in hot pursuit. They fly onto a cafe terrace table which just so happens to have a lot of glassware and used crockery on it which hasn't been cleared away yet. A couple of local dogs join the party and are barking. The pigeons start to fight, there are now around 20 pigeons all fighting for the crumbs and all the glasses and plates smash on the floor. The dogs chase the pigeons, everyone is staring at the IDIOT Brits and are shocked at the drama we caused at which point we slip away discreetly and embarrassed into the Portuguese sun, THE END.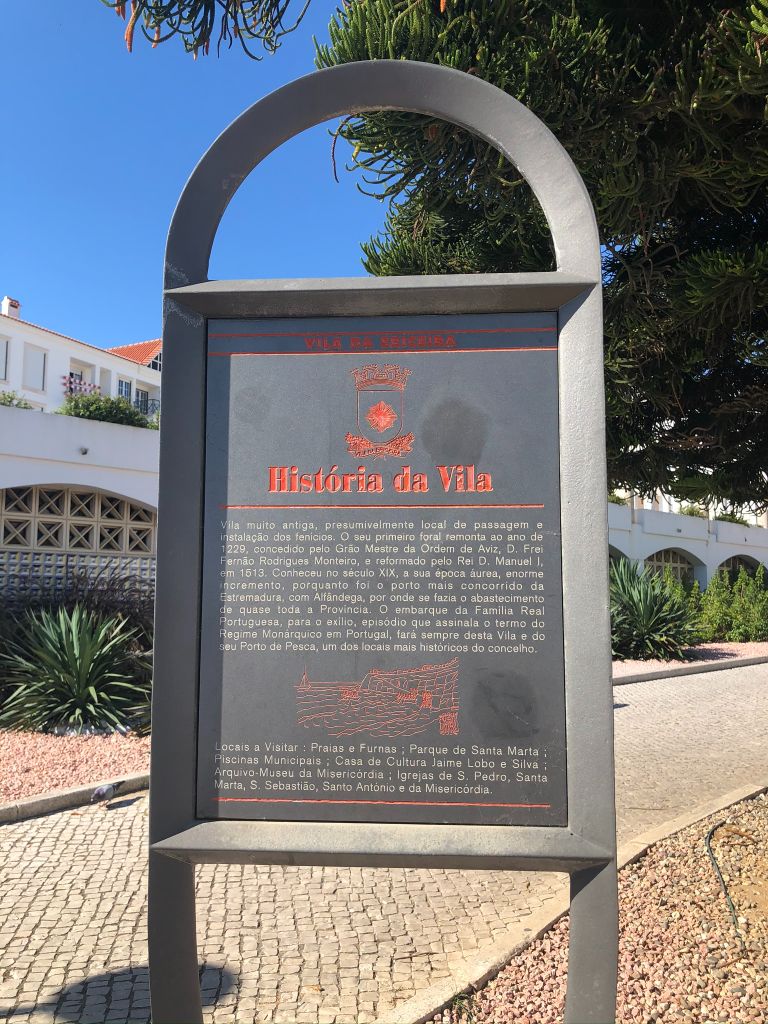 We then ventured to a few more beaches including Algodio ou Norte, Praia dos Pescadores, Ribeira d'Ilhas and Foz do Lizandro. Crystal blue waters, huge white surfing waves and golden sands, delightful and I had another dip in the water.
Praia Algodio ou Norte
Praia dos Pescadores
We took a nice stroll through a boat yard onto Praia dos Pescadores.
On the walk back to the car we stumbled across a pretty building with fantastic artwork, some extroadinairy archeological rock displays and cannons
Miradouro Restaurado (Viewpoint) & Praia da Ribeira d'Ilhas
There are many viewpoints to stop at and the Miradoura Restaurado even has gym equipment. It was way too hot for me to work out so I left the 2 crazy ones to it. My favourite viewpoint was the one above the Ribeira d'Ilhas where I just watched in awe at all the surfers with their surfboards and huge smiles. This beach was my favourite one out of all the ones we visited as it had such a great atmosphere. Listening to the waves crash against the shore, the soft sand and just the right amount of ocean breeze was a picture perfect way to spend the late afternoon/early evening.
Sensational Surfers
Watching the surfers as the sun goes down. This is my new favourite hobby and I can't wait to return to watch hubby surf and catch some rips and high waves.
Praia Foz do Lizandro
We ended our perfect day at Praia Foz do Lizandro. The beach is huge and is less windy than others as it is protected by the cliffs. The wild landscape is beautiful and this beach is very unique because the water flows from the Lizandro river into the Foz do Lizandro beach. Our evening ended here with another stunning Portuguese sunset.
Cascais & Ericeira Day 4 Overview
I loved Ericeira, it really is a surfers paradise with such an amazing cool vibe and it was great to see hubby so happy. Not that he is particularly unhappy on a day to day basis, after all he works from home and has the delightful ME 24/7, what more does he want? (ha ha). We had so much fun visiting some of the most famous surfing coastline of Portugal and sampling fresh seafood. If you love surfing or are a beach babe/bum then this is the perfect place for you. I really felt a sense of vitality after visiting Ericeira. I think it was a combination of happy people, sea air and the pure sense of freedom to breathe deeply and feel every muscle in my ageing body relax. I am taking hubby back next year to the surf school. I will most likely just watch from the sideline admiring their surfing talent and six packs or beer bellies (ha ha). It's a hard life. What are you waiting for? Go and feel the ocean waves on your feet and the sand between your toes. Next stop Buddha Eden, Óbidos and Peniche.